Drive sales on autopilot with ecommerce-focused features
See Features
Reading Time:
14
minutes
Many people believe flattering product photos and persuasive copy are all you need to drive sales in your online store.
But the truth is, while these elements are crucial, neglecting your checkout page could cost you valuable customers and sales.
Many online retailers fall into the trap of focusing solely on aesthetics and overlook the significance of an optimized Shopify checkout page.
Unfortunately, any number of obstacles on your Shopify checkout page can deter potential buyers. Complicated checkout processes, limited payment options, and slow loading speeds can all lead to abandoned carts.
In this post, we'll discuss how to customize the Shopify checkout page and address the issues that can deter potential buyers.
Get started with Omnisend today & drive sales on autopilot with pre-built automation workflows
Start Free Today
Shopify checkout page customizations
Customizing your Shopify checkout page can play a significant role in boosting your conversion rate and improving sales.
In this article, we'll explain how to customize a Shopify checkout page, complete with 17 actionable suggestions.
Don't worry if that sounds like a lot. You can try one tactic at a time and see which ones are the most suitable for your ecommerce store.
You can also use some of our Shopify app recommendations to help you implement these customizations more easily.
This post will teach you how (and why) to
Set up Shopify one-page checkout
Add a checkout progress bar
Provide more express payment options
Explain why people should buy from you
Add a free shipping threshold
Show related products
Make the checkout experience unique
Turn on Shop Pay
Add live chat or a chatbot
Maximize checkout page speed
Convert visitors into SMS subscribers
Add an automated, one-time discount code
Induce a sense of urgency
Display social proof
Offer multiple delivery options
Let customers have delivery options
Add a Shopify checkout popup
1. Set up Shopify one-step checkout
Multi-page checkout gives your shoppers plenty of opportunities to back out. In contrast, a one-page Shopify checkout process makes it easier and faster to buy.
Of course, you'll need to design this carefully because cramming everything on one page could give you the unwanted effect of confusing your shoppers. Pay attention to how you layout information and limit details to what's absolutely necessary.
Of the many excellent one-page Shopify checkout examples available, here's one from Highway-Robery: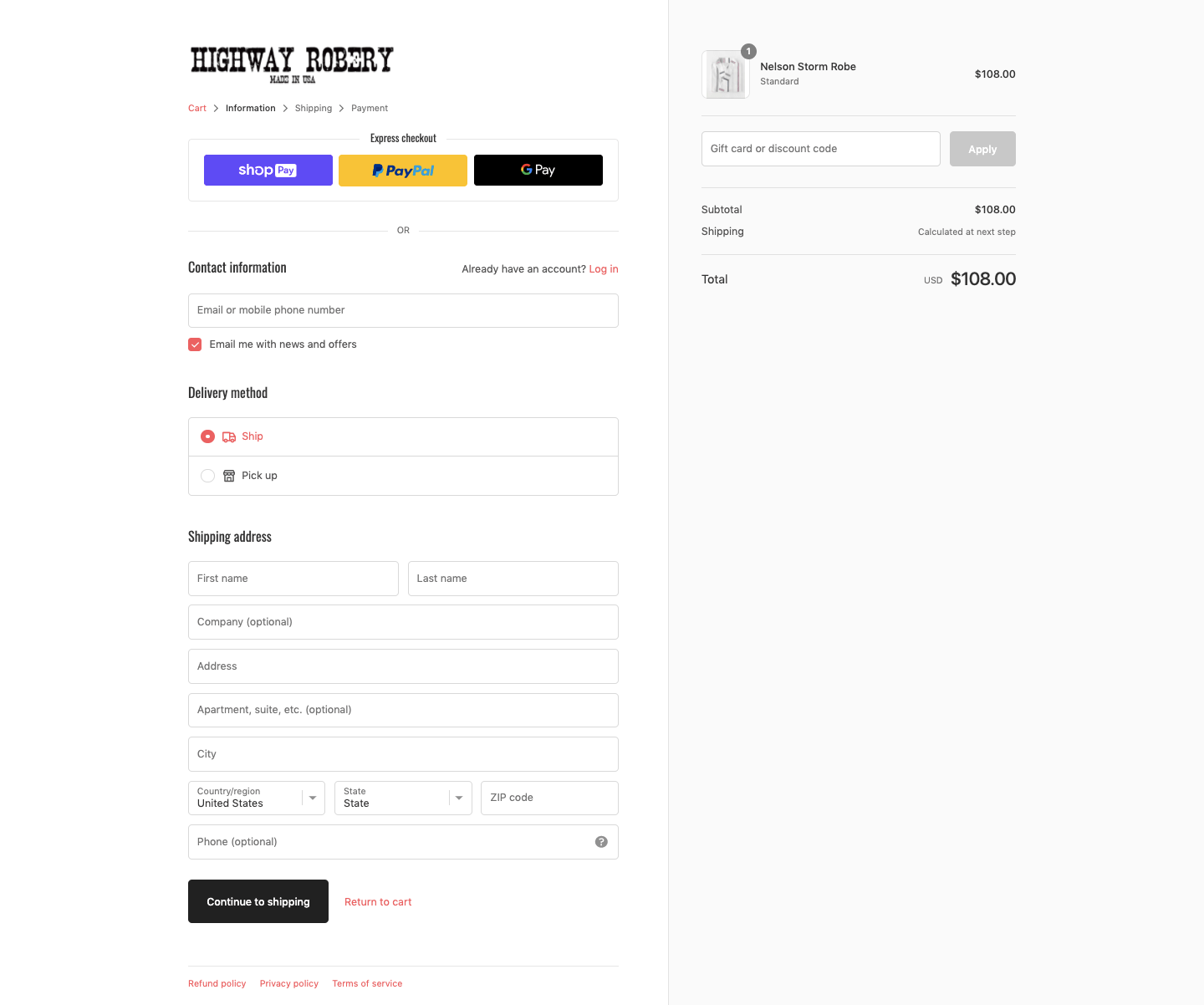 Notice that everything needed to process the payment and deliver the order is on one side and then summarized on the other. It also includes a text box for a discount code. It doesn't ask for or display unnecessary information, which makes it a quick and easy transaction for the shopper.
Here are a few app recommendations for creating one-page checkouts:
Dominate – A simple solution that's easy to implement. The designs are responsive and customizable to work with your brand. Best of all, the app is free to install and use.
Magebird – Apart from setting you up with a fully functional one-page checkout, it enables you to include several other sales optimization features like a countdown timer, and an easy upselling process. The app costs approximately $15 per month.
Checkout editor – This tool lets you customize and edit the functionality and appearance of your checkout in a single place separate from your theme editor. It's available on Shopify Plus only.
2. Add a checkout progress bar
Admittedly, a one-page Shopify checkout doesn't work for all businesses. Sometimes, there's just too much information needed to request and display on a single page. In these cases, it helps to use a Shopify checkout progress bar.
At a single glance, a progress bar should tell your customer how many steps are involved in the checkout process, which step they're currently on, and how many are left. This simple feature manages shoppers' expectations and reduces the risk of abandoned carts.
Here's a good example from TaylorStitch: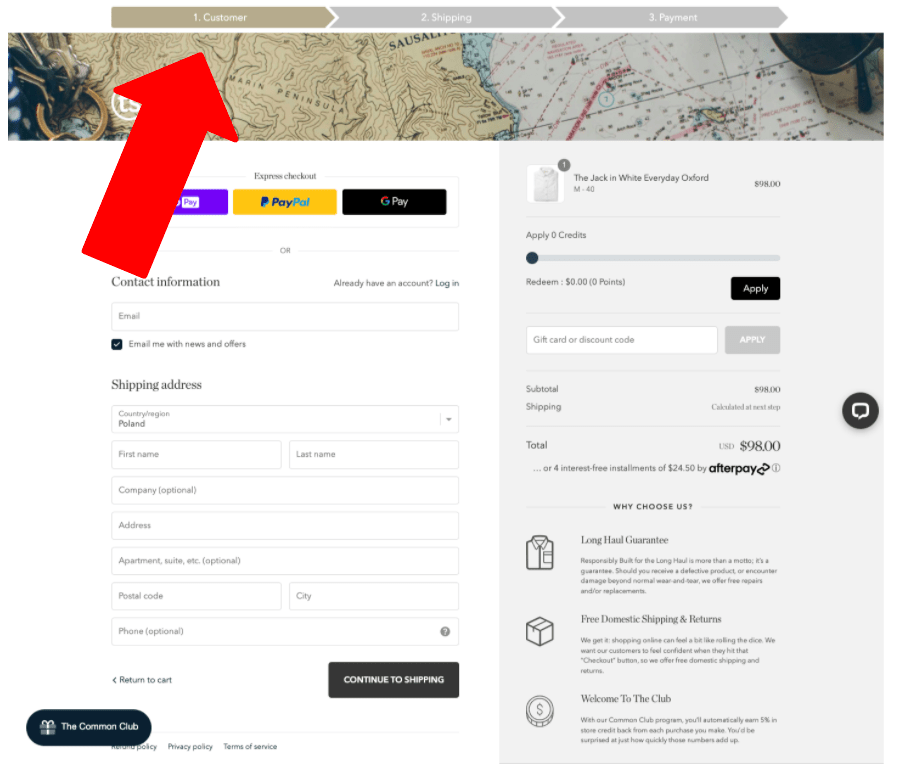 Notice the progress bar on top? It makes it clear to the shopper that there are three steps involved in the checkout process:
submitting customer information
selecting shipping preferences
processing payment
Shoppers on this Shopify checkout page are more likely to complete their orders simply because they don't feel like it's a tedious process.
3. Provide more express payment options
The availability of express checkout options makes conversion much more likely. But while PayPal is considered a staple in ecommerce stores, several other payment providers have gained traction among digital shoppers. These include Amazon Pay, Shop Pay, Google Pay, and Apple Pay.
Given the popularity of other express payment options, it would be imprudent to exclude them from your Shopify store. In fact, you stand to lose up to 50% of shoppers simply because their preferred payment option isn't available.
While your competitors' Shopify checkout pages might look like this:

Shoppers will be more likely to convert on your store if your express checkout options look more like this:

More payment options lead to more opportunities to get sales. But beyond that, it signals that you consider your shoppers' preferences and care enough to enhance the customer experience.
To help you set this up, check out Shopify's official guide for setting up payment methods.
4. Explain why people should buy from you
You may have a strong competitive advantage but that might not be immediately apparent to your shoppers. It could be a commitment to using premium raw materials, a free shipping offer, a generous refund policy, or support for a cause. No matter what it is, state it plainly for your customers to appreciate as these impact buying decisions considerably.
The best Shopify checkout page highlights your shipping, returns, and refund policies. This way, it can help more shoppers convert since about 67% of ecommerce customers check the information about returns before making a purchase. For 50%, free shipping is another major reason to buy.
In the same Taylor Stitch Shopify checkout page, pay attention to how the designers incorporated the company's competitive advantages to support and not disrupt the buying process.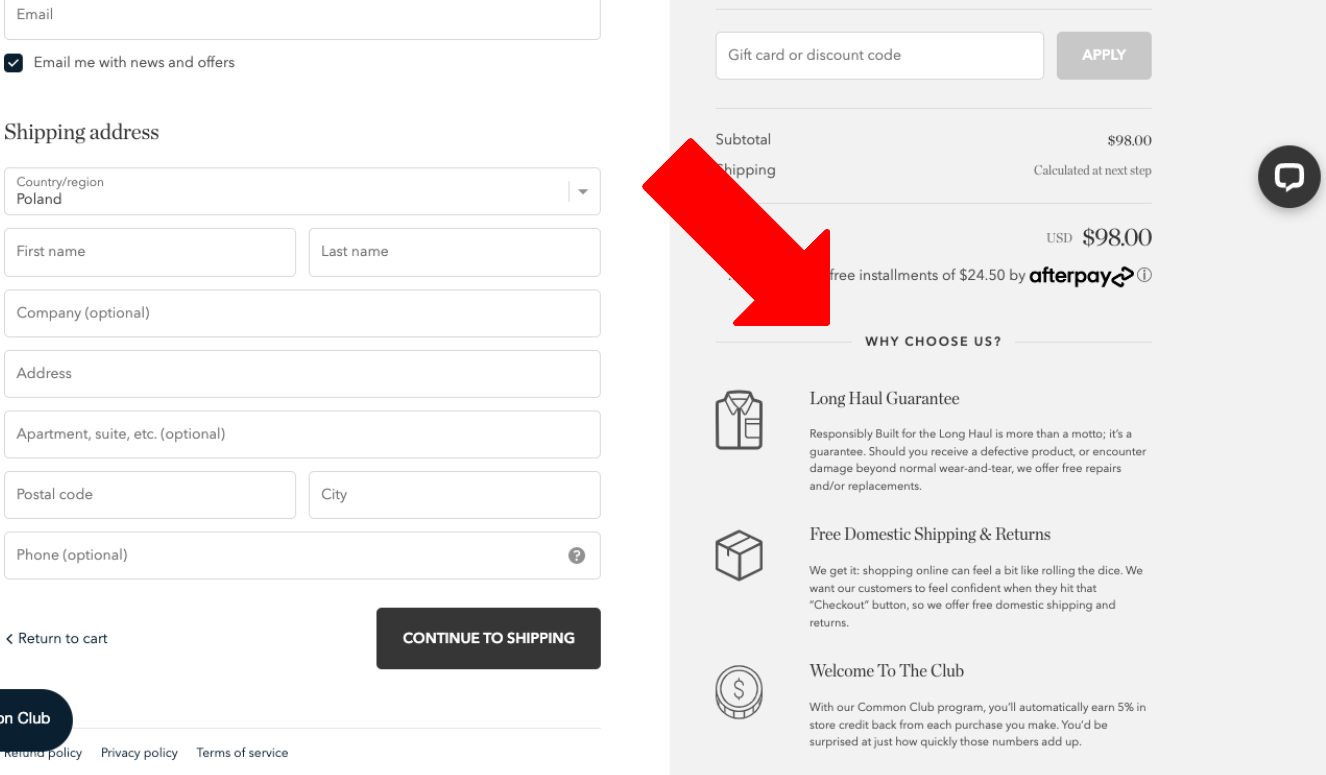 5. Add a free shipping threshold
Enabling your shoppers to earn a free shipping perk by hitting a certain threshold gets them to spend more. Think about it: If your shopping cart is worth $85 and you have a choice between paying $10 for shipping or spending at least $15 to get free shipping, what would you do? Doesn't spending more feel like you're getting much more value?
One of the best ways to implement this tactic effectively is to use a free shipping progress bar that tells shoppers just how little they need to add to their cart to save on courier costs.
Here's an excellent example of the shipping threshold progress bar from EmmaBridgewater:

Thankfully, several Shopify apps make this easy to implement. The Free Shipping Bar app by Hextom is among the most popular tools for this purpose. The Free Shipping Progress Bar by Ethercycle offers more customization options but comes at the cost of $8.99 per month.
6. Show related products
When used to upselling or cross-selling, Shopify-suggested products at checkout can increase your customer's average order value significantly.
To implement this feature, you can use the Shopify checkout editor tool. It'll let you customize and edit the functionality and appearance of your checkout page.
Add one to two products that are relevant to what's already in the cart or your customer's previous purchases. However, don't go overboard in your recommendations.
Here's a good example from ChubbiesShorts: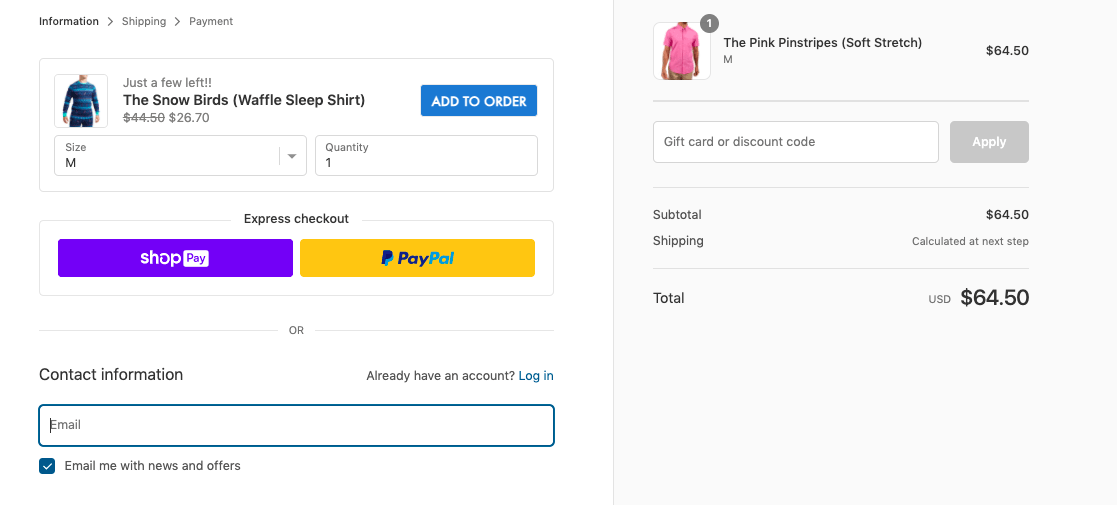 Notice that there is a single recommendation and it's similar to the product that's already in the cart. Even better: it's on sale and still available for the shopper's size.
7. Make the checkout experience unique
The transactional nature of checkout pages makes them typically bland. Few ecommerce stores realize that this page is actually a good branding opportunity. When it comes to customer experience, small things like Shopify checkout page design matter. For example, 12% of customers are even ready to pay for "a great atmosphere."
Here's a good branded Shopify checkout page example from HoloTaco: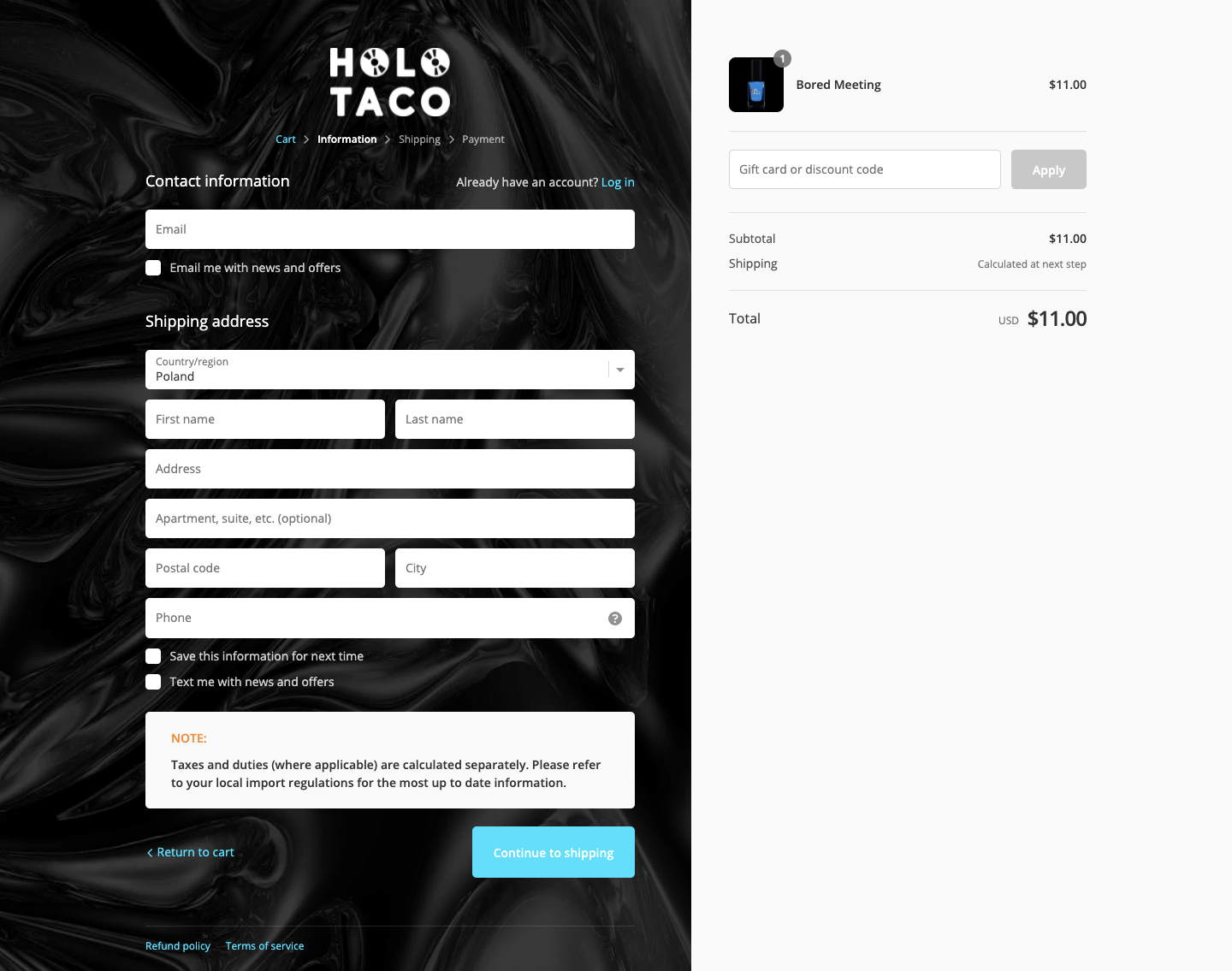 It may seem like a simple enough change but it is one that can have a significant impact on the customer experience. Apart from a recognizable logo, the left side of the checkout page has a background that highlights exactly what the brand is known for: bold and textured polish.
BeardBrand also uses this branding opportunity well by adding a custom header to its Shopify checkout page.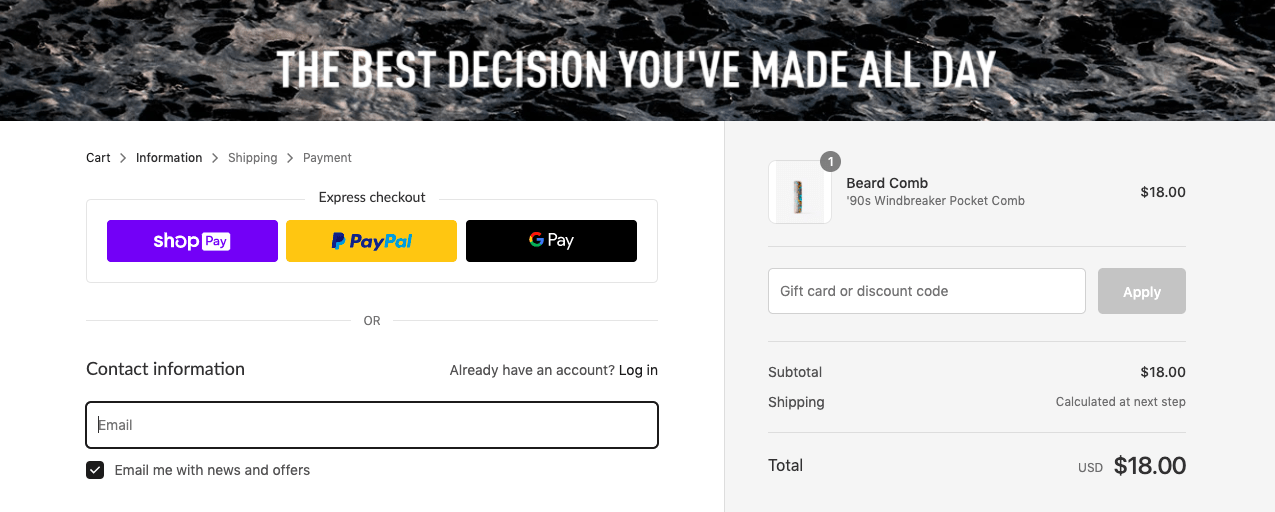 8. Turn on Shop Pay
One of the easiest ways to boost your conversions is to enable Shop Pay, a checkout optimization app from Shopify.
Shop Pay is designed to make the checkout process faster, smoother, and more secure for your customers.
It works by securely storing and encrypting your customers' payment information, shipping and billing address, and email address. This way, they can complete their purchase with just one tap, without having to fill out any forms or enter any details.
Shop Pay also offers flexible buy now, pay later options. These options allow customers to split their payments into interest-free installments or pay with interest over 3-24 months.
Additionally, Shop Pay offers carbon-neutral delivery and order tracking features. Thanks to these handy features, Shop Pay can increase conversions by up to 50% compared to regular checkout.
9. Add live chat or a chatbot
Live chat is the fastest way to get support for customers—so it's a must that you have one on the checkout page. If a potential customer has any questions, they should be able to contact you first before abandoning the checkout.
Chatbots are also useful for this purpose and they're generally more cost-effective than offering live chat. For your chatbot to be effective, however, you need to make sure it covers all the most common questions your shoppers might have while checking out. Typically, this includes information on shipping times, refund policies, etc.
Here's a good example of a checkout page chatbot from Endy Mattresses: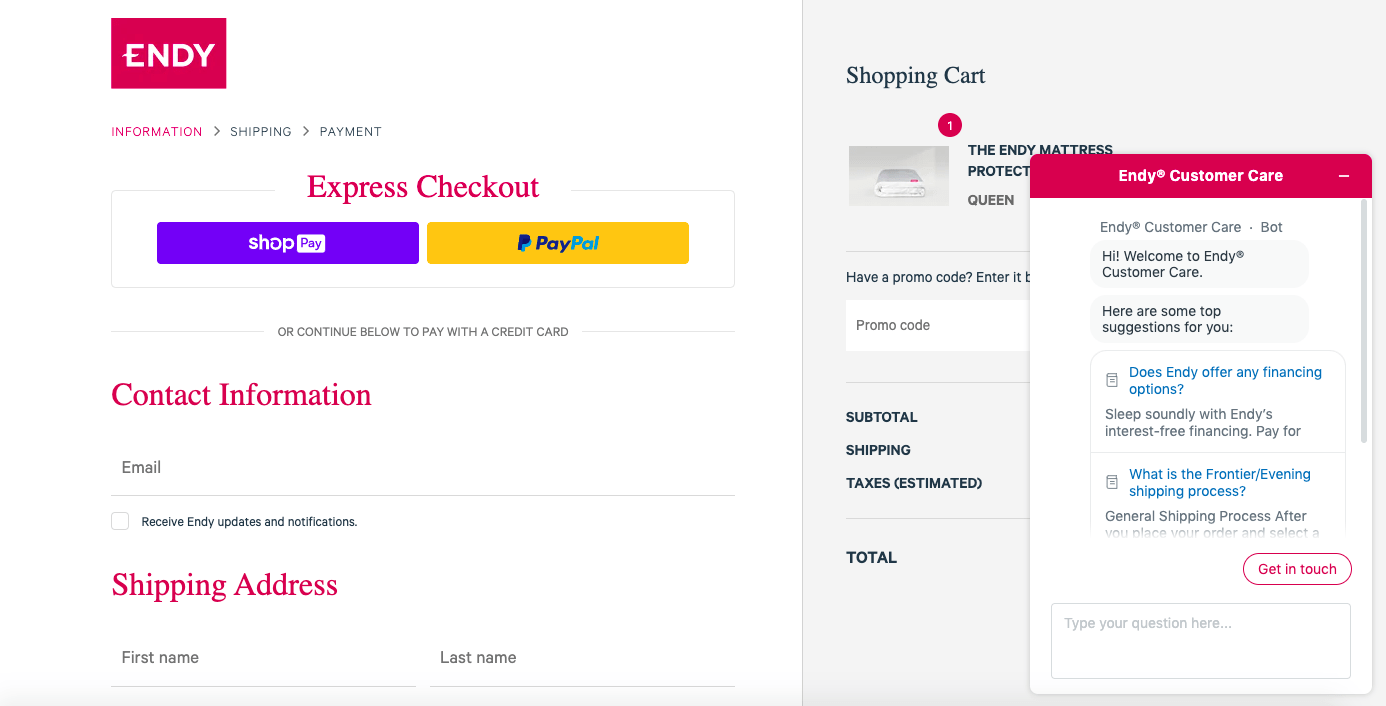 A live chat feature or a chatbot can easily be implemented on your checkout page using add-ons. Among the best Shopify app recommendations for this purpose are Tidio and Intercom. Both offer free accounts for small and new businesses but can easily scale up to accommodate more complex requirements for additional fees.
Apart from offering support, live chat and chatbots can be implemented to generate conversations that guide your customers through their buying journey.

Learn more about conversational commerce.
10. Optimize checkout page speed
Faster sites encourage people to stay longer and buy more. Google suggests that even a 0.1 second speed increase can boost conversion rates at retail sites by 8.4%. This is true even for the checkout page itself. You can easily lose a shopper who's already primed to pay just because the checkout page didn't load fast enough.
To check your page's current performance, use PageSpeed Insights.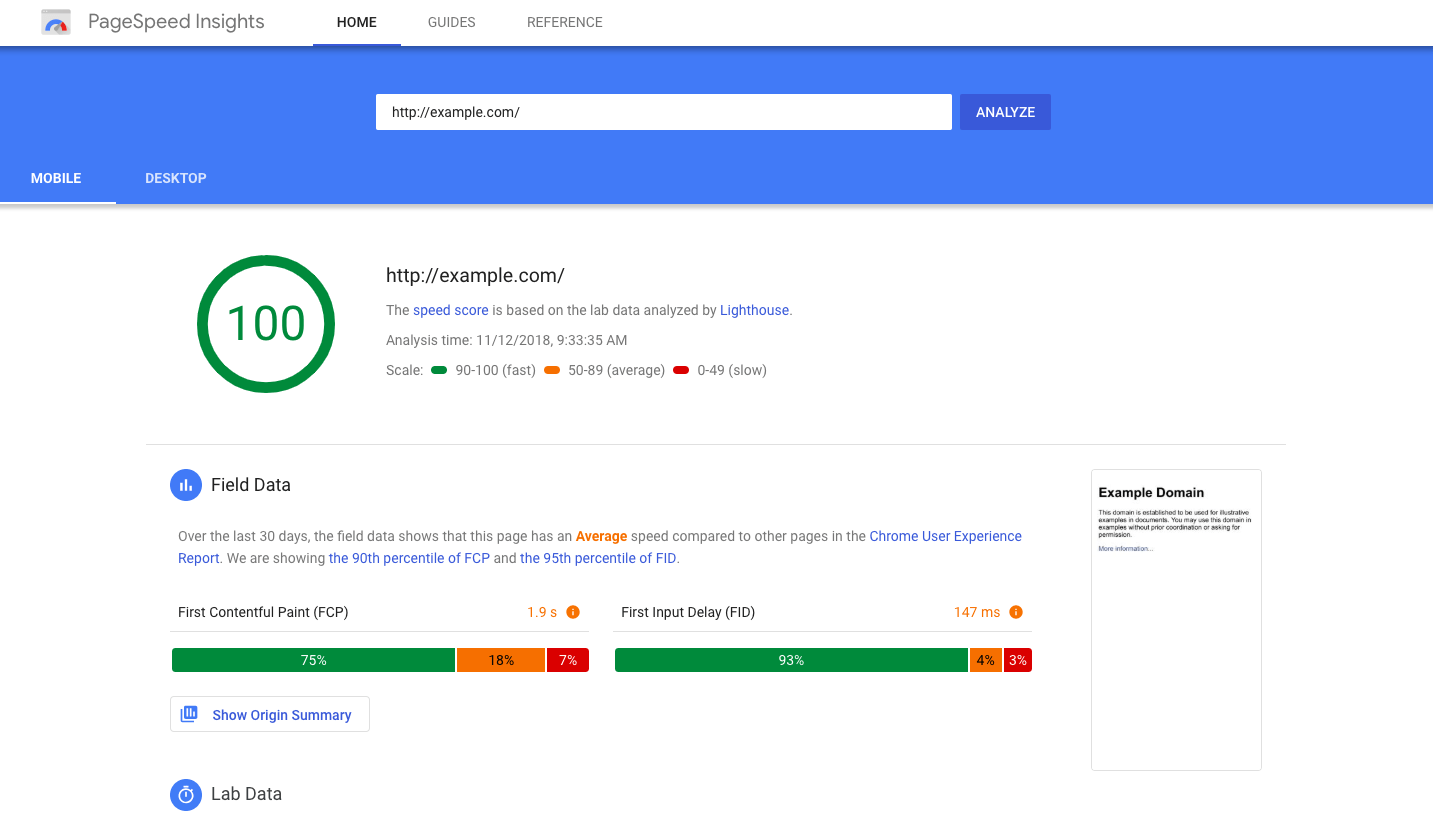 All you have to do is enter your URL and hit the analyze button. The tool will then offer recommendations for improving your site's performance. Since every fraction of a second counts, implement all the recommendations and keep your checkout page's loading speed at a minimum.
11. Convert visitors into SMS subscribers
You can get more value from your Shopify checkout page if you use it as an opportunity to gain SMS subscribers. If you've done a good job branding yourself and providing a good customer experience, you'll be surprised by how many of your shoppers will want to sign up for SMS promos. The best part is people read up to 98% of text messages they receive so it can be a good medium to boost repeat purchases and promote customer loyalty.
To gain SMS subscribers through your Shopify checkout page, all you need to do is add an SMS subscription field. Be clear about what your shoppers are opting into and what they gain from it.
L'ange Hair offers a good example of an SMS subscription field seamlessly integrated into the checkout process: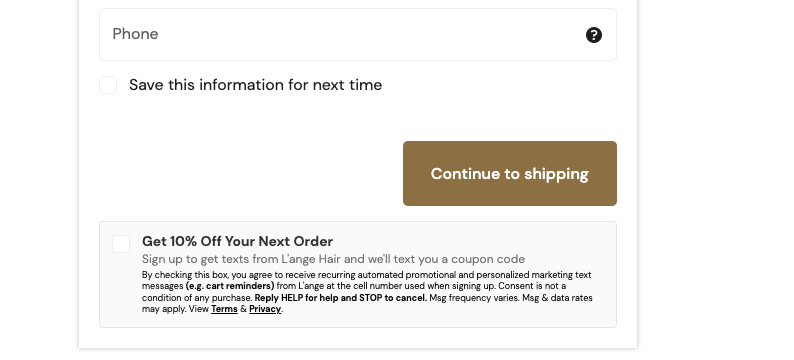 12. Add an automated, one-time discount code
Automated discounts can help you get sales, especially for new Shopify stores. Use a homepage banner to tell customers about your offer and then make sure the discount code automatically applies and is apparent on their checkout page.
Here's an example from Ana Luisa: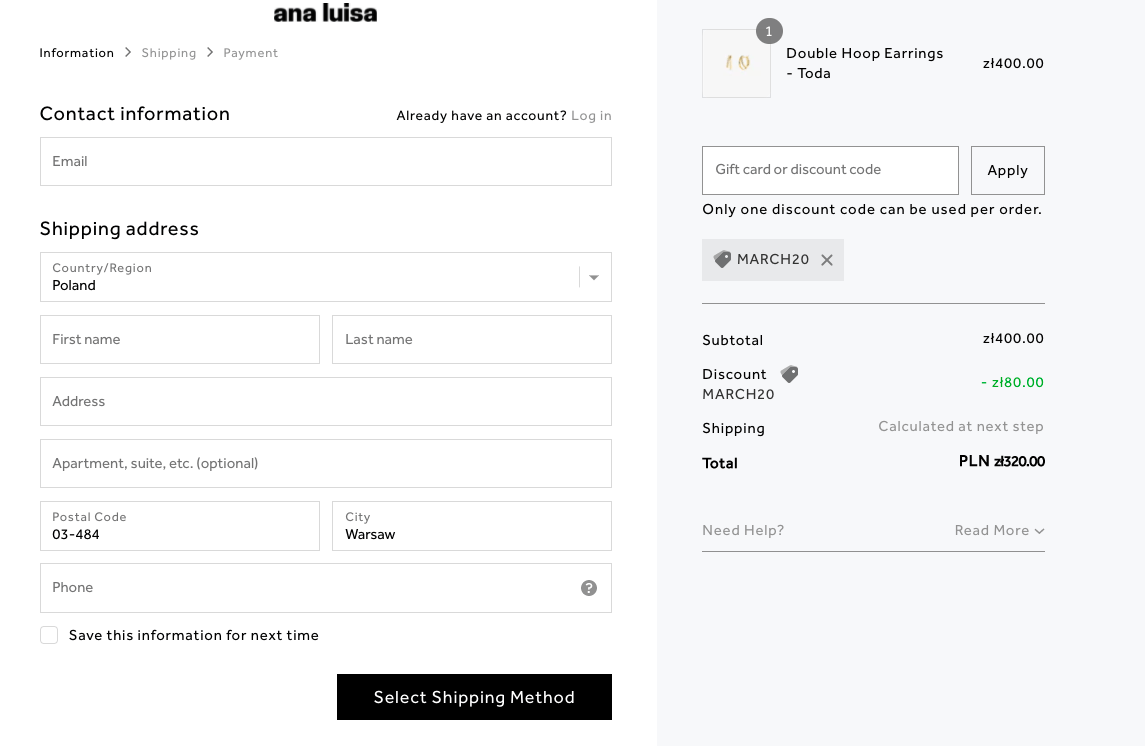 On this Shopify checkout page, the MARCH20 discount code is automatically applied but can easily be removed in case the customer wants to use another code. The total discount is also shown on the breakdown, making the shopper feel even better about the deal they're getting. Additionally, because it is a limited-time discount, the shopper is unlikely to abandon their cart for another day.
13. Induce a sense of urgency
Creating a sense of urgency doesn't have to just be about voucher expiries and limited-time offers. It could also be a short-term limit that keeps shoppers from pondering whether or not they should complete the purchase.
To generate this sense of urgency, add a small section with a timer on the checkout page. Let your shoppers know they can only reserve a product or use a special offer for as long as the timer is running. Depending on the nature of your products and the complexity of your checkout process, counting down between 10 and 15 minutes is ideal.
Take a look at how Pura Vida Bracelets implements this tactic: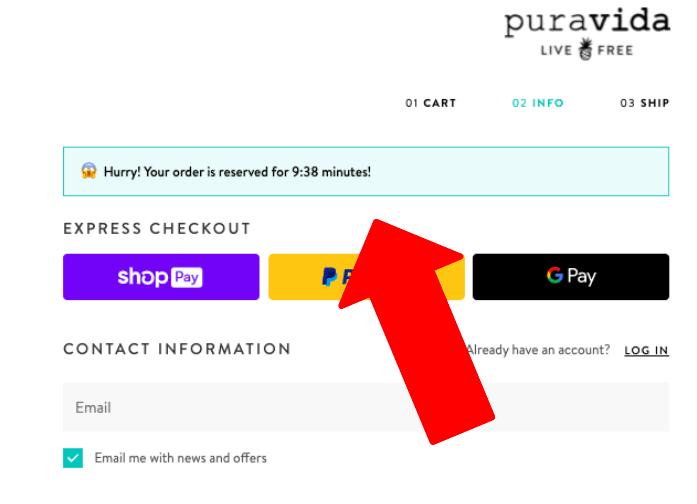 Here's another example from Burga:

To easily add a countdown timer to your Shopify checkout page, you can use an app like Nextsale or Ultimate Sales Boost. Both have easy-to-integrate countdown timers, though the former has more customization options. The Ultimate Sales Boost app, however, is less expensive to retain once you surpass the free account limits.
14. Display social proof
A Shopify checkout page is a great place to showcase why customers should trust you. To build credibility and reduce abandoned orders at the checkout, consider adding social proof like ratings or reviews.
Here's an example from Crown & Caliber: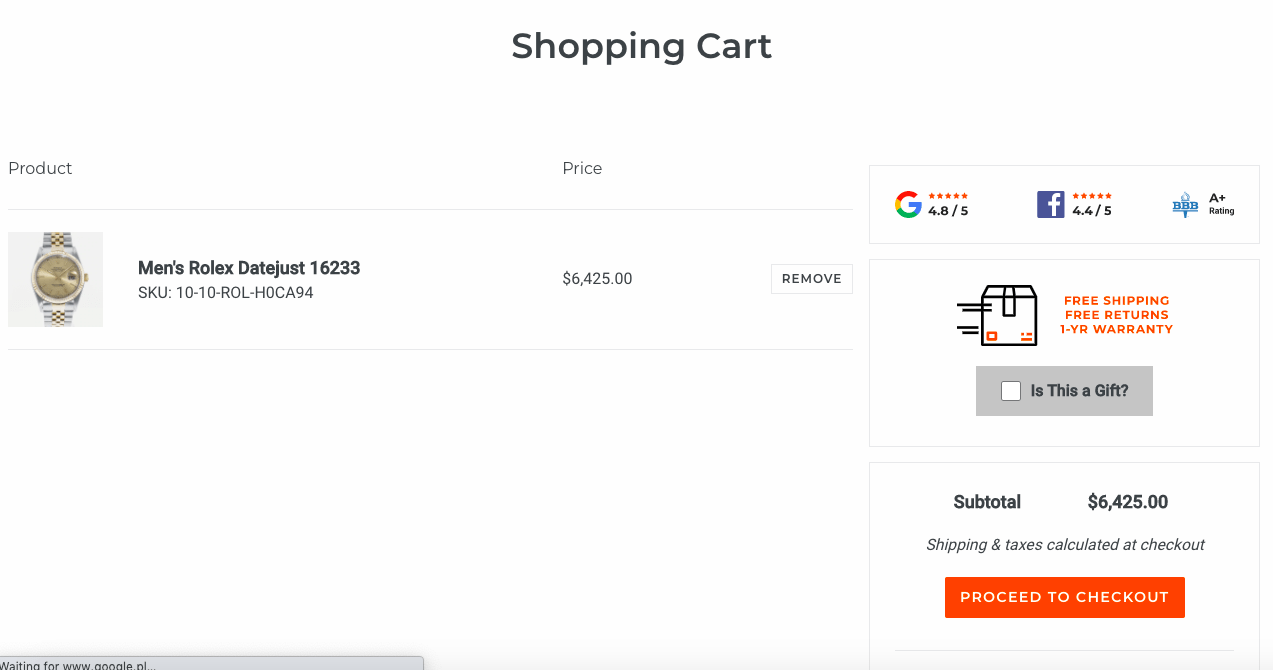 Social media ratings at the top right corner of the page put new shoppers' minds at ease as they purchase high-value items from the site.
To showcase social media ratings and other social proof on your Shopify checkout page, use trusted apps like Fera. Fera lets you boast reviews from various sites like Facebook, Google, Yotpo, Loox, and Trustpilot. You can get started for free and paid plans are available from $9 to $99 per month, depending on your requirements.
You can also use a tool like Sales Pop by CartKit. This enables you to let shoppers know when other people have purchased on your site. It helps generate trust and encourages unsure shoppers to take the plunge as well.
15. Offer multiple shipping methods
Offer several delivery methods and let shoppers choose the most convenient for them. You can expect most online shoppers to want their purchases delivered. But the Buy Online, Pickup In Store model has also become a popular means to shop, especially for local customers who want your products now.
Here's an example from Black Mango: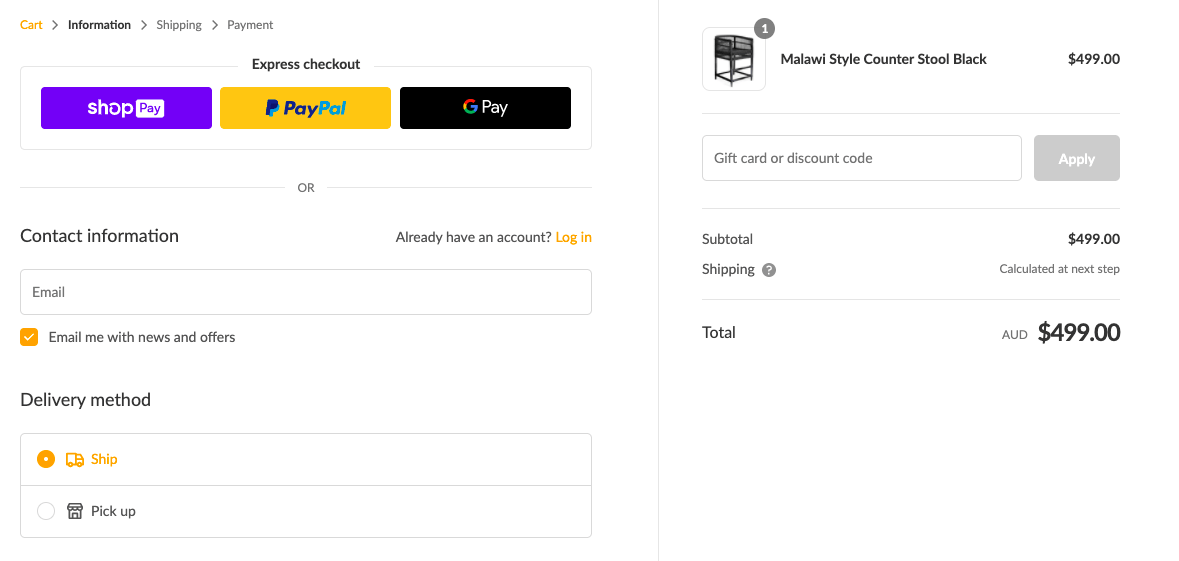 You'll notice that the store offers both shipping and pick-up options. If you have several branches or pick-up points, it helps to use this space to let shoppers select the best place to pick up.
16. Let customers have delivery options
Apart from letting shoppers buy the way they want to, let them have their products delivered according to their preferences. Some may want the least expensive options while others might prefer to spend more to get their purchases sooner.
A delivery method picker is a good way to give customers more control over their experience. By implementing such a feature, you improve the experience for all customers and you let your shoppers feel you're willing to go the extra mile to have them receive their orders more conveniently.
Here's a good example from Rebecca Minkoff:
It can be quite a complicated task to implement this feature yourself. Thankfully, several apps can take care of this for you.
Order Delivery Date by Identixweb lets you offer shipping, in-store pick-up, and local delivery. It calculates estimated arrival times and shipping costs specific to every user. Plus, it gives you additional tools to help you manage the fulfillment of orders. The app is free to try but will then cost $14.99 per month.
Store Pickup and Delivery by Zapiet is another excellent option. Beyond delivery options, estimated costs, and estimated times, it has several features that will help you with fulfillment, inventory management, and fraud prevention.
17. Add a Shopify checkout popup
Adding a customer review popup to your Shopify checkout page is a proven technique that increases conversions on your Shopify store. Take a cue from Stumptown Coffee Roasters, a successful Shopify store that utilizes this strategy to great effect.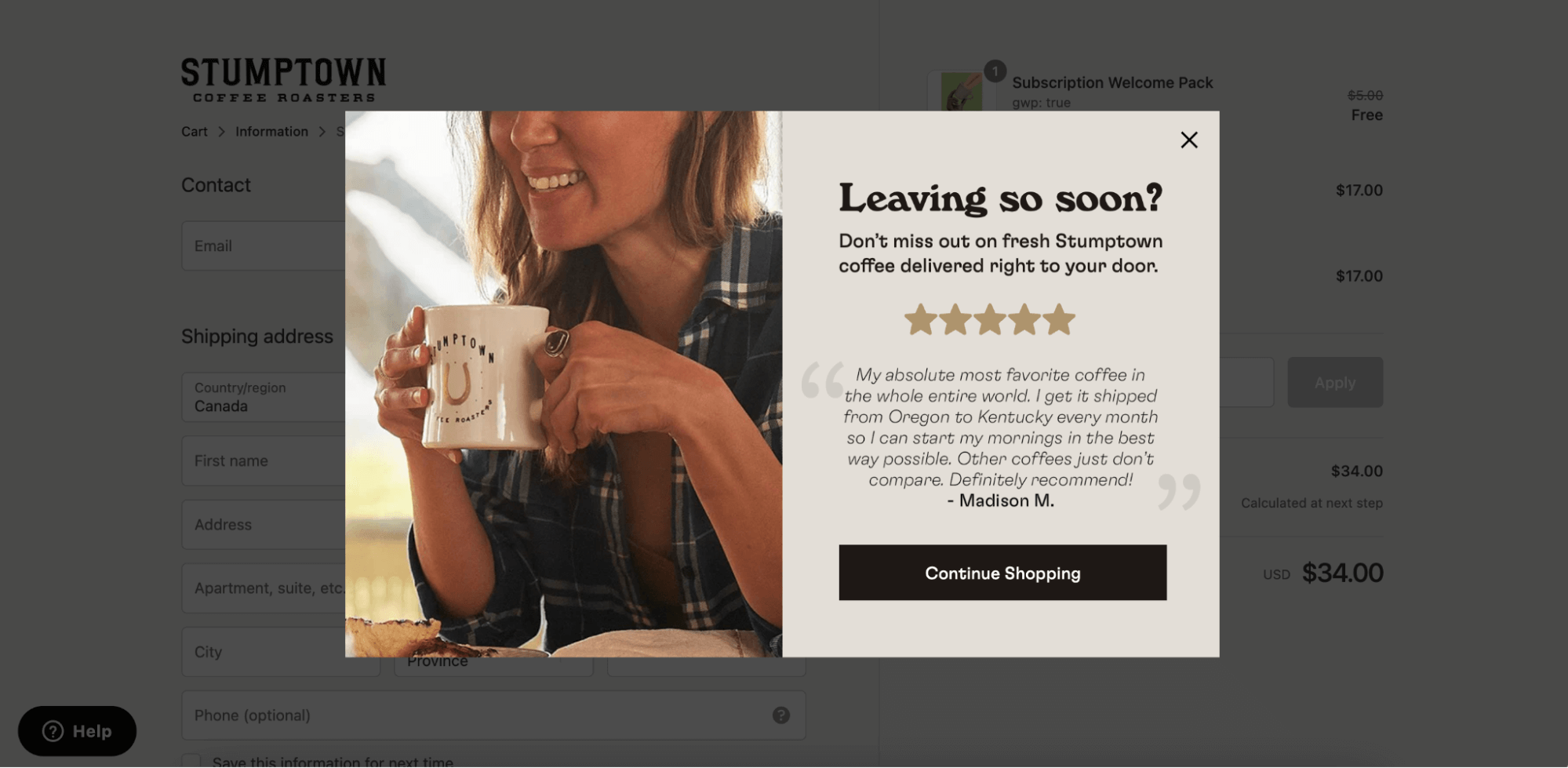 A popup with positive customer reviews during the checkout process can reassure potential and hesitant buyers about the quality and reliability of your products.
To create a checkout popup with a customer review, you'll need to use a popup app that allows you to customize the content and trigger of your popup. You can choose from apps like OptinMonster or Justuno in the Shopify app store.
The most crucial step is to set the trigger of your popup to display only on a custom event, such as inactivity for 30 seconds. This way, you can avoid interrupting the checkout process and only show the popup when the user is about to leave or abandon their cart. You can also add a countdown timer or an exit-intent offer to create a sense of urgency and increase conversions.
Shopify checkout FAQs
What is Shopify checkout?
Shopify checkout refers to the final step of the online purchasing process on an ecommerce website powered by Shopify.
The secure and user-friendly platform provided by Shopify enables customers to complete their orders and make payments for the products they wish to purchase.
A Shopify checkout streamlines the process, making it quick and effortless for customers to finalize their purchases, choose payment methods, and enter shipping information.
Can I customize Shopify checkout?
Yes, you can customize the Shopify checkout page to match your brand and enhance the user experience.
Shopify offers various customization options, allowing you to tailor the checkout process to your specific business needs and design preferences. You can modify the layout, color scheme, and fonts to maintain a cohesive brand identity throughout the shopping experience.
Additionally, you can add custom fields, include branding elements, and display customer reviews to build trust and boost conversions.
How to customize the Shopify checkout page?
Customize your Shopify checkout page to enhance the shopping experience and boost conversions. Here's how:
Set up Shopify one-page checkout
Add a checkout progress bar
Provide more express payment options
Explain why people should buy from you
Add a free shipping threshold
Show related products
Make the checkout experience unique
Turn on Shop Pay
Add live chat or a chatbot
Maximize checkout page speed
Convert visitors into SMS subscribers
Add an automated, one-time discount code
Induce a sense of urgency
Display social proof
Offer multiple delivery options
Let customers have delivery options
Add a Shopify checkout popup
Summary
Optimizing for sales doesn't just occur on your product pages. You must learn how to customize a checkout page in Shopify so your entire checkout process is friction-free. Otherwise, any interest you gain from shoppers can quickly disappear and won't translate to any revenue.
Implement these 17 Shopify checkout page optimization techniques and you are guaranteed to improve your customers' experiences. This will not only translate to a boost in sales but also continuous revenue generation from happy, loyal customers.
Get started with Omnisend today & drive sales on autopilot with pre-built automation workflows
Start Free Today
related features
Want more sales?
Omnisend has everything you need to succeed.
Start free now
No Credit Card needed.