Shopify never stops growing and expanding new ecommerce opportunities for its merchants. This huge retail ecosystem is able to facilitate ecommerce businesses of all ranges and sizes.
Take the following list of Shopify apps as a lighthouse. These featured applications are high-end tools that we recommend. They are able to cover your marketing, site optimization, logistics, paper-work, and other business needs.
Among hundreds of apps on Shopify app store, the following are the most comprehensive, easy-to-use, and reliable tools on the market.
The 31 best Shopify apps for your store
Let's take a look at the top 31 Shopify apps you need to make sure your online store succeeds.
Check them out below!
Apps for Marketing and Social Proof
Okay, this may seem biased, but honestly—we believe Omnisend's marketing automation platform is the #1 best app you can get for your ecommerce store.
Perhaps it's because we're the #1-rated email marketing platform on the Shopify App Store, or that we're seriously focused on omnichannel marketing automation.
Nonetheless, marketing automation should be your #1 priority. With powerful, actionable data and personalizaton, you can reach more customers in smarter ways on more channels.
It's perfect for ecommerce marketers that are ready to graduate from their generic email marketing tools.
Check out these integrations with Omnisend.
Free trial: Yes. 14 days of the Pro Plan for free
Monthly price: 15000 emails/month & signup forms for free. Price for Pro features depends on the number of subscribers.
If your customers love your brand, they're bound to know someone else who they can recommend you to. A simple referral program makes sharing sweeter, by offering new customers an incentive to try your store and a reward for your existing customers.
ReferralCandy integrates directly with Shopify to make managing referral programs easy. They offer deep customisation options for rewards (anything from store credits, discounts, cash payouts and gifts) and templates, so you can brand your landing pages, sharing messages and emails.
A survey found that referrals are more trusted than advertisements. A happy customer tells 9 more – but don't take it from us, take it from this happy ReferralCandy review (and the awesome support team).

FREE TRIAL: YES. 30-DAY FREE TRIAL.
MONTHLY PRICE: $49/MONTH.
The Advanced Google Shopping Feed creates a fully fledged product feed which can be used for advertising you products, on Google Shopping, Bing Shopping, Facebook, or any other platform which requires a product feed.

The feed is fully optimized for Google Shopping and contains all the product variants from your shop. Each variant is included as a separate item, with its own image, title, description, and other attributes.
With features such as Missing GTIN generation (EAN, ISBN, UPC), properly tagging 'out of stock' items, and extended titles with the variant attributes, you will be ready to start advertising properly on Google Shopping.
FREE TRIAL: YES. 14-DAY FREE TRIAL.
MONTHLY PRICE: $7/MONTH.
One of the most pressing struggles that ecommerce business owners face is not knowing how to grow their business. Even after learning more about the proven strategies, it's often difficult for them to set these strategies up in their store.
Sounds familiar to you? With that, Sumo recently developed a solution to solve the problems above: Sumo Shortcuts.
Start using Sumo today to grow your email list, reduce cart abandonment, increase average order value, convert window shoppers, and more.
With shortcuts, Sumo provides you the easiest way to turn your visitors into ecommerce customers.
FREE TRIAL: YES. 14 DAY OF THE ECOMMERCE PLAN FOR FREE
MONTHLY PRICE: FROM FREE TO $79/MONTH
Simple loyalty programs help to increase customer activity and happiness. It results in bigger revenue and long-term loyalty. The LoyaltyLion program offers points for any action on your store: a signup, purchases, Facebook Likes, social referrals, etc. Your customers will collect points and will be able to redeem them at your store. Check out how The Chivery generates 6% of their revenue from this program.
Recent integration with Yotpo allows rewarding its reviews using LoyaltyLion app.
One more good thing about this app is that stores with 100 or fewer orders per month can use this program for free.

FREE TRIAL: NO.
MONTHLY PRICE: UP TO 100 ORDERS FOR FREE. MORE THAN THAT IS FROM $29/MONTH
Everyone knows the magical power of reviews. I read reviews, you read reviews, everyone reads them. Yotpo helps to generate them in an easy way and to build the traffic and more sales.
The basic review generating platform is free of charge and has a beautiful video telling the story how it works. The additional features like On-Site Trust Widgets, social integration, SEO are paid. This app has hundreds of reviews itself. Here is one of them.

FREE TRIAL: NO.

MONTHLY PRICE: STARTS FROM $0

People love games and competitions. Why shouldn't you take advantage of it in your ecommerce store? Gleam app is a marketing tool for contests. Easy to use, easy to entertain your customers and build your email list.
There is a great BeardBrand case study that proves the effectiveness of this app.

FREE TRIAL: NO.

MONTHLY PRICE: FROM FREE TO $149/MONTH.

Implementing Google Ads conversion pixel or tracking code in your store is extremely important for running successful Google Ads campaigns. You can optimize your shopping, search or display campaigns only if you have the exact conversions data.
AdNabu's Google conversion tracking app allows you to implement a conversion code for your store without the need for any coding. You simply need to follow these steps:
Install the app
Connect your Google Account
Select the Google Ads Account (if you have multiple)
That's it! This app ensures that your conversion pixel has the best practices of tracking implemented tracking page. Your campaigns will soon start showing the actual sales and conversion values in Google Ads..

FREE TRIAL: FREE TO INSTALL.

MONTHLY PRICE: $9.99 PER MONTH IF GOOGLE ADS SPENDS > $100 FOR THAT MONTH

A study on social login found that 64% of consumers are more likely to return to a website that remembers them without repeatedly logging in, and 42% would make more online purchases using mobile devices if social login would be simplified.
One click social login enables your store to do it. Plus, it involves customers to be socially connected with your brand.
The app is pretty new and has only several reviews. Why don't to try it and leave a review?

FREE TRIAL: 15 DAYS

MONTHLY PRICE: $3/MONTH

Guys, did you know that additional expenses on shipping are a top reason to change your mind and do not to buy? Surely, it isn't always available, but you should consider it. The app Free Shipping Bar by Hextom allows you to show the free shipping offer in the different website pages.
It is fully customizable. A bar can be configured to be shown to visitors from selected countries where you want to setup free shipping. The app is free of charge.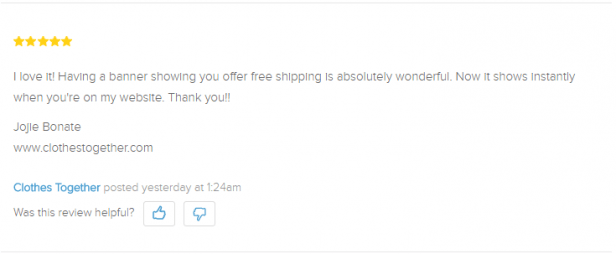 FREE TRIAL: NO.

MONTHLY PRICE: FREE OF CHARGE

Conversion optimization is one of the processes that last forever. At some point, Justuno tool can help you with that. This tool will provide you with pop-ups and bars that will help you turn visitors into customers. What I like about this app is, that it's really easy to use, it has a lot of themes, including seasonal ones. Also, they offer different scenarios for your pop-up to appear.

FREE TRIAL: YES – 14 DAYS.

MONTHLY PRICE: FROM $0 TO $99

COOPT helps you to spread the word about your store on social media. It simply offers customers the instant rewards for sharing your embedded media link at checkout, so your customers become your social media promoters. Smart, hah?
The biggest advantage of this tool is that your customers recommend your products to their friends. Your prospects will receive recommendations of you from people they trust – cannot be better!

FREE TRIAL: YES – 14 DAYS.

MONTHLY PRICE: $19/MONTH

Get your free copy of 120+ Email Marketing Resources
Smile.io is one of the most popular loyalty points, VIP, and referral programs on the Shopify App Store.
At the time of writing, they have more than 15,000 merchants using their app to turn their shoppers into loyal customers. According to Smile.io, these merchants have already seen a 15% increase year-over-year in their revenue and even a 20% increase in repeat buys.
That makes it a very useful app to incorporate into your Shopify store if you want to make sure you don't just get customers, but also that you keep them around for longer.
Just look at what one of their customers recently said on the App Store:

FREE TRIAL: NO.
MONTHLY PRICE: FREE UP TO 500 MEMEBERS. $59/MONTH FOR MORE
Loox is a review app that allows you to use social proof by way of photo reviews of your online store.
It allows you to send automatic emails that ask your customers for reviews. In return for those reviews, you can offer discounts any time the photos are submitted.
According to Loox, products that included photo reviews increased conversions by up to 91%. Loox allows you to get those photo reviews that you can host on any page of your store (such as below the product that is being shown in the pictures) or even a dedicated review page.
Here's an example review from one of their customers: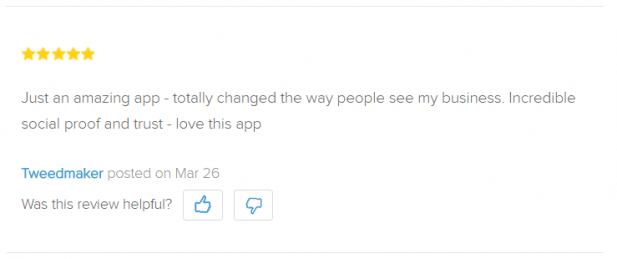 Free trial: Yes – 14 days.
Monthly price: $9.99/month
Instagram is a powerful source for getting new customers and great social proof for your amazing products.
Snapppt is an approved Instagram app that allows you to make your images shoppable to anyone using the social media platform. You can make embeddable Instagram galleries, lookbooks and catalogues that are shoppable directly from Instagram.
They also happen to have a pretty easy plug-n-play Shopify store integration, meaning you can get started right away.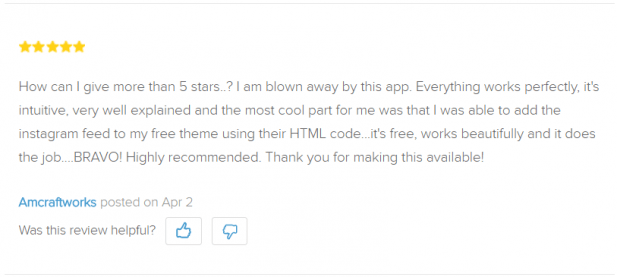 Free trial: No.
Monthly price: Free
Personizely is a conversion marketing toolkit used to make the most out of every website visitor by collecting their contact info, increasing average order value and boosting sales with targeted popups.
It makes it simple to create the high-converting popup with its easy to use builder which gives you the full freedom of design.
This tool can help you to easily edit your website according to a visitor's activity history, referral source, geolocation, device, cart value, order history and many more, splitting the website into variations with its visual on-site editor.
This app helps consolidate a large set of functionality in one place: email popup, cart abandonment exit intent popup, countdown timer bar, product upsell & cross-sell, product recommendation, sales motivator bar, and website personalization.

FREE TRIAL:  The first 14 days

MONTHLY PRICE: Starts from $29/month

Business Analytics and SEO Tools
To start selling more you have to take care of the traffic to your store. Here the search engine optimization (SEO) comes to help. One of the best solutions to take care of your SEO is SEO Manager tool.
It is easy to install, use and provides a great customer support.
The tool provides 20 features, including titles and description editor, keyword suggestion, advanced meta settings, Google Mobile-friendly test, etc.

Free trial: Yes. 7 days for free.
Monthly price: $20/month.
Site Building Tools
Made by Hextom, Bulk Product Edit is a great tool if you want to easily edit various aspects of your many products.
Going through each and every product can be a huge pain, which is why Bulk Product Edit is such a great tool. It allows you to edit your product's price, compared-at price, inventory, title, tags, and much more.
You can target the products to edit by the collection, product type, vendor, keywords, tags and title.  Even better, you can now schedule these bulk product edits to run on any future date, which is great if you'll change prices in the future (such as after a big promotion) or if you make regular updates.

Free trial: Yes – 7 days free.
Monthly price: $14.99/month
Finding the perfect theme that goes with your brand identity can be a hard task, which is why Shogun's Drag & Drop Page Builder is such a great find.
Without requiring any coding skills, you can easily create pages that fit with the feel of your online store. This app works with any Shopify theme and helps you create beautiful landing, home, product and blog pages.
It's also great that they're responsive, meaning your store will look beautiful on any device. Their reviews are pretty great too:

Free trial: Yes- 10 days.
Monthly price: $19/month
This is a great app if you're ready to move on up and start optimizing your site for better conversions. As you know, roughly 97% of all the people that visit your online store will never buy from you.
You can accept the status quo, but if you want to help increase your conversion rate above the industry average, you need to get accurate insights into how your visitors are behaving on your online site.
With Lucky Orange, you can get great insights with sales chat, form analytics, recordings, heatmaps, polls and more.

Free trial: Yes, 7 days with full access.
Monthly price: $10/month
Your customers often have a lot of questions, and a lot of that will generally be the exact same questions.
That's where HelpCenter comes into play. It helps you to easily create an FAQ page or section for your website so that your online shoppers can easily find their answers. This will also help to reduce your support staff's time spent by 30%.
The app also allows shoppers to submit questions you don't have an answer to yet. If you see the question is popular, you can add it to your FAQ.

Free trial: No.
Monthly price: Free.
It can be hard to get customers to convert into subscribers or even buyers. One way that doesn't ask them to commit before they're ready is to allow them to create a wishlist.
Wishlist Plus makes this easy by allowing visitors to make wishlists of products they'd like to buy from you without having to log in. They'll also be able to share the wishlist across all channels.
In the app, you can get rich insights on what items your customers have added, including site engagement.

Free trial: Yes – 14 days.
Monthly price: Starts from $0. Starter plan is $9.99/month.
Apps for Shipping and Dropshipping
If you've heard anything about dropshipping, you've probably heard of Oberlo. Dropshipping has allowed thousands of entrepreneurs launch their businesses easily.
They are the go-to app for helping your store import and dropship products directly into your store. It also allows you to be sure that your inventory and prices are always up-to-date, meaning you'll have to worry less about price fluctuations.
They also have lots of great features–and resources–on their blog. And, naturally, their customers love them: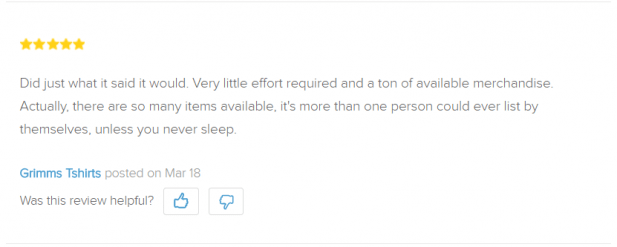 Free trial: Yes, free up to 50 orders/month.
Monthly price: From $0. More than 50 orders is $29.90/month
One of the hardest things of having inventory and sending the products out to your customers is figuring out your shipping logistics.
Easyship is a user-friendly app that allows you to choose from more than 100 different shipping solutions (such as DHL, FedEx, UPS, etc.) so that you can get the best price–and even get up to 70% off on shipping costs.
Due to their Shopify integration, you can sync your orders in a matter of seconds, downloading your orders and printing labels quickly and easily.
Check out some of their reviews here: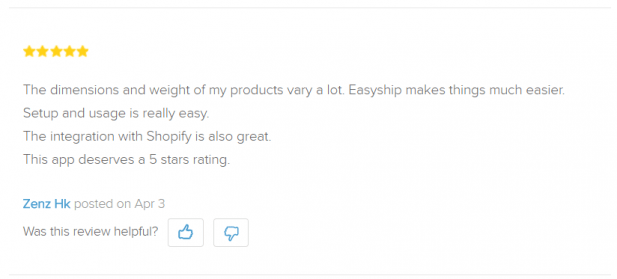 Free trial: No.
Monthly price: No subscription fees.
Another important shipping app on Shopify is AfterShip, which allows you to track all of your shipments in one place. This means your customers will have all the information they need about your delivery.
AfterShip also makes it easy for you to generate a tracking page for each shipment. This page can then be customized by including your store URL, brand logo, and even Instagram pictures.

Free trial: No.
Monthly price: from $0/month
Veeqo is the UK's #1 shipping software for fast-growing commerce brands that allows retailers to sync orders from every sales channel, and manage your entire shipping process in one easy-to-use platform.
By integrating with the world's leading shipping carriers, Veeqo allows you to generate shipping labels in bulk for any of your orders from any of your channels – designed to save retailers selling on multiple channels valuable time.
The service also allows retailers to create automation rules to easily customize shipping and order fulfillment processes, view a range of shipping quotes on a single screen, and track the status of any order and package without ever having to log in to carrier accounts.

Free trial: No.
Monthly price: Free to start; plans begin at $200.
The best alternative to Oberlo has to be Spocket. They differentiated themselves from the other dropshipping apps by focusing on US and EU suppliers so customers can receive their orders fast. With retail giant Amazon dominating eCommerce, fast shipping is now a necessity to keep up.
Spocket also offers 24/7 support and branded invoicing so your customer sees your brand when they receive their product.
With a 4.7 rating and over 1500 votes, it's easy to see why people have great things to say about Spocket.
Free trial: Yes – 14 days.
Monthly price: plans begin at $29.
I hope you will find these apps useful and you will succeed in selling more and growing your business.
If you know good tools as alternatives to these ones – please don't be shy to share them in the comments!
Apps for Facilitating Your Paper-work
Printful is a printing and warehousing app that allows merchants to print items on demand. They will also fulfill the orders, meaning they'll send it directly to your customers without needing any extra work from you.
This is particularly useful if you sell t-shirts, sweaters, cups, tote bags and other items and don't want to stock inventory in a warehouse. You can simply create the visuals for your products, load it up in their easy-to-use app, and set it up in your store.
When customers order those products, they're then printed and shipped directly to the customers.
Printful also happens to be the highest-rated print-on-demand app on Shopify:

Free trial: Yes
Monthly price: depends on products
If you need a great invoicing solution, you don't need to look any further than Sufio.
This app allows you to automatically create invoices whenever orders are created, paid or fulfilled. You can then send these invoices by email to your customers, or even include download links in your store.
Sufio also allows you to accept credit card payments for unpaid invoices. Since you'll make it easier for your customers to pay you, you'll get paid faster.

Free trial: Yes – 14 days.
Monthly price: Basic plan starts at $19/month.
_________
So this is the end of our recommended apps' list on Shopify. If you use the tool that is definitely worth a crown, please write it in a comment! Sharing is caring!
Get a personal 1-on-1 demo (that will superpower your next campaign)!