Drive sales on autopilot with ecommerce-focused features
See Features
The 36 Best Shopify Apps to Sell More [2021 Edition]
Popular
·
18
min read · Sep 08, 2021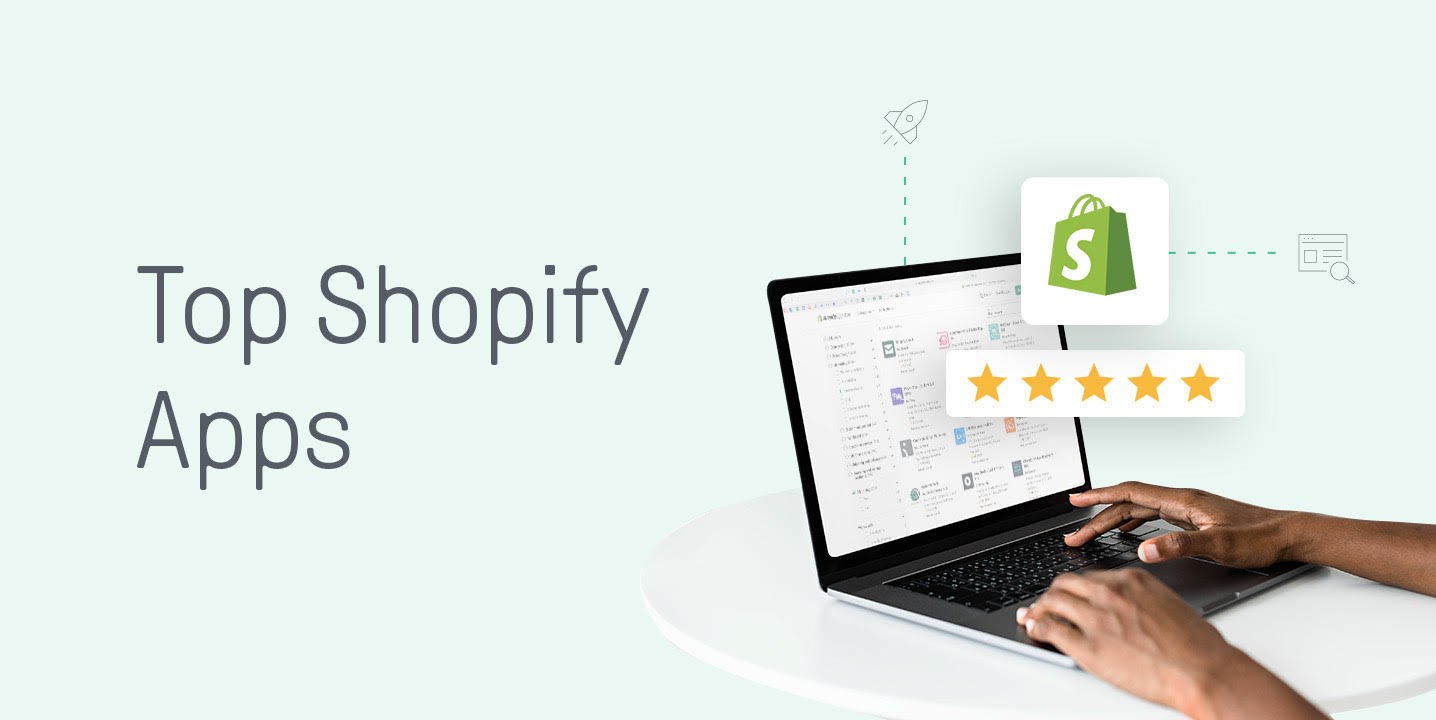 Reading Time:
18
minutes
Shopify never stops growing and expanding new ecommerce opportunities for its merchants. This robust retail ecosystem is able to facilitate ecommerce businesses of all ranges and sizes. No wonder why many marketers and business owners consider it the best ecommerce platform.
Take the following list of best Shopify apps to increase sales and other parts of your business. These featured applications are high-end tools, and the best Shopify integrations to increase sales, get more customers to your store, and cover site optimization, logistics, and other business needs.
Among hundreds of apps on the Shopify app store, the following are the best of the best plugins for Shopify, the most comprehensive, easy-to-use, and reliable tools on the market.
The 36 best Shopify apps for your store
Let's take a look at the top Shopify apps you need to make sure your online store succeeds.
For each section, we offer you a few options you can choose from to make your Shopify store a success.
Shopify Email Marketing Apps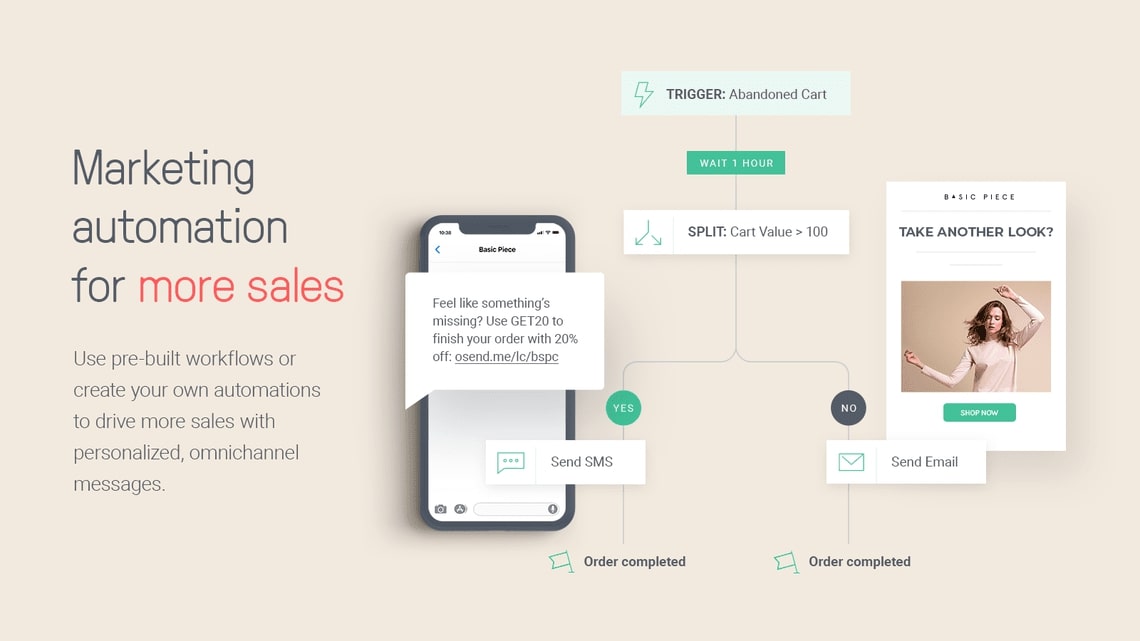 Okay, this may seem biased, but honestly—we believe Omnisend's marketing automation platform is the best app you can get for your ecommerce store.
Perhaps it's because we're the #1-rated email marketing platform on the Shopify App Store, or that we're the only tool on the market that offers true omnichannel marketing automation.
Nonetheless, marketing automation should be your #1 priority. With powerful, actionable data and personalization, Omnisend is one of the best email marketing apps to help you reach more customers in smarter ways on more channels. You can do this on SMS, email, push notifications and more, and use powerful abandoned cart, welcome series and other high-converting automation workflows.
It's perfect for ecommerce marketers that are ready to graduate from their generic email marketing tools. It's easy to see why this is one of the best apps to increase sales.
Free trial: Has a free plan. Start using all of Omnisend's features with a Free plan.
Monthly price: Standard plan starts from $16/month. Price for Pro features depends on the number of subscribers. Additionally, you get free SMS credits equal to the price you pay for your plans.
Start using all of Omnisend's features with a Free plan and drive more sales on autopilot.
Start free today

One of the most pressing struggles that ecommerce business owners face is not knowing how to grow their business. Even after learning more about the proven strategies, it's often difficult for them to set these strategies up in their store.
Sound familiar to you? With that, Sumo recently developed a solution to solve the problems above: Sumo Shortcuts.
Start using Sumo today to grow your email list, reduce cart abandonment, increase average order value, convert window shoppers, and more.
With shortcuts, Sumo provides you the easiest way to turn your visitors into ecommerce customers.
Free trial: yes. 14 day of the ecommerce plan for free
Monthly price: from free to $79/month
Shopify Customer Loyalty Program Apps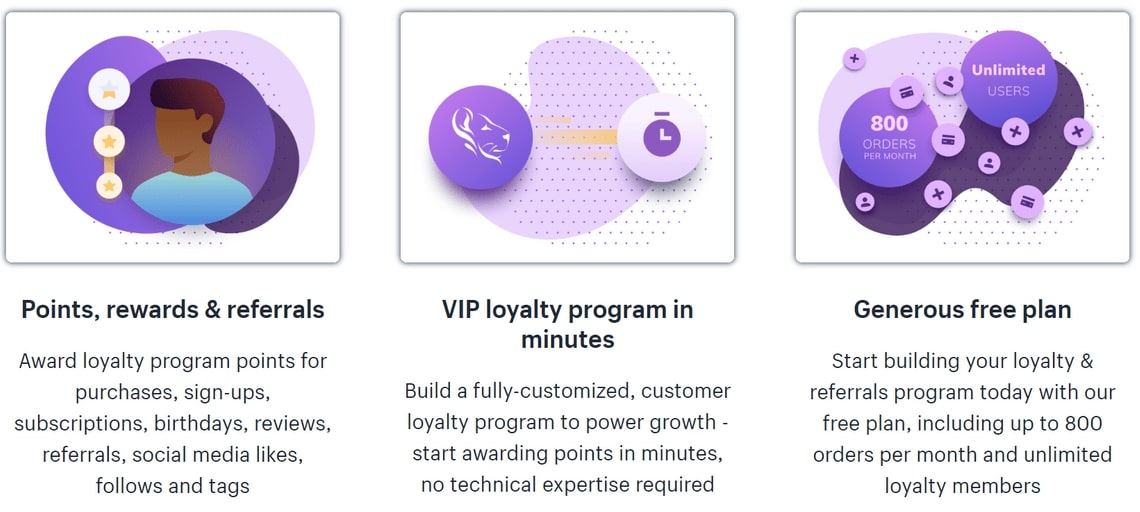 Simple loyalty programs help online stores increase customer activity and happiness.
It results in bigger revenue and long-term loyalty. The LoyaltyLion program offers points for any action on your store: signup, purchases, Facebook
Likes, social referrals, etc. Your customers will collect points and will be able to redeem them at your store. Check out how The Chivery generates 6% of its revenue from this program.
Recent integration with Yotpo allows rewarding its reviews using LoyaltyLion app.
One more good thing about this app is that online stores with 100 or fewer orders per month can use this program for free.
Free trial: no
Monthly price: up to 100 orders for free. more than that is from $29/month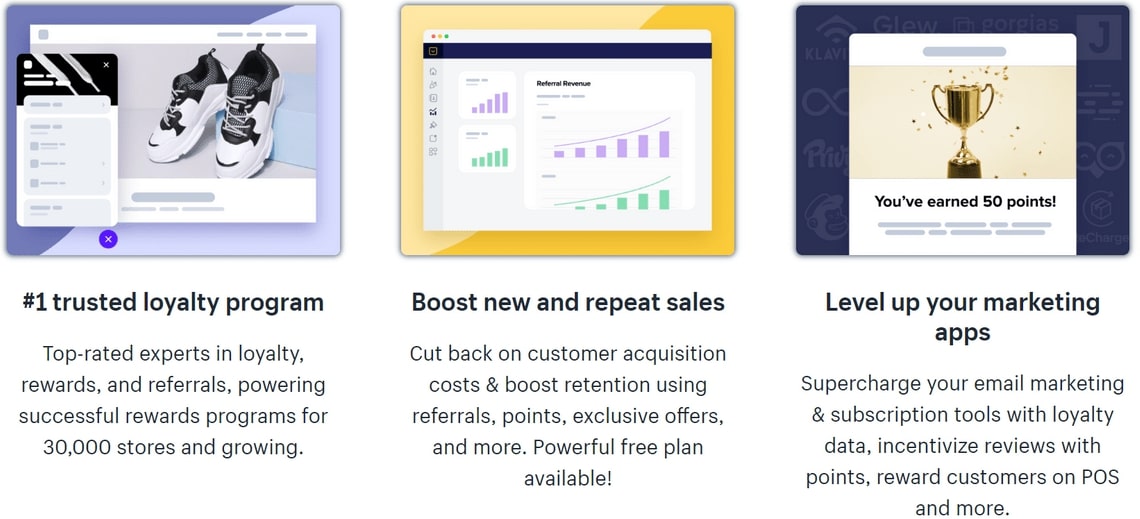 Smile.io is one of the most popular loyalty points, VIP, and referral programs on the Shopify App Store.
At the time of writing, they have more than 15,000 merchants using their app to turn their shoppers into loyal customers. According to Smile.io, merchants have already seen a 15% increase year-over-year in their revenue and even a 20% increase in repeat buys.
That makes it one of the top loyalty program apps to help make sure you don't just get customers, but also that you keep them around for longer.
Free trial: no
Monthly price: free up to 500 members. $59/month for more
Shopify Apps for Referral and Affiliate Marketing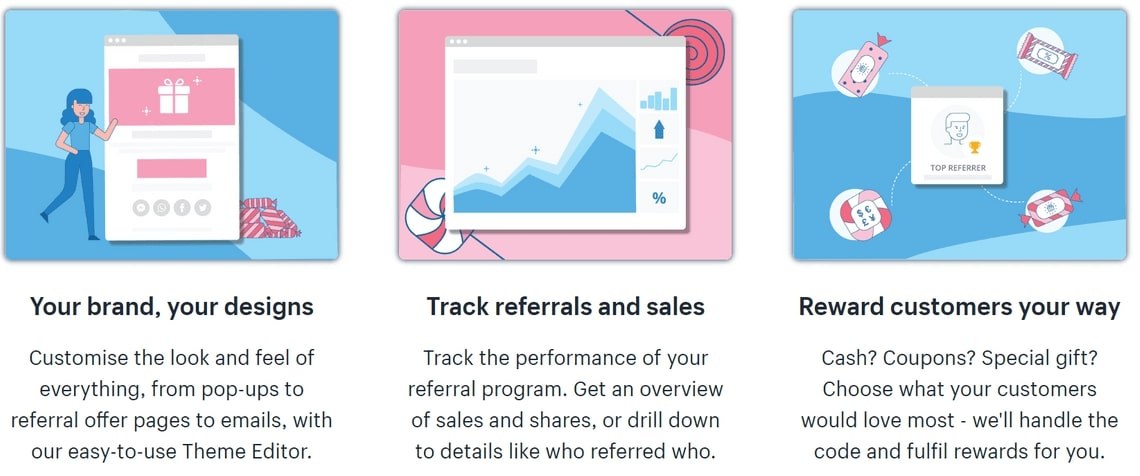 In general, referrals are a powerful tool in sales. Personal recommendations make an impact on 80% of purchases. So that's something you should definitely try out for your ecommerce store.
ReferralCandy is an easy-to-use and offers one of the best Shopify tools for a branded, seamless referral program. This makes it one of the top Shopify marketing apps.
By using ReferralCandy, you can choose a type of rewards and incentives: cash rewards, coupon codes, unique gifts – they are all available.
Furthermore, they all are paid out automatically.
The tool provides you with high flexibility in terms of branding and customization. The setup process doesn't require any coding skills. And what is very important – these guys provide superior customer support.

Free trial: yes. 30-day free trial.
Monthly price: $49/month + commissions which depend on the number of sales

Growave is an all-in-one marketing platform that helps businesses reach, engage, and convert their customers. The app offers a variety of tools, such as Reviews, Wishlists, Q&A, Loyalty and referral programs, Social login, Instagram galleries, and more.
Such a multifunctional profile of the app allows it in effect to stand as a complete tool for social marketing and makes it as much as 6 times more cost-effective when compared to the alternatives. This loyalty program will help create longer-term customers for your store.
Free trial: yes, a 14-day trial for each of the paid plans
Monthly price: free for up to 100 orders/month. Paid plans start at $29.99/month
Shopify Apps for Product Reviews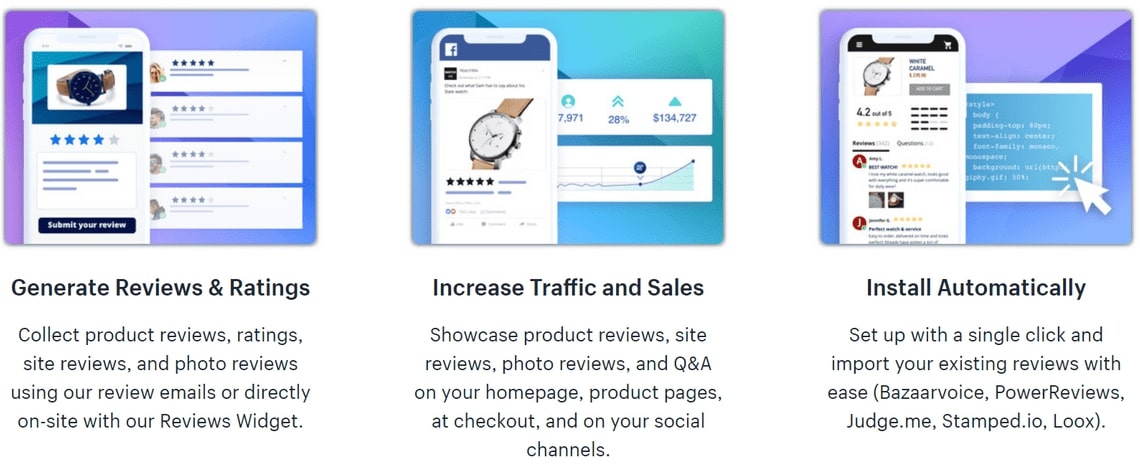 Everyone knows the magical power of reviews. I read reviews, you read reviews, everyone reads them. Yotpo helps to generate them in an easy way and to build traffic and more sales.
The fundamental review generating platform is free of charge and has a beautiful video telling the story of how it works. The additional key features like On-Site Trust Widgets, social integration, SEO are paid. This app has hundreds of reviews itself.
Free trial: no
Monthly price: starts from $0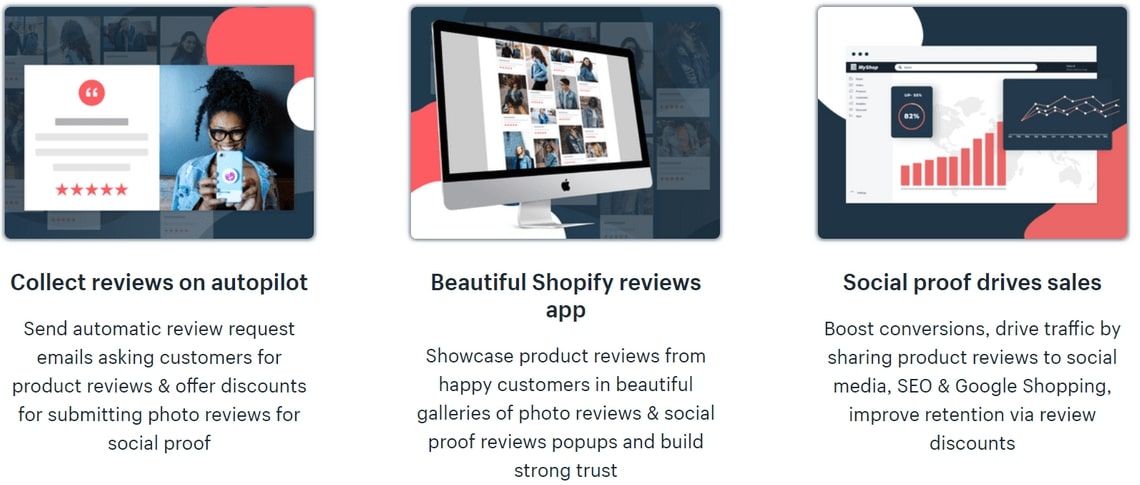 Loox is a review app that allows you to use social proof by way of photo reviews of your online store.
It allows you to send automatic emails that ask your customers for reviews. In return for those reviews, you can offer discounts each time the photos are submitted.
According to Loox, products that included photo reviews increased conversions by up to 91%. Loox allows you to get those photo reviews that you can host on any page of your store (such as below the product that is being shown in the pictures) or even a dedicated review page.
Free trial: Yes – 14 days
Monthly price: $9.99/month
Shopify Apps to Increase Conversion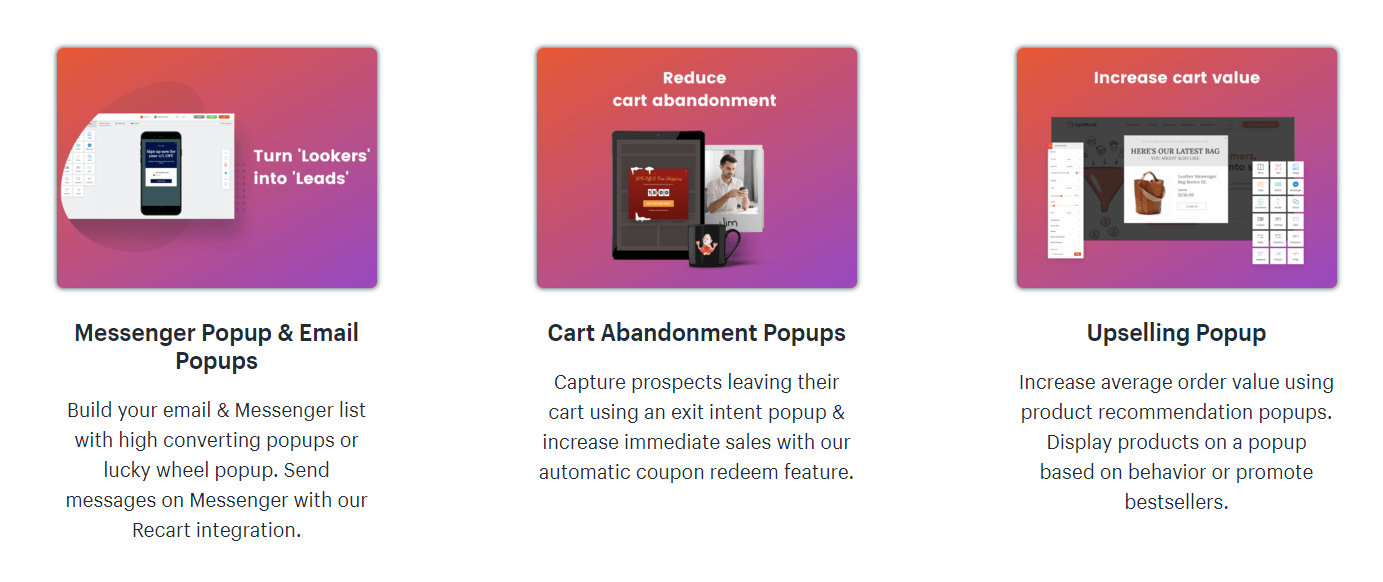 97% of visitors aren't ready to buy on the first visit to your ecommerce store. No matter how well-optimized your website is. This is one of the biggest problems of Shopify merchants, but luckily there's a solution for that.
OptiMonk is a conversion optimization tool that helps online stores to build an email list, reduce cart abandonment and grow sales. It allows you to create, personalize and launch popups, sidebars, notification bars, and full screens without coding.
OptiMonk comes with 200+ ready-to-use templates and a Drag & Drop editor, so you can create your first campaign in minutes. This is one of the top apps to increase sales with key features your Shopify store needs to succeed.
Free trial: no
Monthly price: free up to 3,000 pageviews/month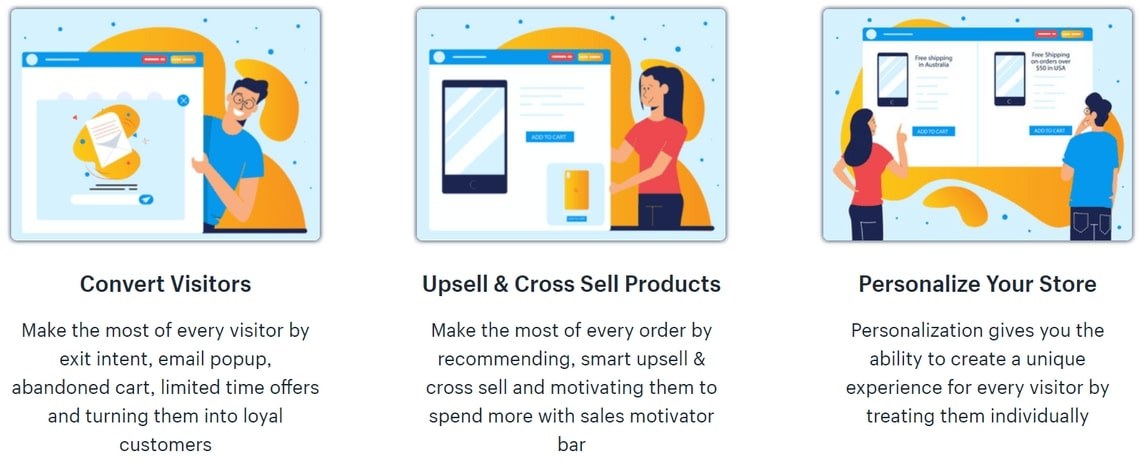 Personizely is a conversion marketing toolkit used to make the most out of every website visitor by collecting their contact info, increasing average order value, and boosting sales with targeted popups.
It makes it simple to create the high-converting popup with its easy to use builder, which gives you the full freedom of design.
This tool can help you to easily edit your website according to a visitor's activity history, referral source, geolocation, device, cart value, order history and many more, splitting the website into variations with its visual on-site editor.
This app helps consolidate a large set of functionalities in one place: email popups, cart abandonment, exit-intent popups, countdown timer bars, product upsell & cross-sell, product recommendations, sales motivator bars, and website personalization.
Free trial: The first 14 days
Monthly price: Starts from $29/month
Shopify Apps for SEO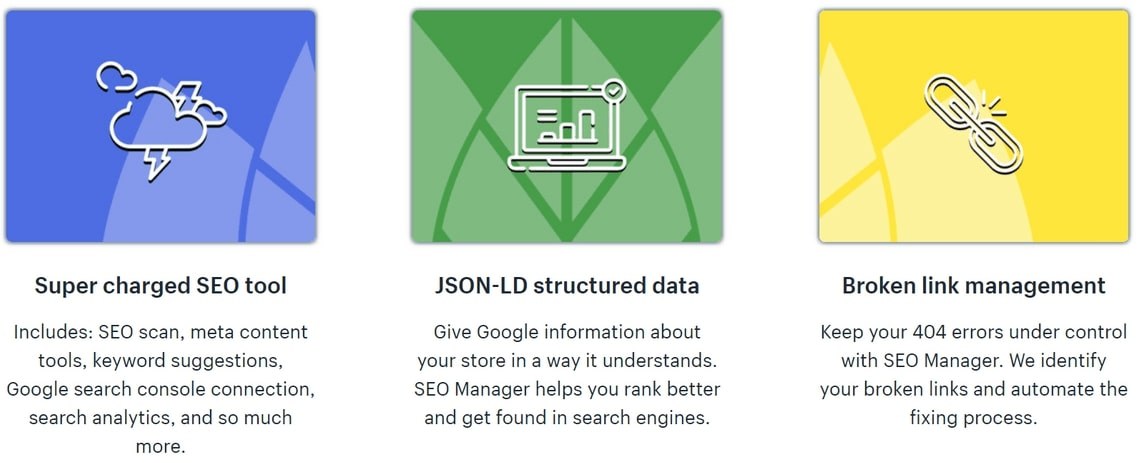 To start selling more you have to take care of the traffic to your store. Here the search engine optimization (SEO) comes to help. One of the best solutions to take care of your SEO is SEO Manager tool.
It is easy to install, use and provides great customer support.
The tool provides 20 key features, including titles and description editor, keyword suggestion, advanced meta settings, Google Mobile-friendly test, etc.
Free trial: Yes. 7 days for free
Monthly price: $20/month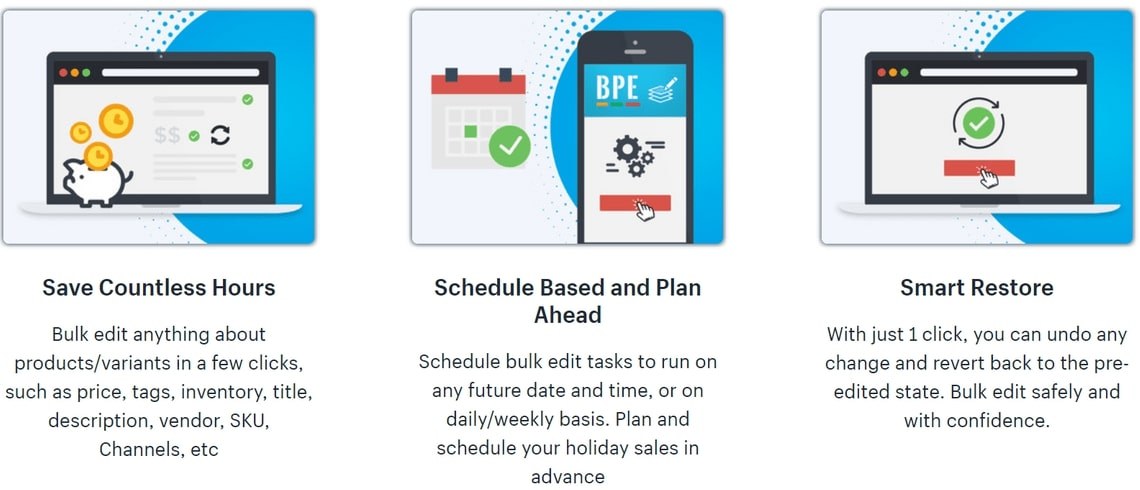 Made by Hextom, Bulk Product Edit is a great tool if you want to edit various aspects of your many products easily.
Going through each and every product can be a huge pain, which is why Bulk Product Edit is such a great tool. It allows you to edit your product's price, compared-at price, inventory, title, tags, and much more.
You can target the products to edit by the collection, product type, vendor, keywords, tags, and title. Even better, you can now schedule these bulk product edits to run on any future date, which is great if you'll change prices in the future (such as after a big promotion) or if you make regular updates.
Free trial: Yes – 7 days free
Monthly price: Free plan is available. Paid plans start from $9.99/month
Shopify Apps for Building and Optimizing a Website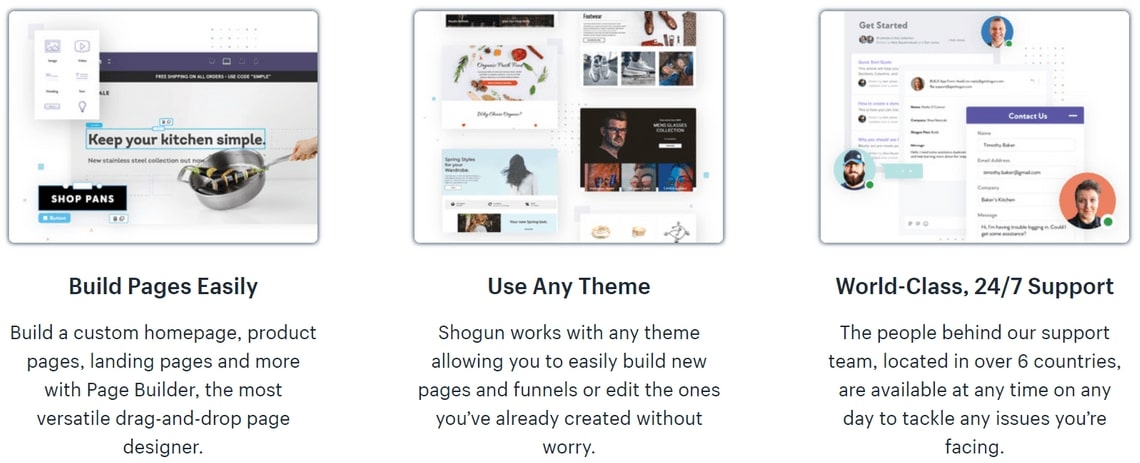 Finding the perfect theme that goes with your brand identity can be a hard task, which is why Shogun's Drag & Drop Page Builder is such a great find.
Without requiring any coding skills, you can easily create pages that fit with the feel of your online store.
This app works with any Shopify theme and helps you create beautiful landing, home, product, and blog pages.
It's also great that they're responsive, meaning your store will look beautiful on any device.
Free trial: Yes- 10 days
Monthly price: $39/month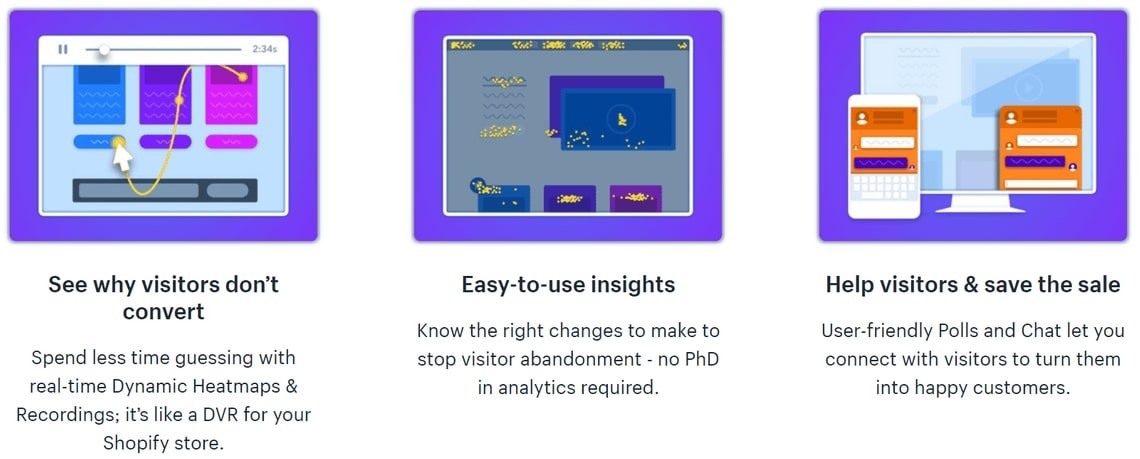 This is a great app if you're ready to move on up and start optimizing your site for better conversions. As you know, roughly 97% of all the people that visit your online store will never buy from you.
You can accept the status quo, but if you want to help increase your conversion rate above the industry average, you need to get accurate insights into how your visitors are behaving on your online site.
With Lucky Orange, you can get great insights with sales chat, form analytics, recordings, heatmaps, polls, and more.
Free trial: Yes, 7 days with full access
Monthly price: $10/month

Did you know that the way your product is described can make or break a purchase?
A well-crafted description is your product's very own professional salesman. And just like a bad salesman, a poor product description will turn visitors away.
Epic Product Descriptions has a network of 300+ copywriters that will write any number of totally unique, high-converting descriptions in 72 hours.
Choose between basic, SEO and sales options, and leave optional comments. Descriptions will be written according to your exact requirements.
With one click to confirm, your store is instantly updated. No importing and updating product descriptions manually, no researching sales copywriting formulas, vetting copywriters or rewriting suppliers' descriptions. It's the app that saves you time and money.
Free trial: yes, $5 off your first description
Monthly price: free of charge
Translate your Shopify store with the Weglot app – a multilingual solution that allows you to add multiple languages instantly.
Weglot detects, translates and displays the content of your store, and gives you full control over your website translations with post editing features. Installed in just 5 minutes you'll have a fully translated Shopify store – including the checkout process and email notifications – that's also SEO optimized for your new markets.
With useful features such as a visual editor – you can edit your translations within the website structure and design, and easily see what your translated pages look like before going live.
Key features:
Simple fast installation – no code solution
Compatible with all Shopify themes and apps
Automatic and human translations
Access to professional translators
Automatically added language switcher
Multilingual SEO ready
Weglot is powering 50,000+ multilingual websites around the world. Some of our proud customers include: Microsoft, Steve Madden, Bluetooth, Crabtree & Evelyn and Murad.
Free trial: Yes – 10 days free
Monthly price: Plans start from $9.90/month
Shopify Apps for Shipping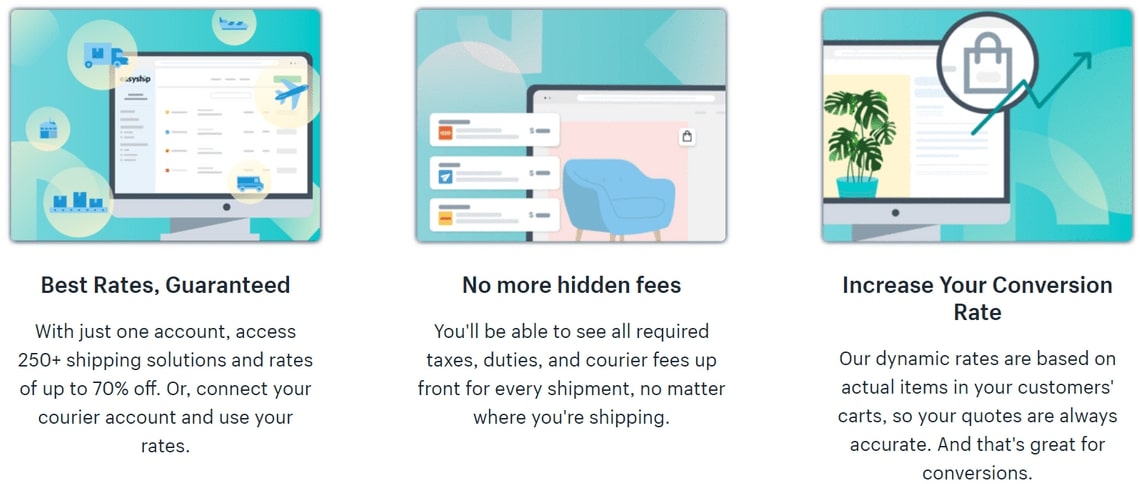 One of the hardest things about having inventory and sending the products out to your customers is figuring out your shipping logistics.
Easyship is a user-friendly app that allows you to choose from more than 100 different shipping solutions (such as DHL, FedEx, UPS, etc.) so that you can get the best price–and even get up to 70% off on shipping costs.
Due to their Shopify integration, you can sync your orders in a matter of seconds, downloading your orders and printing labels quickly and easily.
Free trial: No.
Monthly price: No subscription fees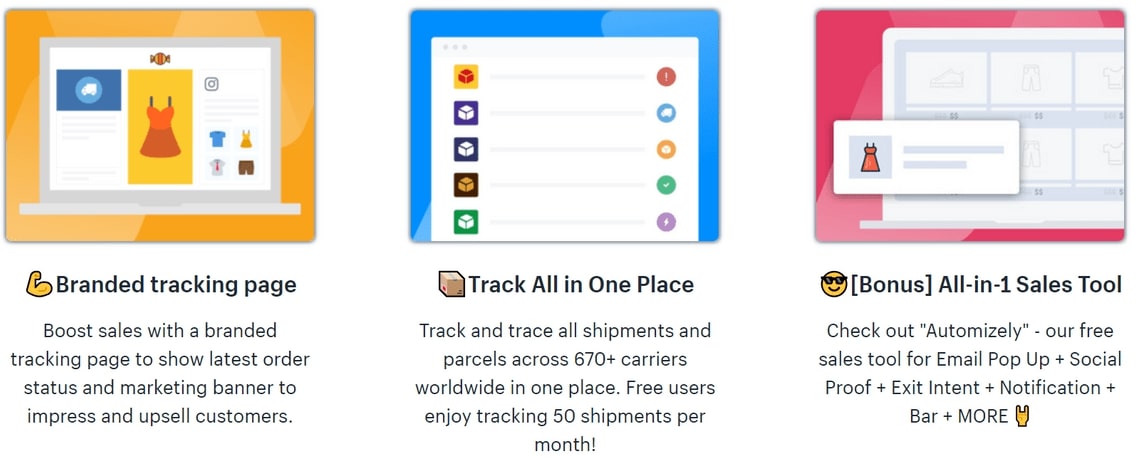 Another important shipping app on Shopify is AfterShip, which allows you to track all of your shipments in one place. This means your customers will have all the information they need about your delivery.
AfterShip also makes it easy for you to generate a tracking page for each shipment. This page can then be customized by including your store URL, brand logo, and even Instagram pictures.
Free trial: Yes, for 14 days
Monthly price: from $0/month

The Multi Carrier Shipping Label app is a complete shipping solution for the Shopify merchants that integrates with multiple carriers like FedEx, UPS, USPS, DHL, and much more. The app allows you to display shipping rates at checkout, print shipping labels in bulk and automate the shipment tracking process.
Also, the app solves one of the most pressing struggles of the Shopify merchants; handle the packaging process by adding multiple boxes based on your product weight & dimensions.
You can create different rules based on criteria like shipping zones, product quantity, weight range, time, price, etc. and the app allows you to display rates based on these rules. With these key features, the app makes the process of shipping & tracking much easier.
Free trial: Yes. 14-day for free
Monthly price: from $9/month
Shopify Apps for Dropshipping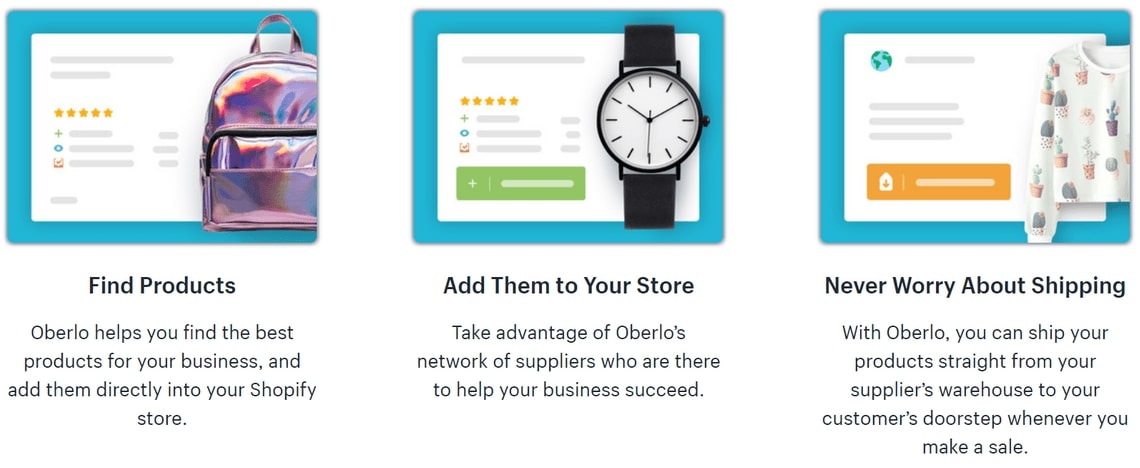 If you've heard anything about dropshipping, you've probably heard of Oberlo. Dropshipping has allowed thousands of entrepreneurs to launch their businesses easily.
This is one of the most popular apps to help your store import and dropship products directly into your store. It also allows you to be sure that your inventory and prices are always up-to-date, meaning you'll have to worry less about price fluctuations.
They also have lots of great features–and resources–on their blog. And, naturally, their customers love them.
Free trial: No
Monthly price: "Starter" plan is free. Paid plans start at $29.90/month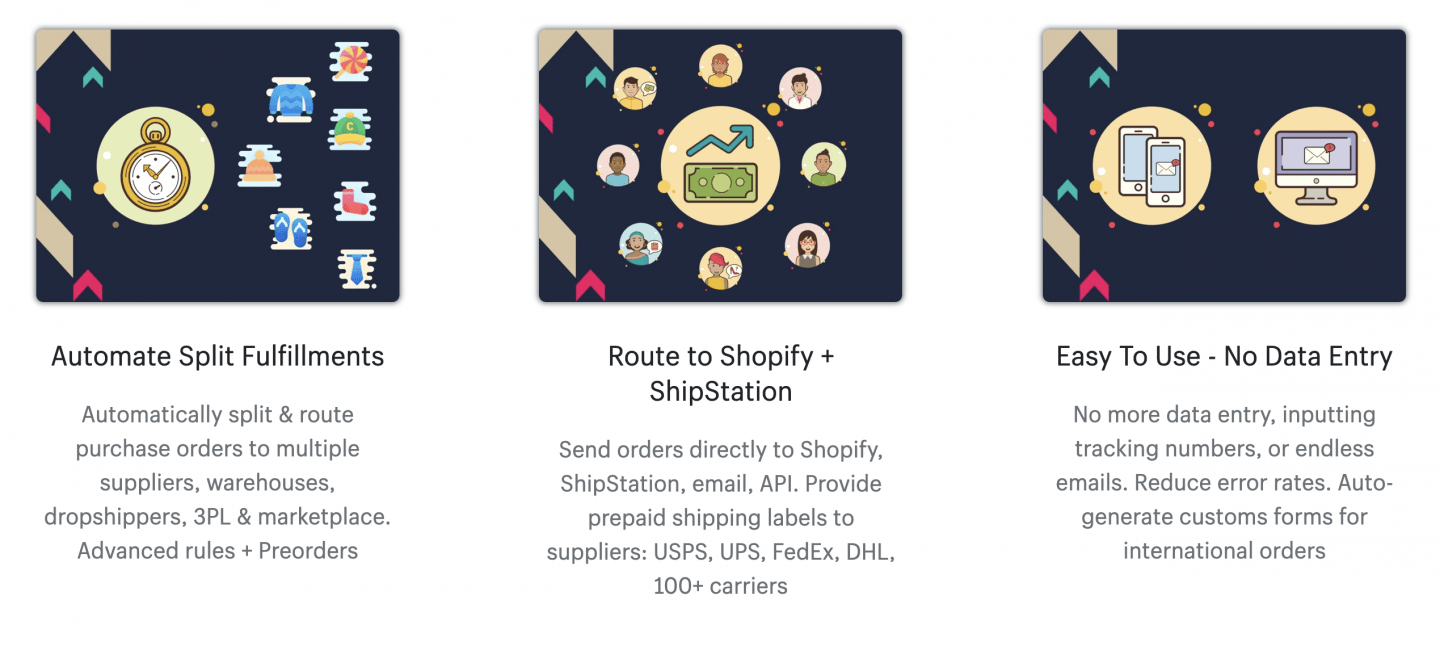 Do you work with multiple vendors, warehouses, dropshippers, or suppliers?
Order Fulfillment Guru automatically splits, routes, and streamlines your order workflow.
The app supports brands with multiple suppliers, marketplaces, made-to-order purchase orders, split orders, dropshipping, and 3PL warehouses.
No more splitting orders manually
No more data entry & spreadsheets
No more endless emails
Send orders by email (web portal) or API, or directly to ShipStation or other Shopify stores
Ship via USPS, FedEx, UPS, DHL, and 100+ shipping carriers
Offer prepaid shipping labels to your suppliers
Automatically generate customs forms & commercial invoices
Advanced order routing rules
Order management system (OMS) exclusively built for Shopify & Shopify Plus
Free trial: Yes, 14 days
Monthly price: Starting at $9.95/month
Shopify Apps for Social Media

Outfy is one of the best Shopify apps to drive traffic. This tool empowers you to schedule and to push promotional posts to multiple social media channels, like Instagram, Twitter, Facebook, Fancy, Pinterest, etc.
Outfy offers a post building studio with ready-made templates, hashtag builder, collage layout, and other necessary stuff for creating noticeable social posts.
Outfy has a soundest social proof with more than 800 five-star reviews. So it looks that the tool performs decently.
Free trial: No
Monthly price: The "Starter" plan is free of charge. Paid plans start at $15/month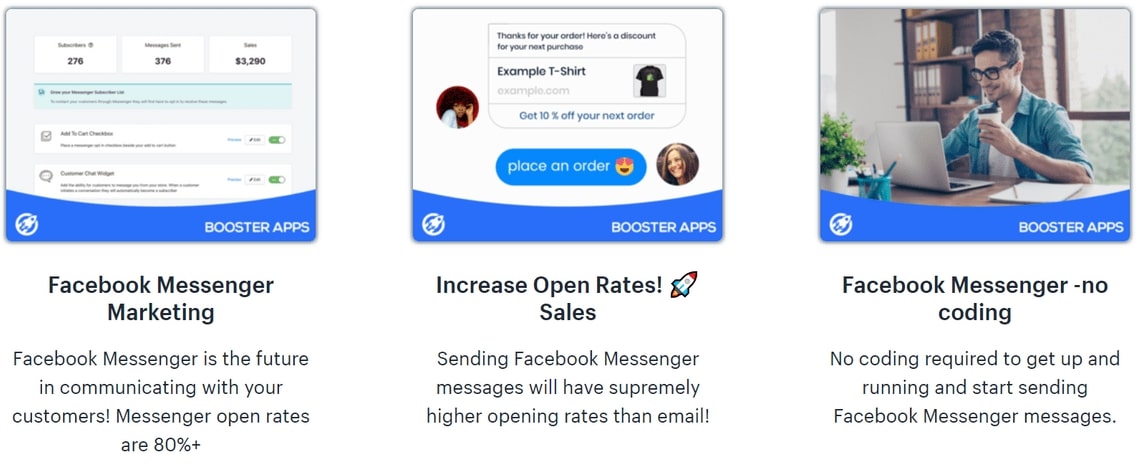 This tool has a simple and very clear case of use. It helps you reach out to your customers via Facebook Messenger. Order receipts, shipping notifications, promotional messages, abandoned cart messages – they all can be sent directly to your customers.
One of the most significant benefits of Facebook Messenger Marketing (FMM) is the open rate. According to the FMM team, people open 80% of all the messages they get. So it's your chance to get noticed.
So, the FMM app looks like a dream: no coding needed, easy-to-use, great results and is totally free of charge. Is it possible? Almost 2000 five-star reviews prove it is.
Free trial: No
Monthly price: free of charge
Shopify Apps for Upselling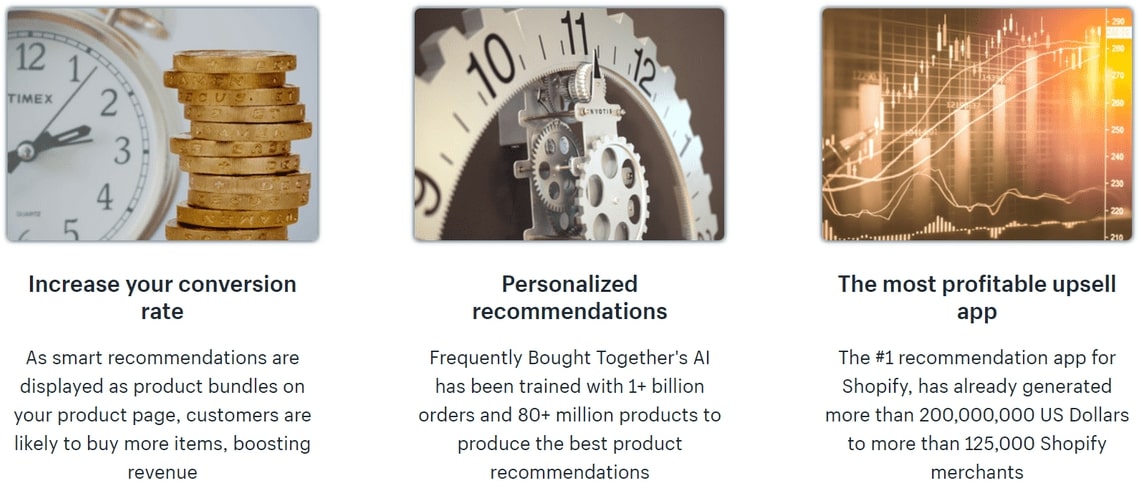 Frequently Bought Together (FBT) app analyzes your store's historical data and displays related product bundles in the widget on your product page. You can trust recommended products for its algorithms, or you can pick them manually.
Such product grouping helps you sell more products, increase the shopping cart value as well as general revenue.
This app is a high-end product with great customer support. It offers wide customization opportunities and effortless user experience. More than 1000 happy customers recommend it.
Ecommerce behemoth Amazon has already been using such algorithms for a while. Why don't you try it as well?
Free trial: yes, for 30 days.
Monthly price: $6.99/month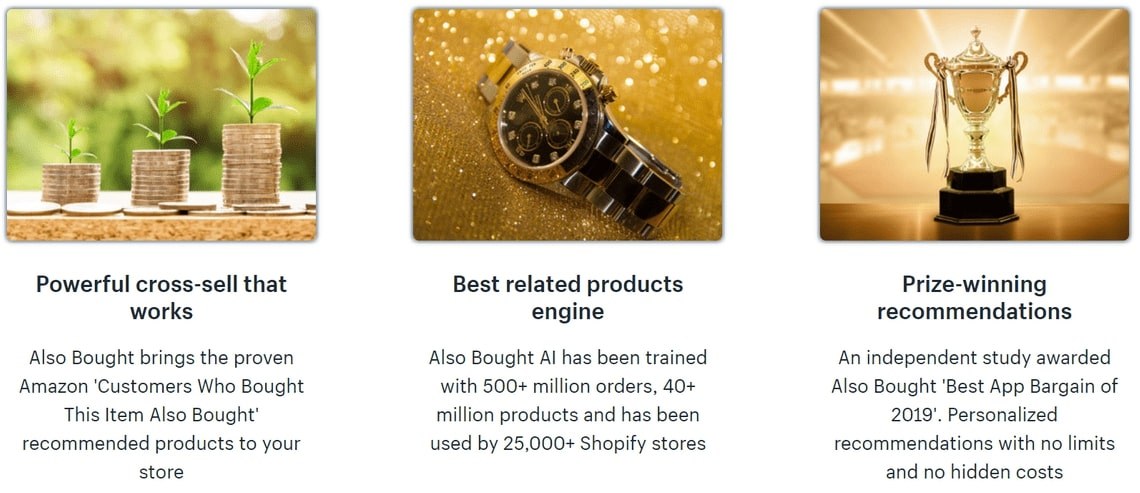 This app is a great alternative to the previous one. It displays a fully customizable product slider with recommended products and helps you increase the average order value.
The installation process is extremely easy; no struggles with the user interface and the overall customization process.
Although this app has only 500+ reviews, 97% of them are five-star.
Free trial: Yes, for 30 days
Monthly price: $9.99/month
Other Shopify Apps for Increasing Sales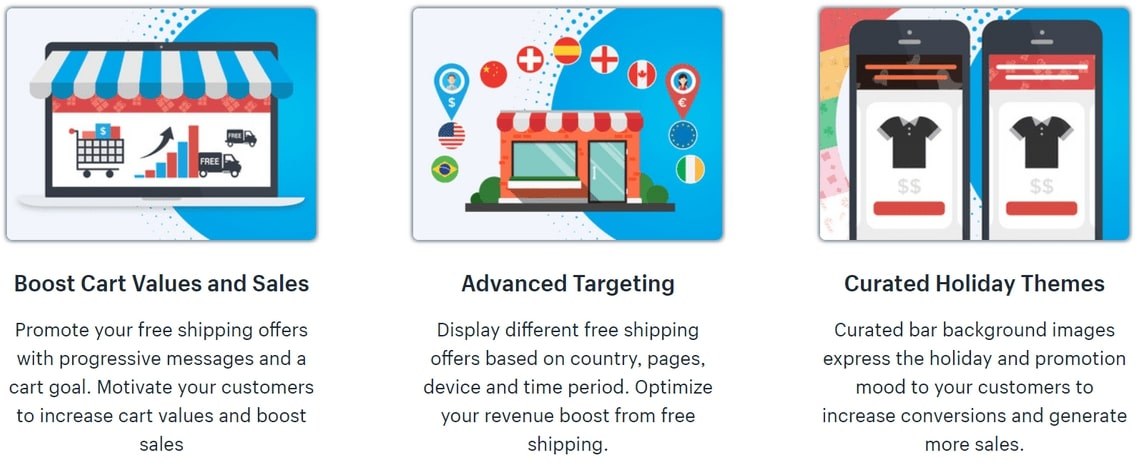 Guys, did you know that additional expenses on shipping are a top reason customers change their minds and abandon a purchase? Admittedly, it isn't always available, but you should consider it. The app Free Shipping Bar by Hextom allows you to show the free shipping offer in the different website pages.
It is fully customizable. A bar can be configured to be shown to visitors from selected countries where you want to set up free shipping. The app is free of charge.
Free trial: no.
Monthly price: free of charge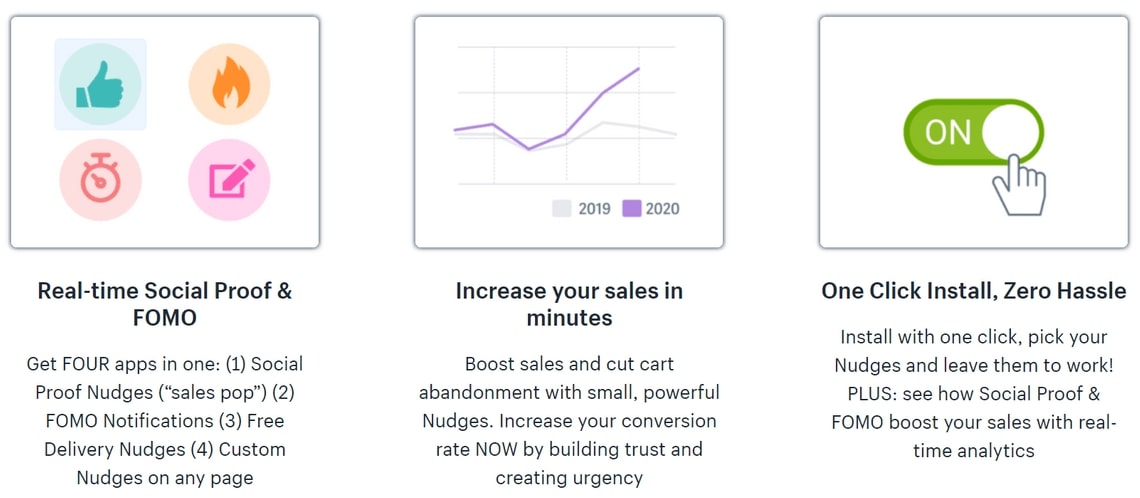 Nudgify is a customer engagement app, designed to enhance the experience of customers on your Shopify store. It shows real-time data that recreates a traditional shop-floor: Social proof nudges show who is buying what, and FOMO nudges show when there are only a few items left in stock.
What I like about this app is that it increases your conversion rate indirectly, by improving user experience. Unlike other social proof apps, which focus on sales, Nudgify is built for real customer engagement.
Free trial: yes, free plan available (limited notifications)
Monthly price: $9-$89/month

The tool introduces itself as "free cart reservation countdown timer that increases sales."
Indeed, a sense of urgency can do magic. Customers tend to decide more quickly when they see that the time of reservation is melting.
This app is a small, flexible tool to enrich your marketing toolkit. It provides a small yet powerful line with short information about the cart reservation temporarily.
The Conversion Plus plugin is easily adjustable. You can change the duration, colors, scenarios of what happens after the time expires, and so on.
It doesn't use any app branding and is free of charge. So it definitely seems like one of the must-have Shopify apps. If nothing else, it's worth it to try it out.
Free trial: No
Monthly price: Free of charge

A study on social login found that 64% of consumers are more likely to return to a website that remembers them without repeatedly logging in, and 42% would make more online purchases using mobile devices if social login would be simplified.
One click social login enables your store to do it. Plus, it involves customers to be socially connected with your brand.
Free trial: 15 days
Monthly price: starts from $0.99/month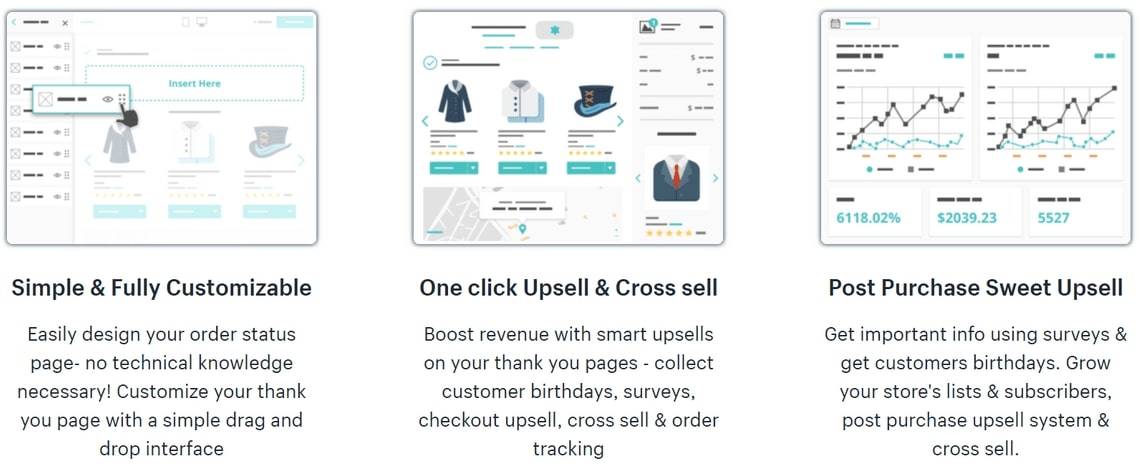 You can increase your revenue by paying a decent attention to "thank you" page optimization, which often is undervalued by ecommerce merchants.
Employ this page to drive additional sales and boost customer retention.
This can be implemented by adding discount popups, product recommendations, customer personal data collectors, social sharing buttons, and many other opportunities.
ReConvert app can help you with doing all of that and even more.
The feedback about this app is superior. So it's definitely worth a chance.
Free trial: Yes, 30-days trial
Monthly price: Starts from $0/month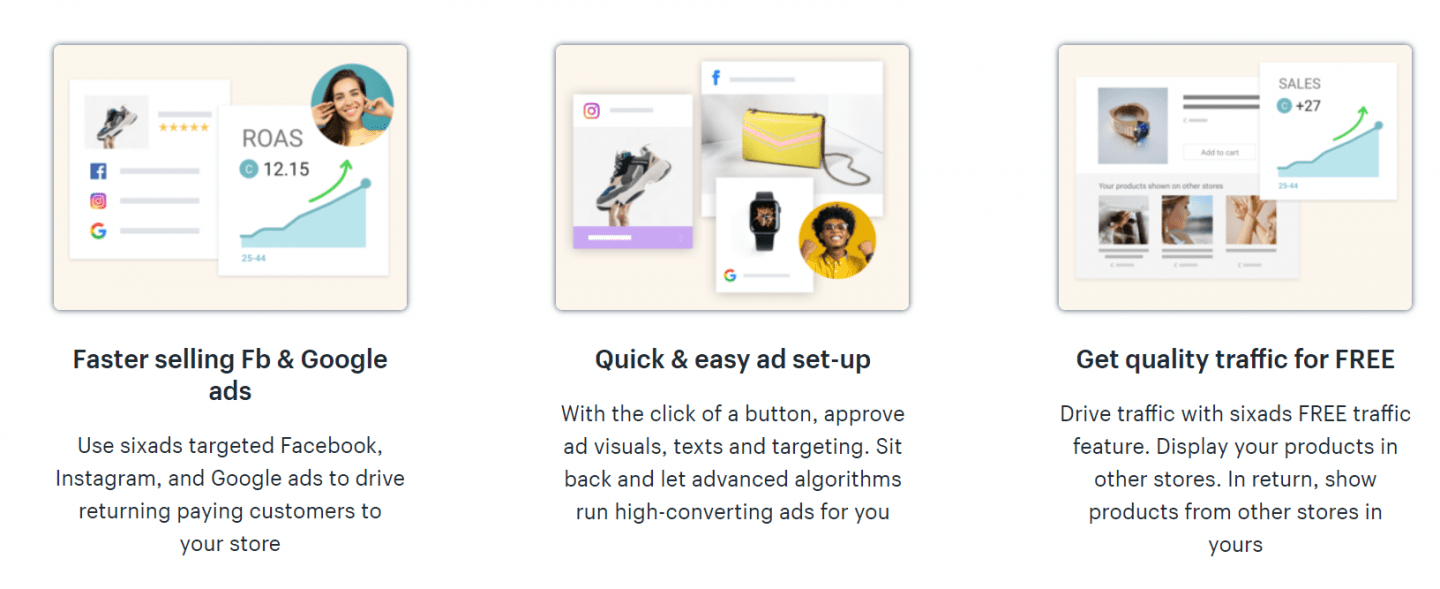 Sixads is an app that runs high-performing ads on Facebook, Instagram, and Google. By optimizing your ads to reach the most likely-to-convert audiences, sixads helps your online store get more traffic and increase profits. The app is easy to set up and you can start advertising your products and services in almost no time and without any previous experience.
With sixads you can:
Drive profits with targeted Facebook, Google, and Instagram ads. sixads takes care of your ad set-up and targeting. The only thing left for you to do is to select products you want to advertise and enjoy the results.
Save money and time with automated ad management. sixads optimizes your ads so you get the best results for the money you invest.
Reach a wider audience. sixads offers you to exchange traffic with other Shopify store owners.
Chat with customer support and get your account evaluated by a growth expert to improve your ROI (return-on-investment).
Free trial: No, but forever free plan is available.
Monthly price: from FREE to $89.99/month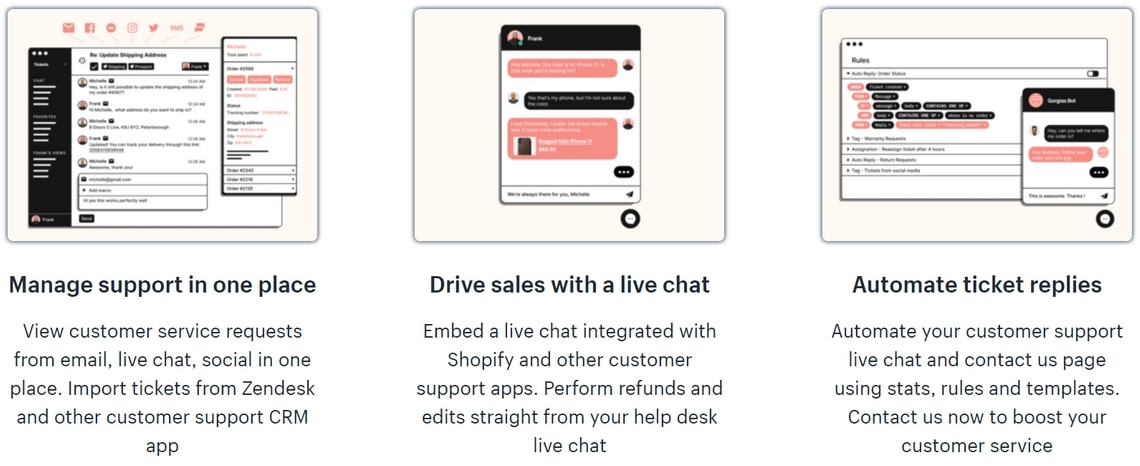 If you want to add flawless customer service to your online store, add the Gorgias app to your ecommerce toolkit. This app gives you access to all of your customer support channels in one dashboard.
Integrate Gorgias with Shopify, email, live chat, Instagram, and Facebook. And, share a dashboard with unlimited support staff. This app streamlines communication between brands and shoppers.
You can leverage Shopify live chat to improve both support and sales and create an enhanced customer experience. Gorgias will give you the ability to automate live communications across multiple channels.
And, the helpdesk key features are invaluable for many of the platform's 2,000+ users.
When switching to Gorgias, ecommerce customer support teams see a dramatic decrease in first-response and ticket resolution time.
Free trial: yes, for 7 days
Monthly price: $50/month for up to 350 support tickets.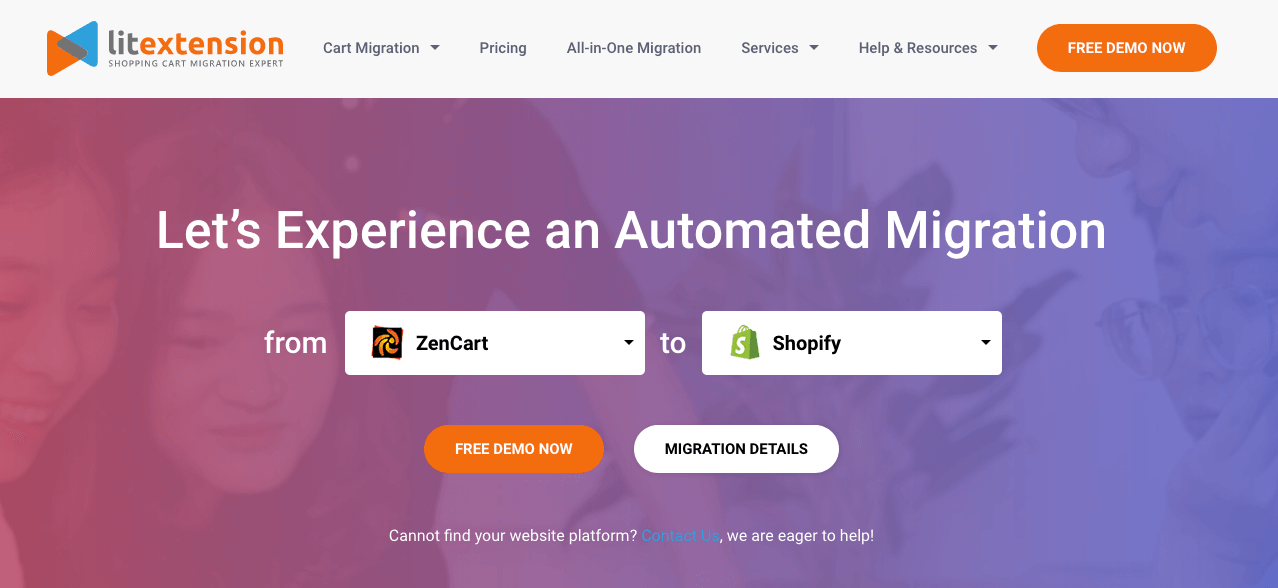 LitExtension: Migrate Shopping Carts to Shopify app helps you automatically migrate every important data from your current Shopping cart to Shopify with the highest level of accuracy and security.
The process is simple and straightforward. You do not need technical or coding skills, only 3 steps to run a migration. Especially, they ensure no downtime for your current Shopping Cart, which means it will serve customers normally, no sale lost! Once the migration process is started, you do not need to keep your browser open or sit and wait for the process to complete, you are free to close your computer and get notified by email when migration is done.
Free trial: yes, for 7 days
Pricing: Free to install and pay for what you need, starts from $19
Key Features:
Support migrations from 100+ website builders to Shopify
Transfer every important data including products, customers, orders and other related entities
There are plenty of additional options for you to expand the migration possibility such as: customer password migration, migrating SEO URLs, creating 301 redirects
Free and unlimited Recent Data Migration, Re-Migration, Smart Update within 3 months since your full migration
30-day money-back guarantee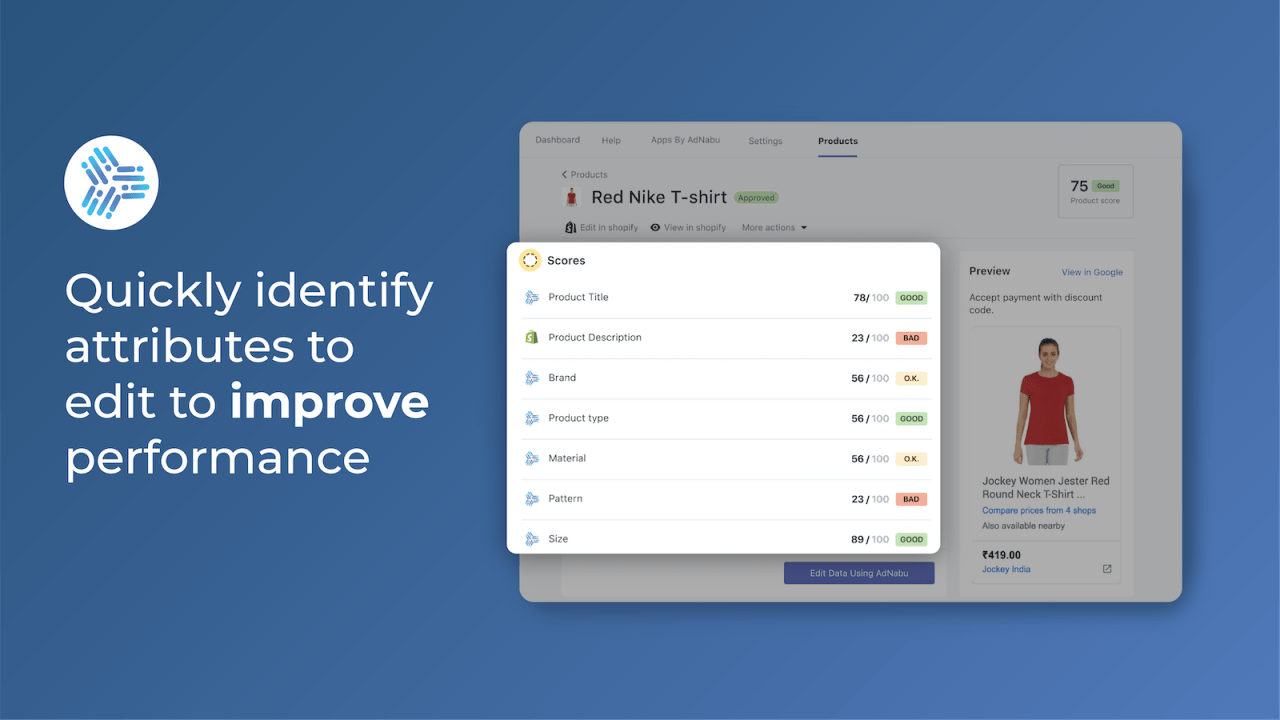 One of the best ways to grow a Shopify store is through Google Shopping Ads. With the latest change, Google Shopping has become free to list. But, Creating an approved Google Shopping Feed & running profitable Google Ads is a multi-step process. Google Shopping Feed App helps you easily create Google Shopping Feed & make your products available for advertising and free listing.
Listing products, however, is not enough to be successful in Google Shopping. To be successful in Google Shopping & Google Ads, Your feed should follow best practices. AdNabu's Easy Google Shopping Feed App has product scores out of 100 for each product, which helps you improve the product performance in Google Shopping. This product score is based on multiple attributes available in Google Merchant Center & also help you do better in SEO.
Free trial: yes, for 14 days
Monthly price: Starts from $19.99 /month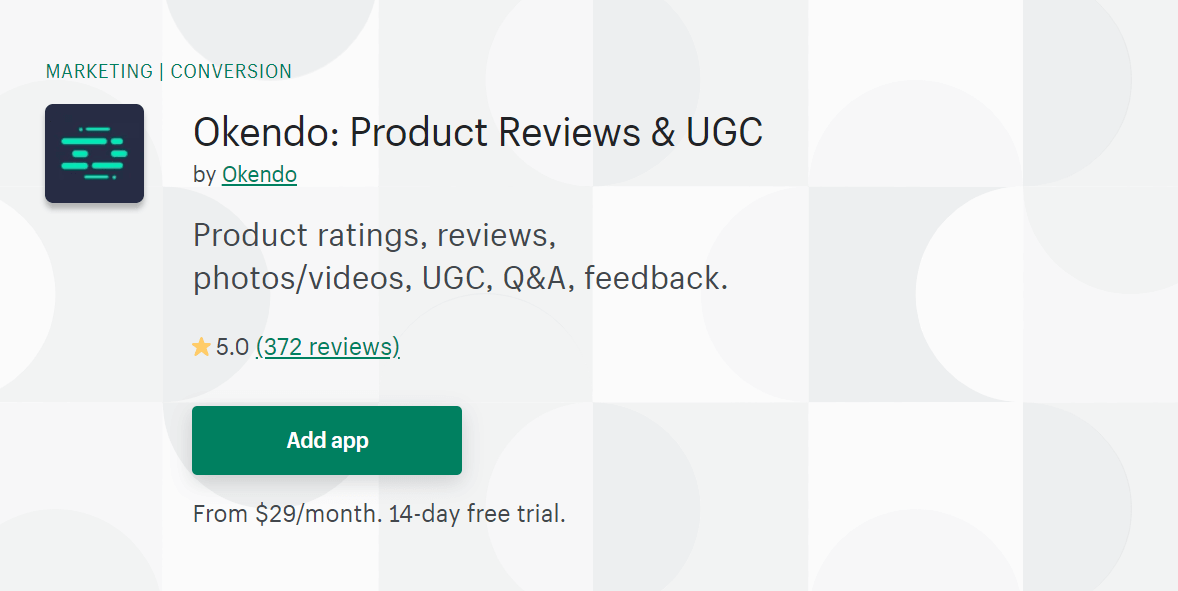 Okendo is a customer marketing platform with all the tools brands need to capture and showcase customer-generated content including product ratings & reviews, photos, videos and Q&A.
It's no secret that reviews play a major role in purchase decisions, in fact, shoppers that interact with Okendo are 4-5x more likely to convert than those who don't.
Okendo even allows you to fuel your multi-channel marketing strategy offering seamless integrations with Google, Facebook, Instagram, and Email enabling merchants to build trust, drive conversions and maximize CLTV throughout the entire customer journey.
Free trial: Yes, for 14 days.
Monthly price: Plans start at $29/month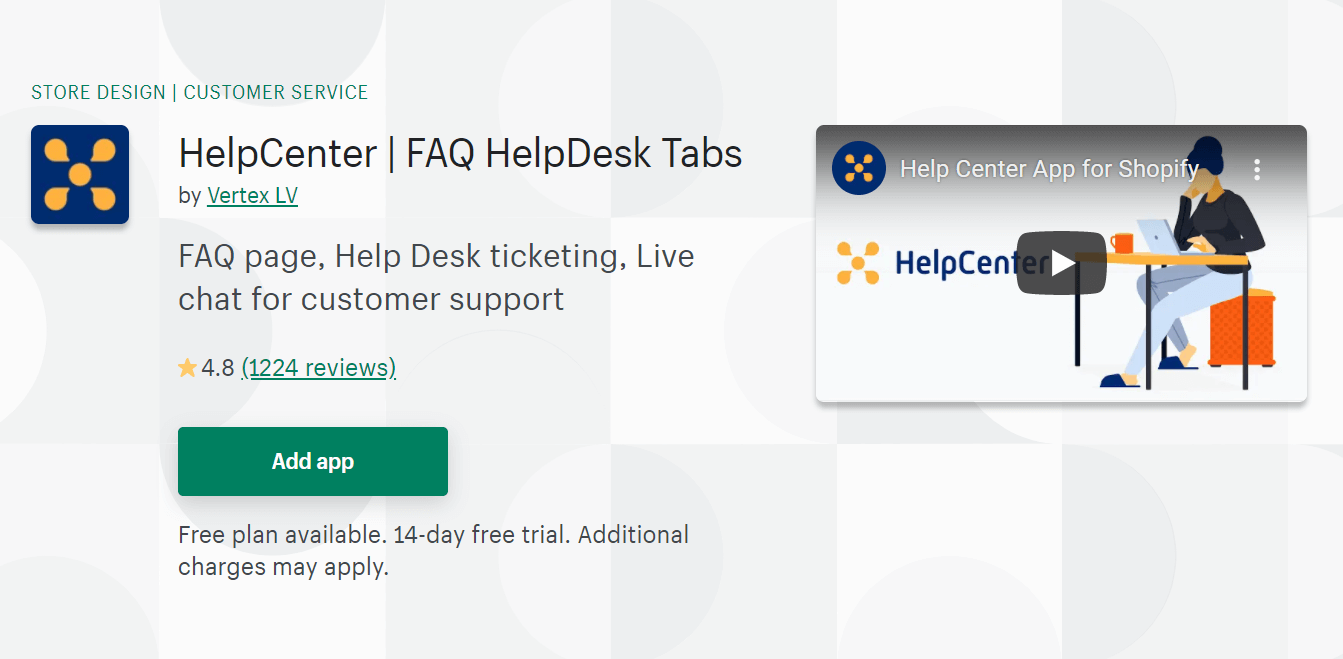 When customer service impacts purchase decisions so much, streamlining your support agents' work should be one of your TOP priorities. Here's where the HelpCenter app comes in handy.
HelpCenter is focused on making interactions with customers more effective, even before they decide to contact you directly. Using its FAQ builder, you can create a comprehensive and easy-to-navigate FAQ page in around 10 minutes. It will answer the most common customer questions, thus reducing the number of repetitive inquiries in your inbox.
With the help desk ticketing system, you can centralize all customer communications in one place, regardless of the channel. This will put all of the most important information right at your fingertips, enabling you to provide faster and more thorough customer support. Not to mention a variety of internal tools, like purchase and inquiry history, integration with Shopify orders, automations and more, that will improve your team's efficiency.
For a better overall experience, HelpCenter also comes with a customizable live chat that will allow you to stay accessible at all times and the possibility to organize product descriptions with tabs.
Free trial: yes, for 14 days
Monthly price: Free plan available. Paid plans start at $7.99/month (annual subscription).
---
While this is far from an exhaustive list of must-have Shopify apps to increase sales, it's definitely full of our favorites. Choosing an app is difficult, especially when it offers something you didn't already know you needed.
With any luck, this list will help you see optimization opportunities that these apps offer. Now you already know how to get sales on Shopify store.
If you use the tool that is definitely worth a crown, please write it in a comment! Sharing is caring!

Omnisend is the #1 email marketing automation app on Shopify based on customer reviews. Start using Omnisend for free and drive more sales now.
Start Free Today