Drive sales on autopilot with ecommerce-focused features
See Features
Reading Time:
6
minutes
Hopefully for you, October was the month when you finalized — or began to finalize — your Black Friday/Cyber Monday (BFCM) campaigns.
On the other hand, if you're like many other ecommerce stores, you're still in the process of getting your BFCM campaigns ready. In either case, we've been creating some great content and feature updates to help make this BFCM period a major success — even in these financially difficult times.
Because planning is crucial for your success, our updates are not only perfect for BFCM, but also the holiday and post-holiday period — and in fact, all year round.
Get a quick summary of the latest updates in our video below, or read further below for the latest updates:
Black Friday resource hub
We love BFCM here, so every year we make sure to produce and curate lots of great content to help online stores succeed during this hectic period.
First, check out our video of the top five Black Friday tips from Omnisend insiders and experts, covering sales, discounts, timings, and much more:
And of course, our BFCM Hub is being constantly updated (and expanded) to give you more ways to collect, engage, convert and retain your customers. This includes:
Check out the Black Friday Hub here
A better Email Builder experience
We've just introduced six new mobile-first Black Friday & Cyber Monday email templates to quickly create eye-catching emails that promote your latest offers and look great on any device: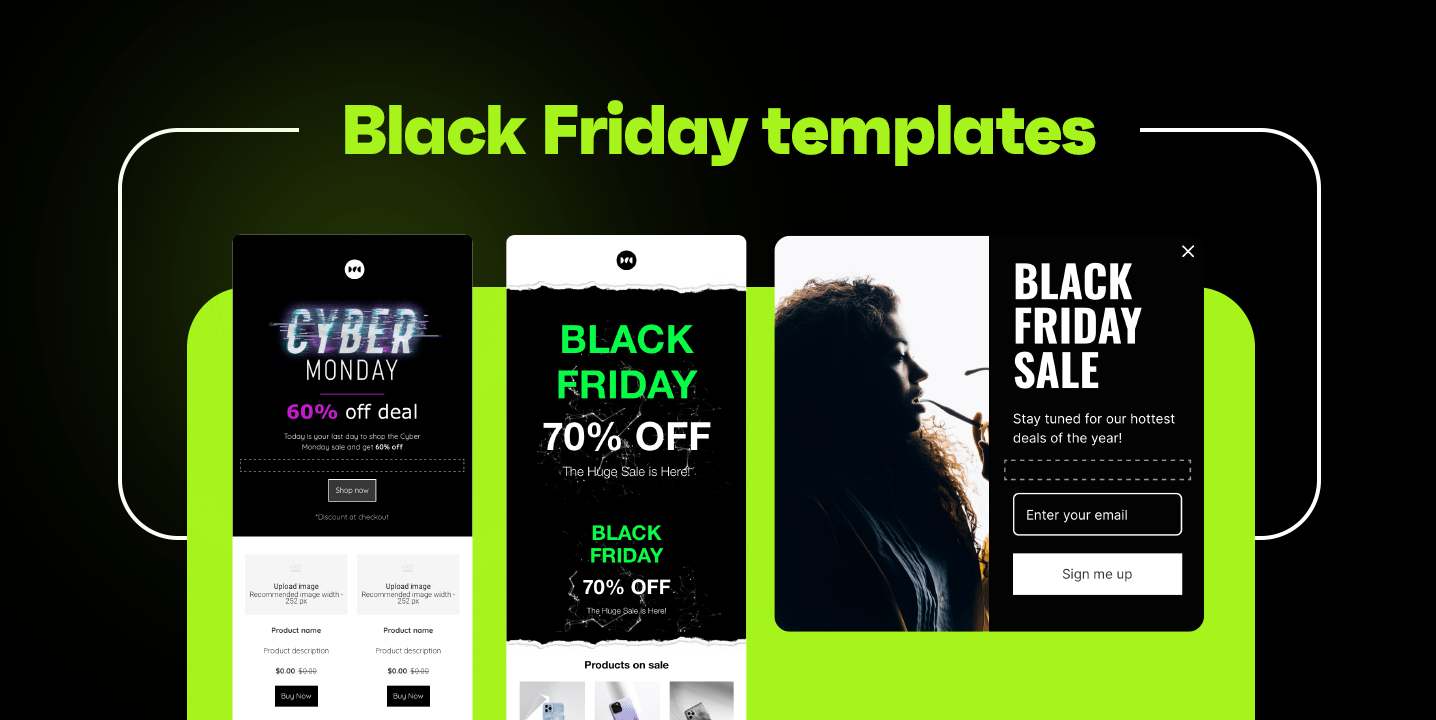 We've also been busy adding:
Mobile stacking for layouts and blocks to ensure that your audiences get the best experience when viewing your emails on their mobile device. This option is turned on by default. Find out more about mobile stacking here.
Old/New product price styling enables customers to add or remove all old prices by marking a checkbox. You can also make changes to the color of just the old price to help the price differences stand out more. Previously, the color was applied for both new and old prices.
Importing custom HTML templates takes only a few clicks in the new Email Builder. You'll have the option to import and edit the content and design of your template by clicking on the email content where the HTML box will open up for editing. Read the full guide on HTML Template import here.
Customers on the classic Email Builder will find their saved blocks and saved templates ready on the new Email Builder, so no need to recreate your favorite emails (but you may find some great new features or layouts to add to them).
Find out more about the new Email Builder here.
Black Friday-ready forms
We're not done yet. We're making sure we're giving you the best chance of success this BFCM with loads of updates to our Form Builder. Of course, we're starting with some beautiful Black Friday-ready forms that you can launch with just a few clicks: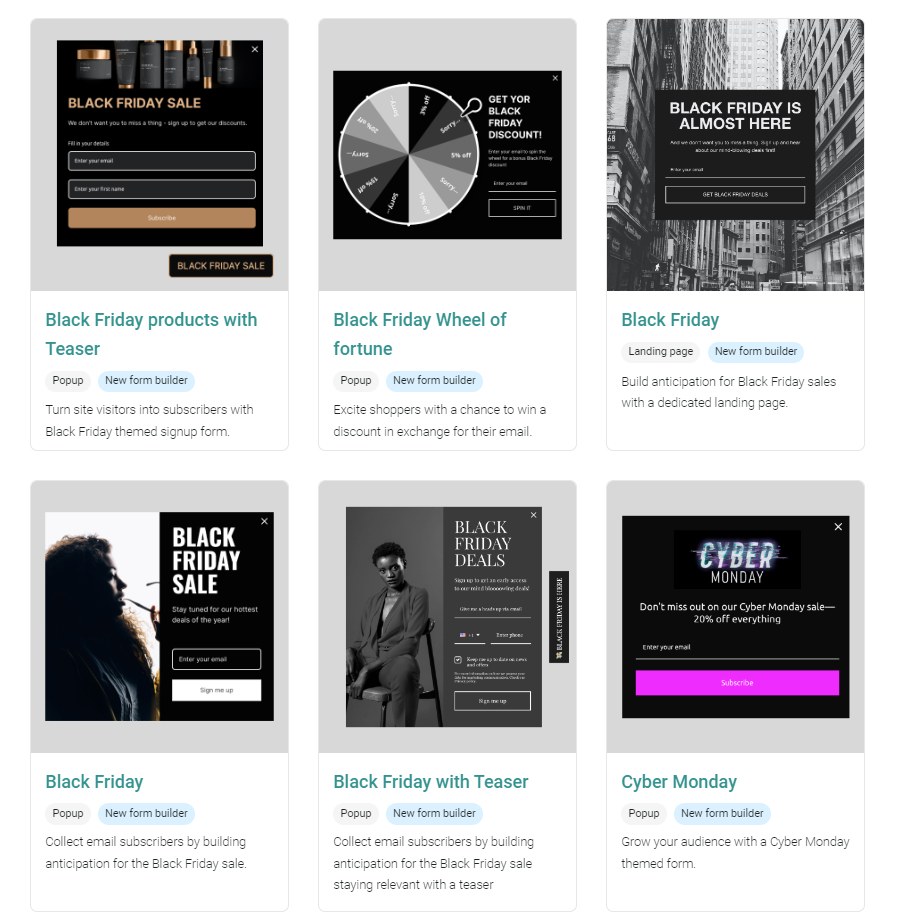 Wheel of Fortune
Gamify your popups with our interactive Wheel of Fortune that lets your visitors spin to win. You can collect subscribers by offering prizes such as discounts, free shipping, or anything else you'd like to exchange for their signup.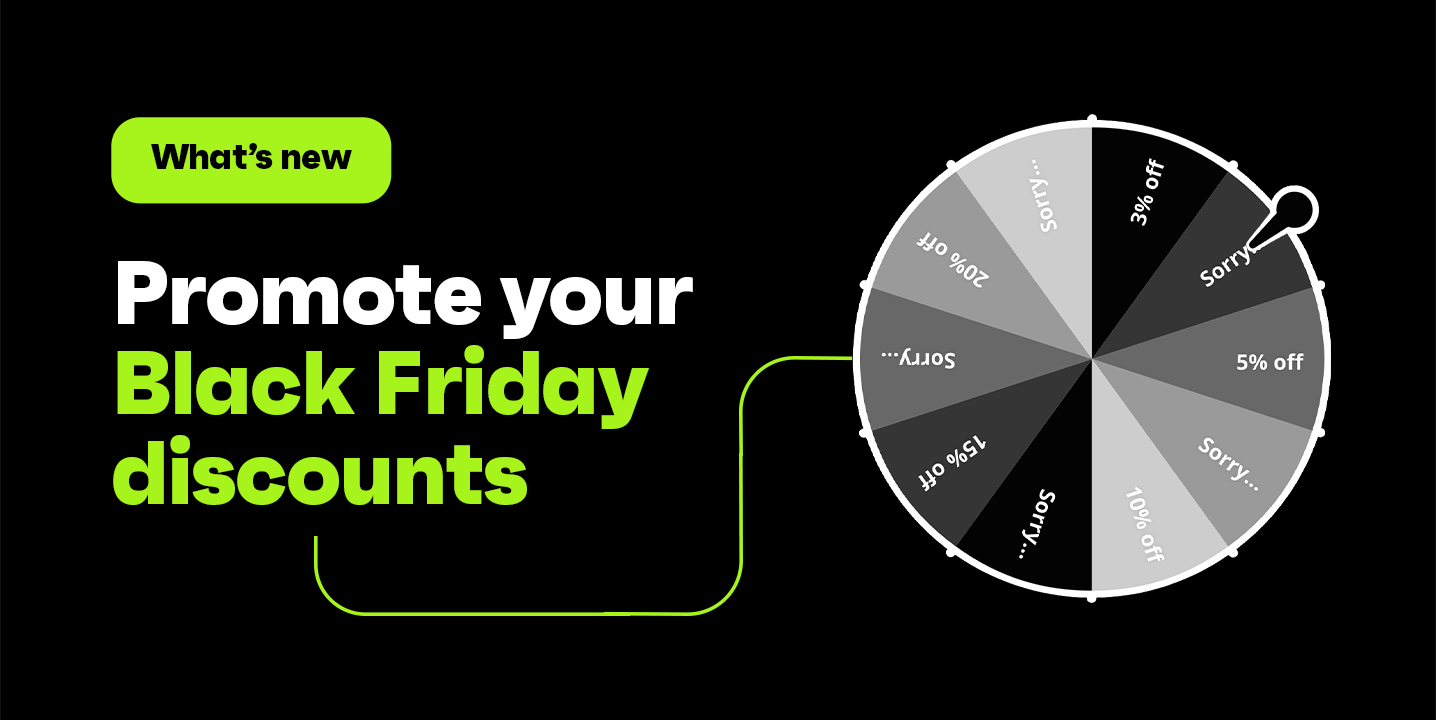 To use the Wheel of Fortune, simply drag and drop the Wheel of Fortune block into your popup. Then, make the customizations you need—like different probabilities to win, different colored wheel slices, and instant rewards for the success message. You'll find three pre-made templates to get you started.
Find out more about the Wheel of Fortune here.
Give subscribers a discount in the popup after signup
Omnisend customers will now see there is another new block in the left side panel of the Form Builder called "Discount." This is available when you click on the success message section in the form.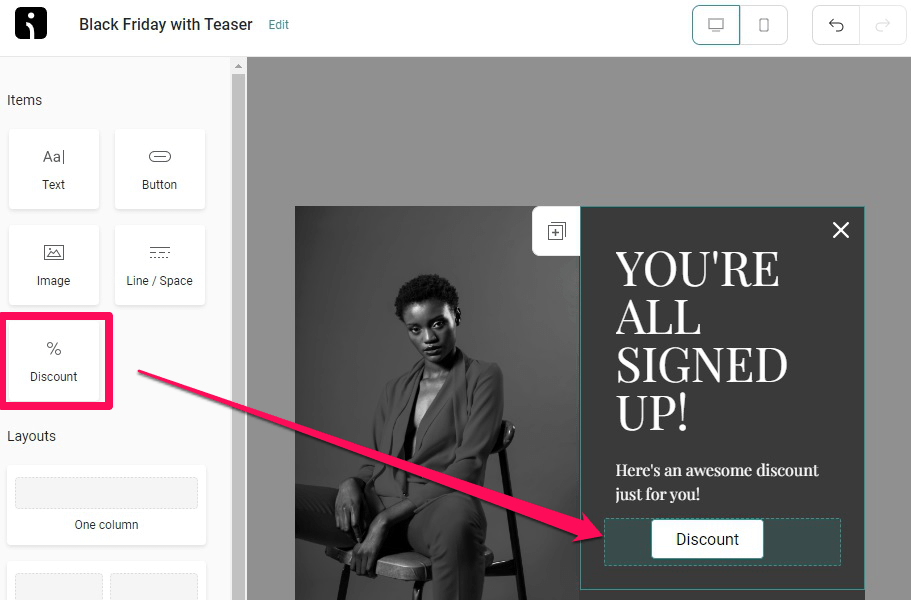 You can drag and drop this item to your success message and choose to add your own discount, which will be static and displayed to the users after they subscribe.
Landing pages
Use dedicated pages to promote new products, run special events or pre-sale campaigns!
Our all-new Landing Pages let you reach a broader audience and run limited-time campaigns outside of your website. If you already have a landing page on the classic Form Builder, you can move it to the new Form Builder using the "Open in New Builder" option. Find out more about Landing Pages here
Make better popups and landing pages with the new Forms Builder.
Segment builder update
When you're creating segments, you can now get even more flexibility with our updated custom property. You can now decide to create a custom property value as a number, text, date or True/False.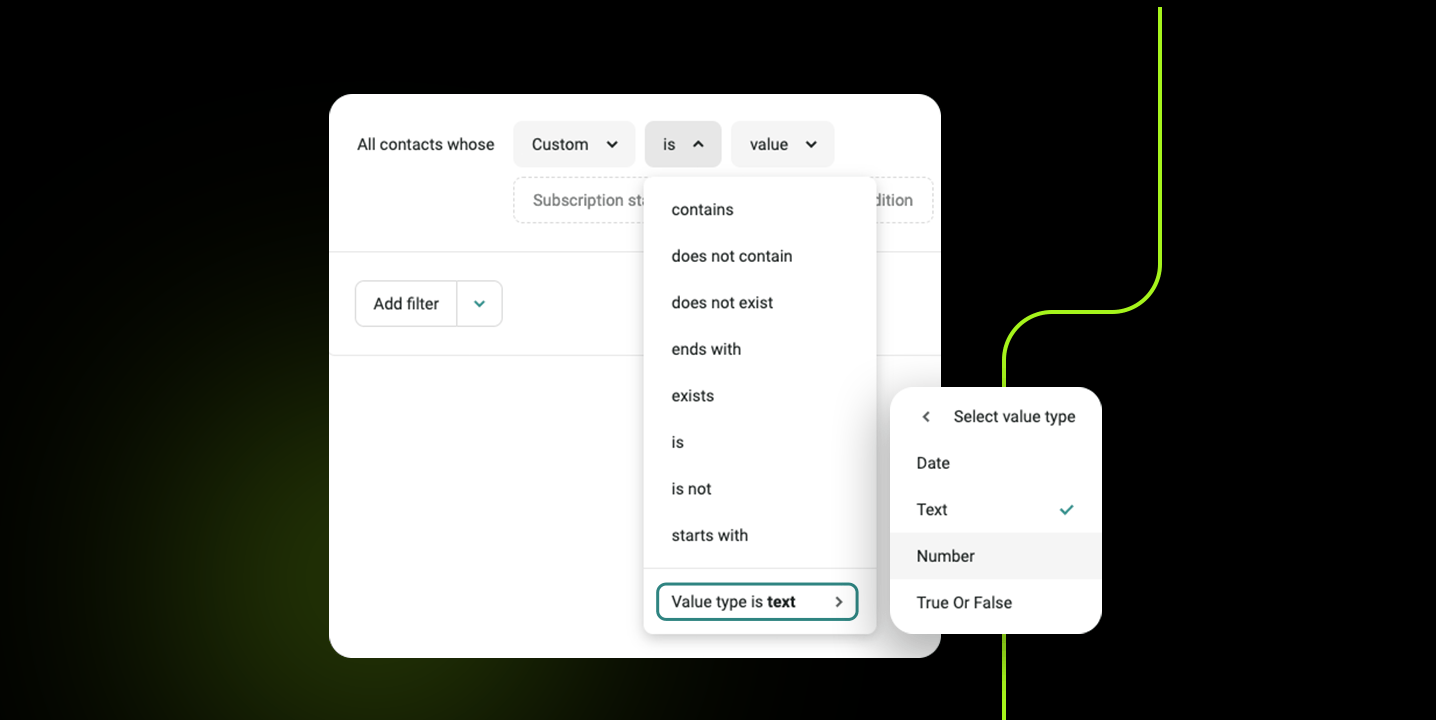 For example, because loyalty points are based on a text value, this can now be captured by a number from 1-50 instead.
Learn more about Segmentation.
New additions to our App Market
More integrations means our customers have better ways to run their online stores. It's been another busy month in our App Market where the integrations keep on coming. Here are just a handful of the latest:
We'd love to hear what you think! Help us decide which integrations you'd like to see released next in the App Market by checking out our Upcoming section. Plus, browse our App Market for all the latest integrations.
Check out our App Market for all the latest integrations.
Top October tip: Launch a Product abandonment workflow
Make your marketing more effective by launching a product abandonment workflow, just in time for Black Friday. Merchants using this automation are selling 3x more! Set yours up now 👇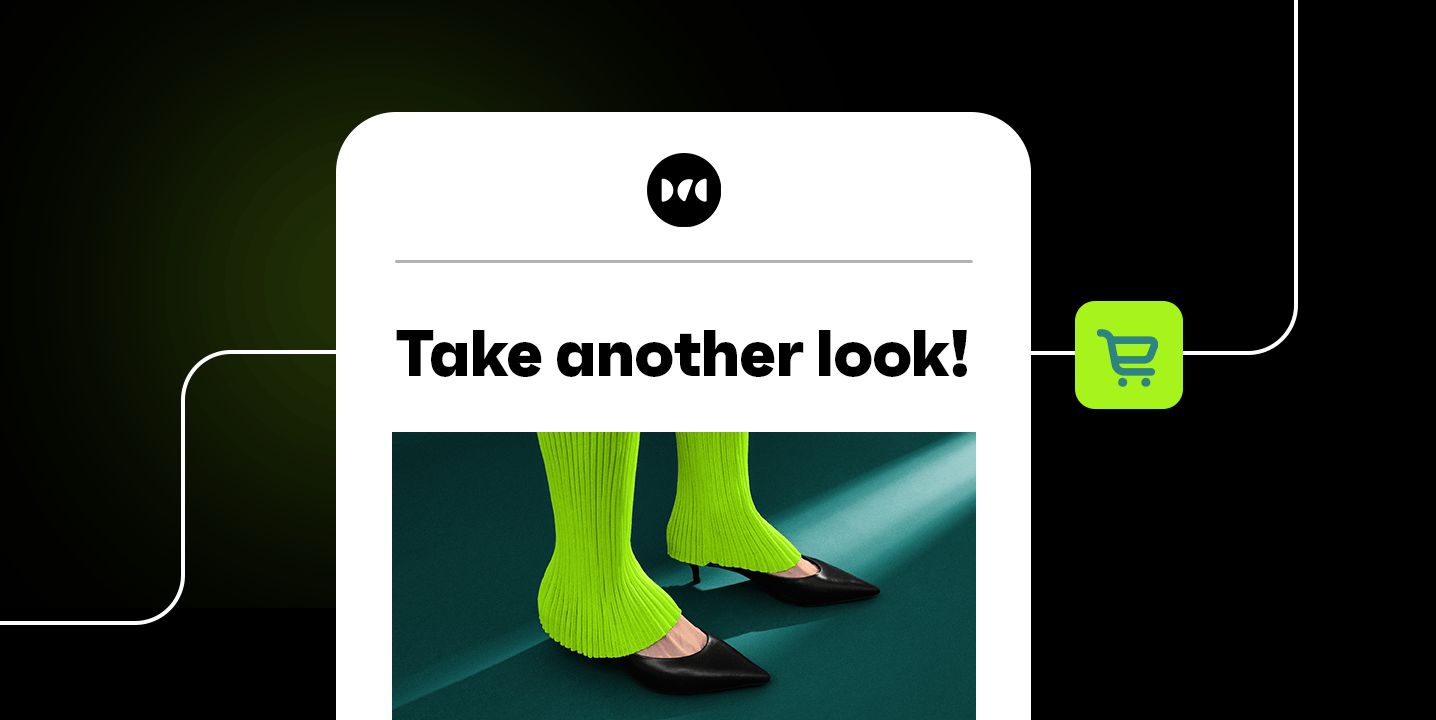 Create your Product abandonment workflow
Haven't tried Omnisend yet?
At Omnisend, we're constantly working hard to make sure our customers are getting what they need to make their stores the most successful. We do that by producing quality feature updates month after month. We also make sure to listen to our customers to make sure that what we're delivering is what you actually need to make building a brand and generating sales easier and faster.
If you haven't tried Omnisend yet, the best time is now. Explore what you can do with Omnisend with our full-featured free plan.
Get started with Omnisend today for better email & SMS marketing
Start Free Today
related features
Want more sales?
Omnisend has everything you need to succeed.
Start free now
No Credit Card needed.