11 Must-Have WooCommerce Plugins For Your Store in 2020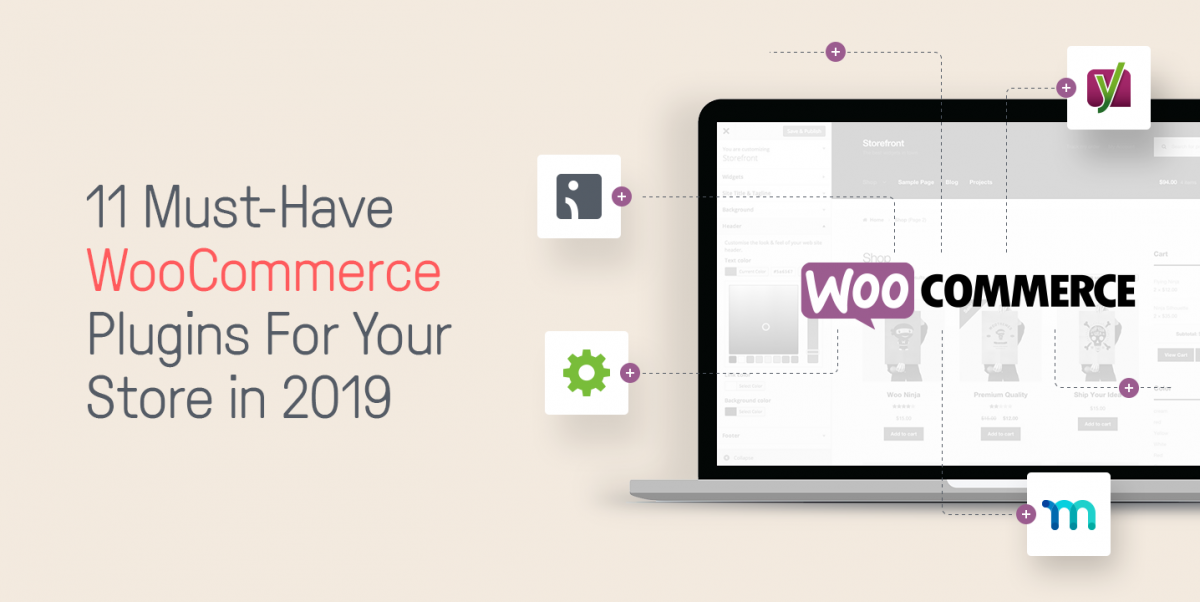 Reading Time:
7
minutes
WooCommerce Checkout technology is the absolute leader in the ecommerce field across the globe. Built With claims that 27% of websites trust their businesses to this solution.
It's clear why this is so.
Thanks to an endless list of extensions, WooCommerce can provide your site with enormous flexibility. Due to its customization level, you can build the store of your dreams.
However, choosing well-performing plugins from that endless list might be challenging. Not all plugins are equally developed either in terms of functionality or customer support.
That's why today, I'm introducing you to hand-picked WooCommerce plugins that won't disappoint you. They are high-ended tools with great support.
#1. Marketing Tools
Omnisend is a comprehensive marketing tool for small and medium ecommerce businesses. This software will cover your needs starting from collecting customer contact information, ending with advanced segmentation and marketing automation possibilities.
Using this platform, you will be able to implement an omnichannel marketing strategy. Free text messages, instant messages, social media, retargeting tools – they all are there.
What I also like about Omnisend is that platform offers ready-made designs and copywriting in case you aren't sure what to say in your signup forms, automated email or text messages. The platform's got you covered. All you need to do is launch the workflows you want.
As it's been said, Omnisend plugin will help you implement your marketing strategy, no matter how easy or advanced it is.
The tool offers a free plan to cover the beginner's needs. With this, you can send up to 15 000 emails per month. For more subscribers and advanced features, you might need one of the paid plans that starts from $16.
It also offers 14-days free trial and free live demos to make you sure that's what you need.


This solution is for creating highly effective referral programs on your site. Programs of this kind work well for both retaining existing customers and attracting new ones. It boosts loyalty and helps new customers to convert.
ReferralCandy has a comprehensive feature set. By using it, you can organize cross-channel promotions, track customers' shares and overall engagement. Also, automatically distribute rewards like discount coupons and gifts.
The tool also provides with data-driven insights, identifies the most active referrers, so you can reward them.
ReferralCandy offers 30-day free trial. The pricing starts at $49 + commissions which differ depending on your sales. What exactly the fee would be, you can check on their page.

This plugin is for social proof notifications which help customers make their decision to buy.
The notifications highlight recent other customers' activities – whether they have just registered, bought or downloaded something from your site. It works as a proof that the website is trustworthy and like a nudge for customers to complete the purchase.
This plugin is also highly customizable. It provides users with advanced targeting and timing rules as well as great analytics.
Also, the tool offers different designs and color options so your notifications will be in line with your overall website design.
In terms of pricing, TrustPluse offers a free plan for the beginners (up to 500 sessions per month). For bigger customers, pricing plans start at $5/month.
#2. Site-building Tools

This comprehensive plugin lets you add additional product options to your site so you can provide more information to customers. Using a user-friendly interface, you can create product price variations, forms, and add new pricing options.
The plugin supports checkboxes, radio buttons, text-areas, input boxes, uploads, range and color pickers, etc. All features have flexible customization. Plus, you can adjust prices according to the selected product variations.
Another big advantage of this extension is that it's compatible with numerous other plugins on WooCommerce. So you don't have to worry about them conflicting with each other.
This extension has a bunch of great reviews regarding the support. It's free for the first six months and then you have to pay $7.50 for the support extension if you find it necessary.
The extension itself costs a one-time fee of $25.

This is a toolkit that will significantly expand your site's functionality and will save you a lot of time searching for alternative solutions. Plus, they all are compatible with each other, so everything will work smoothly.
These are a few of the plugins from the entire bundle:
YITH WooCommerce Ajax Search facilitates search on your website.
YITH WooCommerce Ajax Product Filter provides different filters and facilitates browsing through the products experience.
YITH WooCommerce Compare facilitates product comparison.
YITH WooCommerce Zoom Magnifier provides users with the tool to zoom and inspect products on your website closely.
YITH WooCommerce Quick View enables a quick preview of the product (basic information) in a separate modal window.
There are also plugins for wishlists, catalogs, product sliders, add-ons, waiting lists, order tracking, and more.

Member Press is mostly for selling digital products. The ones that have to be purchased before becoming available. Also, this works if you have content on your website available for members only.
This extension enables you to limit access to different places of the website (pages, categories, tags) and files hosted at your site. So you can create exclusive content and a few types of subscriptions for your community members.
Other than that, this plugin provides great features for promotions and giveaways. Everything on that side works right out of the box.
Member Press is compatible with all WP themes and payment gateways and is easy to set up. However, if you still feel like support is needed, the MemberPress guys will help you right away.
The pricing starts at $149/year.

This plugin does everything in terms of currency converting, price offers, discounts, checkout page customization, etc. The feature list is impressive.
By using this plugin, you can easily display prices in different currencies and automate their exchange rates. It also provides many different labels, like "add to cart", "custom pricing", etc. There are cross-sell, crowdfunding modules and many more.
At Booster for WooCommerce, support is available via email, commenting on module's page or participating in the plugin support forum on WordPress.org.
This tool offers many features for free. However, if you need more functionality, you have to buy a yearly ($49.99) or lifetime ($79.99) license.
#3. SEO Tools

This plugin is a well-built tool to optimize your site for search engines and improve your site's readability to your customers. And it's extremely popular on WordPress.
With a free plan, Yoast will help you to check the readability of your content, and find an outdated one. Also, the tool will provide you with a preview on Google search, and optimize the site for one keyword.
For full support, unlimited keyword optimization, internal linking suggestions, and other features, Yoast SEO will charge you with a single $49 fee. The support and updates are guaranteed for 1 year for free.
There are no doubts about the effectiveness of this tool. It's proven by time and numerous great reviews.

It's a comprehensive tool that will cover all your SEO needs starting from the website's SEO and backlinks' audit, position tracking, ending with sophisticated analytics.
Also, this tool will help you analyze competitors' advertising strategies and their linking background.
SEMRush is capable of listing the best organic keywords and websites to get backlinks.
Ideally, this tool is for the advanced user. Nevertheless, you can become one by learning from it and improving your understanding on-the-go.
The price of this tool starts at $99.95 per month.
#4. Fulfillment tools

Veeqo can help you if you sell on multiple channels. This plugin mainly facilitates centralized management of your inventory, orders and shipping across the channels.
So you don't have to check separately on eBay, Amazon or Etsy, what of your products have already been shipped, and which of them are still on their way. Veeqo's dashboard collects the data and shows everything in one place.
In addition, you may edit item listings, buy from suppliers, generate shipping labels for any of your orders from any of your selling points.
The Veeqo extension helps retailers save time, avoid overselling or even worse – missing an order.
The price of the tool starts at $165 per month. Although the tool can seem pricey for ecommerce beginners, bigger ecommerce sites can find it reasonable. Plus, Veeqo team provides great support and you can book a demo before paying for the tool.

ShipStation has a solid reputation, and is a comprehensive tool that will heal your fulfillment pain points.
First of all, the tool has a wide tool network. So whatever channel you use for selling, ShipStation will have the integration with it and you will able to see the data from it on your ShipStation dashboard.
This company provides great rates for shipping and an endless list of carriers available.
Plus, they allow you to customize notification emails, packing slips, shipping labels, etc.
By the way, they have a mobile app to reach your data on the go. Which is cool.
Pricing starts at $9 per month. A 30-days trial is available.
That's the list for now. Hopefully, you've found a new, previously unrevealed tool that can help you strengthen your ecommerce site's current arsenal.
If you have more great recommendations, don't hesitate to comment and share them with our readers.