Drive sales on autopilot with ecommerce-focused features
See Features
Reading Time:
20
minutes
WooCommerce Checkout technology is the absolute leader in the ecommerce field across the globe. Built With claims that 27% of websites trust their businesses with this solution.
And it's easy to see why.
Thanks to an endless list of extensions, WooCommerce can provide your site with flexibility that allows you to build your store as simply or as complex as you'd like.
However, choosing well-performing Woocommerce plugins from that endless list might be challenging. Not all plugins are equally developed in terms of functionality or customer support.
To help you select the best Woocommerce plugins for your store, here's a list of the top-rated tools that will help you create an excellent experience for your shoppers, maximize your sales potential, and minimize security threats.
Boost your WooCommerce store's revenue by up to 85% using our email marketing plugin.
LEARN THE SECRET NOW
Marketing WooCommerce plugins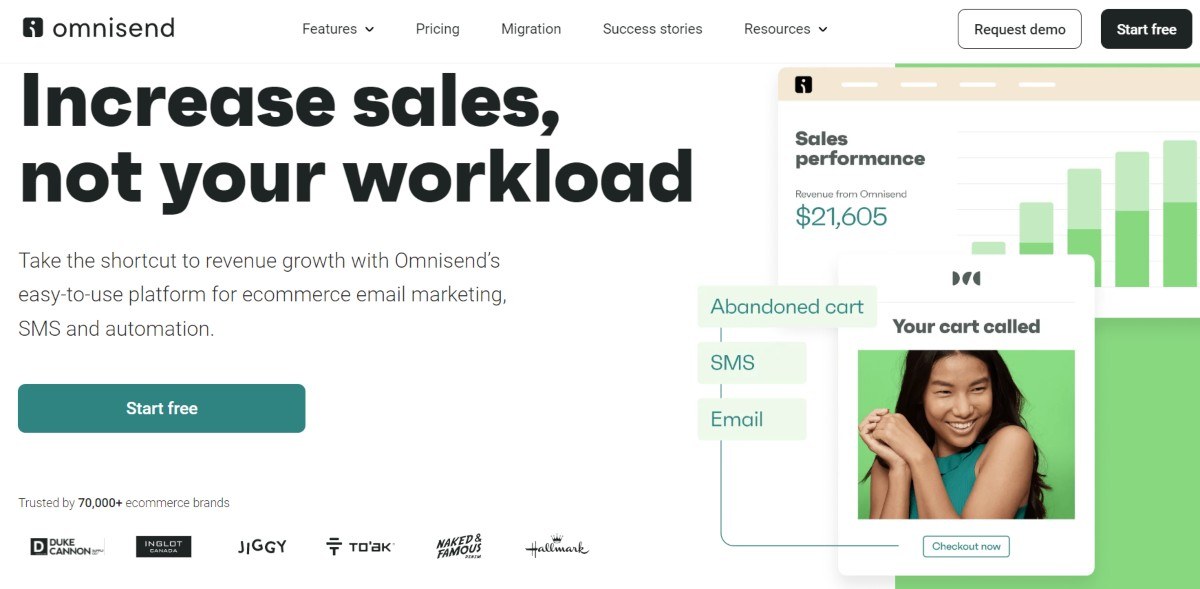 Free trial: Free plan available
Paid version: Starts at $16 per month
Omnisend is a comprehensive marketing tool for ecommerce businesses. This platform covers your customer messaging needs, starting from collecting customer contact information to advanced segmentation and marketing automation.
Using this platform, you will be able to implement a WooCommerce omnichannel marketing strategy. With email, push notifications, and even free text messages, Omnisend covers your most essential channels.
Among the most useful Omnisend features are the ready-made templates in case you aren't sure what to say in your signup forms, automated email, or text messages. The platform's got you covered– all you need to do is launch the workflows you want—browse or cart abandonment, order confirmation, or any other marketing automation workflow.
One of the best WooCommerce plugins, Omnisend will help you implement your marketing strategy for your WooCommerce store, no matter how easy or advanced it is.
Omnisend offers a free plan to cover beginners' needs, allowing you to send up to 500 emails per month to 250 contacts. For more emails, you might need one of the paid plans that start from $16.
The free plan offers the same full features that are available on all its paid plans, including automation and SMS marketing.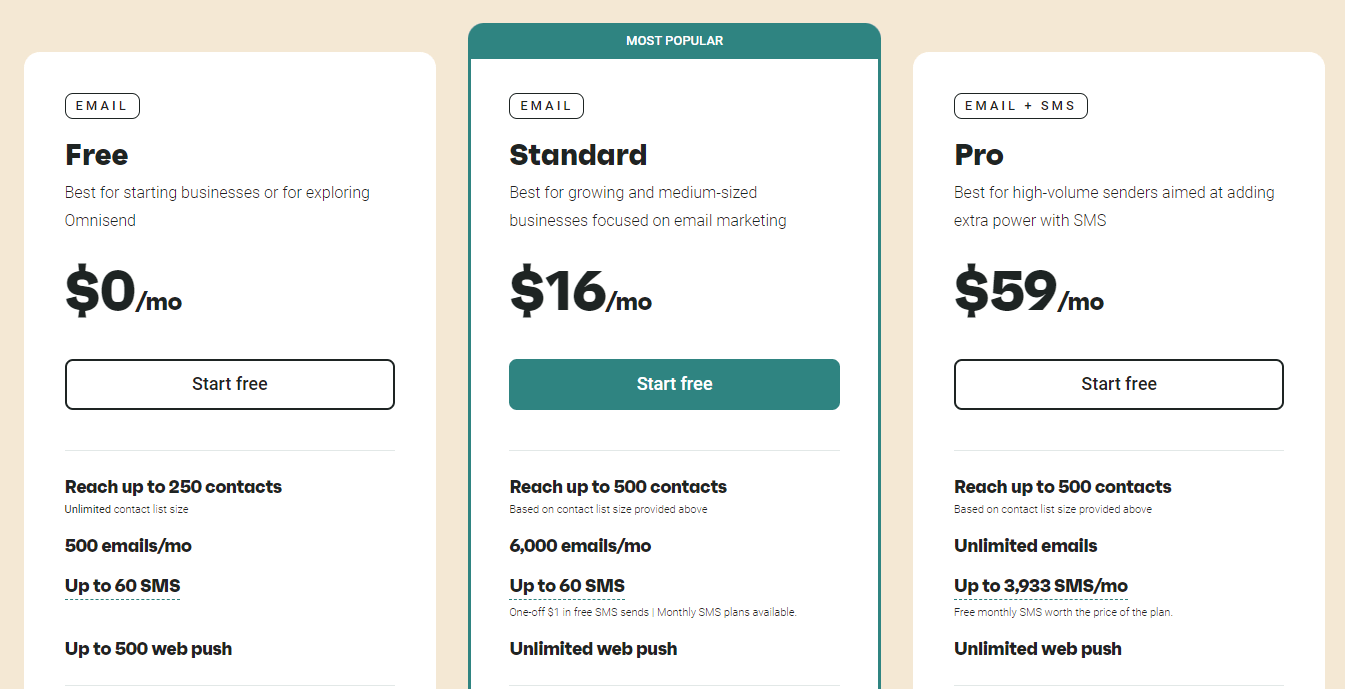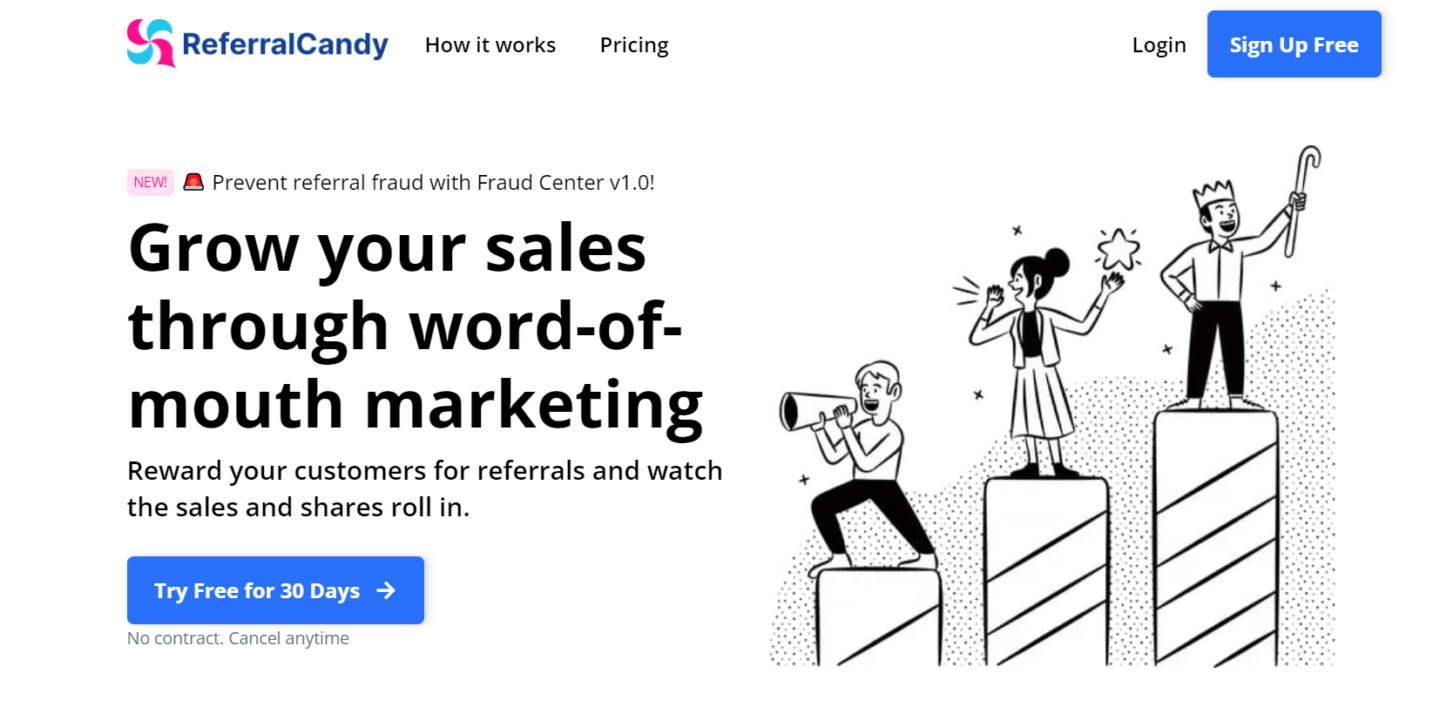 Free trial: Any plan free for 30 days
Paid version: Starts at $49/month + commission
This WooCommerce plugin is for creating highly effective referral programs on your site. Referral programs work well for both retaining existing customers and attracting new ones. Among the top WooCommerce extensions, ReferralCandy helps you boost loyalty and convert new customers.
ReferralCandy has a comprehensive feature set: you can organize cross-channel promotions, track customer shares, and measure overall engagement on your WooCommerce store. Also, you can automatically distribute rewards like discount coupons and gifts.
The WooCommerce extension also provides data-driven insights and identifies the most active referrers so you can reward them.
ReferralCandy offers a 30-day free trial. Their pricing starts at $49 + commissions, which differ depending on your sales.
What the fee will actually be will depend on how much you sell with ReferralCandy, so check out their page for more details.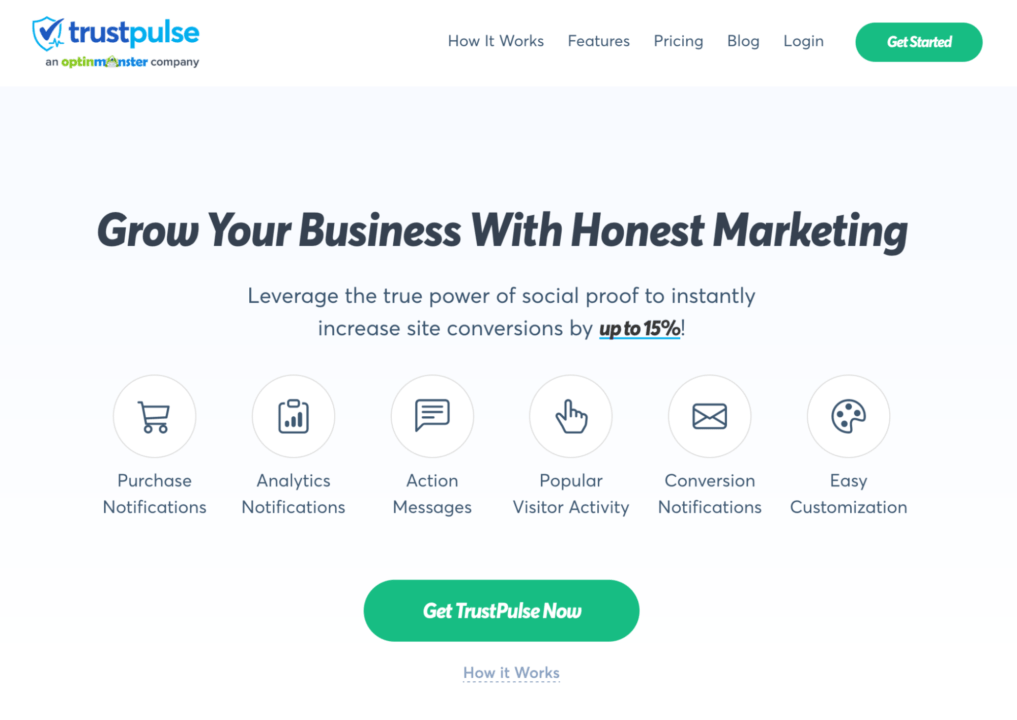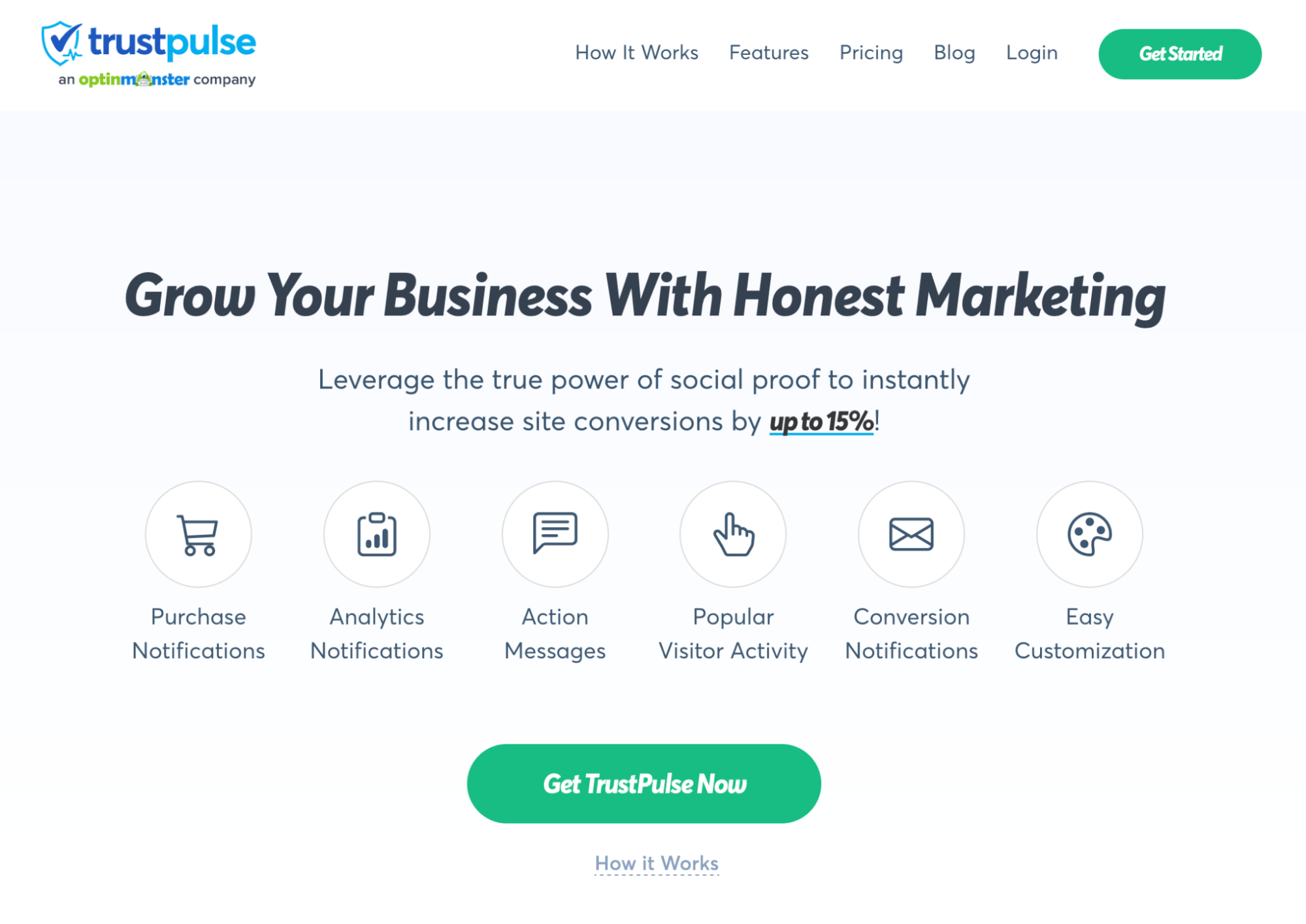 Free trial: No
Paid version: Starts from $5/month
Trust Pulse, one of the best WooCommerce plugins, is for social proof notifications that help customers make their decision to buy.
The notifications highlight recent other customers' activities—whether they have just registered, bought, or downloaded something from your site. It works as proof that the website is trustworthy and gives a nudge for customers to complete the purchase.
This WooCommerce plugin is also highly customizable. It provides users with advanced targeting and timing rules as well as great analytics.
Also, the tool offers different designs and color options, so your notifications will be in line with your overall website design.
In terms of pricing, Trust Pulse offers a basic plan for beginners (up to 2500 sessions per month) starting at $5 per month.
Check out the best WordPress live chat plugins if you want to provide real-time assistance to your consumers on your WooCommerce store. They can create memorable, hassle-free customer experiences, which are critical for retaining customers, maintaining brand loyalty, and increasing sales prospects.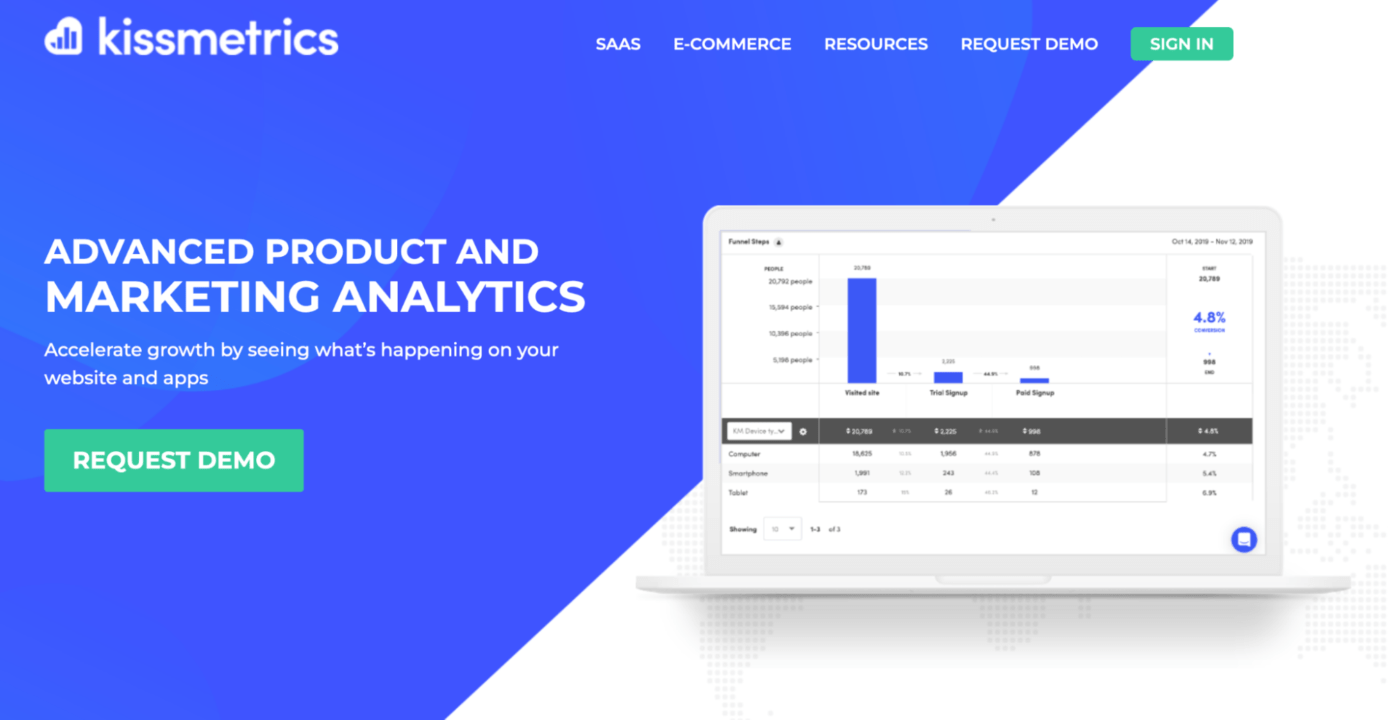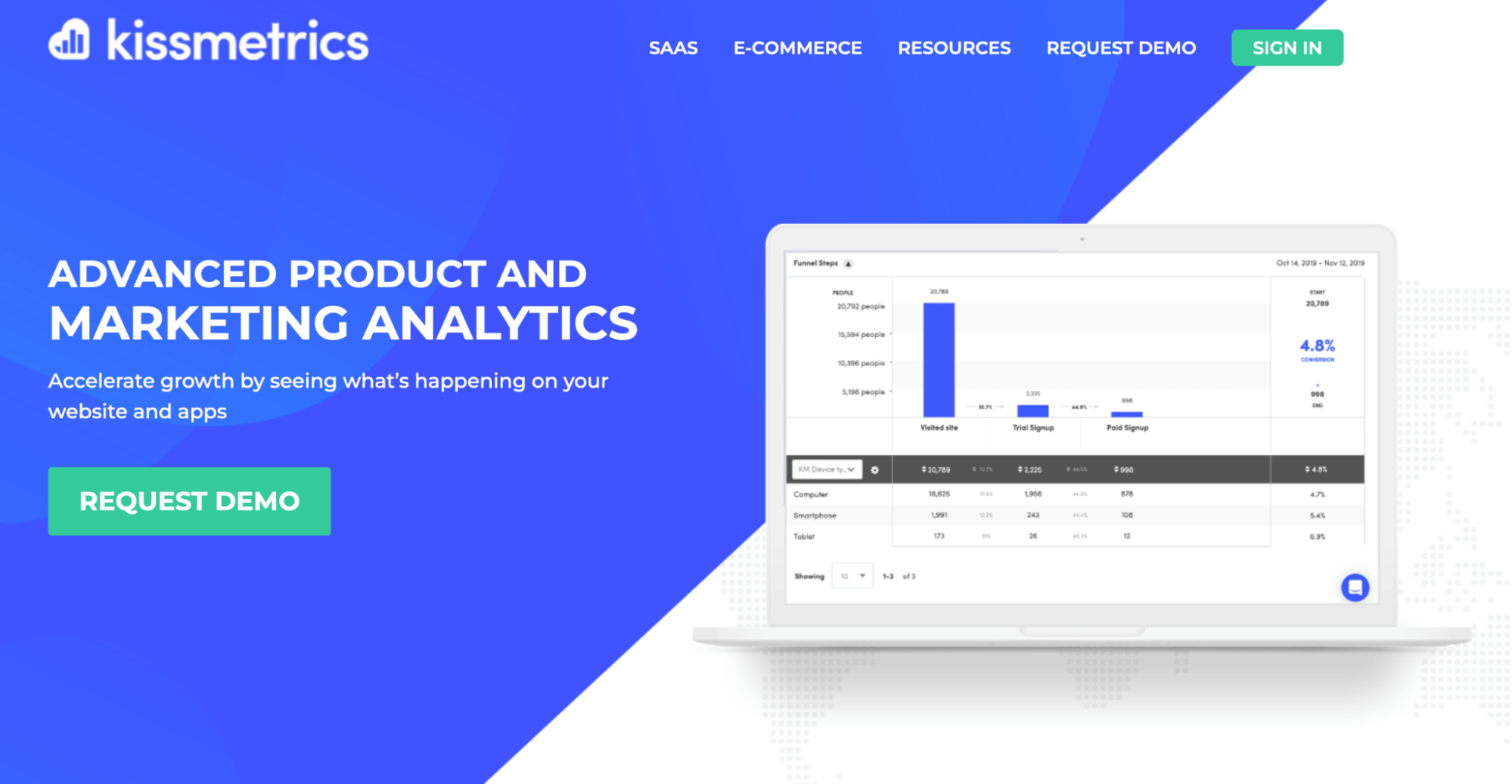 Free trial: No
Paid version: $299/year
Kissmetrics is an analytics tool that provides actionable metrics to keep a careful eye on every aspect of your store's performance.
The extension seamlessly integrates Kissmetrics with your WooCommerce store and works well with other WooCommerce extensions. It features a complete, customized dashboard, which gives instant access to your most important metrics while allowing you to visualize your checkout funnel with sales funnel reports. You can also sit back and watch visitors interact with your store in real-time.
Comprehensive, customizable, and easy-read analytics tools are vital to any business, and the Kissmetrics plugin is ideal for WooCommerce store owners. $299 will get you one year of updates and support, while Kissmetrics offers a free trial to get you started.
Site-building WooCommerce plugins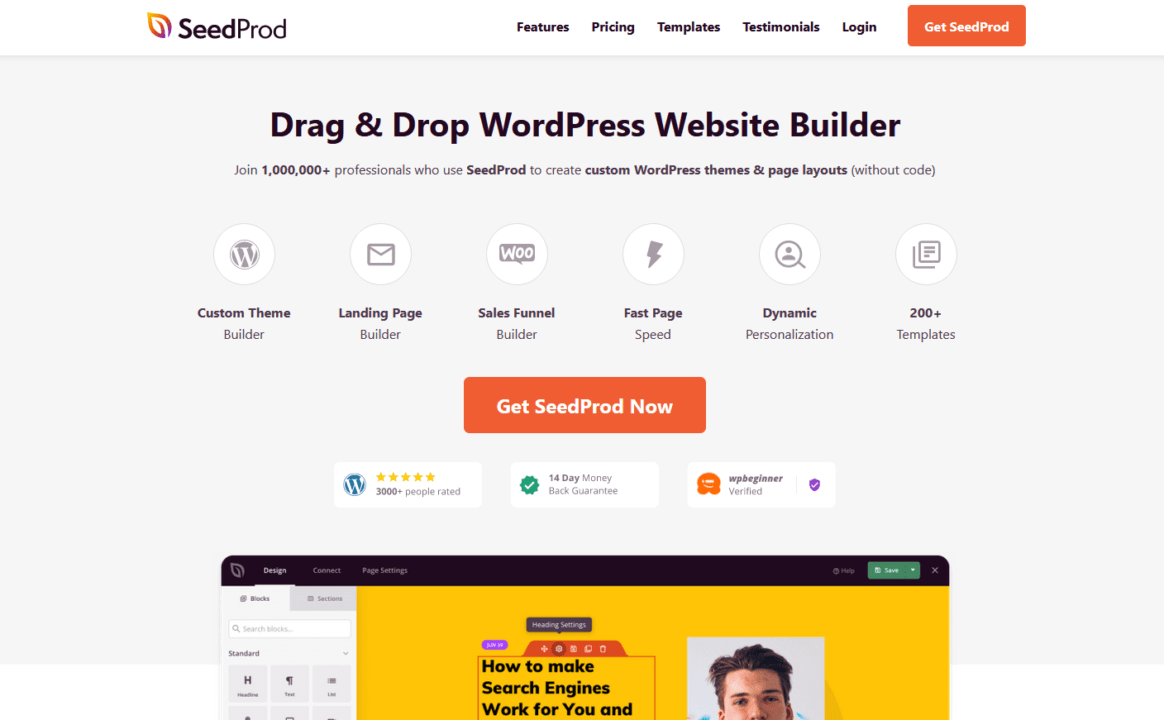 Free trial: Free version available
Paid version: Starts from $31.60/year (theme builder pricing starts at $159.60/year)
SeedProd is the best drag-and-drop website builder for WordPress and WooCommerce, used by over 1,000,000+ professionals. It lets you easily create custom WooCommerce checkout pages, product pages, sales funnels, landing pages, and even custom WooCommerce themes, without having to edit any code.
To get you started quickly, it comes with hundreds of professionally-designed templates that are responsive and fully compatible with WooCommerce. Simply choose a template, and then you can customize every detail with SeedProd's real-time drag-and-drop builder.
SeedProd comes with advanced WooCommerce blocks that allow you to easily add featured products, add to cart buttons, checkout forms, shopping carts, and more, to any landing page on your site. You can also use ready-made WordPress blocks like countdown timers, Google and Yelp reviews, pricing tables, star ratings, and more, to boost conversions.
SeedProd offers four plans: Basic ($31.60/year, page builder for one site), Plus ($79.60/year, page builder for three sites), Pro ($159.60/year, theme builder for five sites), and Elite ($239.60/year, theme builder and WooCommerce support for unlimited sites). There's also a free version available to build basic landing pages.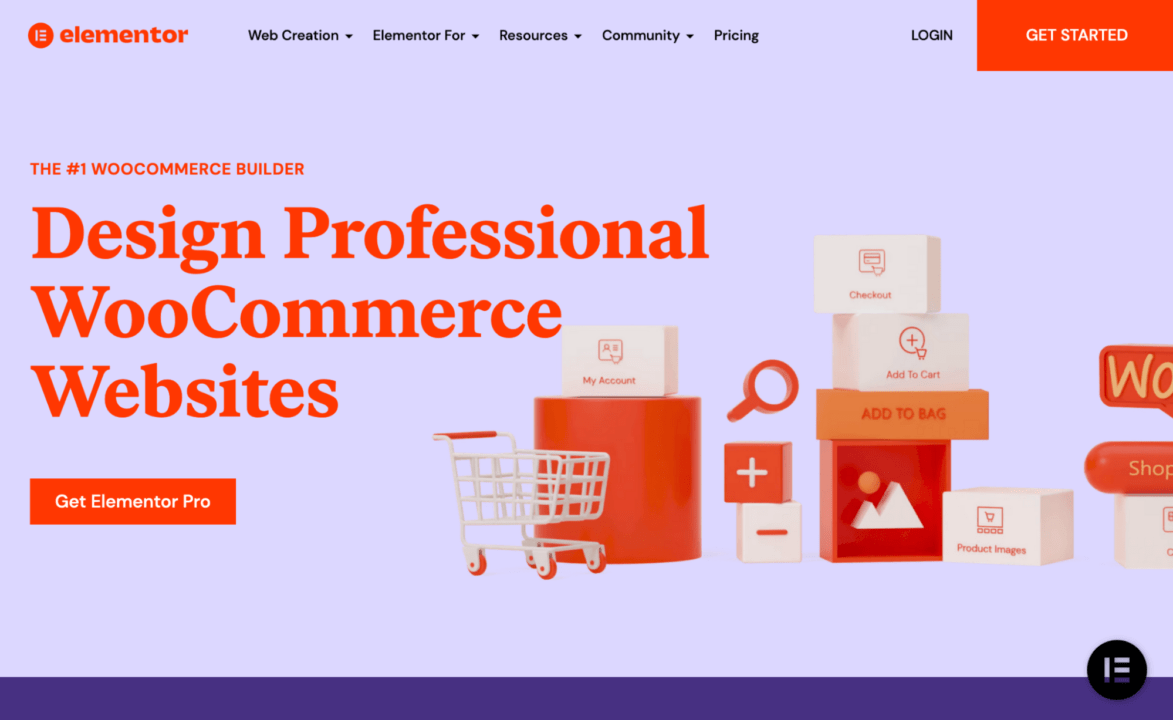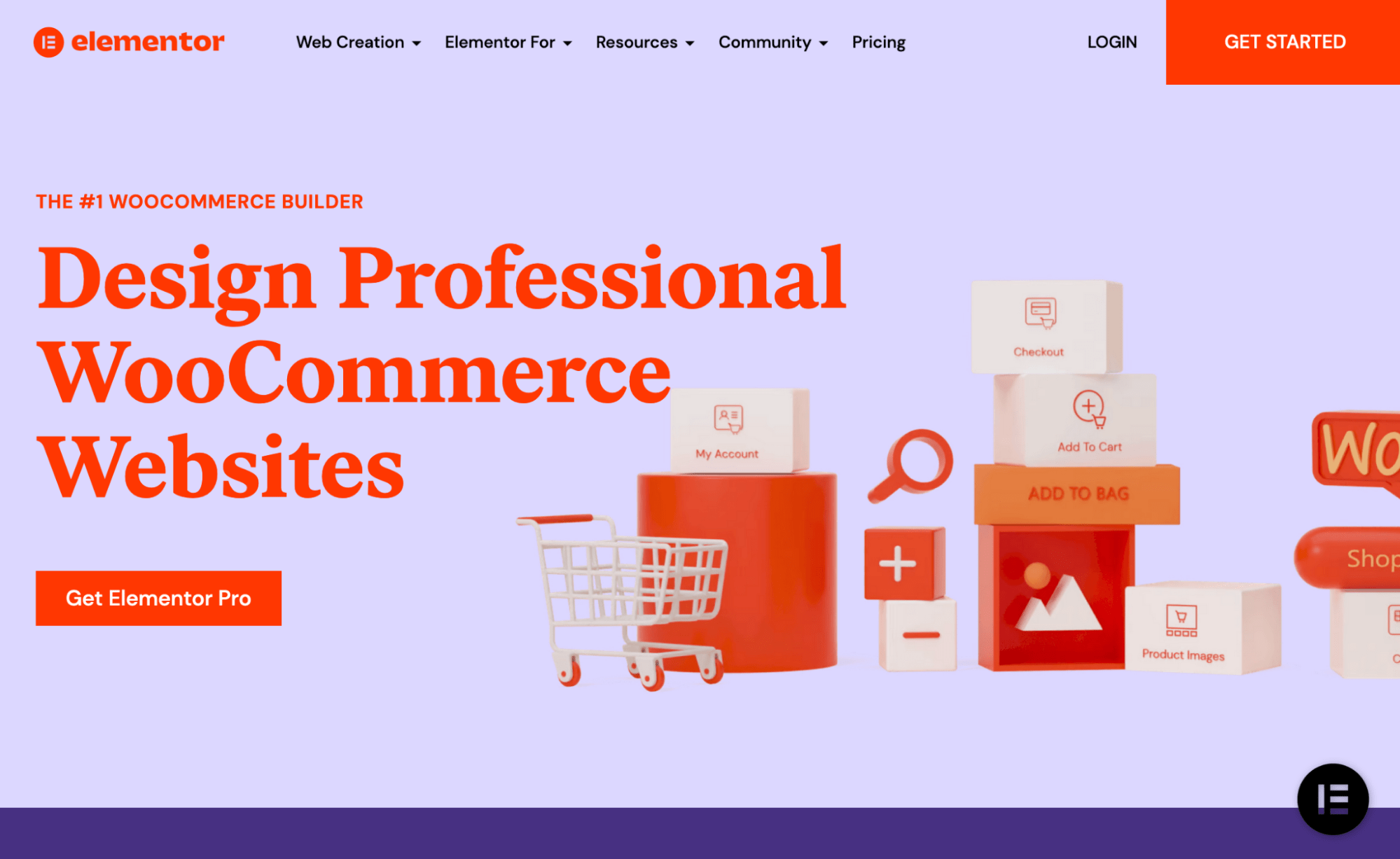 Free trial: Free plan available
Paid version: Starts from $49/year (without hosting)
Elementor is a website builder that enables you to create WordPress websites without writing code. It also happens to be one of the leading WooCommerce extensions. Boasting a powerful WooCommerce website builder feature, Elementor can be leveraged toward creating WordPress-based online stores, as well.
Users can choose to create their ecommerce website from scratch, using Elementor's dynamic drag-and-drop editor. Alternatively, they can opt for Full-Site Kits. Complete websites, Kits are designer-made and can be effortlessly customized for immediate launch. With more than 100 ecommerce Kits, you can go live with a stunning, converting online store in a matter of minutes.
You can drag and drop hundreds of widgets (including 20+ widgets unique to ecommerce pages) without having to touch CSS. Being a WordPress-based platform offers users the unique advantage of incorporating additional WooCommerce extensions. Elementor plays nice with the likes of Yoast and various SSL providers.
Elementor offers three plans: Essential ($49 per year, for one website), Expert ($199 per year, for 25 websites), Studio ($499 per year, for 100 websites), and Agency ($999 per year for 1000 websites). Additionally, Elementor offers what it dubs as a 'Complete website' for $89 per year for one website. Basically, this plan will provide you with built-in WordPress hosting, as well.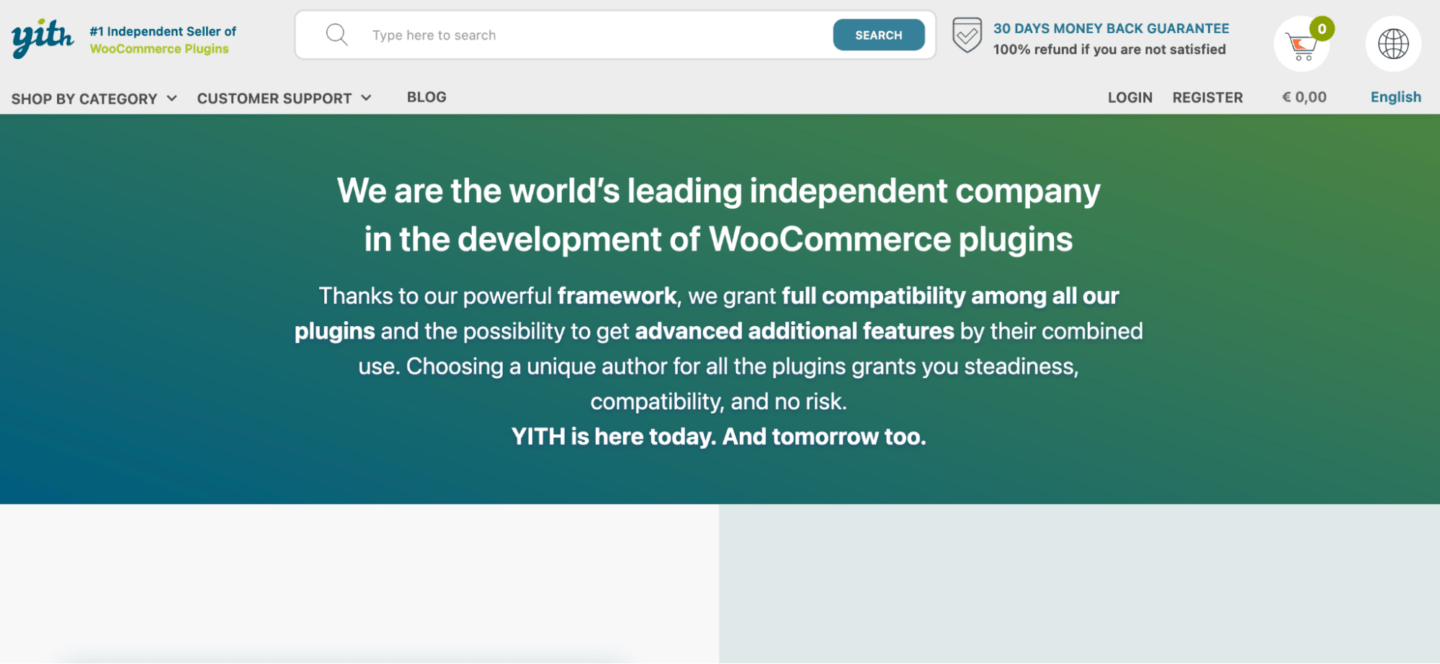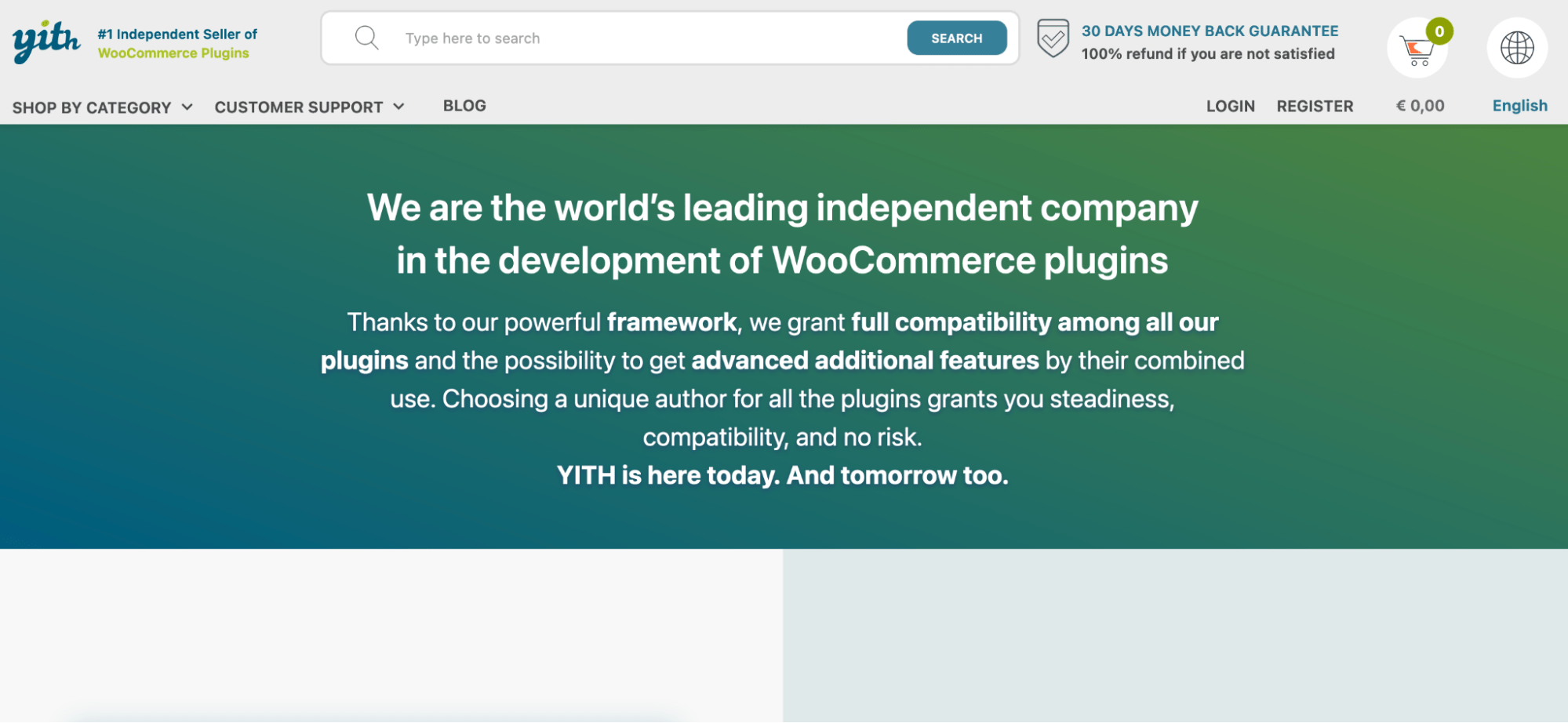 This is a WooCommerce extension that will significantly expand your site's functionality and will save you lots of time searching for alternative solutions. Plus, they all are compatible with each other, so everything will work smoothly.
These are a few of the plugins from the entire bundle:
YITH WooCommerce Ajax Search facilitates search on your website.
Free trial: Free version available
Paid version: $69.99 per year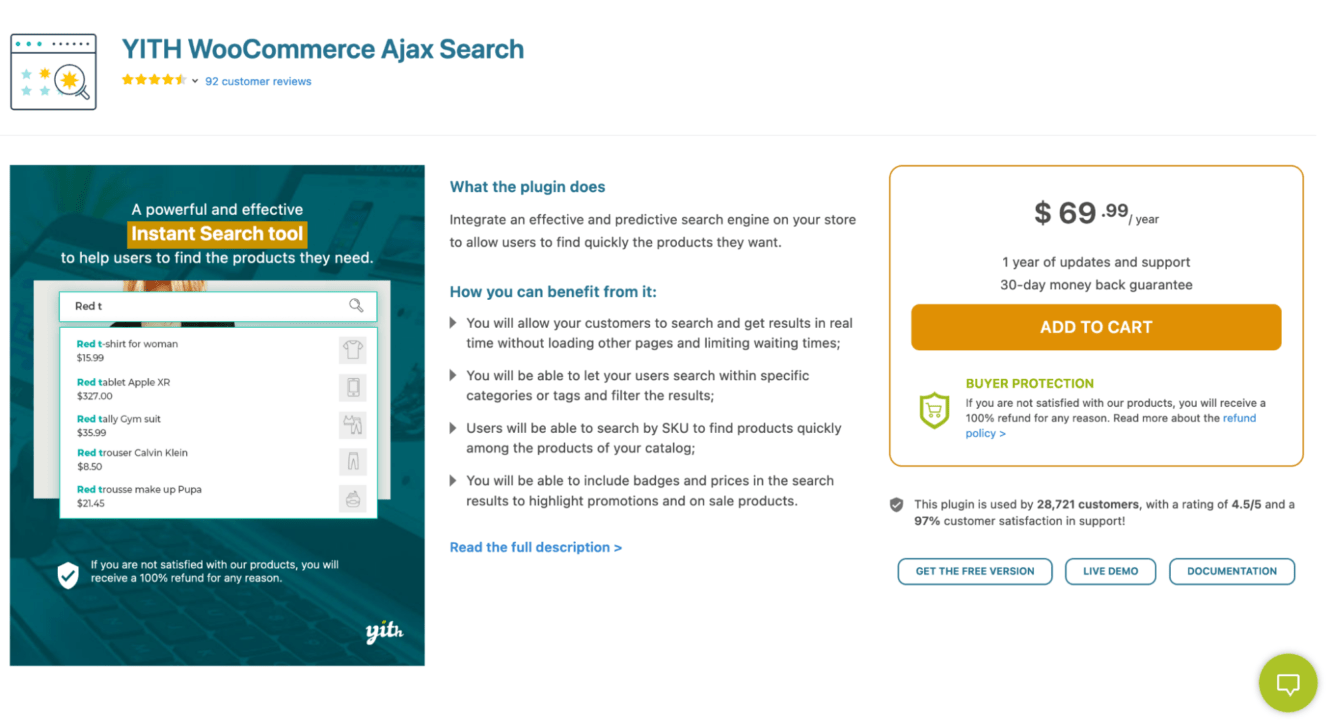 YITH WooCommerce Ajax Product Filter provides different filters and facilitates browsing through the product experience.
Free trial: Free version available
Paid version: $79.99/year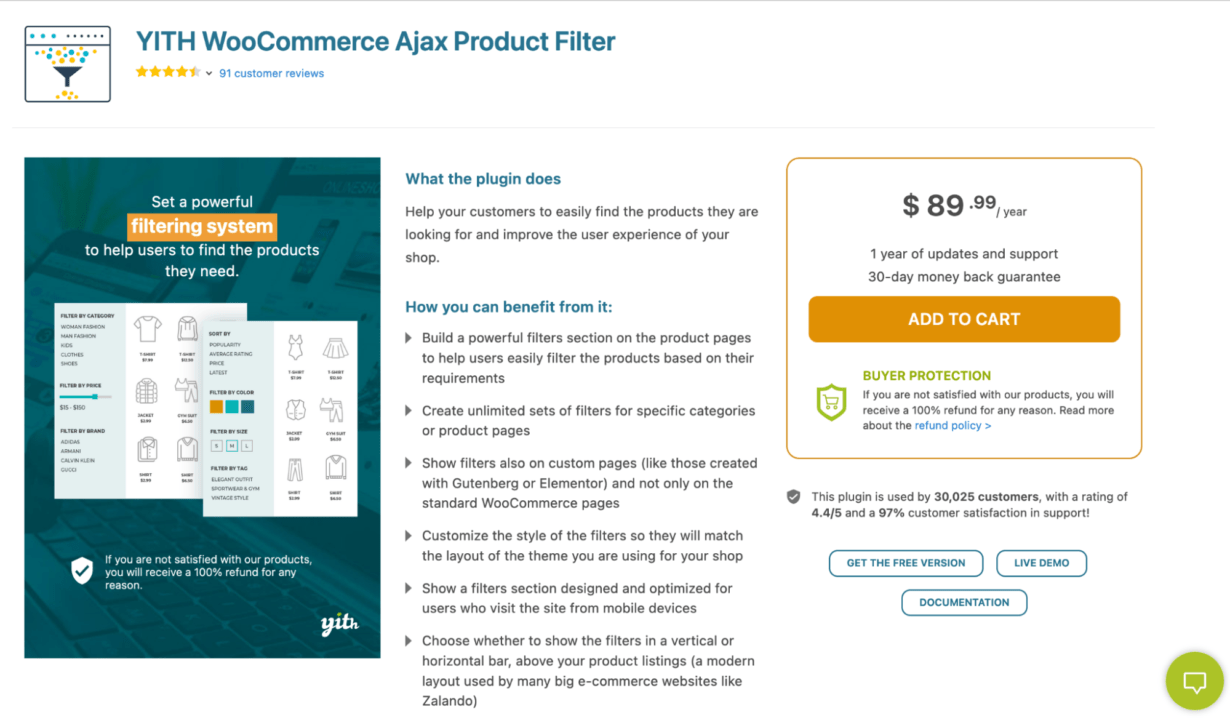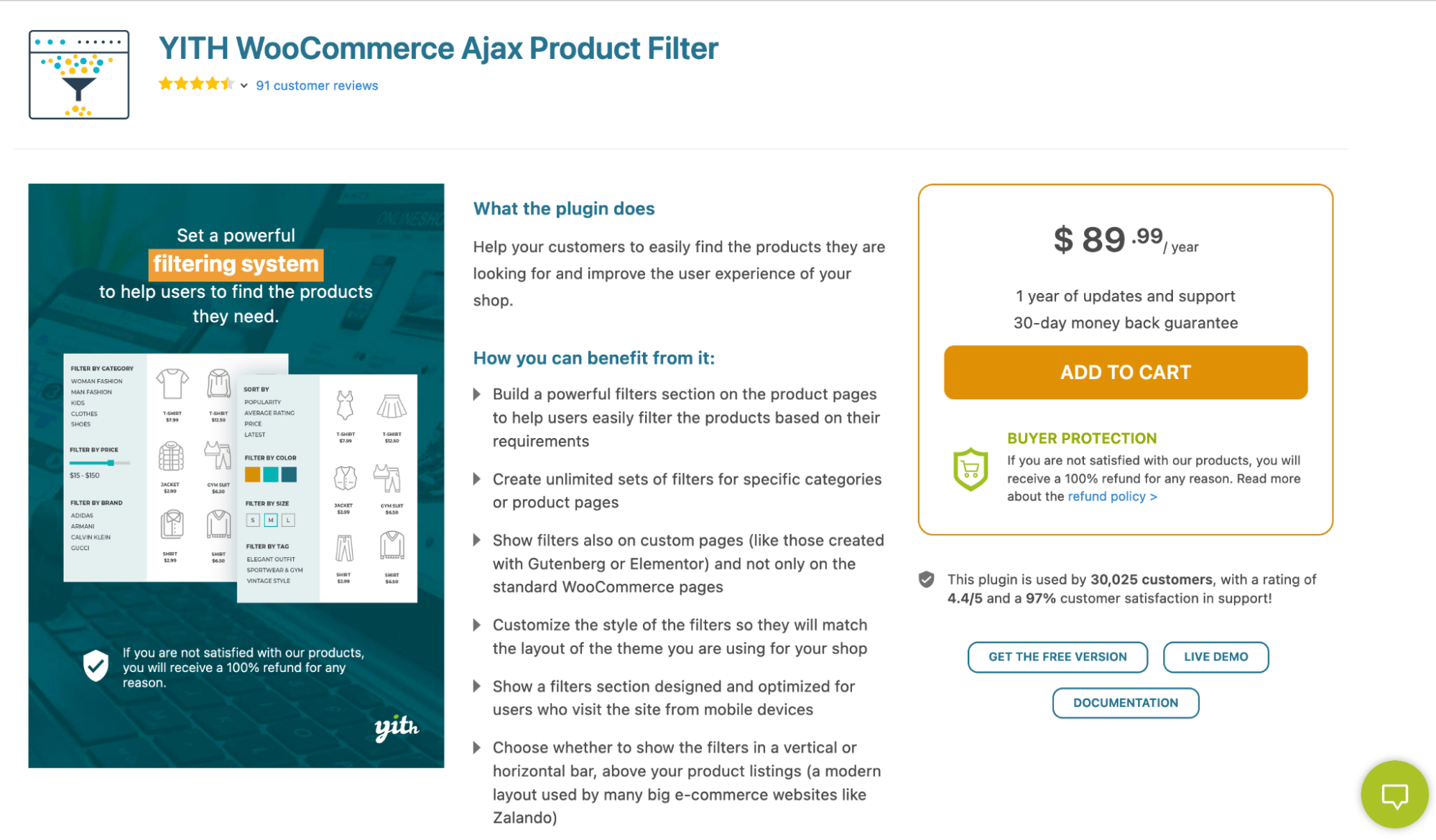 YITH WooCommerce Compare facilitates product comparison on your WooCommerce store.
Free trial: Free version available
Paid version: $69.99/year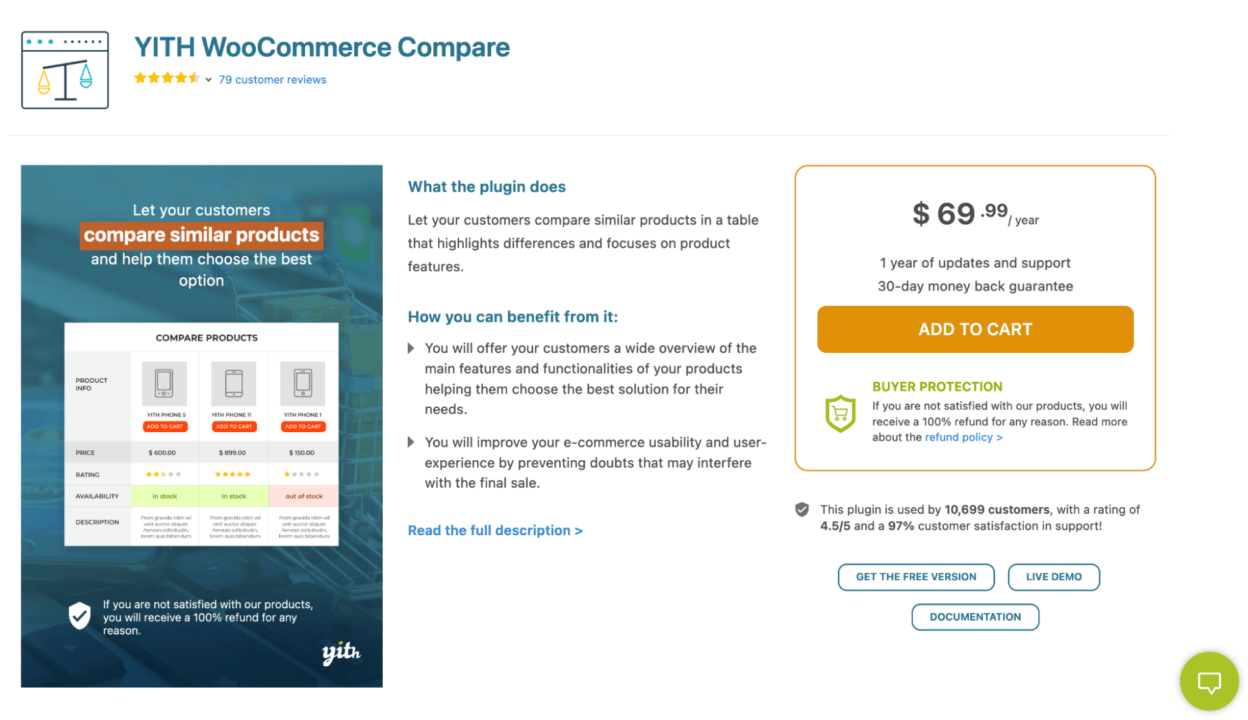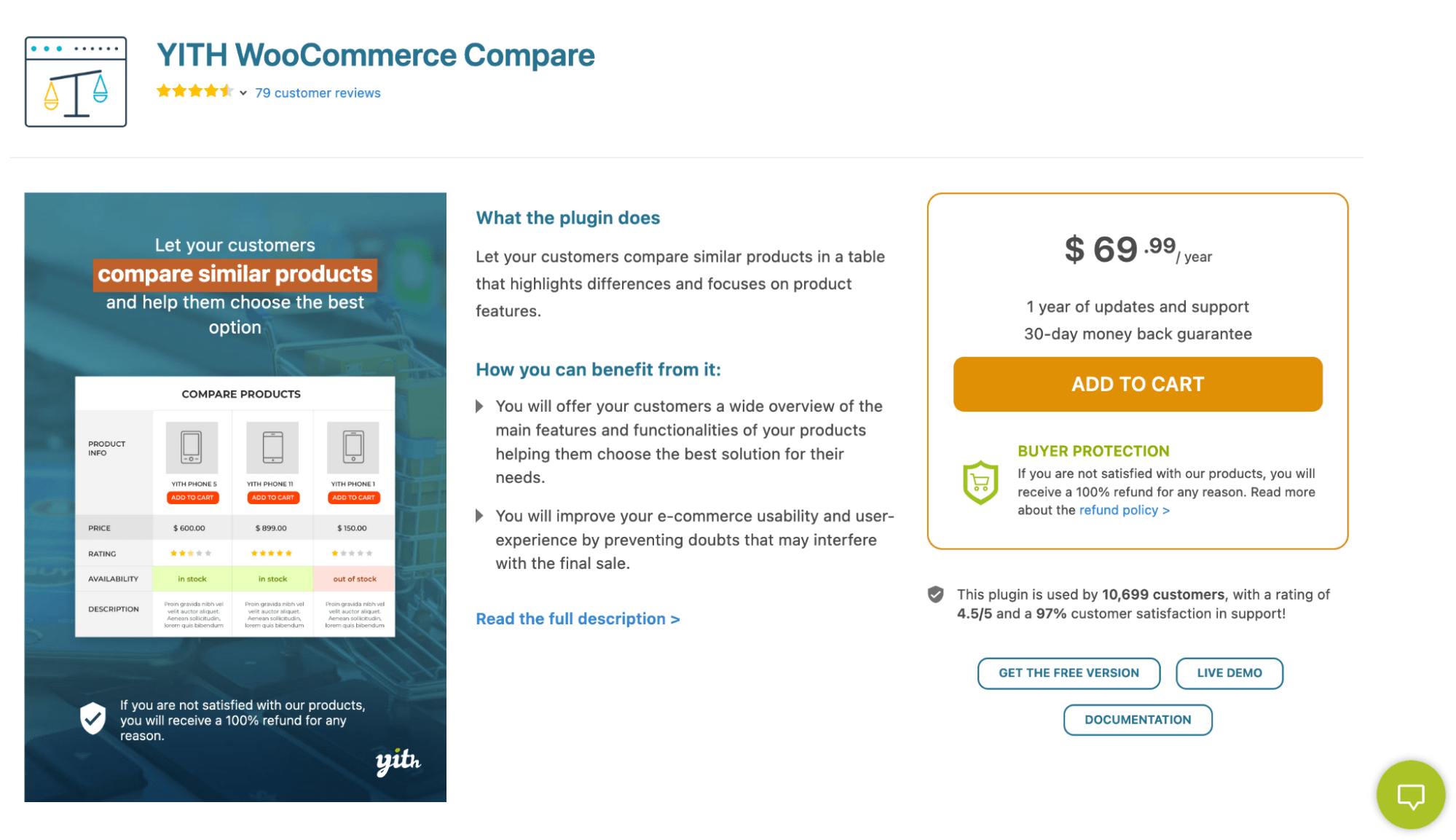 YITH WooCommerce Product Gallery & Image Zoom provides users with the tool to zoom and closely inspect products on your website.
Free trial: Free version available
Paid version: $49.99/year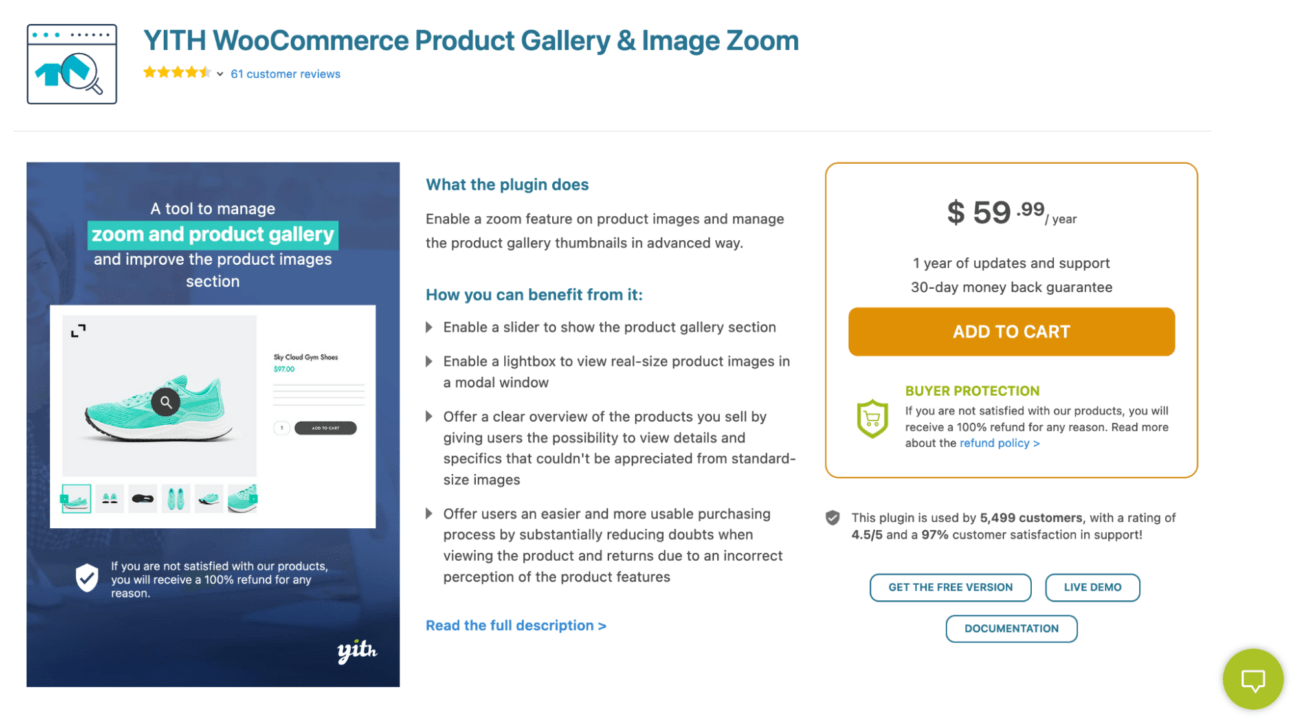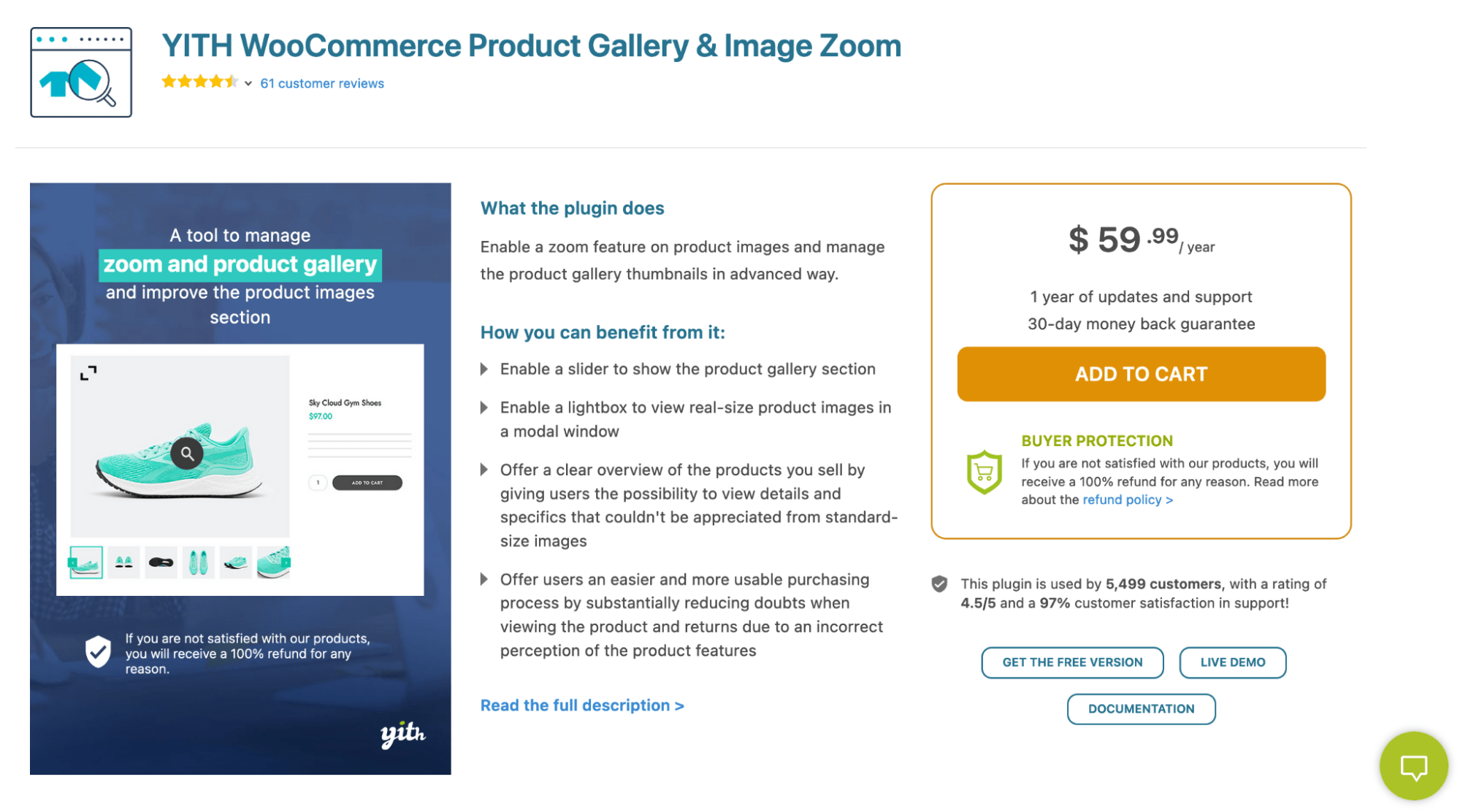 YITH WooCommerce Quick View enables a quick preview of the product (basic information) without needing your customer to navigate from their browsing.
Free trial: Free version available
Paid version: $59.99/year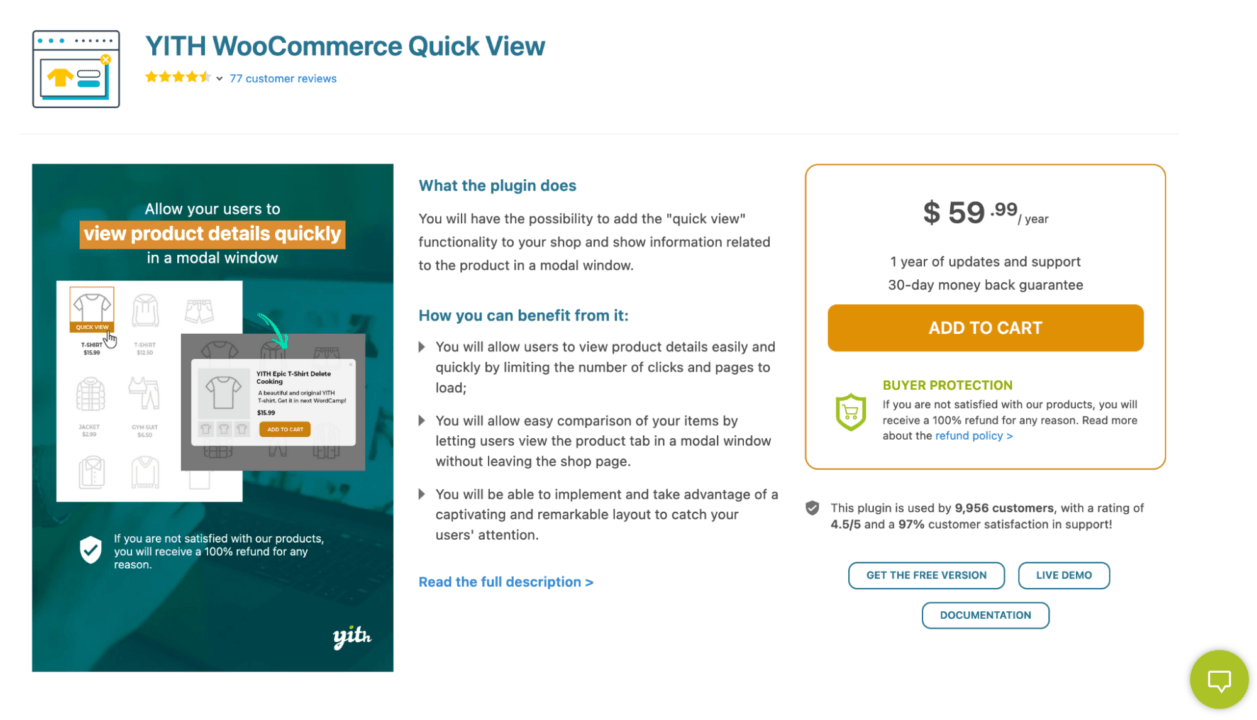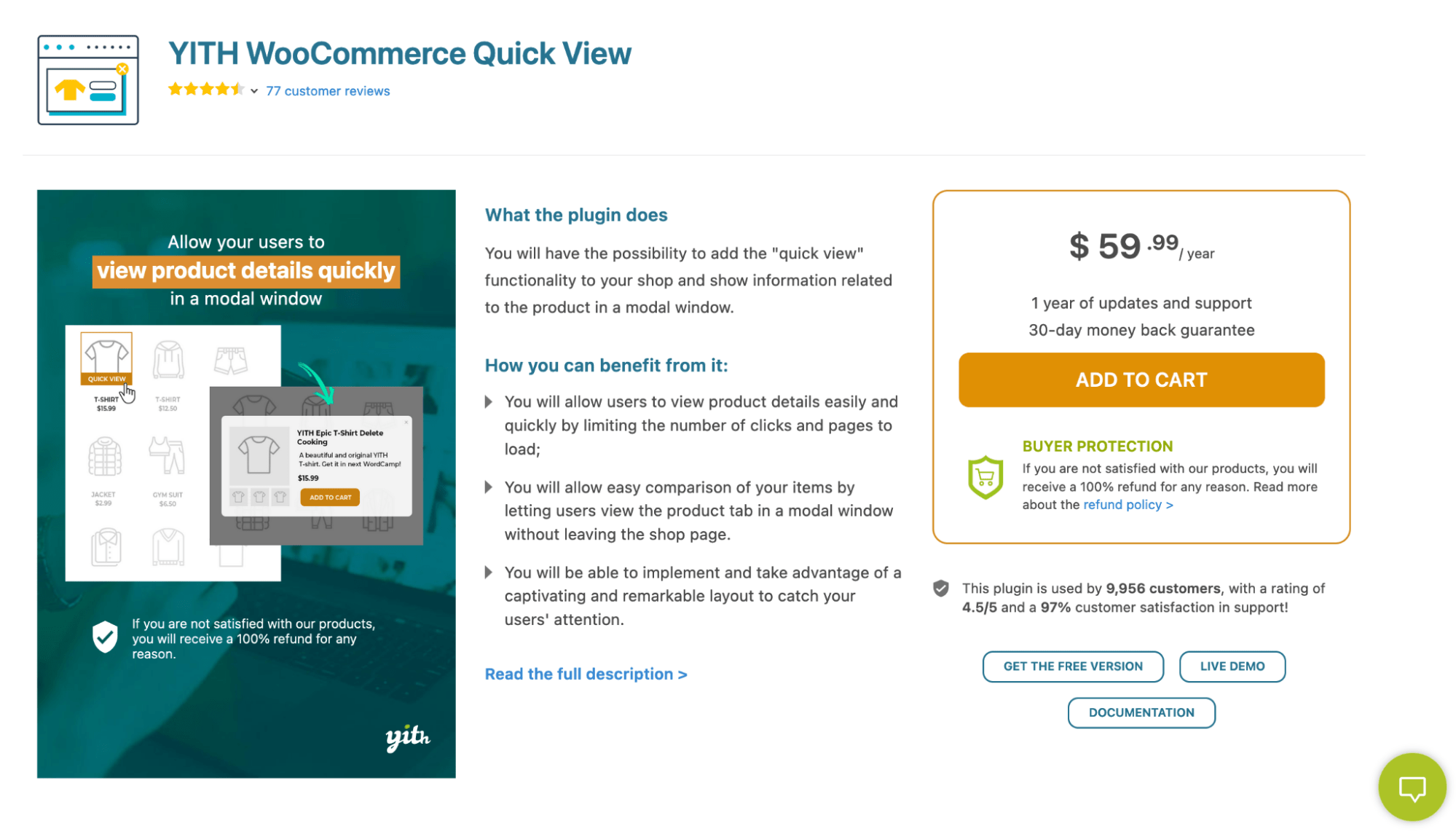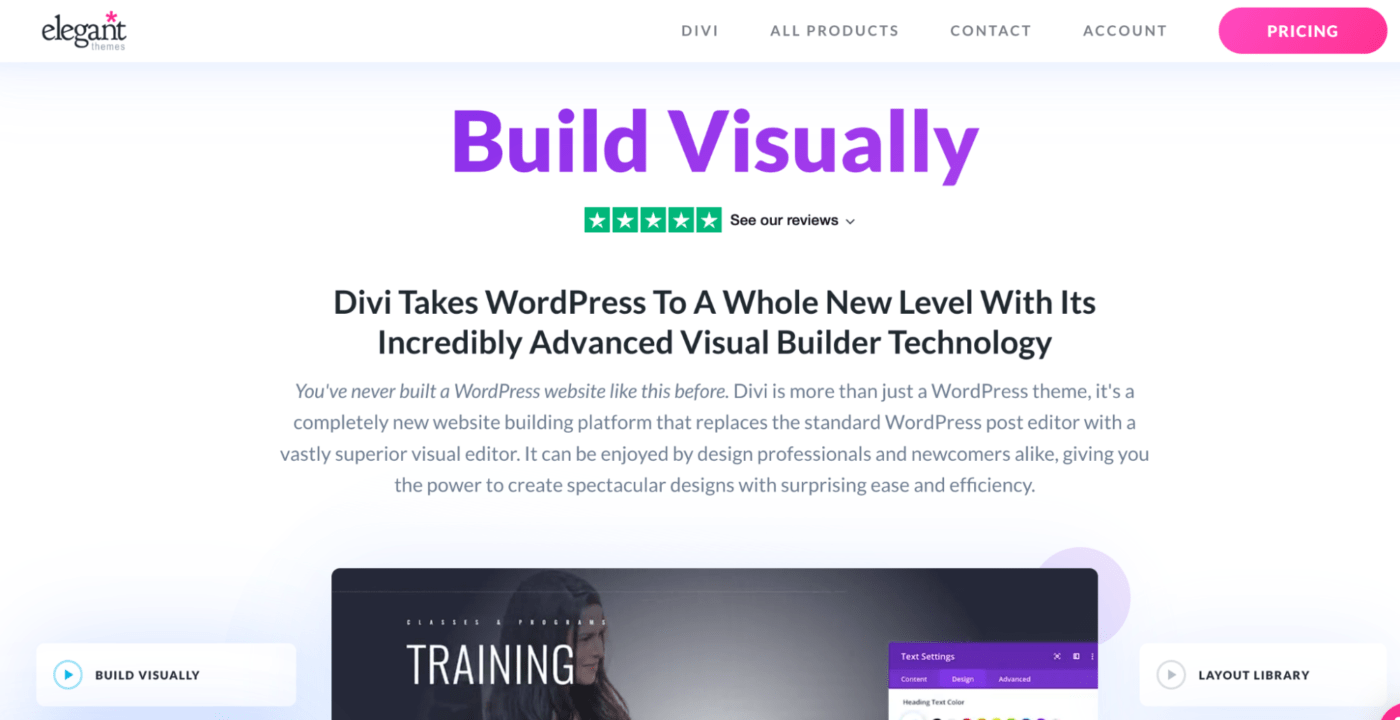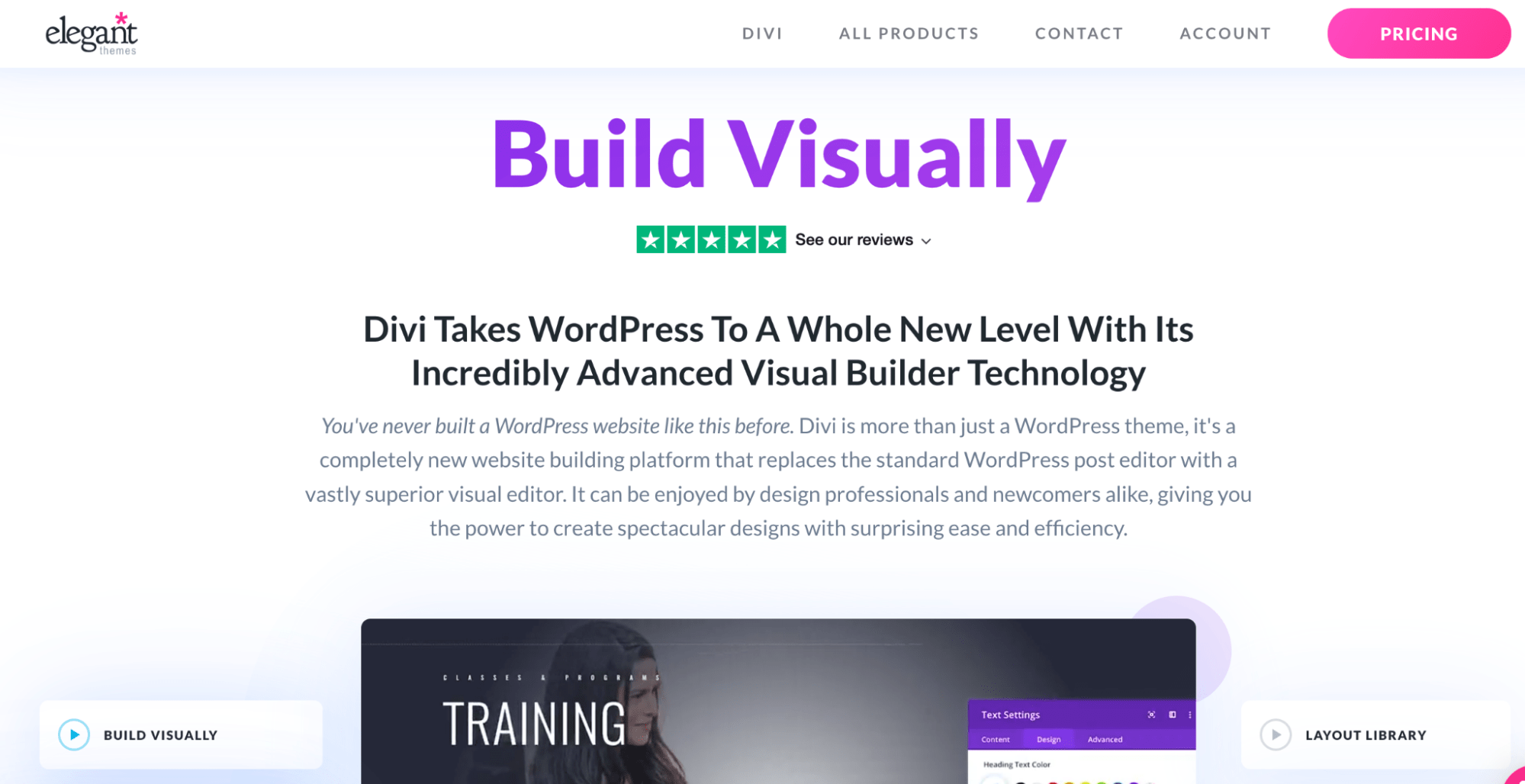 Free trial: No
Paid version: $89 per year or $249 for lifetime access
Divi is commonly referred to as a WordPress theme. But it's so packed with features that it is essentially a complete website-building tool and one of the best WooCommerce plugins out there.
The main advantage of using Divi is its powerful visual builder. You can quickly and easily add, move, and remove website elements without ever having to code and without having to contend with typically confusing back-end menus.
When used with WooCommerce, it enables you to develop stylish and professional-looking ecommerce websites. There are plenty of pre-built templates and elements but you can also add custom code if you need something completely unique for your store. This tool is incredibly easy to use and offers so much flexibility that you never have to compromise on your vision for your store design.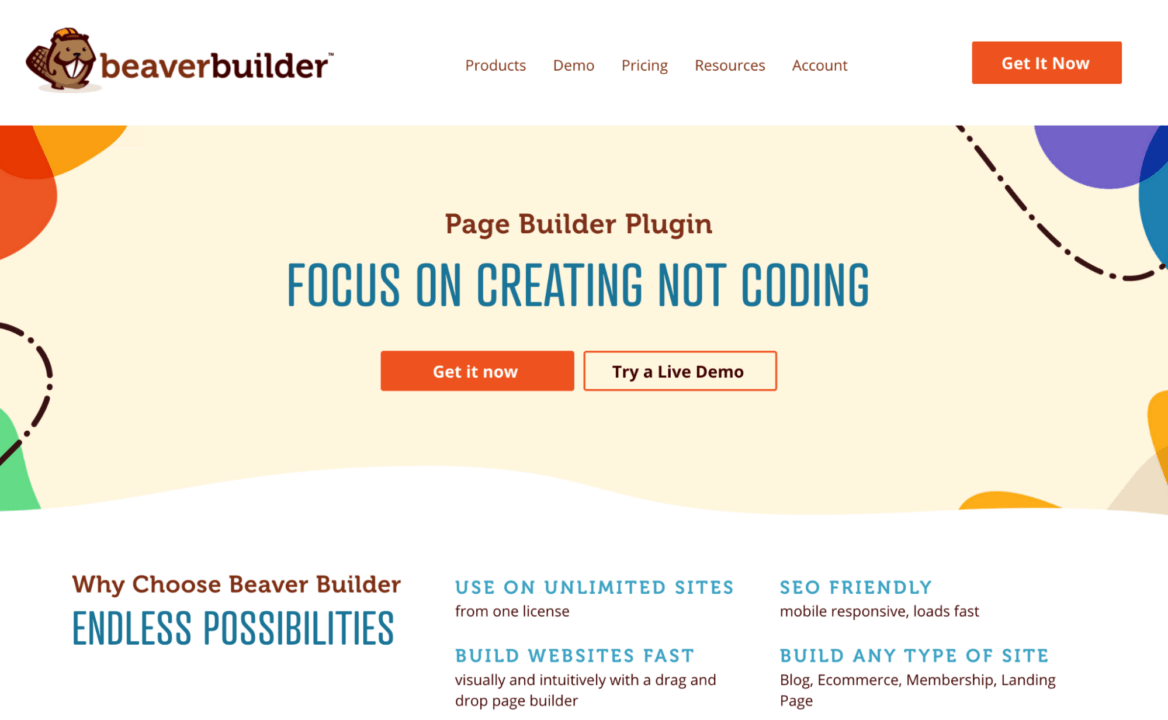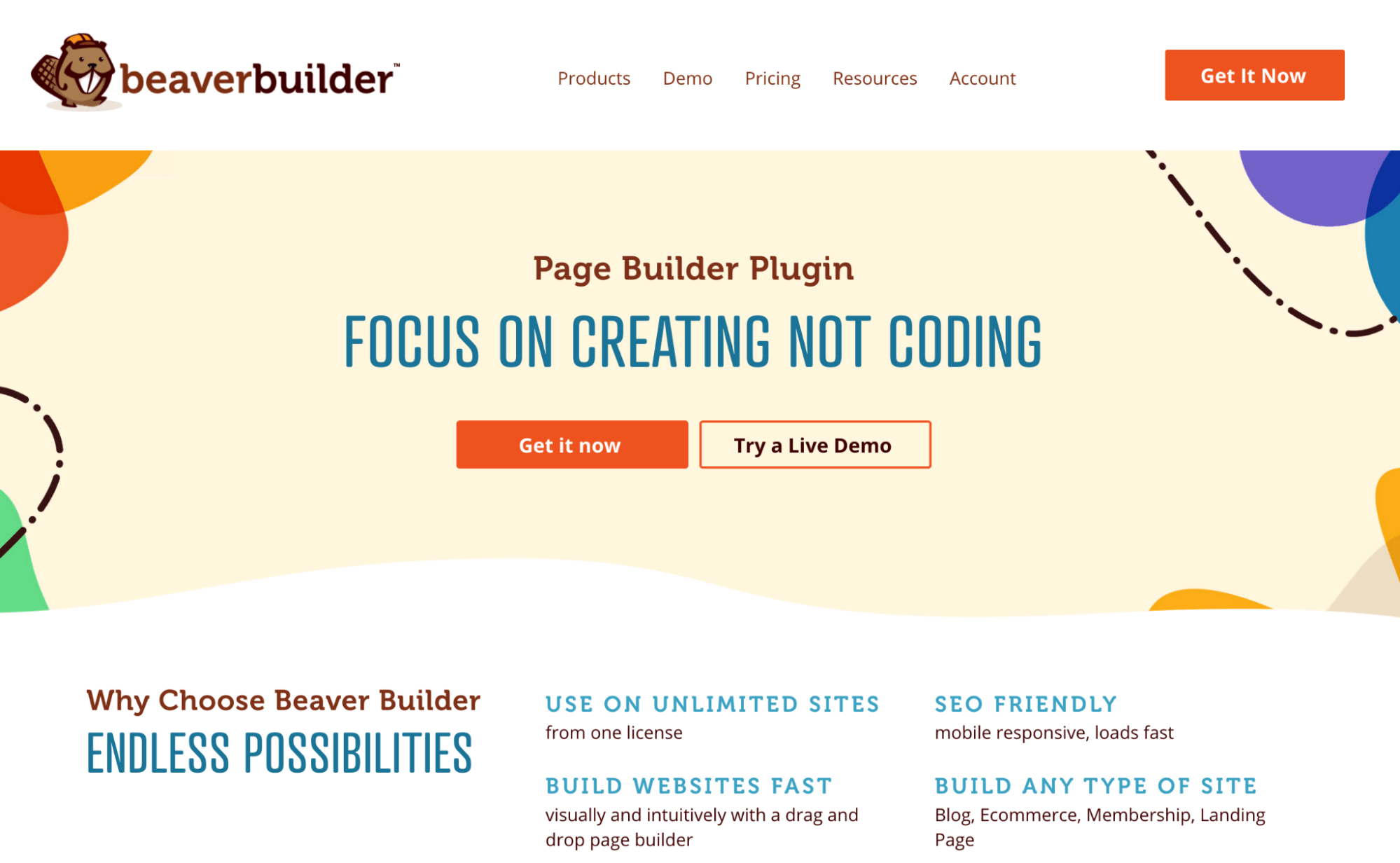 Free trial: No. 30-day money-back guarantee offered
Paid version: Starts at $99 for the first year and 40% off each subsequent year
Beaver Builder is a web page builder with pre-built elements and templates that enable you to create high-conversion landing pages and customized content pages for your WooCommerce store. Its intuitive drag-and-drop interface makes webpage creation remarkably simple. And, the pages it builds are optimized for speed and mobile responsiveness.
Although Beaver Builder's design interface is already incredibly powerful, portions of pages or specific elements can also be tweaked using HTML, CSS, PHP, or JavaScript. To take your ecommerce store even further, it integrates seamlessly with some of the best ecommerce tools for sales generation.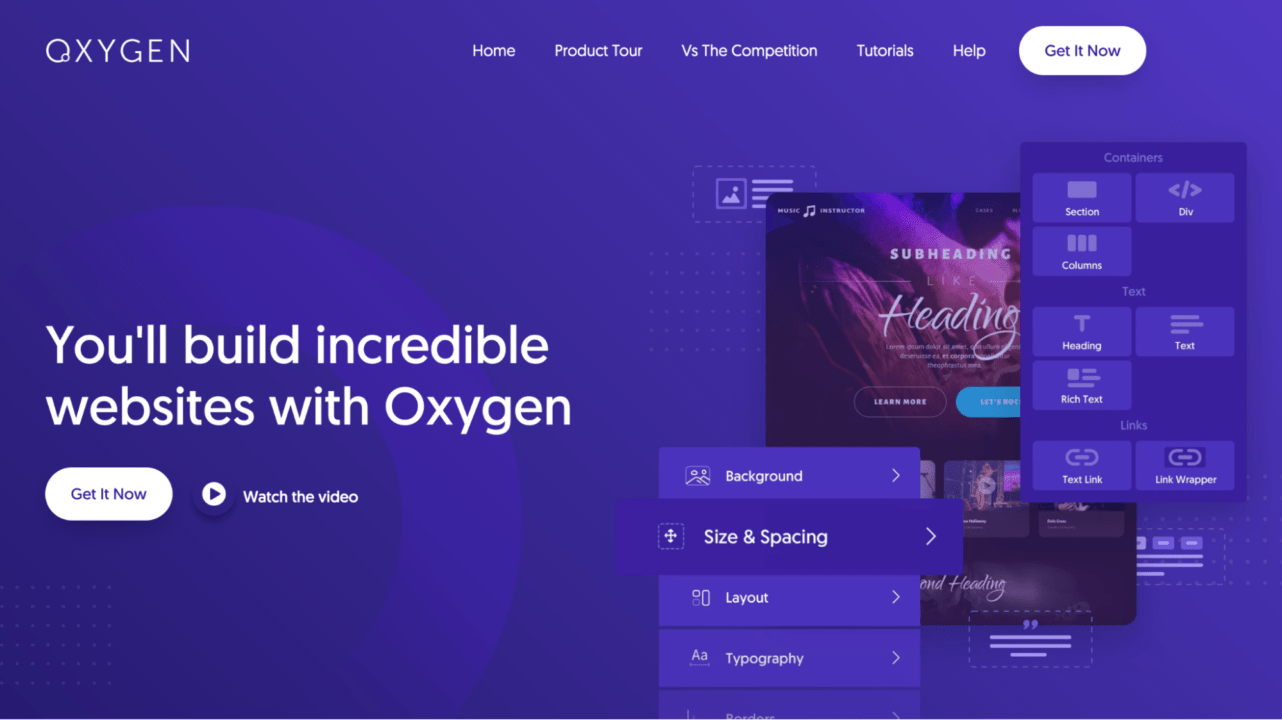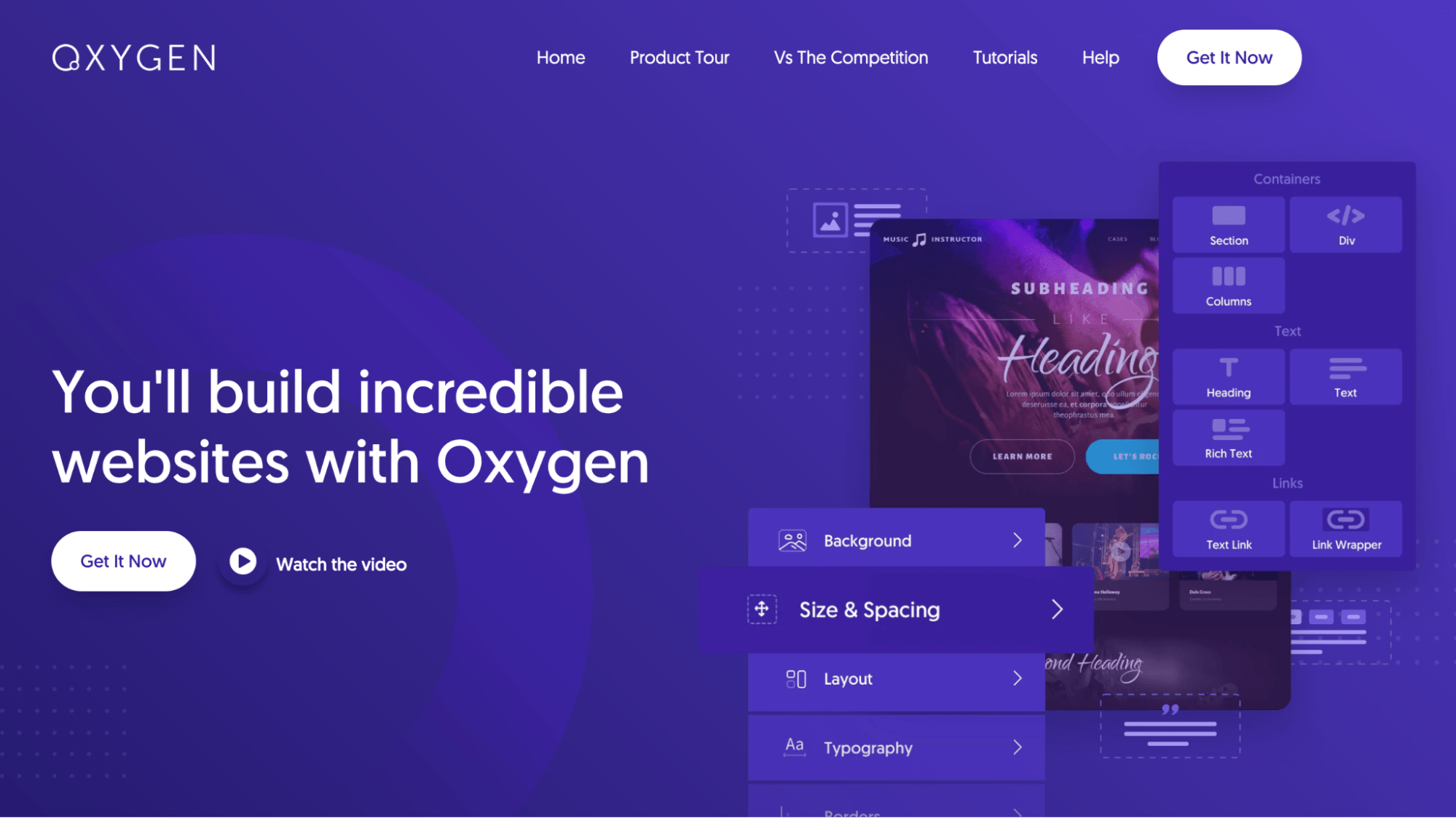 Free trial: No. 60-day money-back guarantee offered.
Paid version: Lifetime unlimited access starts at $129 one-time fee.
Oxygen is another visual website creation WooCommerce extension with a powerful drag-and-drop interface. Typically, elements that are pre-built into page builders can easily be moved but it takes some coding work to resize them. With Oxygen, you can easily change every element's size by dragging from its edges. Spacing between elements can also be easily manipulated.
Additionally, when you change colors from your design, you can opt to apply the change everywhere else it was used. This makes it much easier to ensure consistency throughout all your pages. Furthermore, this tool makes easy work of creating all types of headers, including stickies and overlays for special announcements and events.
SEO WooCommerce plugins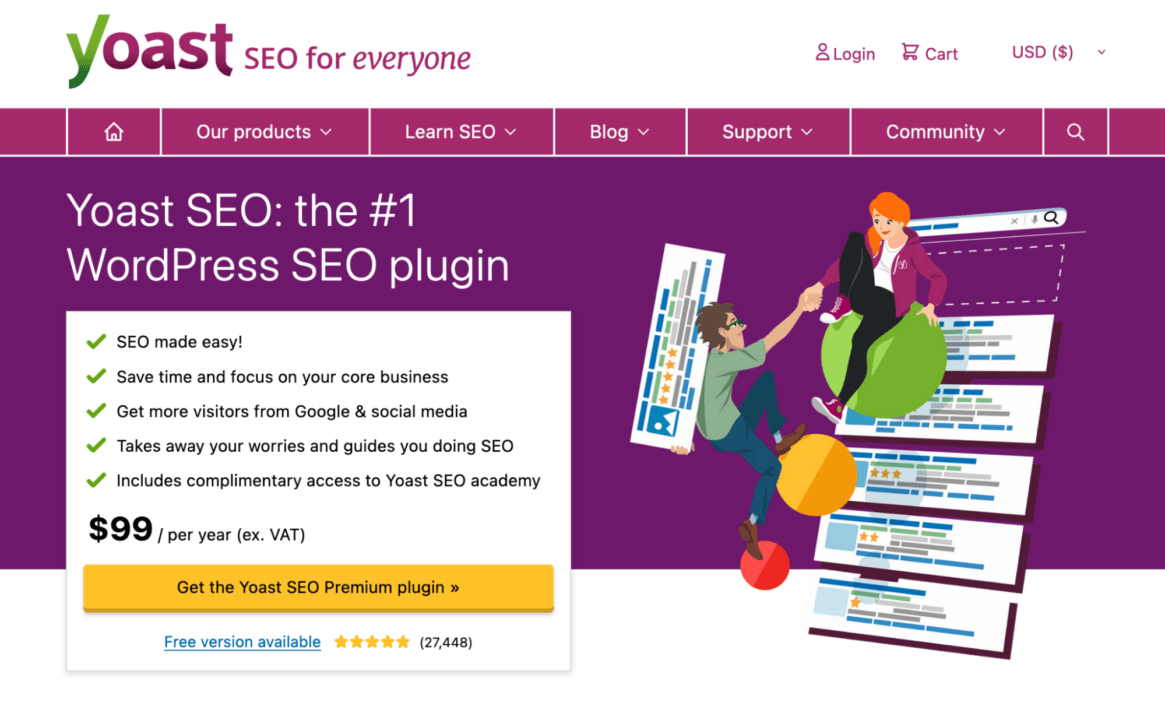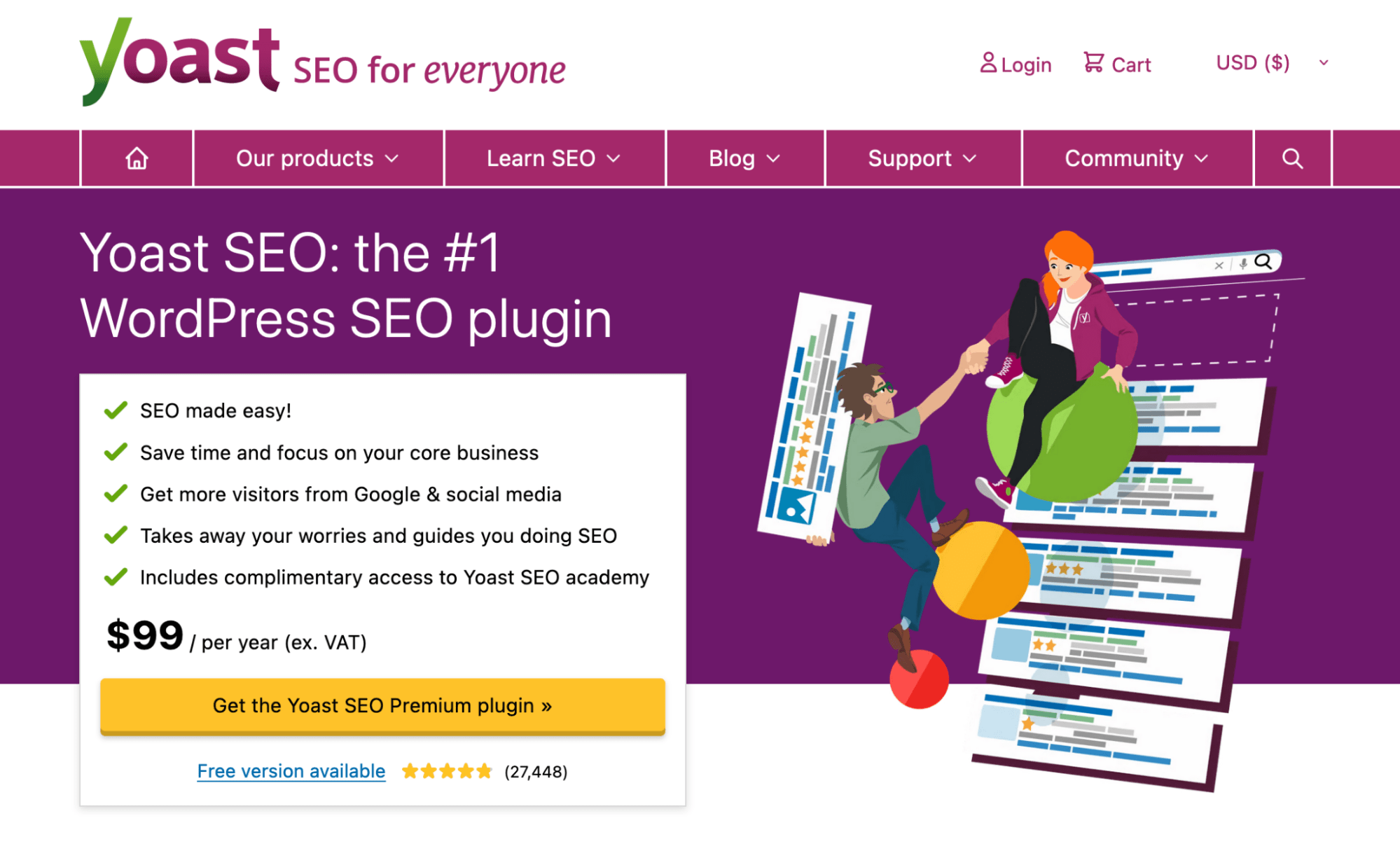 Free trial: Free plan available
Paid version: Starts at $79 per year
This WooCommerce plugin is a well-built tool to optimize your site for search engines and improve your site's readability to your customers—and it's extremely popular on WordPress.
With a free plan, Yoast will help you check the readability of your content, and find an outdated one. Also, the tool will provide you with a preview on Google search, and optimize the site for one keyword.
For full support, unlimited keyword optimization, internal linking suggestions, and other features, Yoast SEO will charge a $99 fee. The support and updates are guaranteed for one year. If you want to unlock even more features, get the Yoast WooCommerce SEO plugin on top of the regular Yoast SEO plugin.
There are no doubts about the effectiveness of this tool—it's proven by time and numerous great reviews.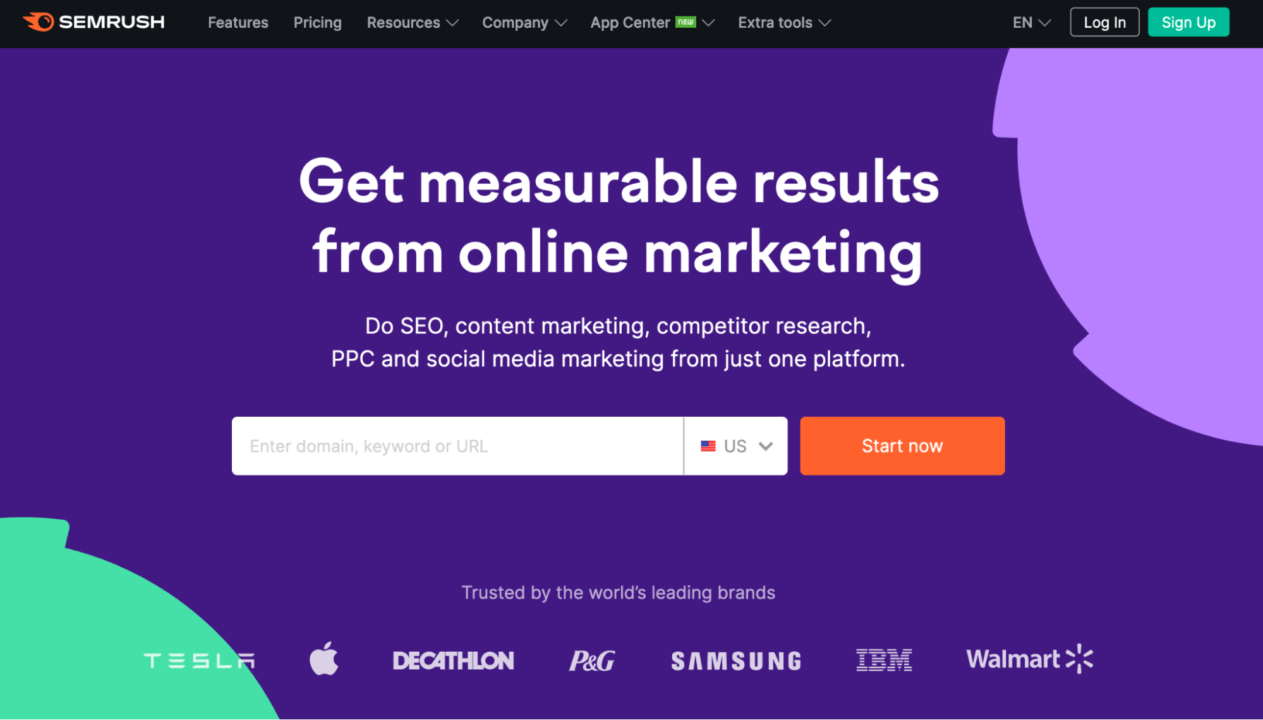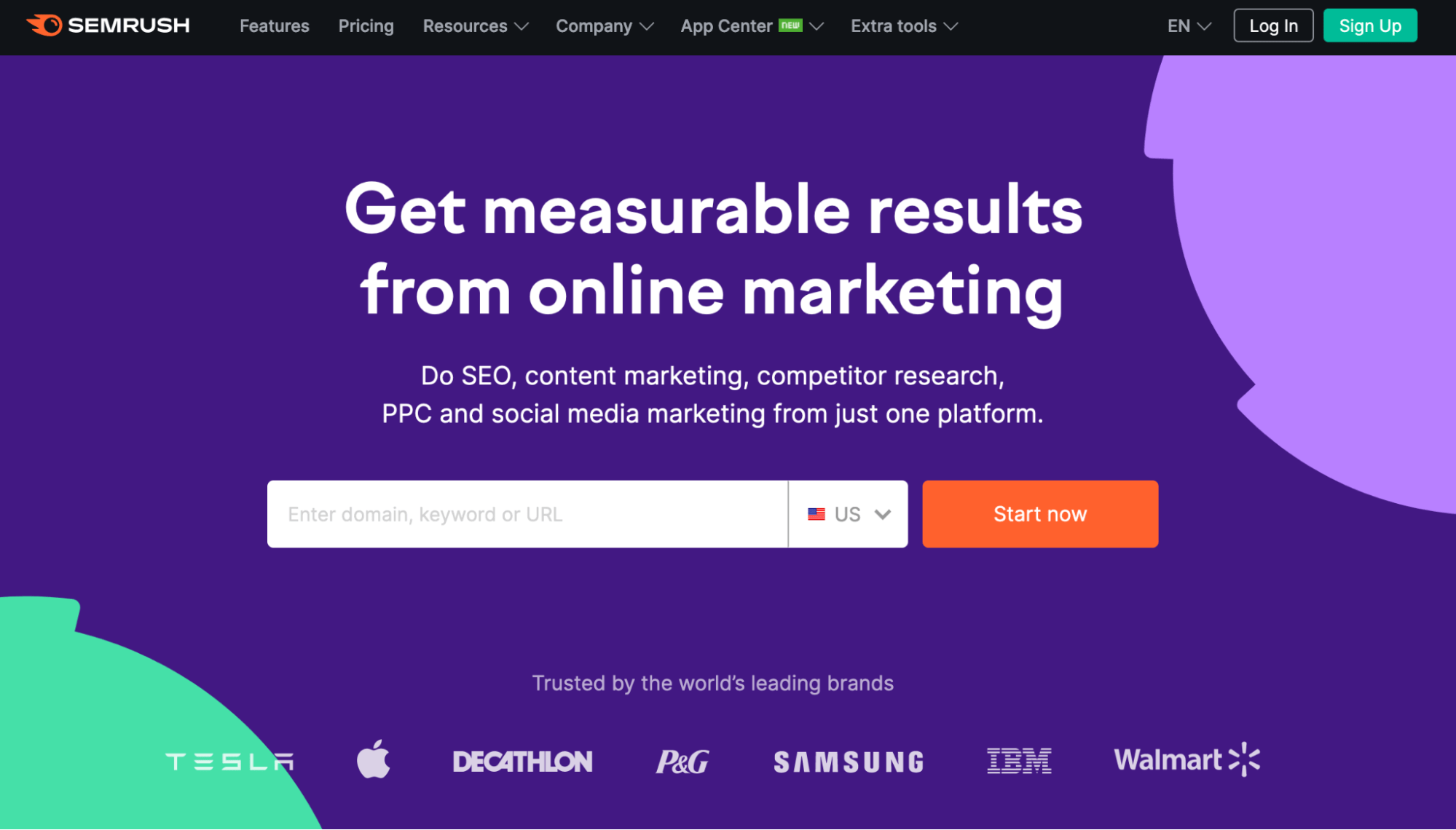 Free trial: Limited free plan available
Paid version: Starts at $119.95 per month
This is a comprehensive WooCommerce extension that will cover all your SEO needs starting from the website's SEO and backlinks audit, position tracking, ending with sophisticated analytics.
Also, this tool will help you analyze competitors' advertising strategies and their linking background.
SEMRush is capable of listing the best organic keywords and websites to get backlinks. So clearly, Semrush is more than just a plugin. It's a market-leading all-in-one SEO solution. If an all-in-one tool sounds like a good choice for you, try comparing Semrush to Ahrefs, another popular SEO toolkit.
Ideally, these tools are for advanced users. Nevertheless, you can become one by learning from it and improving your understanding on the go.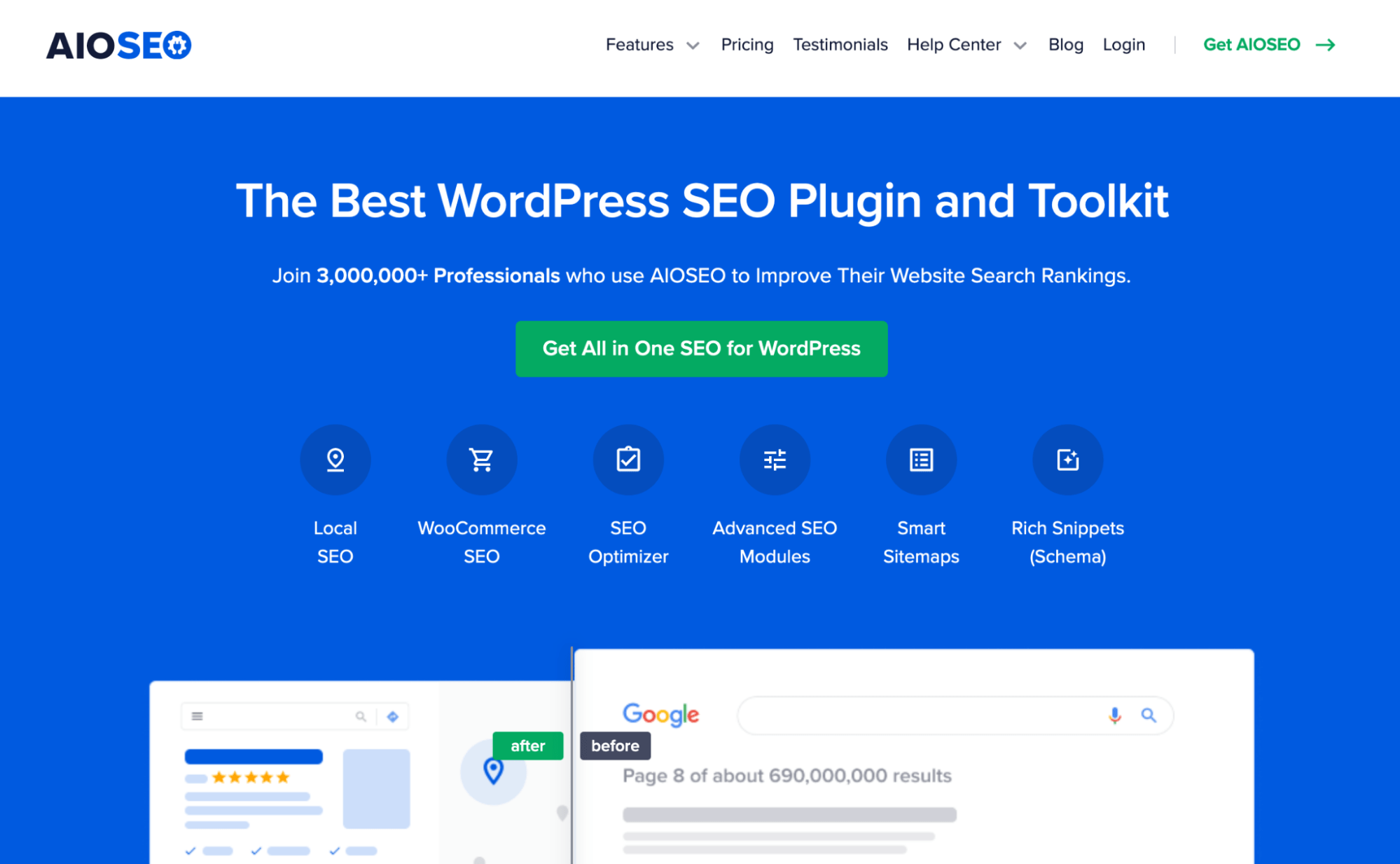 Free trial: No. 14-day money-back guarantee offered.
Paid version: Starts at $49.60 per year
All in One SEO Pack is a well-known and longstanding plugin for optimizing your WooCommerce store for SEO. It's easy and works out of the box for beginners, and has advanced features and an API for developers.
As one of the most downloaded WordPress plugins of all time, All In One has developed an extensive range of features over the years, including advanced support for WooCommerce, advanced Google Analytics tracking, social media integration, and much, much more.
The All In One SEO Pack is free and offers a much more in-depth Pro version starting at $49.60 per year for an individual license.
Inventory and order management WooCommerce plugins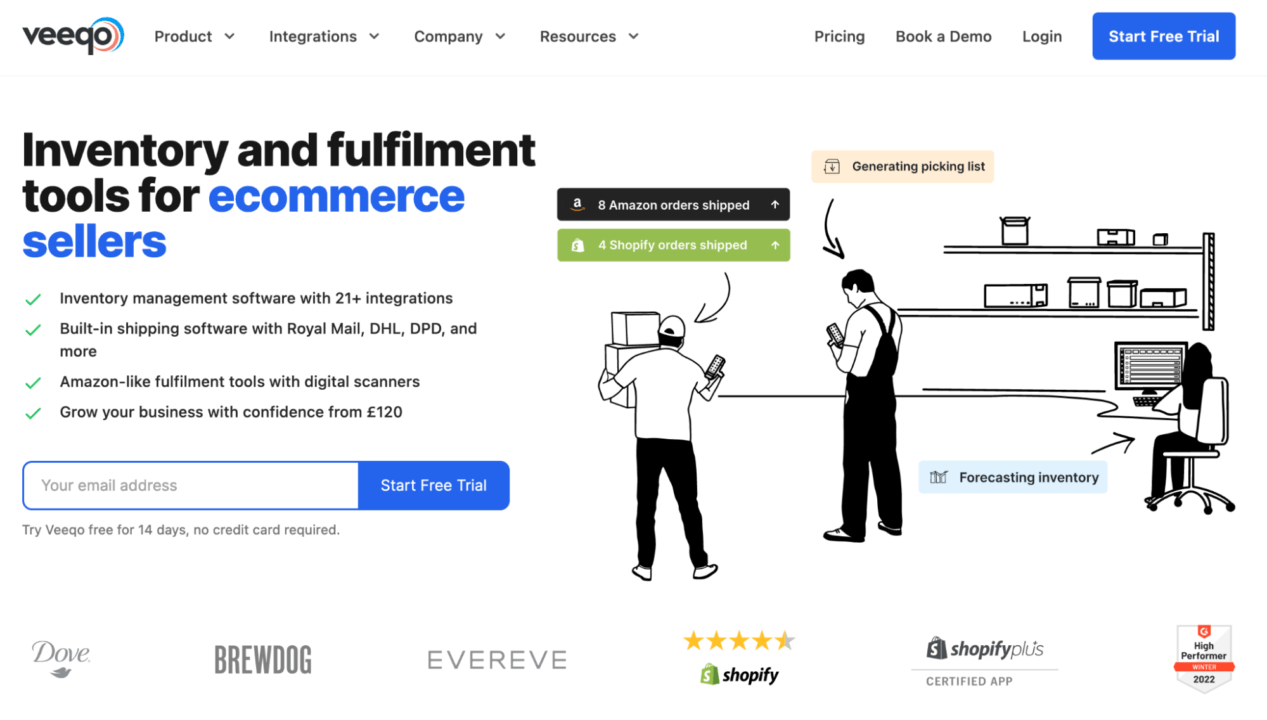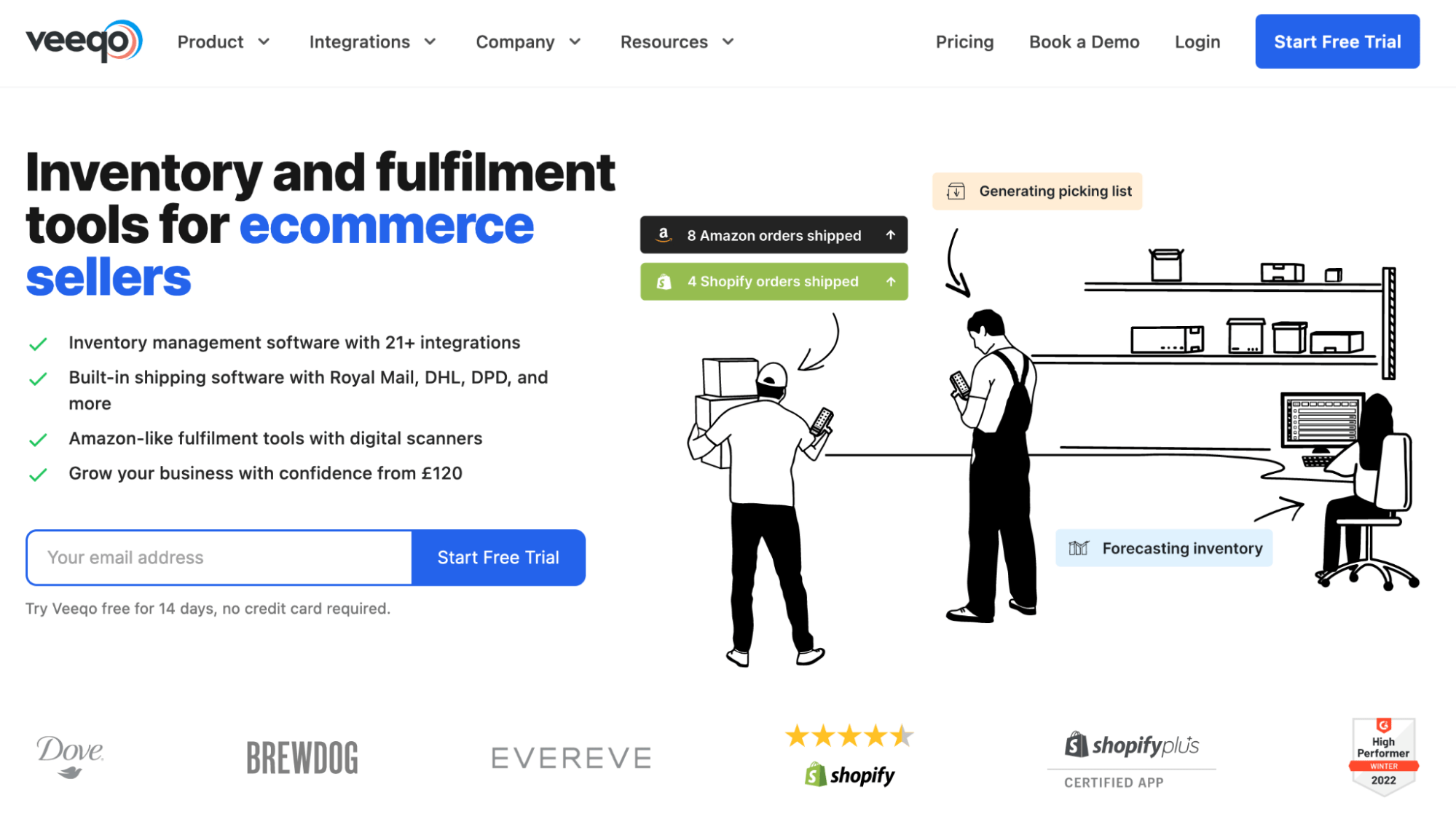 Free trial: 14 days free
Paid version: Starts at approximately $175 per month (less 20% for annual plans)
Veeqo can help you if you sell on multiple channels. This WooCommerce plugin mainly facilitates centralized management of your inventory, orders, and shipping across channels.
With this tool, you don't have to check eBay, Amazon, or Etsy separately to find which of your products have already been shipped and which ones are still on their way. Veeqo's dashboard collects the data and shows everything in one place–making it one of the best WooCommerce plugins for inventory and fulfilment.
In addition, you may edit item listings, buy from suppliers, generate shipping labels for any of your orders from any of your selling points.
The Veeqo WooCommerce extension helps retailers save time, avoid overselling, and, even worse, missing an order.
The price of the tool starts at $175 per month (paid annually). Although the tool can seem pricey for ecommerce beginners, bigger ecommerce sites can find it reasonable. Plus, the Veeqo team provides great support, and you can book a demo before paying for the tool.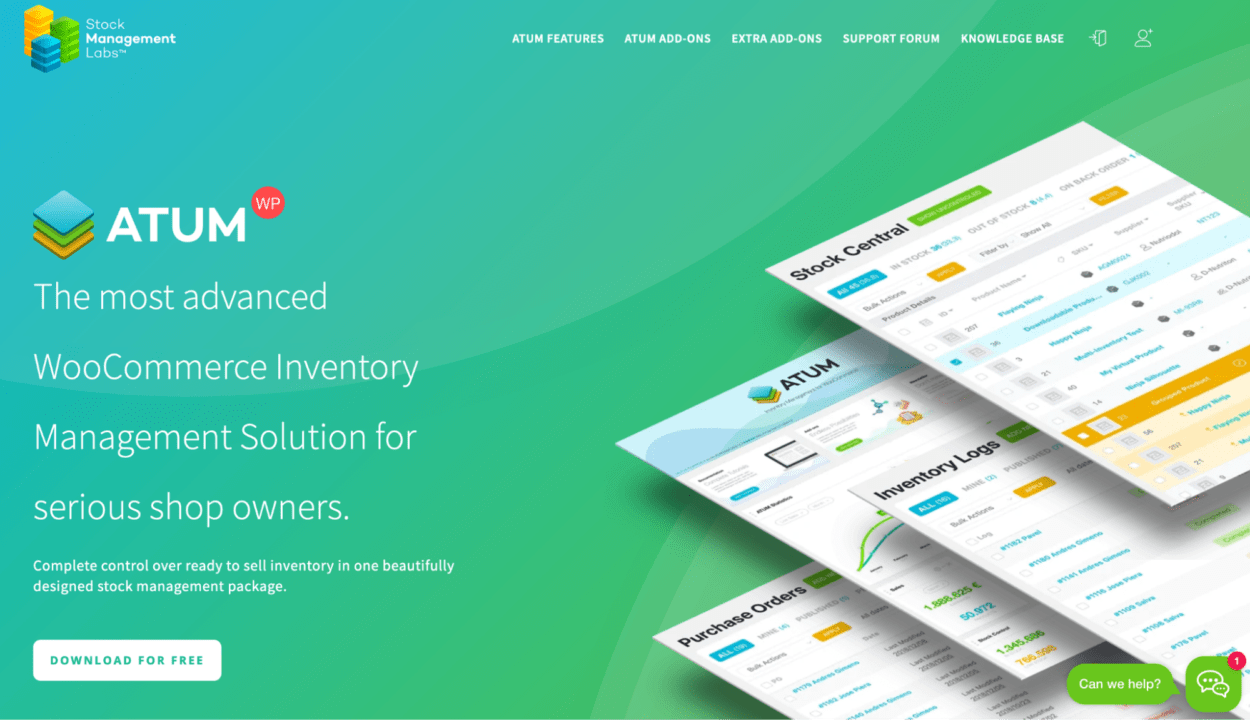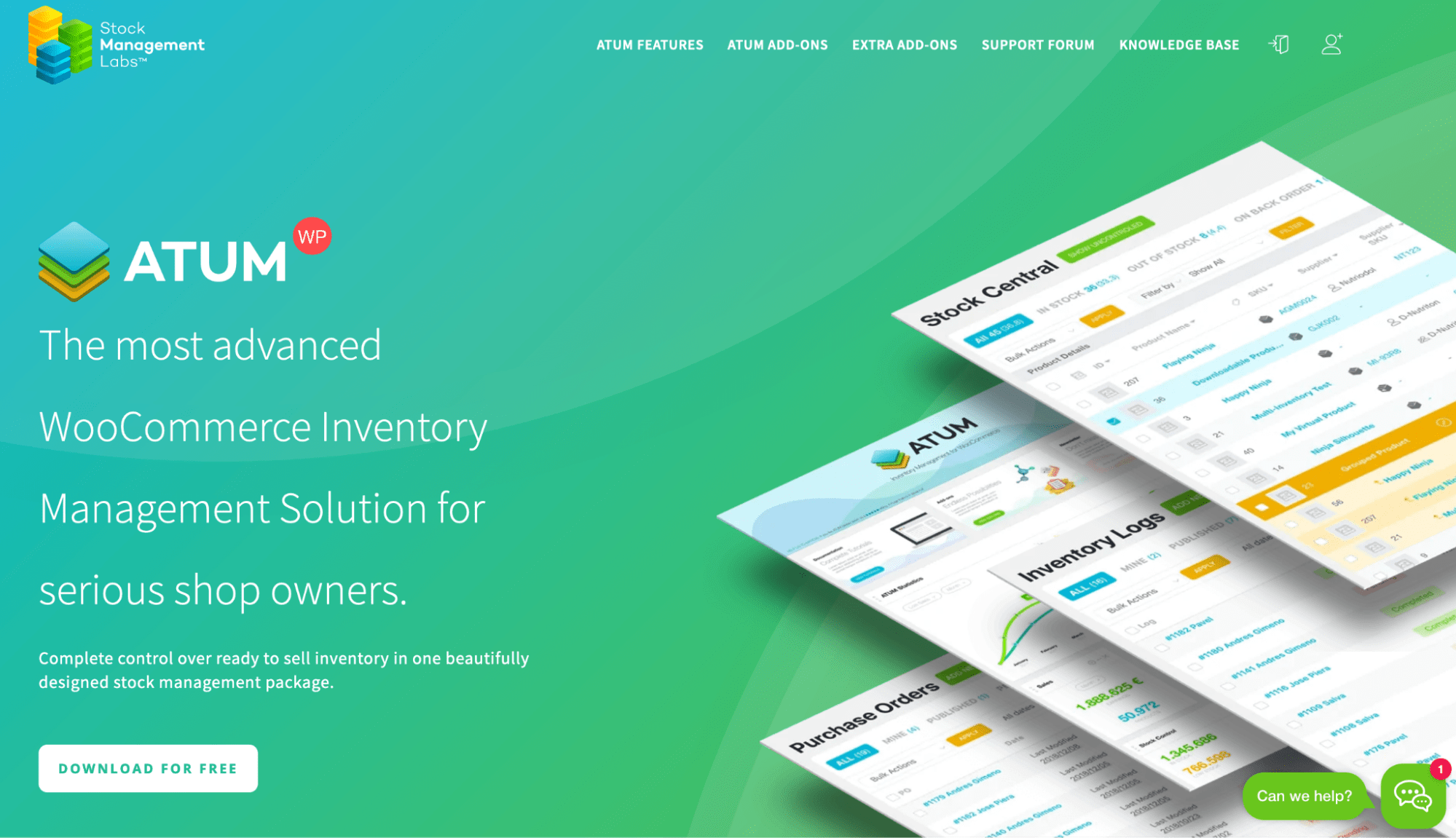 Free trial: Completely free to use
Paid version: No paid plans but premium add-ons available from $10 per quarter
ATUM Inventory Management offers complete control over your ready-to-sell inventory in one beautifully designed stock management package.
This plugin is notable for its attractive, user-friendly interface, presenting all WooCommerce product types on one screen with an intuitive scrolling or click-and-drag navigation.
This makes it really easy to get an overall view of your inventory, with in-depth statistics and reports helping with re-orders and producing handy summaries of In Stock, Low Stock and Out of Stock Products for your WooCommerce store.
ATUM is a must for ecommerce stores with inventories large or small, and best of all, it comes for free. Additional features can be included through premium add-ons that cost between $10 and $40 per quarter.
Shipping WooCommerce plugins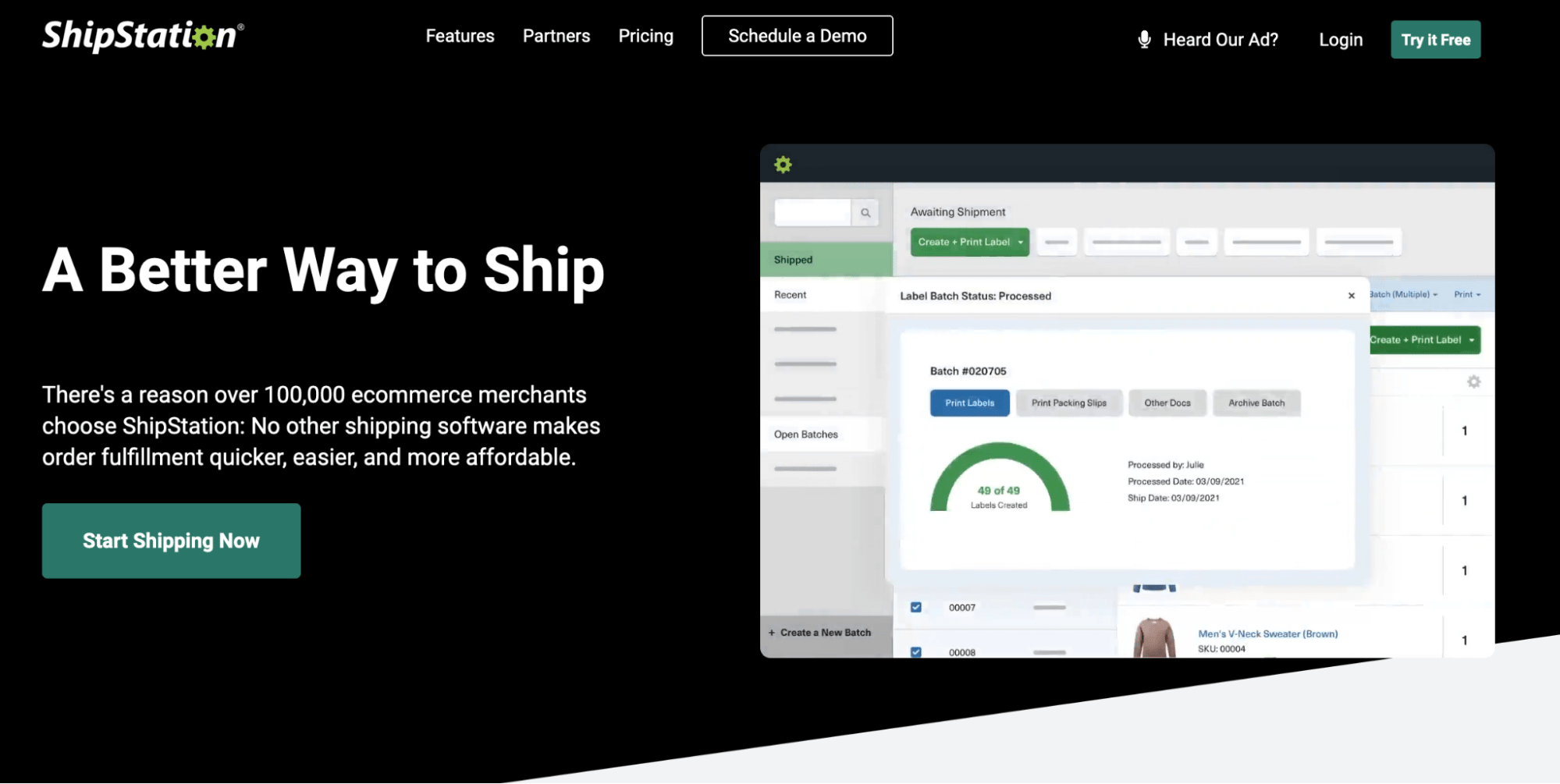 Free trial: 30 days free
Paid version: Starts at $25 per month
ShipStation has a solid reputation and is a comprehensive tool that will heal your fulfillment pain points.
Like many WooCommerce extensions for shipping, ShipStation has a wide channel integration network. So whatever channel you use for selling, ShipStation will have the integration with it, and you will be able to see the data from it on your ShipStation dashboard.
This company provides great rates for shipping and an endless list of carriers available.
Plus, they allow you to customize notification emails, packing slips, shipping labels, etc.
By the way, they have a mobile app to reach your data on the go, which is cool.
Pricing starts at $9 per month. A 30-day trial is available.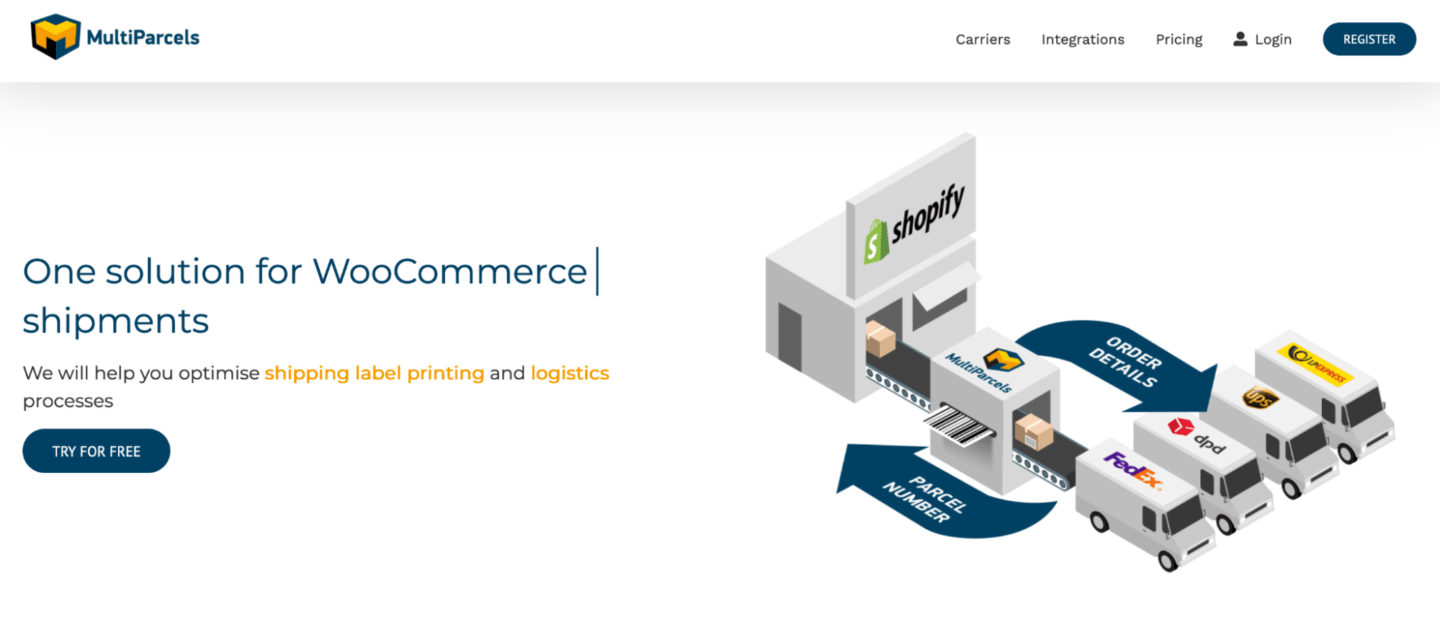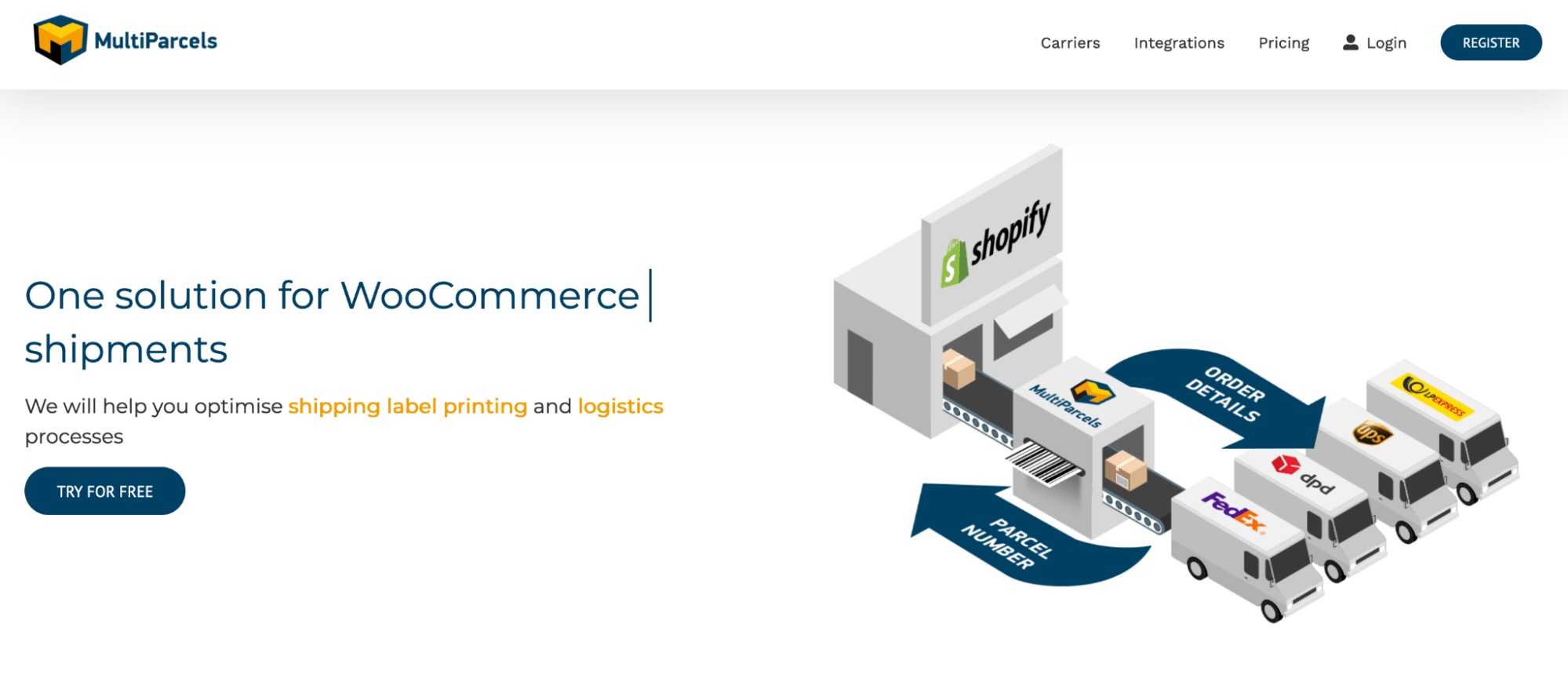 Free trial: Free plan available
Paid version: Starts at approximately $10 per month (+ about $0.17 per shipment)
One of the best WooCommerce plugins for optimizing shipping processes is MultiParcels. This plugin for WooCommerce helps act as your all-in-one solution for optimizing logistics processes and shipping label printing.
MultiParcel boasts an incredible user interface and can easily be integrated with your online stores including your Shopify store, eBay store, and so on. Apart from this, the following reasons make MultiParcel one of the best WooCommerce marketing plugins:
Create between 10 to 100 shipping labels with a simple click of the finger
Use this holistic platform to track all carrier shipments
Choose between an array of carriers including Omniva, DPD, Lithuanian POST, FedEx, Venipak, DHL, ZITICITY, TNT, UPS, GLS, Hermes, and so much more
Connect various online stores such as OpenCart, Etsy, Odoo integrations, WooCommerce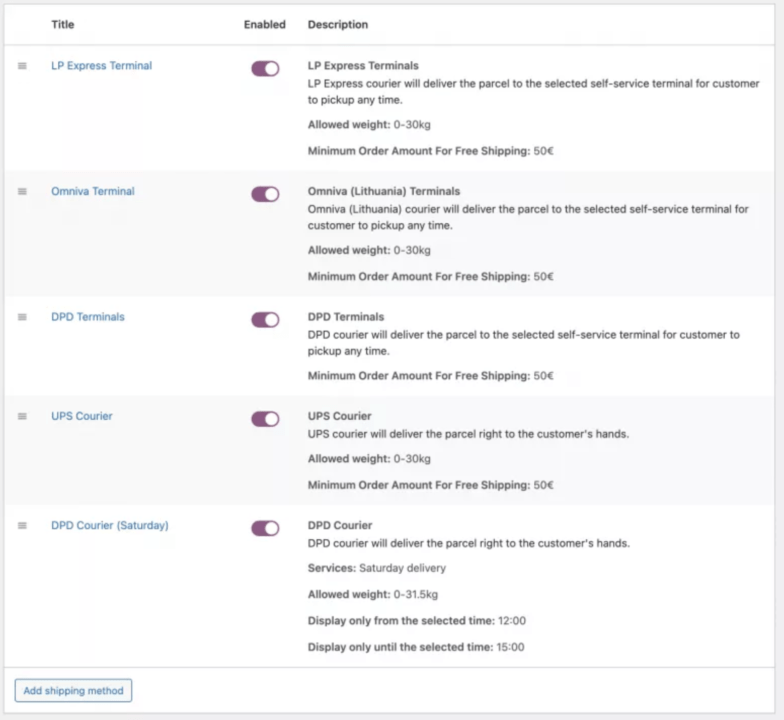 Use the following features of this WooCommerce extension to boost lead conversions:
Add pickup, as well as point selector during checkout
Automatically create shipping labels
Produce shipping labels for various carriers via one platform
Display carrier logos next to shipping methods
Hide postal code, address fields, and city when a customer selects 'Local pickup or delivering 'Pickup Locations.'
Instant pickup location updates
Send tracking codes to your consumers
MultiParcels offers two pricing plans: a free plan and a paid plan. The free plan offers an incredible list of features; however, you get only 30 shipments per month.
On the flip side, the paid version provides you with unlimited shipments with shipment fee costing about $0.17 + shipping.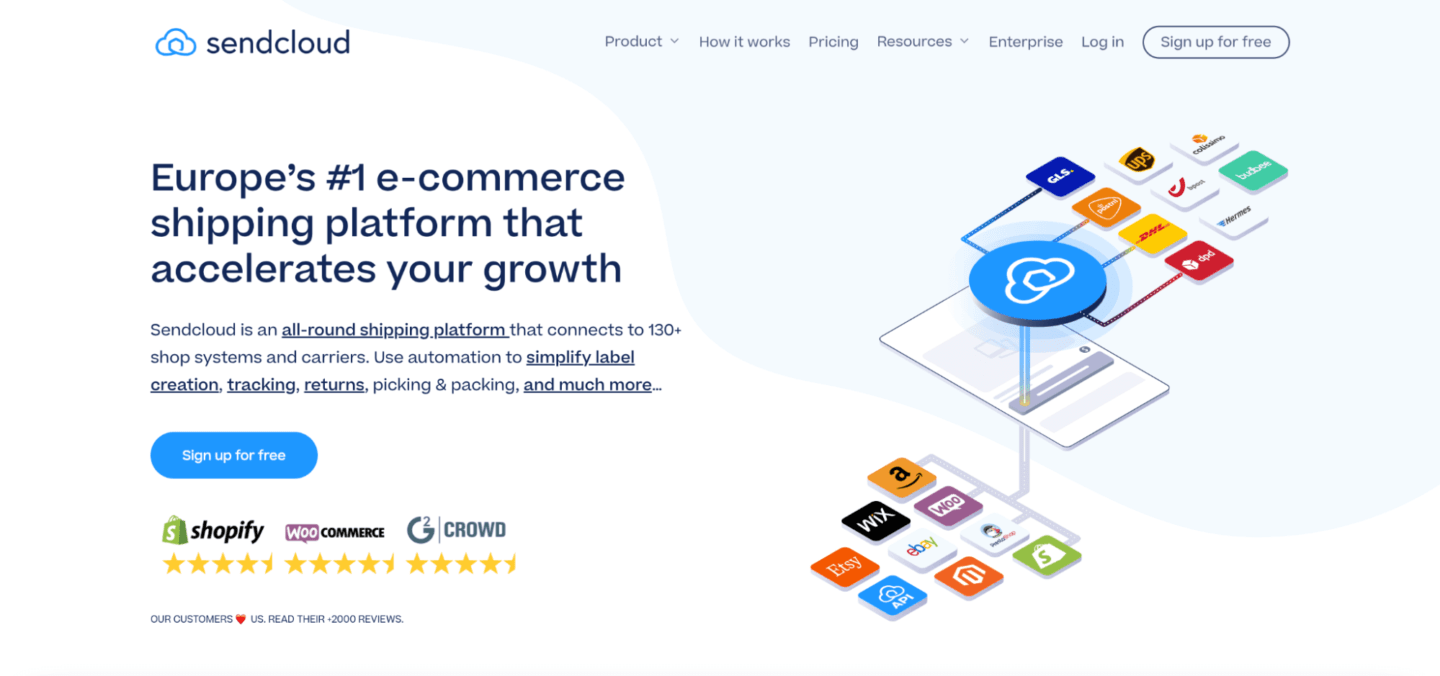 Free trial: One free plan, or any plan free for 14 days
Paid version: Starts from $40 per month
With over 50 integrations and 80 different carriers, Sendcloud offers WooCommerce store owners a wide range of features and functionalities for businesses looking for an easy-to-use, all-in-one shipping solution.
Keep track of every step in the shipping process right from the Sendcloud panel. Create labels automatically, track packages, handle returns, speed up your picking and packing process, and even consult analytics. Offer shipping options like same-day, next-day, and nominated-day delivery, and integrate with multiple delivery carriers at once. Plus, customize the look and feel of your email, tracking and return pages, and more.
Depending on the size of your e-commerce business, Sendcloud offers five different plan options. Get yourself up and running with a free plan that lets you ship up to 100 parcels per month, or scale your business all the way to the enterprise level with a fully customizable plan that includes dedicated support help and even more special benefits.
Paid Sendcloud subscriptions start at €40 per month.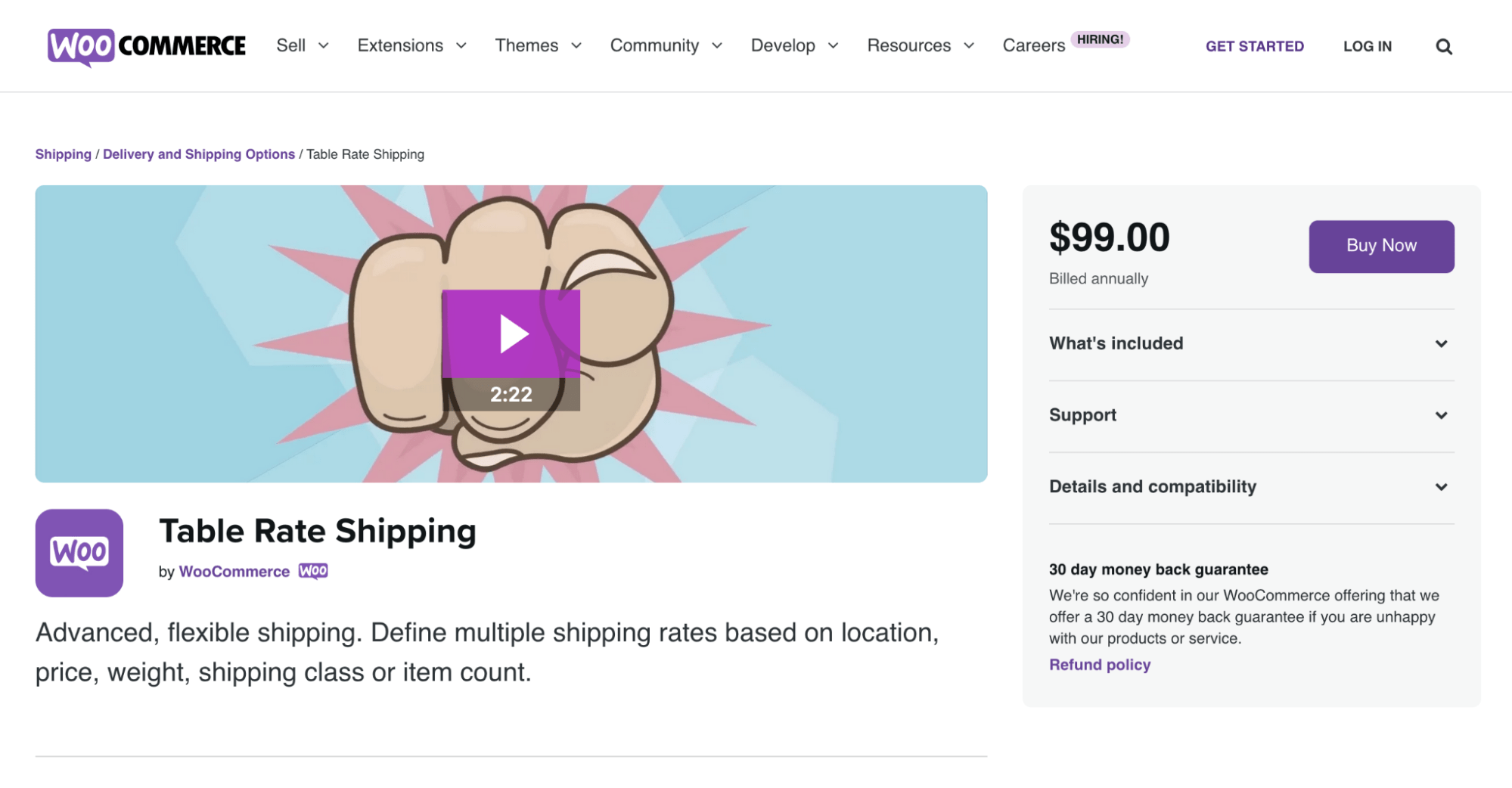 Free trial: No. 30-day money-back guarantee offered
Paid version: $99 per year
This plugin extends WooCommerce's default shipping options to give you highly customizable shipping options.
Table Rate's advanced shipping options include multiple shipping rates based on location, price, weight, or item count—helping to save on shipping costs for both you and your customer.
The process of adding, duplicating, and removing rates is made easy with an intuitive interface, simplifying complex shipping rules and rates to help you find the best solutions.
While WooCommerce offers some handy built-in shipping functions, the $99 spent on this plugin will quickly pay for itself with significant savings on shipping.
Payment WooCommerce plugins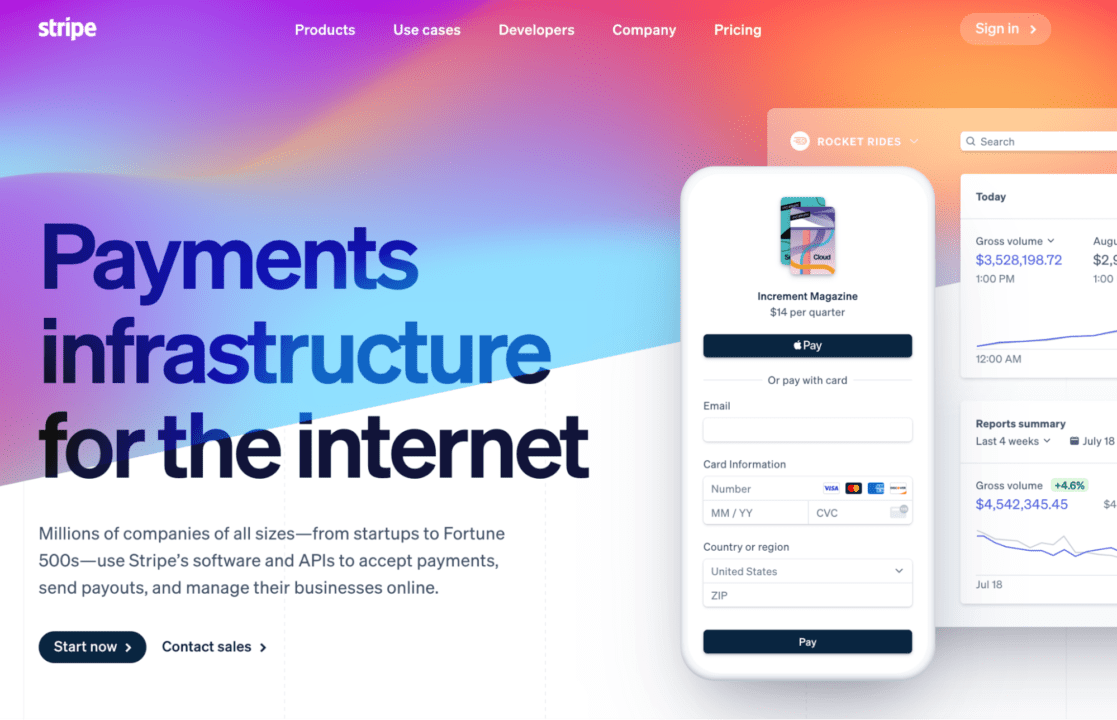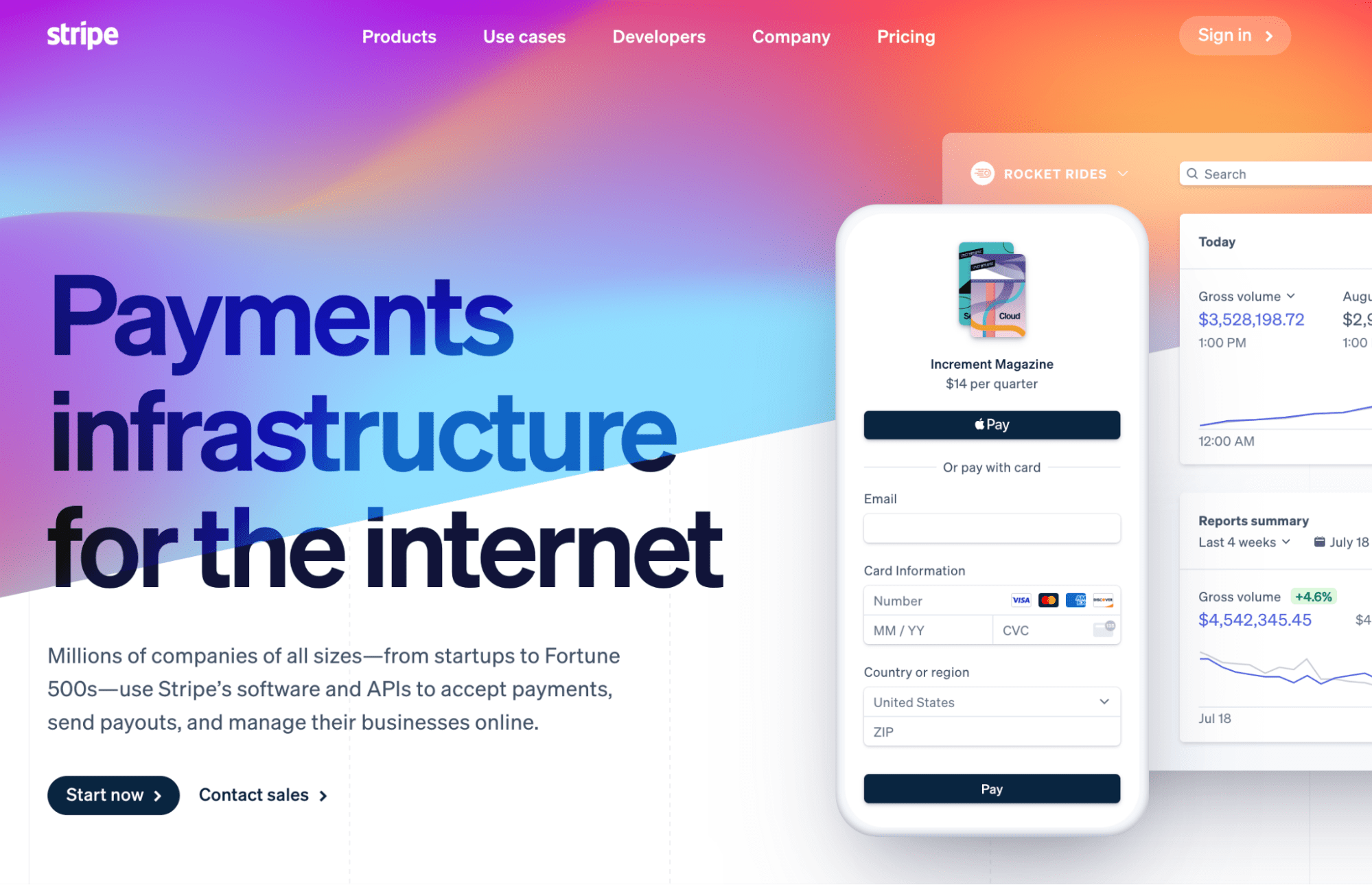 Free trial: No
Paid version: 2.9% plus 25 cents per transaction to accept card payments online
Another great plugin for WooCommerce is the Stripe plugin. This software allows WooCommerce store owners to accept payments directly on their web and mobile store. With Stripe, your customers remain on your website while checking out instead of reaching an externally hosted page.
This can help lead to higher conversion rates and, in turn, grow your business. This robust platform is a simple and convenient way to accept online payments.
The best part? Stripe has zero setup fees, no annual fees, and no hidden or surprise costs. This WooCommerce free plugin is perfect for businesses of all sizes ranging from startups to multinational businesses to accept payments and expand.
This tool is available across more than 40 different countries and accepts all major credit and debit cards in up to 135 currencies. It also works with Google Pay, Apple pay, iDeal, Alipay, and other local payment methods.
Some of its perks and best features include:
Leverage Stripe Elements that help your customers input their payment information accurately and quickly
Easily detect fraud with the help of Stripe's 3D Secure and Radar
Collate authorizations and process refunds via your WooCommerce dashboard
Support recurring payments with numerous payment methods
Get paid with the help of Stripe Instant Payouts
Enjoy free updates and innovative functionalities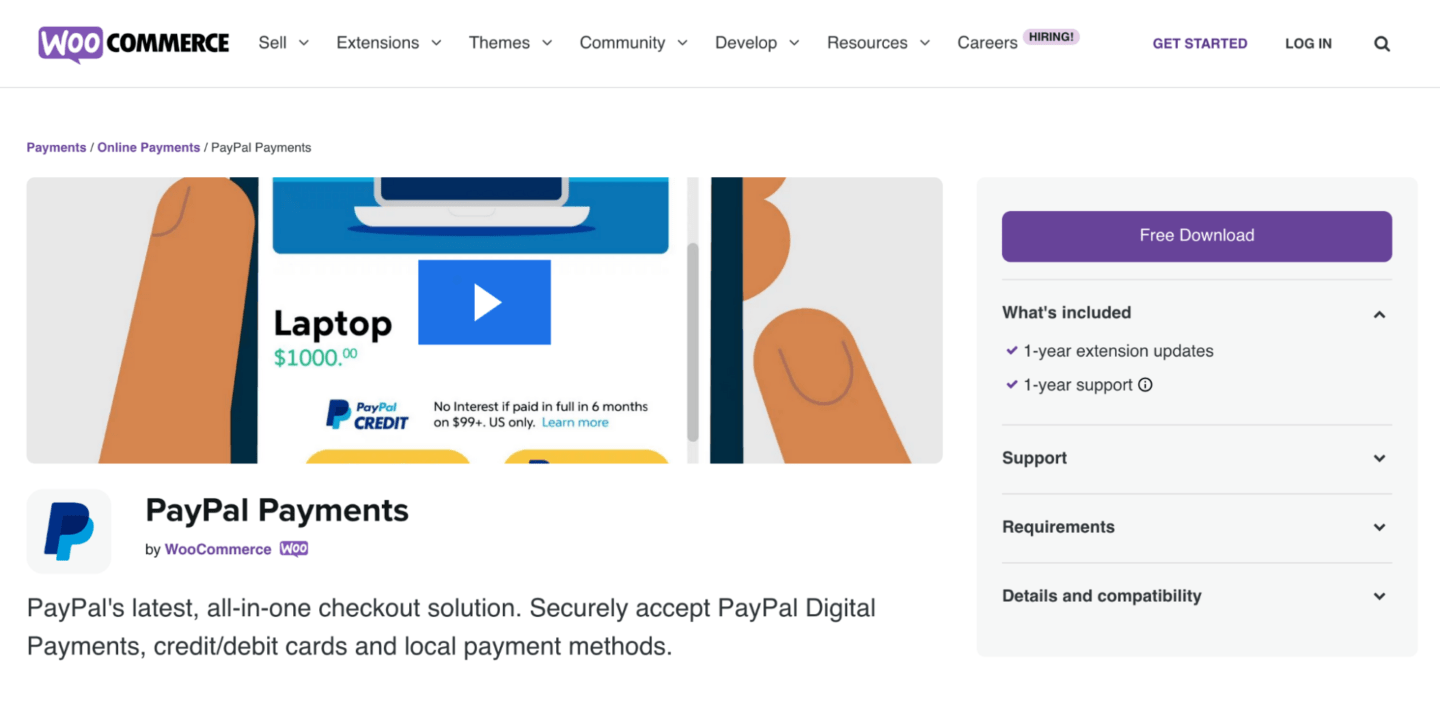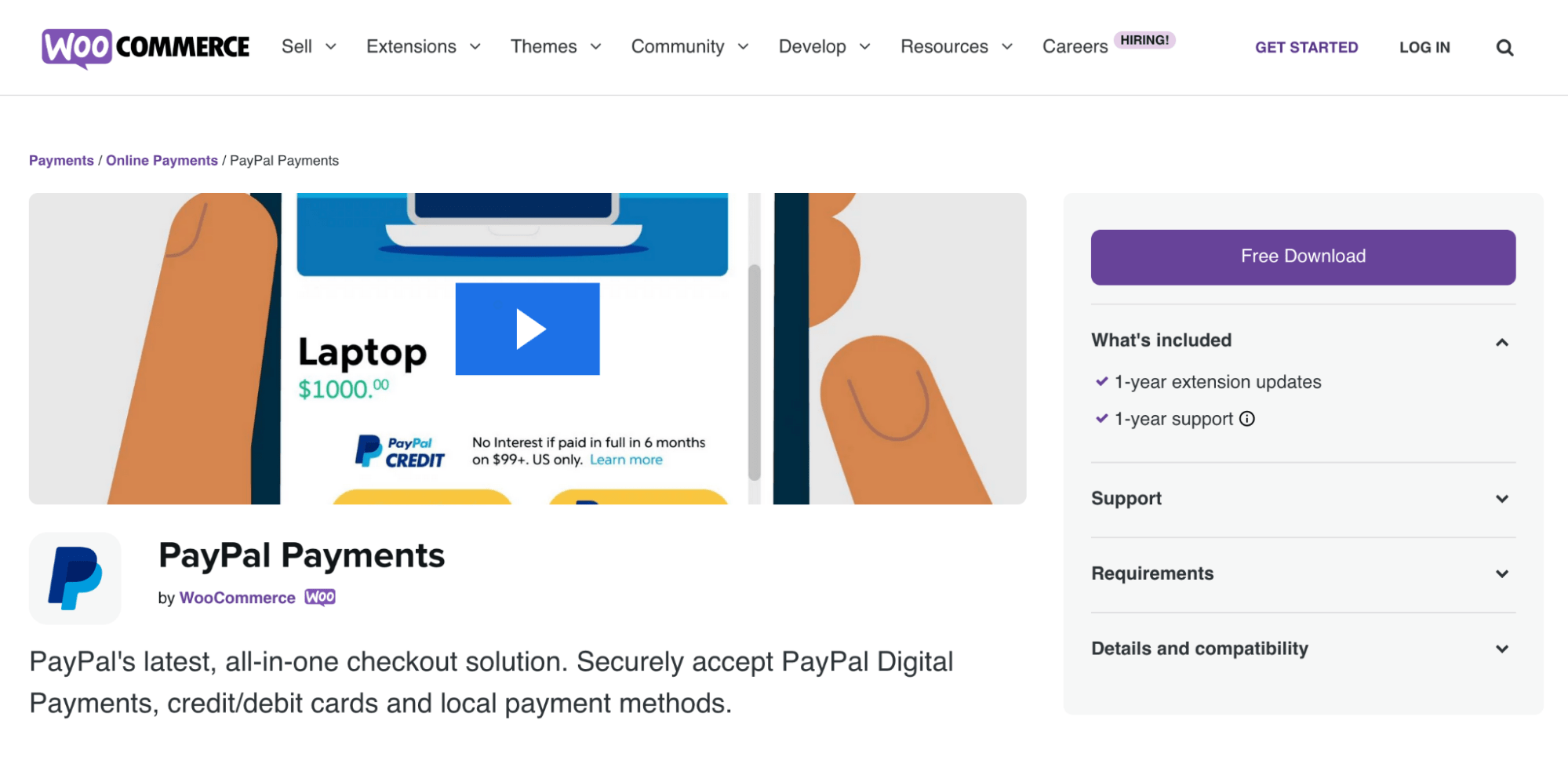 Free trial: The first $50,000 in transactions are free
Paid version: 2.9% + 30 cents per successful transaction
Grow your business with the help of PayPal's innovative checkout solutions. With one of the most incredible WooCommerce plugins, business owners can accept PayPal digital payments via credit cards and local payment methods.
Enhance your business processes with the help of this robust platform. PayPal allows customers to pay via numerous methods including PayPal, Pay Later options in 5 different countries, Venmo, credit cards, and debit cards.
A bonus of using PayPal is that you can use it to automatically identify customer locations, as well as provide customers with country-specific local payment methods.
PayPal is a great way to convert browsers into loyal customers. The PayPal logo boosts customers' trust and offers them peace of mind. In fact, research reveals that 69% of PayPal users feel increasingly secure when merchants accept PayPal.
This WooCommerce plugin comes free of charge and is super easy to download. Simply click on the 'Free Download' option located on the top right side of its website and get started growing your business.
WooCommerce hosting plugins
WooCommerce hosting providers will give you a one-stop solution from your server to building your store, even if you're not tech-savvy. Take a look at a couple of hosting plugins you can use for your store.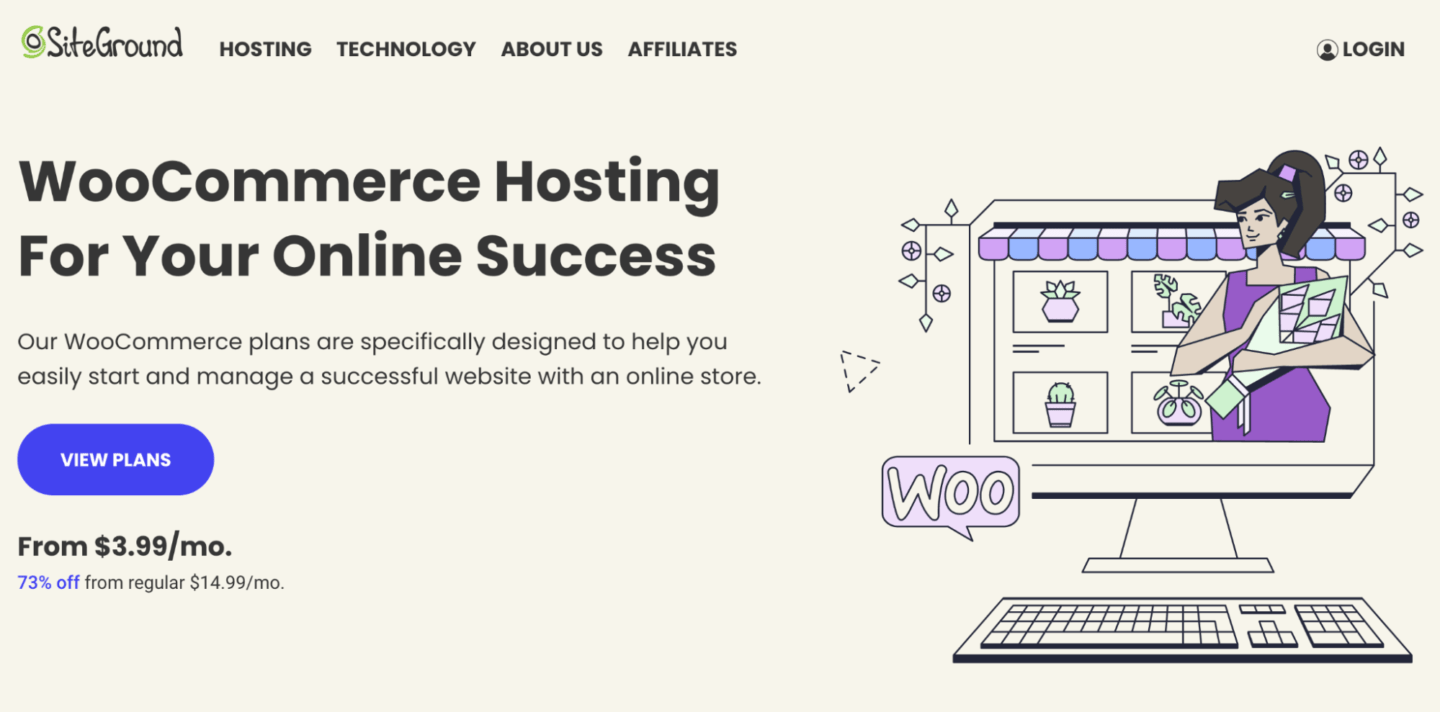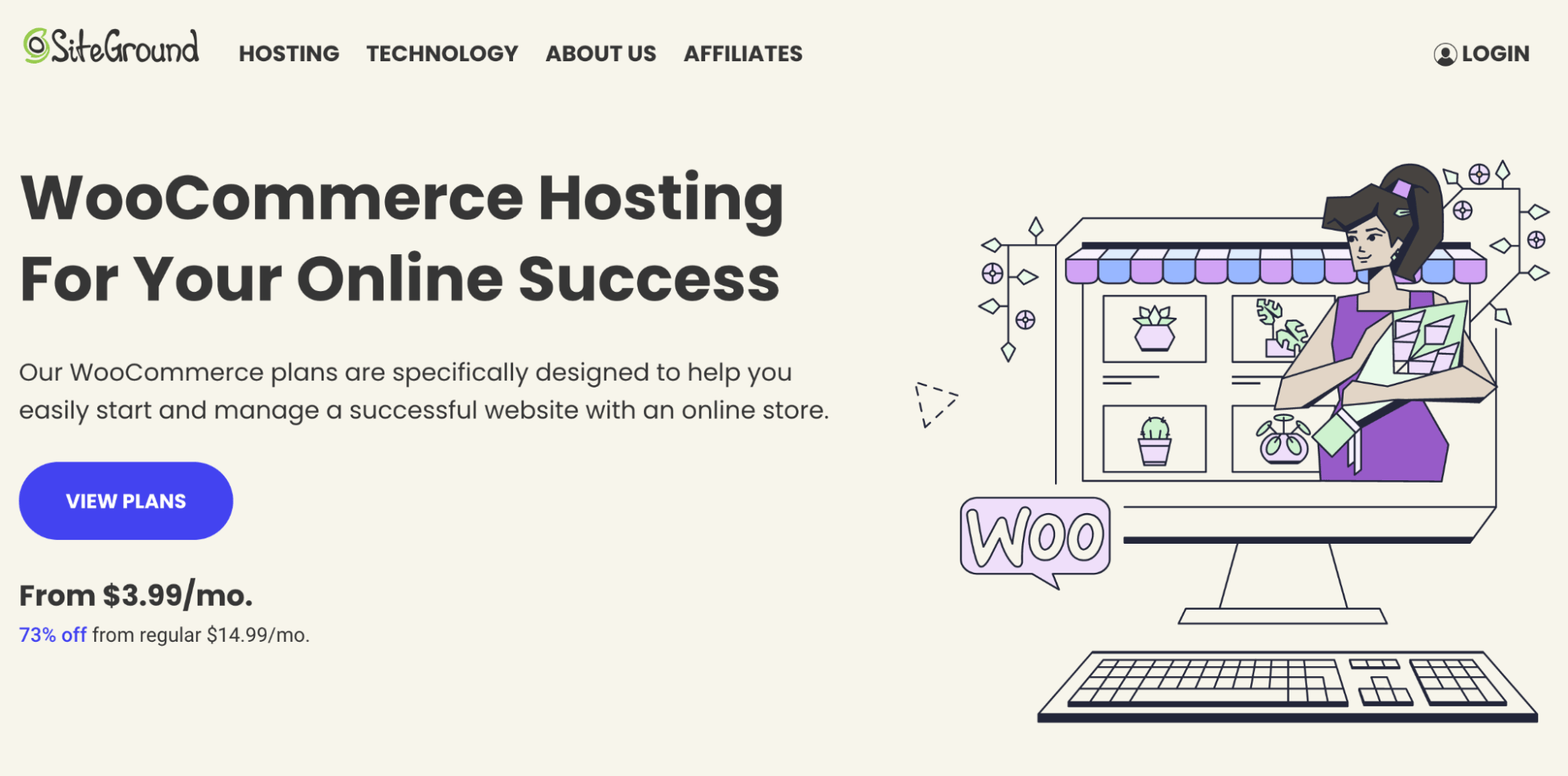 Free trial: No. 30-day money-back guarantee offered
Paid version: Starts at $3.99 per month
Siteground is one of the best WooCommerce plugins focused on website hosting because of its reputation for speed and reliability. Fast loading times are essential to ecommerce stores and will directly affect revenue. Siteground's integration with Cloudflare CDN, smart caching, and various other speed-boosting features contribute significantly to any online store's performance.
Security is another area that Siteground excels in. It comes with free SSL and uses an AI-trained anti-bot system to block threats and keep your customers secure. The service also backs up your site on a daily basis and stores 30 days' worth of backups. So, if things go wrong (as they inevitably do sometimes), you can easily revert to a previous version with a single click.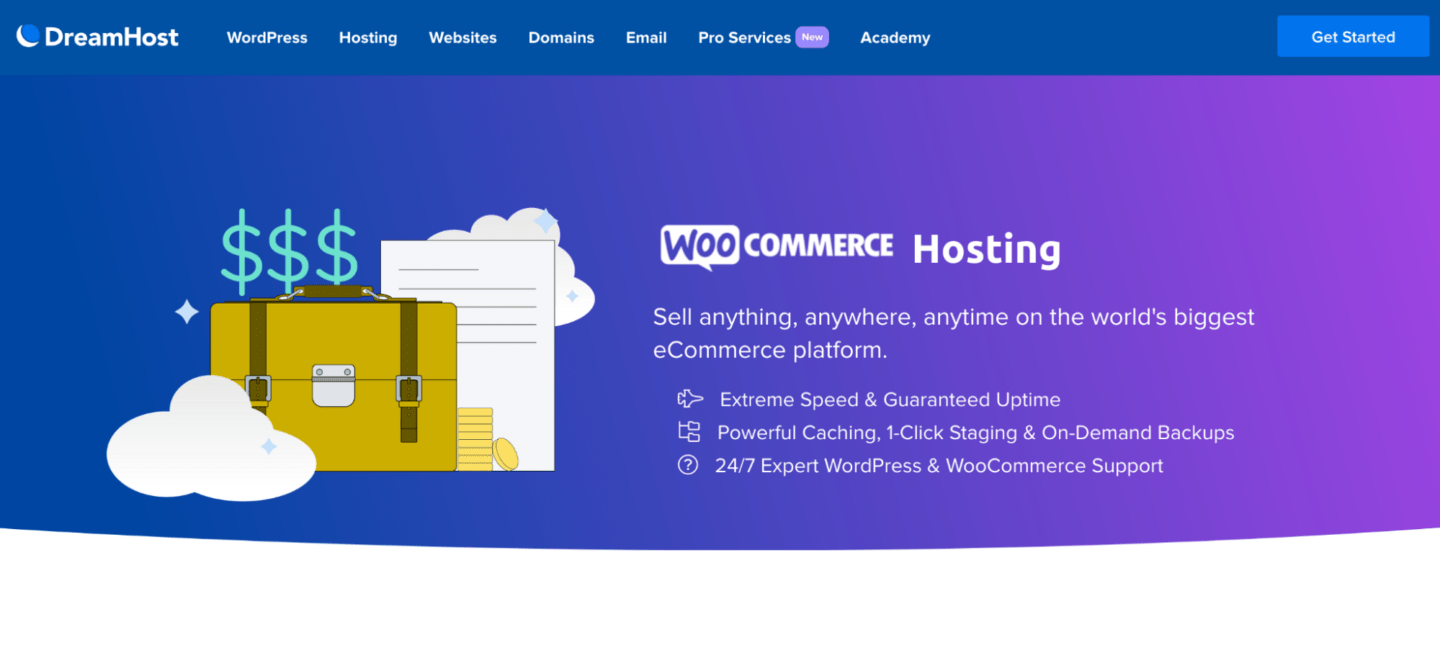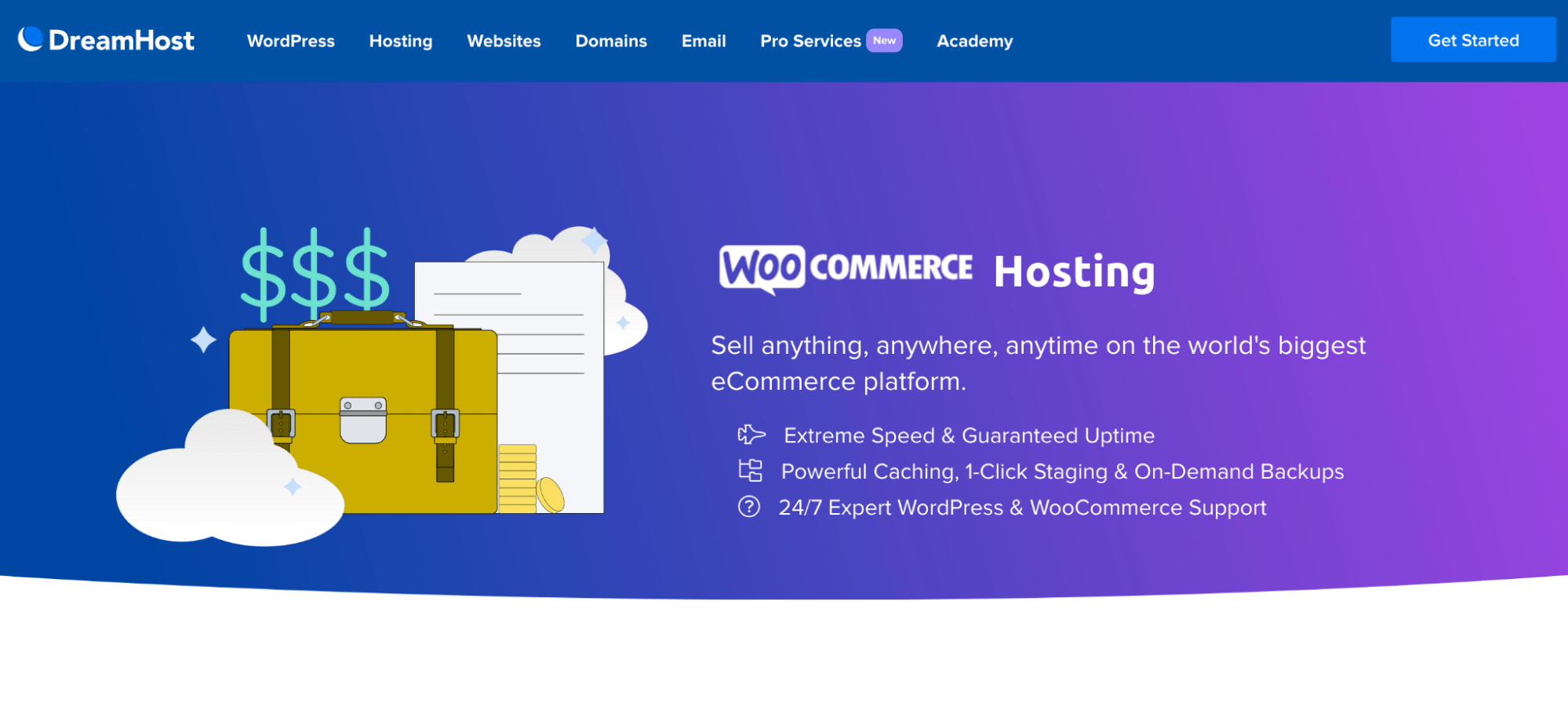 Free trial: No
Paid version: Starts at $16.95 per month
Dreamhost is another hosting service provider offering remarkable speed and quality of service to WooCommerce stores. It is best known for its stability and reliability, so you don't have to worry about losing sales due to downtimes. In fact, Dreamhost guarantees 100% uptime and is able to deliver thanks to redundancies and other clever measures.
As for speed, Dreamhost's server-level caching minimizes loading times and accommodates sales much more quickly. The service also provides excellent website security to protect you and your customers from data breaches and fraud. Additionally, if your website is already hosted somewhere else, Dreamhost migration is a breeze thanks to the DreamHost Automated Migration WordPress plugin.
WooCommerce checkout plugins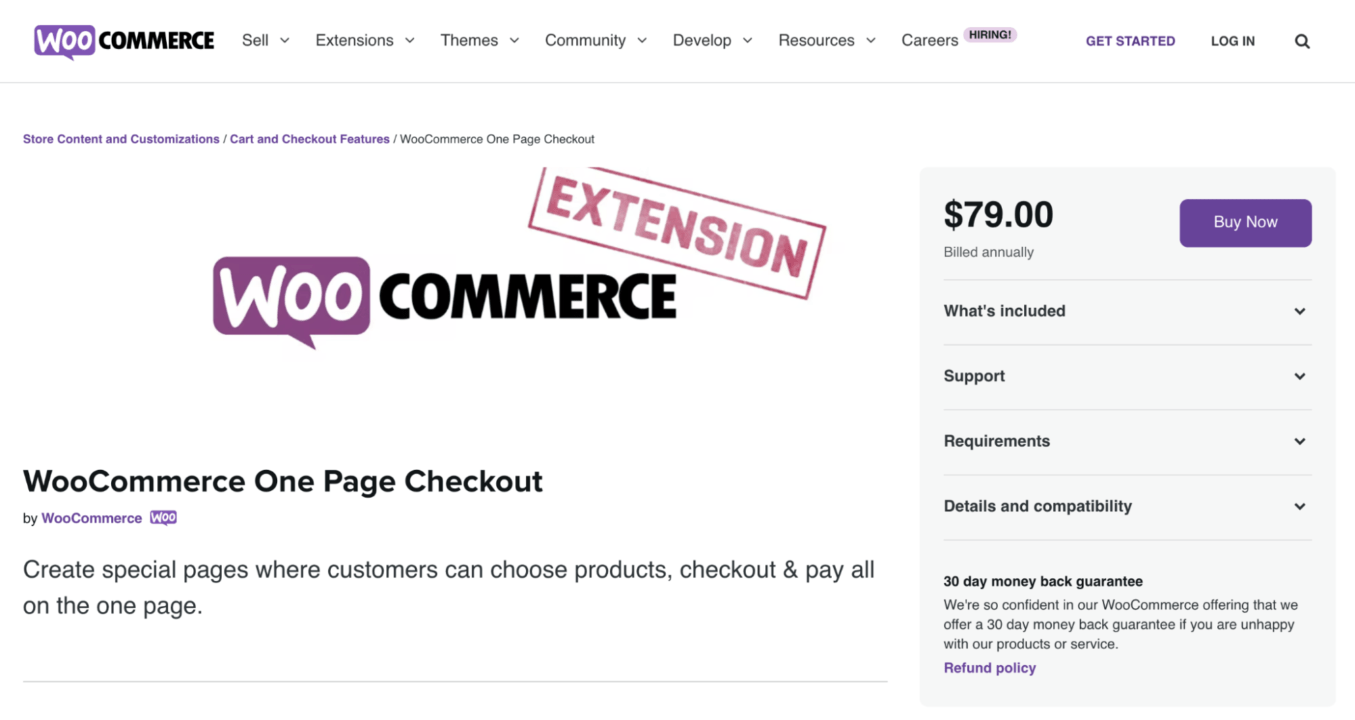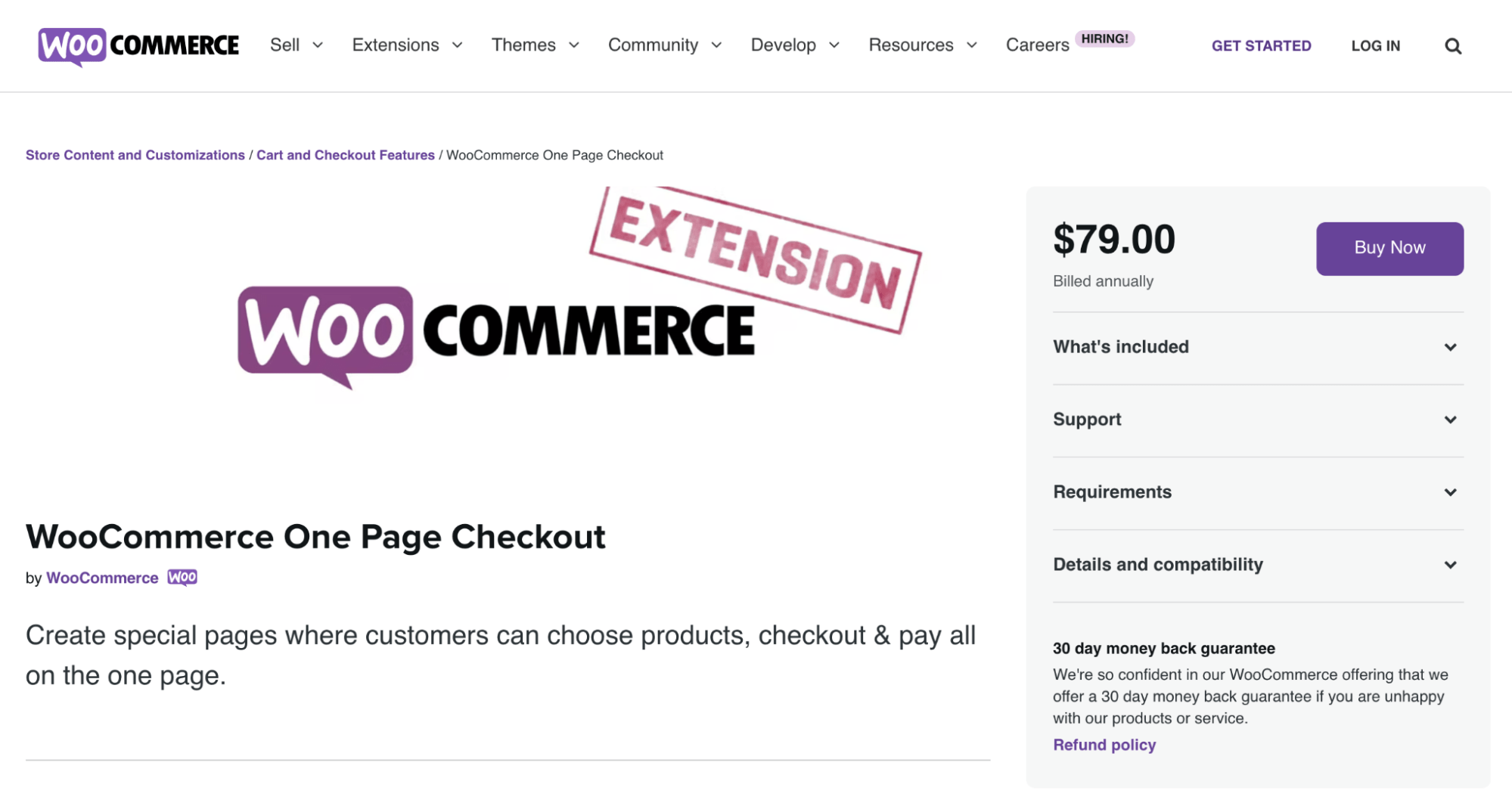 Free trial: No. 30-day money-back guarantee offered
Paid version: $79 per year
Multi-step checkout can easily put shoppers off while having a simple way to complete a purchase can make even undecided shoppers buy now. The WooCommerce One Page Checkout enables you to add checkout functionalities to any page. So, shoppers can select products, enter their details, and pay all on one page.
This WooCommerce extension makes several templates available so you can customize your customer's user experience. You can offer several checkout pages across your site to increase the chances of conversion. Additionally, you can easily curate products to show your entire catalog, selected items, or a single product.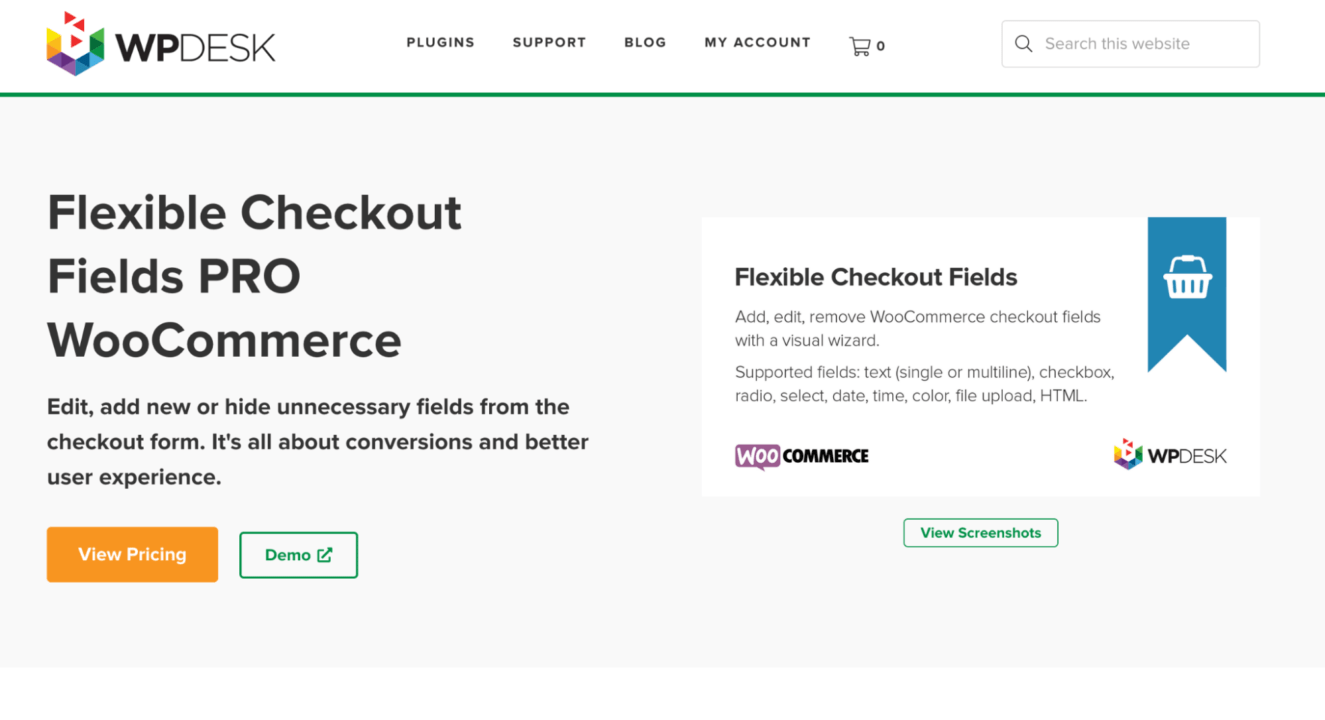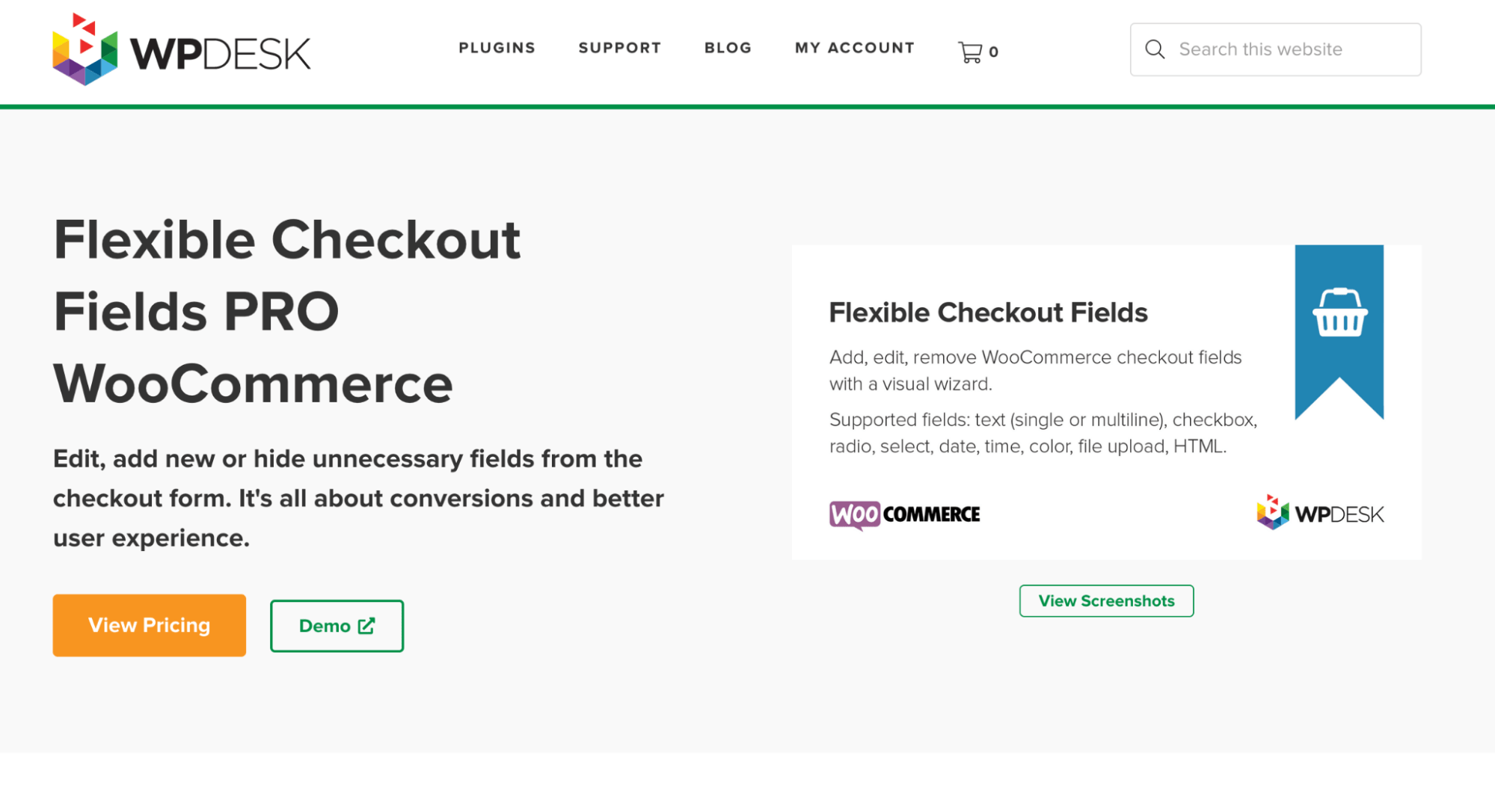 Free trial: Free plan available
Paid version: Starts at $59
The Flexible Checkout Fields WooCommerce plugin gives you all the tools you need to provide an excellent checkout experience. Not only will you be able to offer beautiful, well-built forms but also customize fields so you can get exactly the information you need from your customers. Using this tool, you'll have a number of display options to choose from and enjoy the convenience of conditional logic and built-in validation.
With the WooCommerce Flexible Checkout Fields, you'll never have to make do with built-in forms. You can drag and drop various types of fields, select the best location for each one, and remove everything that just clutters up your process.
WooCommerce affiliate plugins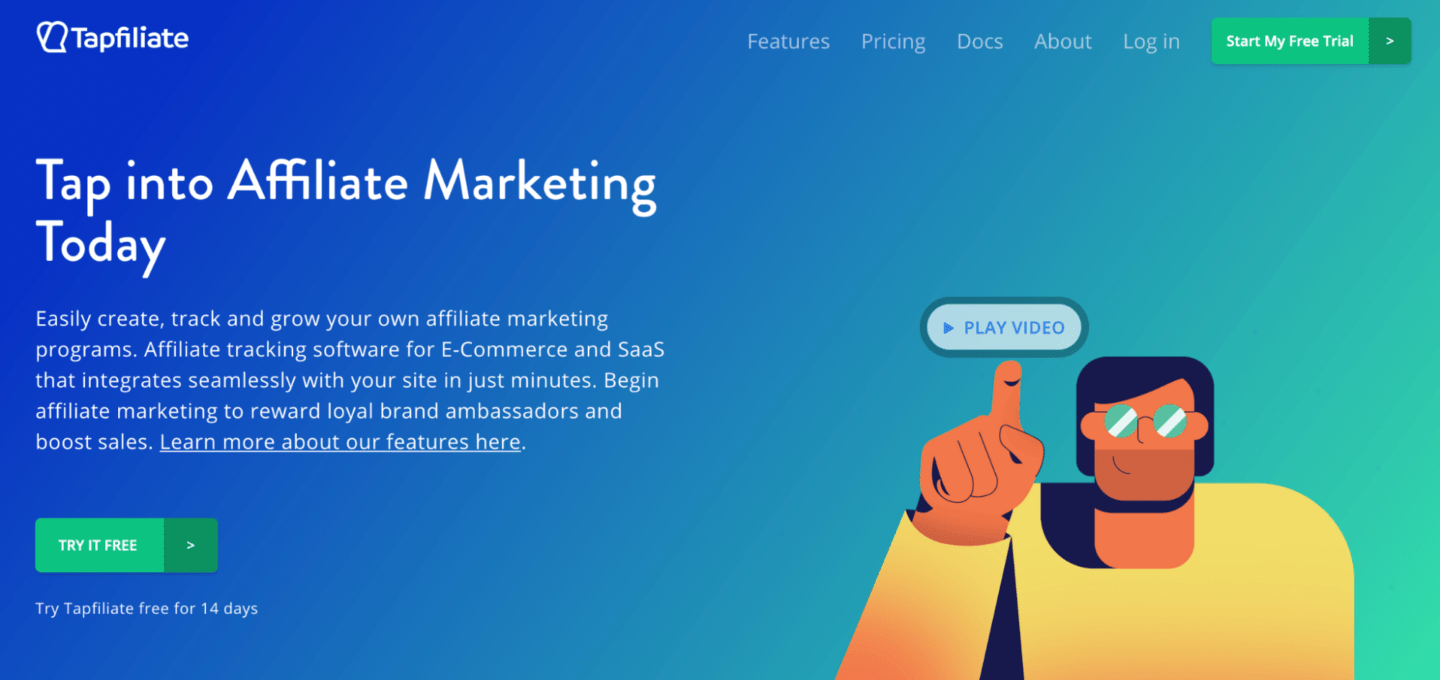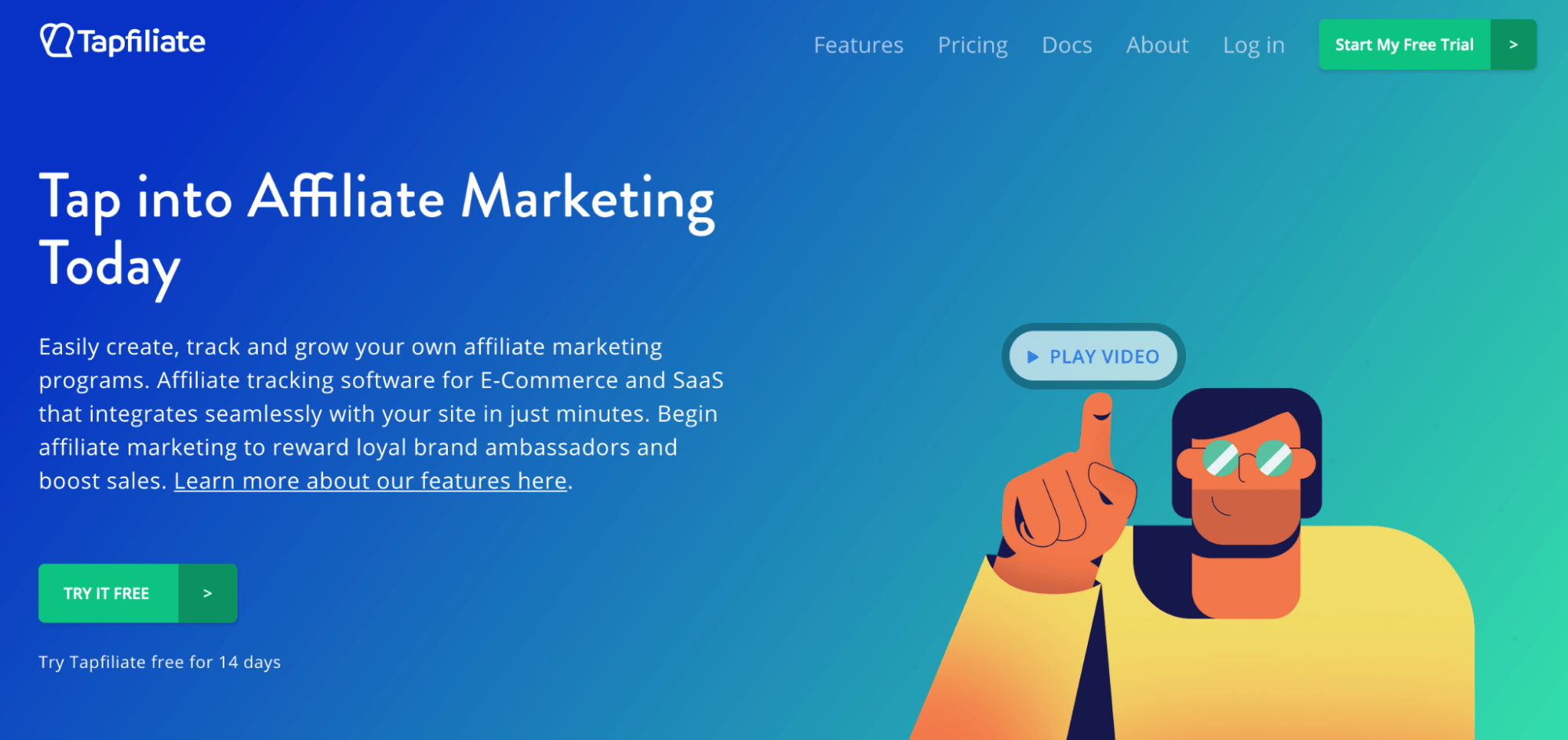 Free trial: Free for 14 days
Paid version: Starts at $59 per month
Tapfiliate makes it easy for you to launch and manage an affiliate marketing program for your business. By using this tool, you can build a commission-based sales team that generates revenue practically on autopilot.
With Tapfiliate, you don't need to worry about tracking sales and commissions. It works seamlessly with any WooCommerce store and will even help you recruit affiliates through various means. Furthermore, you can provide several types of media for your affiliates to use to promote your brand. This helps you maintain control of your brand image and messaging.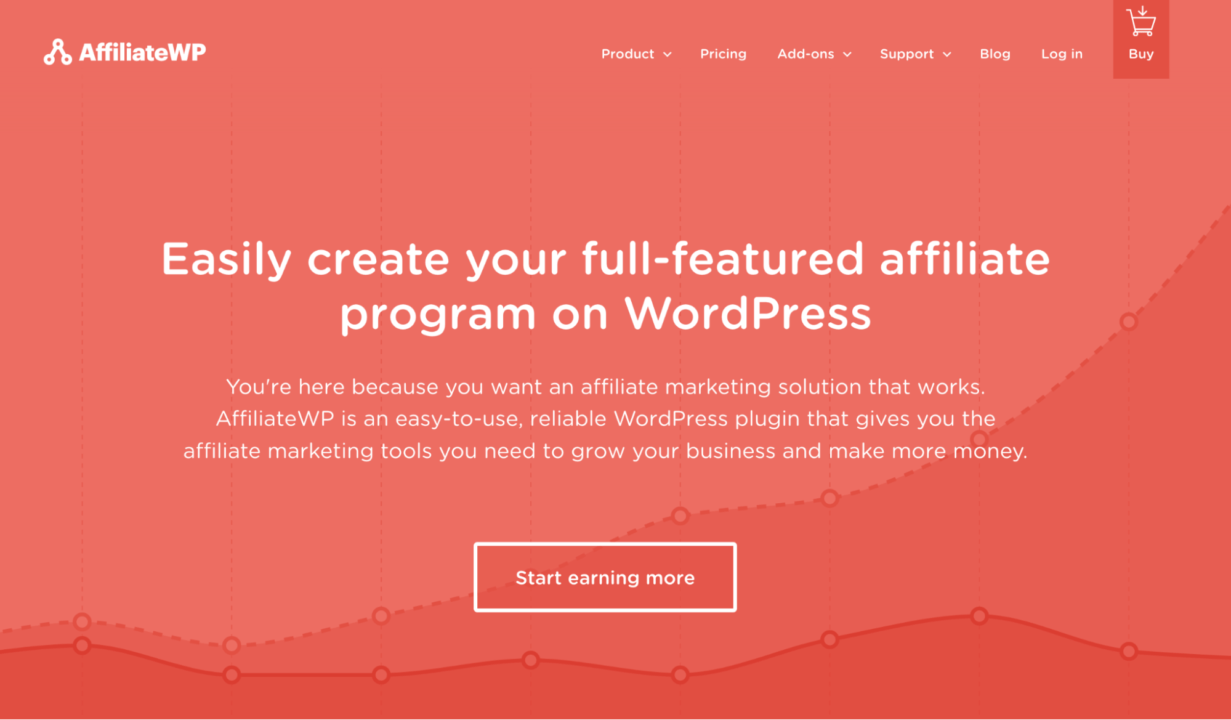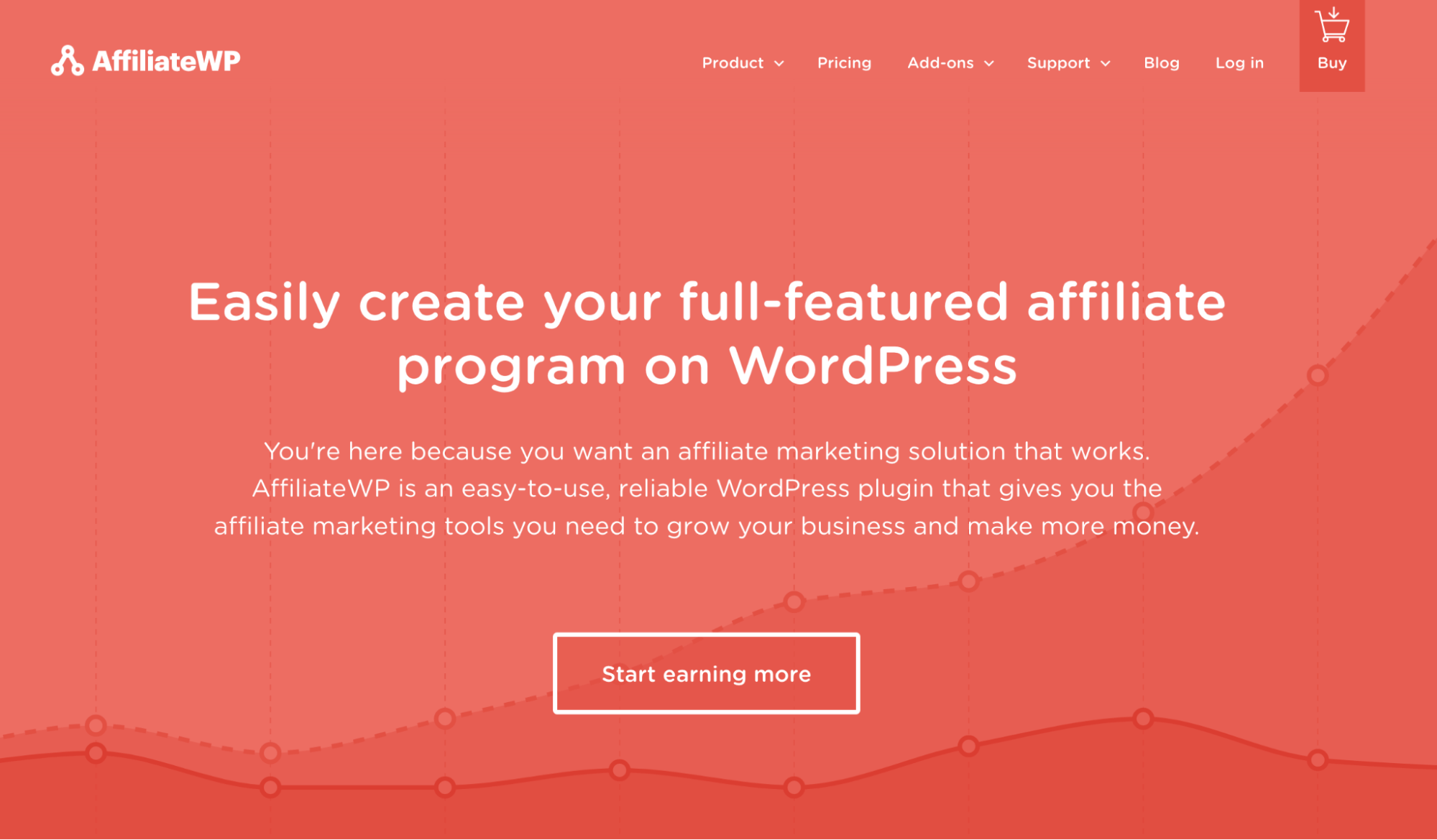 Free trial: No. 14-day money-back guarantee offered
Paid version: Starts at $149.50 per year
Like other affiliate marketing tools for WooCommerce, AffiliateWP gives you all the tools you need to maintain an affiliate network. Through this tool, you can onboard and maintain relationships with an unlimited number of affiliates to generate sales for your business. And, it has a built-in payouts service so you can track every affiliate's commission and send their earnings directly to their bank accounts, all on the same platform.
AffiliateWP also ensures you have all the resources you need to track affiliate performance. Through reports and useful dashboards, you can track your top-performing assets so you can easily reward them. Every affiliate also gets access to their own dashboard where they can track their own earnings, find their unique affiliate URLs, and access promotional tools to help them perform.
WooCommerce review plugins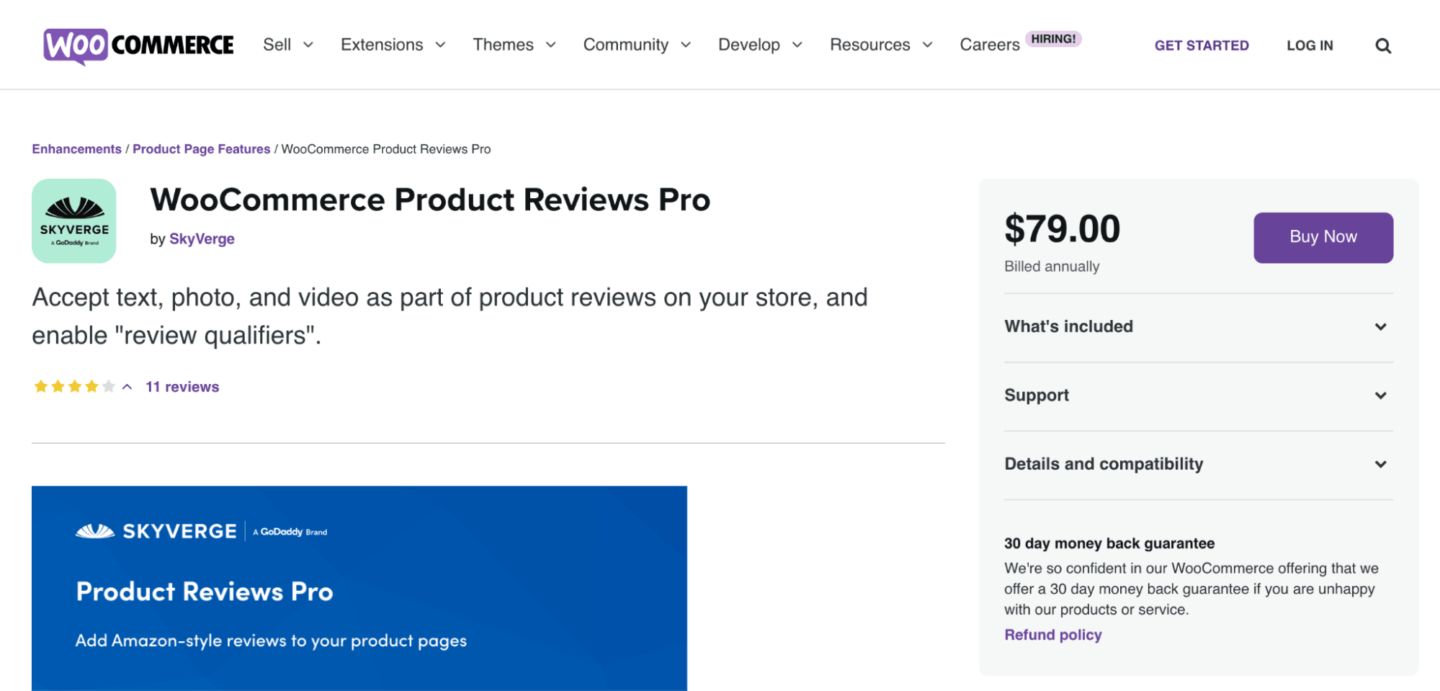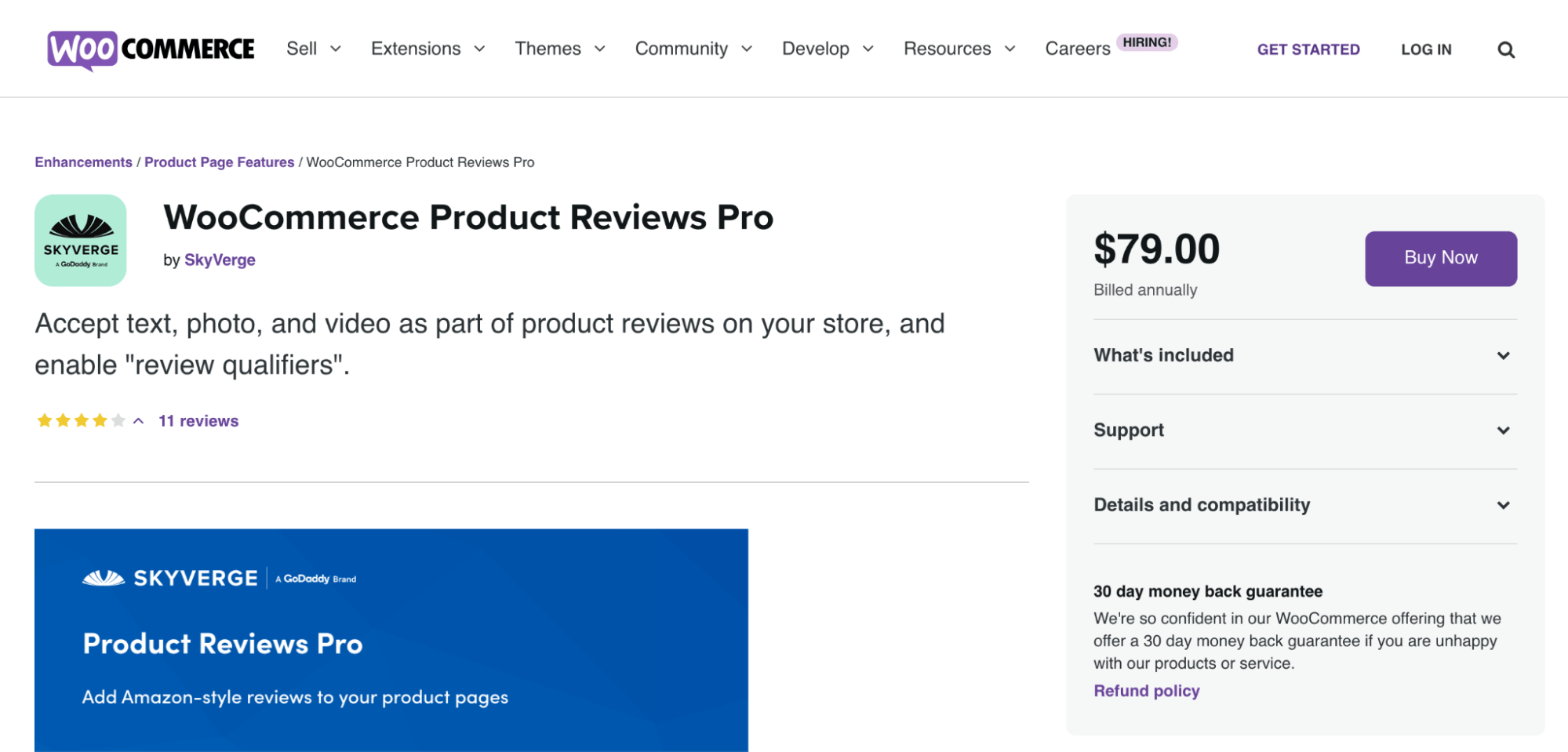 Free trial: No. 30-day money-back guarantee offered
Paid version: $79 per year
Genuine customer reviews are now essential to driving sales. They form a considerable part of shoppers' decision-making process. With WooCommerce Product Reviews Pro, you can encourage your customers to provide useful reviews for your products and automatically display them on your ecommerce store.
With WooCommerce Product Reviews Pro, you can ask for much more than text or stars. You can ask customers to add photos and videos to give an even stronger perception of authenticity. Using this tool, you can also enable qualifiers and prompt customers to provide specific information (e.g., quality, fit, value for money, etc.)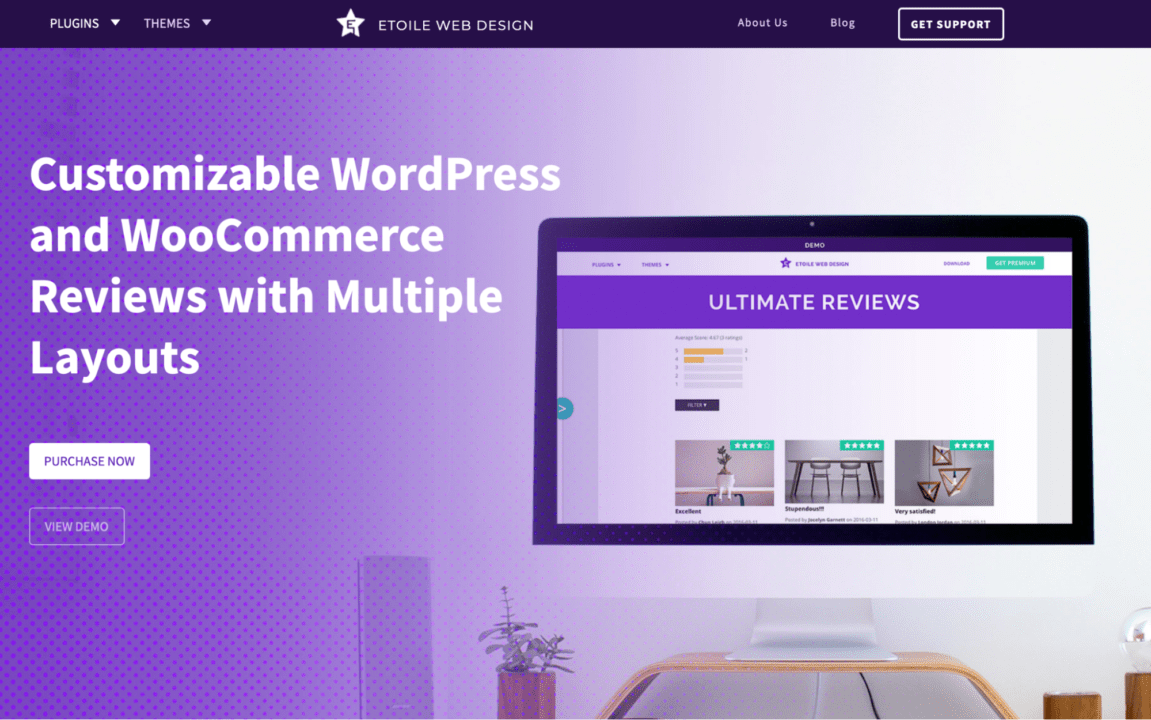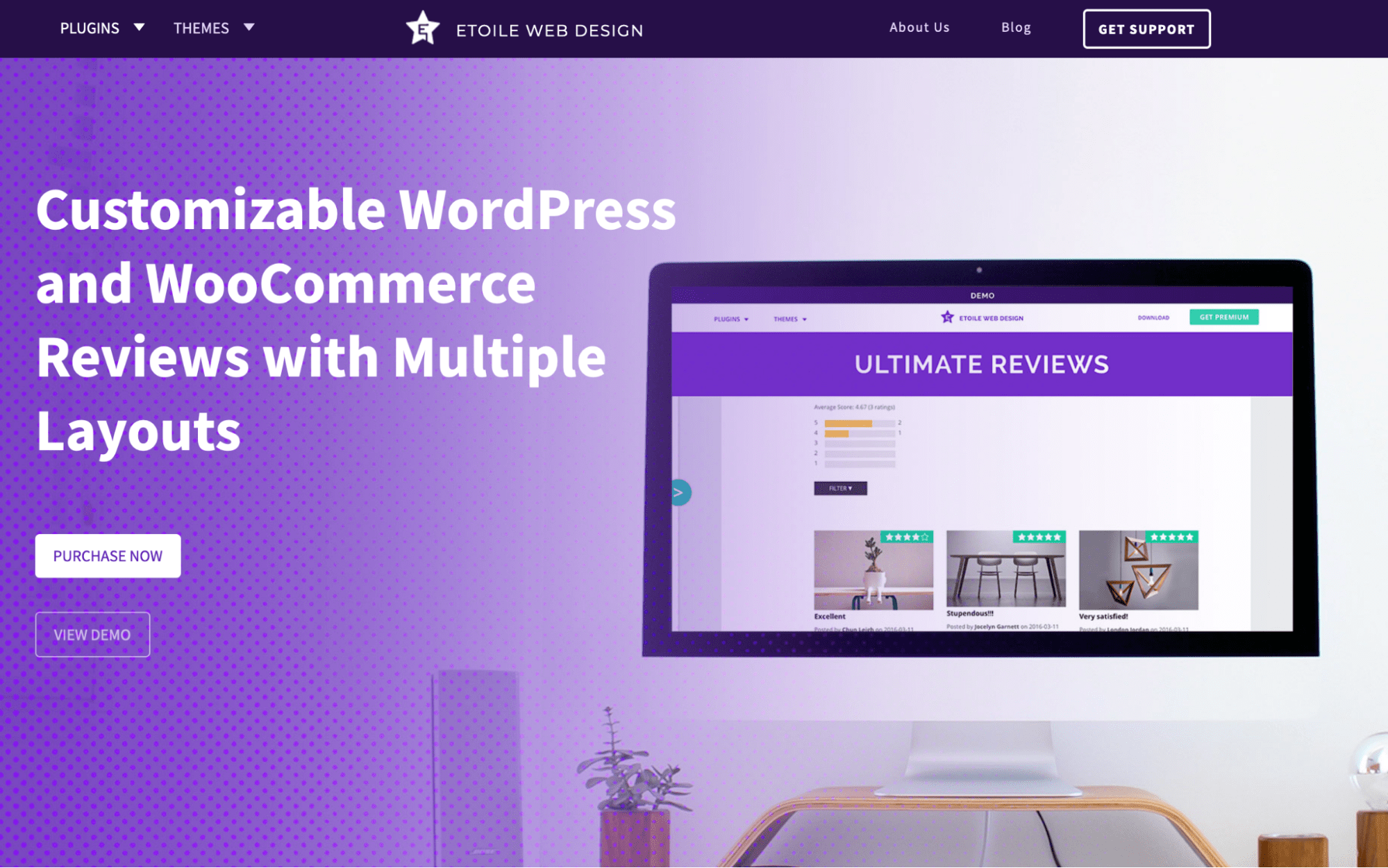 Free trial: Free for 7 days
Paid version: Starts at $47
Like other customer review plugins, Ultimate Reviews gives you an easy way to collect and publish feedback from your buyers. Where it excels is in customization. There are many design options to match the look and feel of your own brand. You can also add custom CSS to ensure perfect integration with your WooCommerce theme.
With Ultimate Reviews, you can also customize how much and what kind of information you ask your customers. You can add a number of custom fields that work better to influence the buying decisions of future shoppers. You can also choose from several advanced display options to generate the most interest from your store's visitors.
WooCommerce security plugins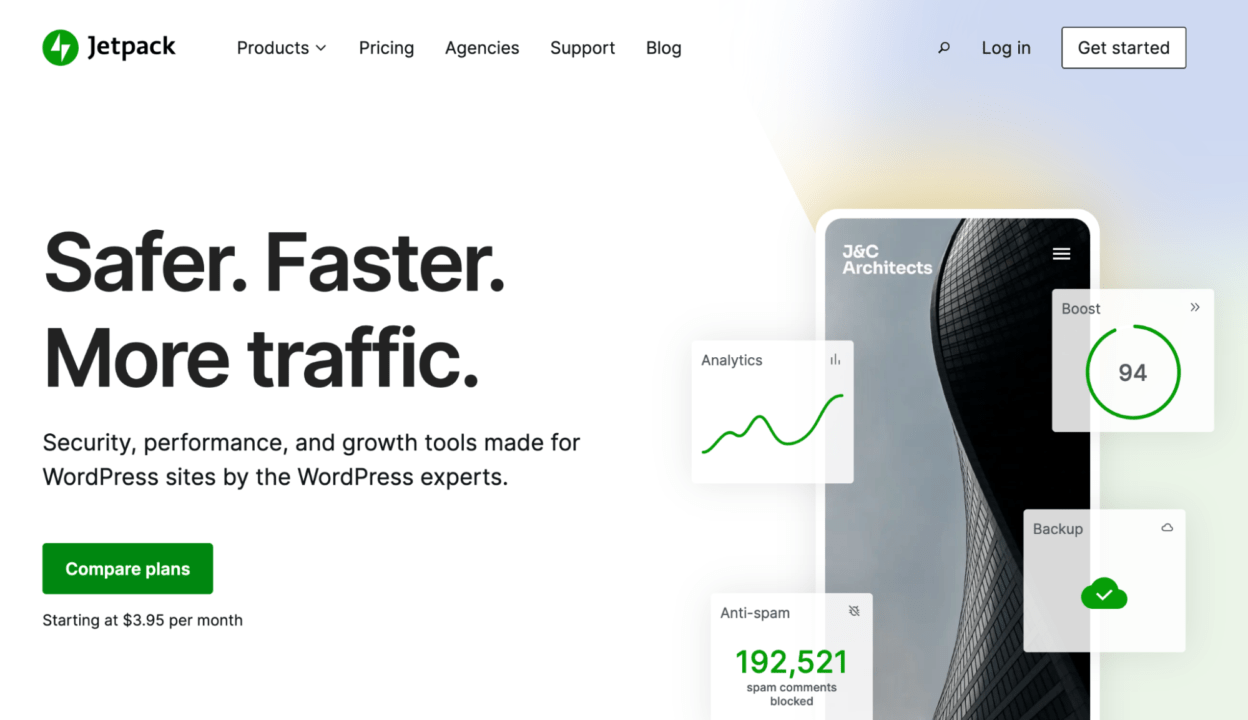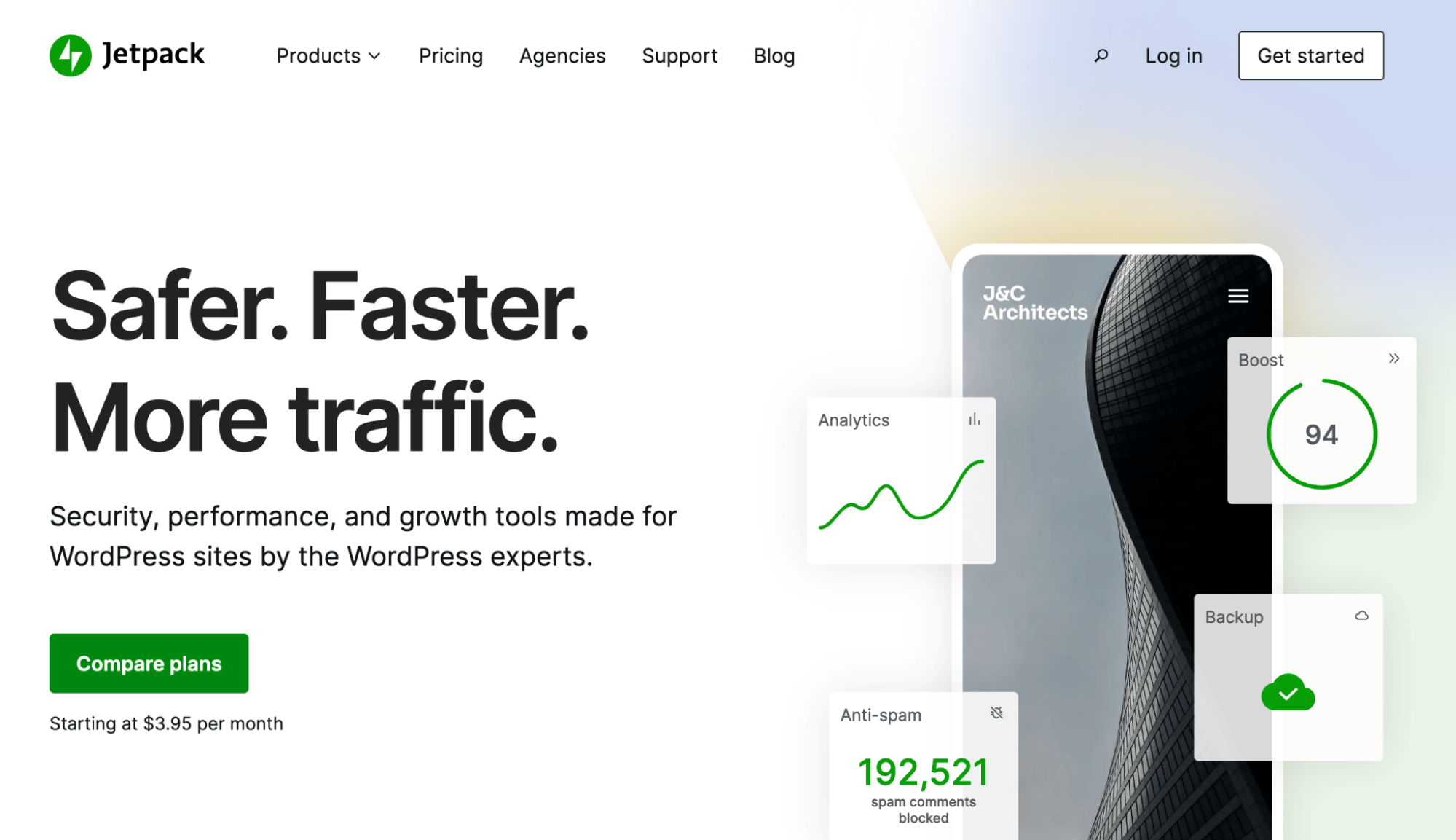 Free trial: No. 14-day money-back guarantee offered
Paid version: Starts at $4 per month
Jetpack offers a suite of tools that help you ensure the security of your website. Using this plugin on your WooCommerce store, you don't need to worry about threats causing downtimes that could significantly affect revenue and cause loss of trust from your shoppers.
With Jetpack, your store is regularly scanned for malware, and makes it easy to get rid of detected security threats. It also has anti-spam capabilities that keep unwanted content away from your comments and forms. You also get real-time backups every time a change is made on your website. Should something go wrong, you have the option to revert to the latest working copy.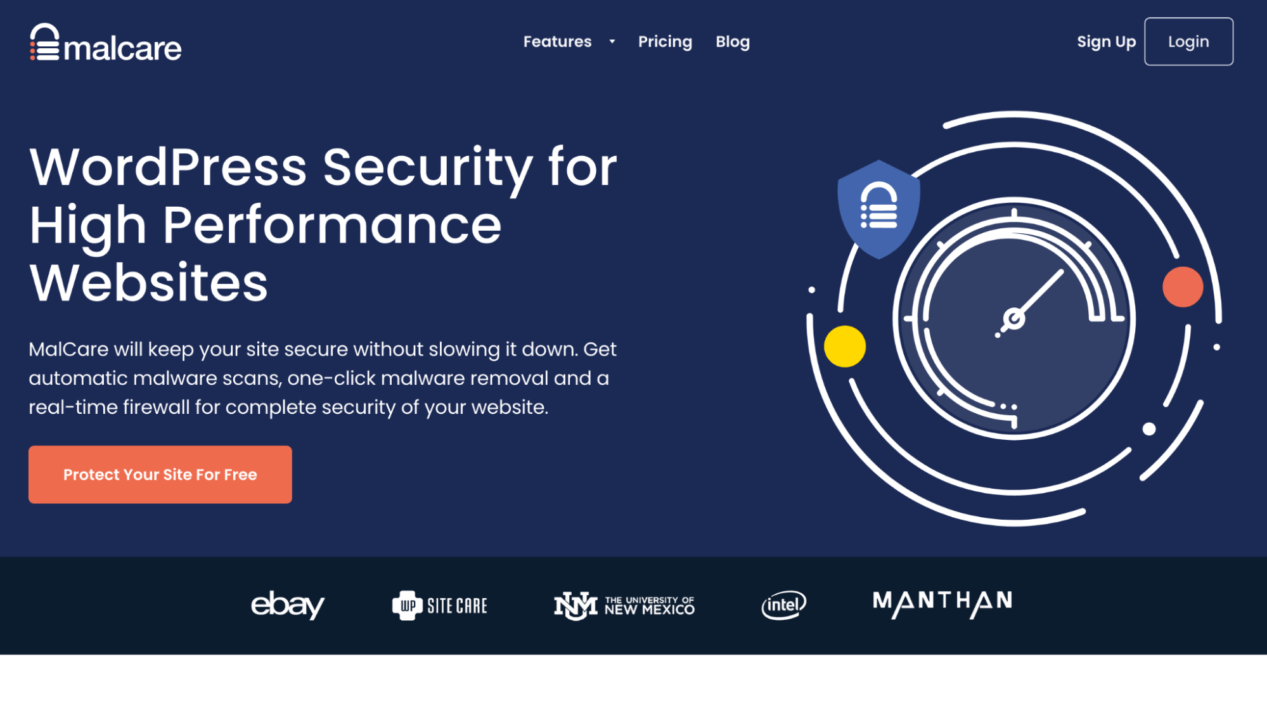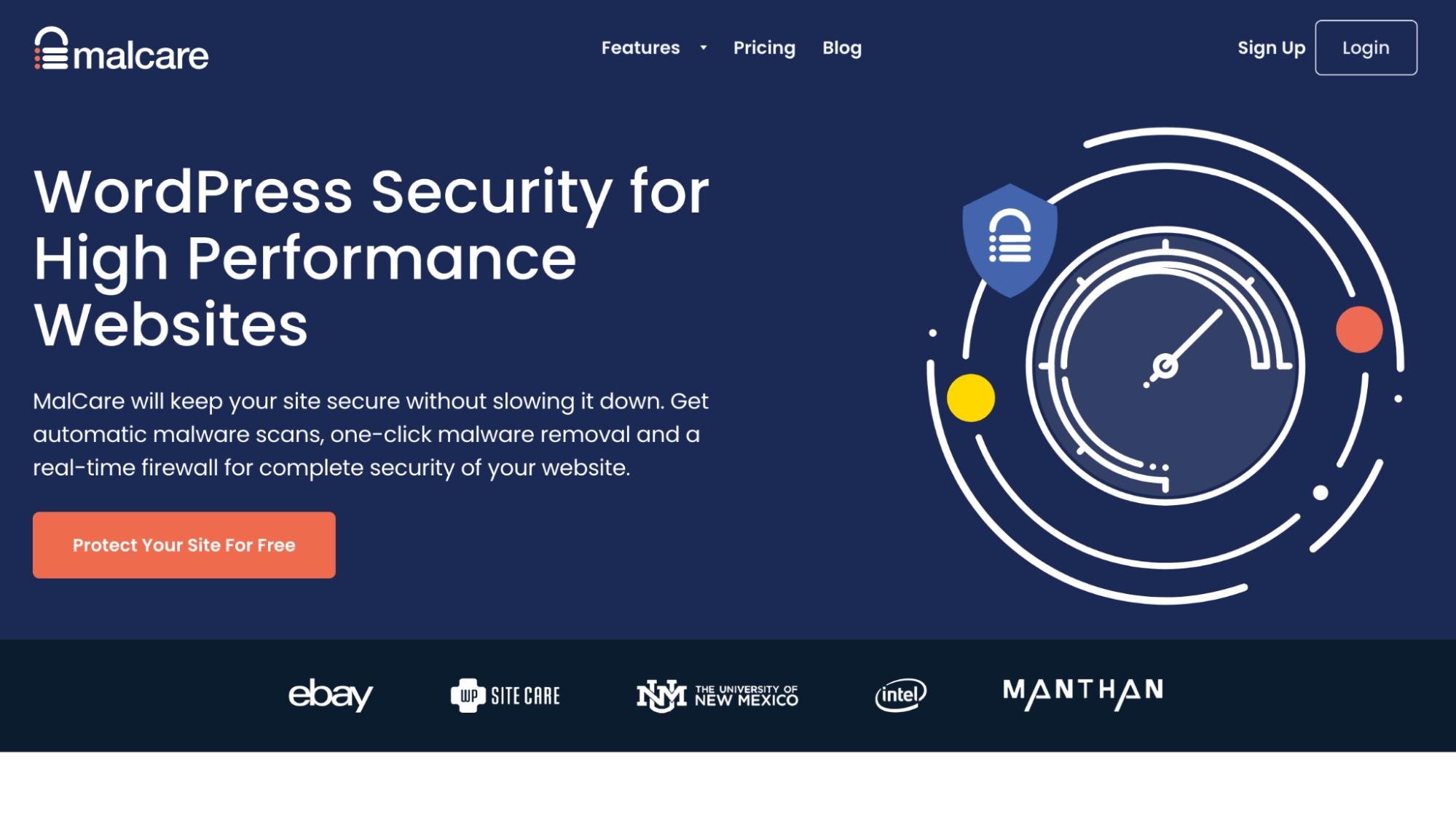 Free trial: Free plan available
Paid version: Starts at $99 per year
The MalCare Security Plugin secures your WooCommerce store and eliminates the risk of security breaches through malware. Not only does it provide a firewall but also periodically scans your website for malware. If it detects any, the tool also enables you to eliminate them through a single click.
Among the most important features of the MalCare Security Plugin is its ability to provide overall security for your ecommerce store without slowing it down. It performs all its functions in the background without you or your shoppers ever noticing.
Final thoughts
These WooCommerce plugins should help you get started building your ecommerce empire! Hopefully, you've found a new, previously unrevealed tool that can help you strengthen your ecommerce site's current arsenal.
If you have more great recommendations, feel free to let us know what are the best WooCommerce plugins for your store.
related features
Want more sales?
Omnisend has everything you need to succeed.
Start free now
No Credit Card needed.