Drive sales on autopilot with ecommerce-focused features
See Features
4 Easy Yet Effective Ways to Create Transactional Emails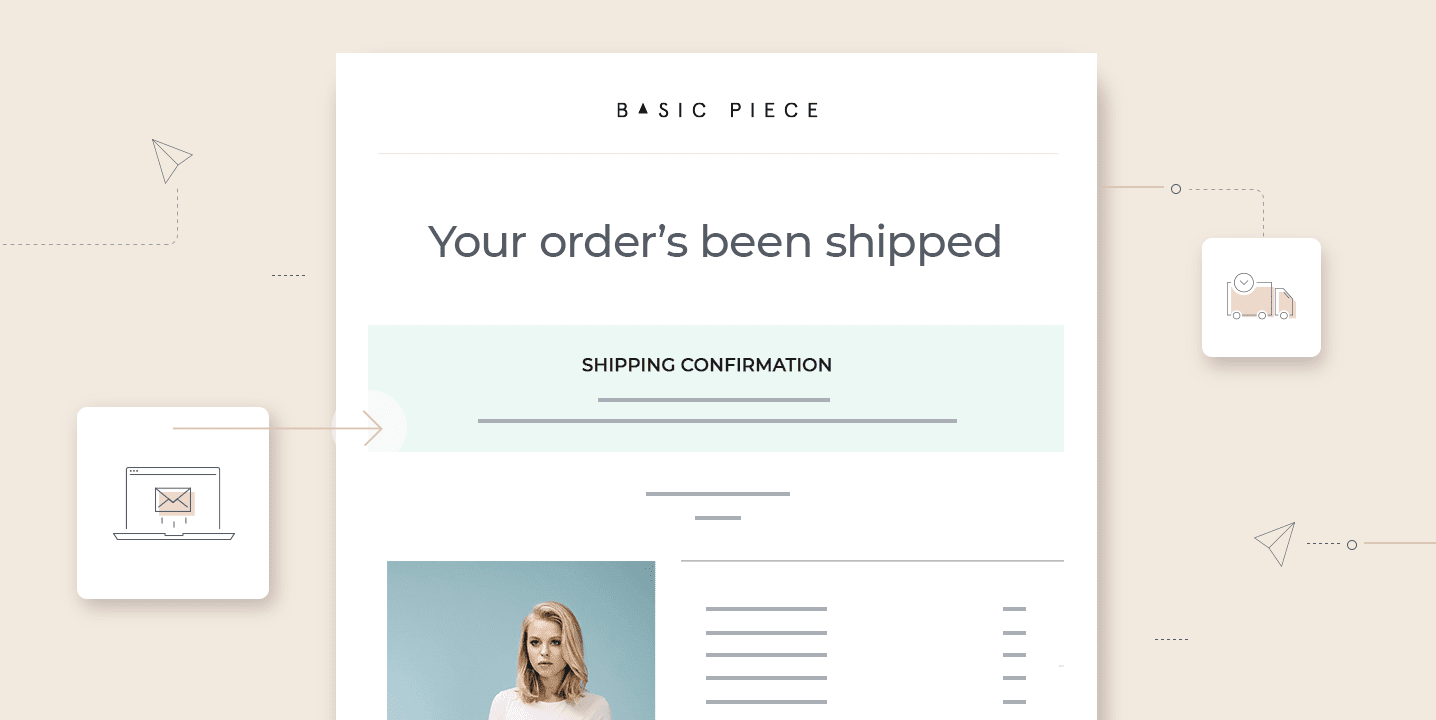 Reading Time:
7
minutes
It's hard to over-hype the power of transactional emails. These seemingly mundane, everyday formalities can actually become one of the most powerful tools (and email marketing examples) in an online merchant's arsenal—if used correctly.
According to Omnisend statistics, transactional emails can generate 46% higher conversion rates than promotional email marketing messages, rendering them some of the most effective marketing emails at your disposal.
As well as this, automated emails for order and shipping confirmation are opened by 54% and 60% of recipients respectively, according to Omnisend's 2020 year-end report. These are incredibly high numbers, and they offer marketing opportunities that you should really be taking advantage of.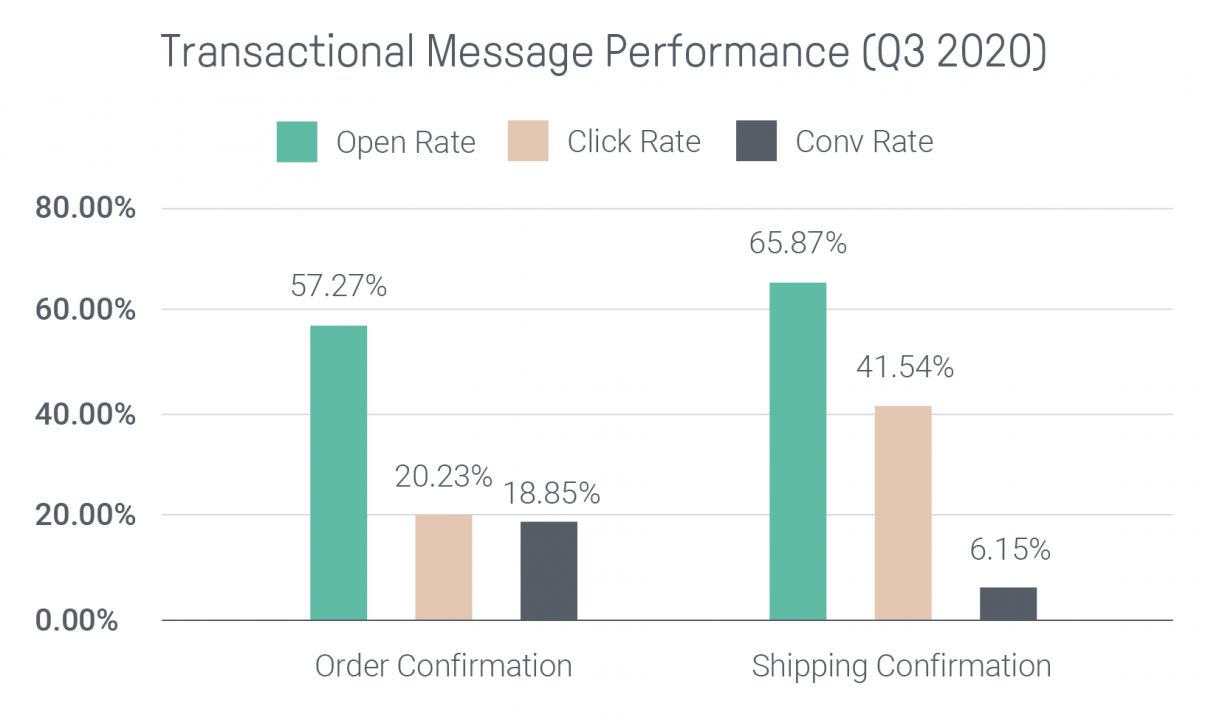 If you aren't getting this kind of ROI from your transactional mails, it might be time to start optimizing them to get the best results. In this article, we'll take a closer look at what is transactional email, find out how to use transactional emails effectively, and present some transactional email examples. Armed with this info, you'll be creating profitable transactional email campaigns in no time!
What Is Transactional Email?
Transactional emails are email notifications based on customer behavior and sent to the person automatically. They usually come in the form of an order confirmation or shipping update notifications, and they're always personal and sent to a single recipient.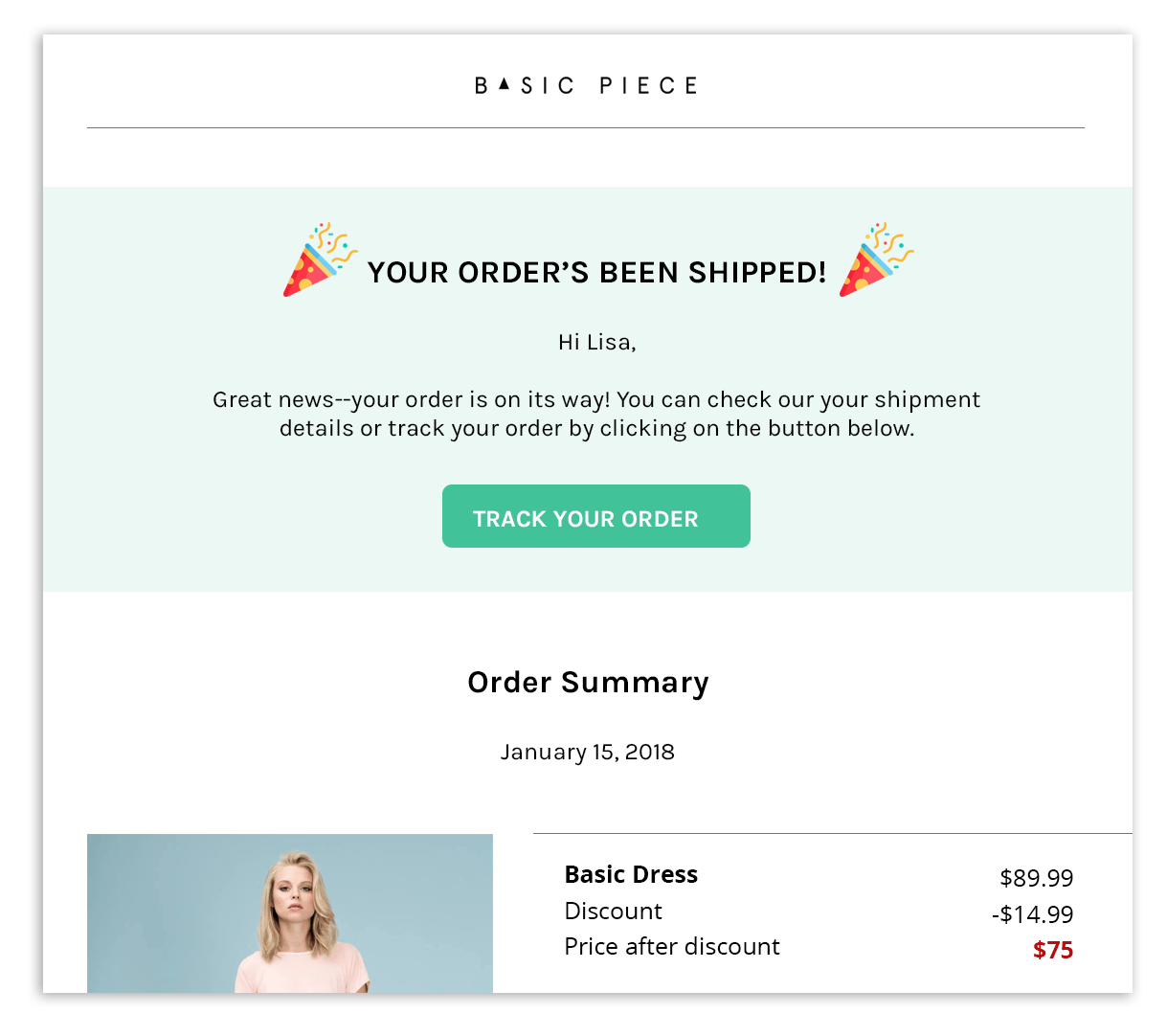 The main benefits of transactional emails are better deliverability, engagement rates, and sales. We've already seen their exceptionally high open and click-through rates—everyone likes to check up on the status of their order!
The best part is that you don't need to send transactional emails manually, you just set them up and they're delivered automatically. Double-check your email marketing software to make sure it provides a transactional email service—any tool worth it's salt should certainly do so.
There are, however, a few things to think about when looking to optimize your transactional emails for the best results. The following transactional email best practices and transactional email examples will give some useful insights on how to get it right.
1. Subject Line Strategy
We all know that the subject line is one of the most crucial elements of an email marketing campaign. After all, if your subject line isn't captivating enough to encourage people to open your email, everything else you did was in vain.
However, when it comes to transactional email subject lines, most marketers don't pay them the attention they deserve. Don't make this mistake—they are just as important as any other email. Here are a few ways to optimize your subject lines:
Add clarity: Inboxes are jam-packed these days and people will only take a glance at your email before deciding whether to open it or ignore it. So the more clear and succinct your subject line is, the better your open rates will be.
Given below is an example after the purchase was made. It's very clear looking to the subject line that order is confirmed:

Another example is a small gift or reward after the purchase was made. The following transactional email example is a great way to catch your customers' attention and pique their curiosity. What could the reward be?

Personalize your subject line: You've probably heard it many times already—using personalization is a super effective way to make your subject lines stand out. But by personalization, we don't just mean using the recipient's first name in the subject line, although this can be a nice touch. You can go a step further by using words like "you," and "your" in the subject line—giving your recipient a feeling that the message is explicitly written for them.
If you want to find more ideas and examples of email subject lines, check out our collection of the 515 best subject lines.
Use data: We all know that adding personalization is the best way to capture our recipient's attention and data gives us the power to do just that. But this is often overlooked when creating subject lines, so if you're not using data, start using it today.
Take a look at this template for email subject line personalization.
2. Preheader Space Utilization
Preview text matters—it's as important as your subject line. But most marketers neglect this space. If you're not optimizing your preview text then you're wasting valuable real estate. Below are a few tips to optimize your preview text:
Use it to enhance your subject line: You can use this space to complement or supplement your subject line. You can even give some personality to your transactional emails by adding emojis to the preheader text.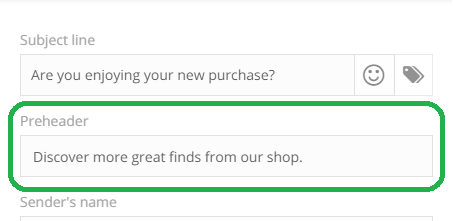 In the following example, Williams-Sonoma does a great job with its preheader text by utilizing it to supplement its win back email subject line:

A/B test your preview text: Just like your subject lines, keep A/B testing your preheader. The results will never be constant and the things that might have worked for you three months ago may not work anymore. Use A/B testing, not guesswork, to pick your transactional email preview text.
3. Email Content
Content matters— keep it concise and to the point. No matter how creative your subject line or well-written your preheader is, if your emails are rambling, irrelevant, and devoid of value-added content, you'll fail to get good ROI from your transactional emails.
Remember that customers click on these emails mainly for information and reassurance about the status of their order and shipment, not to be bombarded with promotional content. So don't overdo it!
According to research, personalized emails improve click-through rates by 14% and conversion rates by 10%. If you want to hold people's attention for any more than a couple of seconds you need to provide highly relevant and compelling content that offers value to the reader.
How to use transactional messages to add value: Well, a common method is to add personalized product recommendations based on what the customer has just purchased and has been recently browsing.
Customers respond best to personalized offers and are 2.6x more likely to buy the items that are recommended based on their purchase history. Omnisend offers an intuitive product recommender that is easily added to your transactional emails, providing customers with interesting, highly-relevant offers and helping you to cross-sell and drive repeat purchases.

You can also encourage customer loyalty by offering higher-than-usual discounts in your transactional emails. These may reduce your markups in the short term but have the potential to turn a one-time customer into a repeat customer that stays loyal to your brand for years to come.
4. Call to Action (CTA)
It doesn't matter how good your transactional emails are if they don't prompt people to take action, so give your customers an extra nudge by optimizing your CTA. Here are a few ways to do that:
Make your CTA button contextual and optimize it for mobile: Tempting people to open your transactional emails isn't that difficult, but getting them to take action can be a real challenge. So don't just tell them to act—make it absolutely clear what you want them to do.
The following example shows how to offer a special discount to bring your customer back into the fold: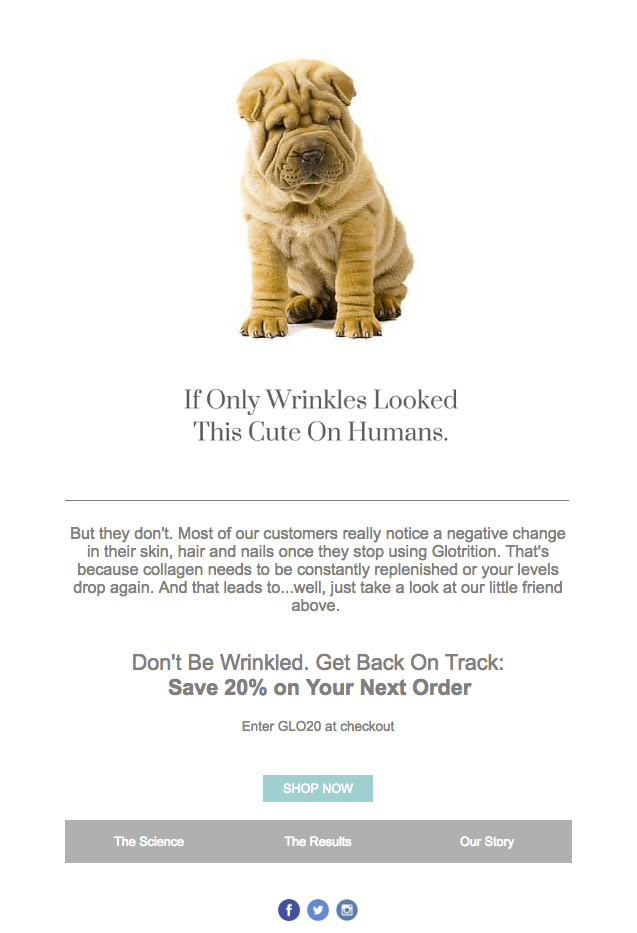 Ask for Feedback and a Review: Building trust isn't something you should ignore. Review emails see a conversion rate of 13%, and, according to Reevoo, reviews can produce on average an 18% uplift in sales. When reaching out to customers who bought a particular item, ask them for a review.
You can even ask for reviews in your shipping confirmation email and customer follow-up emails.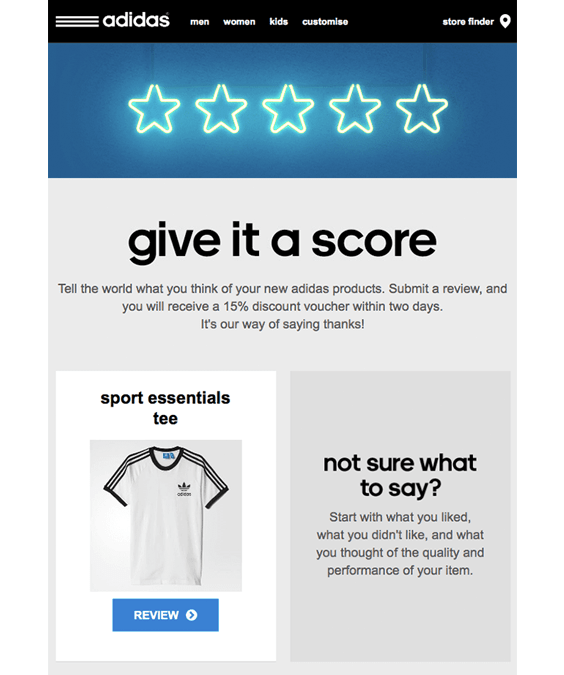 Link them to your Social Networks: Include links to your social network accounts, like Facebook or Instagram.
Adding followers to your social networks will further enhance your brand's social status. Having many followers makes you look more appealing and trustworthy to your customers and their friends.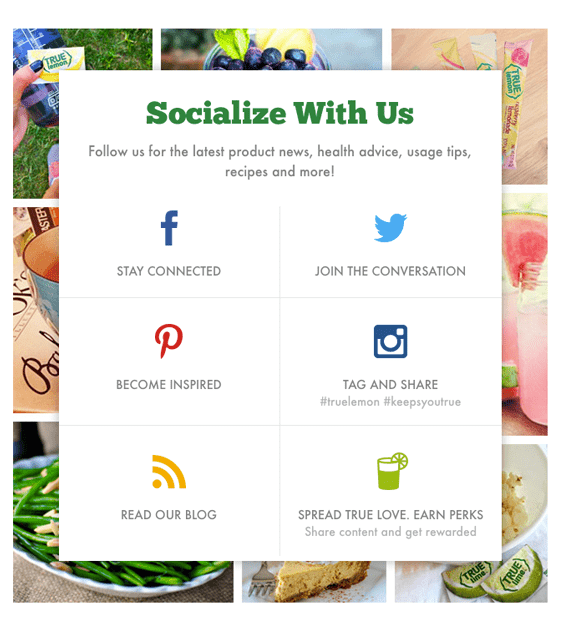 Final thoughts
If you're new to the world of ecommerce, you might assume that transactional emails are just formalities, added paperwork that serves no purpose beyond offering reassurance and practical information. As such, there's no point in spending valuable time crafting the perfect subject lines, copy, or CTA.
The harsh truth is, that's a rookie mistake.
In this day and age, the benchmark is set WAY higher and almost every brand is sending well-designed and crafted transactional messages. This means that you've got to go above and beyond to get ahead of the competition.
Other than providing your customers with the information they've been looking for, you need to optimize and personalize your transactional emails to boost your conversions and sales.
And yes, if you'd like to increase your conversions using transactional email marketing, then adopting the transactional email best practices given above will surely help.
Get started with Omnisend today & drive sales on autopilot with pre-built automation workflows at Omnisend
Start Free Today