Drive sales on autopilot with ecommerce-focused features
See Features
9 Customer Retention Strategies That Actually Work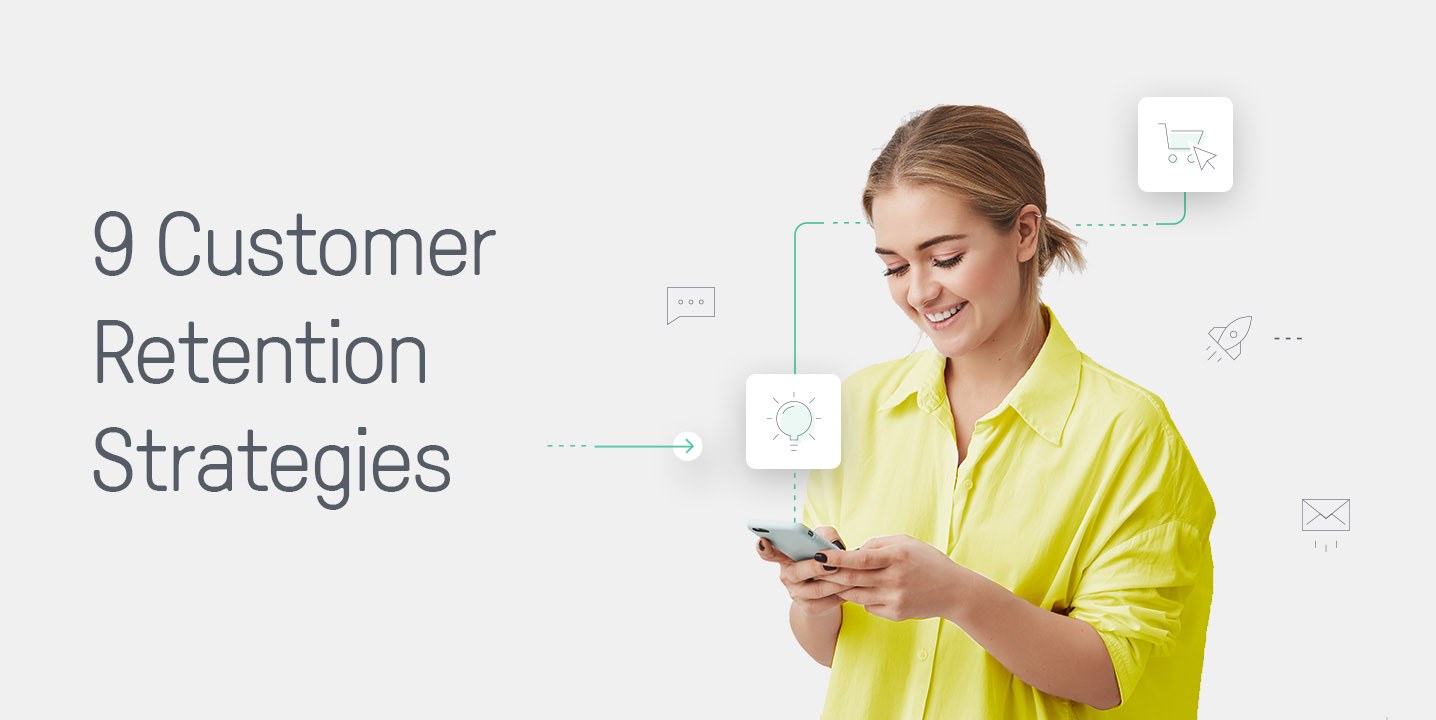 Reading Time:
10
minutes
Creating a great customer retention strategy is an uneasy yet crucial task for online businesses.
One-time buyers and lapsed customers have become a headache for most marketers: You have already spent a lot of money on customer acquisition, and now what? For months and months, those customers are stuck in the funnel and go nowhere.
How can you retain customers, re-engage with them and use that unrevealed potential?
Check out for these practical customer retention ideas. You will definitely find something to apply to your business.
What Is Customer Retention Strategy?
A customer retention strategy (a.k.a. customer retention program) is a set of business activities that aims to keep active existing customers, prolong their life cycle, increase profitability as well as a number of repeat purchases.
By implementing a customer retention techniques, you get in a win-win situation:
You provide more value to your customers and increase their satisfaction when interacting with your brand.
You acquire organic brand ambassadors and repeat purchases. Also, you maximize your revenue from current customers.
Customer retention measurement might seem quite complex. The main KPIs for tracking the progress of your customer retention strategy are average order value (AOV), purchase frequency, repeat purchase rate, and some more. There is an excellent article on Smile.io that covers them all.
Why Should You Care About Customer Retention Marketing?
If you still have doubts about the importance of customer retention, consider these four reasons:
It saves you money. The Harvard Business Review suggested that it is 5-25 times cheaper to keep a customer than to acquire a new one.
It helps you identify what must be improved. 86% of customers are willing to pay up to 25% more for products and services just to have a better customer experience.
It generates better conversion and referral rates, lower churn rate. Loyal customers are five times as likely to purchase, five times as likely to forgive bad experiences, seven times more likely to try your new offerings, and four times more likely to refer to the brand.
It makes a significant impact on your income. Increasing customer retention leads to higher revenue. This is easily calculated per store by considering your average order value (AOV).
Obviously, customer retention program is something that needs to be implemented by ecommerce businesses. But how do you know when the best time comes?
Keep reading and figure this out.
When Is It Time To Start Focusing On Customer Retention?
Well, your efforts on customer retention should mostly depend on two things:
The maturity of your business
The lifespan of the product.
Let's be more explicit here.
The Maturity of Business
Mostly, the customer acquisition-to-customer retention ratio in your marketing depends on your business lifecycle.
If you've just started selling goods and are still waiting for the first customers to come, there are no customers to retain.
However, you can launch the most important automated email workflow in advance and be ready when the shoppers are knocking at your door.
You can launch a welcome email series, post-purchase emails when you start gaining traction. More about such emails you will find in the following paragraphs.
When the number of sales gets consistent and predictable, it's time to employ additional customer retention techniques. For example, a loyalty program or referral system might be your fit.
When you find yourself a well-established business, it's time to focus on more advanced marketing automation workflows and dedicate even more effort on retaining your customers.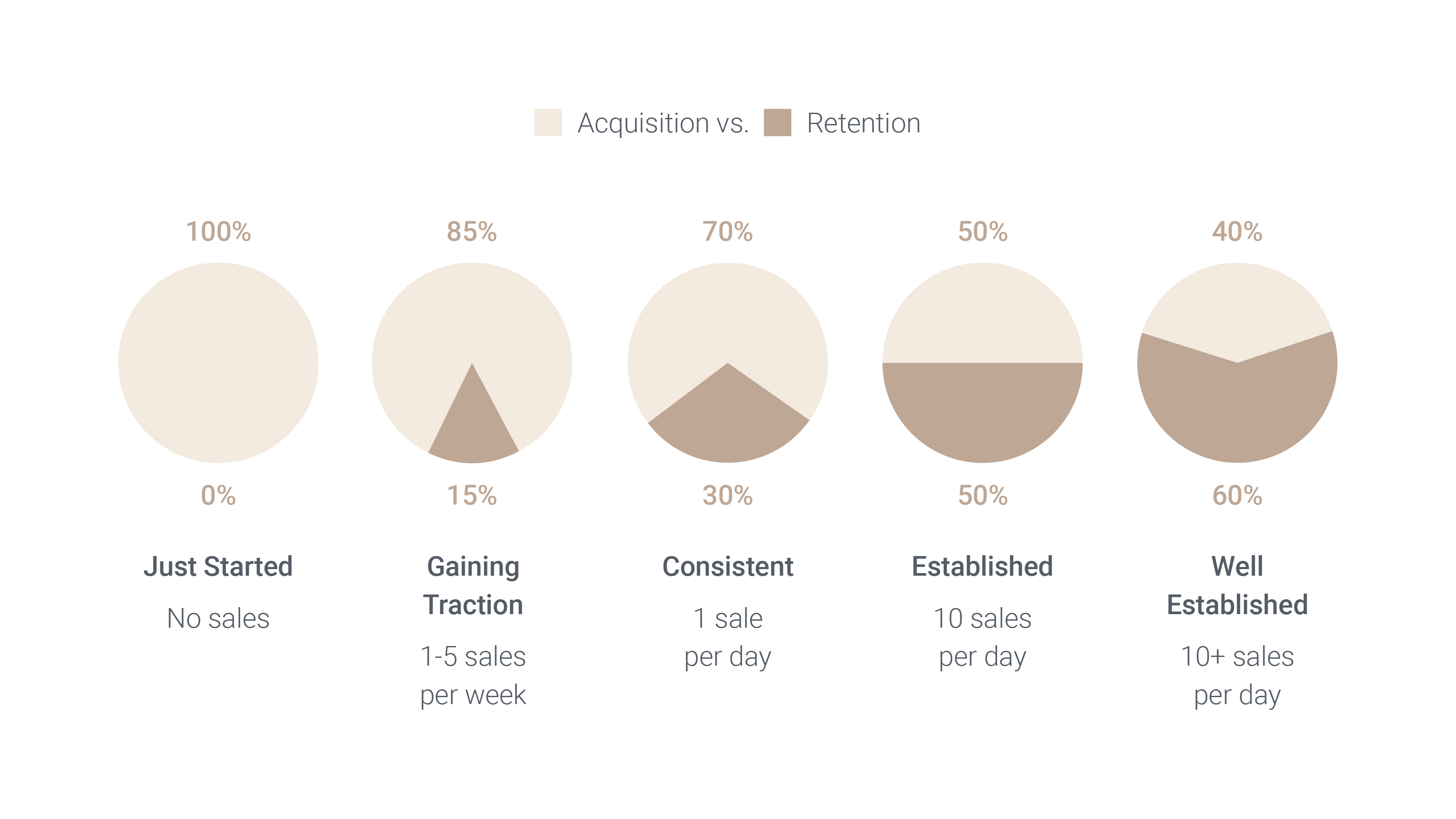 The Lifespan of the Product
Apart from your business maturity, the nature of your product influences your customer retention strategy. Businesses that sell books apply totally different acquisition-to-retention ratio than, for example, the ones that sell trimmers.
The main takeaway is: If you sell products of high value, you should be focused more on new customer acquisition. If you sell products that people buy frequently – you'd better start looking for customer custody techniques.
Find yourself in the matrix below.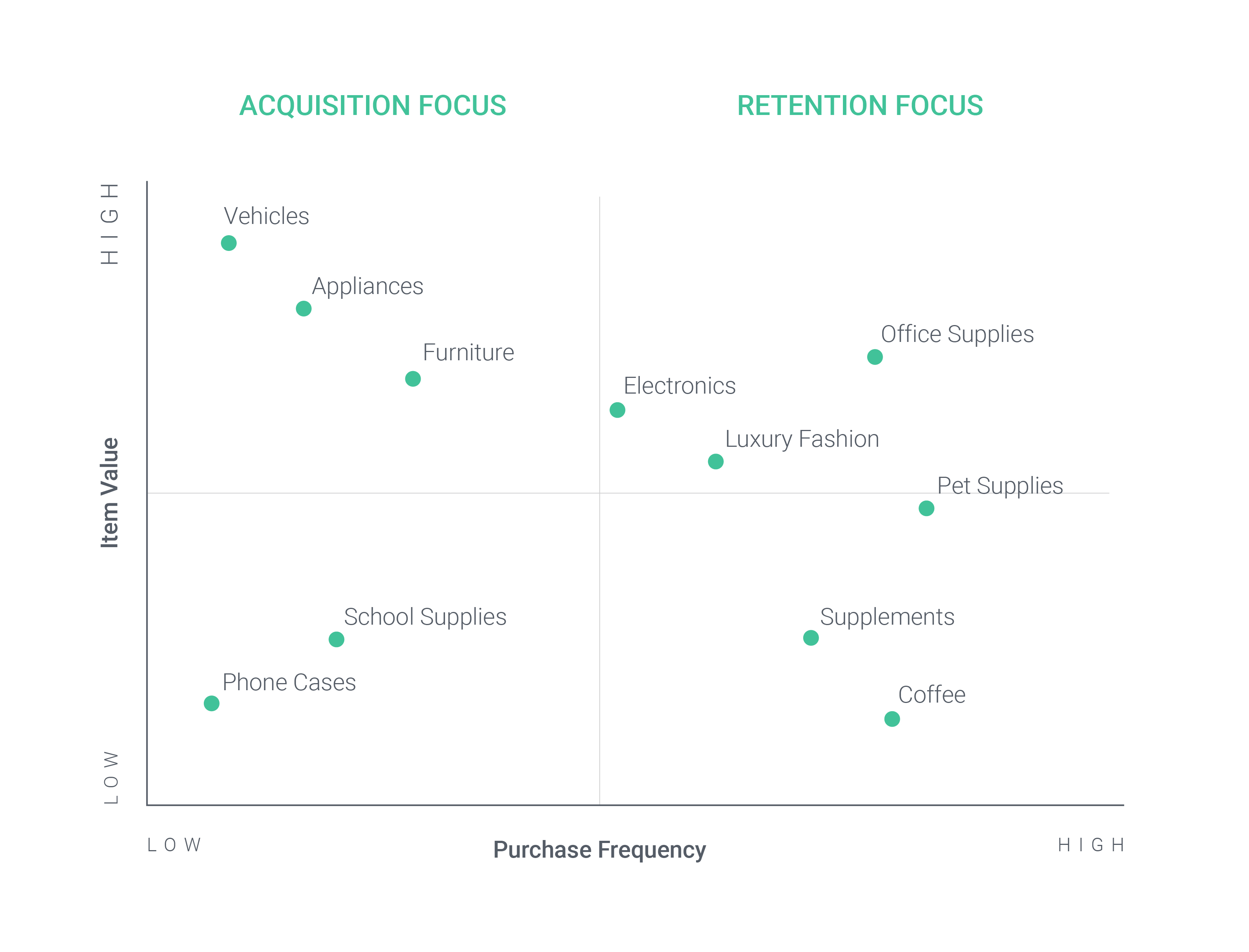 One way or another, the customer retention programs are necessary for all kinds of businesses. To help you boost your sales, let's look at the nine most essential strategies you should start implementing right away.
9 Customer Retention Strategies That Actually Work
1. Implement A Solution For Getting Regular Customer Feedback
When it comes to keeping your customers around for longer, the best people to tell you how to do that are your actual customers.
That's right—if you want to know how to increase your customer retention, you should be getting feedback from your customers and visitors regularly.
One of the best ways to get this feedback is to send surveys through your email service provider.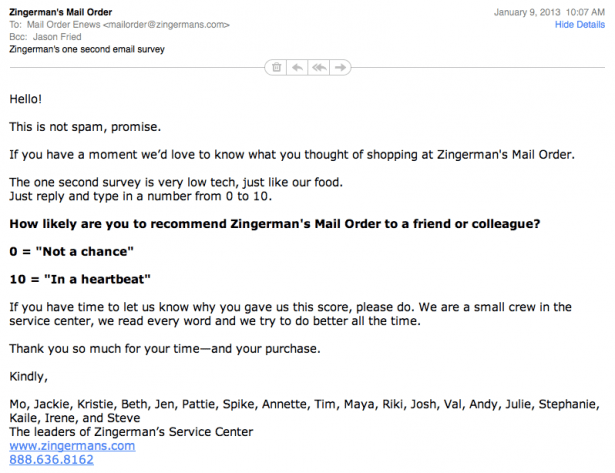 Your questions should include:
How easy it was to find your product
How likely they are to recommend your products/services to others
How they would rate their shopping experience
You can also ask other pointed questions, but you should make sure that there aren't too many questions. The sweet spot is about 3-5 questions per survey.
With this feedback, you can find out which parts of your website are working and which are not and fix those problems.
If you allow for open feedback, your customers will be able to expand on what they liked or didn't like about their experience.
2. Reveal What Your Business Stands For
Find the way clearly communicate what your values/beliefs are. Those customers who find themselves like-minded will become loyal more easily.
Remember Simon Sinek's words: "People don't buy WHAT you do, they buy WHY you do it."
See the example below, how Pepper (D2C underwear brand) contributes to Best Friends Animal Society.
It's likely that customers who will find it meaningful, will stay with this brand for longer.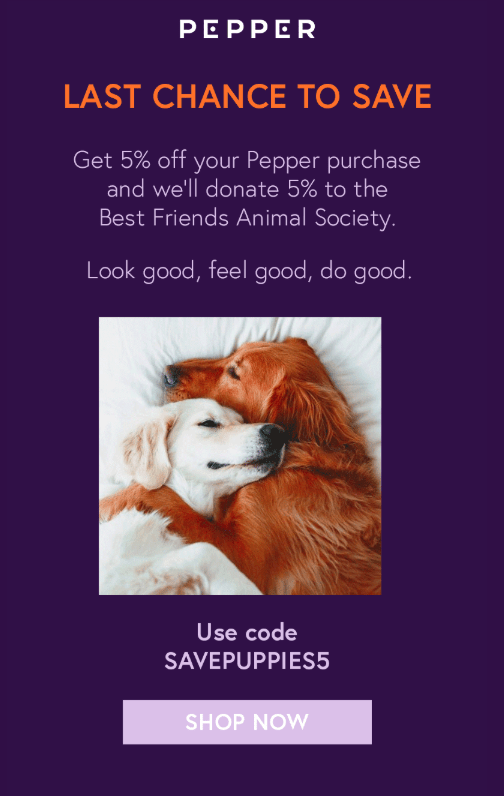 3. Launch Smooth Communication With Your Existing Customers
To keep your customers engaged with your brand, you should initiate repeated touchpoints. In an ideal world, your brand should be everywhere where your customers hang out.
Omnichannel (also known as cross-channel) marketing empowers you to achieve that. By implementing omnichannel marketing strategy, you will be able to analyze customer behavior and reach them via multiple channels with highly targeted, tailored messages.
However, if you don't feel ready or don't have enough data for employing the omnichannel approach, marketing automation can be your bet. At least, for some time.
3.1 Automate customer outreaching
Having automated emails and adequate workflows will help you to get your customers at the right time without having to send manual or untargeted emails.
So you should add the following workflows into your communication strategy to boost customer retention rate:
1. Abandoned cart emails
Pay attention to your customers and send auto-reminders about abandoned carts. This workflow is one of the most effective among all automation workflows. You can set up win back email campaigns as part of these workflows.
2. Post-purchase emails
Post-purchase emails are different from immediate order confirmation emails. You can send such emails a week or so after the purchase and ask for a review. They also can up-sell or cross-sell. Such emails perform very well in terms of repeat purchases and customer engagement rate.
3. Birthday emails
Event-triggered emails are particularly important, as they allow you to send the right email at the right time. One of these is birthday emails.
Birthday emails have higher open and conversion rates, meaning a simple happy birthday email (with an attractive offer or promotion) will lead to much better sales.
In fact, according to Omnisend data, birthday emails have a conversion rate 5 times higher than regular promotional emails.
Here are a few customer retention email examples that might inspire you: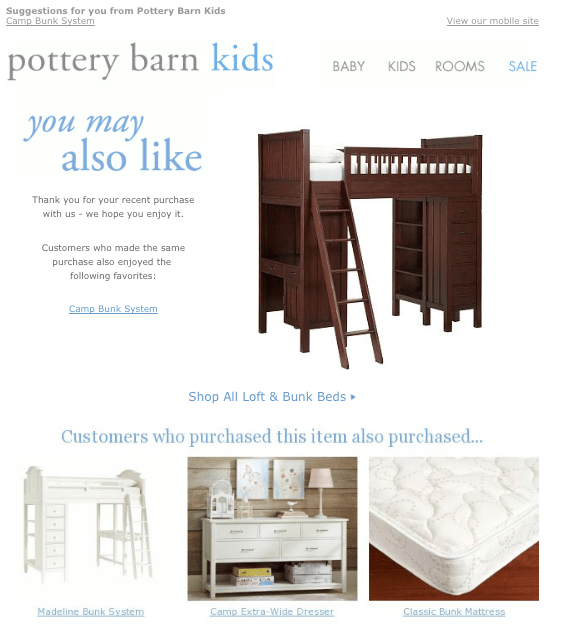 3.2 Reuse Social Media Highlights
Social media strategy should take a significant part of your overall marketing strategy. But this time I'm not about the entire strategy.
You can repurpose brand highlights on social media on your accounts or email communication. This will help you with online community building, social proof as well as to please your existing customer with extra attention.
See the example below.
K-Deer has highlighted its customers from Instagram and invited to follow the brand on social media:

3.3 Apply Gamification To Your Messages
People love gaming. Use gamification as often as possible to engage with your customers.
It seems that using unusual, entertaining forms and email elements can bring significantly better results as well as keep you on top of customers' minds.
For example, using Wheel of Fortune as a signup form can bring you a 12.74% conversion rate, which is almost three times better than an often-used popup.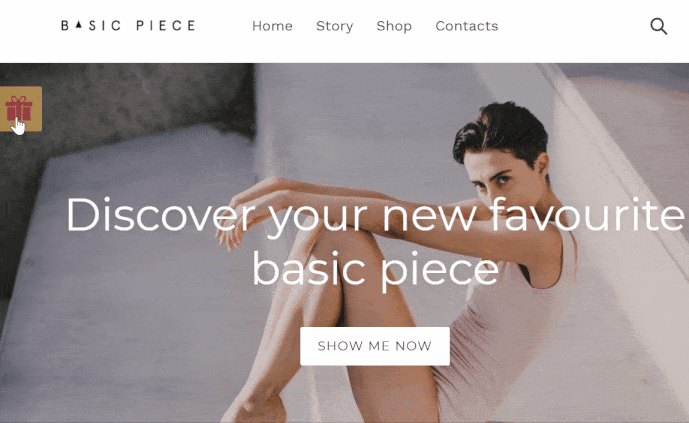 Interactive email elements like a gift box, a scratch card or videos also can boost engagement up to 20-80%.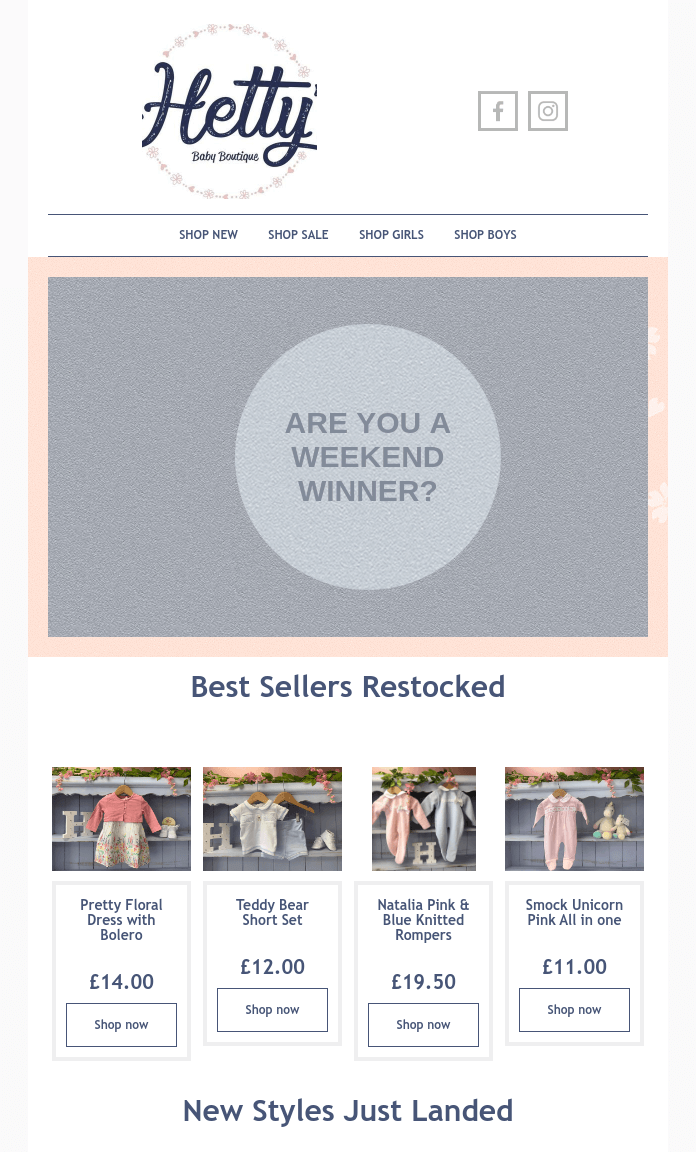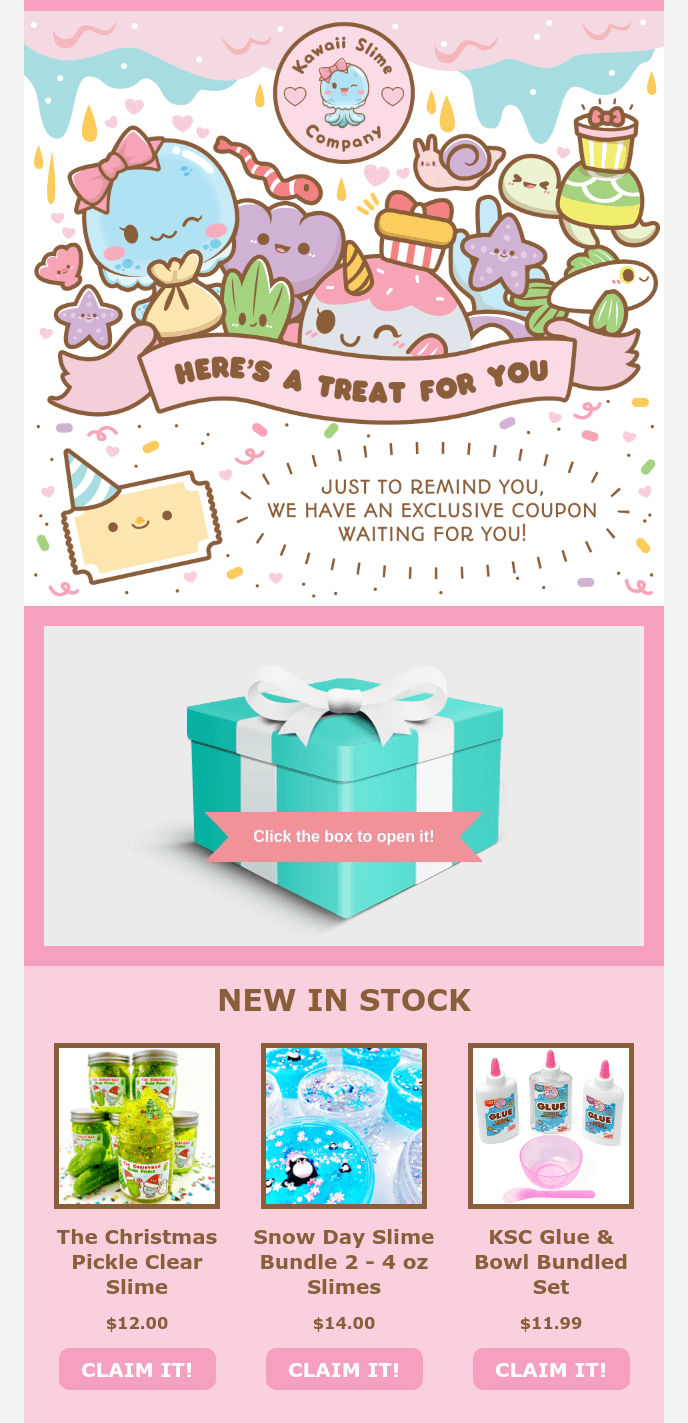 4. Identify And Pay Special Attention To Your Dormant Customers
Every business has a bunch of dormant customers (25-60%). If you don't approach them the right way, they become ex customers.
To approach your inactive customers, first you need to identify them as well as the inactivity window.
Those two parameters mostly depend on the products you sell and the cadence of your email communication. Also, you should take into account whether your goods are seasonal or regular. The most usual inactivity window for products that people buy daily is about 90 days. But it also might be longer.
The easiest way to see how many dormant customers your business has is to create a segment on your (email) marketing automation platform.
When you do that, it's time to prepare a series of messages that would bring back your inactive customers and convince them to make a purchase. The most convenient way to do that is to launch automated workflows that would identify every new dormant customer for you and send them proper messages.
Although all dormant customers are inactive, we suggest to divide them into two groups:
Group of dormant customers #1
This group is for customers that are inactive for a long time. Don't be too optimistic about this group. The response rate usually is pretty low. The only trumps that you can use in winning-back these guys are huge discounts.
Group of dormant customers #2
Another recommended group of inactive customers is a group of multiple-time buyers that suddenly have stopped purchasing.
In this case, the email about your appreciation, or invitation to leave a review offering a small discount in exchange might be enough.
The conversion rate of such messages are significantly higher, so you shouldn't miss this opportunity for sure.
5. Offer Great Customer Support and Service
Many people absolutely hate the idea of having to call customer support. This is because they have experienced slow, negative or inefficient customer support and are unwilling to be involved in that.
However, excellent customer support can help turn your regular customer into a loyal advocate. According to Zendesk, 62% of B2B and 42% of B2C customers bought more after a positive customer service experience.
For good customer service, you'll need fast and competent customer support. If someone sends you an email or message on your live chat, you need to make sure you're responding promptly.
Many customers prefer email or even to call, so it's important that you also have an email and phone number listed prominently on your ecommerce store.
6. Offer a Subscription Plan
Consider offering a subscription service. In this case, your customers would get delivered a new product refill (barber supplies, oral care, pet supplies, vape liquids, etc.) automatically every month. They would have the option to skip or cancel at any time but such service allows your customers to shop without thinking as well as assures repeat purchases at least for some time.
7. Reward Loyalty
Earning your customers' loyalty often includes a few moving parts, but one way to improve it is by offering loyalty programs or rewards.
With loyalty programs, you are essentially getting your customers to move up the ladder of customer loyalty, from a one-time buyer to a brand advocate.
We can steal something here from mobile and online games, such as Candy Crush Saga. In this game, they give points to players when they reach new levels, get recognition or other desirable behaviors.
These are "in-store" points only, so they can only be redeemed within the game. Here's an example of a fashion shop Gilt's Insider rewards program.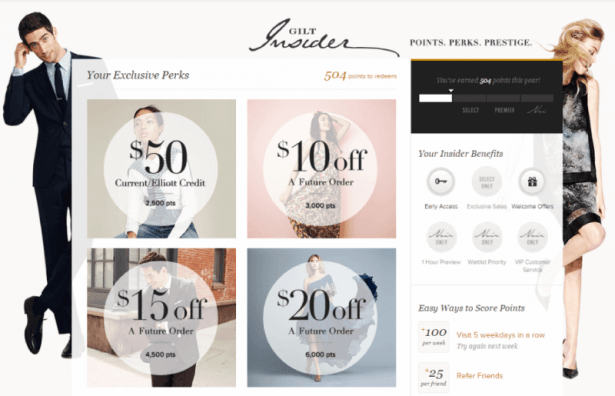 With ecommerce stores, you can offer brand points that the customer can use for discounts on your products, free shipping, early-bird pricing or even free products.
Your customers will love it and keep coming back for more.
You can have these programs without having a dedicated loyalty program. Instead, incorporate these benefits into your customer lifecycle. When a customer has purchased his 10th item, you can offer free shipping.
You can then expand that to a free (smaller) product or 50% off the next item if the customer has purchased 20 items, etc.
These rewards will ensure that your customers are moving forward at a desirable pace and increase their lifetime value.
8. Educate First, Sell – Afterwards
By educating your audience, you will provide value to your customers as well as promote your products and boost their demand.
For example, if you sell cosmetics, you can educate customers about all the layers that must be applied to your skin to get the best make-up. If your customer doesn't know about the setting spray, how she can buy it? You could educate her about the best ways to fix your make-up and highlight this product as an essential one.
Another example from Alastin Skincare. The brand educates customers about the best ways to heal the sunburnt skin. Next to a bunch of natural means, they promote the products that can help them recover the skin.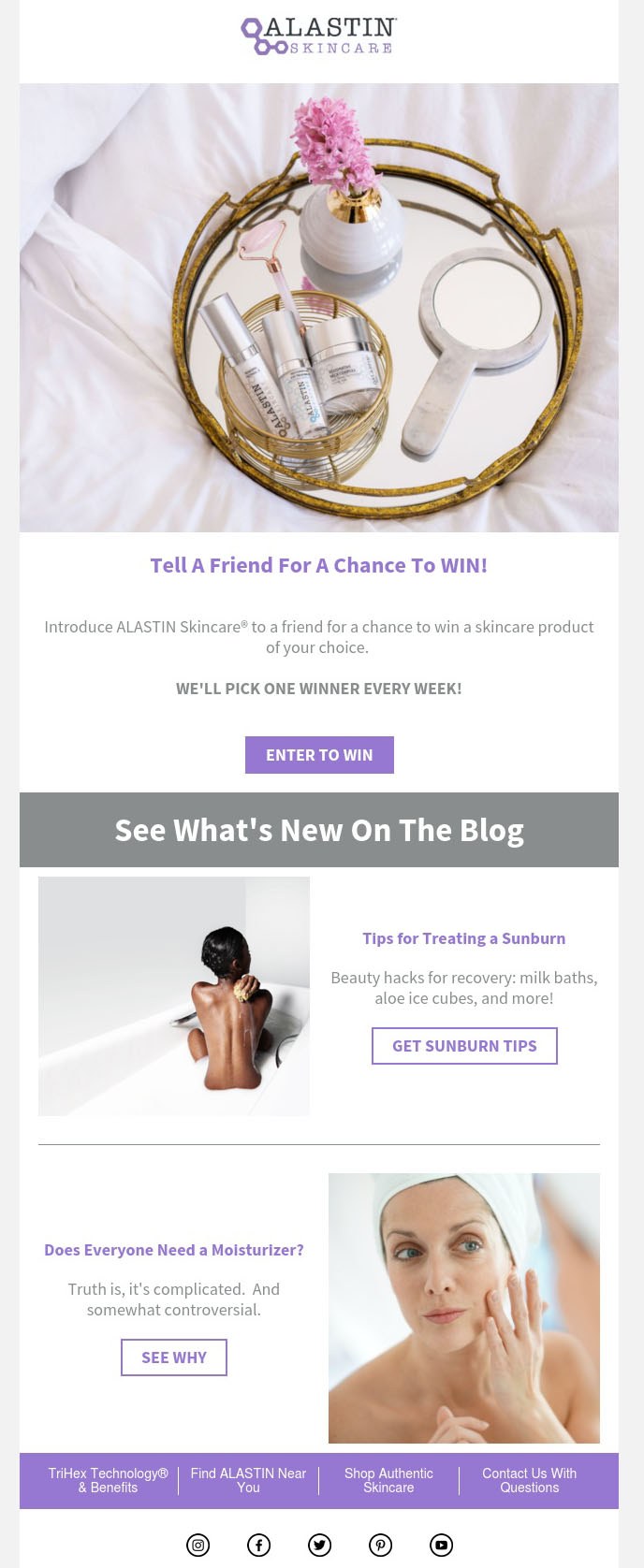 9. Set And Exceed Customer Expectations
If you promise your customers something you can't deliver, they will be disappointed with the result and likely not buy from you again.
That's why it's important to set realistic expectations for your customers and work hard to exceed those expectations.
For example, the people at Zappo's are experts at under-promising and over-delivering.
Although they inform customers that their products will arrive in 4-5 business days, they actually ship their products overnight.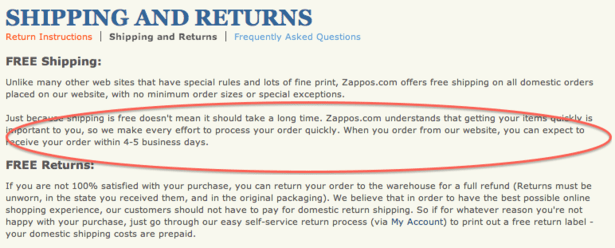 You can do something similar in your store. If you have a week-long delivery (or longer for dropshipping), inform the customers and work to decrease that time.
You can also exceed customer expectations in many ways, but it's important to set those expectations first.
Wrap up
These nine customer retention strategies are crucial for making your customers happy. That in turn leads them to becoming your brand advocate and extending their lifetime value.
Beyond that, they'll also be critical in helping you get new customers through referrals and great word-of-mouth.
However, if you don't implement these consistently, it won't bring good results.
Following customer retention best practices and being consistent with your strategy will empower you to gather the data for smart business decisions, test, refine them regularly, and implement changes.
That will keep you on your toes, keeping your customers happy and improving their experiences while you increase your sales.

Get started with Omnisend today & drive sales on autopilot with pre-built automation workflows at Omnisend
Start Free Today