Drive sales on autopilot with ecommerce-focused features
See Features
Reading Time:
6
minutes
Welcome emails are par for the course in ecommerce today. Customers expect to get them, and brands continue to send them. With open rates at over 52%, it's easy to see why the welcome email series is such a widely-used email automation tactic by ecommerce merchants.
However, as more retailers send welcome messages, it is becoming harder for retailers to catch their customers' eyes, keep their attention, and differentiate from their competitors.
The only way to cut through the noise and truly create a welcome series that helps you stand out from the competition and increase conversions is to focus on what your customer actually needs from your brand.
Here are some ways you can easily turn your same-old-same-old welcome series into a remarkable, profit-earning powerhouse.
Watch this quick, 3-minute video that summarizes the welcome email series best practices (as well as the bad, outdated "best practices"):
Goals of a great welcome series
Traditionally, a welcome series set out to engage your subscribers and introduce your brand as the first step in building a relationship with your customers.
That served a purpose before personalization became available. But as inboxes become more flooded with emails, and customers become more demanding for relevant content, that model just doesn't hold up anymore.
Instead, your welcome series should set out to accomplish new goals:
Understand customer intent using the data you gather
Use data to create relevant messages
Overcome conversion obstacles
Build trust in your brand
The key to building a compelling, revenue-generating welcome series is to use your customer data to send the most relevant messages to the right customers.
And you can start by understanding customer intent.
Understanding customer intent using data
A great welcome series starts not with a welcome message but at the real beginning—the sign-up.
Where you capture a subscriber's contact information can be a critical piece of information because it can help you determine their intent. Only until you understand the customers' intent will you be able to craft relevant welcome messages for your subscribers.
Capturing this information is easy. As you're creating different email capture forms such as pop ups, exit intents, and landing pages simply configure it to include a tag that indicates where the contact came from.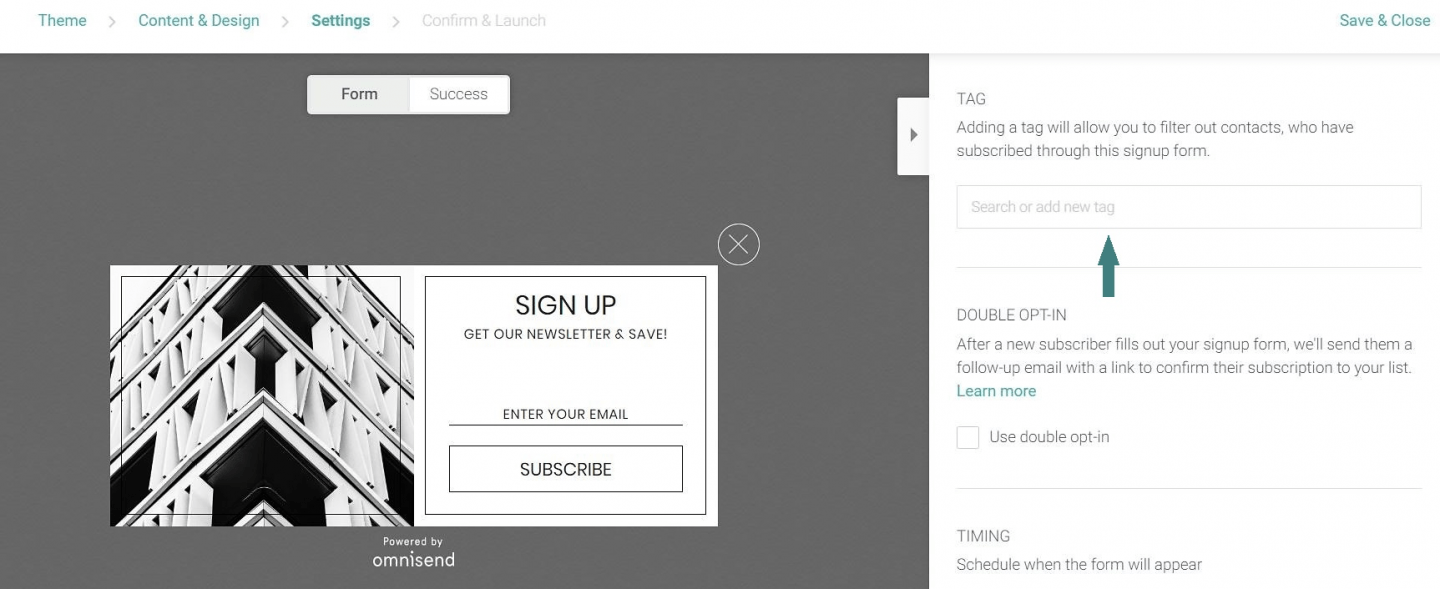 Any customer captured using that specific form will include the tag you created, allowing you to create segments around the form tags. For instance, someone signing up while on the engagement ring section of your website will be assigned an "engagement ring" tag.
Another way is to ask for a piece of information that would be useful for you, such as gender or category of primary interest. You can include this field on the actual sign-up form for subscribers to quickly fill out themselves. It doesn't matter how you collect the information, as long as you get it.
Use the data you've gathered to create relevant messages
According to Epsilon, 63% of consumers agree that personalization is now a standard service expected from brands and retailers. Customers want personalization, and today, to stand out, personalization needs to go beyond "Hi [FIRST_NAME]." This is where your data collected at sign-up can be put to good use.
For example, if a customer signed up on your shipping/returns policy page, this might indicate a higher intent to purchase. If a customer signed up while viewing women's dresses, it might indicate their intent to make a purchase from that select category of products. If someone signed up while viewing engagement rings, they may be looking to pop the question.
Capturing this data means you can use it to personalize your entire welcome series. If you collected their gender at signup, your welcome series could be targeted toward the specified gender, complete with gender-specific product recommendations. The same holds true for targeting those shopping for engagement rings versus those shopping for earrings.
It's not just the data captured at sign-up that matters, it's all data—including what they were browsing on your website. Let's say that a customer came to your site from a social post, was browsing a category of products and then signed-up for your email program. Your welcome series should be adapted to recommend the products based on actual browsing history.
These recommendations can carry through from message to message in your welcome series, putting the products that they've shown interested in right at your subscribers' fingertips. This can be especially powerful if you offer an incentive with your welcome series.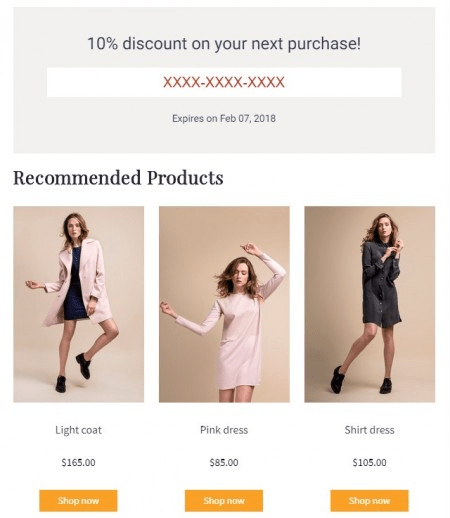 When it comes to data, think about what will be most impactful for your brand. For some, that means capturing an SMS opt-in or birth date. For others, it might be gender, localization, and age demographics depending on the different types of products you sell.
All of this information can be used to segment your contacts to deliver a relevant message to each customer.
Overcome conversion obstacles in your welcome series
Regardless of how your subscribers signed up on your site, not all new subscribers will convert immediately. Don't worry, that doesn't mean all is lost. Better understanding their intent means you can better understand what's preventing that final step to conversion.
Your welcome series is all about overcoming the obstacles that might be discouraging your customers from making a purchase.
Let's look at an example and how we might use data to overcome the obstacles:
Welcome Workflow Type A→
1st welcome email with incentive, relevant hero image, and product recommendations based on the email capture page
2nd email with UGC reviews based on category of interest + returns information
3rd email with brand storytelling + best seller product recommendations
This is set up to answer questions a customer might have about your brand, make product selection easier, utilize UGC to quiet any concerns they may have about the quality of products, and provide a monetary incentive for completing their purchase.
But what do you do if that doesn't bring the engagement and purchases you're looking for?
The fact is, data collection doesn't stop when they sign up. You can continue to collect data and alter your welcome series while your subscriber is still in the workflow.
Employing split conditions in your welcome automation workflow, you can alter their experience based on their behavior, even further responding to their intent.
In that case, you'd have something a little more like this:
Welcome Workflow Type B→
1st welcome email with incentive, relevant hero image, and product recommendations based on the email capture page

Customer didn't purchase →

2nd email with UGC reviews based on category of interest, returns information, and incentive reminder with expanded product recommendations/categories

Customer didn't purchase →

3rd email with brand storytelling, best seller product recommendations, incentive reminder, customer service contact info, sizing guide, and prominent links to social media sites (to expand touchpoints)
SMS message reminding the subscriber their welcome offer is about to expire
In this way, you can create unique experiences that are tailored, not only to your customer's intent to purchase, but the behavior that manifests around that intent.
However, one of the biggest obstacles you may have to overcome in your welcome series—especially for first-time purchasers—is trust in a new brand.
Build trust in your brand through storytelling
Your customer already has interest in your products—that's the reason they signed up for your email list in the first place.
However, the difference between customers for a season and customers for a reason lies in how emotionally invested they become in your brand.
Think about the ways you can tell your brand story in a way that will engage your customers and make them identify with your brand. Did you start your company for a social cause? Does your shop give back in some way? Do you have brand values that your customer might share?
Jiggy, online retailer selling puzzles worth framing, does a great job of this in the first two emails of their welcome series: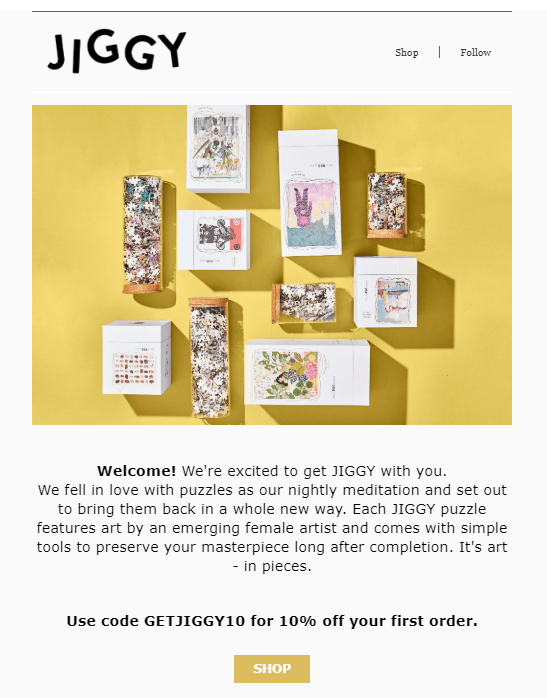 Notice that Jiggy not only delivers the incentive promised at sign up, but also manages to put in a tagline of their mission statement, which opens the door for brand storytelling.
"Each Jiggy puzzle features art by an emerging female artist and comes with simple tools to preserve your masterpiece long after completion."
One simple sentence tells you everything you need to know: Jiggy works with emerging artists, and this is real artwork you can enjoy long after you've finished the puzzle.
From here, a customer can begin forming an emotional connection with the brand. Not only are they getting a great product that can be displayed in their home, but they can also support an emerging female artist.
Jiggy reinforces that with the second email in their welcome series: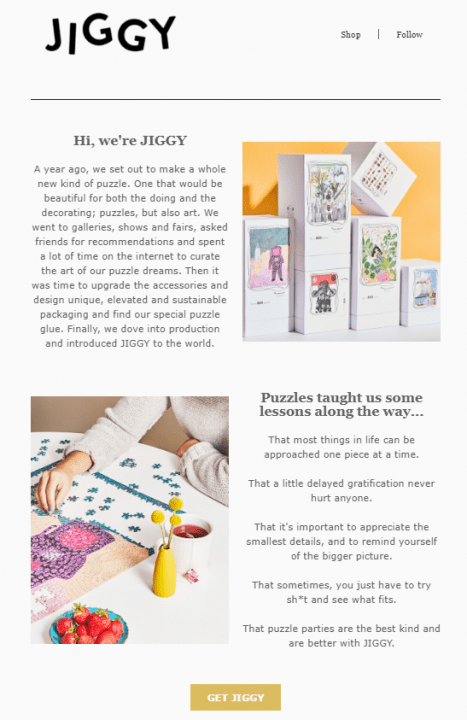 In this email, Jiggy employs more brand storytelling, not only explaining why and how they started working with artists but displaying their unique brand voice too. The email comes off as punchy, yet motivational, making their customers feel like they're contributing to a real cause.
This is a great example of using a welcome series to begin building a relationship with your customers through brand storytelling. What works for your brand will ultimately depend on your customers, products, and brand voice.
Wrap up
Transforming your welcome series from a simple "hello" to a "thank you for your purchase" doesn't have to be complicated. By collecting and using seemingly simple pieces of data you can send to your subscribers a relevant message every time.
By focusing on your subscribers' intent you'll be able to convert them into customers and supercharge your welcome series into your most profitable automation workflow.
Get a personal 1-on-1 demo (that will superpower your next campaign)!
Click here
related features
Want more sales?
Omnisend has everything you need to succeed.
Start free now
No Credit Card needed.