Drive sales on autopilot with ecommerce-focused features
See Features
Reading Time:
10
minutes
Welcome emails have the second-highest conversion rate of 2.86%, after order confirmation emails with 3.22%. Clearly, these emails present an excellent opportunity for marketers to get their subscribers to take the desired action.
And welcome email subject lines are partly responsible for determining whether a person would even open your email. That's why you need compelling subject lines for your welcome emails that can drive more opens, clicks, and conversions.
We can help you with that.
In this post, you'll find:
Welcome email subject lines: examples
Before we tell you how to write great welcome email subject lines, we want to take you through some real-life examples from other brands. These examples of subject lines will inspire you and show you how great brands engage with their customers and prospects.
We've further categorized these welcome email subject line examples into categories, so check it out.
1. Promotional offers
From exclusive products and discounts to coupons, your welcome email subject lines can encourage subscribers to take immediate action with promotional offers.
Here are some examples of welcome email subject lines with promotional offers:
Welcome! Enjoy 10% OFF Your First Order 🐻 ☕ – Wandering Bear Coffee
Welcome to the Robery (discount inside) 🙌 – Highway Robbery
Get €10 off your first 2 orders with Uber Eats – Uber Eats
"25% off your favorites" – Guess
Save $70 with the Luxury Escapes App! – Luxury Escapes
2. Subject lines with emojis
Emojis can add a touch of personality and help your welcome email subject lines stand out in crowded inboxes. Here are some examples:
"Welcome Gift! Offer Inside 👀…" EyeBuyDirect"
"From chaos to calm ✨🏡"- Open Spaces"
"Oh… Hey there Pumpkin 😉" – Magzter
""New recipe alert 🚨" – Hello Fresh"
💕 Hey girl, welcome to the Showpo party! – Showpo
3. Question-based subject lines
Questions pique curiosity and make people want to find out the answer, which is why they're such effective welcome email subject lines.
Here are some examples of question-based welcome email subject lines:
"Vanilla or Chocolate?" – Brooklinen
"Where do all these toys go?" – IKEA
"Quick favor?" – Jon Morrow
"What Can You Afford?"- Zillow
"Would you pay for a blue check?" – Insider
4. Friendly welcome email subject lines
Using a conversational tone and extending a warm greeting are some ways to exude a friendly vibe. Here are some examples of friendly subject lines for welcome emails:
You're here!! We're so glad. – Bison Coolers
Nice to meet you 👋 – Koh Australia
Let's get you started right! – Beardbrand
Welcome to British Tennis…you're in! – British Tennis
Welcome to Holland & Barrett… Let's get to know each other -Holland & Barret
5. Personalized subject lines
It's human nature to be curious about something that feels like it's meant specifically for us. So if you want to engage your subscribers right off the bat, personalize the subject line.
"Hi [Name]! Welcome to HomeAway!" – HomeAway
"[First Name], check out these hand-picked looks" – Guess
"Not your ordinary welcome email, [Name]!" – Jet
"Hi [Name], Welcome to Airtable" – Airtable
"[First Name], do you remember me?" – Bonnie Fahy
6. Storytelling subject lines
A great welcome email should have a subject line that tells a story. Here are some examples of storytelling subject lines:
"It all started in a rainforest… 🌿" – To'ak Chocolate
"'I didn't realize architecture was so dangerous" – Dezeen
"I got Botox — & THIS is what it looked like" – Refinery29
"In the mood for giving some of our lifespan to dogs" – Gawker
"How Nature Inspired Rivian's Colors" – Rivian
7. Branded welcome email subject lines
One of the simplest ways to write welcome email subject lines is to create branded ones. These email subject lines reflect the brand's tone and voice or simply include the brand name:
Welcome To The Flock – Allbirds
This was a good decision – Rue La La
Fresh to Death – Death Wish Coffee
Hologram shorts? – Chubbies
"We Like Being Used" – Muse
How to write compelling welcome email subject lines
To craft engaging welcome email subject lines, you can try a few writing "formulas." No worries, no need to be a copywriter (or have any writing experience, really).
Choose a tactic that makes most sense for your business:
Go classic
Ask a question
Add an emoji (or two)
Try storytelling
Focus on the benefit for subscribers
Add the recipient's name
Use your brand's tone of voice
Go classic
Depending on the tone your business is going for, you can go with the unbeatable classic–subject lines that begin with "Welcome to …"
Remember to keep the words in your email subject lines between one to five. Yesware's study shows email subject lines with 1-5 words have the highest open rates.
Place the most important information or keywords at the beginning and optimize for mobile devices.
Keeping the email subject line below 7 words helps ensure your recipients see the full subject line on their mobile devices.
Example 👇
Subject line: Welcome to the club!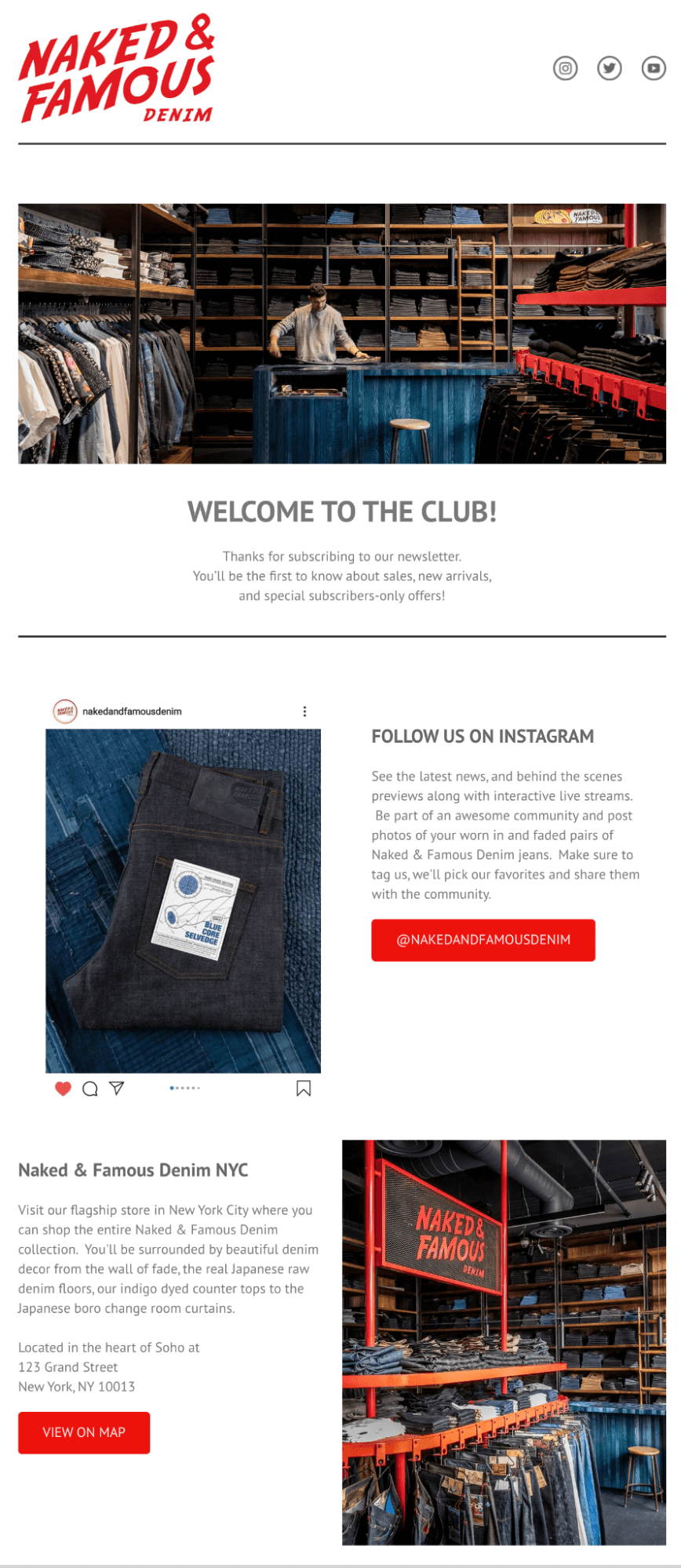 Your subject line can also just say – "welcome"!
Example 👇
Subject line: Welcome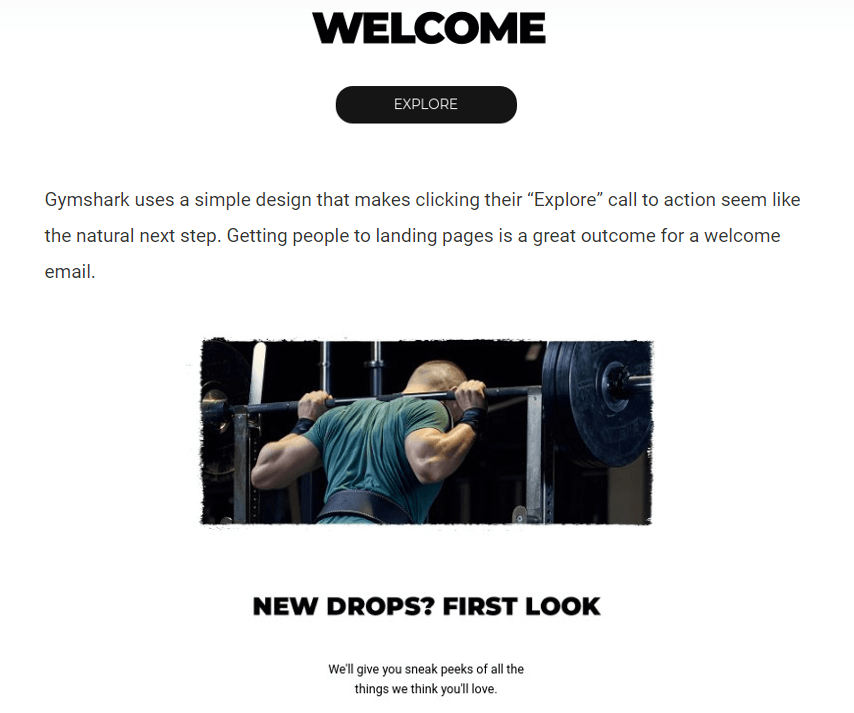 Ask a question
Questions pique curiosity and focus viewers' attention, so they can draw people in. Asking a compelling question will definitely make them think about the answer.
Asking a question can also help you create a more personal connection with your reader. By asking a question, you are inviting your reader to participate in a conversation with you.
Yesware's study on email subject lines found that emails with questions have 10% higher open rates than those without.
An important tip when using questions is to avoid generic questions like "How are you?" or "What's new?".
Instead, try to ask something specific that will prompt a response from the recipient. For example, "Did you enjoy your weekend?" or "What did you think of our latest product?".
Here are some examples of subject lines with questions that have a high open rate:
Did you miss these new products?
Want It by Christmas?
Would you like a 20% discount?
Example 👇
Subject line: Bored of table stakes loyalty programs?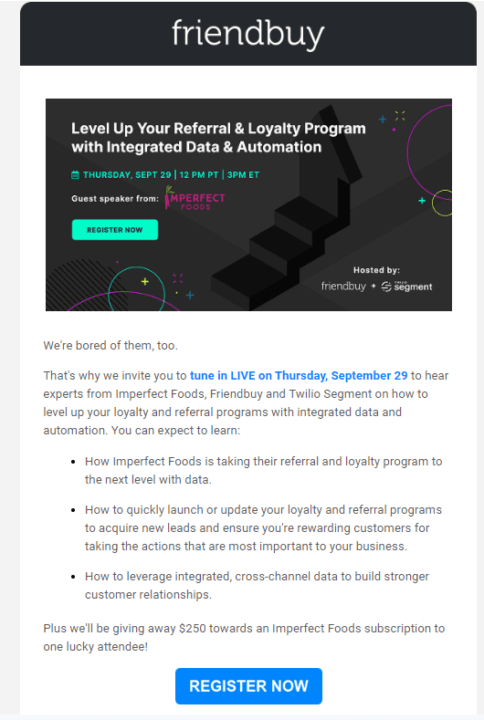 Add an emoji (or two)
Emojis are sometimes what make a welcome email stand out in an overcrowded inbox. If you use them to complement the text in the subject line, they can really amplify the message and add some emotional value.
According to Adobe, those who use emojis are perceived as funnier, cooler, and friendlier.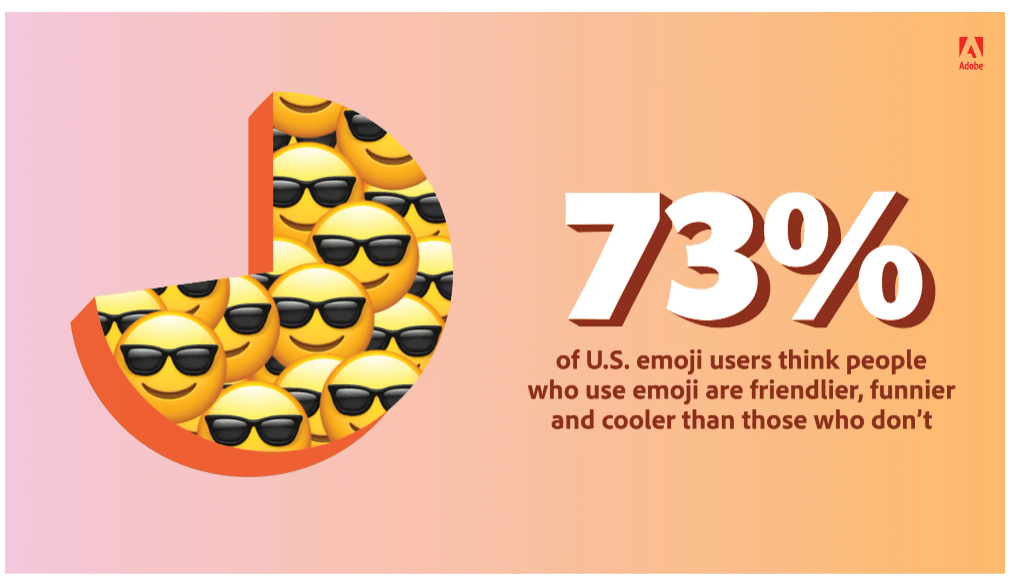 What's more, 58% of people who use emojis are more likely to open emails from brands that use an emoji in their email subject line. And, 64% will purchase products that are promoted with emojis.
But before you start adding emojis to all your welcome email subject lines, there are a few rules you should follow to ensure you're using them effectively. Here are the top 5 rules for using emojis in email subject lines:
Use emojis sparingly–too many emojis in a subject line can be overwhelming and cause your email to be skipped over.
Make sure the emoji you use is relevant to your message–a random emoji will just confuse your readers.
Only use emojis that are relevant to your brand and message.
Make sure the emojis you use are compatible with all email platforms.
Test your subject line with emojis on different devices before sending it out to your entire list.
Here is an example of emojis in welcome email subject lines:
Example 👇
Subject line: "🛋 14 popular Pins for you"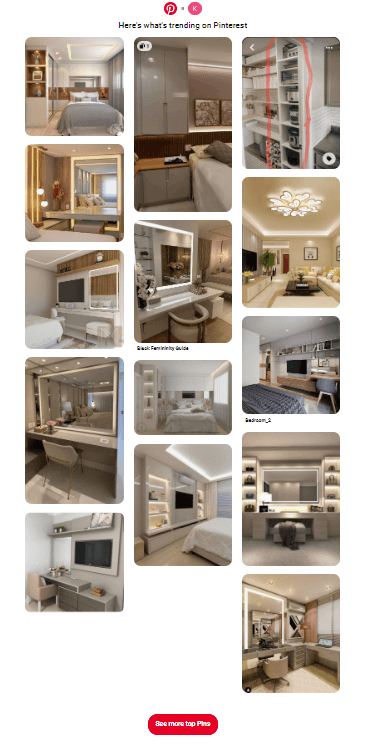 Tell a story
Tell a story in your welcome email subject lines to create a hook and make people want to open your emails to learn more.
Stories are a great way to connect with your audience and create an emotional connection. By using stories in your welcome email subject lines, you can create a sense of anticipation and excitement for what's to come.
Here are a few tips for using stories in your marketing:
Make sure your story is relevant to your brand and target audience.
Keep your story focused and to the point.
Use strong visuals to complement your story.
Use storytelling techniques like cliffhangers or suspense to keep people engaged.
Be careful not to overuse stories in your marketing–too much of anything can turn people off.
Example 👇
Subject line: It all started in a rainforest… 🌿

Focus on the benefits for subscribers
Most businesses promise new subscribers something for signing up: content, discounts, free shipping, etc. You can base your welcome email subject line on those promised goodies—new subscribers decided to sign up because of them.
Some great examples of benefit-driven email subject lines include:
"Get 50% off your next purchase!"
"Win a free trip to the Caribbean!"
"Earn $100 in cashback this month!"
Not only do these subject lines stand out in a crowded inbox, but they also clearly articulate what the reader can expect to gain by reading the email.
Example 👇
Subject line: Welcome! Take 15% off your first pair.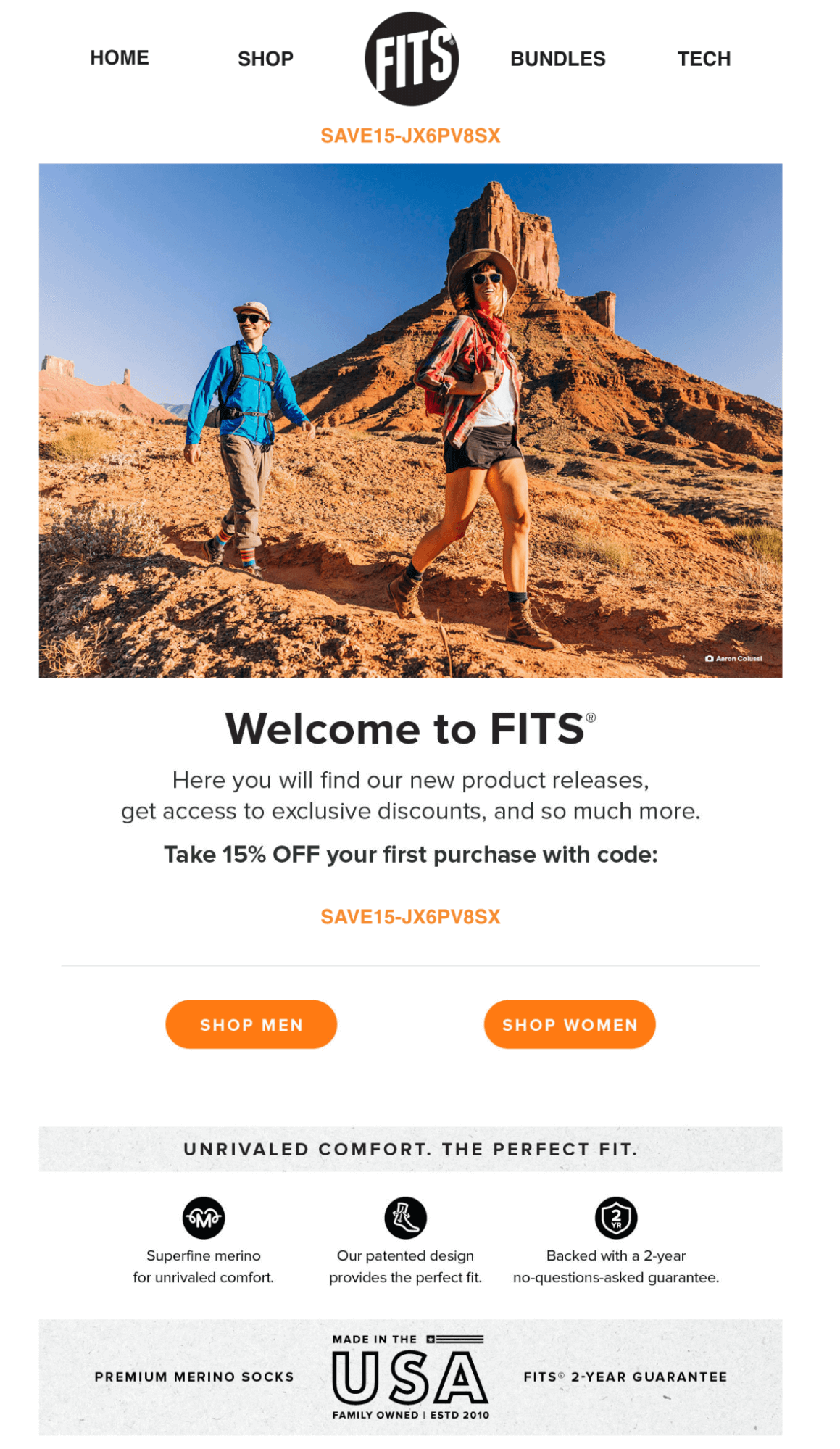 Example 👇
Subject line: Insider's subscriber-exclusive benefits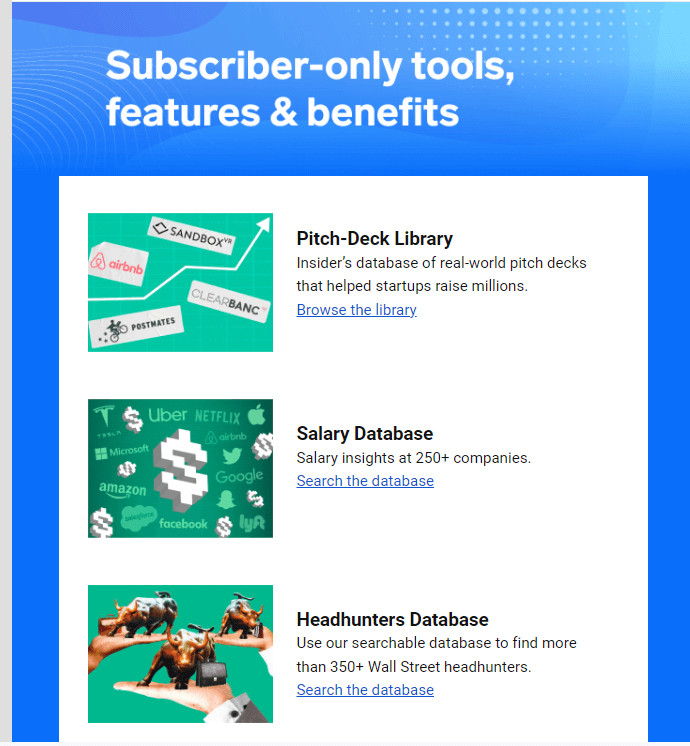 Add recipients' names
The simplest way to personalize a welcome email subject line is to include the name of the new subscriber. Simply doing that can increase the open rate because it makes people feel like the email is really for them.
If you're like most website owners, you probably have an email sign-up form on your site. And if you don't, you should! Having an email sign-up form is a great way to grow your list of subscribers.
But there's one important element that many people overlook when creating their form: the "name" field. Your website email signup form must include the "name" field. This will help you build an email list with the names and email addresses of your subscribers.
You can then use this to send personalized emails like the example below.
Example 👇
Subject line: [First name], you have a good eye!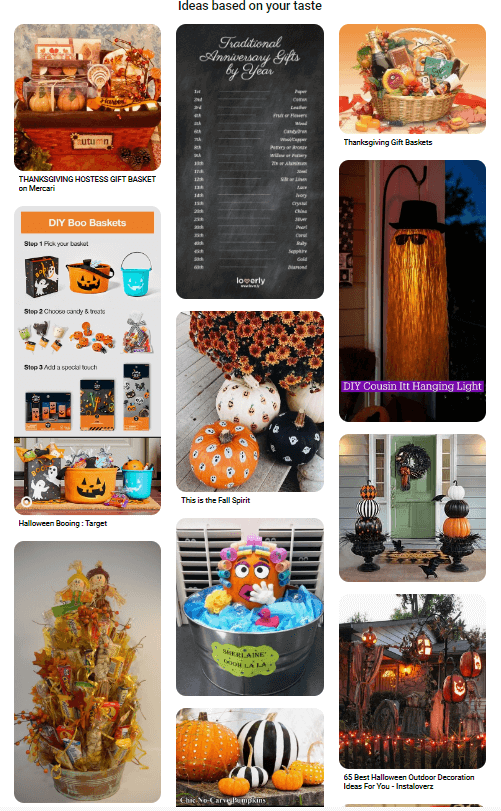 Use your brand's tone and voice
Subject lines in welcome emails are the best reflections of your brand and an opportunity to give newcomers a sense of your brand personality.
This is why it is important to choose the right tone of voice. Whether you want to be friendly, funny, or professional, make sure your subject line reflects your brand.
For example, if you're a travel brand, you might use a subject line like "Ready to explore?"
If you're a more serious brand, something like "Welcome to our community" might be more appropriate. Either way, make sure your subject line is attention-grabbing and sets the tone for the rest of your email.
Example 👇
Subject line: To all you cookie monsters!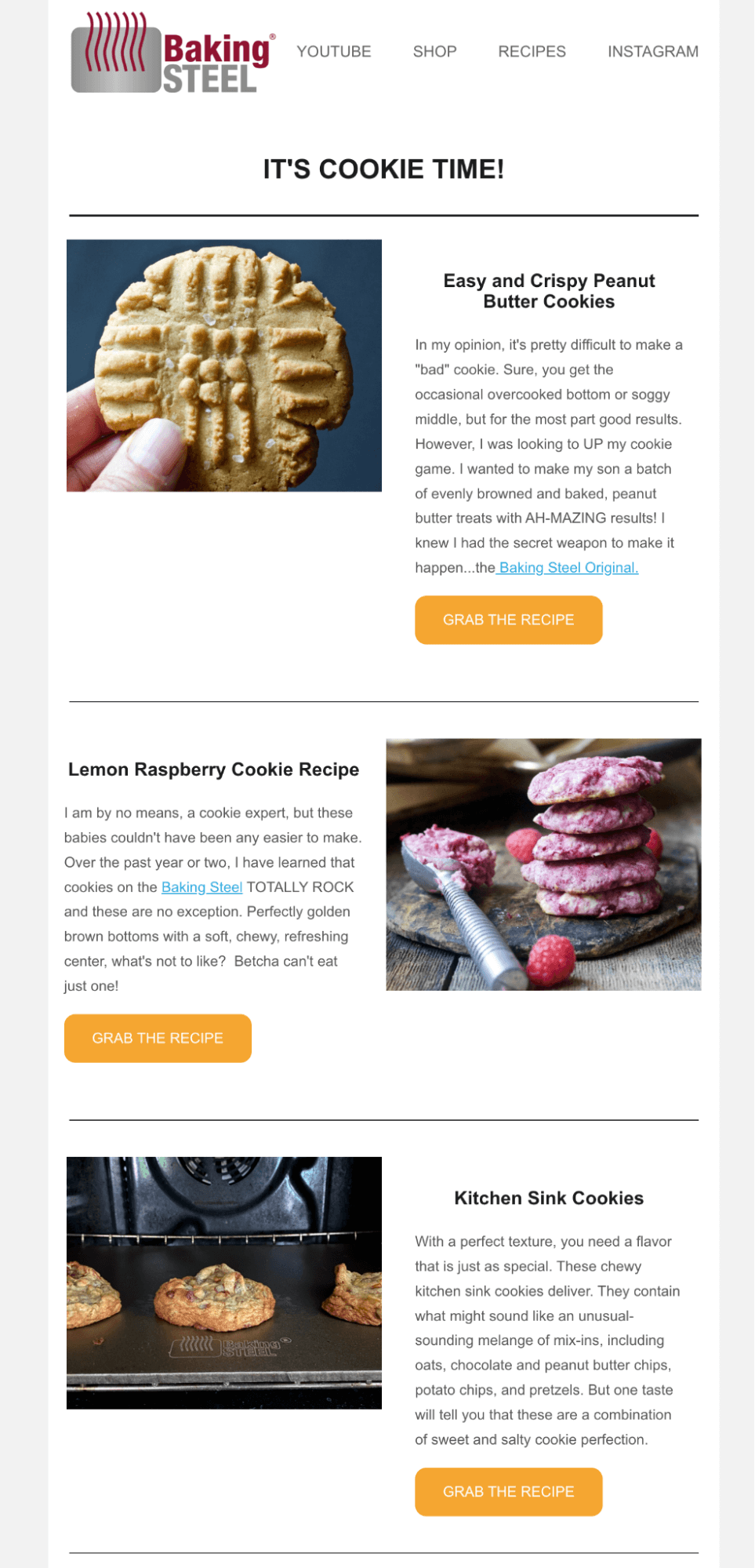 Here are a few tips to help you identify your brand's voice for email marketing:
Keep it consistent with your overall branding. Your email subject lines should reflect the same tone and style as your other marketing materials, such as your website content and social media posts. This will help create a cohesive and recognizable brand identity that customers will come to know and trust.
Make sure it's appropriate for your audience. The tone of your email subject lines should be matched to the demographic of your recipients. For example, if you're selling children's toys, you'll want to use a more playful and whimsical voice than if you were selling business software.
Keep it short and sweet. Subject lines that are too long or complex are likely to be ignored altogether, so keep yours concise and to the point. Try to stick to around 50 characters or less, and make use of descriptive action words.
Test different types of subject lines. Not all email subject lines will resonate with every subscriber, so it's important to experiment with different types of messages and structures until you find one that works.
Leverage numbers and stats
According to the previously-cited study by Yesware, using numbers in email subject lines result in higher open rates.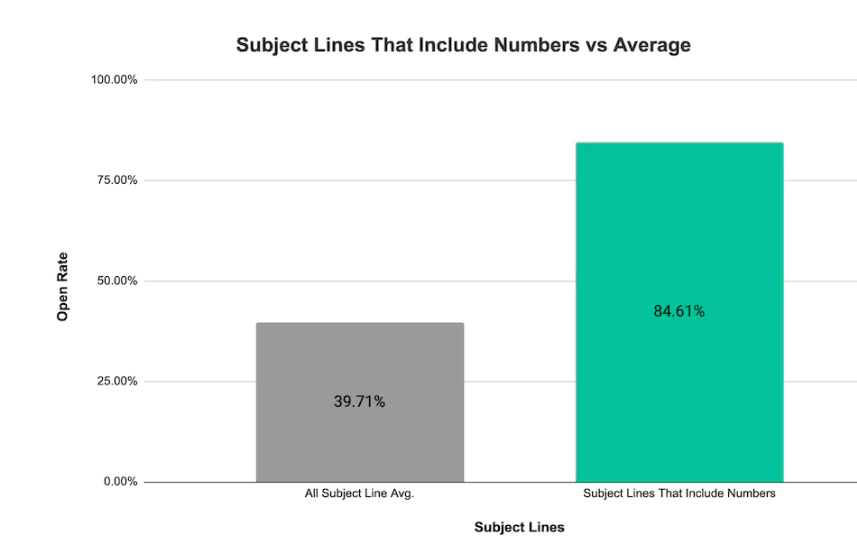 Numbers and statistics can be very useful in welcome email subject lines, as they can help convey a sense of urgency or importance.
For example, if you're announcing a special offer that is only available for a limited time, including the number of days or hours left in the subject line can encourage recipients to act quickly.
Similarly, if you're sharing important news or information, using numbers to highlight key points can help to ensure that your message is read and understood.
Here are some examples of subject lines with numbers.
Example 👇
Subject line: 7 Habits of Highly Effective BI Teams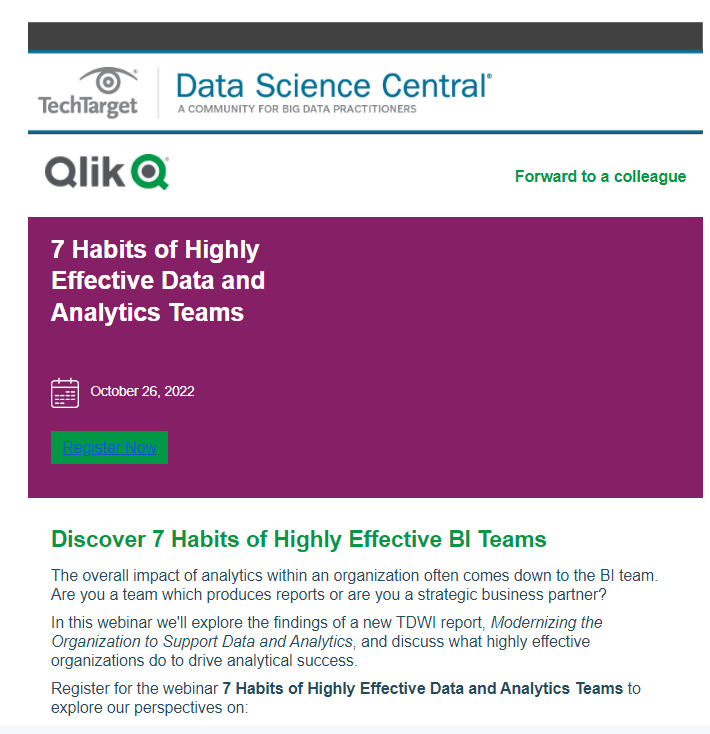 Example 👇
Subject line: 40% off Premium ends tomorrow!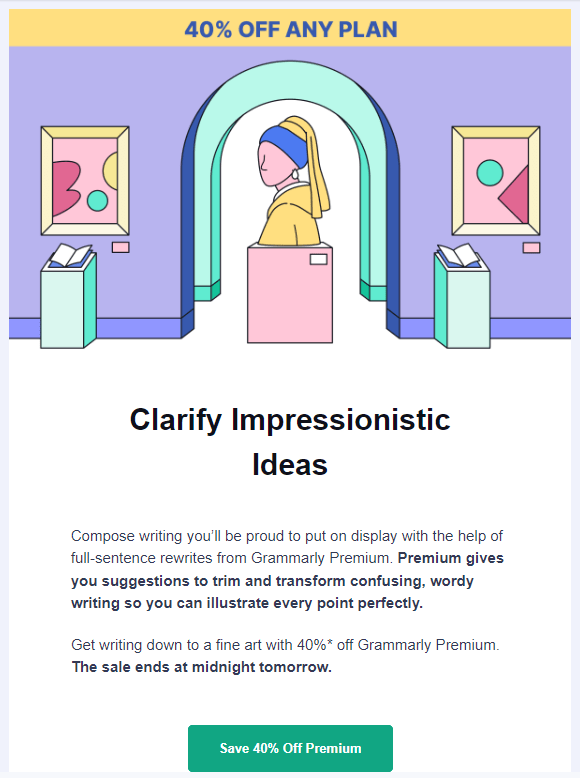 Related content:
👉 How to create a welcome email template (+ examples)
Avoid spammy words
While we've mentioned the 'do's' of crafting perfect welcome email subject lines, there are also some 'don'ts."
Be sure to avoid using spam words which are certain trigger words that activate the spam filter. These include words such as "cash off," "weight loss," "miracle,""100% free," and 'cheap," as well as symbols such as"$$$."
You can refer to this table to know what trigger words to avoid using in your welcome email subject lines:
Pro tip: Write multiple welcome email subject lines and A/B test them to know which ones deliver the most impact.
Ready to leverage the power of welcome emails?
There you go! These tips on crafting welcome email subject lines will ensure you're making the best possible impression on your subscribers.
While all these tips are useful, choose what makes the most sense for your business.
Whether you're just starting out with email marketing or you've been doing it for a while, it's always a good idea to test your welcome email subject lines.
With Omnisend's free subject line tester, you can figure out what works best for your audience and what gets them to open and click through your emails.
So don't be afraid to experiment — it could mean the difference between a successful campaign and one that falls flat.
related features
Want more sales?
Omnisend has everything you need to succeed.
Start free now
No Credit Card needed.