Drive sales on autopilot with ecommerce-focused features
See Features
Reading Time:
14
minutes
If you've already taken the leap into ecommerce, you know how profitable an online store can be. Buying products online is simply more convenient than going to a physical store—particularly in the age of COVID-19.
As ecommerce continues to grow, it's critical to keep your online store updated with new elements to keep your store a top performer that attracts customers and keeps their interest.
New elements like WooCommerce plugins or themes.
As the most popular CMS in the world, WordPress offers an unparalleled collection of themes and plugins. WooCommerce is a free WordPress plugin that makes it easy to turn your website into a fully functional online store.
According to BuiltWith reports, WooCommerce is now the most popular ecommerce solution on Earth.
Let's take a look at some of the best WooCommerce themes and templates to help you find the perfect fit for your online shop.
Boost your WooCommerce store's revenue by up to 85% using our email marketing plugin.
LEARN THE SECRET NOW
What to look for in a WooCommerce Theme
Every WooCommerce template is different, and what works for one website may not work as well for another. With that being said, there are a few basic features that you should look for in any new theme.
To find the best WooCommerce themes, look for:
Mobile friendly: First, make sure that any theme you're considering offers strong support for both desktops and mobile devices.

With most ecommerce sales occurring on mobile, you can't afford to use a theme with any compatibility issues in 2023.
Fast and light: Loading times and other metrics are also critical for maximizing sales. Visitors will only give your site a few seconds to load before looking somewhere else, and you don't want to lose any orders to technical hiccups.

While heavy text, different shortcodes, extra features and elements might add to your site's visual design, it's also important to consider their effect on performance.
Supports your customers, wherever they are: If you sell to an international audience, you'll also want to look for a theme that provides support for multiple languages and currencies.

Along with credit and debit cards, make sure to consider alternative payment methods. For example, PayPal, cryptocurrency, and mobile wallets.

Remember that each new payment method increases the size of your potential audience.
Integrates well with your current stack: Finally, don't forget to look for a plugin that will integrate with the rest of the features and plugins on your online store.

This includes WooCommerce itself. Most themes should play nicely with WooCommerce. However, it's a good idea to look for one that specifically mentions the ecommerce platform.
Of course, you know the needs of your online store better than anyone else. Before paying for a new theme, take some time to browse reviews and see what other users liked and disliked about the theme.
Don't hesitate to contact the developer directly if you have questions about specific features or compatibility concerns.
14 of the best WooCommerce themes for every ecommerce niche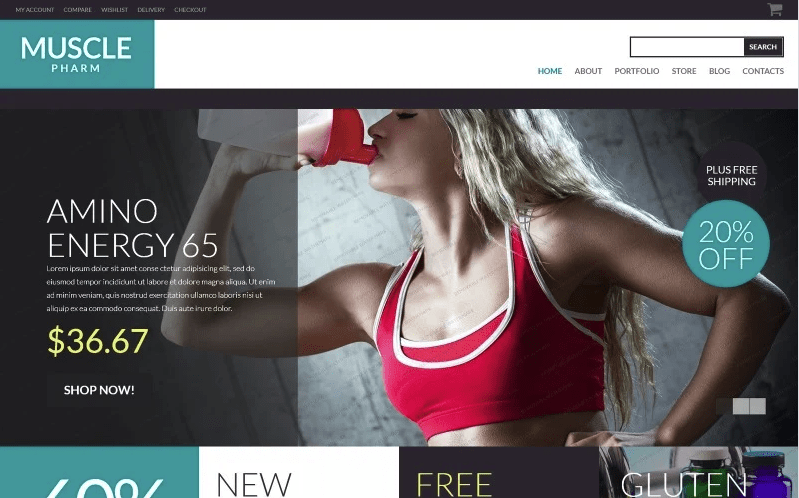 Main features: They say a picture says a thousand words, and Free Drug Store Theme prioritizes pictures. It comes pre-loaded with Retina-ready images as well as an image slider, so you can show your products looking their very best. This theme's base design also has an account toolbar at the top of the screen, plus a menu section with links to other pages as well as a prominent search bar. Support for parallax visual effects also gives your site a high-quality, professional feel with no coding required.
Price: Free to download once you share it on Facebook, Twitter, or LinkedIn.
Optimized for: Although any ecommerce site could use this theme, as the name suggests it's primarily aimed at brands selling supplements, medicine, or other health products. Free Drug Store Theme supports tablets and smartphones, loading nicely on both and allowing visitors to make purchases from any device.
Styles: Free Drug Store Theme has a single preset style, but its broad customization options will allow you to create the exact design you want.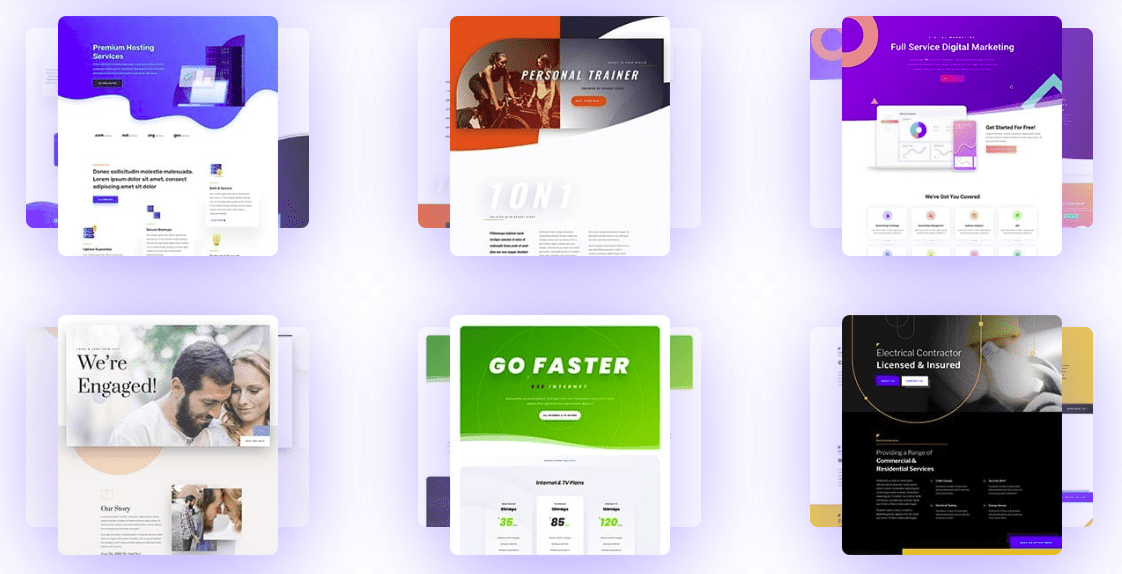 Main features: With more than 600,000 active installations, Divi is one of the most popular WordPress themes available (its webpage boasts that it's "the most popular WordPress theme in the world"). And for good reason: in addition to being a versatile theme, it also includes a page builder so you can fine-tune your pages. There are more than 800 premade website layouts to choose from, a drag and drop builder to make it just right, the option to create your own headers and footers, and you can make changes using custom CSS if you're comfortable.
Price: Divi can be purchased for $89 for a single year of updates and support. After that year, you can renew for the same price or keep using it for free—but be aware that you'll lose access to support and there won't be any updates. Alternatively, a one-time fee of $249 gives you lifetime access, including updates.
Optimized for: As a flagship theme for Elegant Themes, Divi is powerful, responsive across screen sizes, automatically reduces CSS and JavaScript files to improve load time, offers SEO features, and has heaps of customization options as well as a large library of pre-made layouts. In other words, it's suitable for almost anything you can imagine, and that's why it's used on so many websites already.
Styles: As you've probably worked out by now, Divi is versatile. Between the page builder, pre-made layouts, forms, sliders, CTAs, galleries, and custom CSS, you can really make your site everything you want it to be.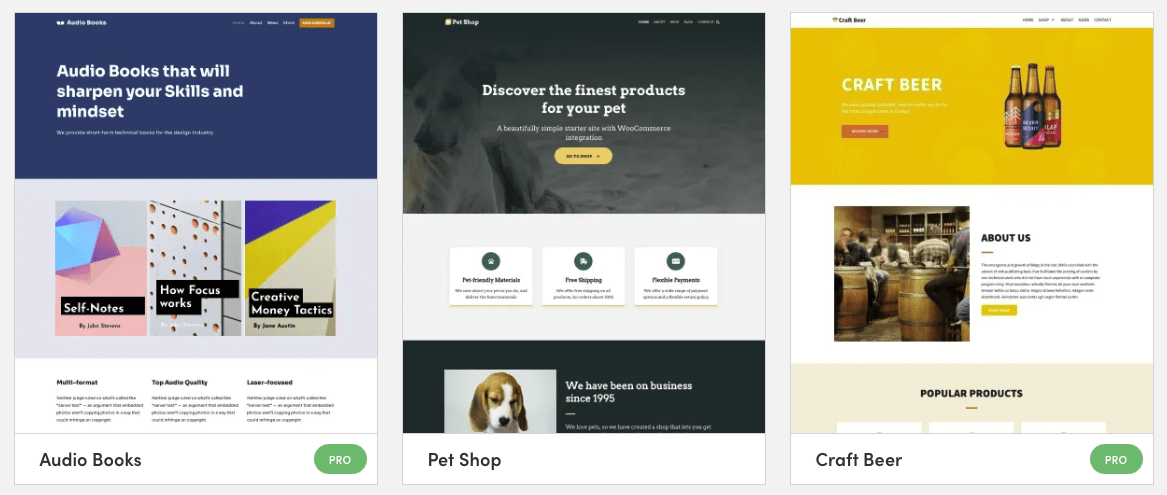 Main features: Neve is a powerful but flexible theme. It comes with more than 100 pre-made starter sites in its library, with new ones added every month. It's compatible with Google's AMP, has a drag and drop builder to customize to your liking, and is known for its speed.
Price: Neve has three pricing plans: Personal for 69eur a year, Business for 149eur a year, or Agency for 259eur a year. Each plan allows the theme to be used on unlimited sites, with Business and Agency offering additional features including WooCommerce Booster and enhanced support.
Optimized for: Neve is a mobile-first theme, guaranteeing that visitors can easily navigate and buy from your store on their phones. It's also been designed for a smooth integration with WooCommerce, boasting ecommerce features like a floating cart, catalog layouts, wishlists, a gallery slider, and optimized checkout layouts to make the buying process faster and easier.
Styles: Already used by ecommerce stores of almost every type, Neve can be customized to your liking.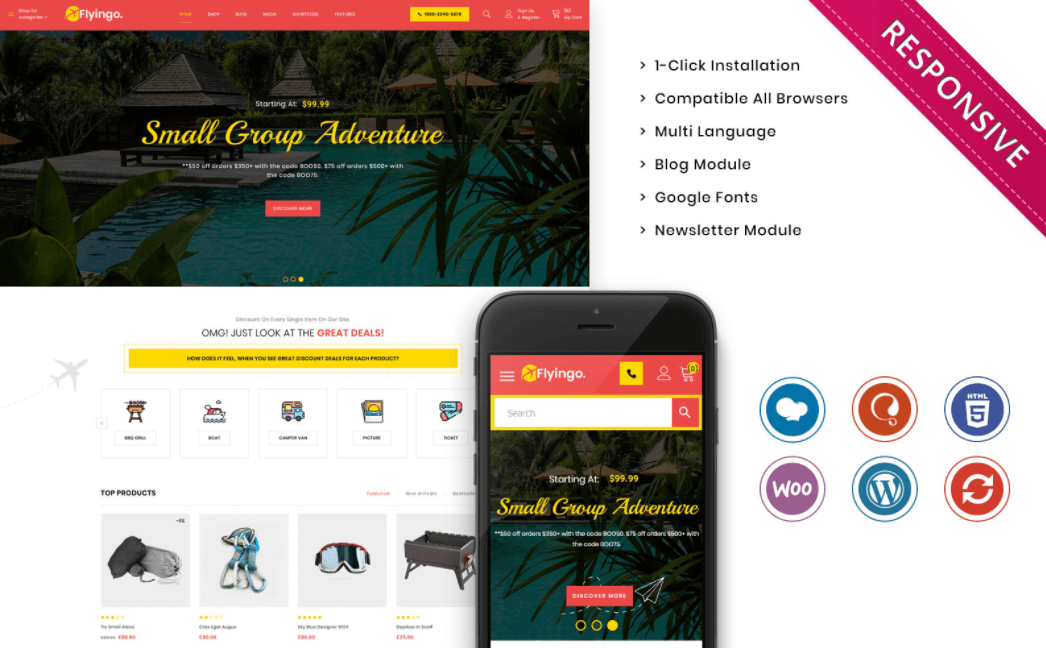 Main features: Flyingo's eye-catching centerfold is ideally designed for promotional codes, limited-time discounts, and other exclusive offers. This is a feature-rich theme ideal for ecommerce stores, with various layout options including a category grid and category list to help visitors find what they're looking for.
Price: A personal license is $94, a commercial license $122, and business license $294. Unlike other top WooCommerce themes, the personal license doesn't allow an end product to be sold with it, so ecommerce stores would need at least the commercial license. Flyingo also offers additional services that can be purchased separately, including six more months of support ($28), all-in-one store customization ($1,479), and GDPR & CCPA compliance new privacy rules ($89).
Optimized for: Flyingo is ideal for businesses in travel and tourism, with support for international currencies and foreign languages, including Arabic and Hebrew which are read from right to left instead of left to right. It's a responsive theme that looks beautiful on any screen size.
Styles: Flyingo is a clean theme with no shortage of features. Although it doesn't have pre-built layouts to use, its site builder and modern features allow you to build your store the way you want it.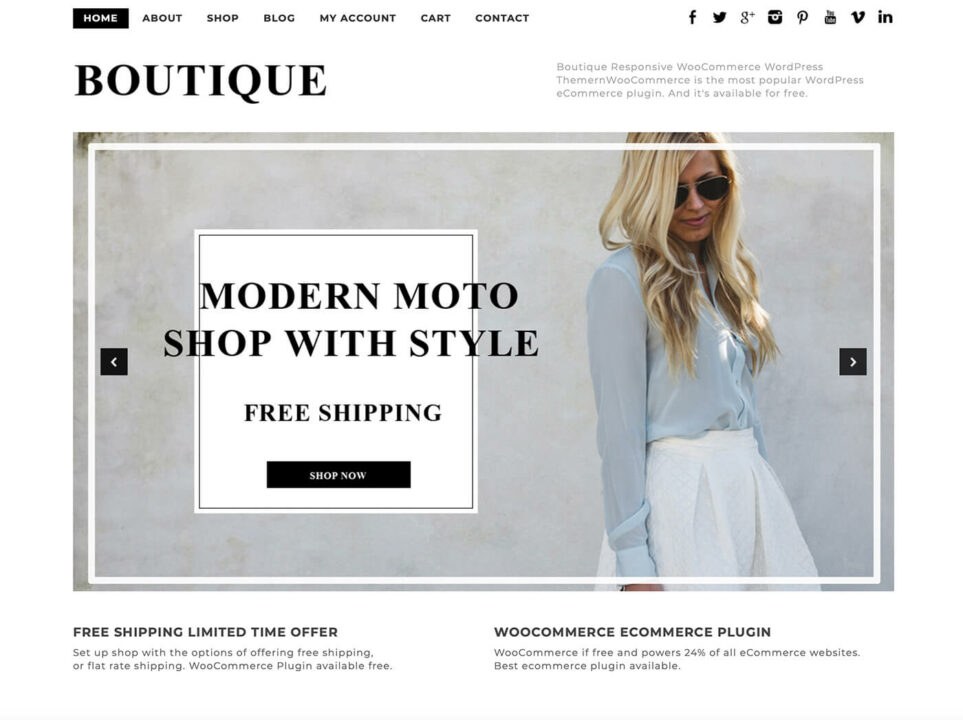 Main features: The boutique is a clean, simple, and elegant theme without any distractions, focusing on your products. This theme has a built-in fully responsive slider and carousel on the homepage so you can feature your best products and special offers. With a footer widget, you can add your shipping information, privacy policy, and email signup.
Price: Free to download, or $49 for a premium version with support and extra features.
Optimized for: From modern watches, beautiful dresses, and designer bags to sunglasses or even beauty products selling fashionable items online has become increasingly popular. Whether you have ten or thousands of products to sell, you can display your product in a modern and clean fashion. People love to shop online for luxury brands or boutique-related products, so opening a profitable eCommerce store and selling to hundreds of potential customers from anywhere in the world.
Styles: The boutique theme has a simple modern style perfect for clean and minimalistic online stores; with a customizer, you can easily change header and footer colors to fit your overall brand.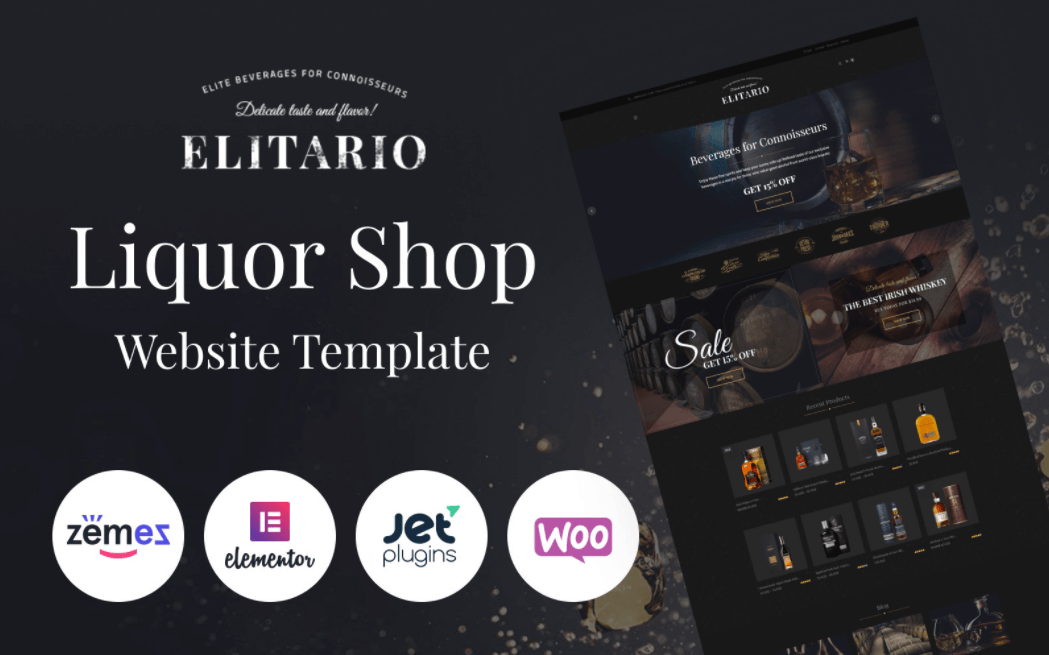 Main features: Elitario's live demo features a dark splash screen, a headline, offer, and a single CTA—an excellent way to show visitors your main message, whether that's a product to sell or an invite to join your email list. Its dark appearance adds a layer of sophistication, and there's everything here to engage visitors: promotions, testimonials, and a blog interface.
Price: Like Flyingo, there are three pricing options: Personal at $79, Commercial at $103, and Business at $279, with ecommerce stores requiring at least a Commercial license to sell products. There are also add-ons that you can purchase, including six additional months of customer support ($24), all-in-one setup ($1,479), core plugins ($79), and GDPR/CCPA compliance ($89).
Optimized for: Elitario is a WooCommerce template aimed at online liquor stores and beverage vendors. It includes the ability to filter by price, size, and age so visitors can find the bottle they're looking for. Visitors can also open an account and create a wishlist. On top of that, there's one-click installation, high-quality stock images to add pleasing visuals to your store, and it comes loaded with the popular Elementor page builder. Elitario also offers a set of powerful JET plugins, including but not limited to Woobuilder, Tabs, Blogs, Productgallery, and Elements.
Styles: Like Flyingo, Elitario doesn't offer pre-built layouts to choose from so there's only one style to choose from. Once installed, you can use Elementor to customize the layout and appearance.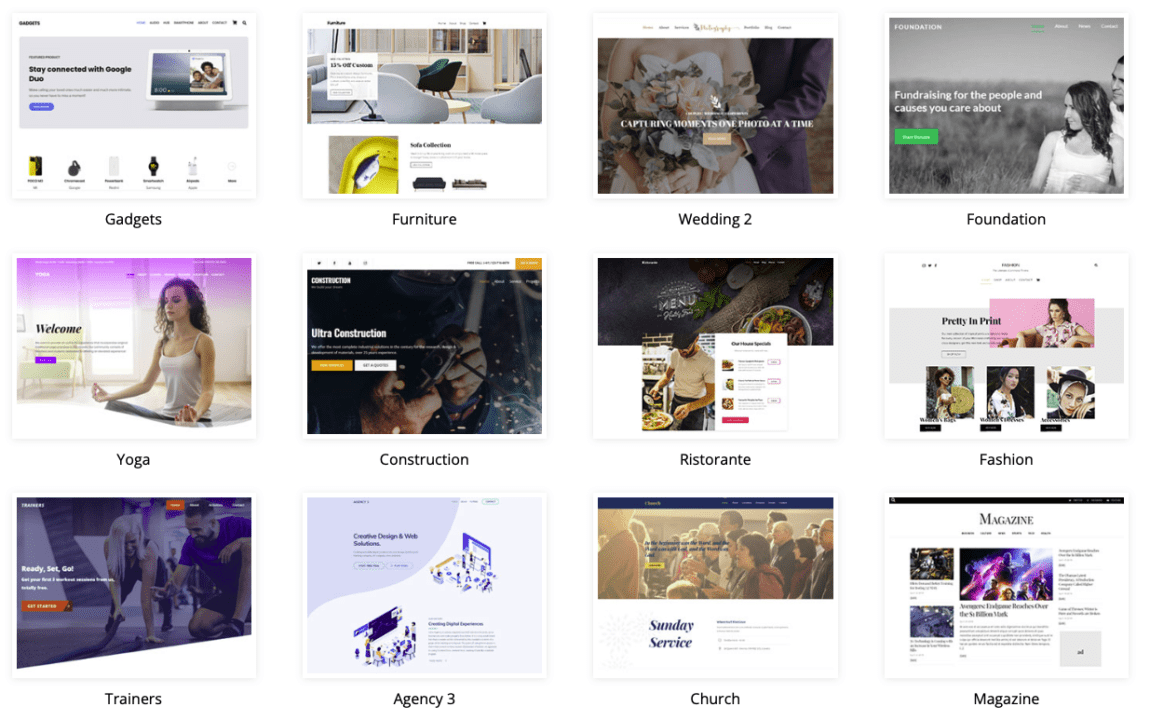 Main features: Ultra comes with a ready-made WooCommerce website with demo content, which you can use to get started quickly. There are additional pre-designed layouts to choose from, and the Themify builder offering powerful and easy customization. Ultra sites can have beautiful splash screens, store layouts, sticky or transparent menus, multiple columns, image sliders, and almost anything else you can think of.
Price: Ultra can be purchased for $59 with one year of support and updates, and it can be used on as many sites as you want. As Ultra is a Themify theme, for $89 you can get all 42 of Themify's themes (including Ultra), as well as 11 plugins and 25 builder addons with a year of support and updates. For lifetime access, support, and updates, there's the $249 Master Club.
Optimized for: The sky's the limit here. Themify has a reputation for making beautiful and versatile sites, and Ultra is no exception—it's used by rental ski resorts, bloggers, architects, therapists, IT companies, and, of course, ecommerce stores. It comes loaded with 12 free Builder addons including WooCommerce builder.
Styles: Ultra has pre-made demo sites to install as well as design skins, which means you can import a demo setup—complete with menus, widgets, and settings—and apply a new skin to transform the appearance. There are over 60 pre-designed layouts, plus custom styling, animations, video backgrounds and the option to customize with the drag and drop builder. There are 17 header/page styles to choose from, five single post layouts, six header background options, preset typography as well as Google Fonts, and the ability to hide any element in the header and footer. There's also WooCommerce integration, which matches the shop with your theme appearance for a seamless experience.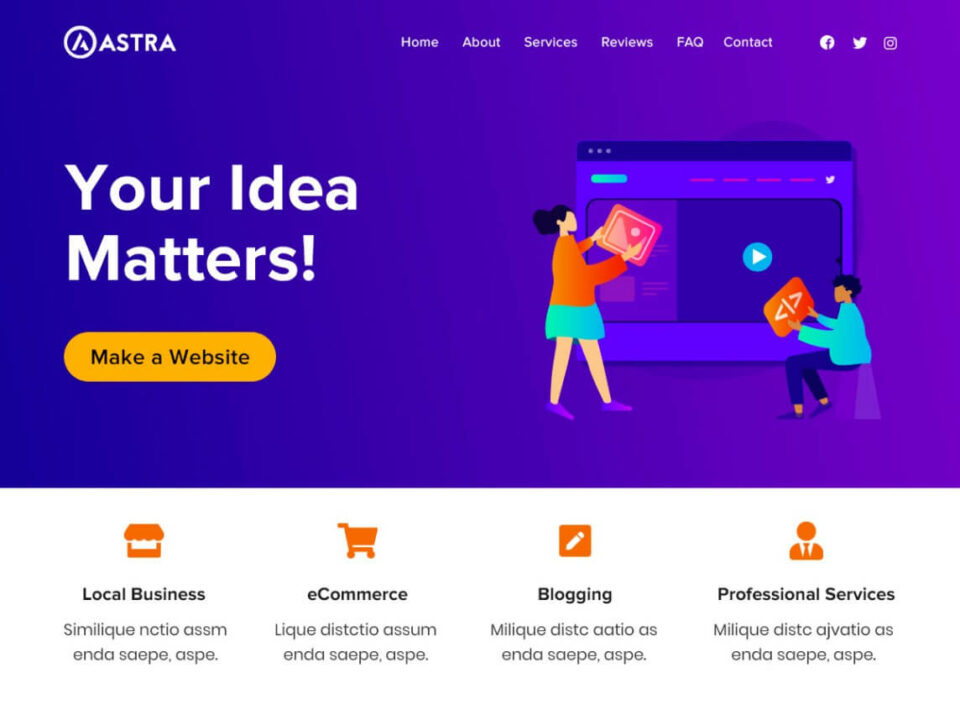 Main features: Astra advertises itself as the most popular WordPress theme of all time, and it's easy to see why. It offers all the tools WordPress and WooCommerce administrators need to create a beautiful site that matches their unique image. It provides numerous WooCommerce-specific features tailored to the needs of online stores: customize the checkout process, build store pages with a drag and drop interface, and configure a quick product view that allows visitors to see product details without clicking through to a separate page.
Price: Astra can be used for free, or upgrade to one of three options. Astra Pro is $47 per year when paid annually and it offers various premium features plus premium support and can be used on unlimited websites. The Essential Bundle is $137, offering everything in Pro plus starter templates and the choice of two Ultimate Add-ons packs: one for Elementor, one for Beaver Builder. The $187 Growth Bundle gives access to every feature, including future products, plus both builder add-ons and access to SkillJet Academy.
Optimized for: Astra is a WooCommerce theme, so it's been built with ecommerce in mind. That includes a "conversion ready checkout," optimization for mobile users, a dropdown cart, product catalog, quick view for products, and much more.
Styles: With more than 230 pre-built layouts to choose from, plus the Pro tiers giving advanced customization options, Astra websites can be whatever you want them to be.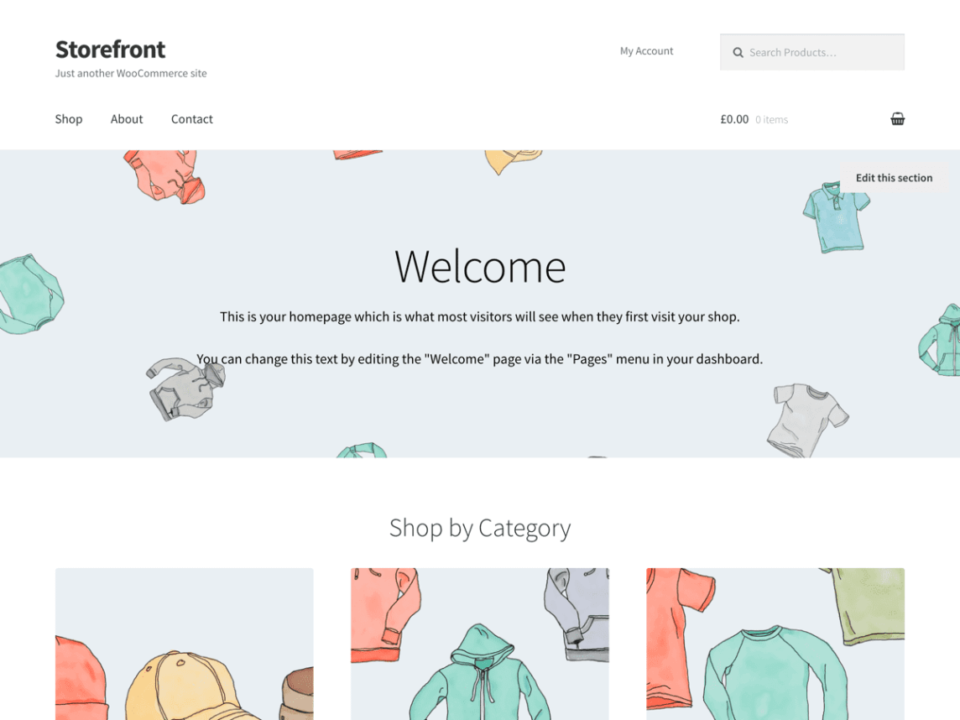 Main features: Storefront is an official WooCommerce theme that offers seamless integration with the WooCommerce platform including its extensions, and is especially designed for ecommerce stores. With over 5 million total downloads, it's one of the most popular free WooCommerce themes among vendors in a wide range of verticals. Storefront is built and maintained by WooCommerce core developers, giving you peace of mind that theme or plugin updates won't cause conflicts.
Price: Free, with options to pay for enhanced features. A $69 annual subscription unlocks additional tools—like a pricing table, parallax, product sharing, mega menus, and more—and personal support. Alternatively, individual products can be purchased if the entire bundle isn't needed.
Optimized for: Built for ecommerce stores, Storefront is one of the best free WooCommerce themes, with the download figures to prove it. Enjoy product categories, plus recent, featured, on-sale, or top-rated products all on the homepage. There's a flexible grid system and enhanced SEO performance to help interested buyers find you.
Styles: Storefront is intentionally clean and simple, providing a good starting point for your store. From there, the variety of design options and plugins help you build.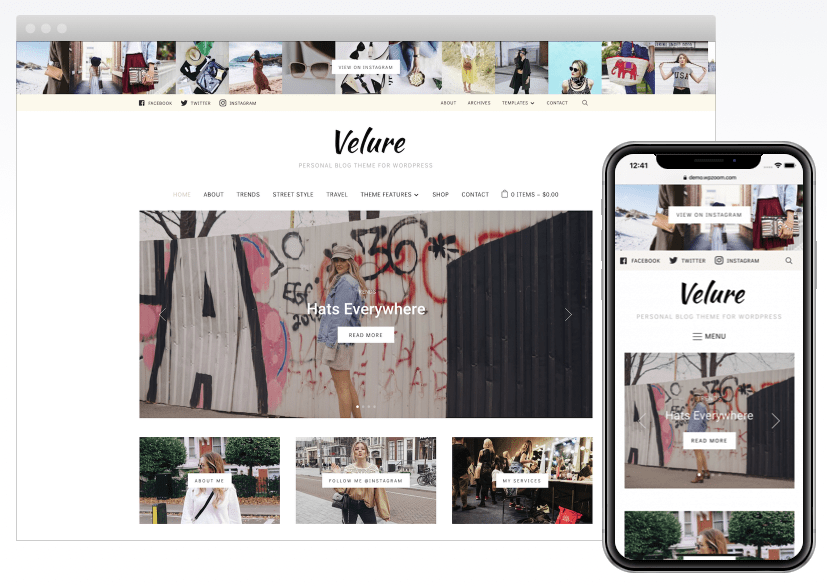 Main features: Velure is a clean and classic WooCommerce theme, with plenty of customization options. It's a responsive theme so perfectly adjusts to the screen size it's being viewed on—ensuring your customers can buy from you on their phones too. There are useful widgets available, including email sign-up to grow your email list and social icons to help increase your following.
Price: The Personal plan is 69eur a year and allows the theme to be used on unlimited sites, and includes updates and support for a year. The Lifetime plan is a one-off 159eur payment, with lifetime updates and support. Alternatively, the All Themes Package provides 31 themes for 99eur a year.
Optimized for: Velour's design is ideal for fashion and furniture brands, but it's flexible enough to be used by any ecommerce store. One of the theme's standout features is an Instagram bar at the top of the screen, showing your latest photos and encouraging site visitors to look at your profile.
Styles: There are four color schemes to choose from, and the customizer shows real-time previews as you make changes.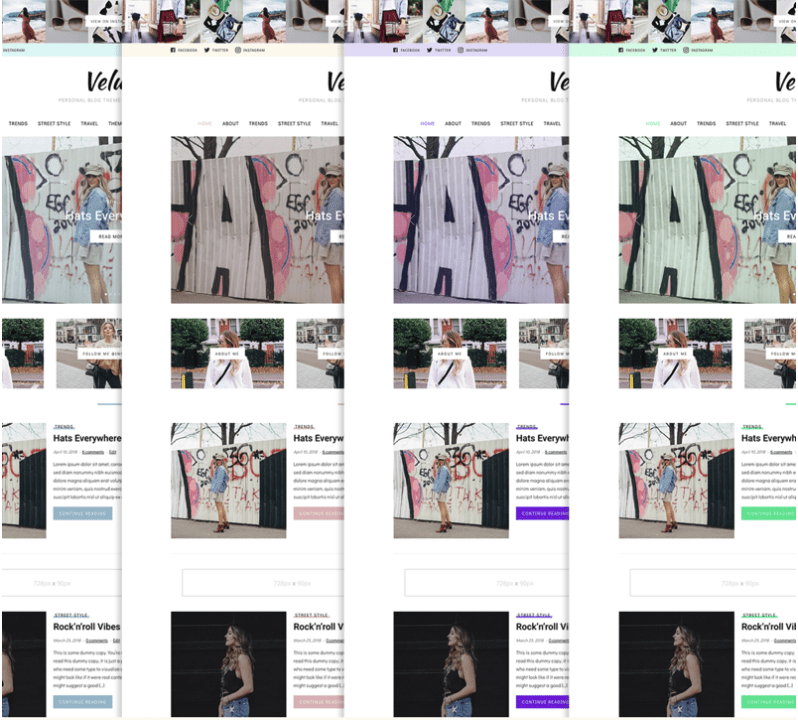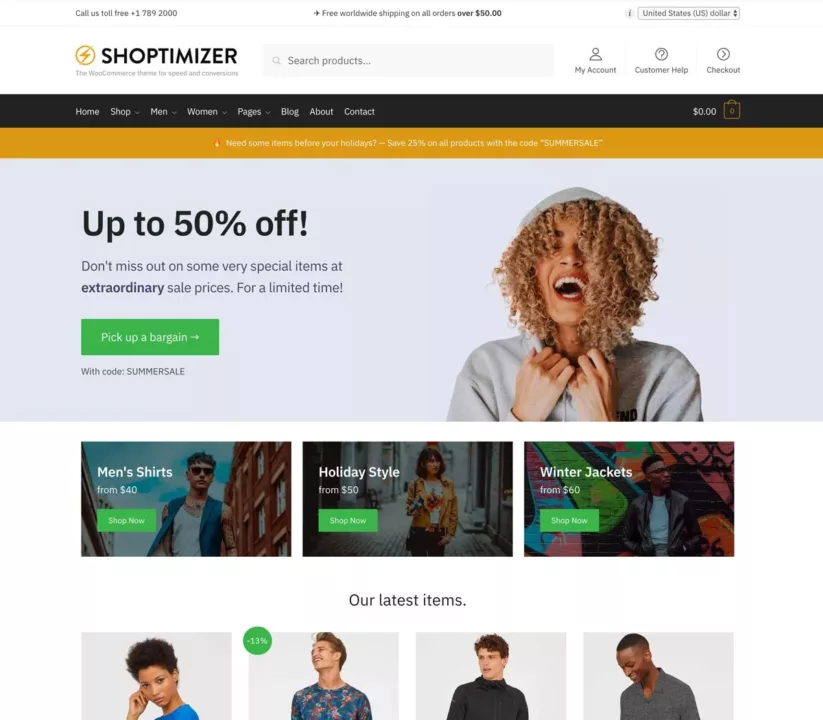 Main features: Shoptimizer is a fast WooCommerce theme with a focus on speed, design, and conversions—all crucial factors for an ecommerce store. The design options include the ability to remove the header, footer and sidebar on the checkout page, so the payment form has no distractions and this may help to increase conversions.
Price: $99 with one year of updates and premium support.
Optimized for: This is a powerful ecommerce theme with helpful features for store owners. You can add sales countdowns on single products, trust badges for social proof, make product details sticky on scroll, and add additional product information beneath the buy button. These are all features designed to help you make more sales. In addition to these, the theme has SEO enhancements, Elementor page builder, and pre-designed pages to get started quickly.
Styles: Shoptimizer is capable of creating sites and stores in a range of styles. The theme comes with pre-designed pages for Home, About, Contact, FAQs, and sales pages, all of which are included with the one-click demo. There's also a customizer to make adjustments, and Elementor to let you really create as you want.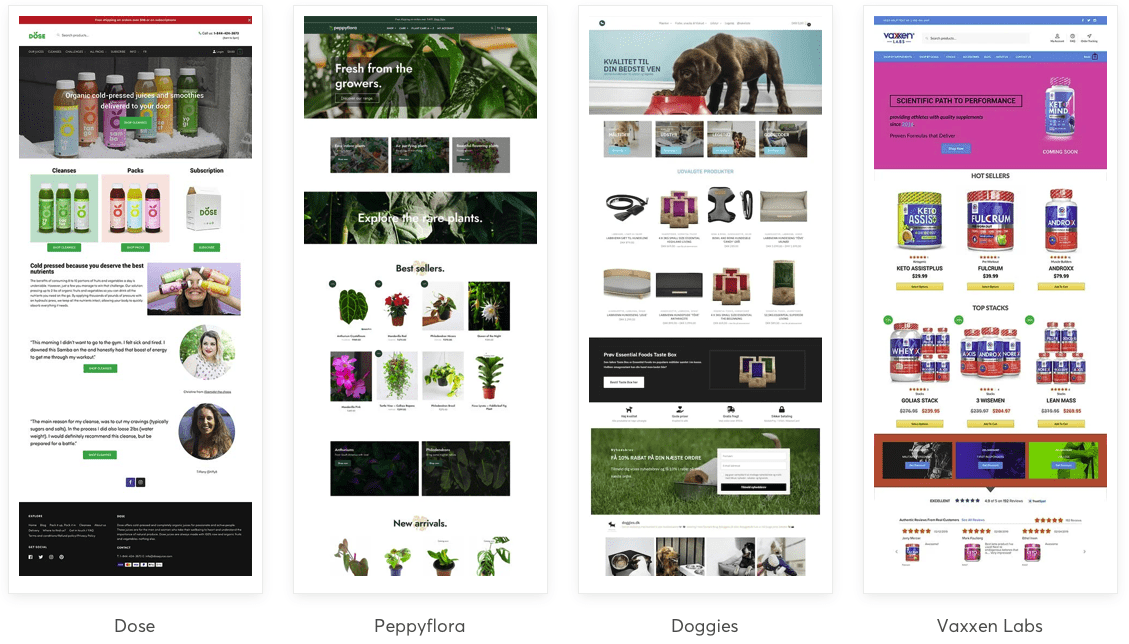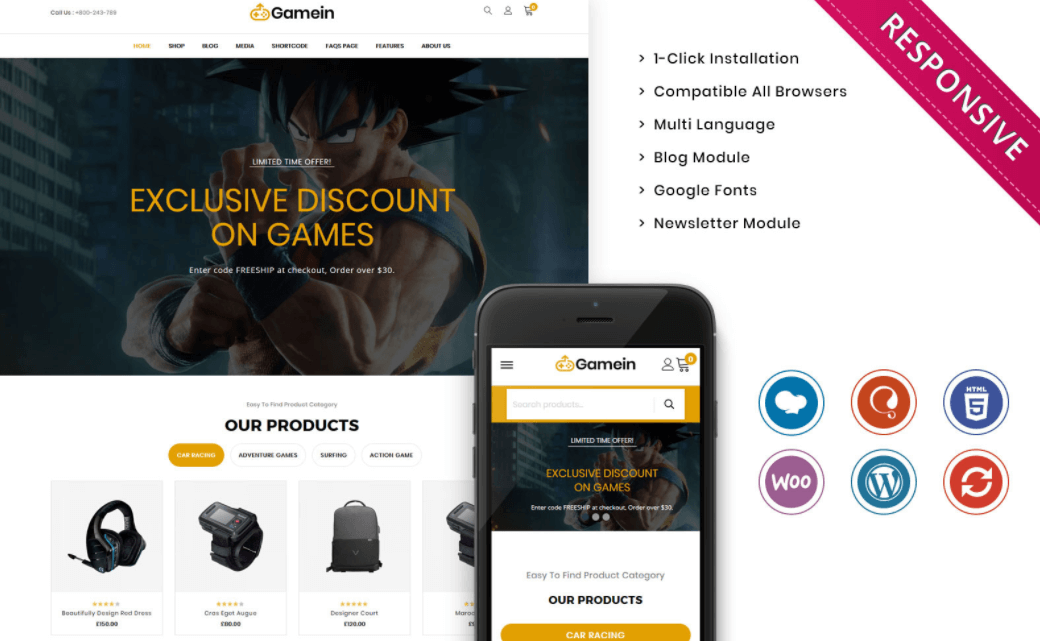 Main features: Gamein is an outstanding WooCommerce theme for any store that sells games, consoles, or other gaming-related products. The homepage features customizable branding as well as contact information, a search bar, and a link to the visitor's profile. Beneath those are sections for promotions, product listings, feature descriptions, testimonials, and blog posts.
Price: A personal license costs $59, a commercial license $77, and a business license $259. Like some other themes in this list, a personal license doesn't permit products to be sold so ecommerce stores will require at least a commercial license. Alternatively, there's the MonsterONE subscription program which offers 24/7 support, access to over 250,000 items, and 35% discount on exclusive items. There is also the ability to purchase individual add-ons, including six months of additional support ($18), all-in-one customization ($1,479), must-have plugins ($79), and GDPR & CCPA Compliance ($89).
Optimized for: Gamein is a mobile-first, responsive ecommerce theme. It offers support for RTL languages and useful ecommerce features, including advanced product search, cross-selling options, product preview pop-ups, product comparisons, and the ability for visitors to create wishlists.
Styles: Gamein comes with a single style but there are multiple colors to choose from. It also has a page builder to enable you to create your store the way you want it.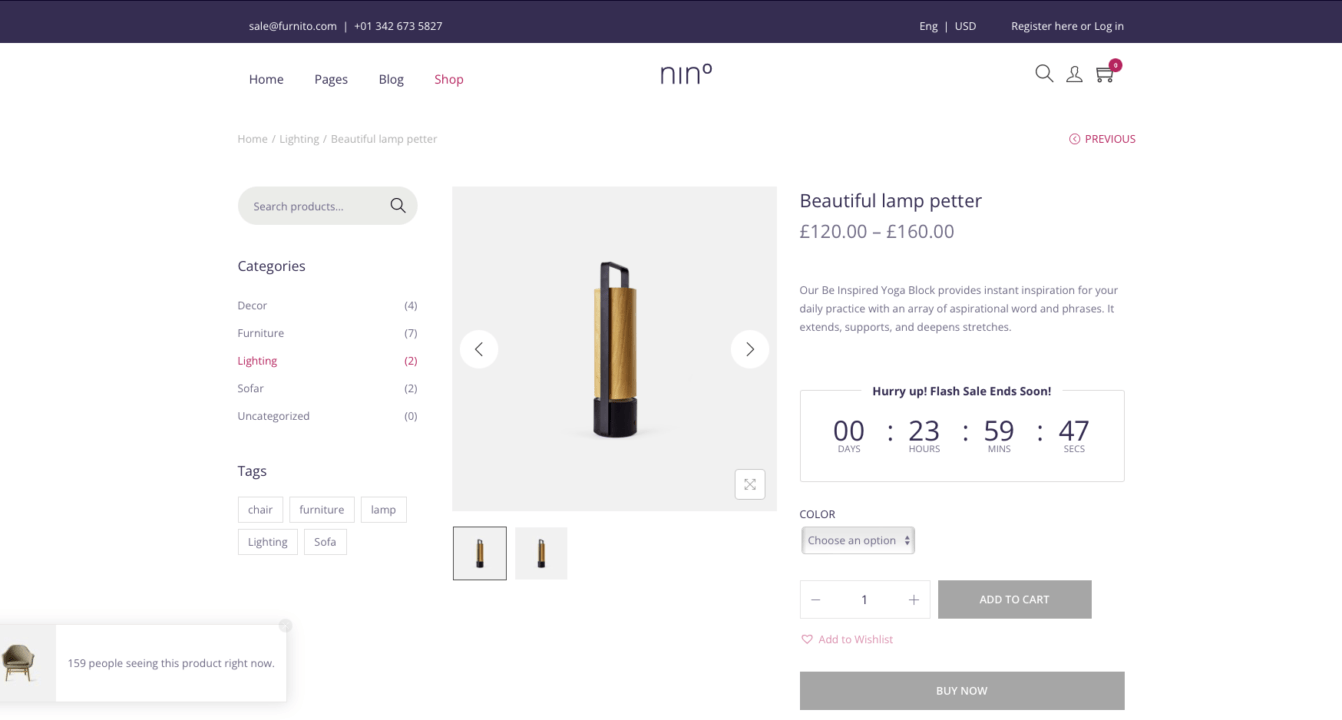 Main features: Woostify is a free WordPress theme that's specifically designed to be compatible with WooCommerce stores. Its demo sites highlight its versatility, with stores created for everything from furniture to jewelry and pets to pizza.
Price: Free. For additional features, there are three plans for Woostify Pro: Personal ($49/year), Professional ($79/year) and Agency ($129/year). This gives you access to add-ons including starter sites, countdowns, headers and footer builder, Woobuilder, a Buy Now button, product quick view, and more. However, the only difference between the three paid tiers is how many sites are supported, with Personal allowing usage on a single site, Professional allowing three sites, and Agency allowing unlimited.
Optimized for: Woostify is a popular free ecommerce theme. Its lightweight design has minimal performance impact, and it's flexible enough to work for practically all kind of online store. The starter sites include templates for everything from fashion and cosmetics to furniture and cars. It also supports RTL languages and translation.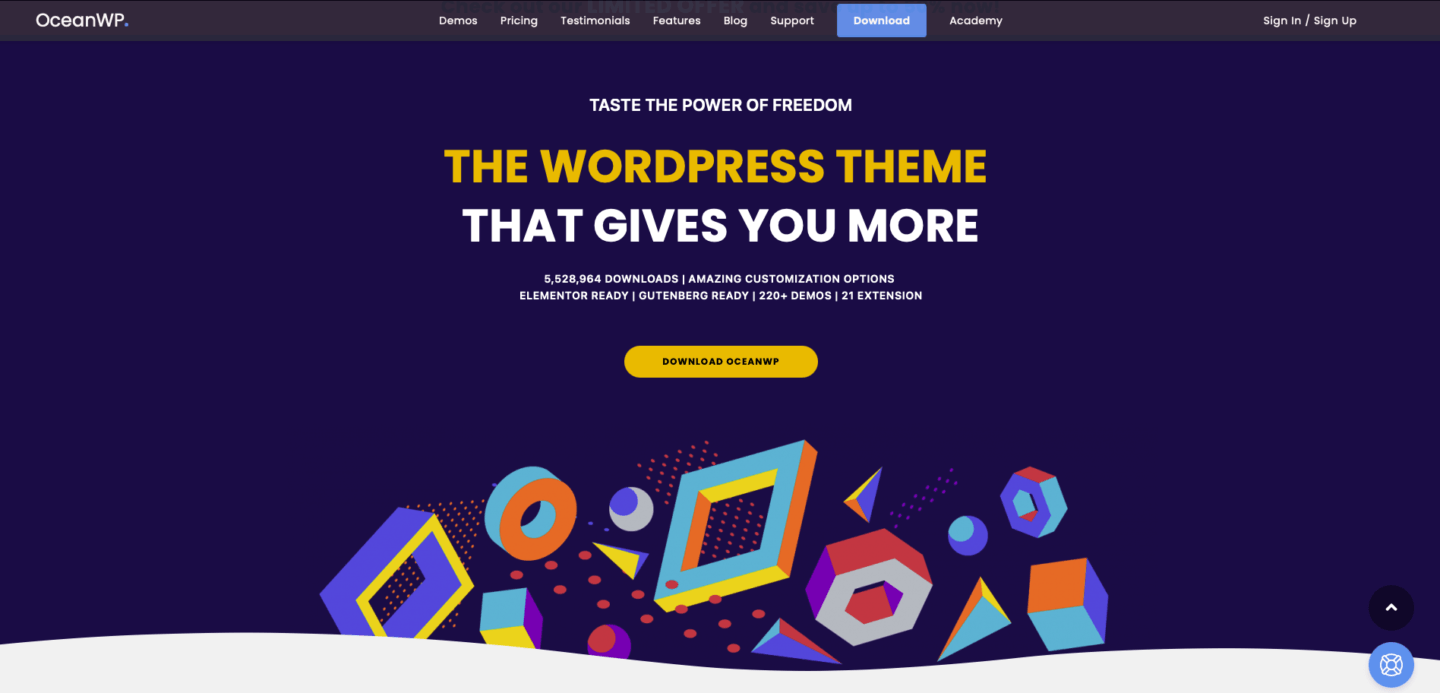 Main features: OceanWP is one of the top free WooCommerce themes, with over 5 million downloads. It works with several page builders including Elementor and Beaver Builder, making it easy to customize your site to your unique needs.
Price: Free. For additional options, the Personal Plan is $43 a year and can be used on three sites. The Business Plan is $71 a year and can be used on six sites. The Agency Plan is $127 a year and can be used on 50 sites. The paid plans provide 12 months of premium product updates and customer support, additional extensions, royalty-free images, and pro demo sites.
Optimized for: OceanWP is a lightweight and fast WooCommerce template, with plenty of customization options. It's fully responsive and RTL language ready. There are more than 220 templates to choose from if you want to get started quickly, or you can create your site from scratch. There are seven customizable header styles, a top bar for features like a social menu, and three different mobile menu styles to choose from. The WooCommerce integration includes page styling for your shop and individual product pages, and a multi-step checkout.
Styles: With the templates, demos, support for page builders, built-in header styles, global fonts, global site layouts, and ecommerce tools, OceanWP is an ideal platform for whatever style you're looking to achieve.
Want to get even more out of your WooCommerce Themes? Check out more resources for WooCommerce:
Wrap Up
Whether you're starting out or you're already established but your site needs an update, one of these WooCommerce templates could do just the trick.
Your theme and overall site appearance will dramatically impact your results as an ecommerce vendor. From customization and visual design to loading times and mobile performance, it's critical to find a theme that meets the needs of your store.
These are just some of the top WooCommerce themes we've seen in 2022. Each of these works wonderfully with Omnisend. To see how, get started with Omnisend for free today.

related features
Want more sales?
Omnisend has everything you need to succeed.
Start free now
No Credit Card needed.