Drive sales on autopilot with ecommerce-focused features
See Features
Reading Time:
12
minutes
If you've already taken the leap into ecommerce, you know how profitable an online store can be. Buying products online is simply more convenient than going to a physical store—particularly in the age of COVID-19.
As ecommerce continues to take over more and more of the market, new online stores are emerging every day. In such a saturated market, it's critical to keep your online store updated with new elements to keep your customers' interest.
New elements like WooCommerce plugins or themes.
As the most popular CMS in the world, WordPress offers an unparalleled collection of themes and plugins. WooCommerce is a free WordPress plugin that makes it easy to turn your WordPress website into a fully functional online store.
According to BuiltWith reports, WooCommerce is now the most popular ecommerce solution on Earth.
Let's take a look at some of the best WooCommerce themes and templates to help you find the perfect fit for your online shop.
What to Look for in a WooCommerce Theme
Every WooCommerce theme is different, and the right template for one website may not work as well for another. With that being said, there are a few basic features that you should look for in any new theme.
A great WooCommerce theme is:
Mobile friendly: First, make sure that any theme you're considering offers strong support for both desktops and mobile devices.

With most ecommerce sales occurring on mobile, you can't afford to use a theme with any compatibility issues in 2022.
Fast and light: Loading times and other metrics are also critical for maximizing sales. Visitors will only give your site a few seconds to load before looking somewhere else, and you don't want to lose any orders to technical hiccups.

While extra features and elements might add to your site's visual design, it's also important to consider their effect on performance.
Supports your customers, wherever they are: If you sell to an international audience, you'll also want to look for a theme that provides support for multiple languages and currencies.

Along with credit and debit cards, make sure to consider alternative payment methods. For example, PayPal, cryptocurrency, and mobile wallets.

Remember that each new payment method increases the size of your potential audience.
Integrates well with your current stack: Finally, don't forget to look for a plugin that will integrate with the rest of the features and plugins on your online store.

This includes WooCommerce itself. Most themes should play nicely with WooCommerce. However, it's a good idea to look for one that specifically mentions the ecommerce platform.
Of course, you know the needs of your online store better than anyone else. Before paying for a new theme, take some time to browse past reviews and see what other users liked and disliked about the theme.
Don't hesitate to contact the developer directly if you have questions about specific features or compatibility concerns.
13 stellar WooCommerce themes for every ecommerce niche
This is a great place to start your search for a new theme if you're selling medicine, supplements, or other health-related products.
The base design includes an account toolbar at the top of the screen along with menu options below with links to the blog, store, "about us" page, and more.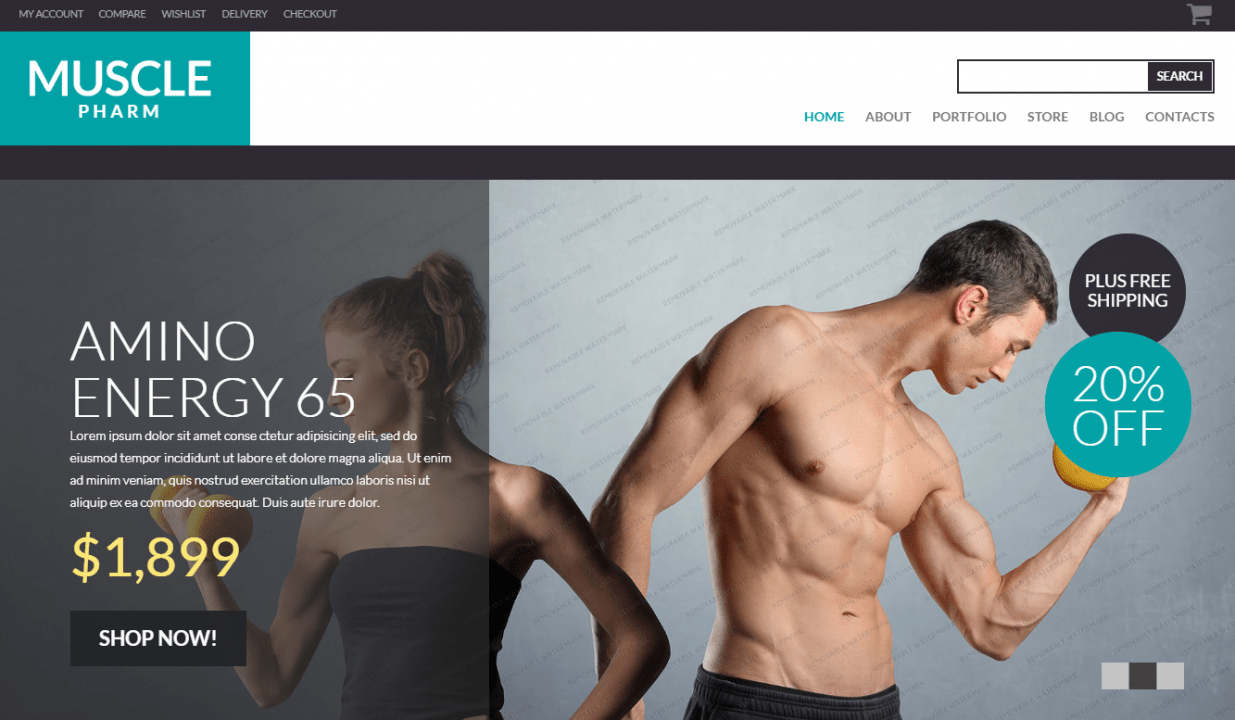 The theme also provides strong support for tablets and smartphones, allowing vendors to make sales on desktops as well as mobile devices.
After viewing the featured image above the fold, visitors can scroll down for more details, including featured products along with the store's location and contact information.
This theme is completely free to download once you share it on Facebook, Twitter, or LinkedIn.
Woostroid2 is a straightforward yet elegant template that offers a surprising degree of versatility.
The theme's sample skins cover everything from electronics and car parts to lingerie, jewelry, and sportswear.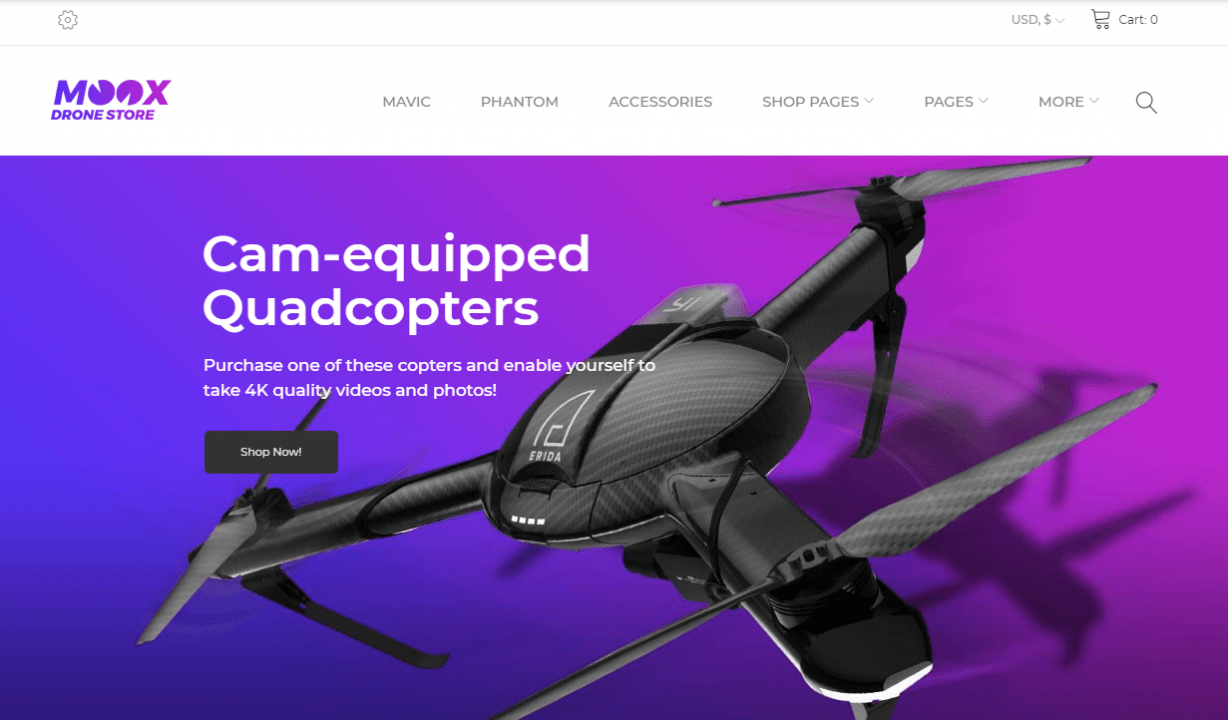 Furthermore, Woostroid 2 provides six unique home pages to fit nearly any ecommerce store. Category pages can be organized into a grid or into a list format if you want to give more space to each individual item.
The theme works well with screens of all dimensions and automatically resizes images to match each visitor's device.
Woostroid 2 costs $114 to download for a single site. Licenses for up to five sites are available for just $213, which comes out to just $42.60 per site. Each license comes with six months of support along with access to all future updates.
The developer also offers a total of six optional add-ons:
Six more months of personalized support ($34)
All-in-one setup including installation, SEO help, and 20 hours from the author ($1479)
Store customization including payment, currencies, logos, and 1,000 products ($299)
Simple installation and setup ($49)
Basic plugins including SEO, Google Analytics, image optimization, and editor ($79)
GDPR and CCPA compliance ($89)
Nokshi is a niche WooCommerce theme that's specifically tailored for DIY style stores. Think, the shops that sell crafts, handmades, and other DIY products.
The theme also targets a variety of related stores including furniture, watches, and other accessories.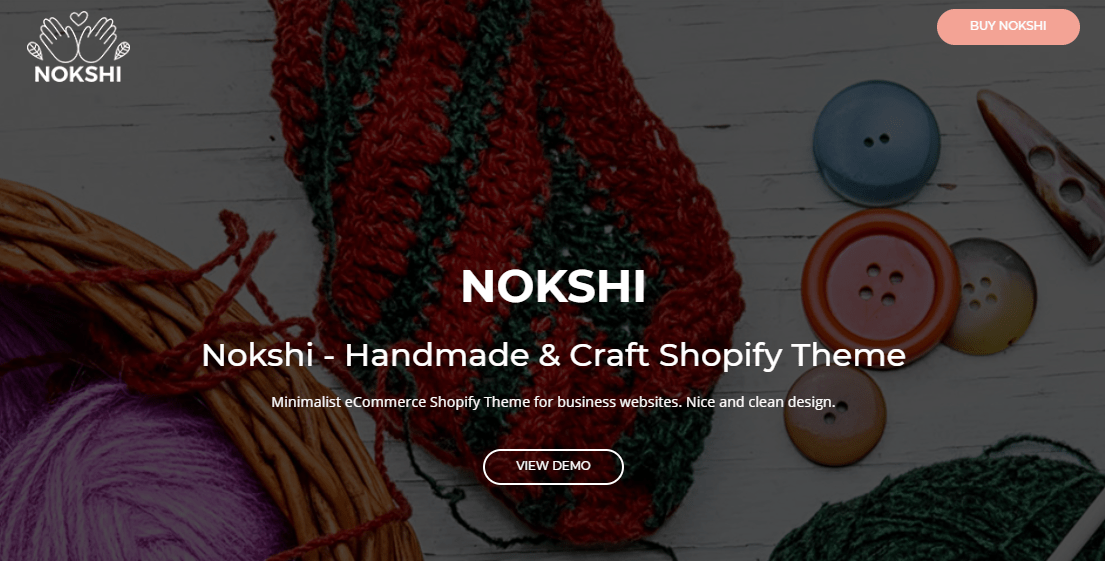 This theme is highly customizable with lots of homepage and product list layouts to suit your needs. It offers three different sliders, four footers, and four headers.
In short, Nokshi is a tinker toy box that's a perfect fit for any brand selling DIY sets.
Nokshi's pricing is comparable to that of Woostroid2 at $139 for one site or $238 for up to five sites.
It also offers a similar set of add-ons including six extra months of support ($42), all-in-one setup ($1479), full customization ($299), basic customization ($99), and installation and setup ($49).
However, instead of compliance with GDPR and CCPA, Nokshi's sixth plugin covers full installation, Shopify connection, and integration with Oberlo, Modalyst, or Sprocket for dropshipping vendors ($199).
PartsCar is a dedicated theme for auto repair shops and online parts departments.
It's designed for WordPress v.5 and WooCommerce v3.5.2, but it should work well with any WordPress 4.2.x-4.9.x, WordPress 5.0-5.6.x, and WooCommerce 3.5.x.
PartsCar starts with company information and a link to the user's account at the top of the screen. Below that comes branding, contact details, notifications, and a convenient search bar.
Finally, there are a few menu bar options for the homepage, "about us" page, shop pages, and more.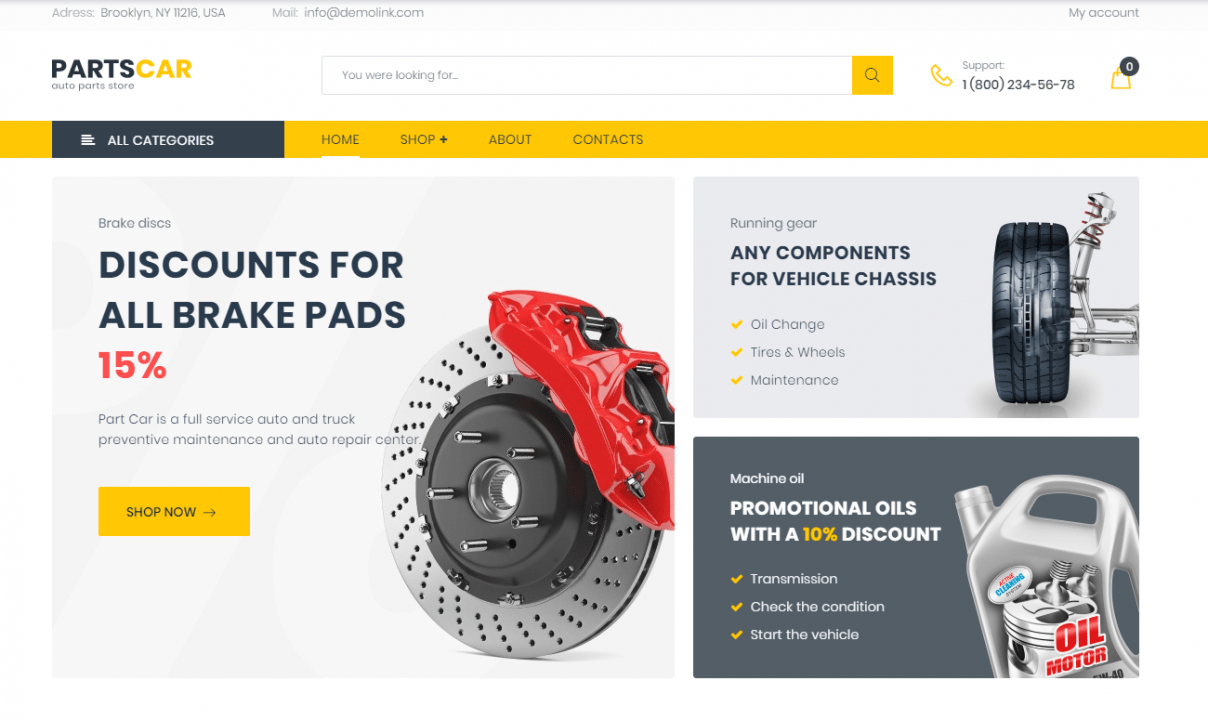 Besides the cool design, PartsCar also comes with a deep set of features like free images, Elementor Page Builder compatibility, and a set of Jet plugins to expand Elementor's capabilities.
One potential issue with the theme's design is that the information at the top of the page takes up a lot of real estate on smaller devices.
PartsCar is more affordable than Woostroid2 and Nokshi at just $69 for a single-site license with six months of support and access to all future updates.
It offers a similar set of add-ons to Woostroid with six extra months of support ($21), all-in-one setup ($1479), store customization ($299), installation and setup ($49), core plugins ($79), and GDPR/CCPA compliance ($89).
Elitario is a fully responsive theme that's designed for online liquor stores and other beverage vendors.
It's fully compatible with Elementor and offers a set of powerful JET plugins:
JET Elements
JET Menu
JET Woobuilder
JET Themecore
JET Tabs
JET Blocks
JET Blog
JET Tricks
JET Productgallery
JET Popup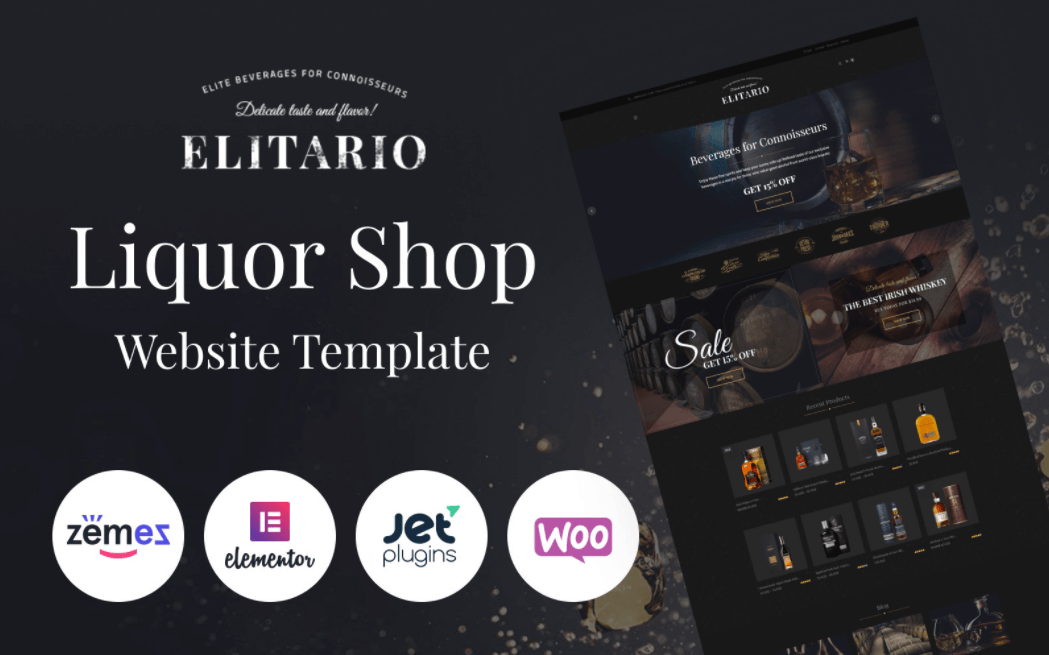 Elitario's dark theme and professional layout will add a new level of sophistication to your online store. It offers modules for everything you need to keep customers engaged including promotions, testimonials, and a useful blog interface.
If you're interested in Elitario, you can get a single-site license for $79 or a five-site license for just $178. As usual, those prices include access to future updates and six months of personal tech support.
Elitario also offers a conventional set of add-ons:
Six extra months of customer support ($24)
All-in-one setup ($1479)
Store customization ($299)
Installation and setup ($49)
Core plugins ($79)
GDPR/CCPA compliance ($89)
6. Flyingo
Flyingo is a uniquely dynamic theme that's perfect for all kinds of companies that work in the tourism industry.
Its eye-catching centerfold is ideally designed for promotional codes, limited-time discounts, and other exclusive offers. Flyingo also works well with desktops, screens, and tablets by automatically adjusting the layout to fit different screen sizes.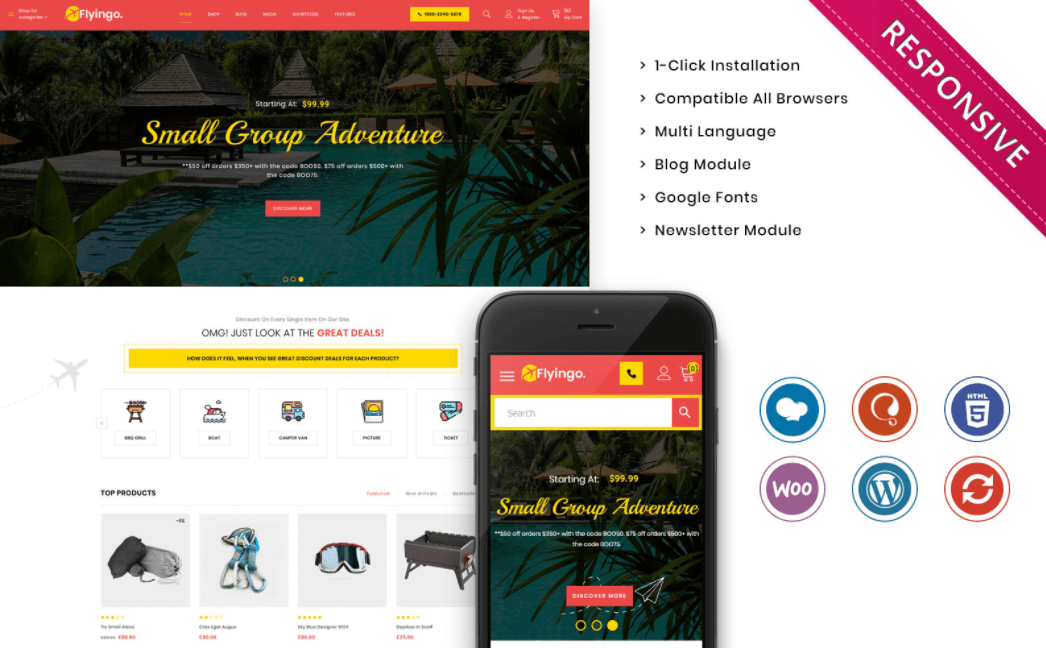 Additionally, Flyingo supports numerous convenient features such as foreign languages, international currencies, and social media integration.
It even works seamlessly with languages like Arabic and Hebrew which are read from right to left instead of left to right.
Flyingo can be purchased for $94 for a single site or $193 for up to five sites. It also offers a unique "buyout license" option that prevents the theme from being purchased again for other websites.
However, this license comes in at an exorbitant $5094. Like the other themes on this list, Flyingo provides a total of six optional add-ons:
Six extra months of support ($28)
All-in-one setup ($1479)
Store customization ($299)
Installation and setup ($49)
Core plugins ($79)
GDPR/CCPA compliance ($89)
PetStore is a simple, responsive theme for all kinds of pet and animal supply shops.
It's totally free to download once you share it on Facebook, LinkedIn, or Twitter. So there's no harm in trying it out for your online store.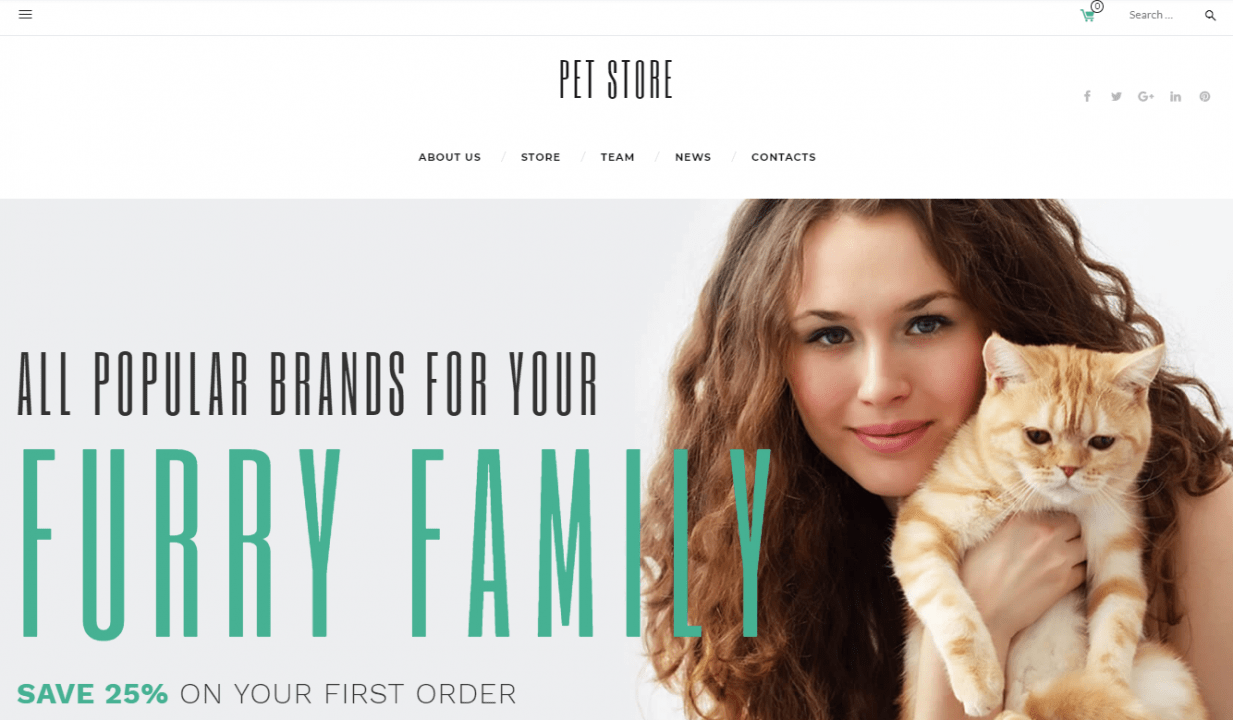 The PetStore template allows users to divide products based on the type of animal they're intended for. This makes it easier than ever for buyers to find exactly what they're looking for.
Of course, products can also be broken out into categories such as treats, toys, and leashes.
Social media links are another nice touch in the PetStore theme. When a user visits your site, they'll immediately see buttons that lead to each of your social media profiles.
These links are located in the center of the screen on smartphones and tablets and in the upper-right corner on desktops and laptops.
Gamein is an outstanding WooCommerce theme for any store that sells games, consoles, or any other products that are related to gaming.
The homepage features customizable branding as well as contact information, a search bar, and a link to the visitor's profile. Below are sections for promotions, product listings, feature descriptions, testimonials, and blog posts.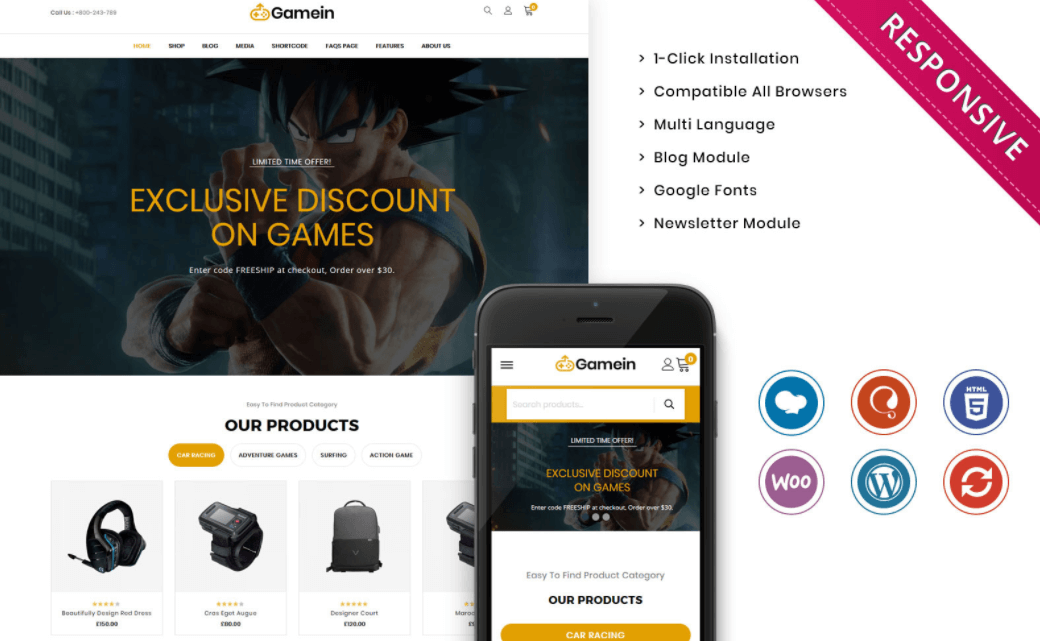 Gamein is well-suited to both desktops and mobile devices, and we didn't notice any major compatibility issues while exploring the theme's live demo.
While Gamein itself hasn't received any reviews, it was published by an author called THEMENTIC who has five-star feedback across over 250 themes and more than 1,700 sales.
This theme costs $94 for a single-site license or $193 for up to five sites, and both options come with six months of free support.
Interested vendors can also gain access by joining the MonsterONE subscription program, which comes with 24/7 support and unlimited downloads of roughly 180,000 unique items.
Gamein also offers a familiar set of add-ons:
Six months of additional support ($28)
All-in-one setup ($1479)
Store customization ($299)
Installation and setup ($49)
Core plugins ($79)
GDPR/CCPA compliance ($89)
Boutique is a clean, simple, and elegant theme that focuses on fashion-related products while avoiding unnecessary distractions. It uses a minimalist design with a small toolbar at the top of the screen that includes links to top-level pages as well as your brand's social media profiles.
This Woocommerce theme comes with a fully responsive slider and carousel on the homepage so you can feature your best products and special offers.
You can also add your shipping information, privacy policy, and email signup to the bottom of each page using its convenient footer widget.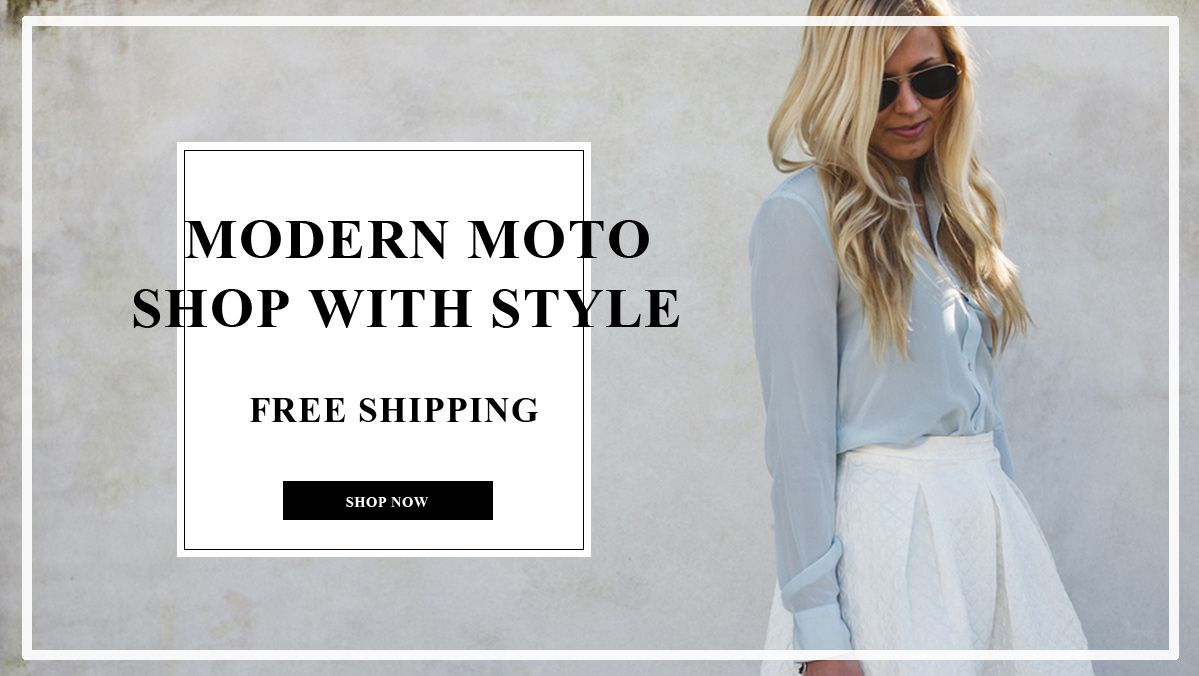 While Boutique looks great on desktop, it doesn't offer any screenshots or live demo access for the mobile design. Fortunately, you can download the theme for free to see whether the theme is mobile-friendly before you spend any money.
A premium Boutique license is available for just $49. This payment gives you access to support, updates, free installation and setup, unlimited websites, XML demo content, and a 30-day money-back guarantee.
The same features are available for all of Dessign's themes for a one-time payment of $99.
Woostify is a free WordPress theme that's specifically designed to be compatible with WooCommerce stores.
Its lightweight design has a minimal effect on performance, and Woostify is flexible enough to work for nearly any kind of online store. Woostify's starter sites include templates for everything from fashion and cosmetics to furniture and cars.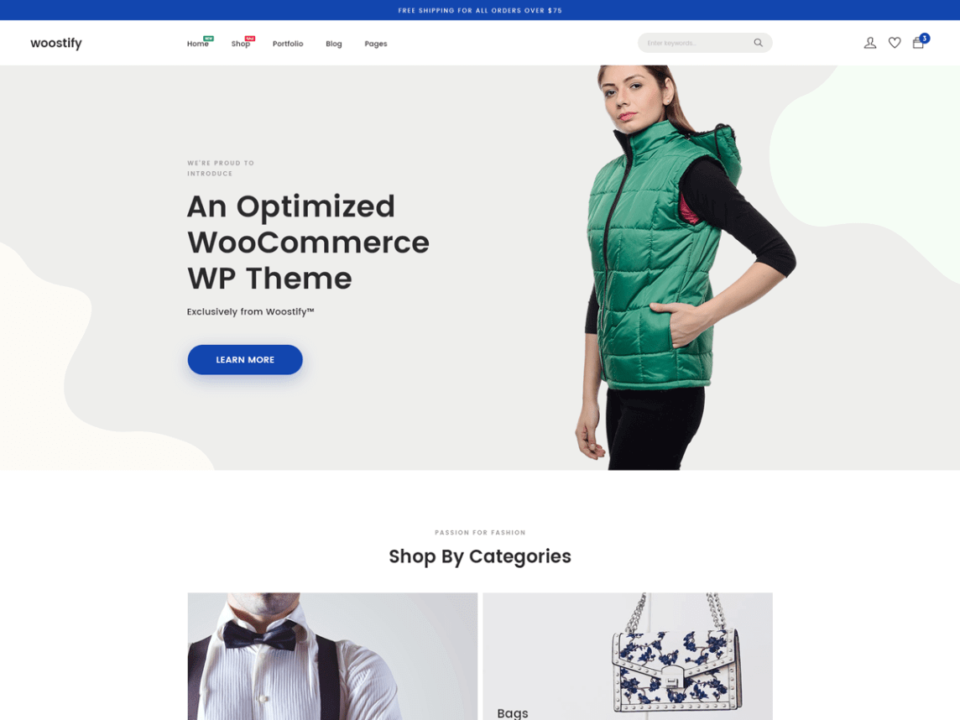 While Woostify is entirely free to download, users can also buy a Premium license for additional features.
All paid licenses come with customer support, access to updates, and a variety of starter sites to streamline the design process. They also provide a variety of add-ons including smart product filters, countdowns, size guides, Ajax search, headers and footers, and more.
The Personal subscription costs $49 per year and offers access to all of these features on a single site. Professional licenses cover up to three sites for $79 per year, while the Agency plan supports unlimited sites for just $129 per year.
Keep in mind that there are no differences between these plans other than the number of supported sites.
Astra advertises itself as the most popular WordPress theme of all time, and it's easy to see why. It offers all the tools WordPress and WooCommerce administrators need to create a beautiful site that matches their unique image.
While Astra isn't exclusive to WooCommerce vendors, it provides numerous WooCommerce-specific features tailored to the needs of online stores.
Users can customize the checkout process, build store pages with a drag and drop interface, and configure a quick product view that allows visitors to see product details without clicking through to a separate page.
Furthermore, Astra comes with more than 180 website templates for Elementor, Beaver Builder, Brizy, and Gutenberg. The theme is completely free to use, with premium plans available on an annual basis or through lifetime licenses with a one-time payment.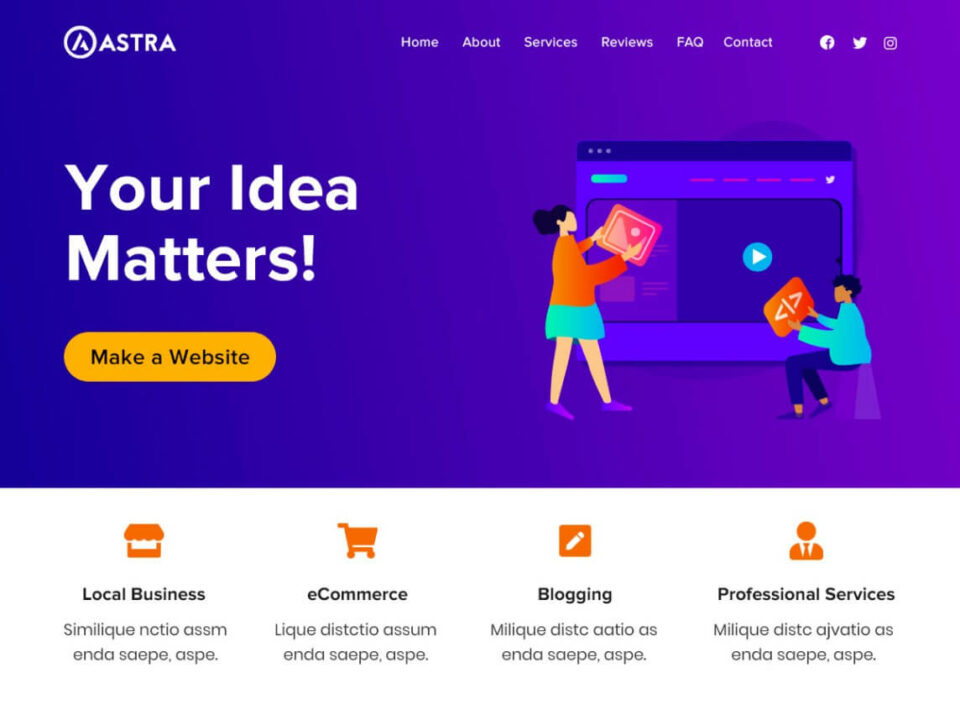 Astra Pro costs $47 per year when paid annually or $249 for a lifetime license—in other words, you'll save money with the one-time payment if you use the theme for more than five years.
While the Pro tier doesn't come with templates, it does provide access to numerous premium features such as headers and footers, blog layouts, premium support, and unlimited websites.
At $169 per year or $499 for a lifetime license, the Essential bundle includes everything in Astra Pro plus access to starter templates and the WP Portfolio plugin. Essential users can also choose between two Ultimate Add-ons packs—one for Elementor and another for Beaver Builder.
Finally, the Growth bundle offers access to all of Astra's features for $249 per year or a one-time payment of $699. This includes schema and conversion plugins, access to SkillJet Academy, both the Elementor and Beaver Builder plugins, and access to all future plugins.
Storefront is an official WooCommerce theme that offers seamless integration with the WooCommerce platform. With over 5 million total downloads, it's one of the most popular free WooCommerce themes among vendors in a wide range of verticals.
Like Astra, Storefront is a free WordPress theme with a variety of paid features. At $69 per year, the Storefront Extensions Bundle gives you access to all major Storefront extensions plus personal support and automatic extension updates for as long as you maintain an active subscription.
Storefront users can pay for standalone products if they don't need the full Extensions bundle.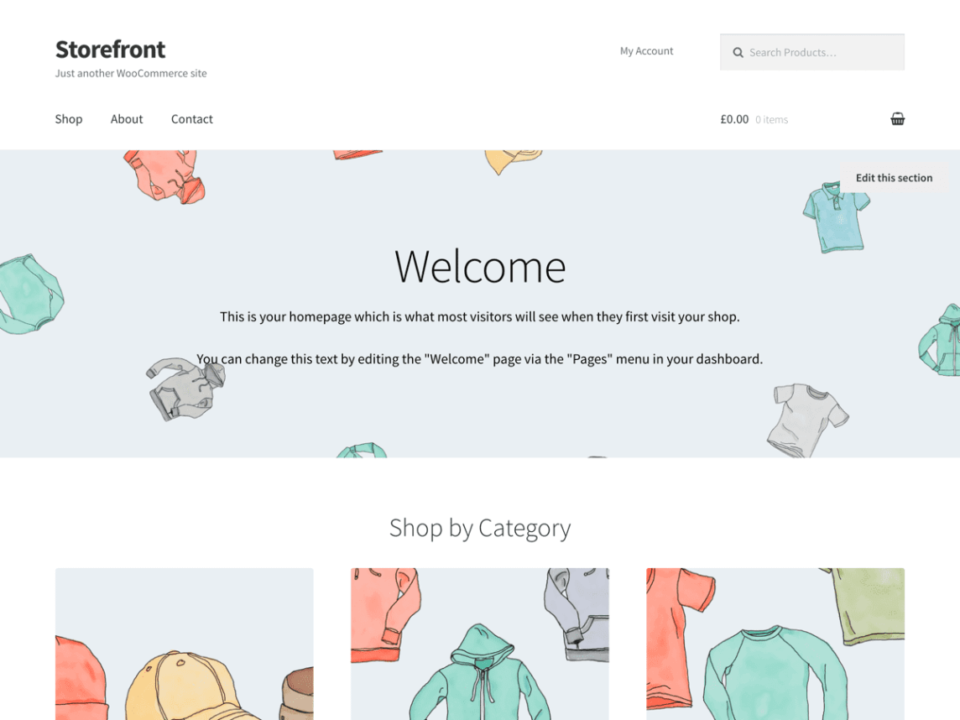 Storefront is also compatible with a deep collection of child themes, making it a highly customizable option for nearly any WooCommerce vendor.
Given its flexibility, affordability, and deep integration with WooCommerce, Storefront is one of the best WooCommerce themes available in 2022.
OceanWP is an Elementor-ready WordPress and WooCommerce theme with over 4 million lifetime downloads. Along with Elementor, it also works with several page builders including Toolset, Brizy, and Beaver Builder.
Whether you're an experienced developer or new to website building, OceanWP makes it easy to customize your site to your unique needs.
Users can set up standard or multi-step checkout at no charge, making OceanWP one of the top free WooCommerce themes.
While you don't need to spend any money to use OceanWP, there are some premium features and tools that can help you add even more functionality to your WooCommerce store.
Paid plans come with support, updates, 20 extensions, and a total of 153 website templates for a variety of use cases.
OceanWP's 15 free demos offer professional designs for different verticals, but the remaining 138 may be worth the money if you don't want to be limited to the free selection.
Unfortunately, there's no way to buy these demos individually, so you'll have to pay for a subscription in order to access any of those 138 pro demos.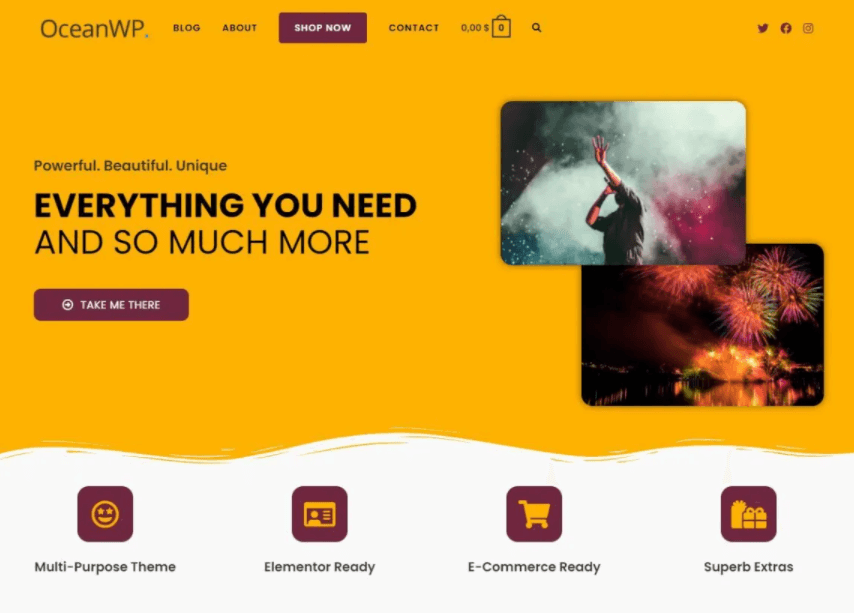 You can upgrade to a premium membership for one site ($27 per year/$111 lifetime), three sites ($47/$191), or 25 sites ($77/$311). Standalone extensions are also available for a lower price.
Want to get even more out of your WooCommerce Themes? Check out more resources for WooCommerce:
Wrap Up
You can see what kind of products will be popular this year and can choose what is most interesting to add to your current niche. Even if you're already established but your site needs an update, one of these WooCommerce themes could do just the trick.
Your theme and overall site appearance will dramatically impact your results as an ecommerce vendor. From customization and visual design to loading times and mobile performance, it's critical to find a theme that meets the needs of your store.
These are just some of the top WooCommerce themes we've seen in 2022. Each of these works wonderfully in tandem with Omnisend. To see how, get started with Omnisend for free today.

Get started with Omnisend today & drive sales on autopilot with pre-built automation workflows
Start Free Today