Drive sales on autopilot with ecommerce-focused features
See Features
Reading Time:
12
minutes
Wondering how you can set up your WooCommerce store?
You've come to the right place.
Going by the over 5 million+ active installations and a 4.5-star rating on WordPress, it's pretty clear that merchants love WooCommerce.
WooCommerce is a customizable plugin that helps you build an online store on your WordPress-powered website. Its setup is easy and straightforward, where within minutes, you'll be ready to tap into the explosive ecommerce industry,
Not sure how to set up WooCommerce?
Don't worry.
We've put together a comprehensive WooCommerce tutorial that will provide you with step-by-step instructions on how to get it done.
Better yet, you'll love our WooCommerce marketing automation platform, which is the magic you need to drive revenue on your online store.
Let's get started, shall we?
Boost your WooCommerce store's revenue by up to 85% using our email marketing plugin.
LEARN THE SECRET NOW
How to install and activate WooCommerce
The following WooCommerce setup guide is for websites running on WordPress, which comprises 43% of all ecommerce websites in the industry.
Here are the 6 simple yet critical steps to how to set up a WooCommerce store:
Step 1: Install and activate the WooCommerce plugin
Naturally, the first step of your WooCommerce set up process involves installing the WooCommerce plugin.
On the left-hand side of your WordPress dashboard, navigate to "Plugins" then click on "Add New."
On the page that appears, type "WooCommerce" on the search bar then click "Install Now."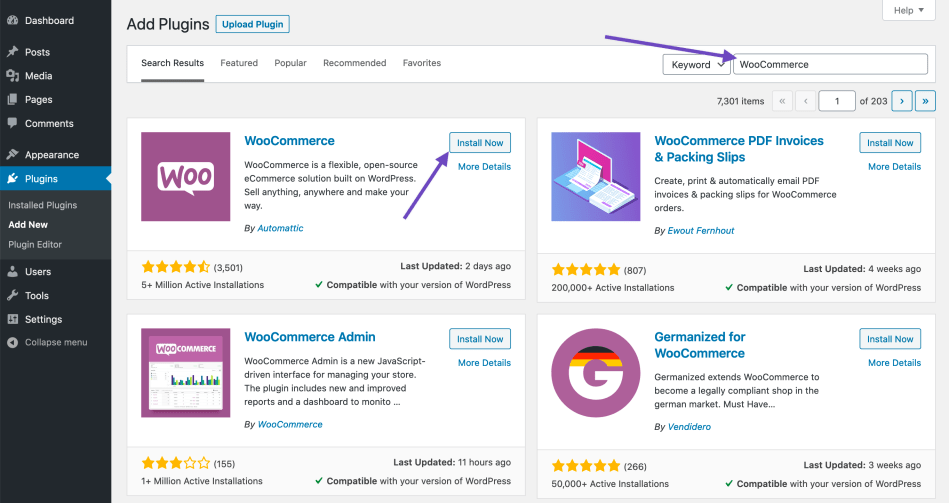 Give the plugin some minutes to install, then click the "Activate" button. As a result, WooCommerce will be integrated into your website.
Step 2: Configure WooCommerce setup wizard
Once the activation is complete, you will need to configure the WooCommerce set up wizard.
While this step is optional, it's important to get it done to ensure all the WooCommerce settings run smoothly on your store.
There are five actions needed to complete the WooCommerce set up wizard. These include: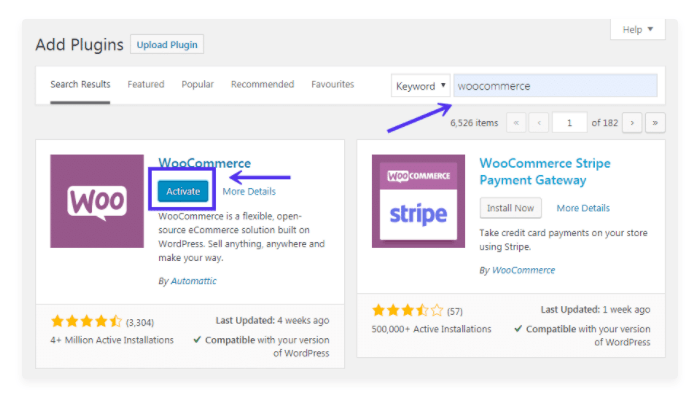 Store profiler
The first page of the setup wizard requires you to fill in basic information such as location, address, accepted currencies, and the type of products that you deal in. It looks like this: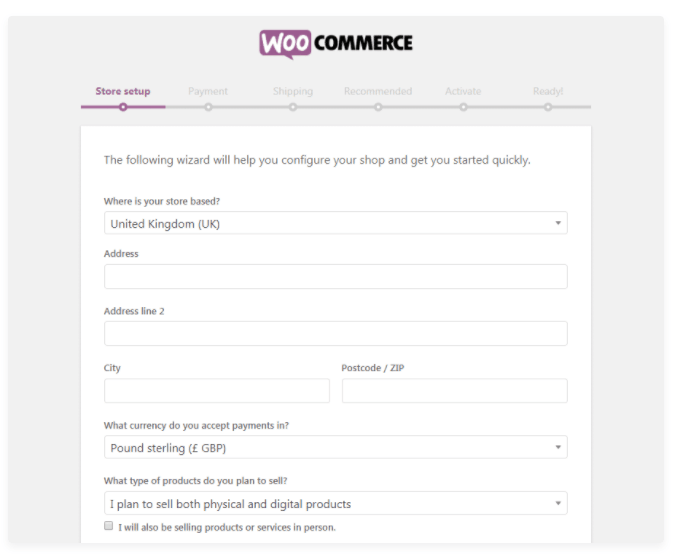 Remember that the information provided at this step of the WooCommerce set up tutorial is flexible and can be changed later.
Industry
Here, you can select the industry in which your store operates. If not included in the menu, you can select "Others" to specify the industry.
Products to be listed
On this page, you will get the chance to select whether physical products will be listed in your store or multi store.
If available, options for subscriptions, memberships, and customizable products can be included here.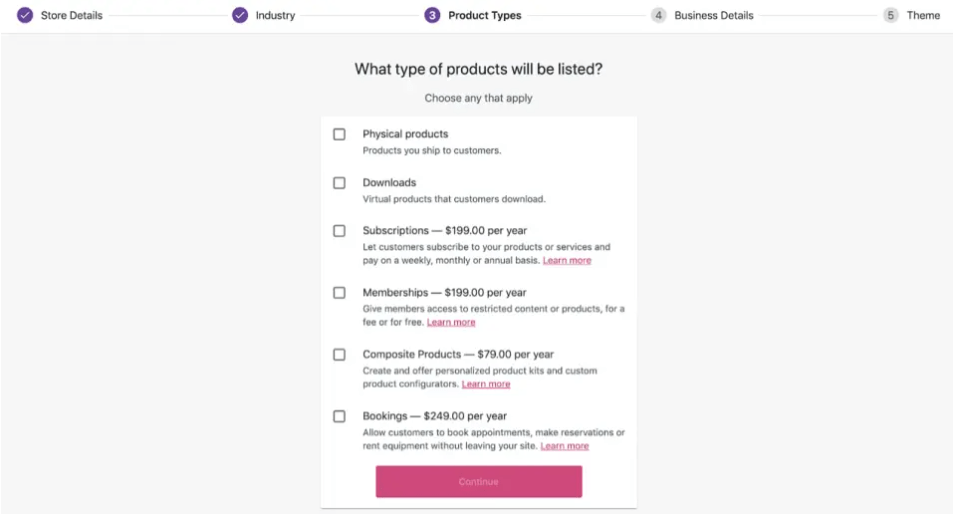 Business details
At this point, on the setup wizard, you may provide more details about your business such as the number of products and projected revenue.
This information helps WooCommerce tailor its experience to suit your needs.
At this point, you can choose useful free tools that will help streamline your ecommerce store's business.
Though optional, these features have a lot of benefits that include:
WooCommerce Payments – This solution helps you collect and manage payments, keep track of cash flow, and manage revenue in your store.
WooCommerce Shipping – With this solution, you can print USPS and DHL labels from your WooCommerce dashboard which saves on shipping.
WooCommerce Tax – This feature helps to automatically calculate tax at checkout of WooCommerce orders depending on the store's location.
Themes
If your site already has a WordPress theme that's compatible with WooCommerce, you will be prompted to install the theme.
You can also choose from other free or paid themes available on WordPress.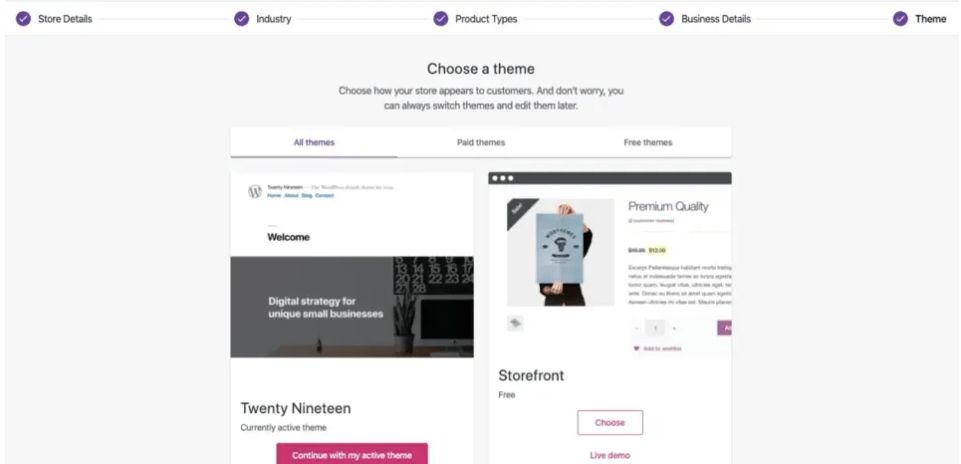 Some of the best-performing WordPress themes include Astra, Shoppe, and OceanWP, which come highly optimized with easy-to-use templates and provide a modern touch to your store.
Always remember that the theme is what controls the aesthetics and layout of your store.
If you don't like a particular theme, you can always edit it and customize it to your requirements later.
Step 3: Pick your payment processors
Once you're done with your WooCommerce set up wizard, you can proceed to configure the payments page.
At this point, you can select from various options to receive online and offline payments.
On selection, WooCommerce automatically installs and activates the option.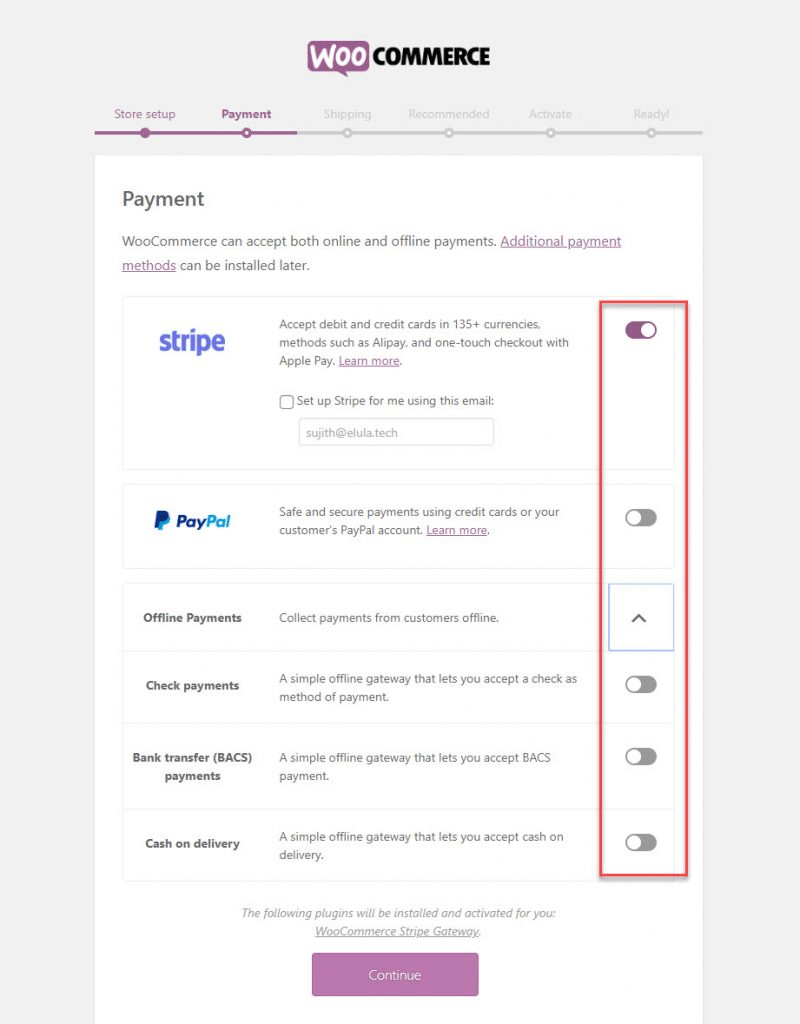 Remember to consider transaction charges, recurring expenses, and availability in a region before settling on a payment processor.
The following are the most common payment options for your WooCommerce store:
As one of the most common WooCommerce payment gateways, Stripe is a convenient way to integrate credit card payments into your store.
Available in over 40 countries and with its support for over 135 currencies, Stripe is a good choice.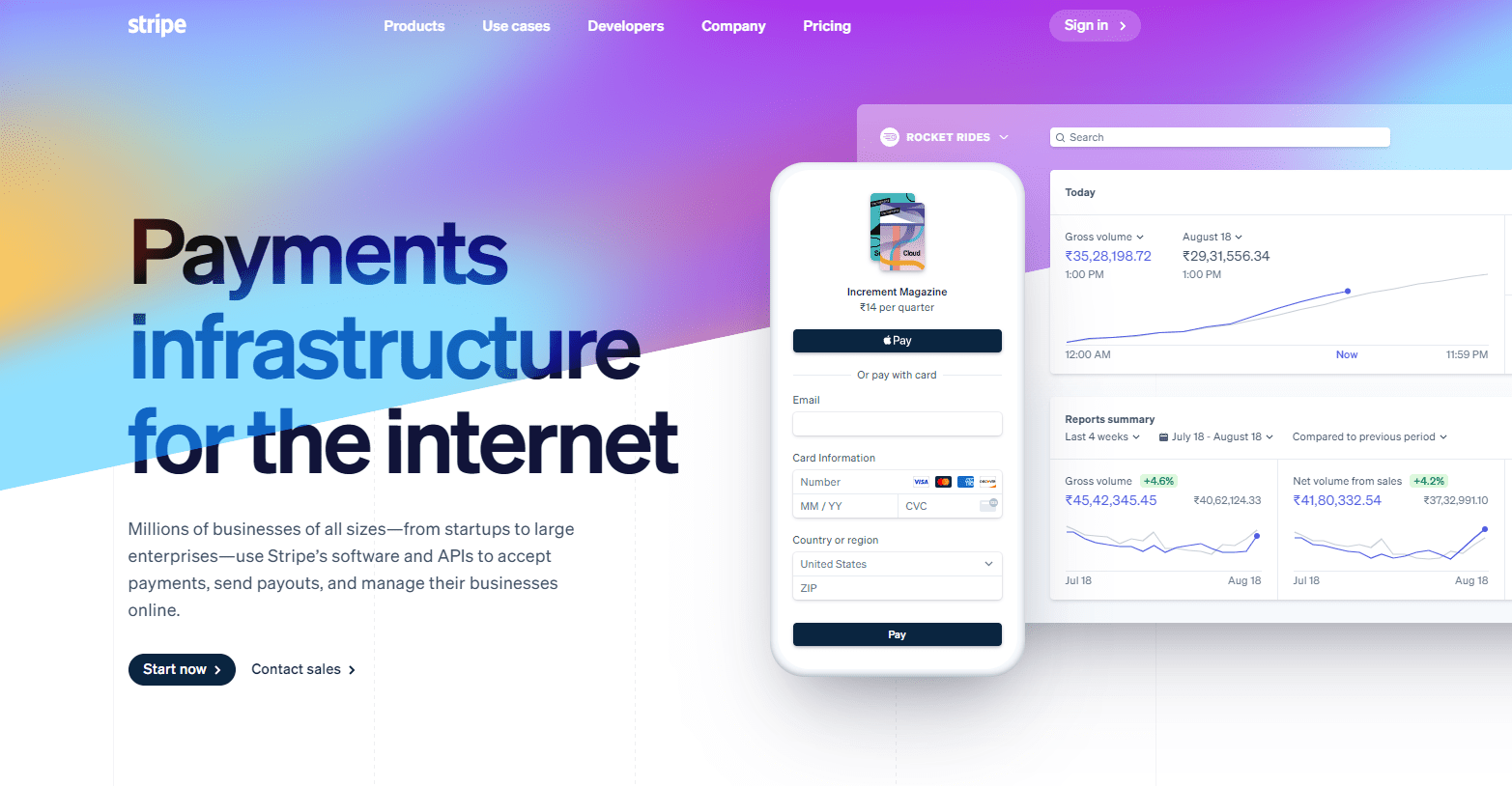 It also supports debit and credit cards from leading brands. Those using Apple Pay, Google Pay, and Alipay are also catered to.
Stripe allows a seamless customer checkout experience even for those with recurring orders.
PayPal
Another popular payment processor for your WooCommerce store is PayPal.
With support for many countries across the globe (but with different restrictions for some), PayPal opens up your store to a wider audience.
To use PayPal on WooCommerce, you need a business account that is easy to set up.
On selecting PayPal, the customers will be redirected to the platform to complete transactions, which also ensures secure transactions.
As a paid extension, PayPal Pro for WooCommerce allows customers to checkout without leaving your store's website.
However, it's only available for PayPal merchants in the UK, US, and Canada.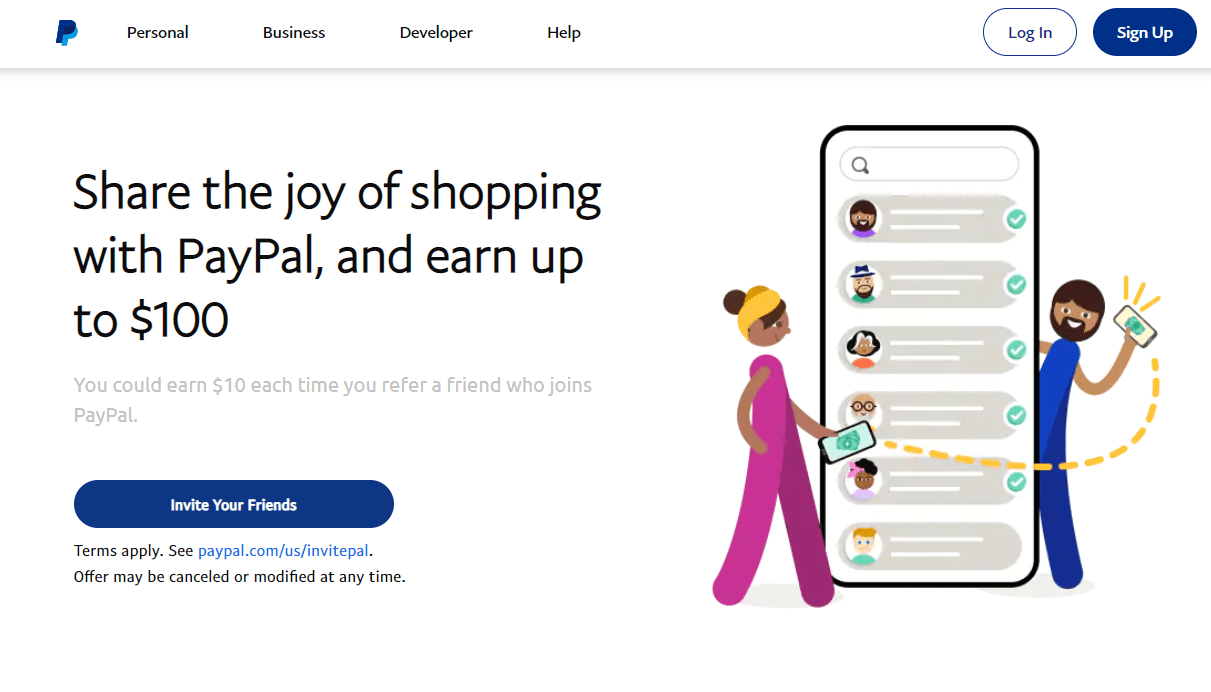 That said, as a new user, the standard PayPal is a better choice due to the recurring monthly charges on PayPal Pro. Also, it doesn't support membership websites that sell subscription-based products.
If you're looking for a deeply integrated payments processor with a strong team behind it, then WooCommerce Payments is a good choice.
Its strength is a better checkout experience compared to the others.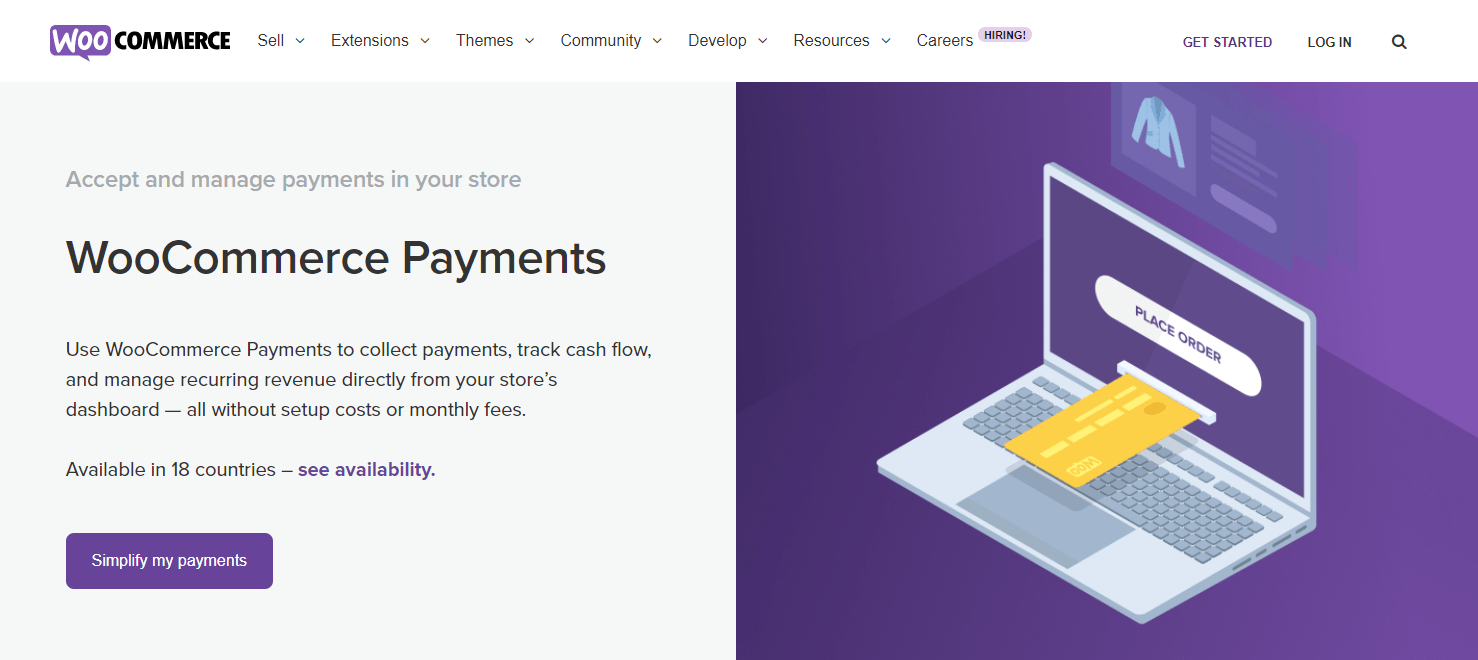 However, it's only available to US customers. It's also slightly expensive to use since it operates with a pay-as-you-go structure on its fees.
Depending on your store's location, you can also go for offline payments, cash on delivery, or direct bank transfers with compatible countries.
Step 4: Configure the shipping options
Once done, click on Proceed and you will be taken to the next screen that allows you to set up shipping options for your customers.
Here, you decide shipping zones for your products and how much your customers will be charged depending on their location globally. You can also allocate free shipping to certain groups or all of your customers.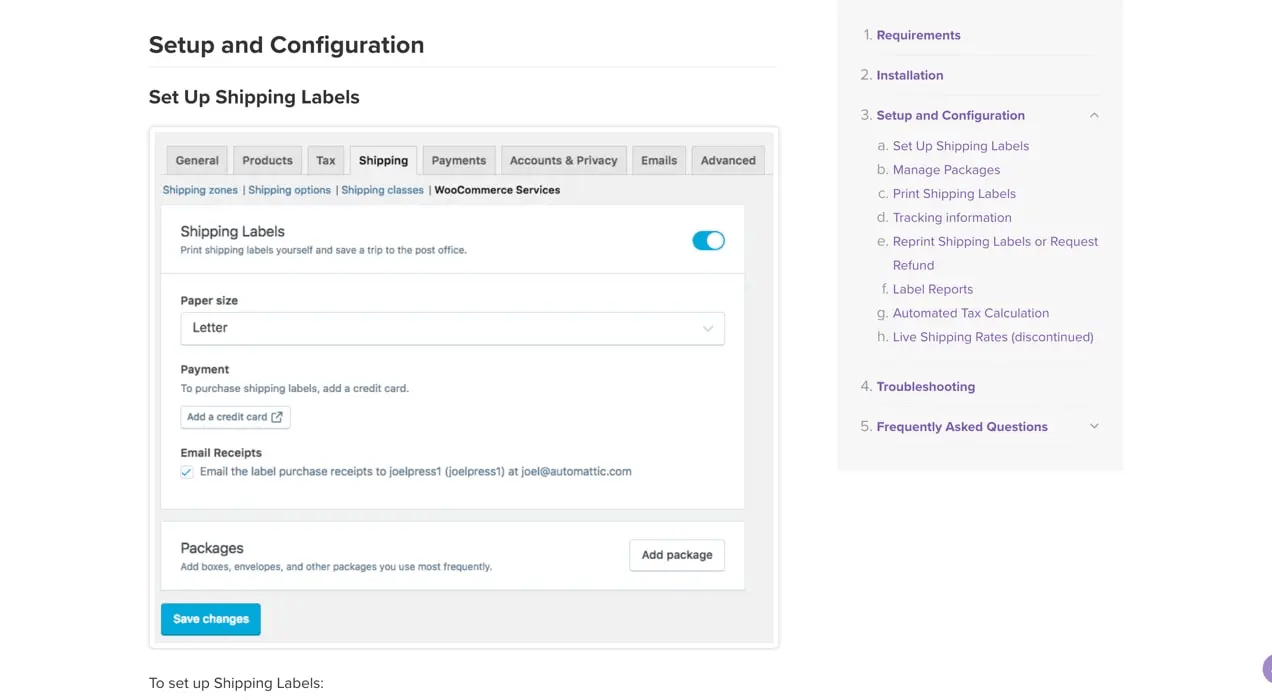 For businesses starting out, it's prudent to begin with local deliveries which tend to be less complicated in terms of delivery time and other logistics.
Happy customers who receive deliveries on schedule will give your business positive reviews which, in turn, will grow your customer base over time.
Having built a wealth of experience over time, you can venture into international deliveries and enjoy better shipping success rates.
For easier shipping management you can add the WooCommerce shipping extension that comes with extra benefits such as easy setup, shipping discount management, and easy label printing.
Step 5: Adding product add-ons and extensions
At this point of the WooCommerce store set up, you are pretty much done with the installation process. However, WooCommerce provides users with additional free or paid tools that help run your store smoothly.
They include checkboxes, gift wrapping, and custom-made drop-down fields. Additionally, you can add external plugins that will help simplify your operations. Some of the best WooCommerce plugins and extensions to add are:
As a top WooCommerce plugin, Omnisend helps integrate automated email marketing and SMS functions into your marketing strategy.
It automates high-performing emails such as welcome emails, cart abandonment emails, transactional emails, and confirmation emails.
Its SMS functionality is also a great way to add SMS to campaigns or automation workflows and reach your customers via text message, which can help increase conversions and sales. Adding the Omnisend Woocommerce extension will help you tap into the rewards of email and SMS marketing.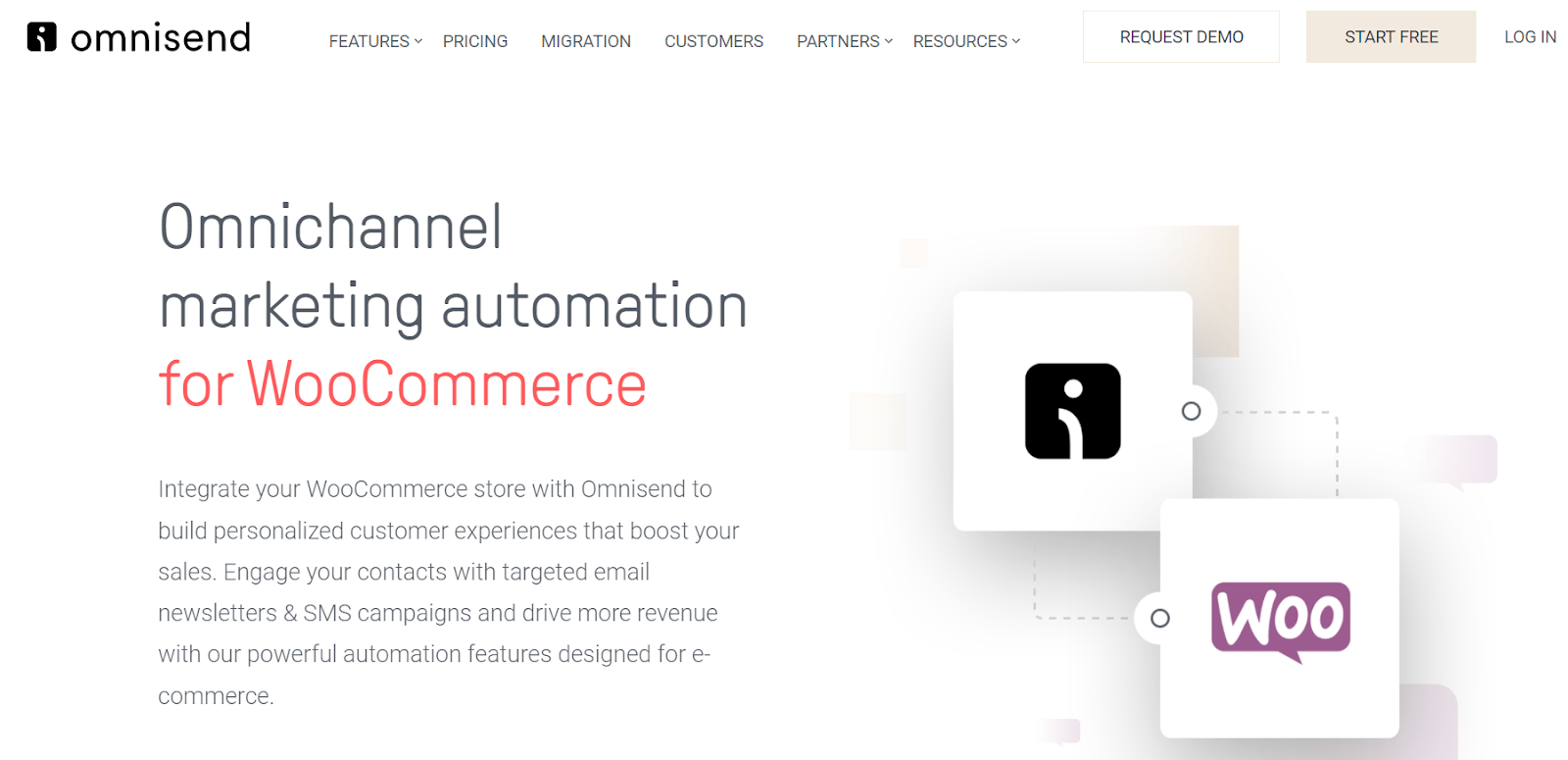 With several pre-set automation workflows and email templates, you can easily send ecommerce emails to welcome customers, alert them about an abandoned cart, and communicate any other relevant information.
Another great feature is the audience sync for ads which synchronizes your existing subscribers or customers to Facebook's or Google's ad platforms for better ad targeting.
The WooCommerce Admin helps you efficiently analyze your business statistics. This can help you keep a tab on the store's important performance metrics and understand how it's performing.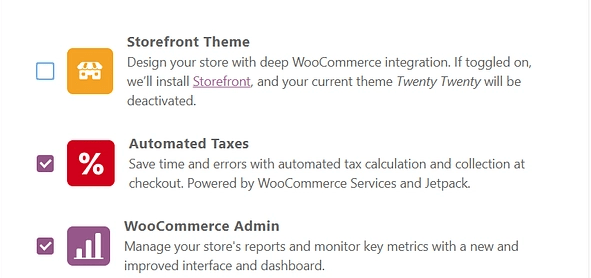 This plugin from Google is a powerful tool that can help you dive deep into the analytics of your WooCommerce store. It brings the power of Google Analytics, Google Search Console, and Google AdSense to your store.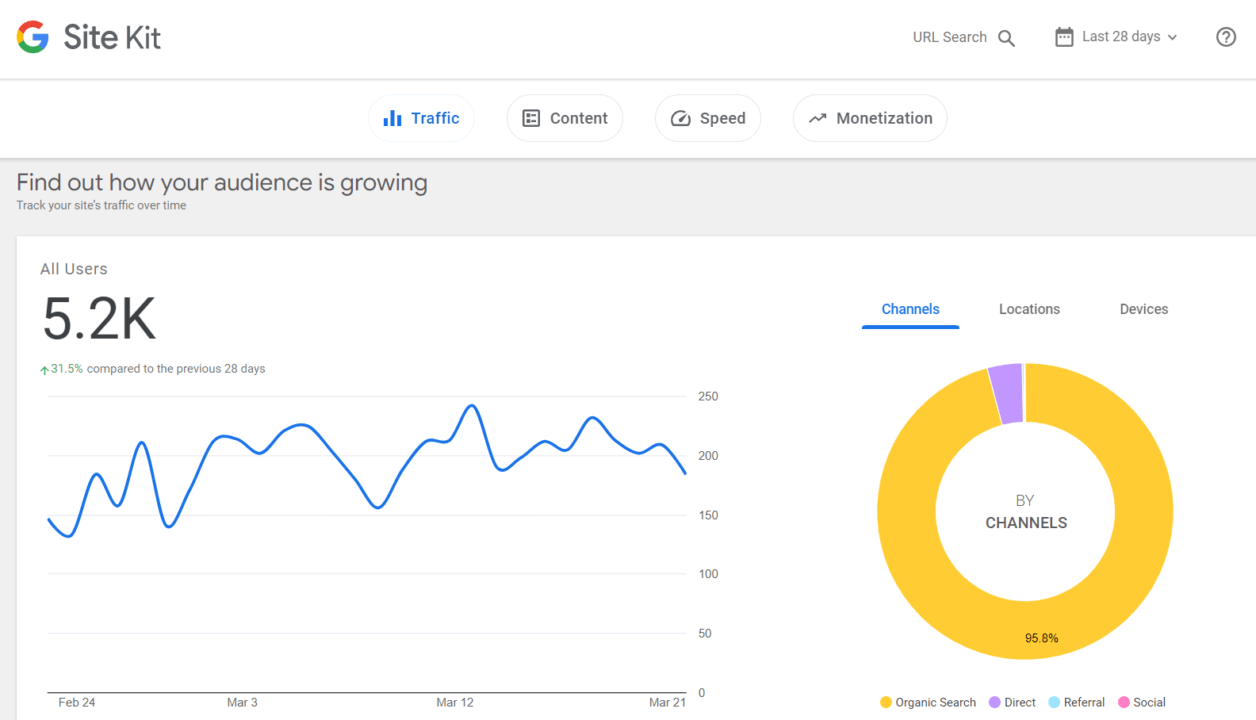 With it, you can understand where you stand in terms of SEO, page experience, and traffic generation.
The detailed insights you get from the plugin from within WordPress can help inform your store's marketing strategy too.
Inventory management is critical in ecommerce, and Veeqo will make that easy for you. A paid plugin, Veeqo allows centralized management of your orders, inventory, and shipping across various ecommerce channels.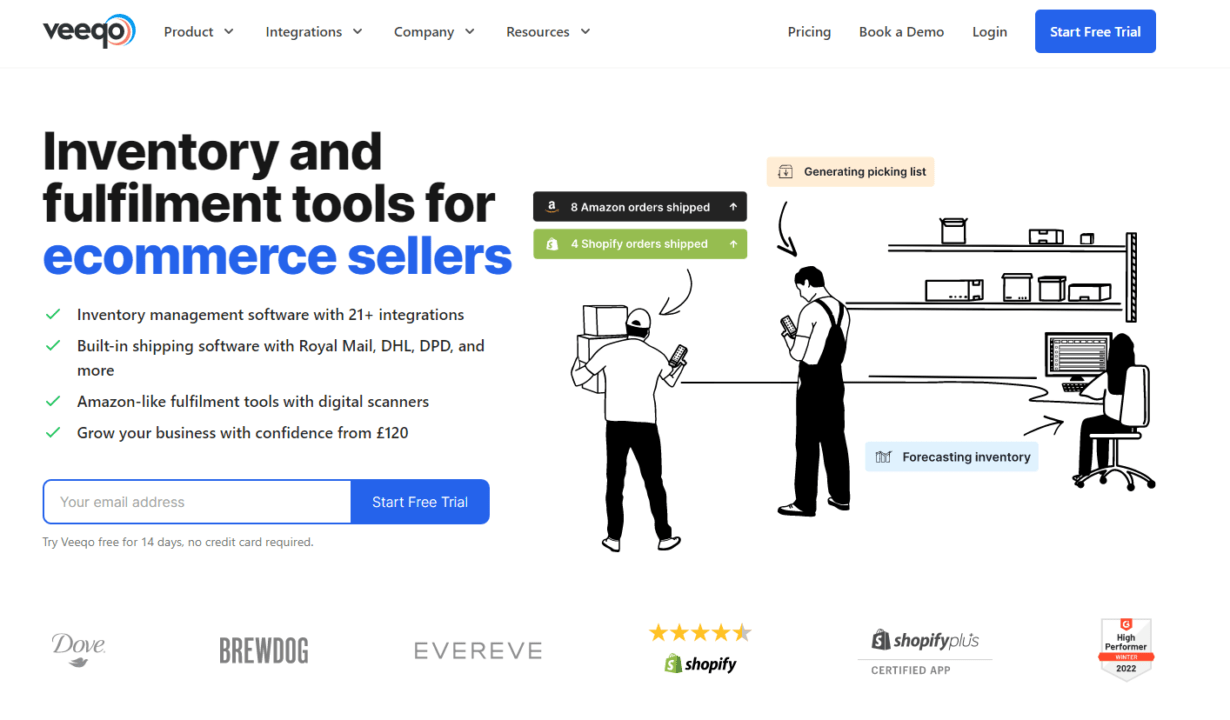 With Veeqo, you don't have to keep logging into eBay, Amazon, or other sites to check whether orders have been shipped. Such a plugin will not only help you save time and monitor orders but you'll also not be overstocked, which is bad for business.
MonsterInsights is the best Google Analytics plugin for WordPress, used by over 3,000,000+ website owners. It comes with an ecommerce addon that lets you easily track your WooCommerce store's conversions.
MonsterInsights is simple to set up and use, even for beginners. You can view your website stats in easy-to-understand reports right from your WordPress dashboard. So, you don't have to search through complicated Google Analytics reports to discover valuable insights about your business.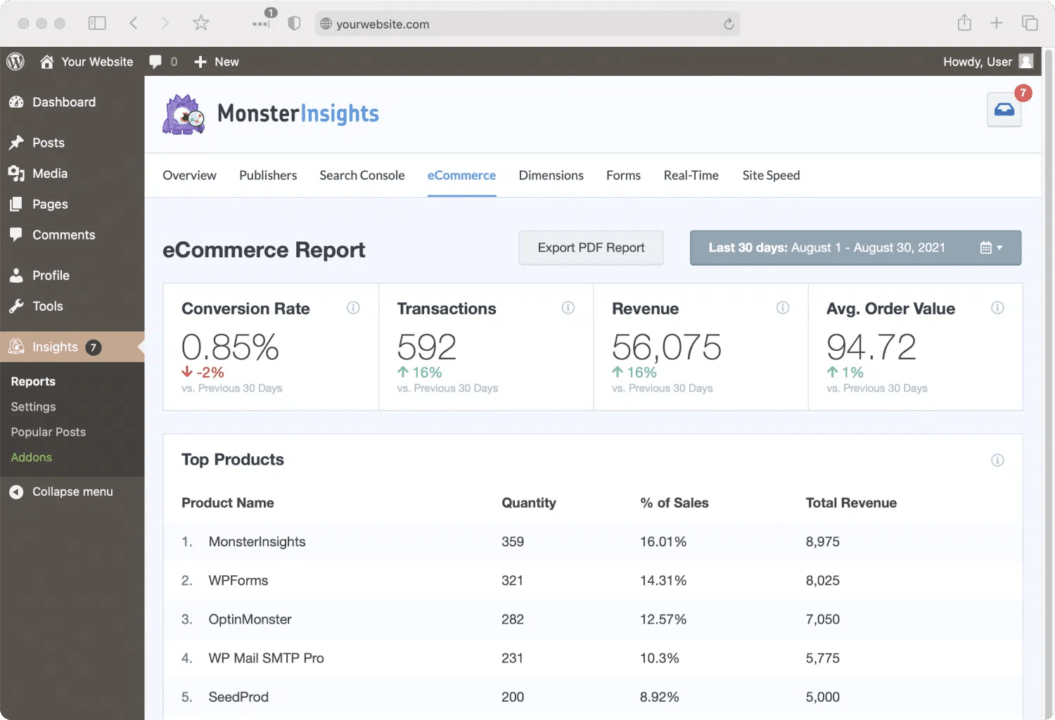 In MonsterInsights' ecommerce reports, you can view your revenue, transactions, average order value, conversion rate, top conversion sources, items added to cart, time to purchase, and more, at a glance.
Plus, you can also use MonsterInsights's Popular Posts feature to find out what your top-selling products are. Then, you can easily display those popular products anywhere on your WooCommerce site to boost sales.
Adding Zapier to your list of WooCommerce extensions during your store setup is a no-brainer. This versatile platform helps connect your WooCommerce store with 4000+ cloud apps and services, which, in turn, can help in adding to your online store's functionality. However, this is a paid extension.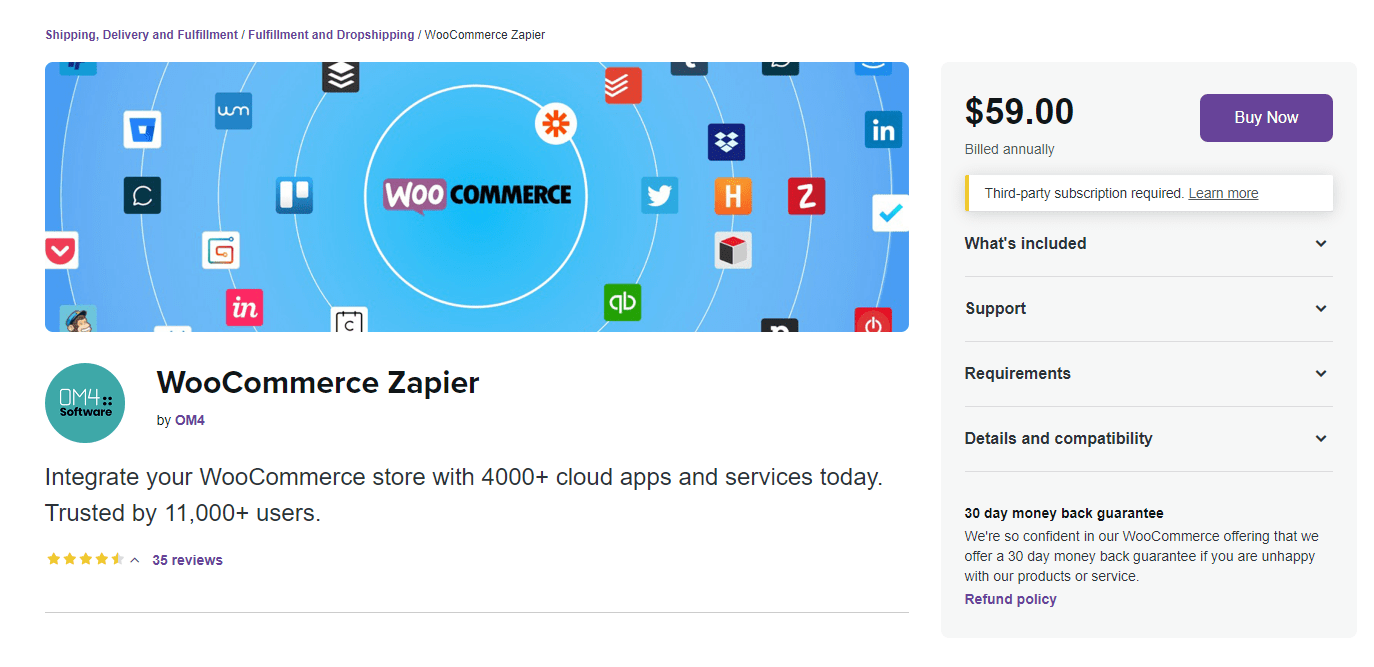 Step 6: Verify all is working well
Now your ecommerce store is almost ready for launch. All you need is to re-check whether all the pages are up and running.
Thankfully, WooCommerce makes it easy to launch your store as it automatically generates all your store pages for you.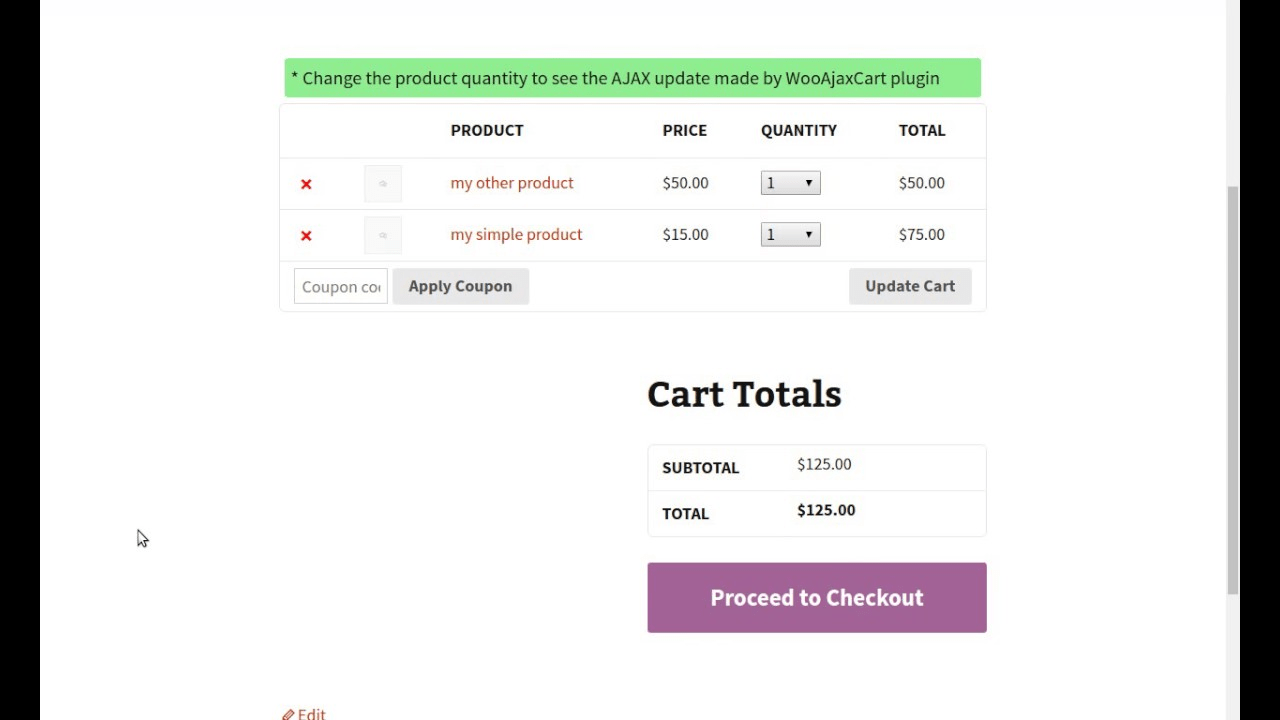 And now onto the verification bit.
Visit your website as a customer would and go through your shop, cart, payment, and checkout pages.
Touring the skeleton pages should help you verify the entire configuration and whether it incorporates your preferences. You could also place a few test orders to understand if the entire system is functioning well.
And if certain changes are needed to your WooCommerce store, you can make them by heading to the "Settings" tab.
Here, you'll be able to modify your shop pages, inventory, and more. It'd also help you modify the payment and shipping-related options of your ecommerce store.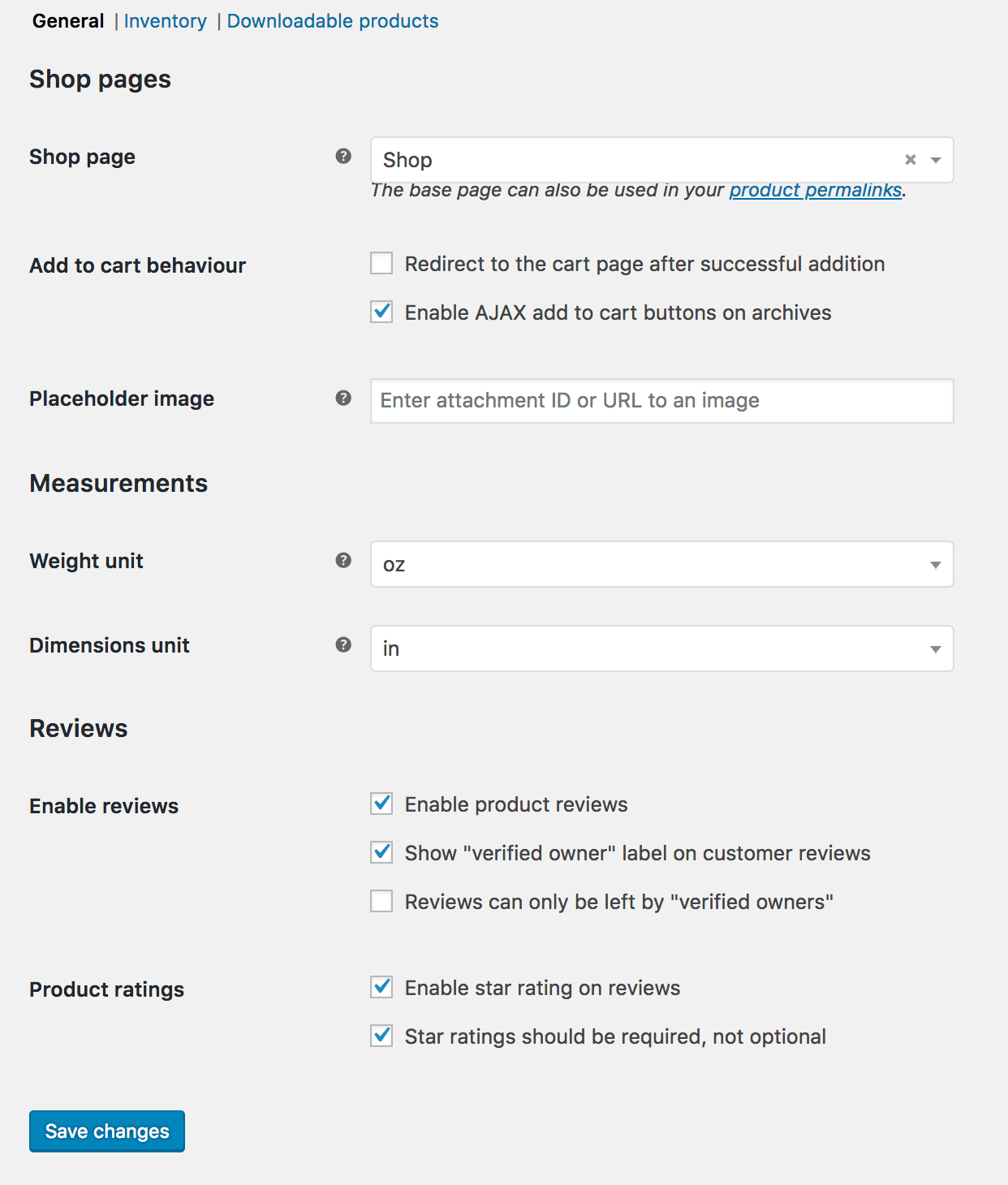 How to add products on WooCommerce
Now that you've installed and set up the basic things on WooCommerce, it's time to start adding products to your store.
Once you log into your WooCommerce dashboard, there are two main tabs: the General Settings tab and the Products tab.
If you have used the WordPress editor before, you'll find that the process is similar to that on WooCommerce.
To add a new product, you should click on the "Products" tab on the left-hand side of the dashboard and click on "Add New Product." A screen similar to the one below will appear.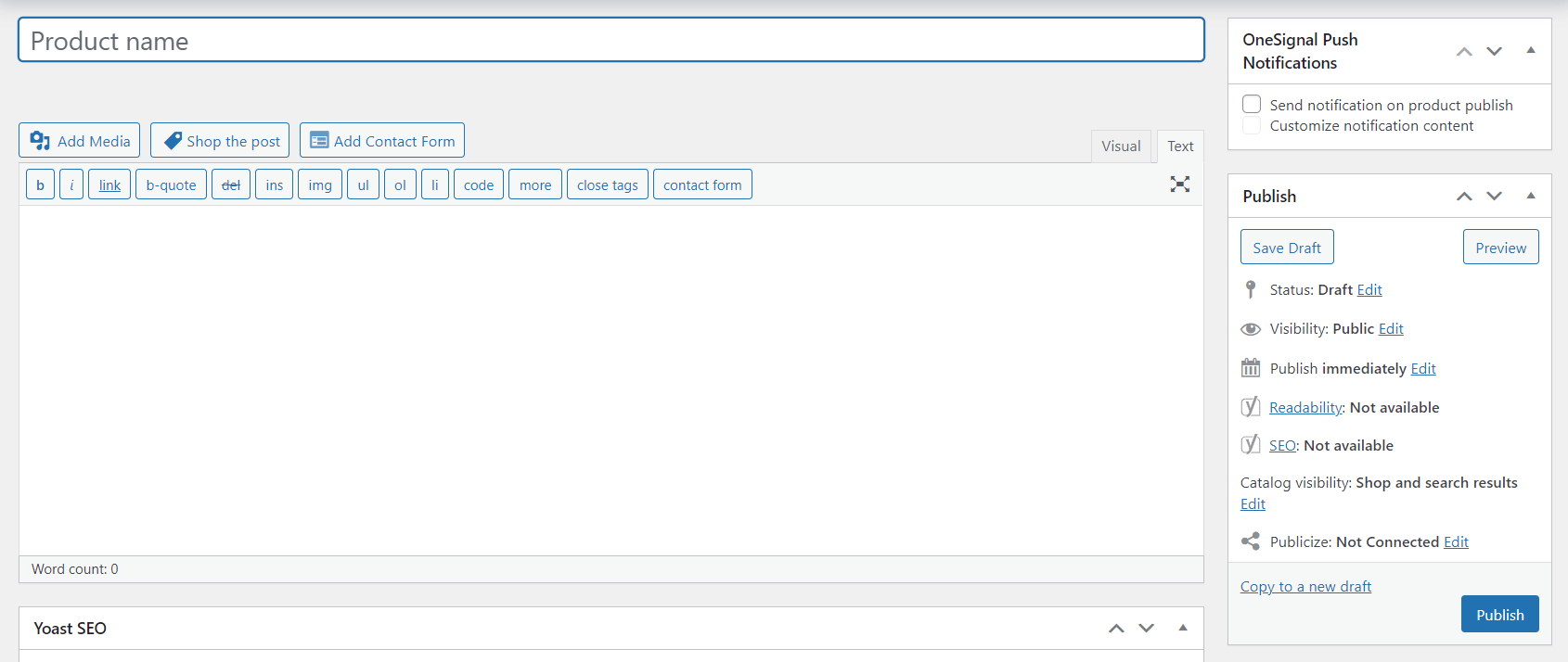 Proceed to add the title of your products as well as a product description detailing the key features of the product.
However, unlike in the standard WordPress editor, you will need to add a lot of data about the product.
Product data section
This is the section that holds almost all the critical information about your product. At this point in our WooCommerce set up tutorial, we will look at the various sections on the Product Data page.
General data
To start, you will need to add general information about the product's price. Indicate the regular price, and if there's a sale price enter the discounted amount. It's also necessary to show the product's tax status and its tax class.

Inventory section
This important section helps you manage products individually, including allowing backorders. Here's where you allow customers to choose products and add them to the cart.
For better inventory management, you'll need to enable stock management.

Once you enter Stock Quantity, WooCommerce will be auto-managing the store's inventory and auto-updating the stock status to show if an item is in stock or out of stock.
Better yet, there's the option to indicate the Low Stock Threshold which sets the number at which you will be notified if a product is running low in your inventory.
Shipping section
Here, you will have to enter information such as the weight and dimensions of the product — both of which are important details when it comes to shipping.
You may also need to enter the shipping class since some shipping methods prefer to group similar products.

Advanced section
If you so wish, you may add some advanced details to enhance the customer experience on the site.

There's an option to include a Purchase Note which is sent to the customer after a purchase. You can also enable or disable customer reviews.
Customizing your WooCommerce store
The beauty about having WooCommerce is that you get to customize your store in an easy and functional manner.
So far into this WooCommerce set up tutorial, you've already learned how to set up your store and add new products.
Now let's look at a couple of customizable features necessary for the smooth running of your site.
Coupons
Coupons are a great way to boost sales on your site. To add coupons, go to Marketing on your WooCommerce dashboard, then click on "Create New Coupon."
Add the coupon code and a short description of the coupon.
In the General section, you can add basic information such as the type of coupon, its value, and the expiry date.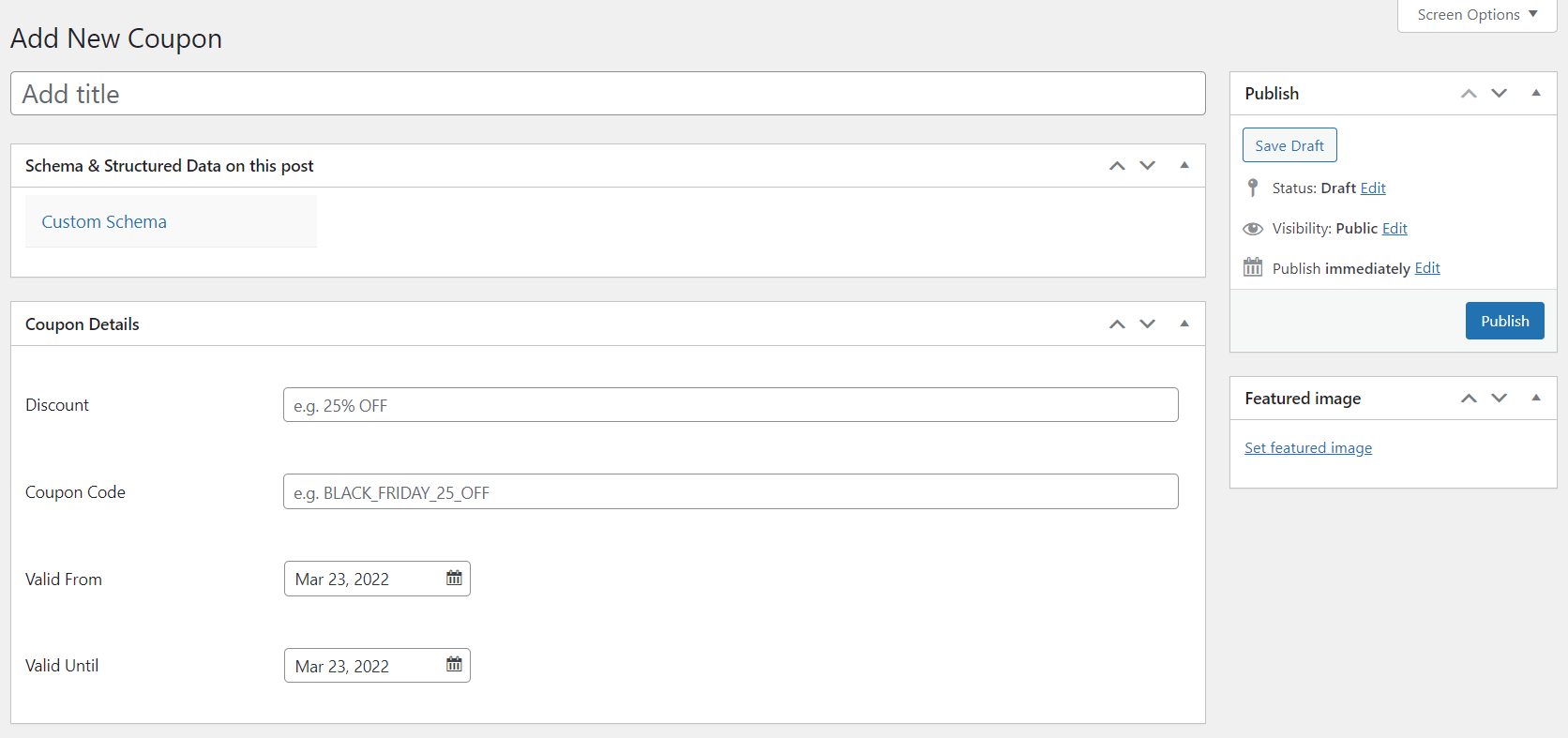 There are also the Usage Restriction settings using which you can set the minimum spend necessary to validate the coupon.
You can also click on "Individual Use only" to limit usage on other orders. Once set, publish the coupon and let customers know about it.
Accounts and privacy
Another important section that you'll need to customize is the Accounts and Privacy tab which helps guide a customer's experience.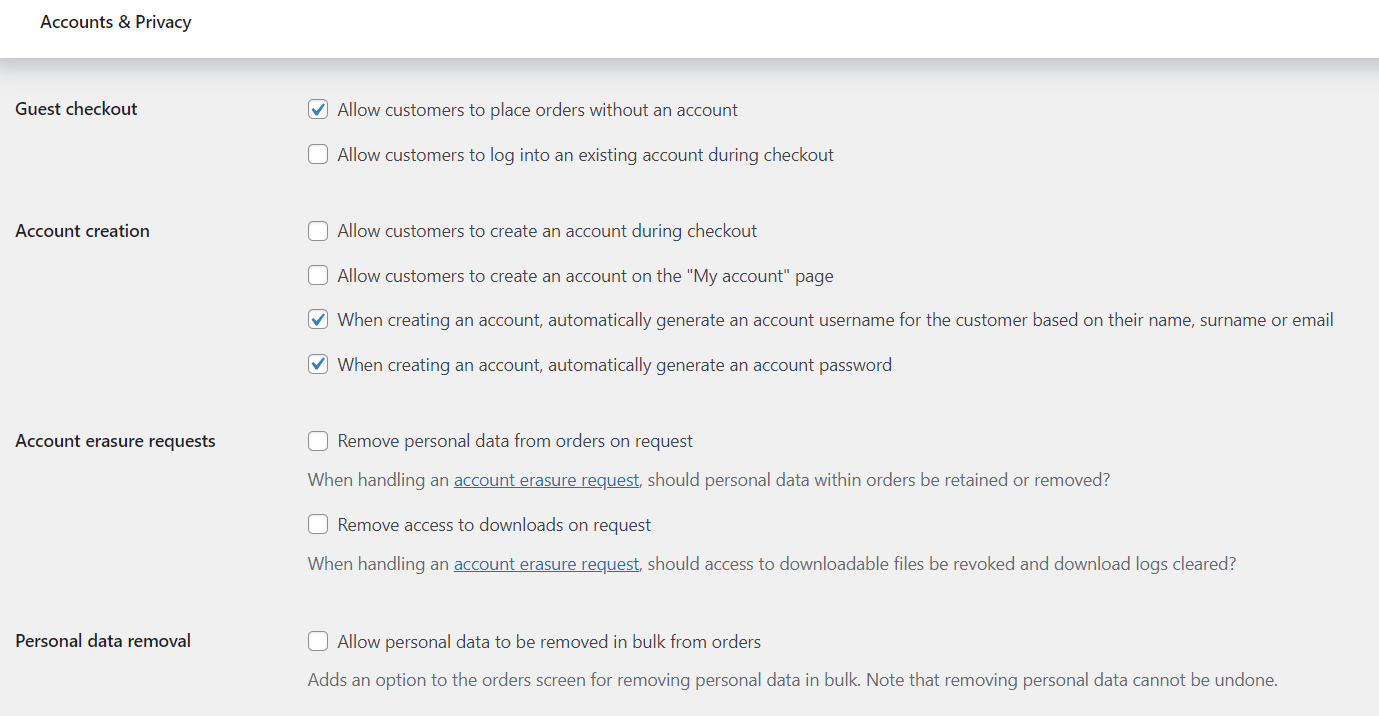 By ticking Guest Checkout, you can allow customers to buy products without creating an account. This can play a major role in helping you boost your conversion rate as some customers might bounce away at the prospect of filling out a registration form.
You can also control account settings and personal data settings from here.
Conclusion
There's no doubt that WooCommerece is the best ecommerce option on WordPress. It has the power to transform your site into a thoroughbred online store with terrific sales.
The WooCommerce store set up process is easy once you install the plugin. As covered, you will need to configure the WooCommerce setup wizard, pick your payment processors, enter shipping information, and install aunty extensions or plug-ins.
With the right marketing tools and the power of WooCommerce, there's no reason your store shouldn't scale and conquer the heights of ecommerce.
Start here to set your WooCommerce marketing on autopilot with Omnisend's automated features and insights.
related features
Want more sales?
Omnisend has everything you need to succeed.
Start free now
No Credit Card needed.