Drive sales on autopilot with ecommerce-focused features
See Features
Reading Time:
7
minutes
The holiday season gets more complex and longer every year, especially when we discuss digital marketing.
What started as a single-day online shopping holiday called Cyber Monday has evolved into a massive five-day mega shopping event known as 'The Cyber 5:' Thanksgiving, Black Friday, Cyber Saturday, Cyber Sunday, and Cyber Monday.
The fact is that online business trends play a vital role in day-to-day B2B operations and, according to Insider Intelligence, B2B ecommerce site sales are likely to reach $1.5 billion in 2021. Here, we discuss how small businesses can use the Black Friday weekend (Cyber 5) to maximize sales.
Top ways to maximize sales during Cyber 5
Here are the top six ways businesses can maximize their sales during the Black Friday weekend.
Gain visibility in your shoppers' behavior
To connect with your ideal consumer, business owners first need to know who they are. You have access to a wealth of critical data, such as the type of customer data found in email marketing platforms like Omnisend.
Curating a buyer persona is a vital and effective sales technique that helps you understand your customers and their shopping patterns. Their purchasing behaviors transform during Black Friday weekend.
If your Black Friday marketing strategy doesn't include a good buyer persona, it's time to get your team together and start creating one. The ideal buyer persona consists of the following information:
Who is your customer? This includes in-depth information about the customers' demographic profile, family situation, job, personality, and mediums they prefer to be contacted.
How can your company help the consumer? Find out your buyers' primary and secondary objectives and challenges.
What are their interests? What are your consumers' motivations when purchasing your services and products?
How will you connect with them? Learn the top marketing and sales messages and marketing platforms to contact them. Marketers that have an active website can start creating a buyer persona with the help of Google Analytics. The robust software provides valuable information about your buyers' age, gender, sexuality, primary interests, and reasons to use your brand.
Develop a compelling deal to support your brand
During the holiday shopping buzz, it's easy to get caught up in short-term goals. However, you must remember that you can't sacrifice your brand's long-term performance to earn several bonus points.
Here are a few factors you must remember when creating Black Friday promotions:
People expect deals, offers, and on point messaging
The fact is that consumers expect something special during the holiday season. If your messages and offers remain the same, you likely won't be able to maximize your results.
In Omnisend, you can easily add Discount blocks to your campaigns: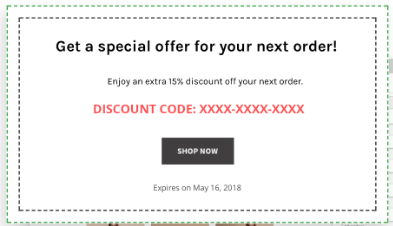 Determine which deals will motivate customers (but protect your brand image)
While going too deep on price cuts can ensure quick sales, they can also train your shoppers to wait for your next deal instead of purchasing items at their full price. Multiple brands rarely give discounts.
In such cases, a simple 10% or 20% discount on specific items can enthrall customers without hurting your profits or brand perception. Bundling products is another incredible way to offer discounts without making it apparent that you're lowering prices. A bonus point of using bundles is that they make gift buying easy.
Deals are essential, but so is convenience
Another great way to convert traffic into sales is by helping viewers achieve their ultimate goal with little to no hassle. It includes helping them finding the right gift in the least possible time, highlighting fast shipping or free shipping.
Sometimes the best Black Friday promos for shoppers offer convenience.
Deals that don't involve discounting
Consider offering employees free bonus gifts or mystery gifts to boost sales. It is an incredible marketing strategy at any time, especially during the holidays.
Prepare backup promotions
When it comes to marketing, there's always risk involved. In some cases, your promotions might not take off since they fail to resonate with your viewers.
A good way of solving this problem is by having backup promotions. Track your email metrics carefully throughout your campaigns to figure out which promotions are performing poorly. This way, you can make real-time adjustments to boost positive responses.
In most cases, simply tweaking your subject line can help escalate open rates or using a different hook can lead to increased conversions.
Be quick to pinpoint your weak points and switch them up with attention-grabbing backup promotions. These may be higher discounts, deals on different products, or new incentives like free shipping.
Prepare campaigns in advance
Email marketing is an effective tool to connect with your customers. In-depth research reveals that there are more than 3.8 billion email accounts across the world.
A wise business decision is marketing this expansive channel with a news blast that puts your Cyber Monday and Black Friday discounts and offers in the spotlight. Consider testing various Black Friday subject lines to identify which ensures the best open rates.
You can use our very own Subject Line Tester to see which subject lines will work best for you.
In addition, try to create urgency by promoting your deals and sales in a way that makes your viewers feel like your sale just can't be missed.
Prepare your store
While 2021 has proven to be a fantastic year to tap into new segments, it's also critical to cultivate your existing customer base. Make sure your customer base is happy by preparing your store in the following ways:
Make sure your staff members are ready to handle bulk orders and offer a positive customer experience
Have at least one jaw-dropping sale on your best-selling products
Set up your various pop-ups and signup forms like the Wheel of Fortune to convert website visitors into subscribers or buyers
Build buzz around your upcoming sales via email campaigns, as well as social media campaigns
Stay organized for upcoming sales by mapping out deals and discounts you want to offer. Consider using a retail management system to track upcoming discounts
Improve your store by spotting areas that need improvement
Test your website across various platforms including laptops, mobile devices, tablets, etc.
Plan for worst-case scenarios to make sure you're always ready to solve any problem like late shipping, low supply, etc. instantly
Ask customers' about their experience to show them that you care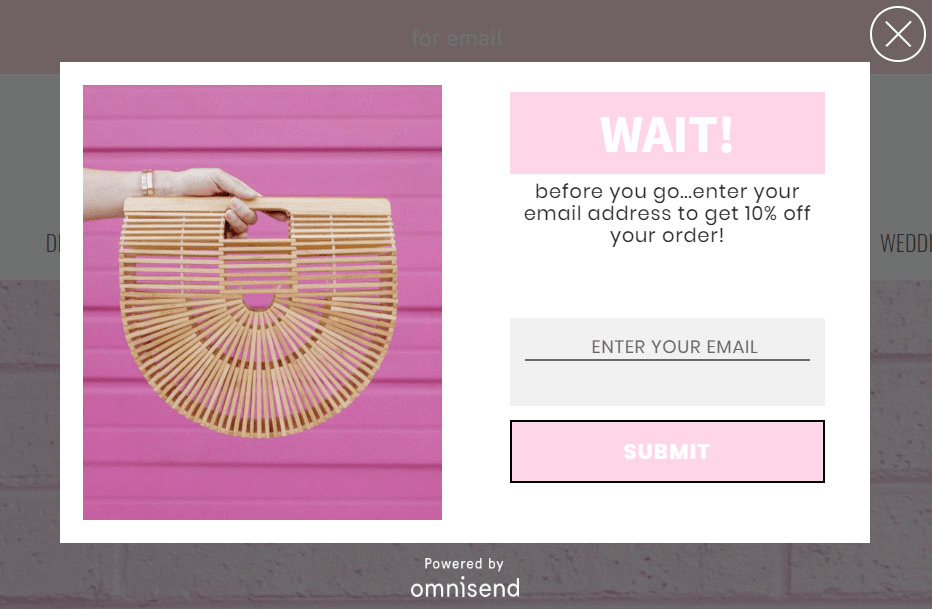 Implement an omnichannel marketing strategy
Building a list and communicating with your subscribers and customers shouldn't be limited to only email. Yes, email does have the best ROI, with nearly $40 earned for every $1 spent.
(Psst…find out how much your email marketing campaigns are worth with our email ROI calculator.)
However, when you combine email with other channels like SMS and web push notifications, you'll begin to see even better results.
Here's what our 2021 (first half) statistics report showed:
Web push notifications had conversion rates of nearly 36%
SMS had an 11% click rate and a strong 2.4% conversion rate
If you use email & SMS marketing platforms like Omnisend, you'll be able to set up automation workflows that incorporate different channels to help you deliver your omnichannel marketing strategy.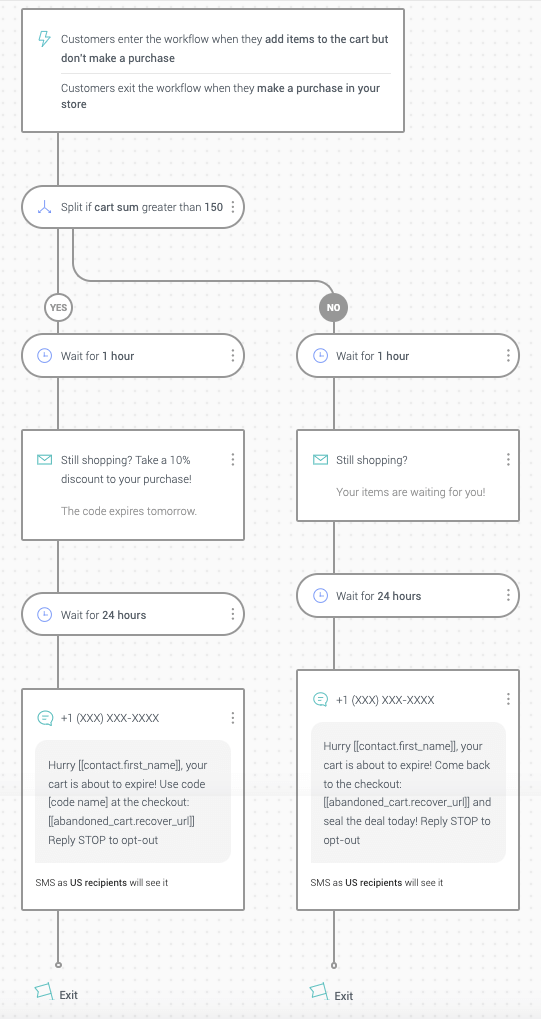 Get your remarketing set up properly
Another reason business owners' experience a decrease in sales is due to under-developed remarketing campaign structures. Most ecommerce businesses use remarketing; however, most fail to leverage it appropriately.
One necessary step marketers should take is ensuring they have an omnichannel remarketing strategy. Your customers should enjoy a consistent experience with your brand across various social media channels. Thus, your remarketing ads, promotions, messages, and product displays should be the same on your website, in-store, social media, and so on.
Here are the three must-use channels to ensure a consistent and effective omnichannel remarketing strategy:
Discovery and Gmail ads
Use Discovery ads pop-ups on YouTube, Gmail, and in the Google Discover feed for maximum reach. At the same time, Gmail ads show up as emails.
These ads command your viewers' attention by popping up in places where your competitors are probably not advertising. In fact, research reveals that Discovery and Gmail ads perform up to 30 to 50% better than standard ads.
YouTube
You can choose two incredible campaigns between Trueview for Action and Trueview for Shopping when it comes to YouTube.
With Trueview for Action, you can bid based on target CPAs. However, Trueview for Shopping allows marketers to run pre-roll ads. The latter runs on a CPV basis.
Google Display Network
Dynamic remarketing on Google Display Network involves building custom ads tailored to meet your shoppers. With dynamic remarketing, viewers can see ads featuring products they previously viewed on your website.
Consider using responsive ads where you add headlines, descriptions, and images to create a killer ad. Responsive ads are preferred over static ads and ensure visibility.
What should companies expect for Black Friday weekend shopping?
Most users reveal that they will shop exclusively online, meaning it's the prime season for online retailers to grow their business.
While ecommerce had already been increasing before COVID-19, US retail sales will likely go up to 13.7% due to the pandemic. Another in-depth survey conducted by Google reveals that 72% of holiday shoppers plan to shop online this season. Beyond that, 41% of Black Friday in-store shoppers say they plan on staying online this year.
This means that companies need to learn tips and tricks to dominate the Cyber 5. Another essential trend is that retailers and shoppers view the Cyber 5 as one colossal event rather than Cyber Monday and Black Friday.
Cyber Monday is still the biggest day, and Black Friday takes second place. In addition, Small Business Saturday/Cyber Saturday isn't far behind, so much so that Thanksgiving was only 8% larger in total sales.
Let's take a look at how the Cyber 5 performed last year.
Campaigns sends
Interestingly, Omnisend research showed that for the Black Friday weekend, the greatest increase in email sends came in the first half of the month, and the Sunday through Wednesday of the Cyber Ten (the 10 days around the Black Friday weekend).
Overall, the five days with the highest amount of emails sent were Black Friday, Cyber Monday, Thanksgiving Day, Small Business Saturday, and the day before Thanksgiving.
| | |
| --- | --- |
| Date | YoY Lift in Sends |
| November | 77.28% |
| Black Friday | 36.68% |
| Cyber Monday | 38.00% |
| Cyber 5 | 39.68% |
| Cyber 10 | 48.72% |
Conversion rate
These conversion rates showed us something interesting—the highest-converting day was neither Black Friday nor Cyber Monday. Instead, it was Cyber Saturday, also known as Small Business Saturday, which presents a great opportunity for businesses being out-competed on Black Friday and Cyber Monday.
| | |
| --- | --- |
| Best Converting Day | Conversion Rate |
| Cyber Saturday | 14.15% |
| Cyber Monday | 12.29% |
| November 29 | 12.08% |
| Black Friday | 11.98% |
The bottom line
Learn to maximize your sales during Black Friday and Cyber Monday with the help of an omnichannel marketing strategy.
Get started for free today on Omnisend to boost your sales for the Black Friday weekend and the rest of the year.
related features
Want more sales?
Omnisend has everything you need to succeed.
Start free now
No Credit Card needed.