Drive sales on autopilot with ecommerce-focused features
See Features
Reading Time:
6
minutes
Ahhh, body care – the ultimate indulgence. From taking a hot bubble bath to treating yourself to a luxurious massage, there's a certain satisfaction that comes with giving yourself some much-needed TLC.
But the body care industry isn't just about pampering and relaxation. It's about empowerment, self-care, and feeling your best. 33% of Americans are now spending more on body care products than ever before. Plus, ecommerce is the fastest-growing channel for beauty sales — online sales will become the most important channel by next year.
65% of consumers now buy beauty products online, compared to 51% during pre-pandemic times. That's why email is a powerful channel to build brand loyalty, encourage repeat purchases, and drive long-term sales.
Take a look at these 10 body care email samples and tactics to help you:
10 best body care email examples
# 1 Ashley & Co: Offer freebies for a limited time

People love free stuff. Seriously, it triggers irrational behavior that you wouldn't see otherwise. Customers stand in lines, stay up late, and even buy more than they need just to get their hands on something free.
In fact, 69% of millennials don't complete a purchase without searching for an offer or deal first. That's exactly why it's a great idea for Ashley & Co. to offer free samples with an online purchase of over $50 in their email. This offer entices customers to shop more and enjoy a few freebies.
The limited-time offer creates a sense of urgency, and product recommendations give customers a headstart on their body care routine.
#2 Gro-to: Be friendly

A study by the Nielsen Norman Group found that a casual, conversational, and enthusiastic tone of voice in web content increases a users' willingness to recommend a brand and performs the best.
Gro-to goes all out with a friendly tone. The headline "Did we just become mates?" immediately catches the reader's attention, and the chatty copy builds familiarity. This email shows kids using their products and cements the safety and gentleness of their formulas.
The cherry on top is the image of their founder, which builds familiarity and trust and makes Grotto feel like a friend, not just a brand.
#3 Hawthorne: Personalize product recommendations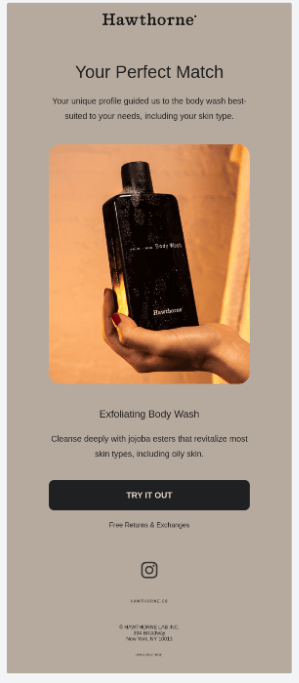 Almost 60% of successful email marketers believe that personalization increases engagement. And rightly so – consumers want to know what works for them. They want to save time browsing and receive tailored product recommendations for their needs.
Hawthorne knows this and takes it to the next level by personalizing each email with relevant product recommendations. The headline, "Your Perfect Match" and complementing subheadline "Your unique profile guided us…" create anticipation, and the product images drive curiosity.
With email personalization, Hawthorne ensures customers only see products they care about. Plus, it implies that the brand knows them and makes for a better shopping experience.
#4 Wild: Share your brand story in the welcome email

Storytelling allows readers to get a better understanding of who you are and what your brand stands for. It's also the best way to build customer trust, establish an emotional connection, and create a loyal audience. According to psychologist Jerome Bruner, the human mind remembers facts 22 times better if they are part of a story.
Wild does a great job of telling its story in its welcome email. Through this message, they share their values and promise of clean formulas made with natural ingredients – all while keeping it concise and to-the-point.
They also include visual cues like product imagery to reinforce the brand's identity and make it easier for customers to connect. A casual picture of the founders, with the headline "Hey, we're Wild" adds a personal touch to the email, making it more memorable.
#5 Nuud: Send a double opt-in email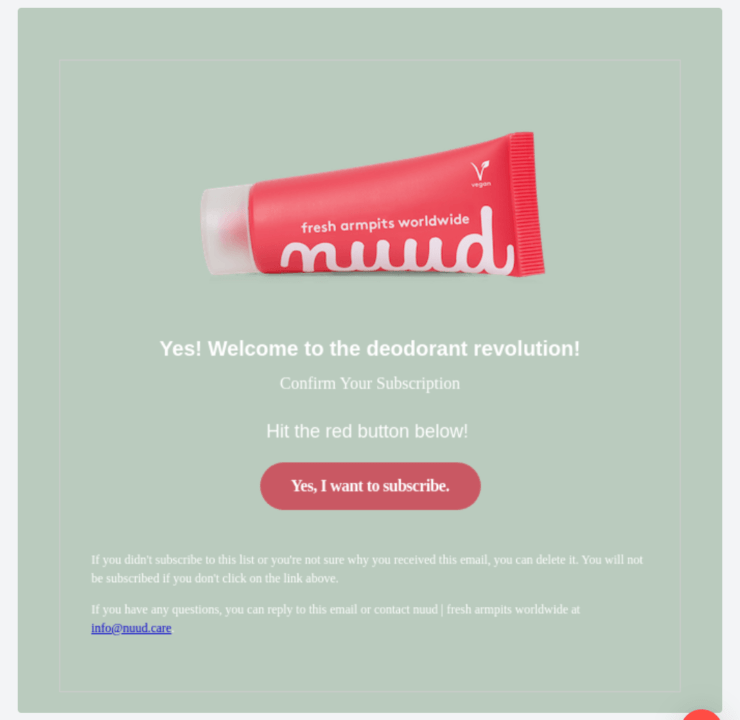 Double opt-in emails are a great way to make sure that customers are actually interested in your products. Usually, this type of email includes an invitation to join the brand's mailing list and an extra step – like clicking on a link or replying to an email – that allows you to confirm your subscription. It results in a more engaged and loyal customer base, since they're interested enough to take action.
Nuud's email is short, clear, and to the point. Their friendly tone in the headline "Yes! Welcome to the deodorant revolution" builds excitement, and the CTA button is eye-catching enough to make customers click. The product image further reinforces the promise of a revolutionary deodorant experience by showing how different their product is compared to others.
# 6 Naturopathica: Share valuable product information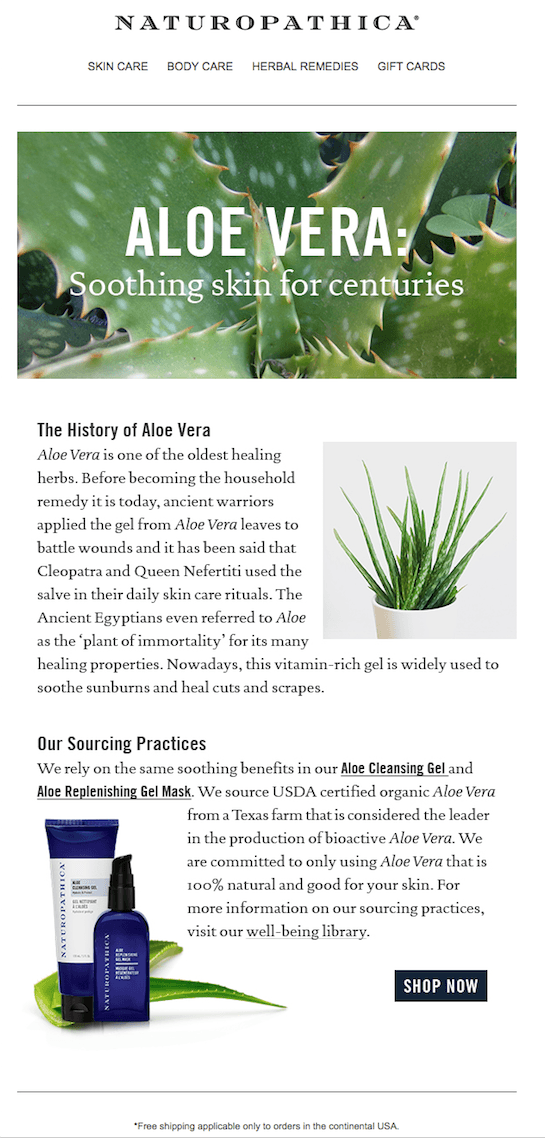 The modern consumer is more eco-conscious than ever before. Also, with studies suggesting chemicals in beauty products cause long-term health damage, customers want to know what's in the products they buy and how they're made.
Naturopathica educates its readers about its products in its email. The email shares a history of how aloe vera has been used for centuries, which validates the product's effectiveness. It also explains how they source their ingredients and reiterate that they're only committed to using aloe vera that's "100% natural" to ensure potency.
#7 Erno Laszlo: List your product offerings

The average amount of time people spent reading an email in 2022 was nine seconds. Yikes. That's a very limited amount of time to get your message across.
Erno Laszlo makes the most of this limited frame and space to convey as much information as possible. The design is sleek and concise, with minimal distractions. It showcases seven products, adds a tip, and includes limited-time offers to provide additional incentives to purchase.
It's a power-packed email that makes it easy for customers to see what they could buy, without overwhelming them.
#8 Misc. Goods Co: Offer special discounts

Consumers are concerned about inflation in 2023. 8 in 10 US adults think 2023 will be a year of economic difficulty, which means customers will actively look for discounts that can help them save money.
Misc. Goods Co offers a "pay-what-you-can" discount with up to 40% off on their products. This type of discount allows customers to set their own price, which helps them make informed decisions about their purchases and lets the company adjust prices based on customer demand.
The email also highlights complementary products and offers a free shipping incentive to encourage customers to add more items to their cart – ultimately leading to higher sales. This tailor-made approach to discounts is an interesting way to involve the customer and provide them with a memorable shopping experience.
#9 Curology: Go all out in the product launch email

Product launch emails either fall flat or stand out from the crowd. How you make an impression with your message and deliver the most value will determine how successful your campaign is.
Curology introduces its new acne body wash with as much value possible. The headline "Get acne off your back" states the direct benefit, and the product's image is eye-catching. That's followed by a description of how it works and pictures of the product, which further provide clarity.
The email also includes customer reviews — a powerful move since 40% of consumers trust reviews as much as personal recommendations from family and friends.
#10 Hiki: Invite subscribers to explore the website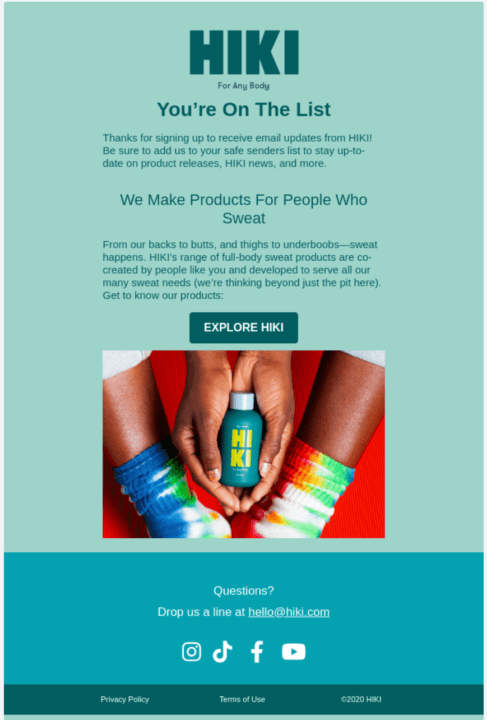 Welcome emails are the perfect chance to invite subscribers to engage with your brand further. These subscribers are in – they want to find out more about who you are and what you do.
Hiki does this with its welcome email, which invites customers to explore the website. The email is short – it simply thanks the subscriber for signing up, describes who the products are for, and directs the reader to the CTA. Hiki ensures readers won't waste too much time reading and ensures they'll take action.
Welcome subscribers, engage with Value
The key to successful email campaigns is engaging customers with value. These body care email examples show how companies use captivating visuals and storytelling to educate readers, provide discounts, highlight product reviews, and invite customers to take further action.
And, of course, if you're short on time and creativity, explore Omnisend's email templates to get your campaigns up and running in just a few clicks. Registration is free, so go ahead and give it a try.
related features
Want more sales?
Omnisend has everything you need to succeed.
Start free now
No Credit Card needed.