Drive sales on autopilot with ecommerce-focused features
See Features
Reading Time:
6
minutes
Skincare is the ultimate form of self-care. The moisturizer slathered over a freshly washed face and the exfoliator gently scrubbing away at dead skin cells is a luxury many of us can't afford to skimp on.
To say the skincare industry is huge would be an understatement. Women in the United States spend $3,756 on beauty products and services per year, or $85 monthly. Do you think men are far behind? Nope — men spend almost $2,928 per year on skincare products.
With such a large market, there's no doubt that the competition among brands to stand out is immense, and this is where email marketing comes into play. The right communication strategy, tone of voice, and visuals can make or break your success.
Here are ten skincare email examples you can take inspiration from.
#1 Nurx: Remind customers of seasonal changes

Help your customers, and they're going to love you forever.
Nurx sends email newsletters to remind customers to stay ahead of seasonal changes. Suggestions on how customers can adjust their skincare routines ensure customers are equipped to fight the elements no matter what climate their skin is exposed to.
The email also uses clever visuals and bold colors to grab attention and includes a CTA to contact their medical team for prescription skincare, further adding credibility to the brand.
#2 bareMinerals: Promote minimalism

Minimal makeup has always been in — the au naturel look is timelessly fashionable. BareMinerals draws attention with its email marketing campaigns by promoting a minimalist approach to skincare.
The newsletter breaks down the steps of a minimal makeup routine, complete with bareMinerals products that help you achieve a natural glow. The visuals feature the products up close, which allows customers to recognize the product in their inbox and provides a sense of familiarity.
#3 Curology: Welcome them with benefits
There's nothing customers love more than a reminder of the freebies they receive when they sign up for something.
Curology's welcome email does just that — it highlights the value customers receive as a Curology patient, including customized prescription medication, fine-tuned formulations, and one-on-one skincare advice from their personal healthcare provider.
Minimal visuals and a calm color palette of greens and whites also add a soothing effect and give the impression of a reliable skincare brand.
#4 Feel: Offer a freebie

Free gifts with purchases increase brand loyalty, drive sales, and improve your chances of retaining a customer. Free gifts tap into our sense of FOMO – Fear of Missing Out and psychologically make us feel like we're getting a special deal, motivating us to act.
Feel's newsletter features a freebie — the Vitamin E Balm — customers get with any purchase. The email showcases the product in action and features customer reviews that add credibility to the brand.
The brand also highlights its vegan and cruelty-free ethos in a friendly tone of voice and badges that add to its trustworthiness.
#5 Prima: Highlight the men

Skincare marketing traditionally focuses on women, but Prima bucks this trend with its email campaigns.
Prima's newsletter showcases a range of men's products, such as bath salts and the R-R cream, in action. 93% of customers read reviews before deciding to buy a product, and Prima takes advantage of this by featuring reviews from actual customers who share their experiences with the products.
The visuals are peaceful and inviting, and the email ends with an introduction to Prima's digital gift cards. Overall, it's excellent positioning, and readers may instantly want to buy the gift card for the men in their lives.
#6 Rout: Showcase the results

Few things are as powerful as showcasing the results of a product. Rout does this perfectly by highlighting its razors in action.
Step-by-step pictures of the shaving process, with a detailed description of the results, give readers an idea of what they can expect when using Rout's razors.
Words like "adios" and "Hermosa" also show the brand's positioning to a Latina demographic. These words make the newsletter fun and exciting while making the brand relatable to readers.
#7 Italic: Promote bundles

Who doesn't love a good bundle? Bundling is an excellent way to sell complementary products in a single purchase, and Italic's newsletter does just that.
Italic's Skin Reviving Trio — night cream, hyaluronic acid serum, and rose quartz facial roller – makes a tempting offer, complete with an image of all three products in one shot.
The price vs. value comparison ($38 vs. $49 value) and phrases such as "last call" and "while supplies last" create a sense of urgency, increasing the chances of readers clicking through.
#8 Hims: Create holiday deals

People love gifting others, and nothing beats a holiday-themed email.
Hims takes advantage of this with its newsletter campaigns featuring a Father's Day deal.
The copy is where this newsletter truly shines — the "whiff of salty sea air" transports readers to a beach while the "restore a youthful glow" and "looking to regrow your luscious locks" phrases clearly state the benefits of the product.
The visuals are also attractive — they feature the ingredients of the perfume and skincare products with their consistencies and textures. These visuals make readers want to try the products and give them a taste of what they expect.
#9 Harry's: Make it interactive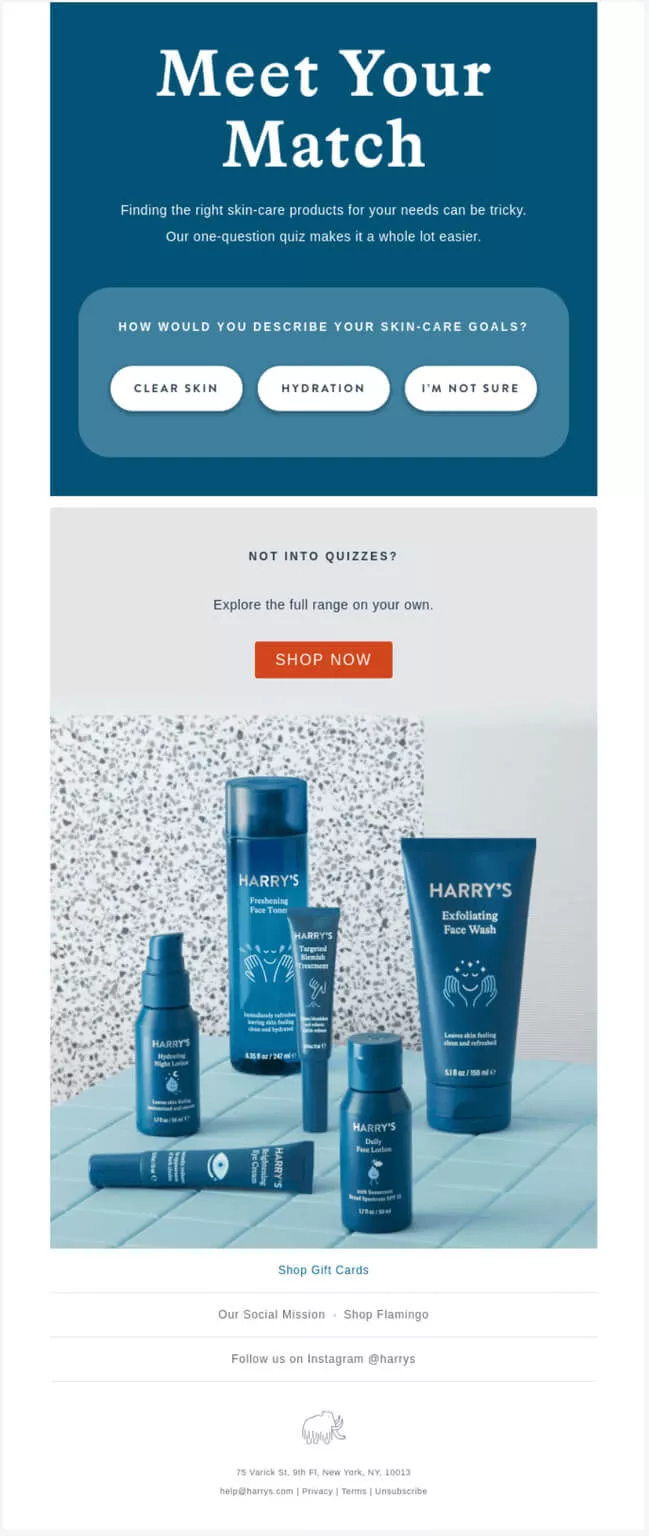 60% of email recipients are likely to engage with an interactive email. Quizzes, polls, and other interactive elements draw readers in, and Harry's newsletter campaign capitalizes on this.
The email includes a one-question quiz that helps readers determine which skincare products they should use. Harry's also provides an alternative to readers who don't like quizzes to explore the entire skincare range.
An image of their products front and center give readers a taste of the range and help create familiarity.
#10 Perricone MD: Back it up with science

Let your research do the talking and back up your email campaigns with scientific evidence.
Perricone MD's email breaks down the ingredients in its new Deep Crease Serum and lists the benefits of each ingredient. The email also highlights a before and after picture of a customer with stats from a consumer study that showcases the powerful effects of the serum.
The email also promotes a seven-day sampler which, after the research and visuals, readers may be more likely to try.
Overall, the email is informative and interesting — it makes readers feel like they know what they're getting when buying the product and adds to the brand's credibility.
Give your customers a skincare routine they can't refuse
These skincare email examples are exactly what you need to get your creative juices flowing.
No matter what skincare, body care or hair care product you're selling, there's always a way to make it interesting and compelling to customers. As long as you know your audience and what they want, you can create an email campaign that engages them and does the job.
And, of course, if you're short on time or creativity, Omnisend has a range of templates to help get the job done. With skincare email templates as fresh as your products, you can deliver an experience that customers will love! Register today and explore our range of features to create the perfect skincare email campaign.
related features
Want more sales?
Omnisend has everything you need to succeed.
Start free now
No Credit Card needed.