Drive sales on autopilot with ecommerce-focused features
See Features
Reading Time:
8
minutes
Sixty-three percent of shoppers expect personalized brand communication. And although some retailers are still sending batch-and-blast email campaigns, more and more brands are starting to address this customer expectation and, using email segmentation, provide a personalized customer experience.
Once they start to tailor their communication to customer behavior and send relevant and timely messages, the revenue of email marketing campaigns increases exponentially.
At Omnisend, we see that segmented onboarding, browse abandonment, and reactivation marketing campaigns yield significantly higher results and generate five, ten, and even twenty times more sales than blast email campaigns.
The following retail customer segmentation examples can be used for both one-off campaigns and automated messages, which means that your brand will communicate with your shoppers and make money without you lifting a finger.
So let's dive into ecommerce audience segmentation examples that will increase your revenue, not your workload!
1. Retail customer segmentation examples: First-time purchasers
One of the must-have retail segments is a segment of first-time purchasers.
These folks need further nurturing to turn them from one-time shoppers to loyal customers, and your post-purchase messages can help to achieve that. Furthermore, our reports show that, on average, a conversion rate of post-purchase emails see a 217.5% lift over promo emails. So it's definitely worth trying to implement into your email marketing strategy. To do that, you can set up a workflow of three or four emails that starts when someone purchases for the first time (please, pay attention, they also have to be signed up for marketing messages).
This segment doesn't require any sophisticated data analysis. It's easy to set up. See the image below:

What can you say in these messages?
"Thank you for your order and welcome to the family!"
Introduce your loyalty program if you have one.
Introduce your community online and invite them to share the feedback on social media using your hashtags.
"How do you like our products?" Ask to leave a review after their first experience. This message can be part of the workflow but sent via SMS. That way, people leave a review more actively. Also, consider offering a discount for the 2nd purchase in exchange for the review.
Send some links to your blog and share tips on how to take care of or better use your products—like a beauty brand informing customers how to make their lipstick last longer.
Friendly product recommendation messages based on the products purchased or total order value.
Let's say your first-time customer bought items from the lowest tier of your products. This means they might be price-sensitive, and your onboarding emails may highlight more similar products from that tier. On the other hand, if your new shopper bought premium products, you can send them more premium recommendations. See the example below: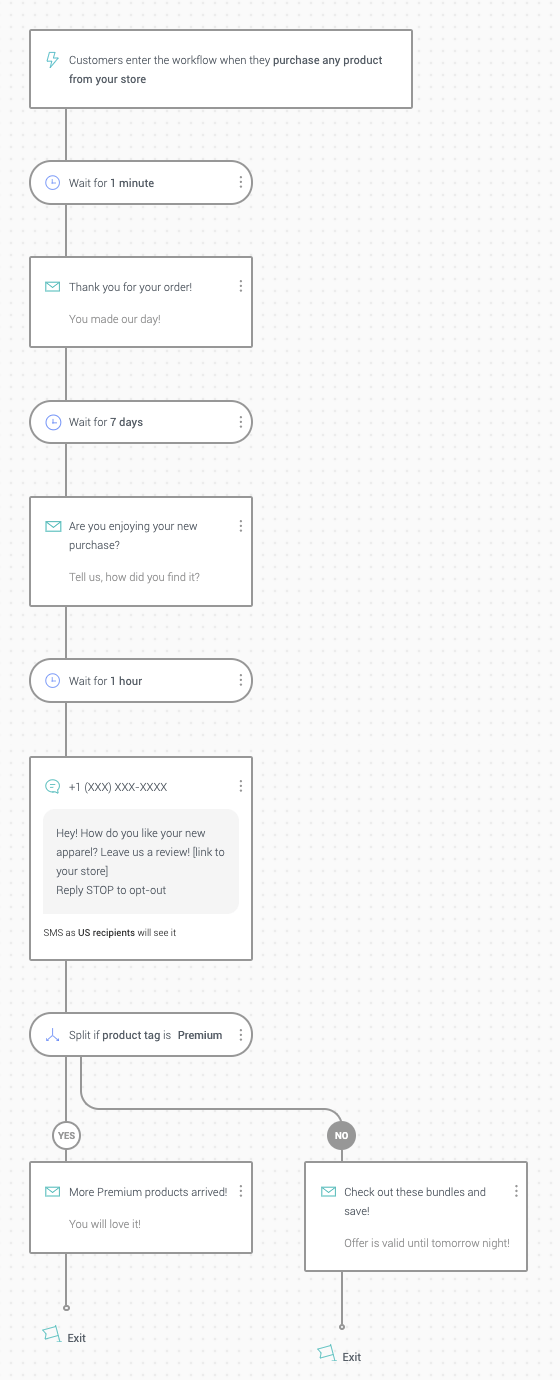 As always, look for areas you can further customize the customer segmentation and the whole onboarding process according to the data you have, such as gender or other relevant demographics to deliver a more personalized experience.
Start using Omnisend for free & drive sales on autopilot with pre-built automation workflows at Omnisend!
Start Free Today
2. Loyal customers
Another important thing in retail customer segmentation is identifying your loyal customers.
Loyal customers are the best customers you have: no recurring acquisition costs, only revenue.
However, you have to treat them well so that they feel valued and appreciated and don't become lapsed purchasers. The first step to a better relationship with your loyal customers is identifying them. For this, you can analyze your data to see when customers become loyal, how many purchases they make before they lapse, or just decide that after the third purchase you treat your customer as a loyal one—where you want to start is up to you.

Having created this customer segment, you can use it differently:
Send one-off marketing campaigns with early access products, or exclusive bundle offers, so your loyal customers feel special.
Set up a short automated workflow to express gratitude and offer a small gift for being loyal (for example, a special loyalty discount for the next purchase, a set of face cream testers with a next purchase, etc.).

The main goal of this communication is to surprise and delight your customers, making them feel more connected, and loyal, to your brand.
On top of this, you can also create a segment of even "more loyal" customers. For example, those who have already been shopping with you for a few years and have made more than ten orders. For this segment, similar communication will work again. Send them a discount code, or maybe this time think about something more unique, like a piece of your company swag, handwritten note in the delivery package, etc.
3. Purchasers with a higher/lower-than-average order value
Identifying higher spenders and lower-than-average spenders helps to tailor your messaging for different customer needs. Although it can require some data analysis, this is gold for customer segmentation.
These segments can be easily created by filtering your customer base by sales, customer lifetime value (CLV), or the average order value (AOV). The ones that spend less than the average value fall to the low AOV segment. The ones that spend more–to the high AOV segment.

To make the segment of higher spenders even more exclusive, you can pick a revenue number much greater than the average and narrow down your selection.
These segments might be utilized in different email marketing scenarios in both one-off email marketing campaigns and automation.
Segment usage in email marketing campaigns:
For the low AOV segment, send email campaigns that offer a higher minimum spend for the discount or free shipping. This will help you to increase their AOV.
For the high AOV segment, send more exclusive content, offer express shipping, special bundles and value packs, free gift wrapping, provide surprises in delivery packages, etc. Loyal higher spenders are the most valuable customers that any business can have, so you'll certainly want to keep them and treat them well!
Segmenting your audience this way is extremely valuable when it comes to cart and browse abandonment workflows. Depending on the customer segment, you may want or don't want to offer a discount to the customer.
Let's say, you have two customers on-site that are adding items to their carts. They both have a cart with the value of $150 and both abandon their carts. You can use the AOV segment to determine the abandoned cart messaging: for the customer with low average order value, offer an incentive with a higher minimum spend requirement, and for customers with high AOV, offer a smaller incentive or none at all.
4. Customer segmentation: Lapsed purchasers
We already discussed the high value of loyal customers. It's just as crucial to identify when customers are about to lapse, so you can re-engage with them and make them stay longer. And one of the best ways to do that is to set up lapse-purchase automation which would be triggered when the customer has not purchased for a particular period of time. You can find tips on how to identify when customers are about to churn in this article.
Customers who stopped buying from you after the first purchase should receive different messages than the customers who have bought from you several times and then stopped.
For the lapsed first-time shoppers, you can ask about their experience, and how they like the product they bought from you last time, showcase new products, offer an incentive for the next purchase, and highlight the most popular products in your store.

If the customers have been buying from you for a while and then stopped, you already have more data about them—what they've bought, how often they have been doing it, etc.—so you can tailor your messages according to this data. You can use this to send them recommendations related to their previous purchases. If you sell products that tend to run out fast, such as beauty or wellness products, you can remind them about those products they purchased from you previously.
For those customers who might have already churned, offering incentives can help reengage with them. Some retailers send messages "We miss you, come back" and offer incentives in an attempt to bribe customers to return.
Besides coupon codes, think about what else can delight your customers and encourage them to come back. Maybe it's early access to a new collection, exclusive bundles, limited edition items, free express delivery, access to a free online course, etc.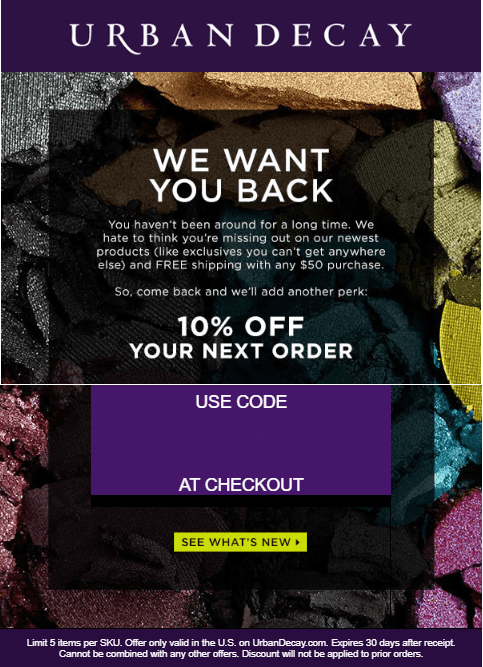 5. Unengaged email subscribers
No matter how hard you try to engage your email subscribers and retain your customers, some of them will become unengaged anyway. Typically, it's about two to three percent of your database per month.
Your task is to identify them once they become inactive and either re-engage or unsubscribe them from your subscriber database. It's crucial for every retailer that takes email marketing seriously.
That's how the segment can look like:

Once you determine what is considered to be unengaged for your brand (often determined by how often you send), you can run a re-engagement, or make-up or break-up, campaign. This type of messaging usually consists of two or three messages that inform the subscriber that unless they take a specific action—like click on the email—they will be unsubscribed.
You have probably seen these emails consisting of subject lines like, "Would you still like our emails," or "Last chance to hear from us." Running campaigns like this can re-engage a small percentage of your unengaged subscribers, but will save you from needlessly removing those who do want to hear from you, but maybe just needed a short break.
At the end of the day, sending emails to contacts that take no action on them harms you as the sender, and impacts your deliverability.
Check out our recent article, which explains why it's so important and how to keep email list hygiene properly.
Retail customer segmentation: Wrap up
Although retail customer segmentation might sound like an advanced way of running your email marketing, it doesn't need to be difficult or time consuming. By using some simple, easy to create segments, anyone can deliver a better email experience to their customers. Omnisend makes it even easier by including pre-built workflow templates to help you easily implement these segmented automated campaigns.
Knowing your customers, responding to their needs, and understanding your brand's entire customer journey can pump your marketing strategy. It gives you the power to meet your customers' expectations—resulting in customer loyalty, higher mutual satisfaction, and, of course, more sales.
related features
Want more sales?
Omnisend has everything you need to succeed.
Start free now
No Credit Card needed.