Drive sales on autopilot with ecommerce-focused features
See Features
Reading Time:
9
minutes
If you're an ecommerce merchant, you know how important it is to keep track of customer interactions and data. After all, your customers are the lifeblood of your business.
That's where ecommerce CRM software comes in. With the right tool, you can easily organize and analyze customer data, automate repetitive tasks, and improve your overall customer experience.
In this article, we'll look at the best ecommerce CRM platforms on the market and discuss how to choose the right one for your business. We'll also touch on the reasons to use CRM in ecommerce, including the benefits and challenges that you may encounter.
Best ecommerce CRM software: Overview
Implementing ecommerce CRM: benefits and challenges
Let's take a look at the many benefits of ecommerce CRM software, and also touch on a few potential challenges you may encounter. By understanding both the pros and cons of ecommerce CRM software, you'll be better equipped to decide if it's the right fit for your business.
Benefits
Make selling simpler: Streamline your sales process by providing a centralized location for customer data, communication, and sales information. This can help your sales team close deals more efficiently and effectively.
Simplify collaboration: Easily share customer data and communication across different departments and team members. This can improve collaboration and ensure that everyone is on the same page when it comes to customer interactions.
Automation of repetitive tasks: Automate a variety of tasks, such as sending emails, scheduling appointments, and following up with leads. This can save you time and allow you to focus on more important tasks.
Personalize marketing: Segment and target your marketing efforts based on customer data, leading to more personalized and effective campaigns.
Customer care: Provide better customer care by giving you access to customer history and communication, allowing you to quickly and effectively address customer needs and concerns.
While implementing ecommerce CRM software can bring many benefits to your business, it's important to be aware of the potential challenges as well.
Challenges
Employee training: It can take time for your employees to become proficient in using ecommerce CRM software, which can be a challenge if you have a tight deadline for implementation.
Requires time-consuming data entry: In order for your ecommerce CRM software to be effective, you'll need to enter customer data and interactions into the system. This can be a time-consuming process, especially if you have a large customer base.
Best ecommerce CRM software
1. Omnisend — Best for growing ecommerce brands
G2 Rating: 4.6 out of 5
Omnisend is a complete marketing automation platform that has everything you need to take your business to the next level. This includes a powerful CRM solution that automatically collects, analyzes, and leverages all of your customer data.
With Omnisend, you can save time and get better results by automating tasks such as email campaigns, abandoned cart reminders, and customer segmentation. Plus, you'll never miss an interaction or touchpoint–everything is tracked and organized in one place. While it may not be a dedicated CRM tool like some other options on this list, its automation features more than make up for it.
In short, Omnisend's automation capabilities make it a valuable addition to any growing ecommerce business.
Key features for ecommerce:
Pricing: Free plan with access to unlimited features. Premium plans start at $16 per month.
Effortlessly manage and nurture your customer relationships with Omnisend
Start Free Today
2. Zoho CRM — Best for automating your sales processes
G2 rating: 4.0/5
Helping more than 250,000 businesses in 180 countries to build their customer relationships, Zoho is known for its stellar sales automation capabilities, which include AI and machine learning features.
On top of that, Zoho offers lots of customization options, which let you create your own version of the platform and easily add more advanced options as you grow.
With that said, Zoho is not the most user-friendly piece of ecommerce CRM software, and can quickly ramp up in price if you want to include more add-ons.
Key features for ecommerce:
Sales process automation
Automated lead scoring & management
Real-time customer insights
Built-in tools for inventory, project & customer support management
Pricing: Free version for three users, paid plans are scaled according to your needs, with more advanced features added with each upgrade.
G2 rating: 4.1/5
Salesforce is a powerful ecommerce CRM that makes it easy to distribute leads among team members and offers in-depth tracking. Additionally, Salesforce offers ample customization freedom, so you can tailor it to the specific needs of your online store.
On the downside, Salesforce can feel a bit outdated, and it does have a bit of a learning curve, so it may not be the most beginner-friendly option out there. Despite these drawbacks, Salesforce can be an excellent choice for merchants who are looking to scale their ecommerce business.
Key features for ecommerce:
Email marketing
Quote management
Partner and Channel management
Contract management
Pricing: Plans start at $25 per month, with the highest plan priced at $300 per month.
4. Pipedrive — Best for small online businesses
G2 rating: 4.2/5
Pipedrive is a sales-focused CRM solution, with an intuitive interface that makes it easy for you and your team to access actionable insights and deliver personalized messaging, which is especially relevant for small ecommerce businesses.
Don't let its simplicity fool you though, Pipedrive is one of the most comprehensive CRM software tools on the market, and with 150+ apps and integrations, it's almost guaranteed to work seamlessly with your current setup.
Key features for ecommerce:
Email marketing
Customer contract management
Sales forecasting
Product and pricing management
Quote and order management
Pricing: Pipedrive has no free version, but it does offer a full-access free trial. Paid plans start from €15 per user with more features added as you grow.
5. Hubspot — Best free ecommerce CRM
G2 rating: 4.4/5
Hubspot is a massive name in the ecommerce and marketing field, offering a whole suite of free CRM software and tools that cover almost everything you need to grow your business. The premium version includes more powerful features that are ideal for bigger ecommerce businesses ready to take the next step with their business goals.
You'll have access to things like project management, forecasting, contact tracking, scheduling, lead management, and financial CRM without the hassle of switching apps and paying multiple monthly bills—it's all there in Hubspot.
Key features for ecommerce:
Email marketing
Contact management
In-depth reports and analytics
Project management
Customer segmentation
Pricing: Free version with limited features, as well as a free trial. Paid plans with premium features start at around $50 per month.
6. Freshworks — Best all-in-one CRM
G2 rating: 4.6/5
As an all-in-one platform, Freshworks CRM is an excellent choice for ecommerce businesses who want to manage their customer relationships and marketing from a single command post. It lets you stay on top of customer conversations, generate contact databases, and offer a personalized experience. Plus, Freshworks offers AI-enabled contact scoring and sales forecasting features that allow you to measure revenue growth in real-time and predict outcomes with impressive accuracy.
Key features for ecommerce:
Email marketing
Market segmentation
AI Chatbots
Sales forecasting
Autoresponders
Behavioral analytics
Pricing: Free 21-day trial, paid plans ranging start at $29 per month.
7. Metrilo — Best for businesses that need advanced analytics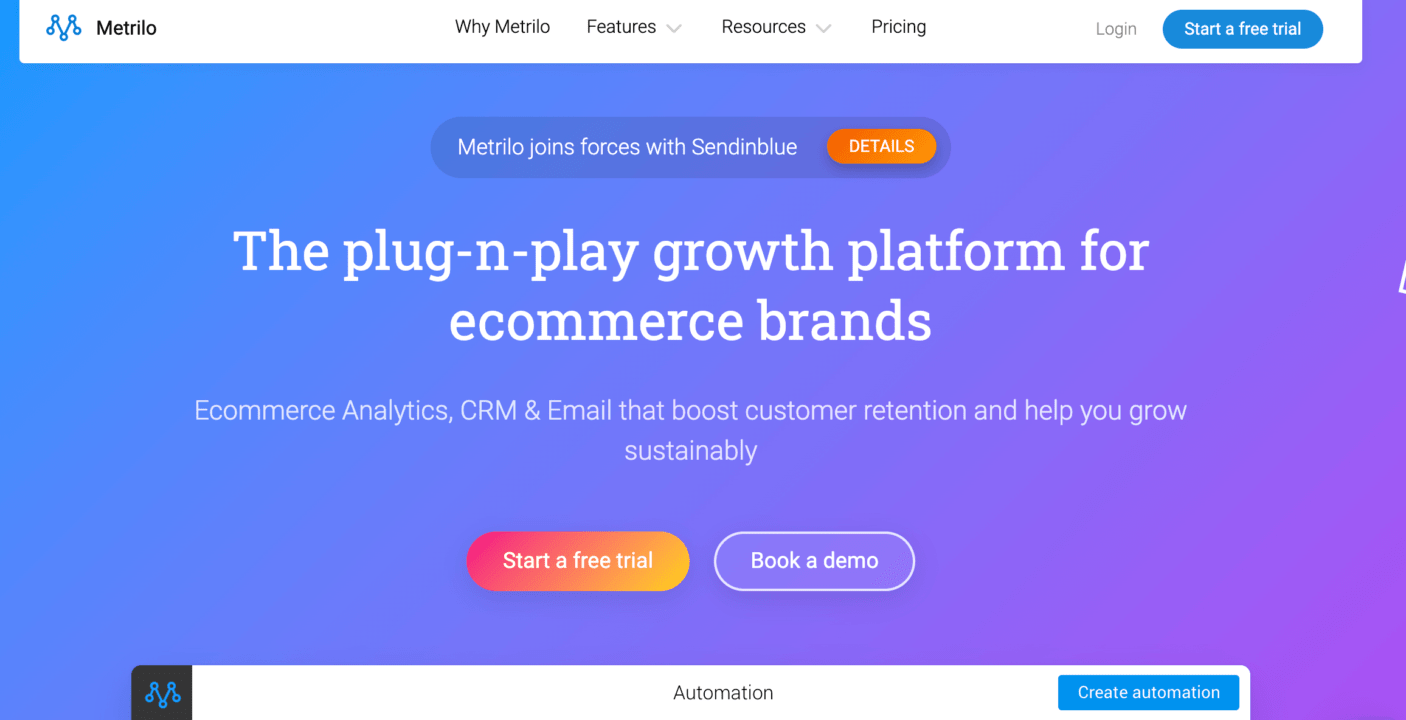 G2 rating: 4.7/5
Metrilo is designed with ecommerce teams in mind, which makes it a great fit for merchants who need more sophisticated data analytics on customers and sales. Its standout feature is Intelligence Growth Assistant, which helps you make the most of your data, offering tips to optimize your online store's performance.
With that said, Metrilo is not an all-in-one platform. If you're looking for internal management features like inventory and order management, you'll have to add plug-ins from Shopify, Magento, or WooCommerce.
Key features for ecommerce:
Intelligence Growth Assistant
Email automation
Customer profiles
Segmentation
Customer retention analytics
Pricing: No free version, paid plans start at $119 per month.
8. Capsule — Best for medium-sized online businesses
G2 rating: 4.3/5
Offering a range of useful features that help you to forecast your sales pipeline value based on probability and total opportunity value, Capsule is perfect for medium-sized ecommerce businesses that need a CRM that is simple yet powerful.
You can easily keep track of all interactions, understand the history of each individual customer, and deliver more personal experiences based on data. This helps you to attract, nurture, and retain customers in the long run, resulting in higher engagement and sales.
Key features for ecommerce:
Email marketing
Sales forecasting & analytics
Quote generator
Territory management
Pricing: Free 'starter' CRM with basic features, paid plans start at $18 and scale up as your business and requirements grow.
9. Airtable — "As-easy-as-Excel" CRM templates
G2 rating: 4.6/5
Although not a CRM in a traditional sense, Airtable is an all-in-one database platform. Designed as the 'Lego of software' and often called 'Excel on steroids', Airtable lets you build app-line functionality from scratch and offers unparalleled versatility, along with great data organization features which let you use it as a CRM for ecommerce. Airtable also offers basic planning and collaboration tools that are particularly suited for marketing and project managing, which make it easy to customize to suit your needs.
It might be an unusual entry in this list, but it can let you, well, build your own ecommerce CRM without writing a single line of code:
Key features for ecommerce:
Build-your-own-app customization
Automated workflows
Order tracking
Inventory management
Pricing: Free version available, paid plans start at $10 per month.
10. Copper — Best for solopreneurs
G2 rating: 4.5/5
Copper is an excellent CRM software for solopreneurs & smaller companies who are looking to build strong customer relationships and attract newcomers to their brand.
Copper promises a simple, no data entry setup. They automatically organize all of your emails, calls, files, and notes for every contact, giving you a complete view of your relationship history and allowing you to find all of your key information at the drop of a hat.
Copper is strong on integration, particularly with Google. If you regularly use Workspace tools like Gmail, Docs, Drive, and so on, you'll find it incredibly easy to link your activities directly with Copper for a seamless, intuitive experience.
Key features for ecommerce:
Google Workspace integration
Web tracking
Contact management
Autoresponders
Pricing: Free trial available, paid plans start at $29 per month.
How we chose this best ecommerce CRM software
With so many CRM tools to choose from, it can be difficult to know where to begin. To choose the best ecommerce CRM software, we looked at a variety of factors that are particularly important for online merchants:
G2 user ratings. We relied on ratings from the popular peer-to-peer review platform G2 to give an objective overview and help you find the best ecommerce CRM software for your business.
Pricing. We made sure to consider pricing, as we understand that cost can be a major factor in choosing a CRM tool.
Ecommerce-related features. We looked at the functionality of each tool to ensure that they had everything needed for successful ecommerce businesses.
By considering these three criteria, we were able to select the top 10 tools to recommend to businesses of all sizes and budgets.
Ecommerce CRMs: FAQs
1. What is an ecommerce CRM?
An ecommerce CRM is a customer relationship management system that is specifically designed for online retailers. It helps businesses manage and track customer interactions and data throughout the customer lifecycle, from first click to final purchase and beyond.
Think of it as a way to organize and streamline all your customer communication and data in one place.
2. What is the best CRM software for ecommerce?
The right ecommerce CRM software can provide all the tools you need, allowing you to collect, analyze, and fully utilize all of your customer data.
But because every ecommerce business has unique needs and goals, choosing the best fit for your online store should be based on a variety of factors, such as price, feature set, and user reviews.
So, to find your ideal match, make sure to read our full article about the 10 best ecommerce CRM tools. We include our top picks for every kind of merchant, from solopreneurs to large businesses and everything in between!
3. Do I need to integrate my ecommerce CRM with my website?
Integrating your ecommerce CRM with your website can be super helpful in getting a complete picture of your customer journey. It allows you to see how customers interact with your site and what actions they take, so you can tailor your marketing and sales strategies accordingly. Plus, it just makes things easier – no more flipping between multiple tabs or systems to get the info you need.
4. What ecommerce CRM tools are the easiest to use?
Omnisend, Pipedrive, and Copper are known for their user-friendly interfaces and intuitive features that make it easy for online store owners to manage customer relationships and grow their sales.
Overall, these three ecommerce CRM tools are highly regarded for their ease of use and can be great choices for businesses looking for a tool that is intuitive and straightforward.
5. What are common mistakes people make when choosing CRM software for ecommerce?
Some common mistakes people make when choosing a CRM include not considering their budget, ignoring user reviews, and not fully understanding their own business requirements.
Choosing the right CRM for your ecommerce business is kind of like online dating – you want to make sure you're compatible. Don't settle for just any old CRM – find the one that truly clicks with your business.
related features
Want more sales?
Omnisend has everything you need to succeed.
Start free now
No Credit Card needed.