Drive sales on autopilot with ecommerce-focused features
See Features
Choose the best CRM software for your ecommerce business
Reading Time:
8
minutes
Customers are the lifeblood of any ecommerce business, so any investment in better understanding their behavior is a good one. Getting to know exactly what people want and expect from your brand is the best way to improve your customer retention.
One of the best tools for building better customer intelligence is Customer Relationship Management (CRM) software. CRM software allows you to collect, analyze, and leverage customer data from a single platform, giving you all the information you need to maximize your customer interactions and satisfy their needs.
In this article, we're going to look at some of the best ecommerce CRM platforms on the market and discuss how to choose the right one for your business. We'll also touch on ways to build an effective CRM strategy, including methods for effectively gathering as much data about your customers as possible.
But first, let's dig a little deeper into what ecommerce CRM is, and why you should be using it.
What Is CRM Software?
Ecommerce CRM (or ECRM) is a customer relationship management system that has been specifically designed to help ecommerce retailers manage their customer contact information and shopping behavior.
It works by collecting and storing customer information around the clock. Advanced CRM tools can analyze sales patterns and metrics such as conversion rates, tracking on your online store, email list opt-ins, and the types of products that your customers are most interested in.
You can use this data to create an effective ecommerce CRM strategy that will allow you to attract and retain customers in the long term.
Benefits of CRM software include:
More timely and precise customer tracking: This opens up valuable opportunities for cross-selling and upselling. The better you understand your clients' purchasing habits, the higher your average order value is going to be.
Marketing Automation: By integrating your CRM software with your ecommerce platform, you can automatically update customer data into your CRM in real-time. This allows you to instantly meet your customers' needs and expectations with lucrative automated workflows such as welcome series and cart abandonment emails.
Customer care: Show your customers that you value them by responding to their needs before they need to ask. When customers feel like you have their best interests at heart, they are much more likely to remain loyal. This means increased customer retention rates for you.
The Best CRM Tools for Ecommerce
The following apps offer excellent integration and a whole range of useful features that are scalable to suit businesses of all types and sizes.
Omnisend is a complete marketing automation platform that has everything you need to take your business to the next level. This includes a powerful CRM solution that automatically collects, analyzes, and leverages all of your customer data.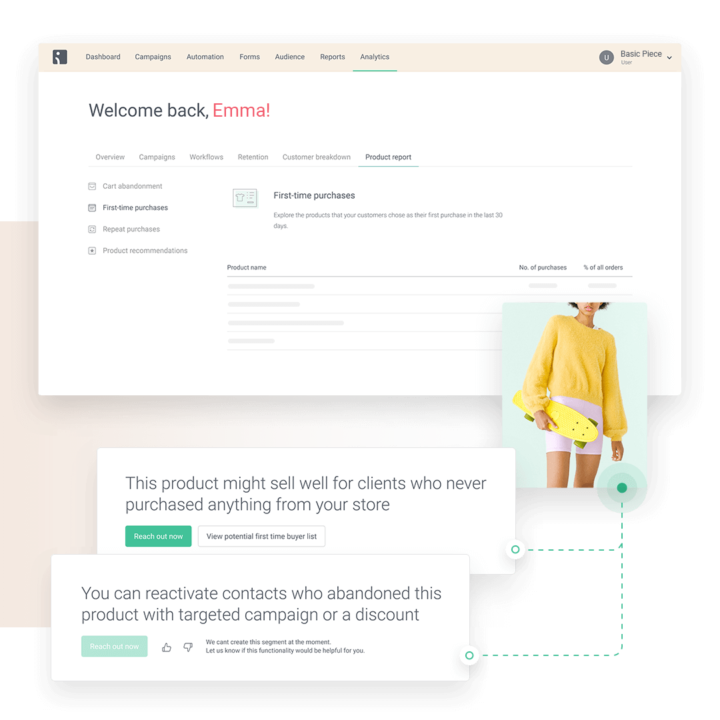 For example, you can use contact profiles to keep track of your site visitors' activity. You'll get a complete overview of the actions that a contact took while on your site, including number of sessions, products and pages browsed, products added to cart, orders placed, and more.
Omnisend also offers smart segmentation, a process that filters your audience based on a variety of transactional events and purchase behaviors. This makes it much easier to reach out to specific segments with more targeted messaging, boosting the relevancy and personalization of your campaigns. You simply select your preferred segmentation rules, customers who have purchased a specific product in the past 30 days for example, and reach out to them with special content and offers.
Your customer data can also be leveraged to improve your all-important retention rates. Customer lifecycle stages categorize your subscribers into orders of priority based on where they are in their journey and highlight exactly which customers you need to engage with. This means that you can prioritize your marketing towards those who make the most impact on your revenue and creates a more efficient use of your time and resources.
Omnisend offers a fantastic free version that comes with a full range of features and is limited only by the number of emails you can send per month. This means that you can upgrade to paid plans as you grow, while enjoying the benefits of this powerful, all-in-one platform.
Get to know your customers better. Start with Omnisend for free today
Capsule is an intuitive, ecommerce-focused platform that makes CRM simple yet powerful.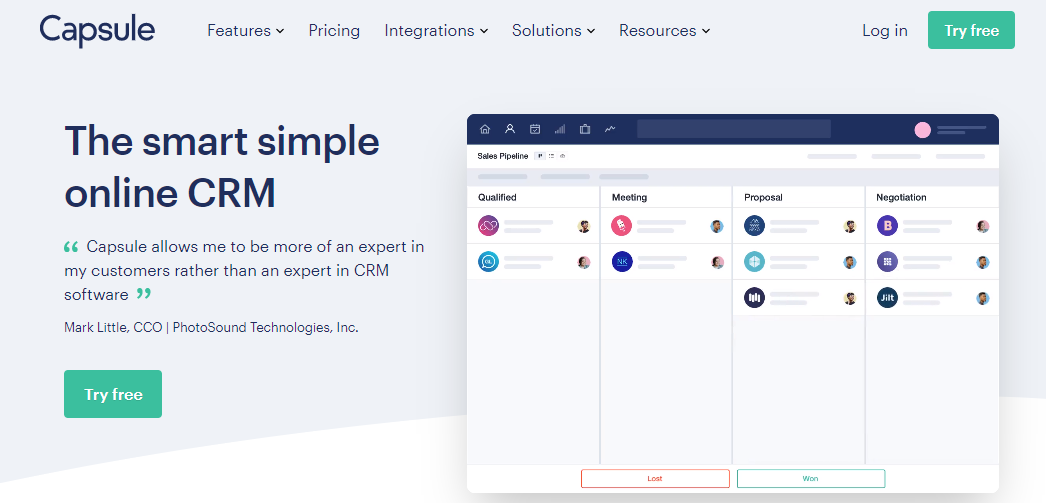 Offering a range of useful features that help you to forecast your sales pipeline value based on probability and total opportunity value, Capsule allows for easy organization and strategizing by delivering all of your most useful customer information in one place.
You can easily keep track of all interactions, understand the history of each individual customer, and deliver more personal experiences based on data. This helps you to attract, nurture, and retain customers in the long run, resulting in higher engagement and sales.
Capsule offers a free 'starter' CRM that has basic features for up to 2 users and 250 contacts. If you like what you see, you can upgrade to paid plans that scale up as your business and requirements grow.
One of the most popular CRMs on the market is Zoho, which offers a wide range of features for businesses of all sizes.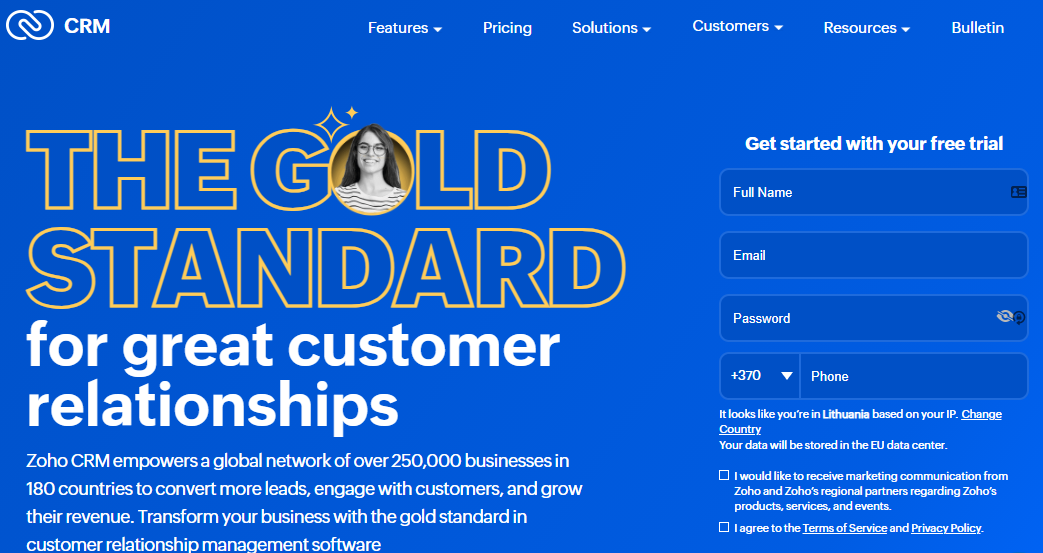 Helping more than 250,000 businesses in 180 countries to build their customer relationships, one of the main reasons for Zoho's popularity is its flexibility and customization options. This allows you to create your own version of the platform that is precisely tailored to your needs, meaning that you can begin with the minimum, standard features and easily add more advanced options as you grow.
Zoho offers a free version for three users and features starter essentials like leads, documents, and mobile apps. Paid plans are scaled according to your needs, with more advanced features added with each upgrade.
With Pipedrive customers reporting an average of 28% more deals after their first year, it's clear to see why this is one of the best CRM tools on the market.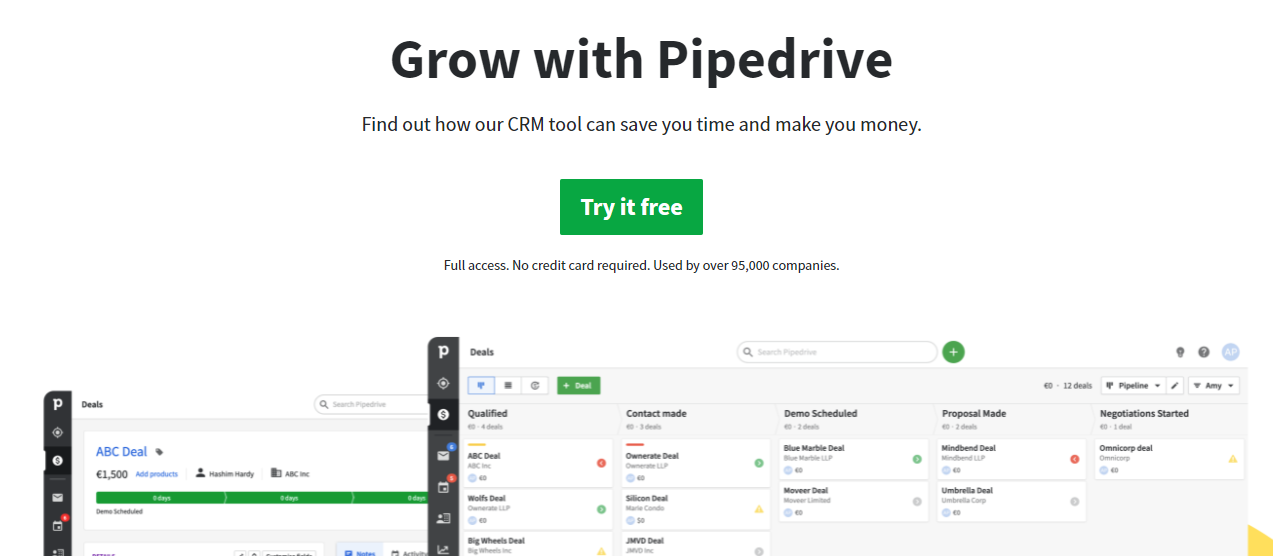 Pipedrive is a sales-focused CRM solution, with an intuitive interface that makes it easy for you and your team to access actionable insights and deliver personalized messaging.
Don't let its simplicity fool you though, Pipedrive is one of the most comprehensive CRM software tools on the market, and with 150+ apps and integrations, it's almost guaranteed to work seamlessly with your current setup.
Pipedrive has no free version, but it does offer a full-access free trial. Paid plans start from €15 per user with more features added as you grow, all the way up to a custom enterprise version that offers an incredible amount of features as well as full support to get the very best out of your CRM tool.
Copper is an excellent CRM software for smaller companies who are looking to build strong customer relationships and attract newcomers to their brand.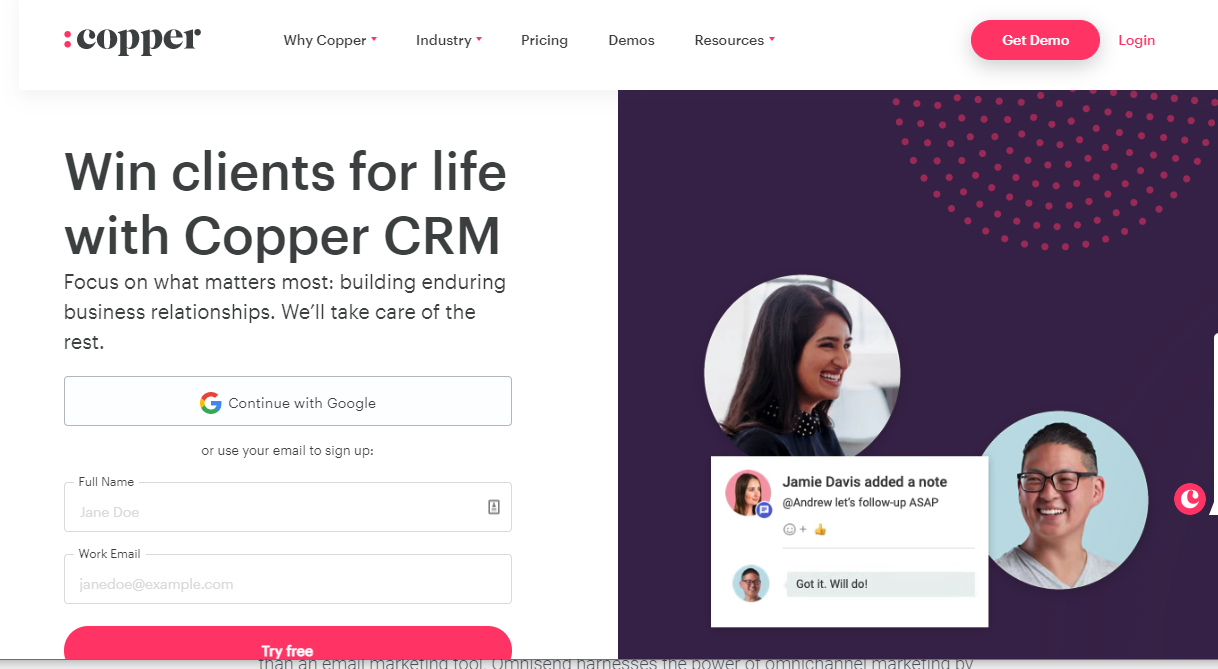 Copper promises a simple, no data entry setup. They automatically organize all of your emails, calls, files, and notes for every contact, giving you a complete view of your relationship history and allowing you to find all of your key information at the drop of a hat.
Copper is strong on integration, particularly with Google. If you regularly use Workspace tools like Gmail, Docs, Drive, and so on, you'll find it incredibly easy to link your activities directly with Copper for a seamless, intuitive experience.
Like Pipedrive, Copper has chosen not to offer a free version, allowing for a fully-featured free trial instead. You can also choose a free demo to get a good idea of how the platform works, and whether it might be the right fit for you. Otherwise, you can choose from three paid plans, starting at a generously featured basic version for just $25 per user per month.
Hubspot is a massive name in the ecommerce and marketing field, offering a whole suite of software and tools that cover everything you could possibly need to grow your business. This includes a powerful CRM solution, one that is ideal for bigger ecommerce businesses that are ready to take the next step with their business goals.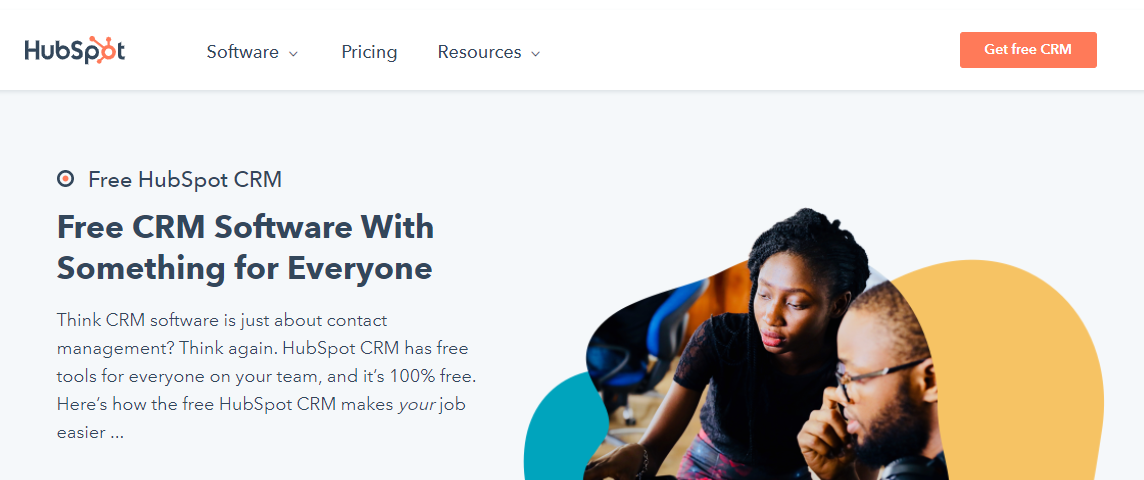 The advantage of Hubspot's large ecosystem is its easy integration with other members of the Hubspot family, with a range of simple plug-ins allowing you to have your entire marketing toolbox in one place.
You'll have access to things like project management, forecasting, contact tracking, scheduling, lead management, and financial CRM without the hassle of switching apps and paying multiple monthly bills—it's all there in Hubspot.
Hubspot does offer a free version of its ecommerce CRM, as well as a free trial. However, if you'd like to access other features such as marketing automation, you'll need to pay a premium.
Choosing the Right Ecommerce CRM Software for Your Business
With so many CRM tools to choose from, it can be difficult to know where to begin. First things first, you should evaluate the specific needs of your business before making your choice, and consider the following aspects:
Scalability
You'll need to consider the scalability of a CRM tool to adapt to your business as it grows.
Is there room to upgrade and expand as your budget and team size increase?
Are features customizable and able to adapt to your specific business needs?
Taking these factors into consideration can help to ensure that you avoid costly and time-consuming migrations in the future.
Integration
Don't forget to take your existing software and other tools into consideration too.
How well does your chosen ecommerce CRM integrate with your email marketing platform?
What about your social media channels and ecommerce store platform?
Seamless and complete integrations ensure that your customer data is compliant and consistently kept up to date, as well as keeping your activities organized and accessible in one place.
Ease-of-Use
Finally, test out various CRM solutions for their interface and ease of use.
Are your most important metrics available on a customizable dashboard?
Is your team able to quickly access actionable data and insights to deliver outstanding customer service?
Your CRM tool is designed to streamline your customer interactions, so choose a platform that is intuitive, clear, and comfortable to use.
Wrap Up
Customer relationship management is an important aspect of any ecommerce business, as retailers shift focus from grabbing one-off sales where they can to a more sustainable model of loyal customers and repeat sales.
To achieve this, it's not only necessary to attract the right kind of customers to your brand, but also to nurture them throughout their customer journey with timely, personalized interactions that directly address their needs. Only then can you build the kind of long-term relationships that all retailers crave and customers love.
The right ecommerce CRM software can provide all the tools you need, allowing you to collect, analyze, and fully utilize all of your customer data.
If you'd like to try out a complete marketing platform and CRM solution for yourself, get started with Omnisend for free today!