Drive sales on autopilot with ecommerce-focused features
See Features
Reading Time:
9
minutes
Would you like to generate more orders, engage and delight your customers, and save time all at once?
Then you need to use marketing automation workflows.
An automated email workflow frees up your time, contacting your subscribers while allowing you to focus on other tasks. It also gives a consistent experience for your visitors, ensuring that everyone receives the same welcome or confirmation email, the same prompt to leave a review, or personalized product recommendations based on their behavior.
As a result, workflows also help to increase sales and engagement. It's no wonder that automated messages drove over 29% of all email marketing orders in 2022.
The best strategy will have multiple marketing workflows that are triggered by different behaviors. For example, a welcome automation workflow would be sent to new subscribers whereas a cart abandonment workflow would be sent to visitors who added items to their cart and left without purchasing (something 85% of consumers did in 2022!). In these instances, the recipients would need very different messages.
In this article, we will explore the following 10 marketing automation workflows:
Get started with Omnisend today & drive sales on autopilot with pre-built automation workflows
Start Free Today
What you need to know about marketing automation workflows
Before you create your first marketing workflows, here are a few things that can help to improve their performance:
Segmentation
Segmenting your audience ensures you send the right message to the right person at the right time, and allows you to create much more personalized campaigns. Instead of sending the same email to everyone, you can tailor your communication based on the recipients':
Location
Demographics (e.g. age, gender, occupation)
Browsing or purchasing history
The amount of money they spend with you
The likelihood of them unsubscribing from your list
McKinsey research has even demonstrated a 40% revenue increase for companies that have mastered personalization.
Automation triggers
Once your marketing automation workflow has been created, the next question is what will trigger it? Triggers will vary based on the workflows, such as:
Filling out the sign-up form, triggering the welcome email
Visiting a specific product page, triggering a product abandonment workflow
Adding an item to cart and leaving, triggering a cart abandonment workflow
A/B testing
Creating messages is only step one. Next, you need to check that they resonate with your audience. The best way to do this is A/B testing—having at least two versions of a communication running at the same time, and comparing results to learn which one performs better.
You can test a number of variables to see which drives the most open, click, or order rates including the following for emails:
CTAs
Subject lines
Body content
Personalization, such as mentioning the recipient's name
For SMS campaigns, you could monitor open and click rates. It's even possible to see which channels drove the highest overall amount of completed orders on your store pages.
Communication channels
The evidence is conclusive: using more than one channel in your marketing workflows increases sales. And the increase is not small: marketers that used three or more channels in a campaign had an order rate 494% higher than those using single-channel campaigns, and incorporating push messages drove a 614% higher order rate.
You can get creative with how you implement multiple channels into your campaigns. One option would be to send an email with an offer, and follow up with an SMS if the recipient hasn't opened it within two hours. Some brands use SMS to alert people to time-sensitive emails, or use push notifications to boost site traffic.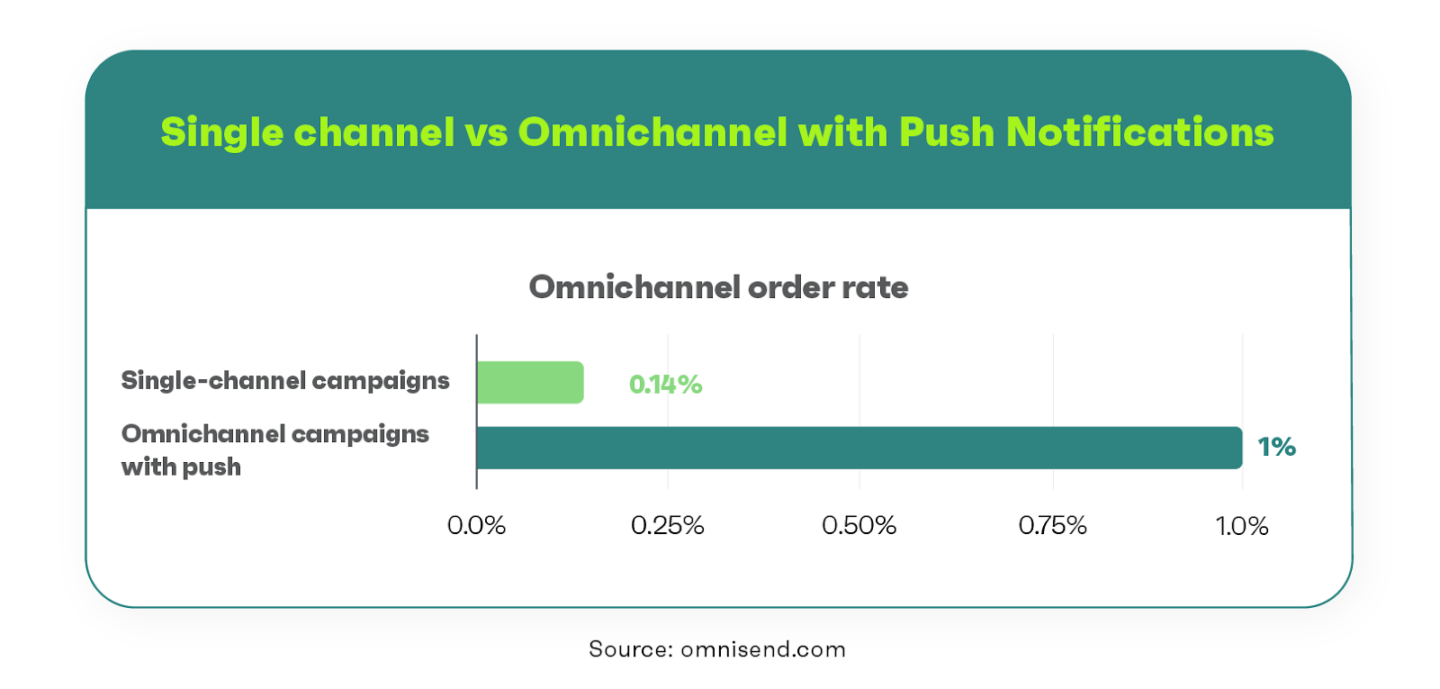 Now let's look at some marketing automation workflow examples:
1. Welcome automation workflow
Trigger: Subscribe to or purchase a product/service
A welcome email is the first message a new contact receives after signing up with you, and they have an average open rate of 30.69%—more than 202% higher than usual email campaigns.
They can be individual messages or a series of messages, and we usually see a series of three emails generate better results.
As for what to include in a welcome automation workflow, some popular ideas include:
Your company's story
Showcase your products
A special offer or discount
Reviews from existing customers
Invitation to follow you on social media
This three-email example from Basic Piece thanks the subscribers for signing up in the first email, while the second email focuses on the products. The third email shares reviews from past customers and ends with a 25% discount on the customer's first order: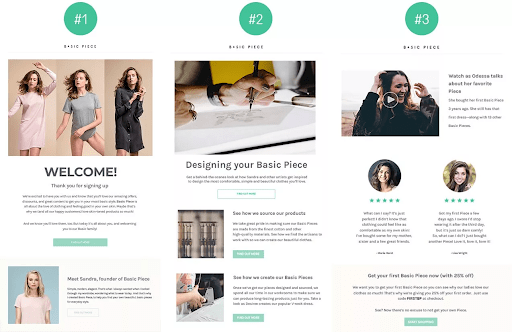 2. Browse abandonment automation workflow
Trigger: when browsers leave important pages
Browse abandonment automation workflows help you to re-engage visitors who look around your website but leave without taking action. The goal is to bring them back to your site to recapture lost conversions.
If the visitor is already in your contact list, you can create a workflow that triggers when somebody views particular pages on your site and leaves without purchasing anything. You can send them a simple reminder, such as "We noticed you left without buying," or take the opportunity to offer them a discount or free shipping if they purchase within a specific amount of time.
Browse abandonment emails are an effective way to engage visitors, and if they do buy your products they'll also then receive the order confirmation emails, further increasing their engagement and interest in your brand.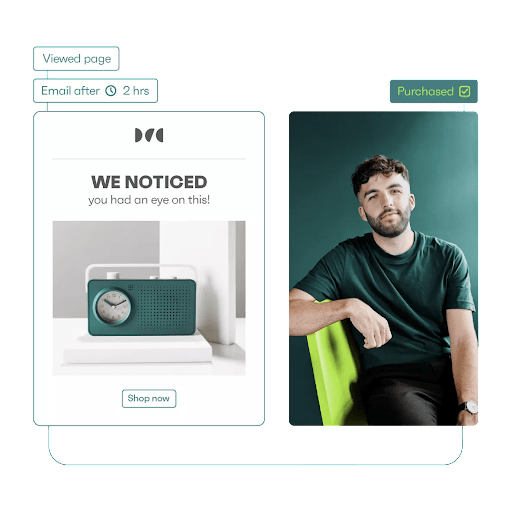 3. Product abandonment automation workflow
Trigger: when the visitor lands on a specific product page only
A product abandonment workflow is similar to browse abandonment emails, but with one key difference: they're sent for viewing only specific products. In comparison, a browse abandonment email is broader and more general.
As this workflow triggers when particular pages have been viewed, you can create highly targeted messages—such as highlighting product features or sharing recent reviews.
4. Cart abandonment automation workflow
Trigger: when visitors add a product to their cart but don't finish the purchase
Cart abandonment is one of the most popular marketing automation workflows. It's also highly effective—Snatcher Online generated over $120,000 in under one year using this workflow.
The idea behind cart abandonment workflows is simple: visitors have shown an interest in particular items by adding them to their cart, but left the site without completing the purchase. The workflow contacts them to remind them of their items and tries to overcome their hesitation.
The best cart abandonment solutions use a mixture of channels, such as:
Automated workflow with emails and SMS
Exit-intent popups with special offers to complete the purchase
Retargeting campaign on Google or social media to remind them of the items
In this example, Basic Piece sends an email one hour after the visitor abandoned their cart. If they haven't taken action a day later, an SMS is sent too: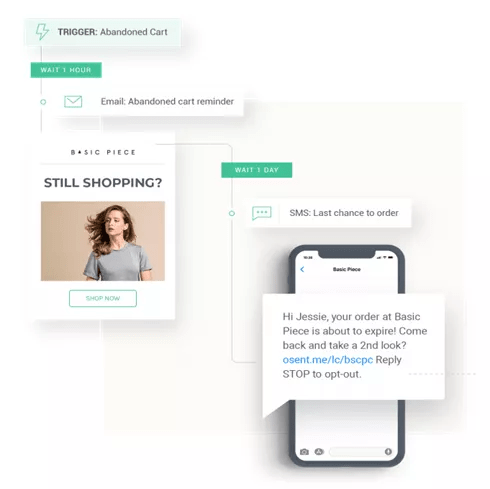 5. Order confirmation automation workflow
Trigger: when visitors complete the transaction
When it comes to open and click-through rates, order confirmation emails are one of the most effective. That's largely because the person has made a purchase and is expecting the email, which typically includes details of the order and an estimated delivery date.
Not only are these emails expected, but recipients often check them multiple times—these emails have valuable information including what was ordered, the delivery address, total price, and expected arrival, which can prompt the recipient to double-check the details.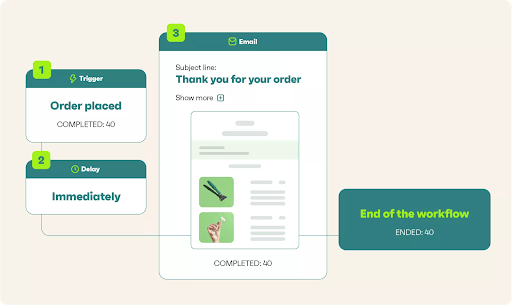 In addition to those details, if you follow best practices you can make your order confirmation email more valuable by including:
Order timeline, setting expectations for each step from the order being processed to shipping and delivery
Best sellers: what items are other buyers looking at?
Upsells and cross-sells: what items pair well with the order, or make it even better?
The order confirmation email can be expanded into a larger marketing workflow by sending additional emails aimed at helping them get the most out of the new product, such as:
Care tips
How to pair it with other items
Cross-selling related products
6. Shipping confirmation automation workflow
Trigger: when the order has been shipped
A shipping confirmation automation workflow is usually short, consisting of a single message that informs a buyer their order has shipped.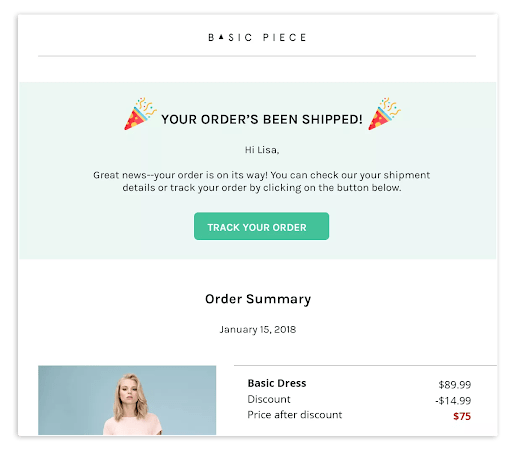 It can, however, be expanded. Instead of an order confirmation series, you could create an automated email workflow that follows shipping confirmation. With the item on its way, it's a great time to prepare the buyer for its arrival with tips.
Apple does this well, offering help on trading in or recycling their older devices, sharing FAQs and advice on getting set up, and encouraging cross-sells by sharing links to accessories.
7. Upselling/cross-selling automation workflow
Trigger: segmentation rules of customers based on purchase behavior
There are two huge advantages of upsells and cross-sells that appeal to customers:
These buyers already trust you
The recommended products are directly related to items they've already purchased
What you're really saying with this tactic is "Hey, do you want to make that new item even better?"
And many times, the answer is yes.
So what's the difference between upselling and cross-selling?
Upselling is when you encourage a customer to buy a similar but higher-end version of a product they're considering.
Let's say you walk into a phone shop to buy the new iPhone. You had your eye on the regular model, but before long the salesperson has tempted you to look at the flagship Pro version. He shares the improvements of this model over the one you're looking at and, before long, you agree that's the one you need.
That's upselling.
Then, the salesperson recommends buying a case—after all, you need to protect that shiny new phone from damage. So you purchase a case. While you're there, you also decide to buy a wireless charger for the new phone, and the latest pair of bluetooth headphones.
That's cross-selling—when the customer purchases something to complement their original item.
You'll see cross-selling in action every time you visit Amazon—keep an eye out for the "Customers also bought these items…" bar on product pages, showcasing similar or related products to the one you're viewing.
Cross-selling and upselling workflows can be triggered through customer segmentation, or you could incorporate recommended products into the order confirmation email.

8. Product review marketing automation workflow
Trigger: product purchase or another customer's interaction with your store
Reviews are powerful—they tell potential customers that they can have trust in you and your products, which can help to boost sales. Not all customers leave reviews though, and it can be very time consuming to manually ask every buyer.
Instead, you can add a review request message to the end of your marketing workflows.
Timing is everything with this request. If you ask too soon, customers may not have had adequate time to use the product. If you wait too long, they may no longer have the initial excitement or feel interested in recommending your store or the item.
We recommend using an automated workflow to share tips and ideas about the product, and consider opening with a thank you email, wait about a week, then request a review. You could A/B test using email or SMS for the request, to see if one channel outperforms the other.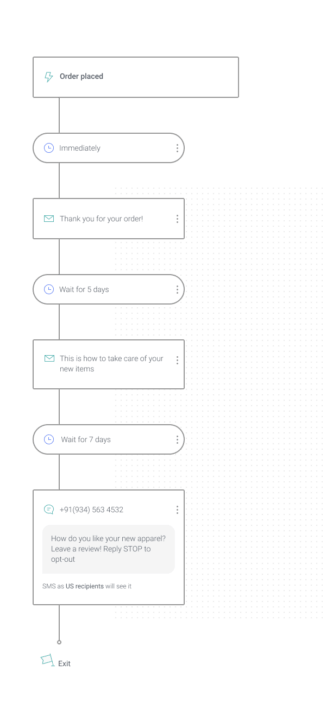 9. Birthday marketing automation workflow
Trigger: the date that matches your subscribers' birthdays
Let your audience know you care by sending them a message on their birthday. These messages can be highly personalized—or at least, they should be if you're following best practices.
The trigger is as simple as telling your workflow to be sent whenever a date matches the birthday provided by a subscriber. You could send an email, SMS, or push message on their big day itself, or experiment with sending a day or two earlier.
The only caveat here is you must be asking subscribers for their birthday, so we recommend including this field on your sign-up forms or landing pages. If you're only asking for their name and email address, you won't be able to send them birthday messages.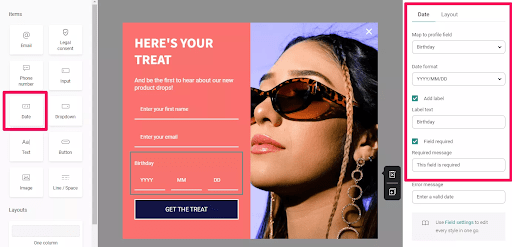 10. Custom automation workflows (based on customer behavior)
Various triggers that could be customized by your needs.
The beauty of an automated email workflow is that it can be whatever you want it to be. So if you've looked at the previous nine examples and thought you have a scenario we haven't covered, don't worry—that's where custom automation workflows come in.
These workflows have custom events, which are decided by your needs and customer behavior. For example:
Back-in-stock announcements: if your visitors have shown interest in a product that's unavailable, you can automatically inform them when it's back
Free trial sign-up: when your visitors register to test your new service or product. This can also work for gauging interest on a pre-launch
New product launch: inform relevant customers about a new product they're likely to be interested in. These customers could have purchased similar items in the past, viewed relevant product pages, are on your VIP segment, or any other criteria you think is relevant
Announcement emails: aside from the above, announcements could also be a change to your branding, a survey, partnership, event, or anything else you want to let them know about
Ready to create powerful workflows?
Workflows give you a lot of options to communicate with the right people at the right time, and Omnisend packs a lot of features into its marketing workflow tool. You can create audience segments from a wide range of data, including behavior, demographics, engagement with your messages, location—you can even paste a list of zip codes into the segmentation tool.
Plus, Omnisend's Email Builder lets you add products directly from your store, automatically adding the image, description, and price. This way, you can use the Product Recommender block to cross-sell within your marketing workflows.
If you're ready to experience the revenue-boosting, time-saving benefits of a marketing workflow process, join Omnisend for free today—all of our plans give immediate access to workflows, including pre-built templates to get you started even quicker.
related features
Want more sales?
Omnisend has everything you need to succeed.
Start free now
No Credit Card needed.