Drive sales on autopilot with ecommerce-focused features
See Features
Email, SMS, and push marketing for ecommerce in the first half of 2023
Reading Time:
8
minutes
2023 was subject to a lot of speculation, much of it negative thanks to a number of challenges that emerged last year.
In our previous report, we noted that those challenges included "war, global inflation, continued threats of a recession deep into 2023, and, for marketers, increased costs of digital advertisements with lower performance than previous years."
Now halfway through the year, we can see that certain challenges did indeed continue: war, inflation, and volatility in digital advertising.
Threats of a deep recession have thankfully eased, for the time being at least. Consumers are still shopping, but they're doing so with more caution.
The result? "At just the right time" messages are more pronounced than ever, making omnichannel marketing on channels that you control exceptionally important. In fact, in the first half of 2023, automated emails made up 46.9% of email orders but only 2.6% of email sends.
If you want to protect yourself from the current challenges, using opt-in communications and sending relevant messages will be key.
For this analysis of the first six months of 2023, we looked at more than 10.5 billion emails, 62 million SMS, and 129 million web push messages sent by Omnisend merchants. In this article, we'll explore the performance of these channels and share our recommendations for the rest of the year and beyond.
Books & Literature brands take the top spot
There was a rise of almost 33% in the amount of marketing emails that were sent, leading to an 8.28% increase in email-related orders. This is an encouraging start to a year that was predicted to face significant challenges.
With Omnisend merchants earning $72 for every $1 spent on email marketing (double the average ROI of $36), email continues to be the consistent star performer.
Part of the reason for this is it benefits both the sender and recipients. For the sender, it's an affordable and cost-effective communication channel which, unlike paid ads, gives direct access to people who have specifically chosen to hear from you.
For the recipient, it's an easy way to hear from brands that they like, trust, and are happy to see in the inbox.
The overall average conversion rate, across all industries, was 0.07%. (Conversion rate being the percentage of all recipients who took an action, such as buying from you.)
By the end of 2022, the top performing industry over the year was Food & Drink, converting at more than double the average. So far in 2023, though, Books & Literature have claimed the top spot with a conversion rate of 0.22%—more than triple the average.
What makes this even more impressive is that Books & Literature did not appear on the top five list at all in 2022, achieving a 138.63% increase to ascend the chart.
The remaining four industries were all in the top five at the end of 2022. Food & Beverage was previously in pole position, with a conversion rate of 0.17%, and now sits in second place at 0.15%, which is still just over double the all-industry average.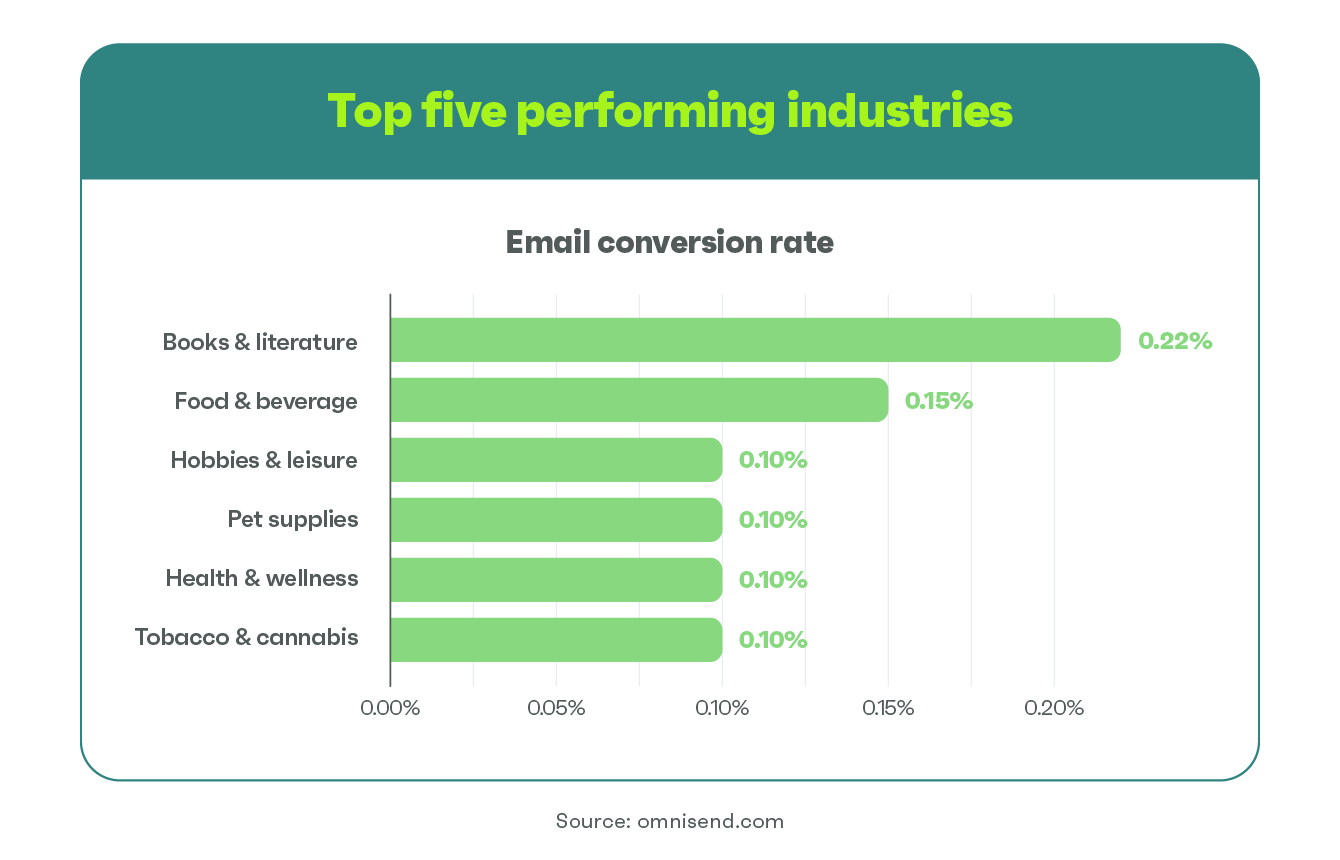 Like last year, the top performing sectors change when we look at click-to-conversions instead of the conversion rate. (The click-to-conversion rate is specifically the recipients who clicked a link inside the email and then took a desired action, whereas conversion rate is based on all recipients.)
The overall average click-to-conversion rate was 5.12%, and there are similarities to last year. Then, as now, Tobacco & Cannabis took the top spot with more than double the average (13.5%). Food & Beverage, Health & Wellness, and Beauty & Cosmetics all continue to make an appearance as they did at the end of 2022. But, as we saw with conversion rates, Books & Literature appears for the first time, achieving a 72% increase from 2022.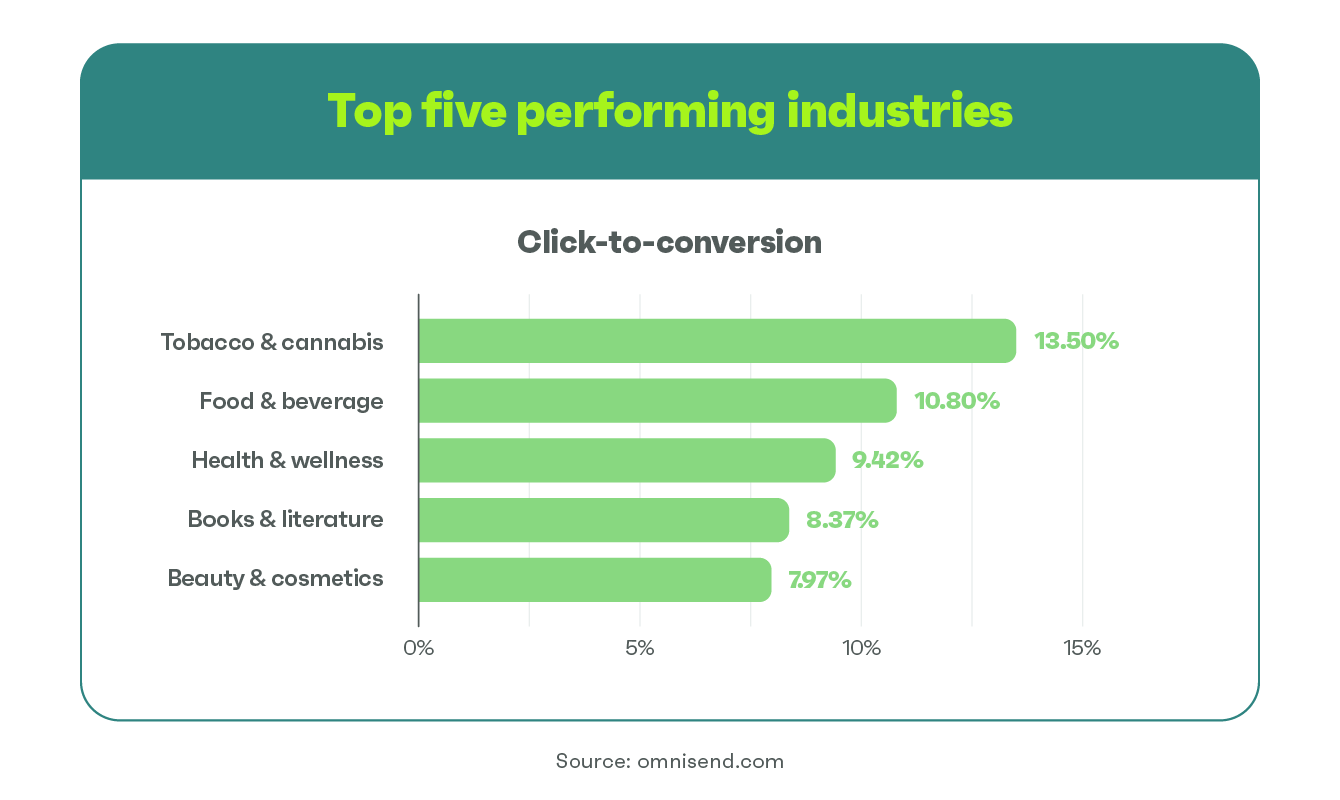 Things change again when we look at click rates (which is the percentage of recipients who click a link within an email). The overall average for the first half of the year was 1.32%, and Books & Literature is back at the top spot with 2.63%—very nearly double the average.
There are also a couple of industries here that didn't appear in the top five for conversion or click-to-conversion rates: Toys & Games, and Auto.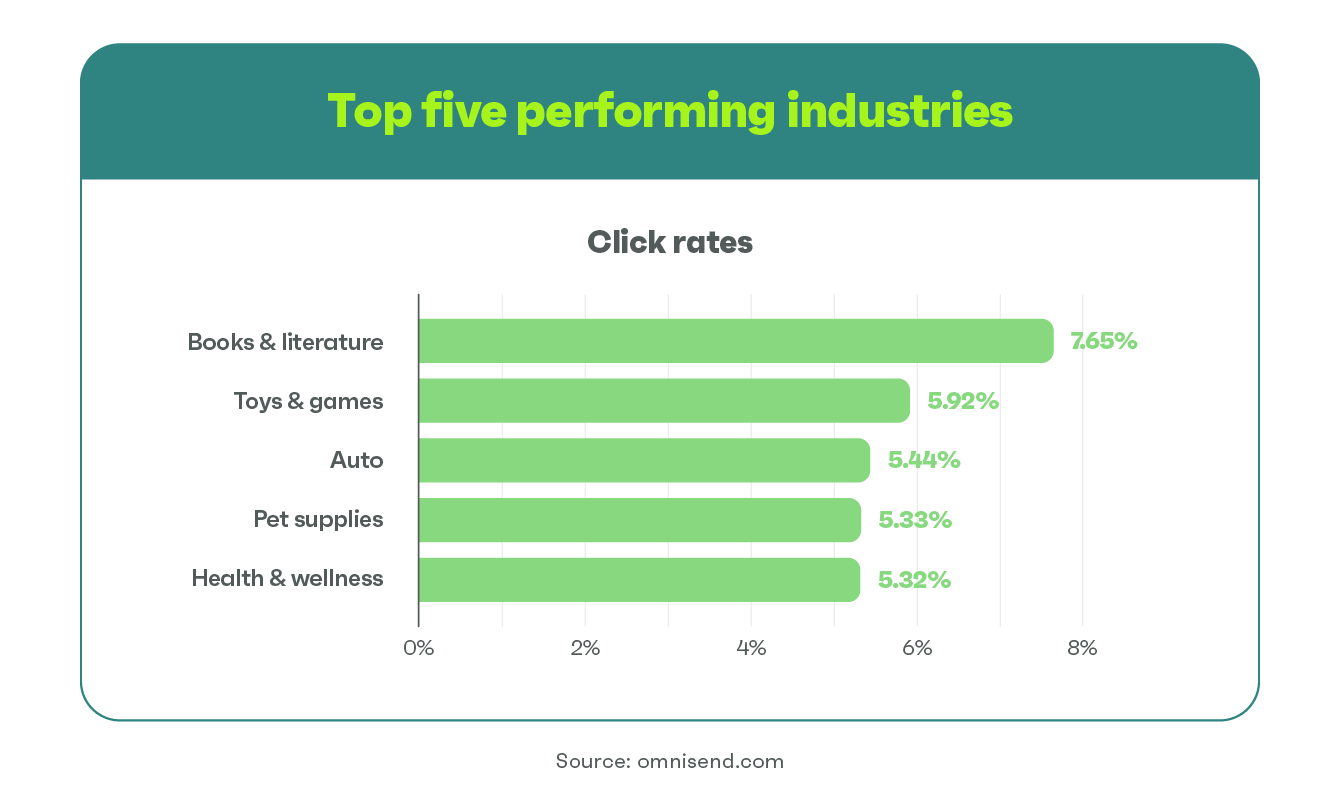 Across all three categories, only two industries are in the top five each time: Books & Literature, and Health & Wellness.
What does that tell us? That consumers enjoy those sectors' emails, for whatever reason. Let's keep looking and see what we can find.
Worst performing industries
Why would we want to look at the worst performing industries, you ask? Because it helps us to build a more complete picture of what worked and, importantly, why it worked.
For conversion rate, which had the all-industry average of 0.07%, the lowest performing sectors were Home & Garden, and Apparel—Accessories, both of which were 0.03%. That's not only less than half the overall average, but also a stark difference to Books & Literature's 0.22%.
The following chart shows the top and bottom five: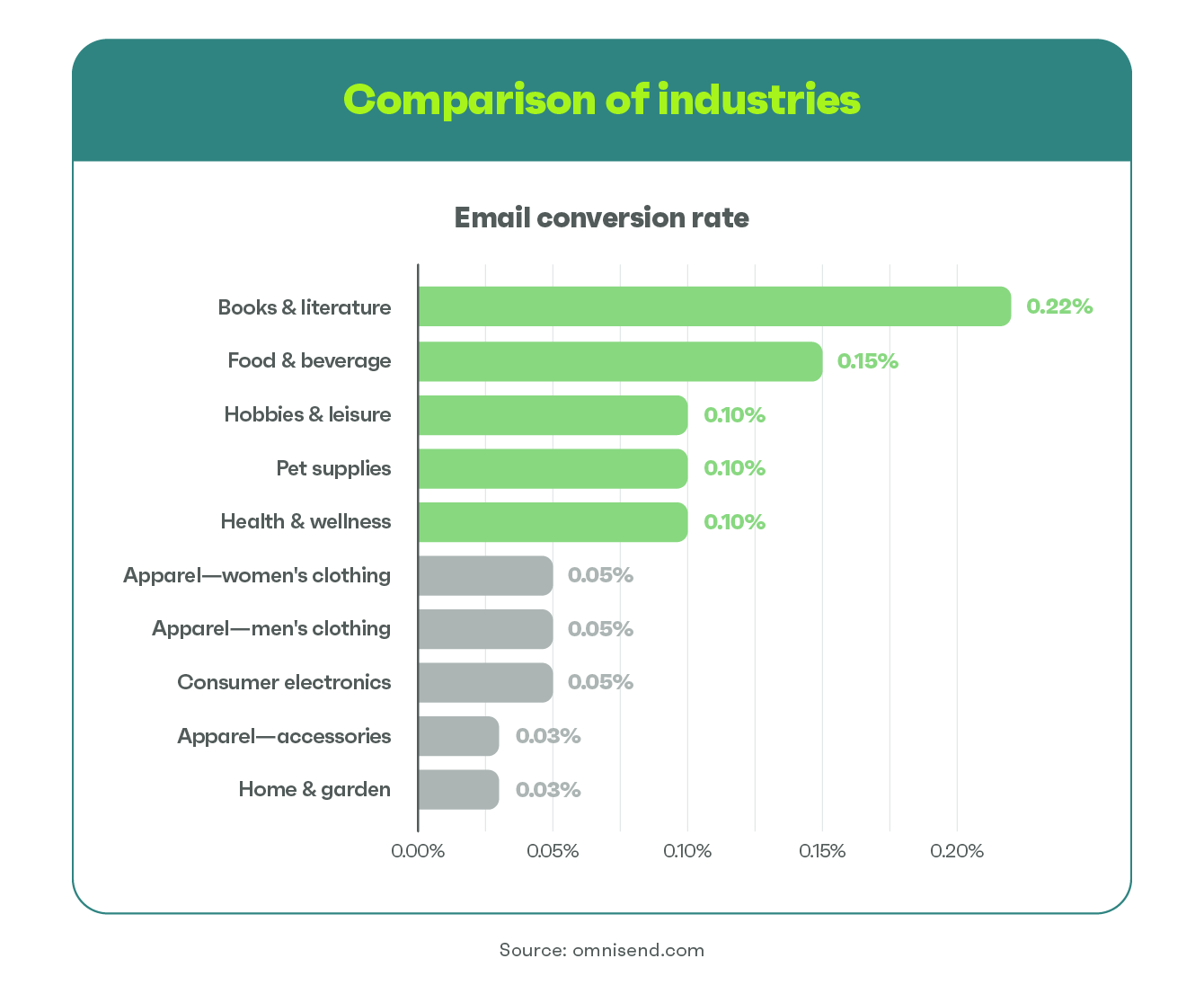 Compared to the bottom five at the end of 2022, two industries improved enough to move out of this list: Travel, and Toys & Games.
And as we noted in our previous analysis, a sector performing below the average doesn't automatically mean it's a bad sector in which to operate, or you can't make money there.
The analysis shows one very clear characteristic shared between the five worst performers: they're known for comparison shopping. It therefore stands to reason that the conversion rates would be lower.
It's also noticeable that, just as we saw in 2022, four of the top five sectors with the highest click rates all were associated with personal enjoyment or comfort: Books & Literature, Health & Wellness, Toys & Games, and Pet Supplies.
The fifth? Auto. And even that could be considered a hobby or leisure pursuit, depending on the type of purchases being made.
If you don't feel that personal enjoyment or comfort apply to your industry, don't worry. You can still leverage this information by framing your messaging to align with emotions, such as by incorporating:
lifestyle images
customer reviews
positive and emotional language
solutions to the problems your readers face
And if your sector is listed in the top five, that's no reason to get complacent—it doesn't grant you instant access to strong performance. You still need great subject lines, and if you're looking for new ideas then our subject line tester is just what the email marketing doctor ordered.
Email automation: is it still worth it?
At the end of 2022 we calculated that, over the year, automated emails made up 31.5% of all email-driven sales, but only 1.8% of sends. In other words, automation was incredibly effective.
So far in 2023, there has been an increase of 99.2% in the amount of automated emails being sent, and conversion rates increased 16.8% year-on-year. Or, more precisely:
In the first half of 2023, automated emails made up 2.6% of sends, and 46.9% of email orders.
That's a huge increase from the 30-35% that we see in previous reports. Not only that, but almost 40% of people who click on an automated email go on to make a purchase!
Let's back up a step and quickly look at what automated emails are, in case you're not familiar. Simply put, an automated email is an email that is automatically sent when a user takes a specific action.
For example, when someone:
joins your newsletter and receives a welcome email
doesn't complete the checkout process and receives a reminder email
makes a purchase and receives an order confirmation
All of these are examples of email automation: the email is created in advance and automatically sent out to people in response to specified triggers.
Which means that in the first half of 2023, almost half of all email-driven orders came from emails that get sent out without you needing to do anything. You could be building a new webpage, taking a nap, or skiing down the Alps, and your emails continue to generate orders.
Automated emails also continue to out-perform email campaigns in all metrics:
91.5% improvement in open rate
329% lift in click rate
3210% increase in conversion rate
Here's how that conversion rate applies to the different types of message: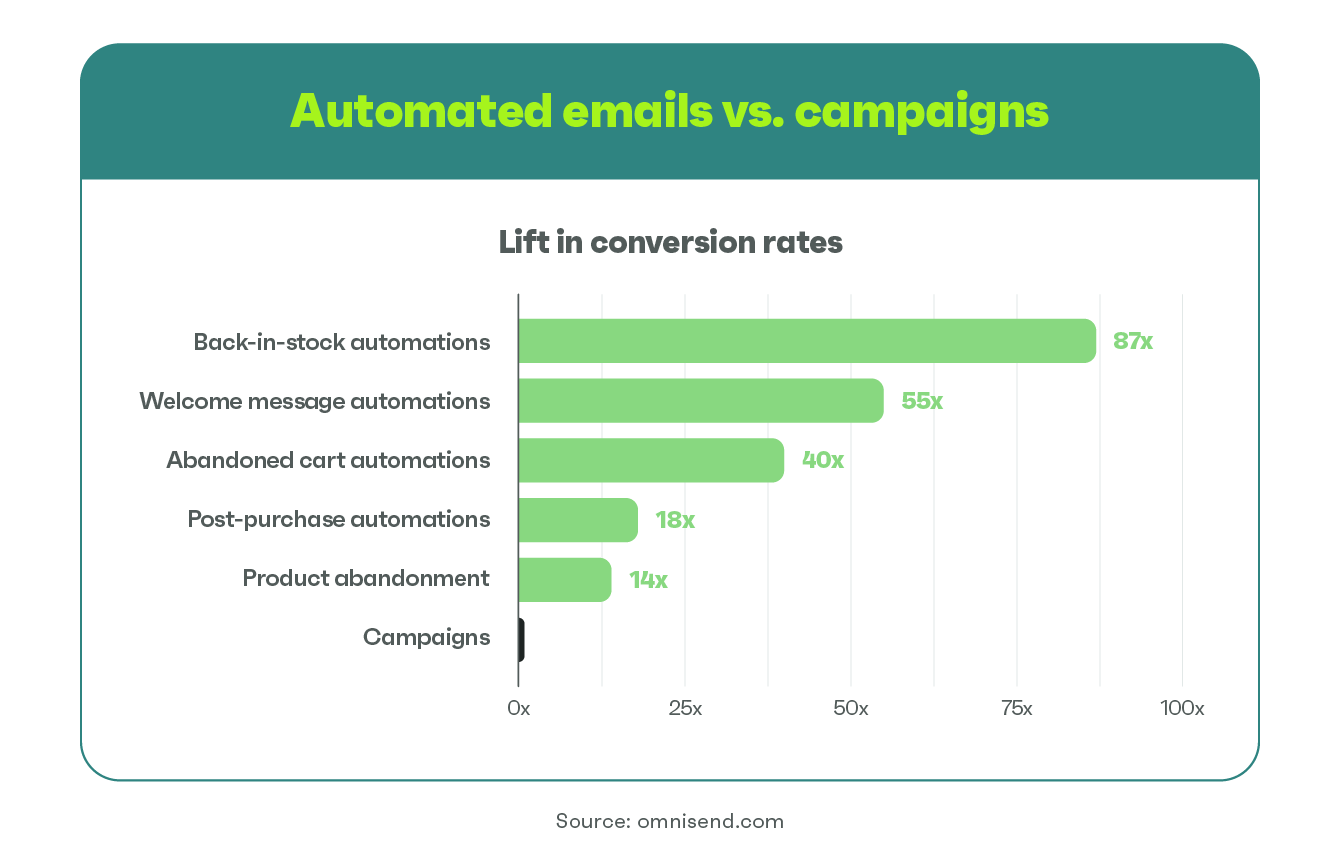 Bottom line: if you're still not using automated emails, you're overlooking one of the most powerful tools for increasing your sales and revenue—and leaving those customers for your competition to find.
Email automation is so easy to set up that you can have workflows ready to make you more money today.
SMS and Push notifications are racking up sales
Unsurprisingly, brand usage of SMS was up in the first half of the year. More than 54 million campaign SMS were sent (an increase of 47.9%) and over 8 million automated SMS (up 45.5%)—indicating that brands are on track to send more than 100 million messages throughout 2023.
Alongside this growth was a 16.9% increase in the number of SMS-driven orders.
The increase in automated SMS is particularly interesting because in 2022, they decreased. Instead of using SMS in every workflow, merchants opted to reserve them for workflows with high purchase intent, such as abandoned carts. By focusing on those workflows, merchants were able to increase SMS-driven sales even with fewer overall sends.
So far this year, we see an increase in sends as well as orders, proving beyond doubt the effectiveness of this channel.
As with email, automated SMS are relevant and timely messages that fit into the customers' shopping journey and form a crucial part of an omnichannel marketing strategy.
If you haven't jumped on the bandwagon yet, now is the time to get started with SMS marketing.
You are wondering which is better: SMS marketing vs. email marketing? Read more about specific advantages and use cases of these channels.
Not to be left out, push messages have also seen an increase in sends: there was a year-on-year increase of 75.75% in push campaigns, and 110% in automated messages.
But it's a tale of two halves, with campaign and automated push messages performing very differently.
For campaign push messages:
Average open rate was 20.44% (an increase of 13.9%) and click rate was 0.25% (an increase of 16%)
Conversion rates dropped from 0.09% to 0.03%, resulting in 37% fewer orders
For automated push messages:
Average open rate was 59.09% (189% higher than campaign open rates) and click rate was 1.62% (a 462% lift over campaign messages)
Despite these open and click rates being lower than in 2022, there was a 100% increase in orders year-on-year
At first glance, a drop in engagement metrics can be concerning. What's important to remember is that there was a significant increase in the amount of messages being sent, as well as the number of messages being opened and clicked. Most importantly, twice as many orders were placed.
This demonstrates that push messages continue to be effective at engaging shoppers and driving sales, and should be part of your workflows alongside email and SMS.
Recommendations
These performance numbers are encouraging, especially in the face of some ongoing uncertainties. Email, SMS, and push all continue to increase sales, confirming them as highly effective channels for ecommerce brands.
The above analysis makes it clear that any suggestion that email marketing has to be expensive or reserved for the biggest brands is nothing but a myth. And Omnisend busts this myth every day—with customers of all sizes earning $72 for every $1 spent on email, all while being 40% cheaper than the leading email service provider.
With the first half of the year now behind us, focus is on finishing the year strong—which the large holiday seasons of Black Friday and Christmas can assist with.
Here's how to put these learnings into effect to make the most of the remainder of the year:
Maximize automation: So far this year, automated emails made up 2.6% of sends but drove 46.9% of all email orders. Automation has never been more important.
Harness SMS and push: Drop any notion of these channels being annoying, because consumers have made it clear they engage with them. Both are proven channels for engaging subscribers and driving more sales.
Focus on value and emotional language: The top five performing sectors demonstrated that "feel good" messaging can lead to sales. Focus on what problems you solve or how you can make your customers feel good, and incorporate that into your messaging.
If you're ready to get started with each of these channels and harness the power of automation, join Omnisend today and get access to pre-built templates and automation workflows.
Get started with Omnisend today & drive sales on autopilot with pre-built automation workflows
Start Free Today
related features
Want more sales?
Omnisend has everything you need to succeed.
Start free now
No Credit Card needed.