Drive sales on autopilot with ecommerce-focused features
See Features
Reading Time:
9
minutes
Boasting a 70% market share, Mailchimp is the most popular email marketing platform. With affordable entry-level tiers and a generous free plan, businesses of all types and sizes use Mailchimp to market their products.
Similar to Omnisend, Mailchimp has different pricing plans. However, unlike Omnisend, which offers full access to all features from the get-go, Mailchimp limits your access to features, only removing those limitations with each plan upgrade.
Following Mailchimp's price increases in early 2022, Mailchimp once again changed their Pricing in February 2023. Now, Free plans are limited to 500 contacts and 1,000 emails per month.
Their current pricing starts at $13/mo for the Essentials plan, while their Standard plan is $20/mo, and their Premium Plan begins at $350/mo. The platform also offers a free plan and a pay-as-you-go option.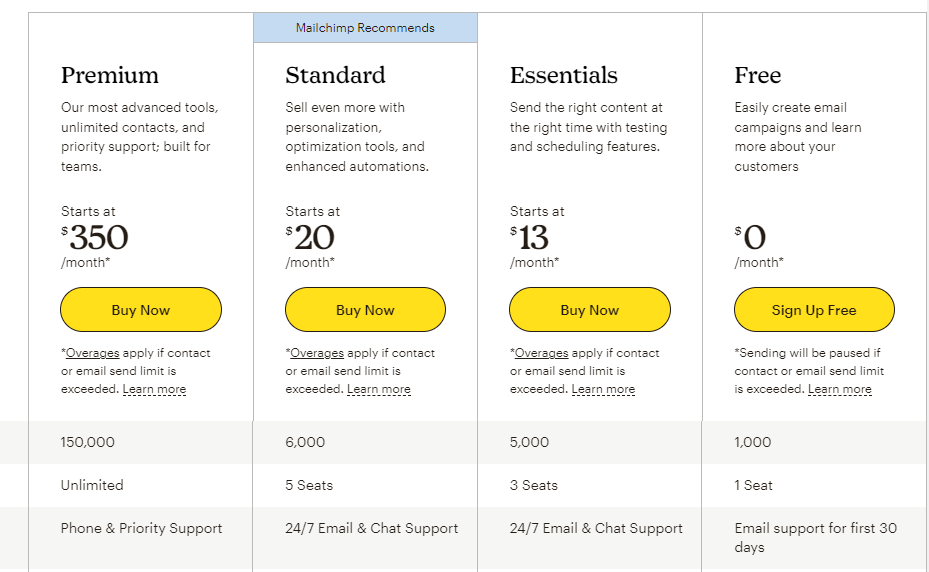 Needless to say, there's quite a difference between paying $11 for the Essentials plan and $299 a month for the Premium plan. So, which one should you choose?
To help you pick the best pricing option, we'll go over every Mailchimp plan in detail and give you a clear picture of which plan is a good fit for your business.
Which Mailchimp pricing plan should you choose?
Mailchimp has five different pricing plans that offer additional features based on the number of contacts you have:
Here's a quick breakdown of Mailchimp's basic plan prices, and how much these plans will cost you as you grow your audience:
| | | | | |
| --- | --- | --- | --- | --- |
| Plan | Free | Essentials | Standard | Premium |
| Price | Free | $13/mo | $20/mo | $350/mo |
| Contacts | 500 | 500 | 500 | 10,000 |
| Monthly email sends | 1,000 | 5,000 | 6,000 | 150,000 |
| Users | 1 | 3 | 5 | Unlimited |
And the Mailchimp costs for various contact list sizes:
| | | | | |
| --- | --- | --- | --- | --- |
| | Free | Essentials | Standard | Premium |
| 500 contacts | Free (up to 500 contacts only) | $13/mo | $20/mo | $350/mo |
| 2,500 contacts | N/A | $39.50/mo | $60/mo | $350/mo |
| 5,000 contacts | N/A | $69/mo | $100/mo | $350/mo |
| 10,000 contacts | N/A | $100/mo | $135/mo | $350/mo |
| 20,000 contacts | N/A | $220/mo | $260/mo | $535/mo |
| 50,000 contacts | N/A | $350/mo | $410/mo | $815/mo |
As you can see, when you take a closer look at the pricing, you'll notice that the monthly Mailchimp cost increases pretty dramatically along with your subscriber count.
To be fair, Mailchimp can offer good value for money, but only if you calculate carefully before choosing your plan.
With that said, let's see which Mailchimp plan may be best for your business.
1. Mailchimp Free plan: Best for side jobs
Mailchimp's Free plan is a fantastic way to get started with email marketing without spending a fortune. With that said, it's not the most feature-packed free plan in the industry. If you find your business outgrowing its limits, you might want to consider switching to the paid options.
Free plan features
Up to 500 contacts
Website builder
Mailchimp domain
Forms and landing pages
1-step email automations (autoresponders)
Marketing CRM
Compared to other ecommerce marketing platforms, Mailchimp's free plan is fairly generous and includes a decent set of features. For example, you get access to a landing page builder, basic email templates, and other useful features like email autoresponders and social media ads.
The plan's biggest offering is, of course, the beefy 2,000 contacts + 10,000 monthly emails limit. While this looks really impressive at first, you only get one audience to work with. So if you're planning on sending out different campaigns to multiple customer audiences, you won't be able to do this on the free plan.
It's also worth noting that you won't be able to benefit from Mailchimp's customer support beyond your first 30 days.
Who should choose the Mailchimp Free plan?
Mailchimp's Free plan is a good pick for small ecommerce merchants who are just getting started and want to explore how basic email marketing works.
In contrast, Omnisend's free plan offers full-featured email marketing, including automation, segmentation, and customer support from the get-go. If you want to see all that ecommerce marketing has to offer without spending anything, you can START FREE today.
Start free and use all Omnisend features
Start free
2. Mailchimp Essentials plan: Best for small online businesses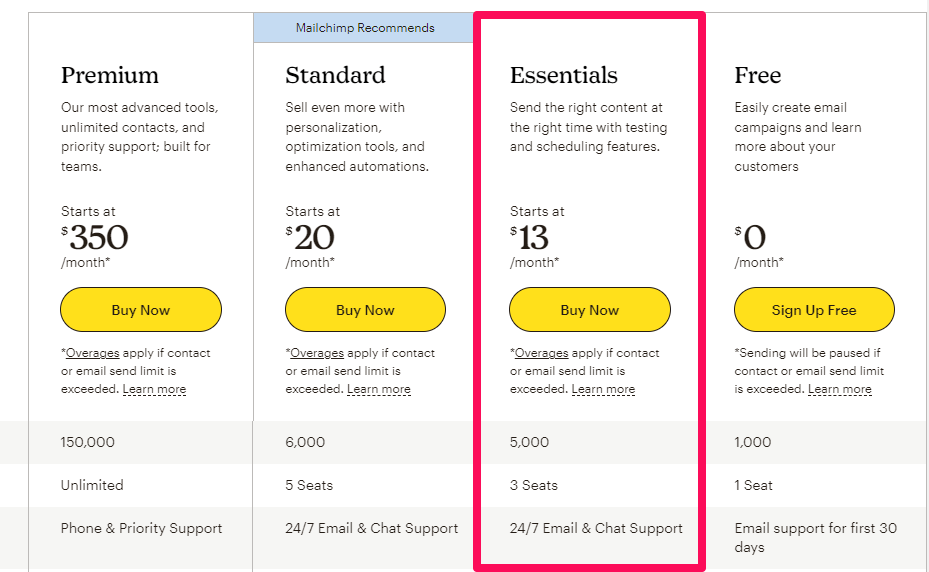 Essentials is the cheapest paid Mailchimp plan starting at $13/mo and includes everything from the free tier plus additional features, as well as increased limits on contacts, audiences and email sends.
Essentials plan features
3 audience segments
Removes Mailchimp branding from your emails
All email and landing page templates
Basic automated emails
A/B campaign testing to see what works
Customer support
With the Essentials plan, Mailchimp gives you access to multiple useful features that will help you craft more sophisticated and engaging email campaigns. For example, you get your hands on A/B testing, which lets you send two different emails and see which one gets a better response from your audience.
The plan also unlocks all 100+ of Mailchimp's pre-built email templates to send custom-branded emails to your customers.
Finally, the Essentials plan brings 24/7 customer support via email and chat, so you're able to quickly contact the Mailchimp team in case something doesn't go as planned.
However, you're still limited to three audience segments and you don't get access to proper automated workflows, which makes Mailchimp's Essentials plan stay very true to its name. So, if you're looking for more complex marketing automation, you'll have to upgrade to the Standard or Premium plans.
Who should choose the Mailchimp Essentials plan?
With basic automations, A/B testing and email templates included, the Essentials plan can be a good fit for small ecommerce merchants and frequent campaign senders.
3. Mailchimp Standard plan: Best for medium-sized online businesses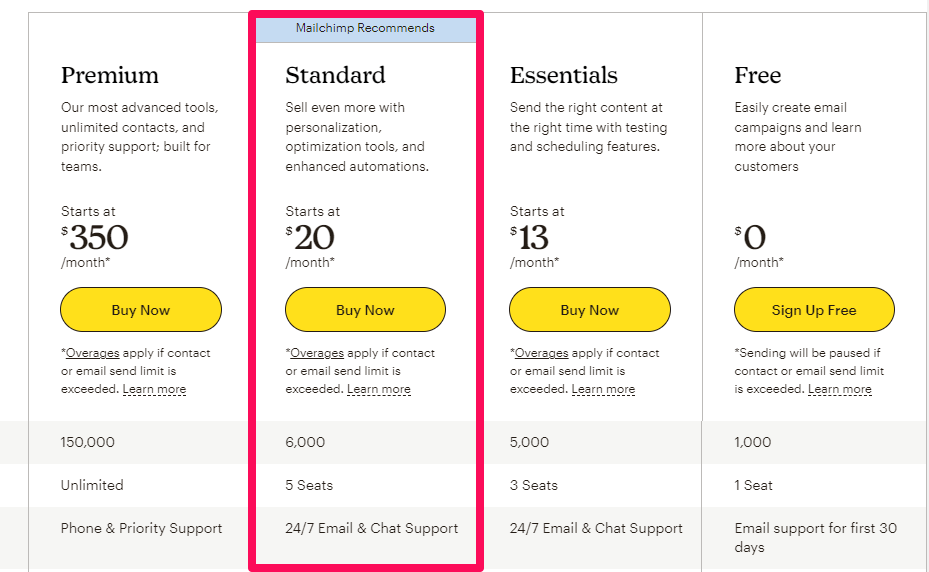 Mailchimp's Standard plan starts at $20/mo and includes everything from the Essentials plan, plus:
Standard plan features
5 audience segments
Advanced automation workflows
The ability to build your own email templates
Behavioral targeting
Send time optimization and delivery by time zone
Dynamic content
On the Standard plan, you finally get an upgrade from basic automated emails to multi-step automated workflows. These allow you to send your customers down a branching content path, with different emails sent after each step of the customer journey.
You can also build your own custom email templates and tailor them to your branding, which gives you more freedom when designing email campaigns.
If you want to get a more granular look at how your customers interact with your emails, the Standard plan comes with the behavioral targeting feature that allows you to increase your engagement by analyzing what they read and click on.
Send time optimization will let you make sure your customers receive your campaigns at the best time for them. This nifty feature also optimizes your send time across different time zones and countries.
Finally, with the Standard plan, you get the dynamic content feature that allows you to automatically recommend your customers different products based on what they've bought or clicked on in the past.
Who should choose the Mailchimp Standard plan?
If you're running a mid-sized business and need advanced features such as multi-step automations but don't want to invest in the expensive Premium plan, Standard might be the plan for you.
4. Mailchimp Premium plan: Best for large enterprises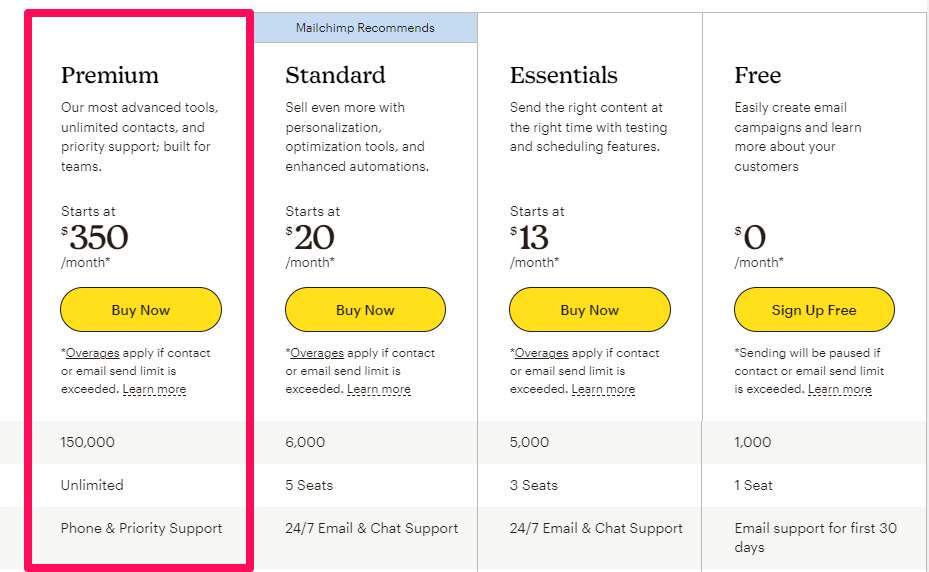 Mailchimp's Premium plan starts at $350/mo and includes everything from Standard, plus:
Premium plan features
Multivariate testing
Advanced audience segmentation
Comparative reports
Unlimited user accounts
Phone customer support
For experienced ecommerce merchants and marketers who want to send out more than just two different campaign variations at a time, Mailchimp's Premium plan comes with the multivariate testing feature. This feature steps it up a notch from A/B testing and lets you mix and match send times, subject lines, and other elements of many different emails and see which of those performs best.
The Premium plan also comes with advanced segmentation options that allow you to segment audiences based on more complex aspects like purchase history, demographics, and more.
For the die-hard marketing geeks out there, Mailchimp's Premium plan brings comparative reports that allow you to group multiple campaign reports into a single, comprehensive whole that gives you a bird's eye view of your marketing performance.
Finally, the Premium plan also upgrades your customer support options from email and live chat to an additional priority phone line with Mailchimp's support agents.
Who should choose the Mailchimp Premium plan?
The Premium plan is geared towards large ecommerce stores, big marketing teams and sizable enterprises, so you want to make sure that you'll actually benefit from the additional features it brings to the table.
With a whopping minimum $350/mo price tag, it's no secret that Mailchimp's Premium Plan is one of, if not the most expensive paid plan in the industry. If this seems a tad too steep for your needs, it's worth noting that with Omnisend's Pro plan, you'll pay nearly $300 less at $59 per month for a more ecommerce-friendly feature package.
5. Mailchimp Pay As You Go plan: best for seasonal businesses

For people who don't like monthly commitments, Mailchimp also offers something different. Simply put, the Pay As You Go is a prepaid email plan that comes with the same features as the Essentials plan. First, you pay Mailchimp for email credits in bulk, and then use these credits to send as many emails to your subscribers as you need. However, it should be noted that these credits expire in 12 months.
Naturally, the more credits you buy, the cheaper they are. Here's a quick breakdown of how much they'll cost you:
| | | |
| --- | --- | --- |
| Email sends | Price per email send | Price |
| 5,000 | $0.03 | $150 |
| 10,000 | $0.02 | $200 |
| 50,000 | $0.02 | $1000 |
| 75,000 | $0.02 | $1500 |
Who should choose the Mailchimp Pay As You Go plan?
Basically, the Pay As You Go plan is a flexible alternative to a monthly subscription. Mailchimp created this plan for seasonal businesses, so it's a good option for merchants who tend to send emails infrequently.
Mailchimp pricing: Which plan to choose for ecommerce?
Mailchimp is the biggest email marketing platform on the market, and for good reason. It does a little bit of everything and has something for everyone–from niche food bloggers to multinational corporations.
If you're an online merchant, all of Mailchimp's plans have some ecommerce features. In general, choosing the right plan depends on the size of your business and your contact list. To reiterate:
The Free plan is best for those just starting out
The Essentials plan is a good fit for small ecommerce merchants
The Standard plan is well-suited for mid-sized online stores
The Premium plan can work for large ecommerce companies that can afford it
The Pay As You Go plan is best for infrequent senders and seasonal merchants
With all that said, Mailchimp may not necessarily be the most suited for online companies that have more specific needs. This is particularly true for ecommerce businesses, which will have different email marketing needs than, for example, a blogger.
And with the recent Mailchimp pricing increase, many ecommerce merchants are looking outside of Mailchimp for a better-suited marketing automation platform.
If you're an online merchant on the lookout for an email marketing platform built specifically for ecommerce, here are two great Mailchimp alternatives worth considering before committing to a paid plan.
Omnisend
Unlike Mailchimp, Omnisend is purpose-built for ecommerce.
Feature-wise, this gives Omnisend a clear advantage over Mailchimp. You get all of the basics offered by Mailchimp, such as email templates, sign-up forms, cart recovery, and browse abandonment workflows, plus ecommerce-specific features like:
Want to see how Omnisend matches up to Mailchimp?

Check out our Omnisend vs Mailchimp feature-for-feature comparison.
In terms of pricing, Omnisend offers a free plan for up to 250 contacts with everything included—there are no limitations on features, which means that you can try everything out for free and see what works for your online store. Our free plan also includes free credits for SMS and web push notifications.
Paid Omnisend plans start at $16/mo for Standard and $59/mo for Pro. These include a dedicated Customer Success Manager, priority customer support, and advanced reporting features.
Klaviyo
Klaviyo is another ecommerce-focused marketing platform and a good alternative to Mailchimp for online merchants.
Similar to Omnisend, Klaviyo offers a cartload of advanced ecommerce features that Mailchimp doesn't have, including:
Native integrations with many ecommerce platforms
Advanced segmentation and analytics features
SMS
Product recommendations
Facebook and Instagram ads
Klaviyo also offers a full-featured free plan for up to 250 contacts and 500 email sends to try out its capabilities without breaking the bank.
When it comes to paid options, Klaviyo only has one paid plan that starts at $20 and its price depends on your number of contacts. Unfortunately, Klaviyo gets expensive pretty quickly as you add more contacts, which makes it one of the priciest ecommerce marketing platforms.
To put it all into perspective, here's a quick cost breakdown of paid plans for all three platforms:
| | | | | | | |
| --- | --- | --- | --- | --- | --- | --- |
| Contacts | MailchimpEssentials | Mailchimp Standard | Mailchimp Premium | Klaviyo | Omnisend Standard | Omnisend Pro |
| 500 | $13/mo | $20/mo | $350/mo | $20/mo | $16/mo | $59/mo |
| 2,500 | $39.50/mo | $60/mo | $350/mo | $60/mo | $35/mo | $59/mo |
| 5,000 | $69/mo | $100/mo | $350/mo | $100/mo | $65/mo | $90/mo |
| 10,000 | $100/mo | $135/mo | $350/mo | $150/mo | $115/mo | $150/mo |
| 20,000 | $220/mo | $260/mo | $535/mo | $375/mo | $230/mo | $350/mo |
Mailchimp pricing: Final thoughts
As you can see, Mailchimp has a good variety of pricing options for every type of ecommerce business.
If you're looking to dip your toes in email marketing, Mailchimp's free plan is one of the most generous around, while the starter paid plans offer robust, if somewhat basic, email marketing features for a reasonable price.
With that said, Mailchimp's Premium plan is definitely a hard sell at the current price point, especially for ecommerce merchants.
If you want to take your ecommerce marketing to the next level, look no further than Omnisend.
Omnisend costs just about the same as Mailchimp and offers a variety of tools that are better suited for ecommerce, including more granular audience segmentation and more sophisticated automation workflows. Plus, it's easier to use than Mailchimp or Klaviyo.
Get started for free here.
Get started with Omnisend today & drive sales on autopilot with pre-built automation workflows
Start Free Today
related features
Want more sales?
Omnisend has everything you need to succeed.
Start free now
No Credit Card needed.