Drive sales on autopilot with ecommerce-focused features
See Features
Email Marketing Comparison: Omnisend vs. Drip vs. Mailchimp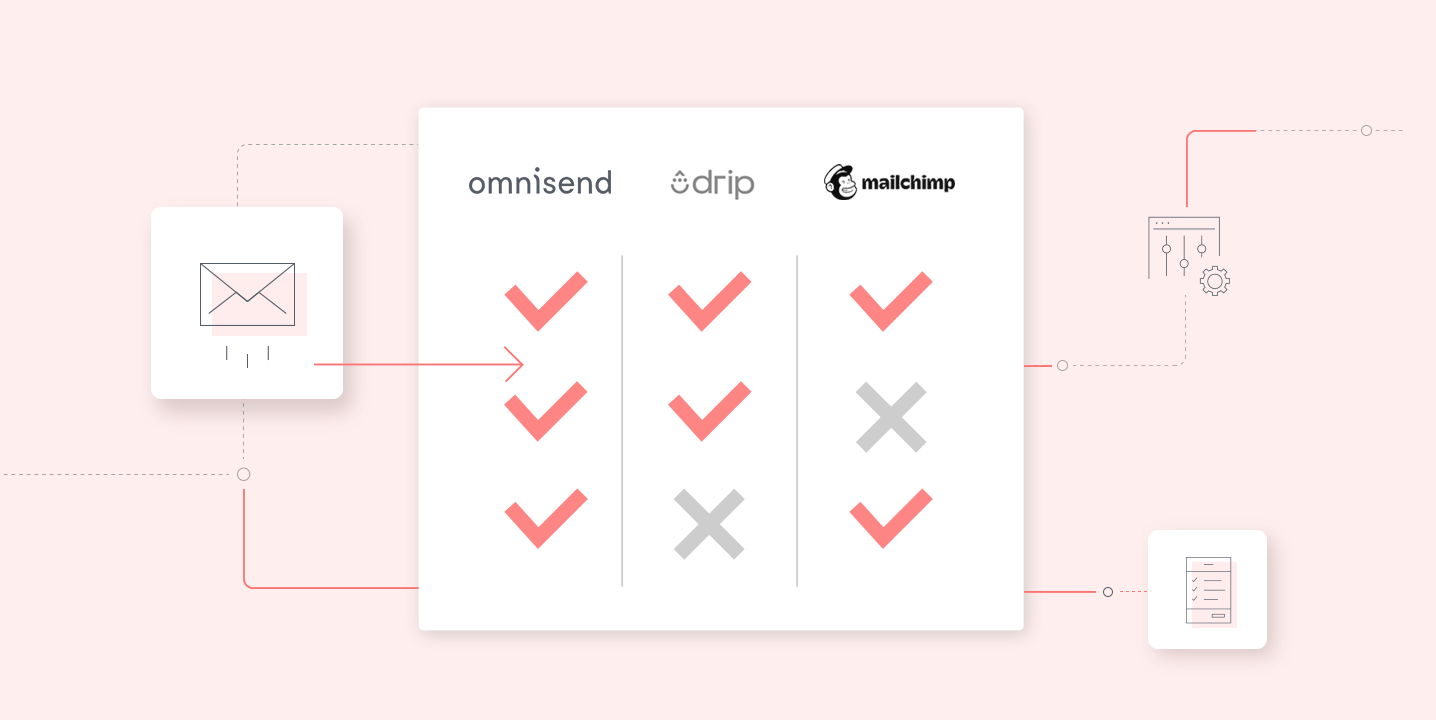 Reading Time:
6
minutes
With the onslaught of the pandemic, the ecommerce industry boomed as more people were forced to stop visiting brick-and-mortar shops and moved their shopping online. In order to take advantage of this new onslaught, smart ecommerce marketers increased their email marketing efforts for one critical reason: email marketing has the best ROI of any ecommerce channel, with roughly $40 revenue for every $1 spent.
For that reason, email marketing is critical to anyone who wants to sell online, and email marketing platforms are well aware of that. SaaS platforms such as Omnisend, Mailchimp, and Drip and other alternatives are built to have features that are critical for ecommerce stores, and can help you communicate with your audience in an engaging way.
Drip, Omnisend and Mailchimp all offer tools that can assist in ecommerce marketing. Each one has major differences that make them stand out from each other, whether its by aiming their tools for different audiences or prioritizing certain features. Let's take a look at the differences between Omnisend vs. Drip vs. Mailchimp.
1. Email Newsletters
Businesses want to utilize email newsletters to keep customers, subscribers and general audience informed and to drive traffic to their ecommerce site. While a business wants a program to handle email newsletters, they also need to find one that offers features that are important to them.
There are some key features that matter when it comes to email newsletters.
This includes the ease-of-use and power: all of these platforms, for example, offer varying degrees of a drag-and-drop builder, which will form the basis of your email creation. This builder also includes email templates (for Drip, Mailchimp and Omnisend), an image library (for Omnisend and Mailchimp) and various gamification tools (for Omnisend only). Omnisend also includes the Product Picker in its builder, which allows stores to easily add their products to their email campaigns by selecting them directly from the store.
Here's an overview of more key features: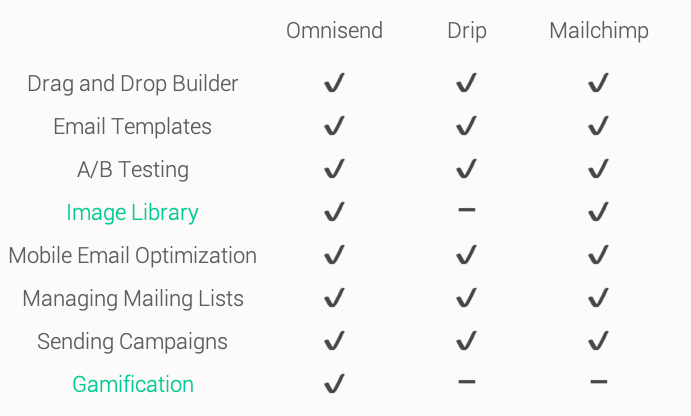 As you can see, all three companies allow a business to utilize a simple interface that keeps email marketing straightforward. At this point, all three platforms offer similar features, but Omnisend stands ahead of both Mailchimp and Drip in this comparison. Omnisend's interactive email elements really stand out as they can help increase your email click rate. Pay attention to these small differences to find the right tool for you.
2. Marketing Automation
When it comes to an ecommerce platform, you want to make sure that it has powerful marketing automation as its core feature. In short, it means that your platform performs actions that save you time, such as identifying dormant customers or subscribers, new leads, or sending emails.
Each of these companies provides sophisticated email marketing automation for ecommerce. However, if you're a bigger business, you will want to utilize omnichannel marketing automation. It enables you to put multiple channels into one workflow and reach out to your customers more effectively than via only email.
If you don't need omnichannel capabilities, then Mailchimp, Drip or Omnisend will work for you.


One big thing that sets Omnisend apart from its alternatives is that you can set up various split testing (or A/B testing) in the workflow builder. You can also set up split testing when sending out promotional campaigns, allowing you to determine which subject line or offer leads to the highest conversions.
3. Forms and Landing Pages
In terms of forms and landing pages, all three platforms have multiple integrations with tools that work on signup forms only and can provide the most sophisticated solutions.
However, if you want to have an all-in-one marketing solution with signup forms and landing pages, you should consider Mailchimp or Omnisend, but not Drip. Omnisend and Mailchip both offer ready-to-use signup forms and landing pages, you may also customize them according to your needs.
But only at Omnisend can you find our in-house "Wheel of Fortune" signup form which performs 3x better than any popup.


As you can see above, while Mailchimp and Omnisend offer various landing page features—such as the Landing Page Builder and Landing Page Templates, not to mention the integration—Drip only offers the ability to integrate a landing page into their platform.
This limitation can make it much harder for marketers to set up various campaigns and sign up forms with better tracking.
4. Analytics and Reporting
Collecting data allows you to adjust your business according to your customers' needs. By accessing analytics and reports, you can see how your customers or subscribers react to your campaigns and marketing strategies.
Drip, Omnisend and Mailchimp all collect a significant amount of customer data, and allow for advanced segmentation, automation, and comprehensive reporting.
In addition to that, Omnisend has in-depth integration with leading ecommerce platforms which allows Omnisend's customers to easily monitor the amount of income they earn from each particular campaign.
5. Marketing Channels
You will want your ecommerce strategy to reach as many users as possible. You can do so by integrating multiple channels such as email, push notifications, social media, and text messages. By reaching out with more channels, you can increase your interactions with customers or subscribers. This comparison will show you which companies integrate the most important channels for your business.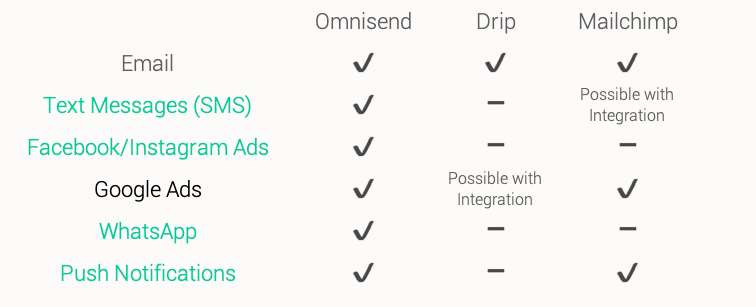 Omnisend stands out as an all-in-one platform when it comes to channels. They offer high-quality and versatility to reach many customers that use various channels. The other ones have useful integrations as well, but if you want to maximize your omnichannel marketing, then you should look into Omnisend.
6. Pricing
With so many features available through these platforms, you need to pay money to have access to them. They each offer different pricing plans based on your needs, but let's start with the lowest tiers.
Each of the starting prices depend on certain qualifications.
Drip offers up to 2,500 contacts for $49 a month.
Mailchimp gives you multiple features such as access to all of their email templates, automations, and other features for $9.99 a month.
Omnisend offers 6,000 emails per month, SMS in your campaigns, marketing automation, and other features for $16 a month.
Mailchimp offers a low price, which makes it popular with ecommerce beginners—but it also has fewer feature offerings. Omnisend costs a little bit more, but it can help you implement an omnichannel approach for both beginner and advanced marketers. Businesses with 500+ contacts can benefit from this tool the most, with a free plan that is more generous than the alternatives.
On top of that, marketers on Pro & Enterprise plans can enjoy free SMS credits equal to the price they pay for those plans.
Omnisend has a free plan with the same full features that are available on all its paid plans, including automation and SMS marketing.
Mailchimp's free plan allows for up to 2,000 contacts or subscribers, while Drip unfortunately has no free plan.
7. Integrations
Omnisend offers single-click integrations for Shopify, Shopify Plus, BigCommerce, and WooCommerce. They offer over 30 other integrations with ecommerce tools.
Drip has multiple integrations as well. They include Shopify, Shopify Plus, WooCommerce, and Magento. While they don't have BigCommerce, they do include Facebook, PayPal, and Outgrow. They offer over 50 integrations.
Mailchimp includes WooCommerce, LiveChat, Canva, and ShipStation into their integrations. Mailchimp has over 200 integrations that you can choose between for your ecommerce. Unfortunately, Mailchimp ended its partnership with Shopify a few years ago, which makes it one of the least attractive alternatives here.
Many businesses run on Shopify, and will therefore require Shopify integration. If this is the case, then they will want to choose Omnisend or Drip. If they want to focus on the most integrations possible, then Mailchimp stands out since it offers so many options to businesses.
8. Customer Support
Customer support remains an important part of any kind of service. When you've got your next big campaign ready to go, timing will be important.
This means that if something goes wrong, you're going to want your email marketing service to be there for you.
After all, nothing is worse than a support team on vacation on Black Friday, when you're most likely to need them.
Mailchimp, Omnisend and Drip all offer 24/7 online assistance. Each business offers effective customer service, so your choice should depend more on the features you need.
9. Final Thoughts
When you do a comparison of Omnisend vs. Drip vs. Mailchimp, you see that Omnisend provides the most overall features compared to the price. For many, this would place Omnisend as the winner.
One of the reasons for this is that Omnisend caters to small and medium businesses that need the tools made for enterprises. Each provides effective tools, but Omnisend provides the most features with the best value while giving you the most flexibility possible.
Keep in mind that each email marketing tool provides different features and angles, so it's hard to declare any of these platforms as an absolute winner. In fact, you should determine which platform works for your unique set of challenges based on your needs and wants.
Get started with Omnisend today & drive sales on autopilot with pre-built automation workflows at Omnisend
Start Free Today