Drive sales on autopilot with ecommerce-focused features
See Features
did you know
Omnisend customers automate 32% of their email conversions. Are you maximizing sales?
automate my sales
Reading Time:
8
minutes
Ever heard that email marketing is dead? If so, don't worry: this myth is absolutely wrong. In fact, email has the best ROI of any marketing channel, producing revenue of around $36 for every $1 spent on average (and up to $72 or more if you use the right email marketing tool).
Email is a critical channel for anyone who wants to sell online, and the different providers—such as Omnisend, Mailchimp, Drip, and other alternatives—offer features specifically designed for ecommerce stores, helping you to communicate with your audience in an engaging way, increase your conversion rate, and boost sales.
Of course, the main expectation of an email marketing platform is that they can deliver to the recipient's inbox instead of getting caught in the spam filter, and Omnisend, Mailchimp, and Drip all have excellent email deliverability. There are other similarities too, like the ability to create emails from scratch and have them sent automatically.
Crucially, though, there are important differences that help each one stand out—from offering tools to specific audiences to differences in the features themselves.
With that said, let's do a comparison of Omnisend vs Drip vs Mailchimp.
1. Email campaigns
An email marketing platform that doesn't have solid email features is like a bucket with a hole in it: useless. Fortunately, all three platforms have solid functionality in this department, but with some important differences.
Omnisend
In the Omnisend account, there's an entire section dedicated to campaigns, where users can create a new campaign.

You'll then be guided through a five-step creation process, where you begin by selecting a responsive email template. Omnisend also allows SMS to be incorporated into campaigns, so you can send different messages on different platforms to maximize engagement and sales.
Omnisend also has the Campaign Booster. If members of your audience didn't open the first email, it can be automatically sent again 48 hours later—without annoying the people who did already open it.
One of Omnisend's other powerful features is its advanced segmentation. Each email can be sent to specific groups of people, so you can send highly-tailored messages—from winning customers back, to rewarding the most engaged audience members, to encouraging the first sale.

Drip
Drip can also create email campaigns. Like Omnisend, there's a dedicated section to do so, called Broadcasts.

From here, you choose the type of email you want to send, e.g. a product launch or newsletter, and then your audience.
Drip also offers audience segmentation with thoughtful features. For example, you can send an email with a discount code, and Drip automatically knows not to send it to anyone who has recently used a discount code to purchase from you.
Another strong feature in Drip is split testing, otherwise known as A/B testing. This is where you compare multiple versions of something to see which performs better. With Drip, you can test different subject lines and email content, which will give you great insights into what leads to better open rates and conversions. Drip even shows you how much revenue each version generated.
Mailchimp
Mailchimp is perhaps the most well-known email marketing platform, and it didn't achieve that by being a slouch in the features department. Users can create email campaigns from their dashboard, and Mailchimp guides them through the necessary steps.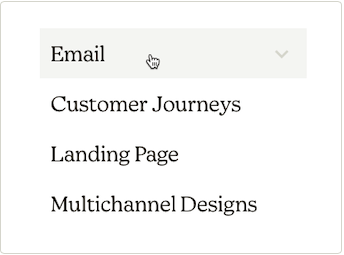 Once you've chosen Email, you're taken to Mailchimp's email builder where you can select your recipients, set your subject line, and design your email with either a pre-built template or creating your own. Like Drip and Omnisend, Mailchimp also has the ability to send specific emails to different audience segments.
Check this detailed Omnisend vs. Drip: A feature-by-feature comparison.
Email newsletters
Newsletters serve multiple important purposes, but chief among them is keeping your audience engaged, which can lead to higher website traffic and product sales. So when considering which email provider to use out of Omnisend vs Drip vs Mailchimp, you'll want to check that you choose the one with the appropriate features for email newsletters.
Alongside features is ease-of-use—after all, it's of no use if a platform offers powerful features but is too complicated to use them. These three platforms all offer a visual drag-and-drop email builder and templates, but there are differences beyond that, as this feature overview shows:
Here's an overview of more key features: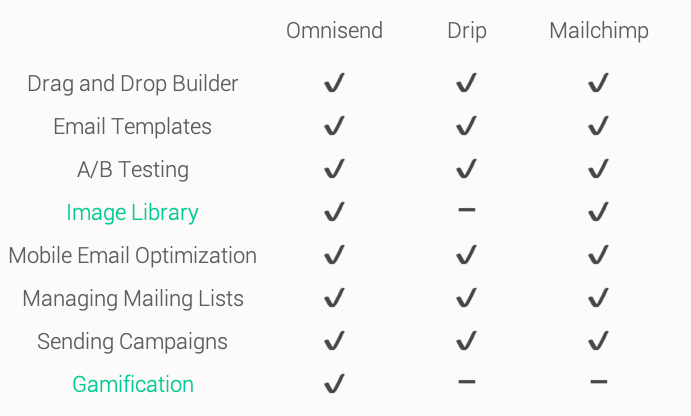 Winner: Omnisend. Although there is significant overlap between features, Omnisend's interactive email elements can help to increase your email click rate.
2. Marketing automation
One of the key features you want your ecommerce marketing platform to have is marketing automation. In short, this means that your platform performs certain actions automatically, such as sending particular emails, or identifying dormant customers or new leads, saving you significant amounts of time.
Each of the three platforms provides sophisticated email marketing automation for ecommerce, although if you're a bigger business you'll want to utilize omnichannel marketing automation. This enables you to incorporate multiple channels into one workflow and reach out to your customers more effectively than via only email. As its name suggests, Omnisend offers omnichannel marketing automation as standard. If you don't need those capabilities, then Mailchimp, Drip, or Omnisend will work for you.

One big thing that sets Omnisend apart from its alternatives is that you can set up various split testing (or A/B testing) in the workflow builder. You can also set up split testing when sending out promotional campaigns, allowing you to determine which subject line or offer leads to the highest conversions.
Winner: Omnisend.
3. Forms and landing pages
All three platforms offer sign-up forms and landing pages, as well as multiple integrations to provide the most sophisticated solutions.
Mailchimp and Omnisend offer an all-in-one marketing solution with ready-to-use signup forms and landing pages, both of which can be customized to your needs, but Drip doesn't. Instead, it only has the ability to integrate a landing page, and doesn't have its own builder or templates.
Omnisend is also the only platform of the three offering gamified forms, such as our Wheel of Fortune sign-up form—which performs 3x better than other popups.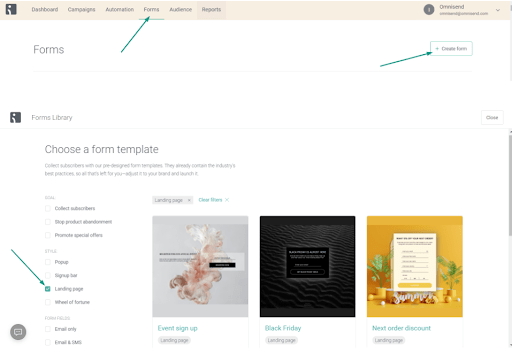 In comparison, Mailchimp has form and landing page templates, but not gamification options like Wheel of Fortune. Drip offers neither, and requires its users to rely on integrations instead.

Winner: Omnisend.
4. Analytics and reporting
Collecting data allows you to adjust your business according to your customers' needs, and help you achieve higher performance from your marketing efforts. With thorough analytics and reports, you can see how your customers or subscribers react to your campaigns and marketing strategies.
Drip, Omnisend, and Mailchimp all collect a significant amount of such data, and the previous features like advanced segmentation and automation allow for comprehensive reporting.
In addition to that, Omnisend has in-depth integration with leading ecommerce platforms which allows Omnisend's customers to easily monitor the amount of income they earn from each particular campaign. Advanced reporting is accessible right inside your account: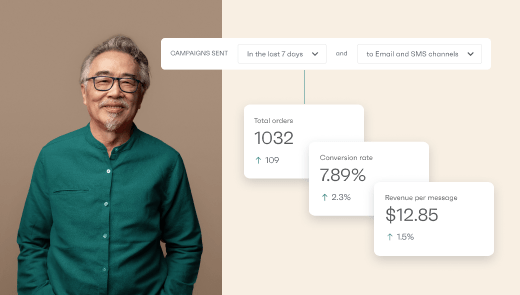 Winner: Tie. Each platform offers useful analytics including earned reporting.
5. Marketing channels
You will want your ecommerce strategy to reach as many users as possible. You can do so by integrating multiple channels such as email, push notifications, social media, and text messages. By reaching out with more channels, you can increase your interactions with customers or subscribers. This comparison will show you which companies integrate the most important channels for your business.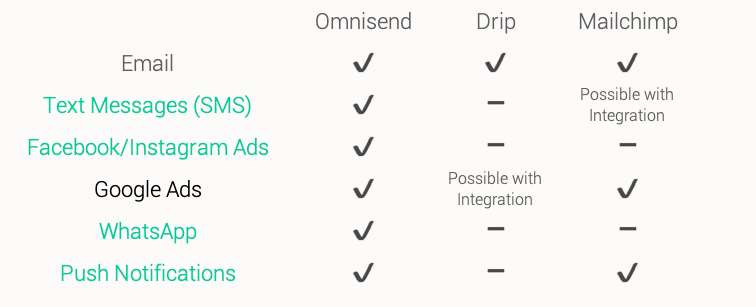 If you want to maximize your omnichannel marketing then Omnisend stands out as an all-in-one platform, offering high-quality and versatility to reach many customers using various channels.
6. Pricing
Each of the three platforms has different tiers, so you can choose based on your budget and the features you need.
Each of the starting prices depend on certain qualifications such as number of contacts:
Drip offers up to 2,500 contacts for $49 a month.
Mailchimp gives you multiple features such as access to all of their email templates, automations, and other features for $9.99 a month.
Omnisend offers 6,000 emails per month, SMS in your campaigns, marketing automation, and other features for $16 a month.
Mailchimp's low price used to make it popular with new ecommerce stores—but it also has fewer features and increased its pricing in early 2022.
Omnisend costs even less than Mailchimp (and continues to drop in price as you scale). Plus, it can help you implement an omnichannel approach for both beginner and advanced marketers.
On top of that, marketers on Omnisend's Pro plan can enjoy free SMS credits equal to the price they pay for that plan. And unlike the two competitors here, Omnisend's free plan includes the same full features that are available on its paid plans, including automation and SMS marketing.
Mailchimp's free plan allows for up to 2,000 contacts or subscribers and has significant limitations, while Drip unfortunately has no free plan.
Winner: Omnisend, both for price scaling and a more generous free plan.
7. Integrations
Omnisend offers single-click integrations for Shopify, Shopify Plus, BigCommerce, and WooCommerce, plus over 30 other integrations with ecommerce tools.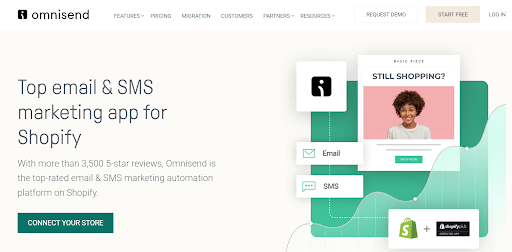 Drip offers more than 50 integrations including Shopify, Shopify Plus, WooCommerce, and Magento. While they don't have BigCommerce, they do include Facebook, PayPal, and Outgrow.
Mailchimp boasts over 200 integrations, including WooCommerce, LiveChat, Canva, and ShipStation into their integrations.
Winner: Mailchimp
8. Customer support
Customer support is an important part of any service, and timing is critical—especially if you've got your next big campaign ready to go.
After all, nothing is worse than a support team on vacation on Black Friday, when you're most likely to need them.
Mailchimp, Omnisend and Drip all offer 24/7 online assistance for the higher tiers so your choice should depend more on the overall features you need rather than the support options. However, it's worth considering that Mailchimp's free plan only includes email support for 30 days, after which time you'll have to use their FAQs and guides for support.
Winner: Tie.
9. Final thoughts
A comparison of Omnisend vs. Drip vs. Mailchimp shows that Omnisend provides the most overall features for the price.
One of the reasons for this is that Omnisend caters to small and medium businesses that need the tools made for enterprises. Each platform provides effective tools, but Omnisend provides the most features with the best value while giving you the most flexibility.
However, each of these email marketing tools provides different features and primarily addresses a particular type of business, so it's hard to declare any of these platforms as an absolute winner. Rather, you should determine which one best caters to your particular needs and wants before making a decision.
Get started with Omnisend today & drive sales on autopilot with pre-built automation workflows
Start Free Today
related features
Want more sales?
Omnisend has everything you need to succeed.
Start free now
No Credit Card needed.