Drive sales on autopilot with ecommerce-focused features
See Features
Reading Time:
12
minutes
With a stellar ROI of $45 per dollar spent and a high average open rate of 22.9%, it's easy to see why email marketing remains an important tool for companies to reach their target audiences.
Email newsletters, in particular, are an incredibly powerful way to connect with customers and keep them up-to-date on your company's latest news and offers.
In this article, we will talk about the email newsletter design elements to focus on, and give you ideas for newsletter content in addition to newsletter topics to help you get started.
Upgrade your email marketing with Omnisend's ready-made newsletter templates
Start free
Factors that contribute to email newsletter success
Before getting into newsletter ideas, let's take a closer look at some of the important factors that lead to email newsletter success.
Segmentation
Why is segmentation so important?
Over 330 billion emails are sent and received each day. And, 47% marketers use emails to connect and engage with prospects.
As a result of this 'inbox overload,' it's easy for your audience to miss your emails or, worse, ignore them. Sending irrelevant product recommendations or content adds fuel to the fire.
Segmentation helps you deliver tailored content to the right target groups, making your messages more relevant and personalized.
Omnisend's research shows that compared to non-segmented campaigns, segmentation boosts email open, click, and conversion rates significantly.
So, how should you segment your email lists? You can group your recipients based on a number of factors, such as:
Demographics
Purchase behavior or history
Geographic location
Campaign behavior
Web browsing activity
With Omnisend's new granular segmentation tool, you can do this easily.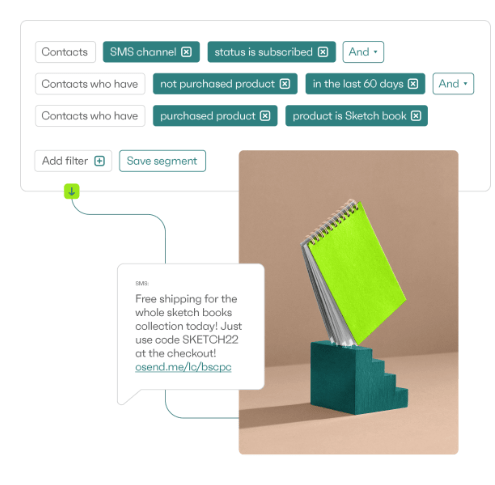 Send personalized email newsletters with Omnisend's easy-to-use segmentation features
Start free
Compelling CTAs
If you want your email newsletters to be successful, it's important to include clear and compelling calls to action (CTAs).
CTAs tell your subscribers what you want them to do next, whether it's visiting your website, signing up for a free trial, or making a purchase.
Here are some tips for creating clear and compelling CTAs for your email newsletter.
Keep it short and sweet: Your CTA should be short and to the point.
Here's an example of clear and brief CTAs from reMarkable's email: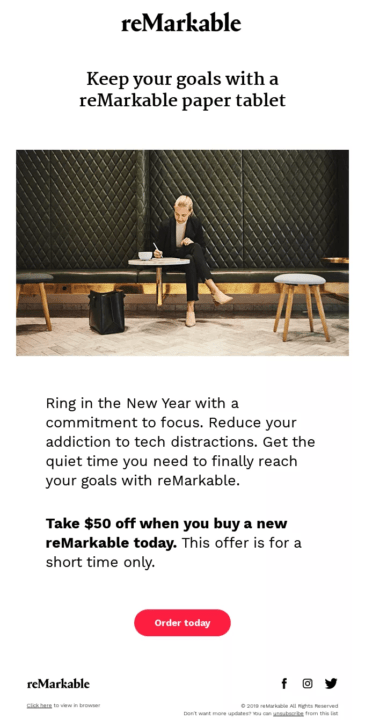 Use strong language: Use language that is strong and persuasive.
Use actionable words: Use words that inspire action, such as "click here," "download now," or "sign up today."
Create a sense of urgency: Add a sense of urgency to your CTAs to encourage subscribers to take action immediately. Homework Help Global's email newsletter below, for example, emphasizes the benefits of downloading their ebook.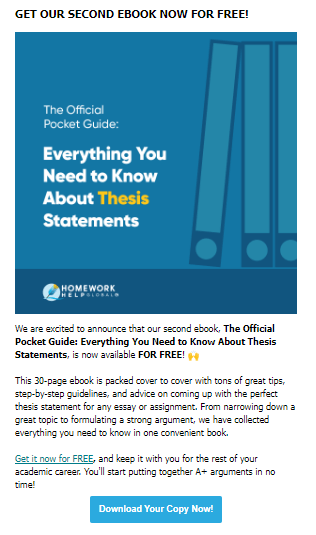 Don't overuse them: Our research shows that between 2 to 3 CTAs per email gives you the best results.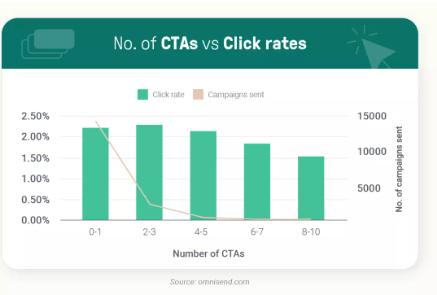 Personalize your CTAs: By offering personalized CTAs in your email newsletter, you can better segment your list and send more targeted content to specific groups of subscribers. For example, you could offer a CTA for first-time visitors and another for returning visitors.
Or, like Brooks, you can include a different CTA for men and women if both are your target customer segments: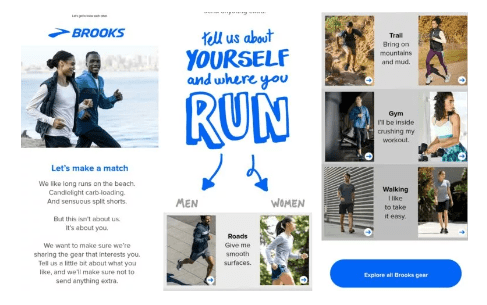 Great subject lines and email preheaders
When it comes to email newsletters, you cannot ignore the power of subject lines and preheaders.
47% of recipients will base their decision of whether to open an email based solely on the subject line.
Here are some email subject line best practices:
Keep it short: Short subject lines are known to boost open rates and engagement. Based on our analysis, we recommend using 7 words or 41 characters in your email newsletter subject lines.
Include a number: A study found that the open rate for emails was 45% higher when there is a number in the subject line.
Personalize the subject line: Using personalization tokens in your email newsletter subject lines can help boost engagement.
Ask a question: Asking a question is a great way to spark curiosity and interest.
What about preheaders? A preheader is the content that appears immediately next to your newsletter subject line.
If you don't add a preheader, the email service provider will extract the preheader from the first line of your email message by default. This can result in a confusing or ineffective subject line.
Look at this example from Victoria's secret. The preheader adds no value to the subject line, nor is it informative.

Now, look at Magzter Newssstand's email newsletter. The preheader clarifies what the email is all about in addition to offering the coupon code.

We recommend that you keep it between 30 to 80 characters to ensure great visibility on all devices.
Adding a preheader is a breeze on newsletter software like Omnisend. Just go to the Campaign settings and fill out the preheader entry field. You can preview the preheader before finalizing it.
Here's a quick view of what elements of your email newsletter campaign to optimize and where to place them: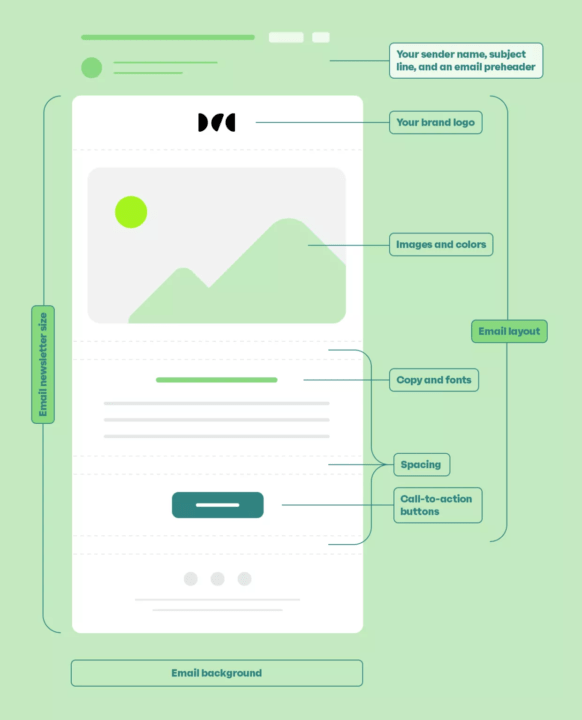 Build personalized email newsletter campaigns faster with Omnisend
Start free
Ideas for email newsletter topics
Here are some creative ways to come up with email newsletter topics that will engage your readers and keep them coming back for more!
1. Welcome emails
The purpose of welcome emails is to welcome a new subscriber to your newsletter or a new customer to your community.
It's also a chance to show off your best content, and to personalize your emails to boost engagement.
Here's a good example of a personalized welcome email by Airbnb: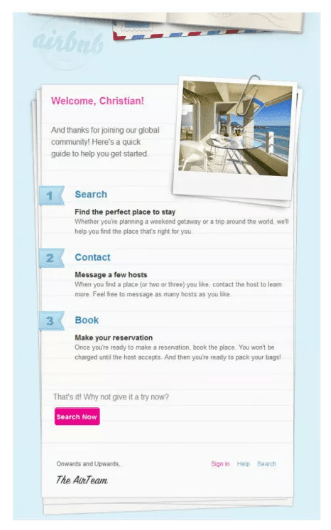 2. Brand story emails
One of the effective email newsletter ideas is to tell your brand story, as shown in the example below: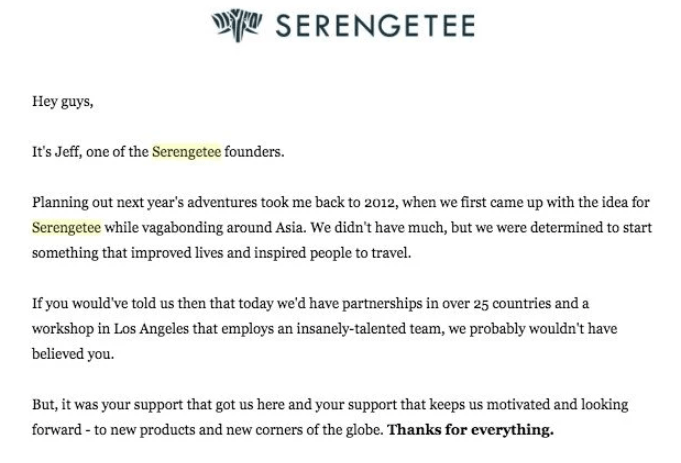 3. Product launch emails
Email newsletters provide recipients with a quick and easy way to learn about their new products, and can also include links to purchase the products or learn more about them.
This email newsletter from Vanmoof gets many elements right, including creating a sense of urgency and offering an early-bird incentive:

Read our blog post on 10 product launch email examples [+what they did right] to get more product launch email newsletter ideas.
4. Customer success stories and testimonials
Customer success stories, reviews, and testimonials are a great way to provide social proof and build brand credibility.
Here's how Calm, the meditation app, features a customer's story in its email newsletter: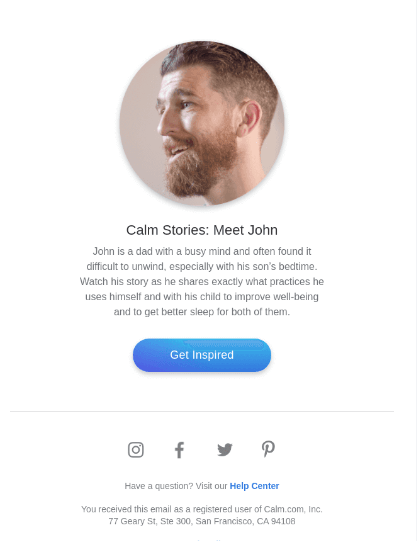 5. Holiday greetings and celebrations
There's no better time than holidays to connect and engage with your audience. Along with heartfelt greetings, you can add exclusive offers and deals to encourage purchases.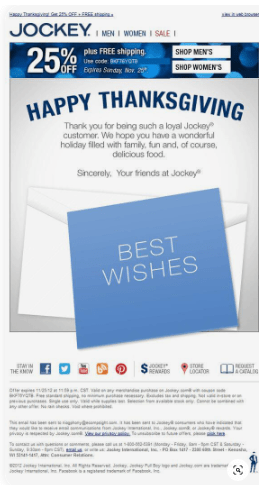 Brands also send time-sensitive deals to capitalize on the holiday shopping frenzy, just like ASOS has done in the example below: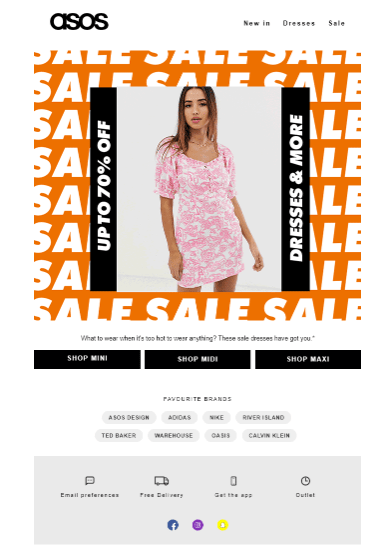 Explore more holiday newsletter ideas here.
6. Birthday emails
If you want to make your recipients feel valued, you can't go wrong with birthday emails. According to Omnisend client data, birthday emails have higher than average open and click rates.
Here's an example of one of the birthday newsletter ideas that have valuable content in addition to featuring a discount offer.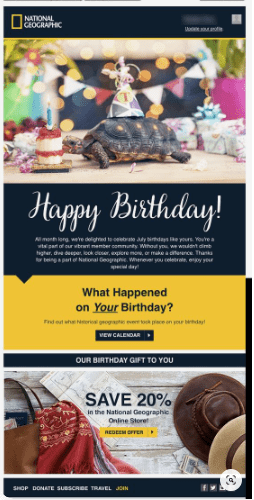 Go through our post on birthday email tips and best practices for more newsletter ideas.
7. Exclusive promotions/flash sales
One of the smart newsletter ideas is to announce flash sales and exclusive promotions. This helps create a sense of urgency and encourages prompt purchases.
Here's an example: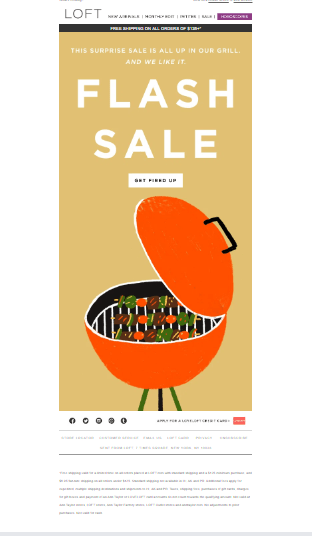 In addition to animation, this email newsletter uses a quirky CTA ("Get fired up") and text to build anticipation.
8. Behind-the-scenes (BTS) content
Your email newsletter is the perfect platform to showcase behind-the-scenes stories of your business. You can give a glimpse into the inner workings of your company and the people who make it tick.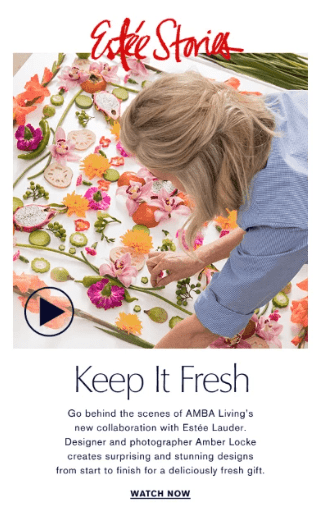 9. Survey or feedback
Surveys can help you gauge customer satisfaction and identify any areas where your business might need improvement.
They can also help you understand your customers' needs and preferences.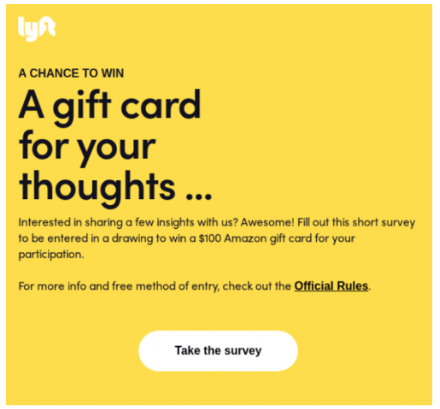 10. Educational newsletters
Educational newsletter ideas include tips, trends, best practices, and other educational content.
This newsletter from Peloton, an exercise equipment company, offers valuable tips on restarting exercise after a long break: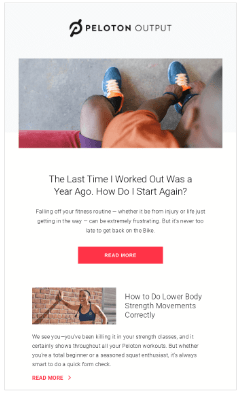 11. Curated newsletters related to your industry
One of the best newsletter ideas is to feature a roundup of happenings and developments in your industry.
This is a great way to establish your newsletter as a trusted source for industry-related information. Here's an example.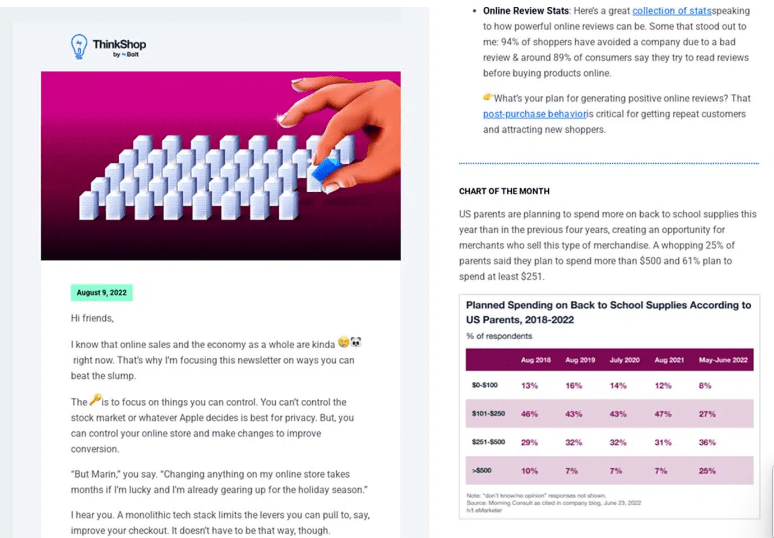 12. Event newsletter
Timely event email newsletters help boost audience participation. Be sure to include all the information including event details, registration information, and updates on speakers and sponsors.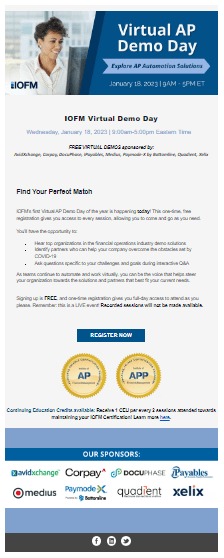 Ideas for newsletter themes, design, and layout
The design and layout of email newsletters are just as important as email content. A great design helps your email stand out in a crowded inbox and drives clicks and conversions.
Above all, an attractive design and uncluttered layout help enrich the user experience, a critical factor when it comes to maximizing your email marketing ROI.
Tips for making newsletters visually appealing and easy to read
Here are some tips to ace the design of your email newsletter.
Keep the layout simple and easy to follow
Focus on the visual hierarchy
Maintain branding consistency
Use short sentences and paragraphs
Use strong visuals to break up your text
Include 1-2 clear CTA buttons
Make sure your newsletter is mobile-friendly
Pay attention to the details
Examples of effective design and layout in email newsletters
Need some newsletter ideas and examples to understand how to optimize the design and layout? Read on.
1. Avenue 32
Here is an example of an effective email newsletter design from Avenue 32. In addition to a simple, one-column layout, this email features a 'hero' image at the top that immediately captures audience's attention: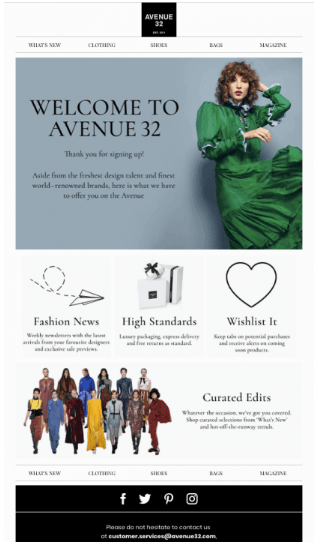 2. Pelican
This email newsletter from Pelican uses a clever, yet simple design to direct readers to the copy and the CTA: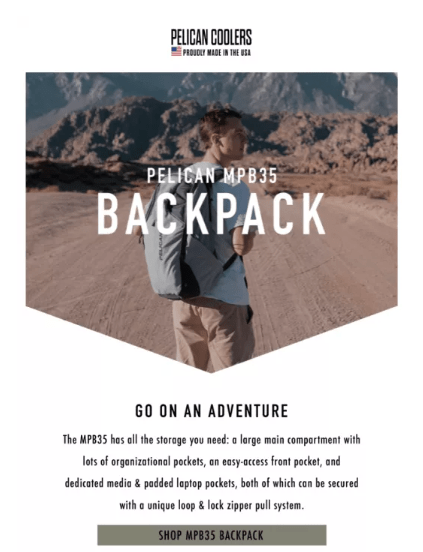 3. Cheddar Up
Here's one of the newsletter ideas from Cheddar Up that shows you how to use a limited color palette and a contrasting CTA to good effect:

4. Finn
If you want to use multiple CTAs, you can explore this email newsletter design by Finn. As you can see, each product has its own CTA button:

5. Sephora
The well-known beauty brand Sephora aligns its email newsletter design with its brand colors—classic red and black.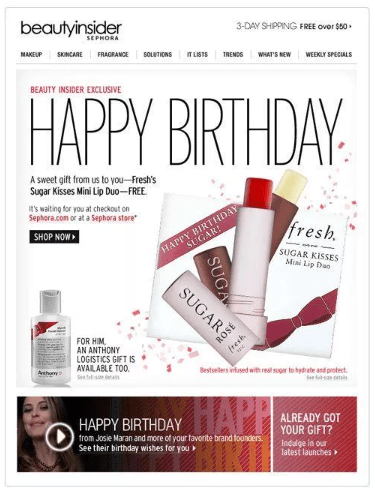 More newsletter examples for your inspiration
Check out some of the creative and effective ways that businesses have used newsletters to reach out to their audiences, from personalized emails to cleverly crafted content these examples have tons of inspiring newsletter ideas.
1. Michaels
This welcome email from Michaels thanks new subscribers and asks them to take a survey to understand their preferences.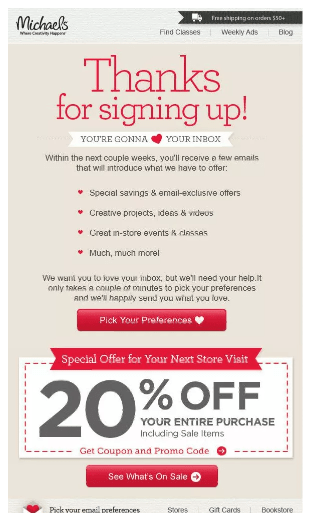 2. The Neighbourhood Unit
Here's how a client put Omnisend's email newsletter template to work. It creates a sense of urgency and showcases product collection in an effective way: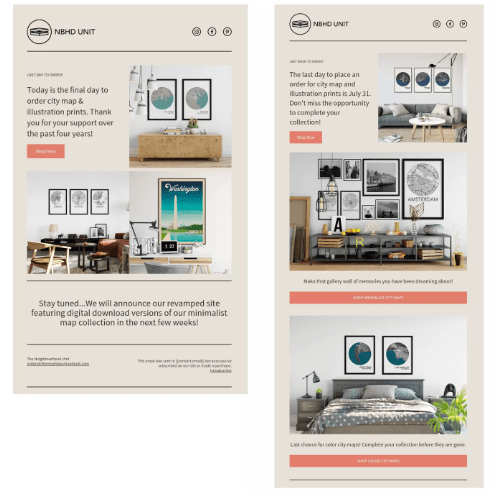 3. Mag London Stansted Airport
Yet another smart way to whip up some FOMO is to use time-sensitive words like this email newsletter from Mag London Stansted Airport: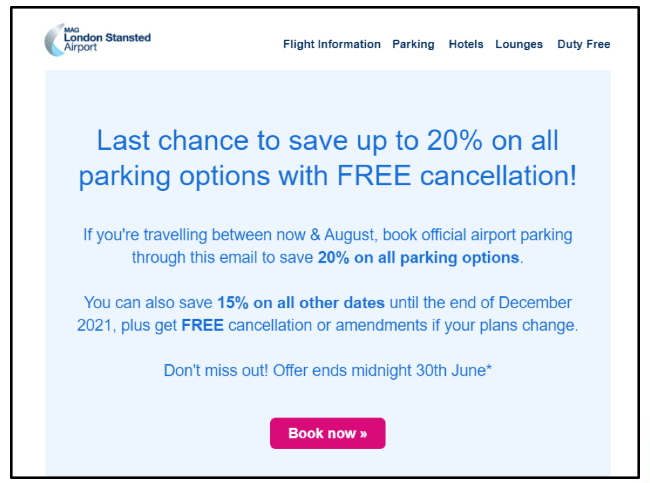 4. Serumize
One of the most effective newsletter ideas is to offer valuable tips instead of directly promoting products, as done in this email. Also, note the compelling CTA in pink!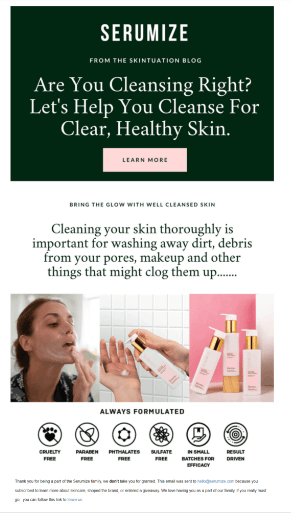 5. Animoto
Re-engagement newsletter ideas like this one from Animoto take a proactive approach to find out if readers are still interested in receiving emails: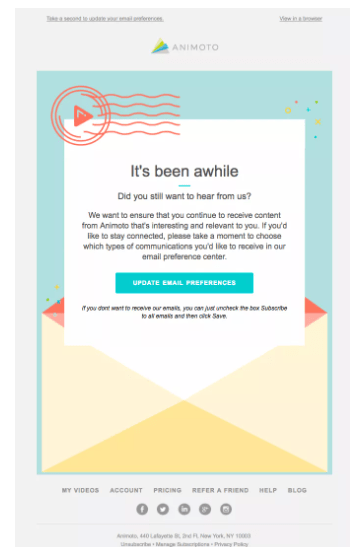 6. Ritual
If you offer healthcare-related services or products, you can explore newsletter ideas like this one from Ritual.
The health supplement brand gives a brief, yet complete, view of its multivitamin capsule's design and components, and explains how it works.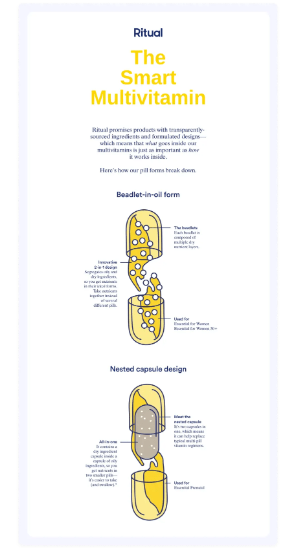 7. Coffee Island
Here's an attractive holiday-themed email newsletter from Coffee Island. It focuses on sending heartfelt greetings and avoids telling contacts to take action.
Did you notice that there's no CTA in this email newsletter?

8. Sendinblue
Newsletter ideas like this one by Sendinblue are ideal for bloggers and content-heavy websites. Take a look at how Sendinblue lines up the latest blogs in this email newsletter:

9. Base
If you're looking for newsletter ideas to announce a collaboration, we have just the right example for you. This email is from Base, a health and beauty brand, that highlights its collaboration with Vogue: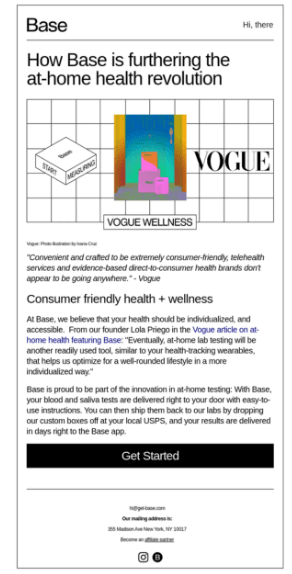 10. Canva
Wondering how to create a newsletter that instantly sparks curiosity and drives conversions?
Canva's email newsletter does it well by showcasing different templates that users can click on and instantly use to create Facebook graphics.

11. WWF
When it comes to newsletter ideas to keep your readers updated on the latest happenings in the industry, WWF's email newsletters are worth exploring.
WWF sends weekly round-ups on environmental issues and actions that are of interest to its target audience.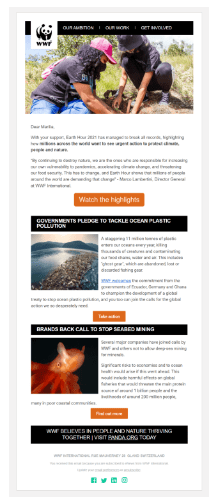 12. Society6
Leveraging user-generated content (UGC) to show social proof is one of the most effective newsletter ideas.
Here's how Society6, an art and design brand, uses UGC to build trust:
13. 69b Boutique
Looking for newsletter ideas for promoting your ecommerce store collection? Check out this well-structured email newsletter from 69b Boutique:

14. Calif Chicken Cafe
Email newsletters are the perfect tools to increase footfall in your brick-and-mortar stores. We're sure this stunning email newsletter from Calif Chicken Cafe has you craving some cool lemonade!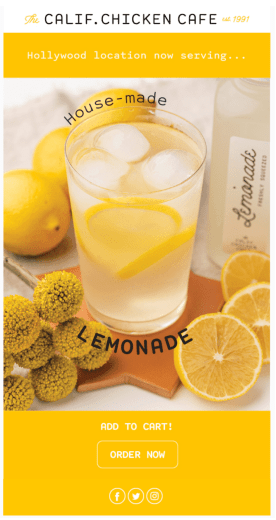 15. Asana
This B2B newsletter from Asana, a brand that offers a project management tool, gets many elements right.
It lists useful information for its B2B customers, such as tips on prioritizing and improving productivity at work.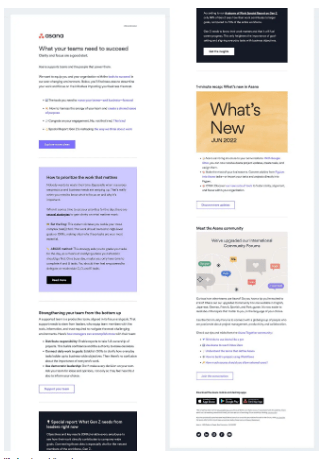 Leverage Omnisend's smart email newsletter templates to kickstart your campaigns
Start free
How to use Omnisend to design compelling email newsletters?
Follow these steps to design email newsletters that help you achieve your marketing goals:
The first step is to create an account on Omnisend.
Once your account is set up, you can create a new campaign by selecting the "campaign tab", clicking on the "New campaign" button, and choosing "create the email campaign".

Now, choose the type of campaign you want to create, such as an "Email". You can then customize the design by choosing one of the ready-made templates.
Customize the content and other email settings and set up the recipients and send schedule.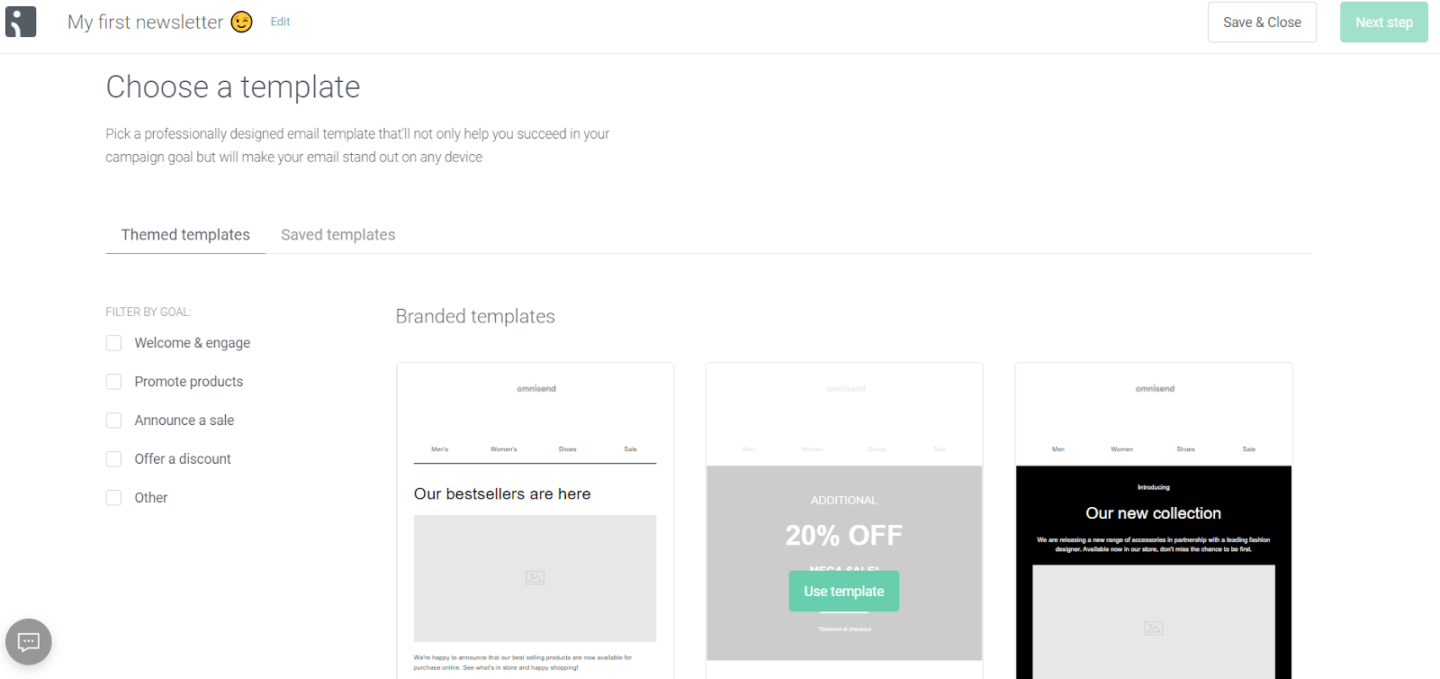 You can customize various elements of the email newsletter including the subject line, preheader, and sender address.
Once you are satisfied with the campaign, you can hit the "Send" button to send the email to your subscribers.
Use the 'exclude segment' option to send your email newsletter to specific customers from the contacts list. Remember, you can use our 'Pre-built segments' tab to create any type of segment you want.
There you go! With these newsletter ideas, you can start creating content that resonates with your audience and drives engagement.
Omnisend makes it easy for you to design and send email newsletters with pre-built templates, a drag-and-drop editor, a free subject line tester, a free AI subject line generator, and more.
Get better email & SMS marketing that's made for ecommerce with Omnisend
Start Free Today
related features
Want more sales?
Omnisend has everything you need to succeed.
Start free now
No Credit Card needed.