Drive sales on autopilot with ecommerce-focused features
See Features
Reading Time:
10
minutes
Many marketers believe that September newsletter ideas are limited to back-to-school and fall themes. In reality, while back-to-school and fall topics are popular, September offers a diverse range of content options.
From major international celebrations to less popular occasions, this article will show you a variety of engaging September newsletter ideas that go beyond the typical choices.
In this article, you'll find an extensive list of US national events and the most important international days. You might be surprised by the number of days dedicated to education, families, food, self-care, and health.
We'll also provide tips on how to create an engaging newsletter and boost your marketing campaigns. Use this article as a source of inspiration while creating your September newsletters.
Sign up today and create engaging newsletters that cut through the noise
Start Free Today
10 best tips for creating an engaging September newsletter
Before diving into September newsletter ideas below, let's first look at some tips you should follow when creating a newsletter.
The most important rules are:
Fuel customer engagement: Tell your brand's story, offer loyalty programs, and showcase noteworthy social moments to generate interest.
Create a strong subject line: A compelling subject line entices your recipients to open the email, so craft it carefully to grab their attention and hint at what's inside.
Maintain consistent email branding: Consistency in design, fonts, and colors ensures your subscribers can easily identify your emails in their inbox.
Make it easy to read: Use clear and concise language, break up text with headings and subheadings, and use bullet points to improve readability. A cluttered layout can discourage readers.
Give customers an effective CTA: Every newsletter should have a clear CTA that guides readers on what they should do next. Whether it's to click a link or make a purchase, the CTA should be compelling and easily visible.
Consider your mobile audience: Make sure your newsletter is mobile-responsive, with a layout and font size that's easy to read on smaller screens.
Offer exclusive incentives: Give your subscribers a reason to stay subscribed. Exclusive offers, discounts, or early access to content can incentivize them to stay engaged with your emails.
Keep the layout simple: A cluttered design can overwhelm readers. Stick to a clean, organized layout that directs the reader's focus to the most important content.
Use high-end visuals: High-quality images and graphics will make your newsletter visually appealing.
Test before sending: Check for broken links, formatting issues, and how the email appears on various devices and email clients. This ensures a smooth and error-free delivery to your subscribers.
The most popular holidays in September 2023
To offer you a wider range of options, we listed both US national occasions and the most important international days. These holidays are suited to people of all ages, backgrounds, and interests.
If you want to get started quickly and haven't built a newsletter yet, you can use Omnisend's newsletter templates. Keep in mind that some of these events will be more relevant to your brand and products than others so delve into the list carefully.
September 1: National Lazy Mom's Day
September 2: World Beard Day, World Coconut Day
September 4: Labor Day, Eat an Extra Dessert Day
September 5: International Day of Charity
September 8: International Literacy Day
September 10: World Suicide Prevention Day, National Grandparents Day
September 10-16: National Assisted Living Week
September 11: Patriot Day (9/11 Remembrance)
September 15: National Online Learning Day, Greenpeace Day
September 16: National Dance Day
September 17-23: Constitution Week; National Indoor Plant Week
September 18: Aging Awareness Day, National Cheeseburger Day
September 21: World's Alzheimer's Day
September 22: World Car-Free Day
September 24: International Daughters Day
September 25: National Cooking Day
September 26: World Contraception Day
September 27: World Dense Breast Day, World Tourism Day, National Crush a Can Day
September 28: National Good Neighbor Day
September 29: World Heart Day
There are also some month-long events worth mentioning in September:
Cleanup Month
Better Breakfast Month
Classical Music Month
September 15 – October 15 – Hispanic Heritage Month
September newsletter ideas
When creating a newsletter it's crucial to understand who your audience is. Age, marital status, place of residence, interests, needs — all of this makes a difference to the information they want to receive. Remember, the more information you have about your audience, the easier it will be to personalize your newsletters.
Don't send the same email to all the subscribers on your list. Use email personalization to cater to the specific interests of each recipient. There's no need to reinvent the wheel here. Personalization can be very basic, like using their first name or location. You can also go deeper and use information from the recipient's purchase history and other behavioral data. This tactic will help your engagement grow.
This is also where national or international days come into play: you can use them as part of a personalization effort. That being said, let's dive into major September events and newsletter ideas you could adopt.
September 1: National Lazy Mom's Day
Being a mom is one of the most challenging jobs in the world. This holiday is a reminder to give all moms a well-deserved break from their daily tasks. The only permitted chore on this day is to sit back and relax.
Newsletter idea: There are never too many gifts for mothers, and September 1 is no exception. You can send newsletters with gift ideas or offer discounts on products for mothers. Congratulate them on the fact that their children are finally going back to school and they will have more personal time again.
September 2: World Beard Day and World Coconut Day
The second day of September celebrates two things: a man's favorite accessory and a critical piña colada ingredient. There's something about a beard that makes people admire and respect it, so it deserves its own day of celebration. As for World Coconut Day, the main goal is to educate people on the numerous benefits of this fragrant fruit.
Newsletter idea: September 1 was all about mothers, so on the second day of September you can give some appreciation to men. If you sell men's beard or skin care products (that contain coconut oil, for example), it's a great day to greet customers and offer them some coconut-related products.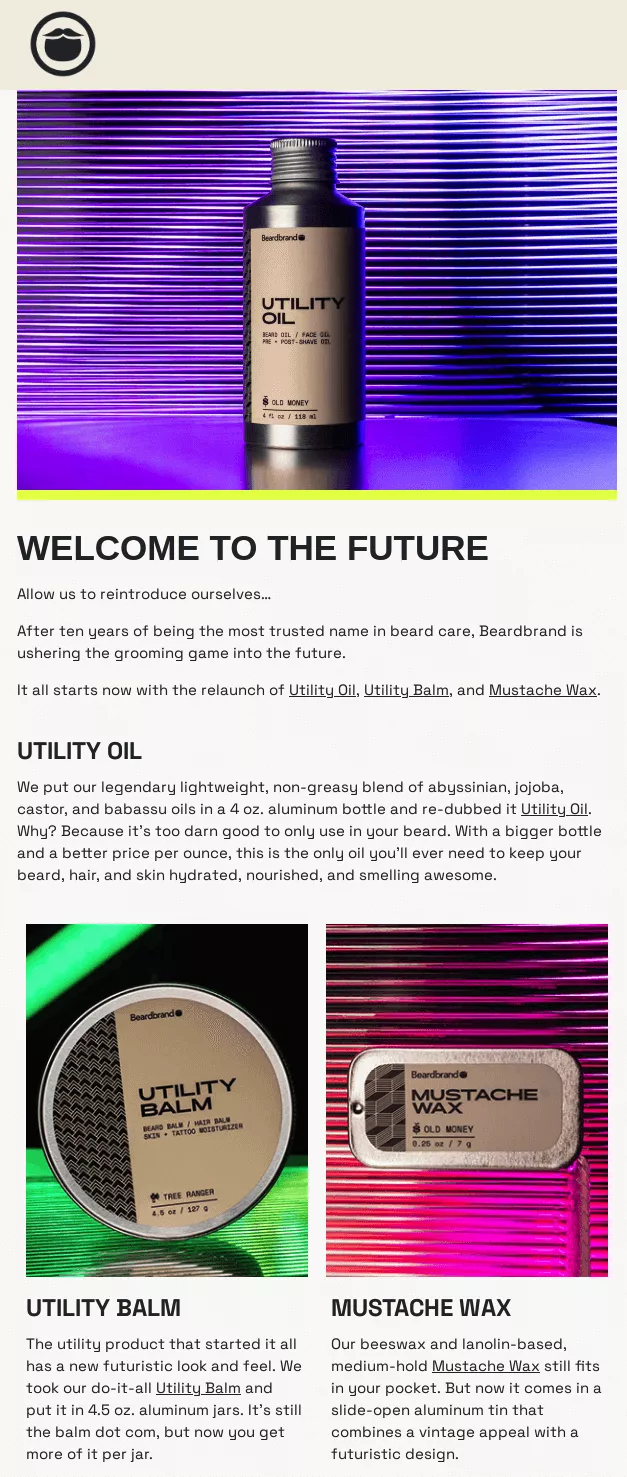 September 4: Labor Day
This day not only celebrates the achievements of American workers but also marks the unofficial end of summer. It's a public holiday, so people get to enjoy an extra day off by celebrating Labor Day with picnics, sports events, and street parades.
Newsletter idea: This holiday is a perfect opportunity to offer end-of-summer deals to your customers or help them get ready for fall by introducing a new collection. If you want to add more color to your email, use traditional red, white, and blue in the design. Images or emojis related to the US (flag, monuments, famous places, etc.) are also welcome as they will draw the attention of your customers. You can even include a message that shows your pride in being an American.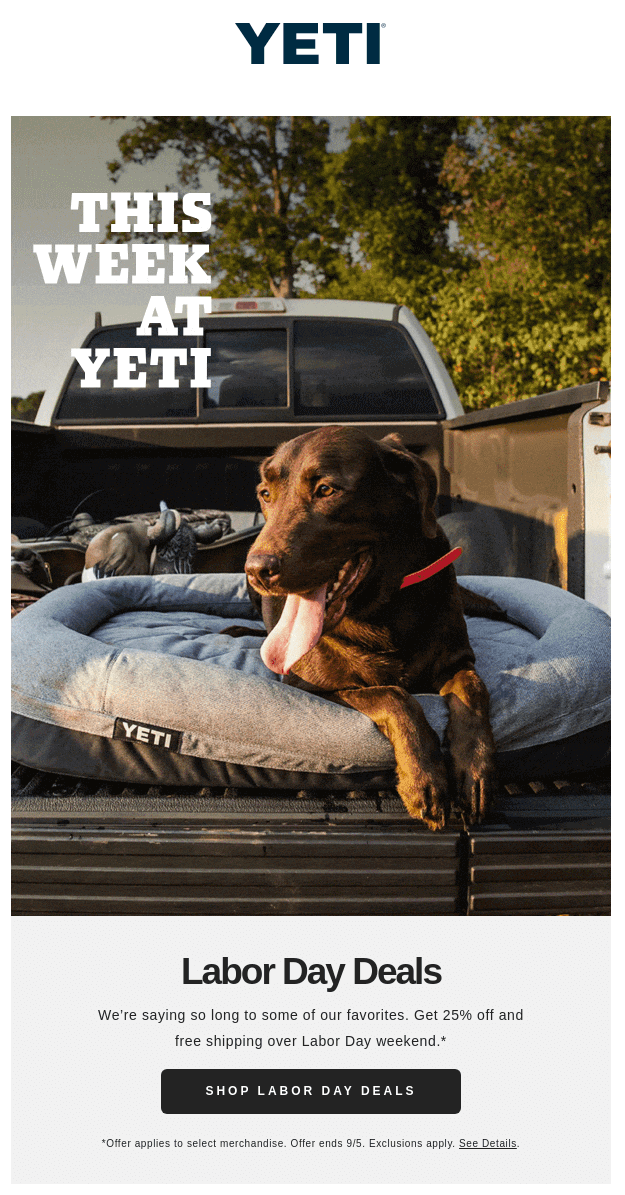 September 5: International Day of Charity
A day that spreads awareness about charity and why it's essential to help those in need. This special holiday provides an ideal platform for various charitable opportunities to happen.

Newsletter idea: Tell your customers about foundations and charity organizations your brand supports, and encourage them to participate by donating. If a percentage of sales from your products goes directly to a charity, highlight that in a newsletter to your customers and share the story. Here is an excellent example from Haus Labs by Lady Gaga:

September 8: International Literacy Day
Can you picture going through your day-to-day life without knowing how to read and write? This day's primary focus is wiping out adult and child illiteracy all around the globe.
Newsletter idea: Join the global campaign to promote literacy to your customers. Organize a sale in which a portion of the proceeds goes towards supporting global literacy, send book recommendations, or offer a discount in your emails.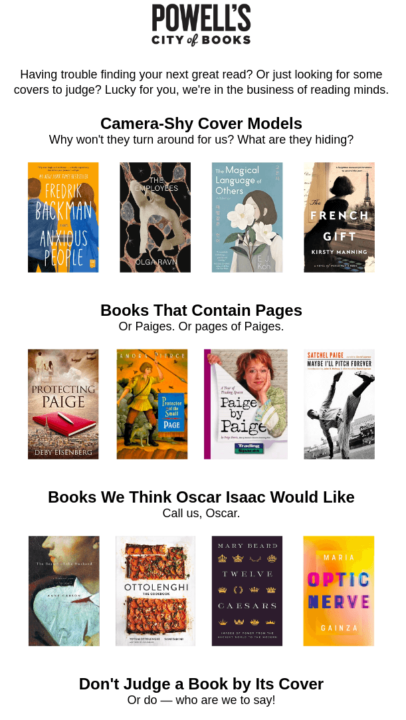 September 15: National Online Learning Day
A day to celebrate the value of online learning and the amount of progress made in advancing distance learning. This day showcases how online learning helps people accomplish their goals and get the education they need in the comfort of their own homes.

Newsletter idea: Provide free samples or discounts for selected online courses. Share your customers' inspiring stories and life-changing events that happened after they purchased your courses.

September 17-23: National Indoor Plant Week
This day was created to help more people realize how important it is to have living plants indoors. Adding plants to your indoor environment not only adds a nice touch to your house decor, but it also increases oxygen levels, lowering stress, and relieving anxiety.
Newsletter idea: Share the benefits of indoor plants with your customers. Give advice on how to care for their plants, send guides, or offer a discount to purchase indoor plants.

September 22: World Car-Free Day
The name of this holiday speaks for itself. Ditch the car and get around using any other means of transport. This day is all about less traffic and a greener environment.
Newsletter idea: Encourage your subscribers to take up a car-free challenge for the day and provide tips, resources, and rewards for participation. Come up with a list of local Car-Free Day events, community bike rides, walking tours, or eco-friendly festivals. You can even feature personal stories from your subscribers who have embraced car-free living and the positive changes it's brought to their lives.

September 24: International Daughters Day
This is a day to celebrate daughters all around the world and appreciate how much love and joy they bring to our society. This day serves as a perfect opportunity to pay some extra attention to daughters, acknowledge their goals and achievements, and show them how important they truly are. Promoting gender equality and empowering daughters also serve as one of the key elements of this holiday.

Newsletter idea: Offer exclusive discounts on products and services that can be gifted to daughters or encourage your subscribers to donate to women's empowerment organizations. In addition, you can provide self-care tips and ideas on how to spend quality time for mothers and daughters. Tailor these ideas to resonate with your audience, and use the newsletter as a platform to strengthen the bond between parents and their daughters.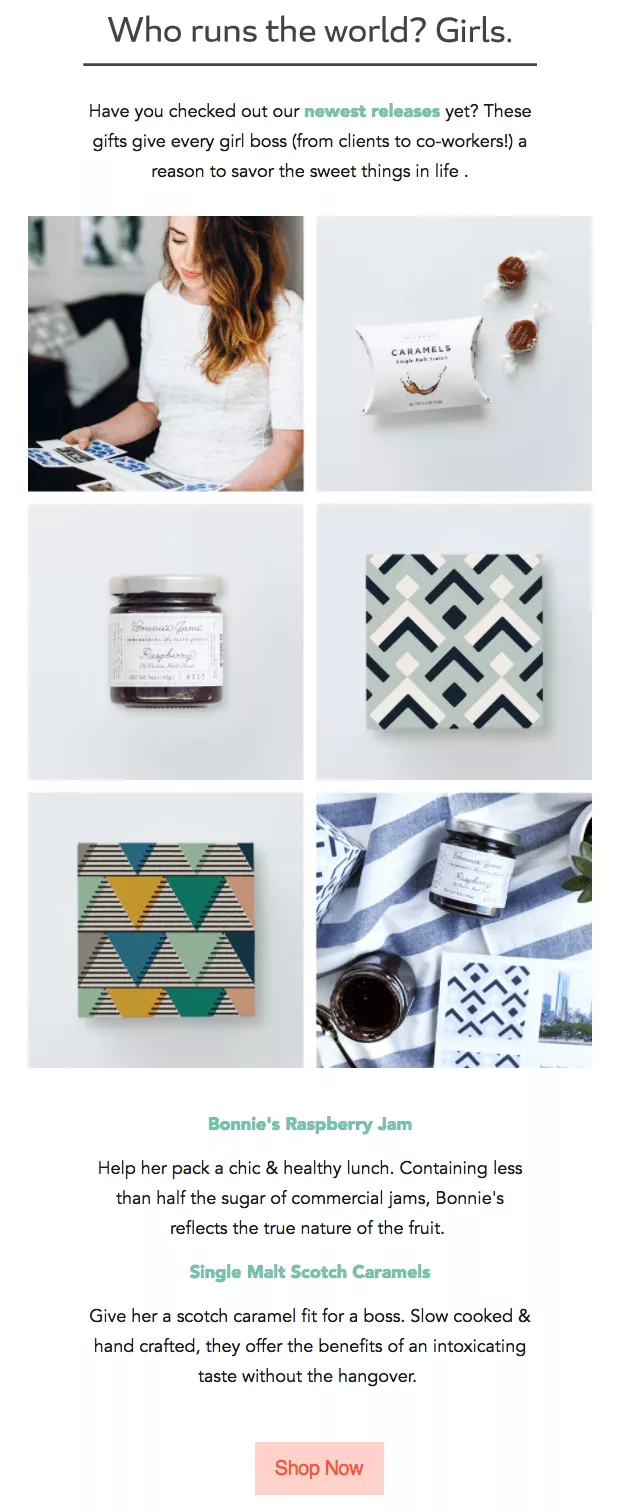 September 27: World Tourism Day
This global event was created to promote and appreciate the importance of tourism in different countries. Traveling doesn't only bring positive emotions and experiences to the traveler. It also greatly impacts society, culture, and the economy.
Newsletter idea: Use your newsletter to advertise products that are perfect for traveling. If you are in the food industry, introduce subscribers to recipes from around the world and highlight the cultural significance of different dishes. You can also offer practical travel advice or special deals.

September 29: World Heart Day
An ode to the hardest worker keeping us alive day and night — our hearts. This important day educates people on ways to keep their hearts healthy through proper diet, exercise, and lifestyle.

Newsletter idea: Compile heart-friendly recipes into a newsletter or provide some facts about heart health, educating subscribers about the importance of maintaining a healthy heart. Share a relaxing music playlist that promotes reducing stress and a calm heart rate. If you sell wellness products, offer heart essentials and explain their benefits.

September newsletter subject lines
The fate of your campaign lies in the hands of the subject line. If it's not good enough, it doesn't matter what's inside your email since it'll never get opened. Recent studies show that 47% of email recipients decide to open an email because of its subject line.
Catchy subject lines grab the recipient's attention and motivate them to engage with the content.
If you find yourself struggling with ideas for subject lines, try Omnisend's free AI subject line generator. It's very easy to use, and lets you create tons of subject lines on any topic.
Or, if you came up with subject lines but you want to check the performance, Omnisend's free email subject line tester will give your subject line a score and offer useful tips to improve it.
If you need ideas to spark your creativity for September newsletter subject lines, take a look at these:
1. National Lazy Mom's Day:
"New and exclusive offers for lazy moms"
"Brand new offers for National Lazy Mom's Day"
"Get ready to celebrate National Lazy Mom's Day!"
2. Labor Day:
"Save big this Labor Day!"
"Last chance to save on Labor Day"
"Labor Day sale is back!"
3. International Literacy Day:
"Read to succeed: International Literacy Day is here"
"Literacy Day savings: get your favorite reads"
"Give the Gift of Reading this Literacy Day"
4. World Tourism Day:
"Hurry! Limited time offer for World Tourism Day"
"Get the best deals this World Tourism Day"
"Pack your bags: World Tourism Day discounts are here"
Wrapping Up
The beginning of autumn is just around the corner, so now is the perfect time to start crafting a newsletter for the upcoming month. September newsletter ideas in this article will help you establish a connection with your customers and generate tons of sales.
Things to keep in mind:
It's important to put effort into creating strong subject lines that accurately convey the content within your email.
Personalization plays a significant role in your customers' engagement.
There is much more to September than just back-to-school topics, including those for moms, food, travel, and so much more.
If you need more email newsletter ideas, make sure to look through these 12+ ideas for your next campaign. For more information about holidays for other months throughout the year, check out Omnisend's Marketing calendar for 2023.
And if you need an email marketing tool that offers an effortless email experience, get started with Omnisend for free. With pre-built templates, personalization features, and ready-to-use automation workflows, Omnisend makes crafting newsletters a breeze.
Get started with Omnisend today & drive sales on autopilot with pre-built automation workflows
Start Free Today
related features
Want more sales?
Omnisend has everything you need to succeed.
Start free now
No Credit Card needed.