Drive sales on autopilot with ecommerce-focused features
See Features
Reading Time:
7
minutes
If you hope to maximize your website for lead generation, you need to know how to create a landing page that converts.
But what is a landing page?
A landing page is an independent webpage that uses lead capture forms to collect visitor information in exchange for a resource. They often have no navigation options. Instead, they contain active CTAs to direct visitors to take specific actions.
Here's an example: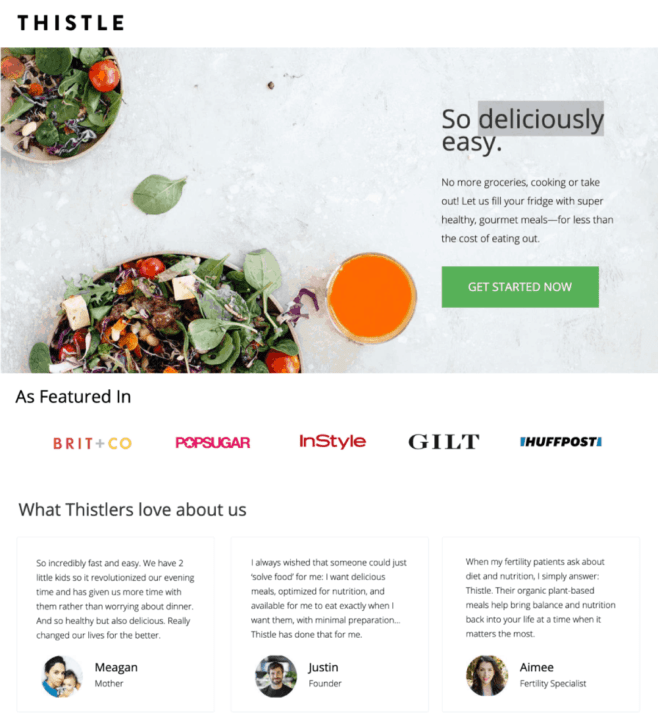 Landing pages can serve many purposes as part of a robust ecommerce marketing plan. These include increasing email sign-ups for lead generation, raising conversion rates, boosting sales using offers and promotions, and so forth.
Making a landing page can be difficult—but it doesn't need to be. These next sections discuss landing page benefits and effective tips on how to create effective landing pages.
Build better landing pages, faster, with Omnisend (all for free)
Start Free Today
Why to use landing pages: key benefits
A landing page is a dedicated page where your visitors will 'land', by following a link from a website, an email, a social media post, or a search engine. Unlike other web pages, they have a singular focus and can be temporary.
A good landing page:
Convinces people to proceed with the journey you want them to take and encourages them to take action.
Helps your visitors navigate your website more easily.
Allows you to generate more traffic and increase conversions for campaigns.
Whether your landing page features sign-up forms or pop-ups, here are some distinct benefits they come with.
They minimize distractions
Landing pages do not have to be part of the navigable evergreen pages on your site. Since they're built with a specific focus, you can isolate them.
This way, you'll reduce the distractions from your website such as too much information, or pop-ups. Consistently having visitors leave or quickly divert from a page on your website can hurt your bounce rate and overall campaign metrics.
By using a landing page, you can funnel this traffic to a specific, distraction-free page.
They are easily shareable
You can share links to your landing pages in promotional emails, blog pages, and on social media. This means you have the potential to reach a much larger audience, even before they know about your website.
For example, you can launch a campaign and advertise the landing page on Facebook. By directing users to the landing page, you can provide them with a more customized experience while collecting specific campaign metrics.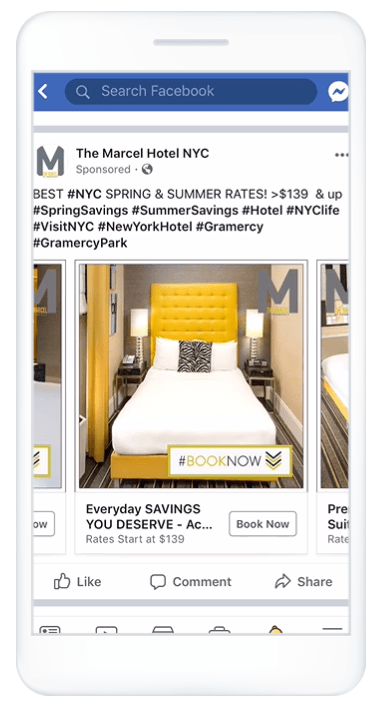 Help keep the campaign's focus
Most website elements such as helpful links and sign-up fields are found on a website's footer or on their content pages.
However, campaign landing pages don't need this information, and because of this, they can be more alluring.
As opposed to a website's conventional marketing attempts, landing pages can be more experimental and eye-catching.
This makes it easier to make obligatory and mandatory requirements interesting, such as capturing visitors' consent or contact information.
Easy customization
Above everything else, a landing page provides a unique benefit that makes it a special part of any website—customization. Since landing pages are temporary additions to a website, you have more freedom to customize their appearance, layout, and copy.
This opens up plenty of possibilities for experimentation, allowing you to see how visitors react and interact with them.
Sometimes, the success of a landing page can help you learn more about how your visitors interact with your website. With enough data and the odd trial-and-error approach, you'll improve your website overall.
You can test their performance
While it's hard to pinpoint which aspects of a landing page increase conversions, it's easy to run A/B tests to determine performance.
You can use several factors for this including the layout, CTAs, design, and content. For instance, landing pages with videos attract more traffic and have more conversions than those without.
With the ability to measure performance, you can easily improve your landing pages and make them more effective.
They boost your credibility
You can use your landing pages to build credibility for your website. You do this by showing your visitors that you provide solutions to their pain points, or that you have done so for other customers.
The most effective way is by including social proof on your landing page. Besides a compelling call-to-action, social proof is a perfect way to show how credible your brand is on your landing pages.
Most new customers will trust your brand more from other people's experiences.
Including reviews, client testimonials, or logos of clients you've worked with is a solid way your landing page can help you generate leads. For B2Bs, it's even more effective if you've provided services to leading brands.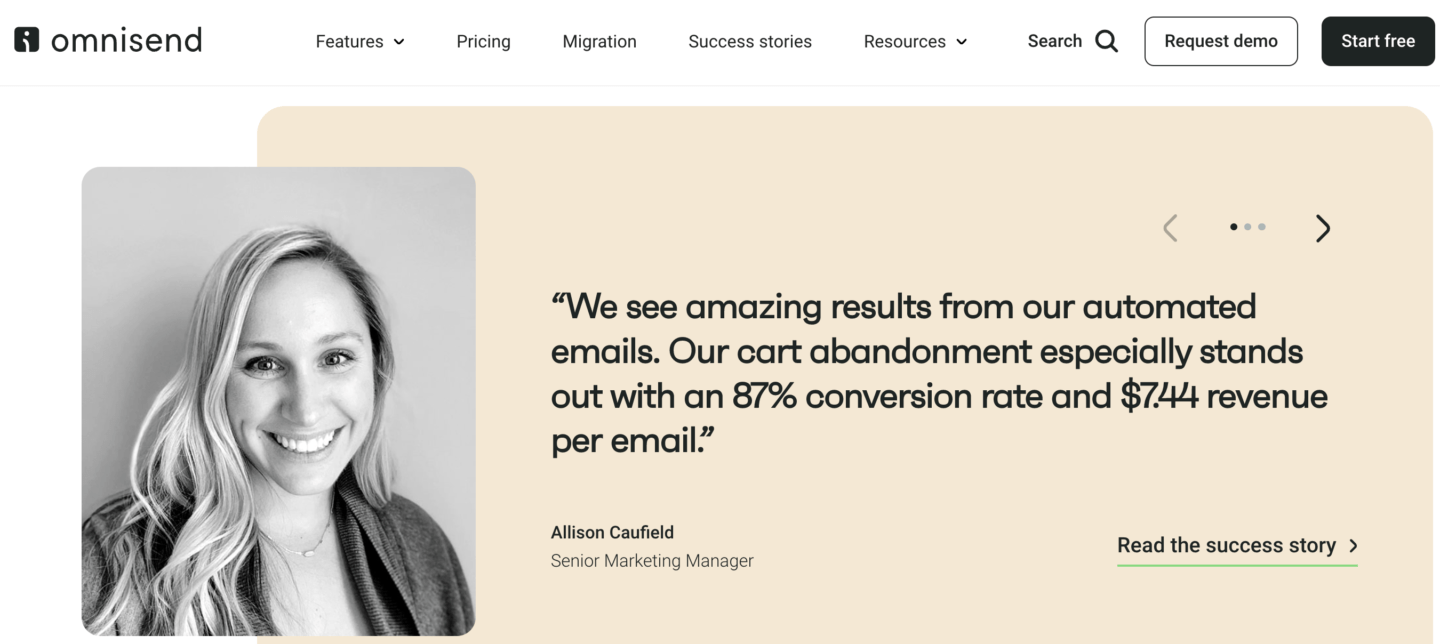 How to create a landing page
Knowing how to build a landing page from scratch can be incredibly rewarding for your business. The best landing page should not only attract traffic but also take your visitors all the way down your marketing funnel—i.e. turn them into buyers.
Here's a simple step-by-step guide on how to create a landing page using Omnisend:
Step 1: Create a landing page signup form
When creating landing pages, use a design that helps you focus on your desired marketing goal. For this, you'll need a landing page with email signup.
Some platforms offer specific forms for landing pages, while others, like Omnisend, let you create standalone landing pages that are easily customizable to your liking.
To start setting up a Landing Page on Omnisend, go to the Forms tab, click Create Form then go to Landing Page.
Here's what that looks like.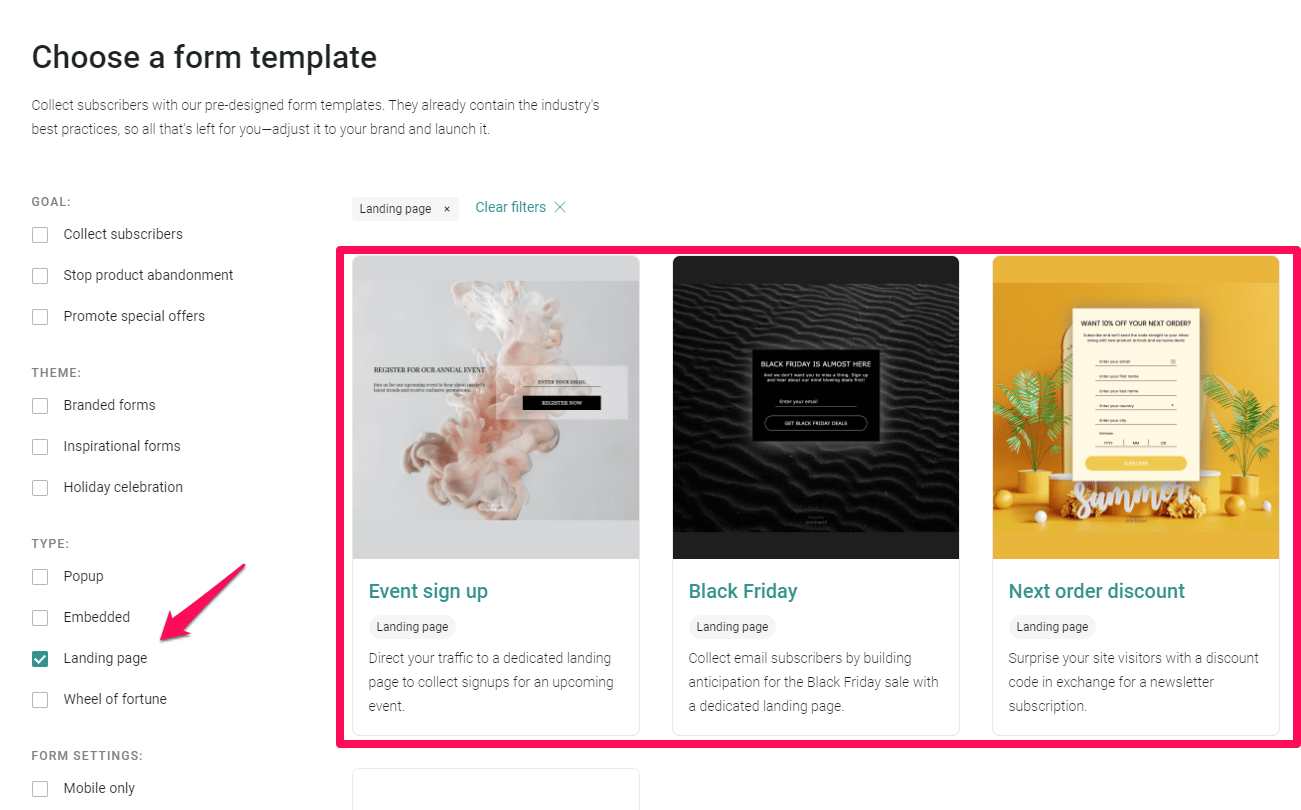 Step 2: Choose a theme
Naturally, you'll want to match your website's current theme. However, if you want to make special landing pages for special occasions like Black Friday or Christmas, a different theme might serve as an eye-catching alternative.
This step also includes choosing a layout for the content on your landing page. You can change the images, fonts, and colors on your chosen layout.
Step 3: Fill in the content
In this step in this guide on how to create a landing page, you'll edit the template and fill it with fresh content. These include your logo, promotional copy, enticing headlines, and so on.
You'll also get to choose the input fields to set up on your phone.
A landing page also requires additional content, such as options to enable opt-ins for email and or SMS marketing. You can also enable GDPR and TCPA compliance for safe collection of information.
Pro tip: Add your company name on your landing page title tag for more credibility. This helps increase your conversions.
Step 4: Adjust design elements
Similar to both theme and content, a landing page will require you to establish design elements.
These include the overall page layout, the input fields (information you're asking for), where you position your content, and your choice of colors, fonts, and other design elements throughout the page.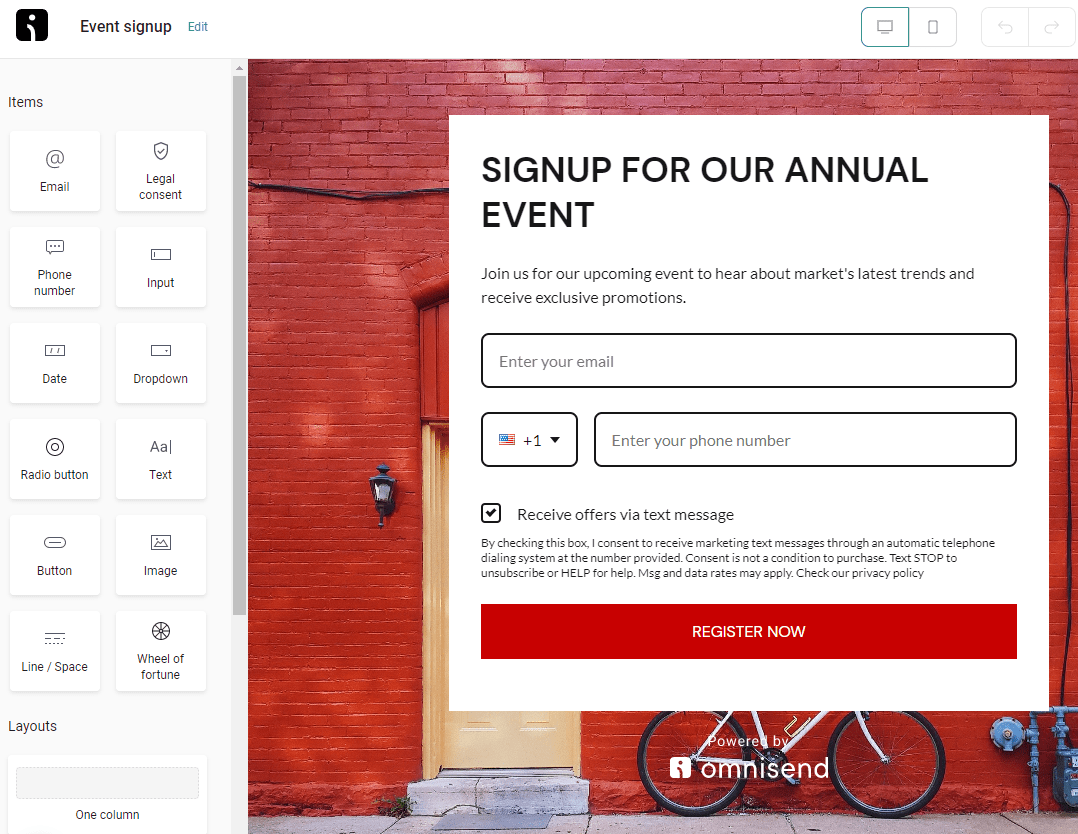 Step 5: Set sharing options and additional settings
In this step, you'll adjust your settings to come up with the most effective land pages. These include:
Activating your CTA buttons and input fields.
Including sharing options so your visitors can share on social media.
Having double opt-ins for contact verification
Setting a limited time for temporary landing pages
Step 6: Create a "success page"
You'll want to ensure that there is a way for your customers to know their signup was successful.
This is the purpose of a success page. After your visitors have provided their contact information or engaged with your campaign, a success page will inform them that everything has proceeded as intended.
Step 7: Test the landing page
The second last step on how to set up a landing page is the testing phase. Here, you want to ensure your page works exactly how you intend.
Testing the process, from start to finish will confirm that the landing page will provide your customers with an enjoyable experience.
Step 8: Launch the landing page
Once you've got your landing page looking great and you've made sure it has a 'success' page, you can launch it on your website and make the page live.
It's an easy process. And with Omnisend you get access to multiple features and improved landing page tools with advanced settings. All these give you a seamless experience.
What's more? The features and tools are available on all accounts, including the free ones.
Landing page best practices
Here are some best practices for landing pages that you should follow when making a landing page.
Have a clear goal: Be clear on what you want to achieve with your landing page, whether it's boosting your sales, generating leads, or anything else.
Use a strong CTA: Since your landing page is focused on a specific action, you want to have just one CTA on there for maximum impact. Make it compelling and specific.
Write clear copy: Your overall landing page copy should be clear, right from your headline. You want to focus on the solution you're providing to your site visitors in the most simple, concise, and clear terms.
Add testimonials: Including testimonials and other forms of social proof will add to your credibility and help your audience trust you even more.
Use your brand elements and colors: Where possible, give your landing pages the look and feel of your website. This, however, excludes special themes like holiday offers as those could have specific theme colors.
Use relevant visuals: Visual content has higher engagement rates, strengthens your message, and increases conversions. So add videos, images, etc. to your landing pages where possible and relevant.
Have a clear message: A new visitor should instantly understand the page's intent and why it's relevant to them.
Choose the right design: The page's layout, style, and overall functionality should highlight or emphasize your messaging.
Keep it simple and direct: The conversion method should be clearly visible and ideally only have one step to follow.
How to create a landing page: Wrap up
With the right tools and strategy, you can create engaging landing pages that drive traffic, boost conversions, and make your website easier to navigate for customers, both old and new.
With the above best practices and on how to make landing pages, you can create campaigns that generate results. And if you use Omnisend, your job will become a lot easier with advanced landing page design tools and customization options.
Want to design high-converting landing pages? Try Omnisend Landing Pages for free.
Start Free Today
related features
Want more sales?
Omnisend has everything you need to succeed.
Start free now
No Credit Card needed.