Drive sales on autopilot with ecommerce-focused features
See Features
Reading Time:
9
minutes
If you're selling on Shopify, bundle products that go together and sell them as a single offering. Do this intelligently and you'll be able to increase your revenue and even sell more of your slow-moving goods. Furthermore, you'll strengthen your brand by letting your customers feel they're getting more value for their money.
Thankfully, when it comes to product bundles, Shopify makes implementation easy through integrations. All you need to do is select a good Shopify bundle app and everything—product pages, inventory management, order processing, etc.—should be taken care of for you.
But before you can choose the best Shopify bundle app for your business, you need to know exactly what features you'll need. To help you out, this guide will give you a good understanding of this sales optimization tactic, what you might gain out of it, and what features you should look for in a plugin for Shopify bundles.
Looking to drive more sales? Run automated SMS and email campaigns to promote your Shopify bundles. Start free
What are product bundles and why should you use them?
Product bundles are a combination of items sold as one package. Most commonly, the cost to consumers is lower for bundles than if they were to purchase the same products individually. But in some cases, sellers use Shopify bundle products as exclusive offerings, so shoppers cannot buy the products without availing of the entire bundle.
Shoppers typically perceive product bundles on Shopify as purchases that will give them better value for their money. So rather than buying a single product, they are much more willing to spend more because they believe they're getting much more in return. Ultimately, this affects brand affinity and customer loyalty, which leads to long-term sales generation.
Types of Shopify bundles
There are several ways to implement product bundles on Shopify. The best option will depend on the nature of your products and what you want to accomplish.
To help you develop your bundling strategy, here are six of the most effective types of product bundles you should consider:
1. Cross-sell bundles
Creating Shopify bundles for cross-selling involves selling a product along with a complementary item. Typically, the additional item is something of lower value like an accessory or a refill. For example, you can bundle a mobile phone with a case or a water purifier with extra filter cartridges.
Although this product bundling tactic often involves sacrificing margins on the complementary item, it is a good way to increase the average shopping cart value as well as drive demand that wasn't originally there. In the case of the mobile phone shopper, they might not have intended to get a case but the Shopify bundle could be too good of a deal to resist.
2. New product bundles
To sell new items on Shopify, bundle products with similar items that already enjoy steady demand. The more popular the established product is, the more interest you can generate for newly launched items. This can drive discovery and establish a steady demand for the new products as well.
If you're selling skincare products, for example, you can create a Shopify bundle that combines your best-selling serum with a newly launched eye cream. This will be especially effective if the two products share similar attributes (e.g., both are for sensitive skin or for anti-aging).
3. Pure bundles
In pure Shopify bundles, you combine multiple quantities of the same product or different products that shoppers can't buy individually. If the value is compelling enough, shoppers will be motivated to buy the entire bundle whether they really want the whole set or a single item in it.
For example, a limited edition coffee press can only be purchased along with a coffee bean sampler. Or, shoppers can only buy a specific kind of razor cartridge in quantities of five. If there's a real demand for the main product, shoppers will be willing to spend more to get it, especially when they're getting additional value anyway.
4. Gifting bundles
Gifting bundles are sets of items specially curated for an intended recipient. For example, a Shopify bundle containing baby wash, baby lotion, a washcloth, and a bath toy can be a thoughtful gift for a baby shower.
This type of Shopify bundle doesn't necessarily have to be cheaper. The real value is in the curation and presentation of the bundle. It makes it more convenient for shoppers to buy gifts for their loved ones not only because they don't have to pick out individual items themselves but also because they're already wrapped and ready to be gifted.
5. Buy-one-get-one bundles
Buy-one-get-one bundles are an excellent way to get products to move much more quickly. This is especially useful for products that shoppers don't buy repeatedly. For example, you can bundle a throw blanket with matching throw pillow covers.
This Shopify bundle tactic can also be a good way to clear out your inventory of items that have not moved in a while. Coffee beans that don't get much attention can be given away with more popular roasts. This is an especially good idea if they're at risk of expiring and just being wasted.
6. Mix-and-match bundles
Mix-and-match bundles encourage shoppers to buy more without feeling constrained by pre-selected items. This way, they feel like they're getting even more value because they're in total control of what they spend on. For example, you can bundle a sweatshirt and a hoodie but allow shoppers to select the designs they prefer for each.
This type of Shopify bundle might be a little bit more complicated to implement. It helps to set constraints and give customers a smaller inventory of products to choose from rather than letting them create customized bundles out of anything in your store.
Best Shopify bundle apps
Here's a list of the best Shopify bundle apps that many successful ecommerce stores use. Each listing contains an overview of the app's core features and indicative pricing to help you select the Shopify bundle app that will provide the best value for your ecommerce store.

Pricing: Free trial and paid plan $9.90/month
Dioro is a bundles app that focuses on increasing store AOV with couple of clicks. Native integration with Shopify allows merchants to create different bundles based on different product categories, specific topics or favorite products. User-friendly interface allows to create of bundles with different discount types.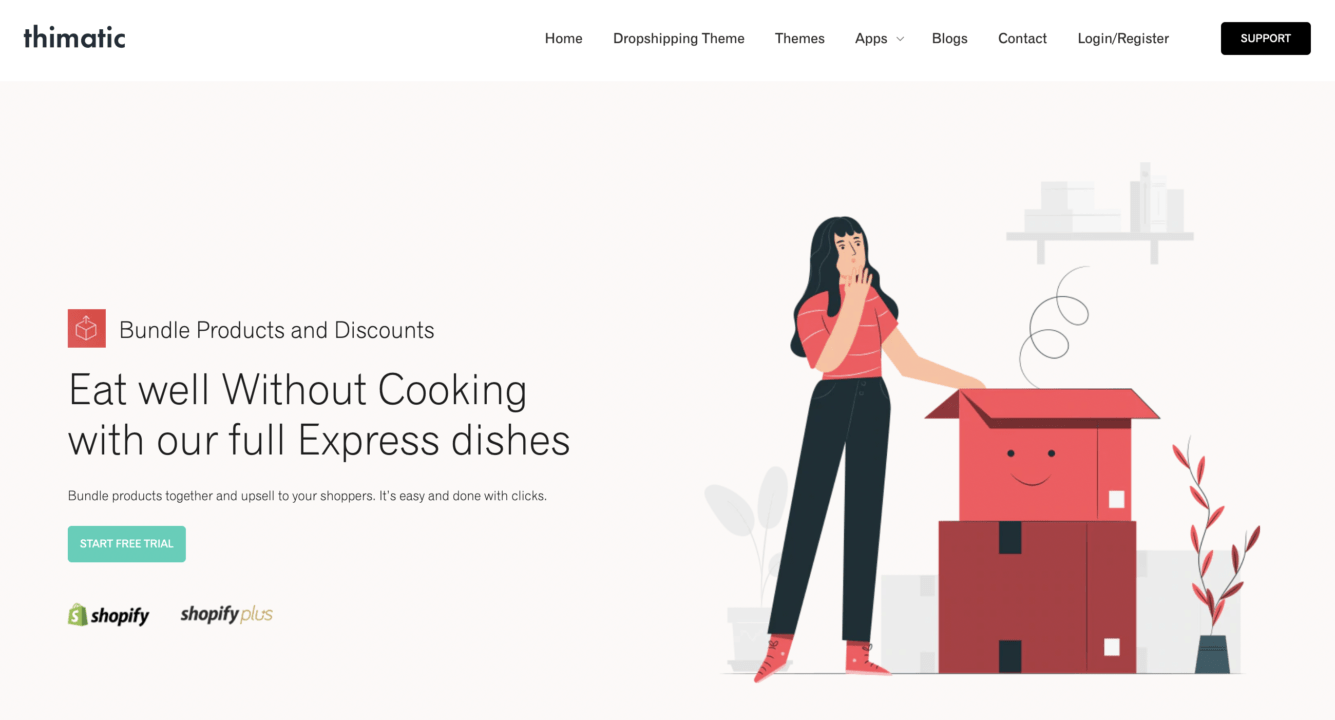 Rating on Shopify: 4.8/5 (550+ reviews)
Pricing: Free during development, starts at $7.49 per month once deployed
The Bundle Products | Upsell Shopify app by Thimatic lets you sell bundles with different products or different variants of the same product. It also enables you to recommend complementary items to boost your store's average order value.
Using this app, you can also encourage shoppers to buy higher quantities of the same item or let them mix and match their own bundles. Furthermore, it comes with a simple but detailed dashboard so you're always informed and in control.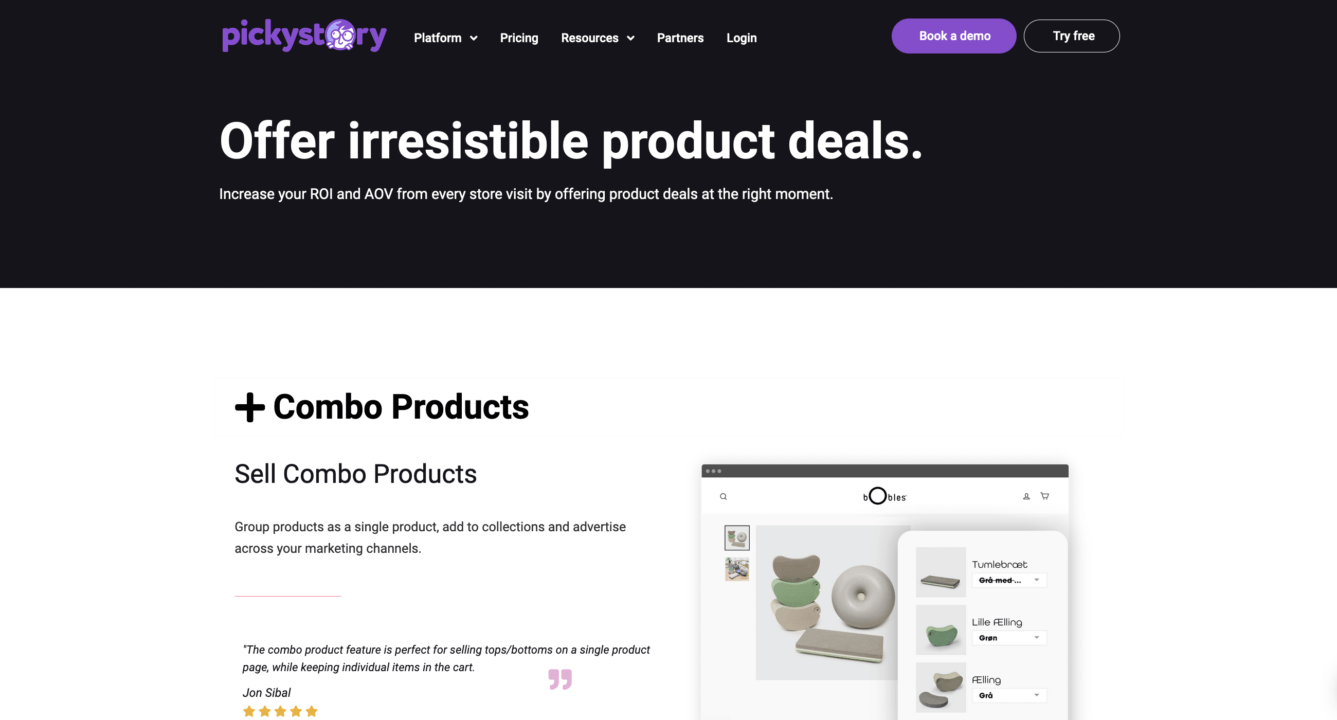 Rating on Shopify: 4.9/5 (250+ reviews)
Pricing: 14-day free trial. Paid plans start at $9.50 per month.
The Bundles Upsell Shopify app by Pickystory lets you create several types of bundles on your ecommerce store. Using this app, you can easily customize the design of your deals for consistent branding. Plus, you can showcase deals on different pages using a drag-and-drop designer.
Among the most commonly cited reasons for voting this as one of the best Shopify bundle apps is that it ensures that your inventory is automatically synced. Additionally, analytics features are incredibly useful for tracking the performance of all your Shopify bundles.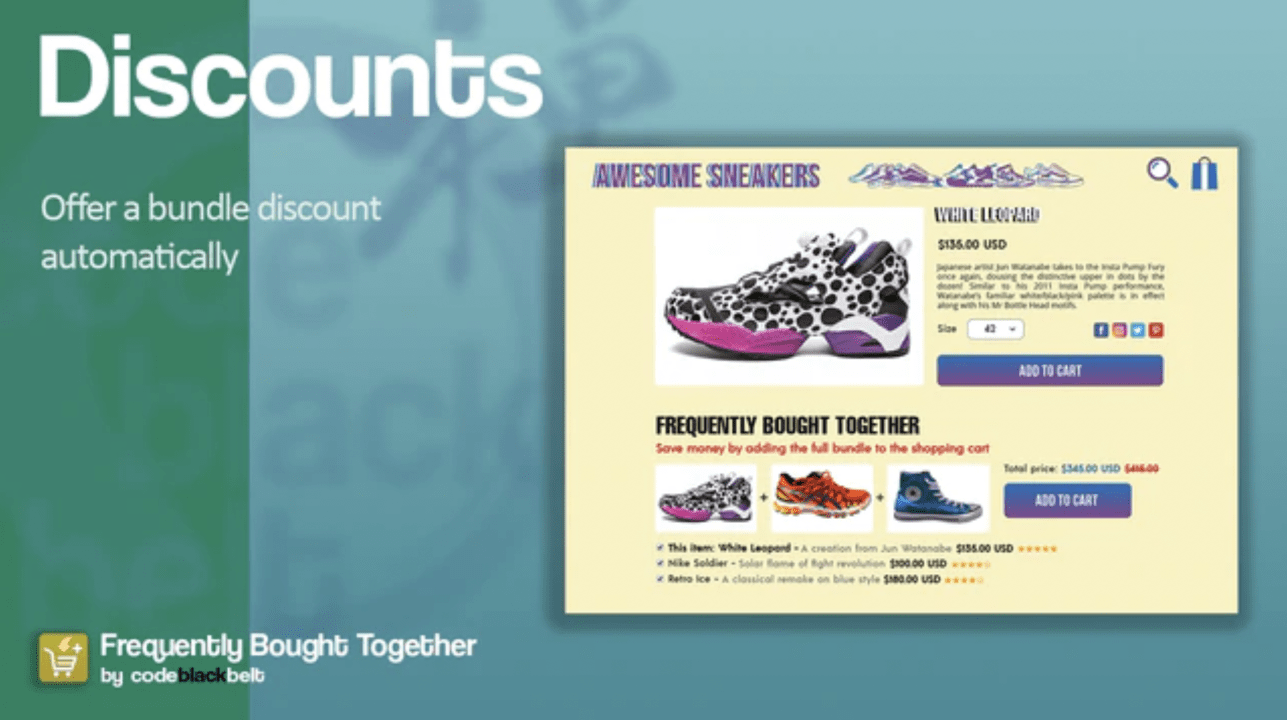 Rating on Shopify: 4.9/5 (1,950+ reviews)
Pricing: Free plan available. Paid plan starts at $9.99 per month.
Seeing recommendations for complementary products encourages shoppers to add more to their cart and this is exactly what the Frequently Bought Together Shopify app by Code Black Belt enables.
The app lets you design discount bundles, cross-sells, and upsells with incredible customizability. Additionally, it is powered by artificial intelligence that continuously improves recommendations to optimize for higher revenue. The app also lets you monitor the performance of your Shopify bundles through a dashboard that tracks renders, views, clicks, cart adds, and conversions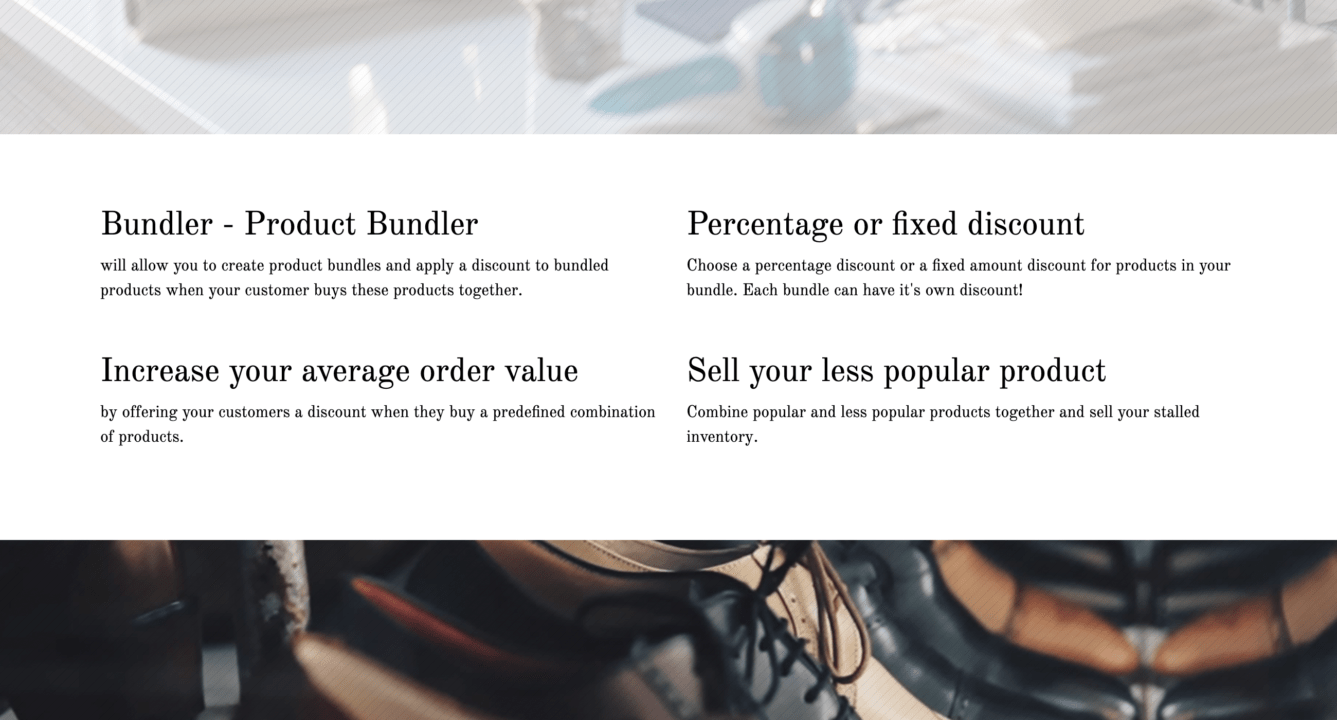 Rating on Shopify: 4.8/5 (450+ reviews)
Pricing: Free plan available. Paid plan starts at $6.99 per month.
The Bundler ‑ Product Bundles Shopify app by Goldendev | Nice is one of the simpler yet equally effective tools for creating combo deals and discounts online. Using this app, you can create customized bundles that are easily configured with your own texts and calls to action. The app also lets you create custom popups to drive sales for your Shopify bundles.
Apart from letting you offer percentage or dollar-value discounts for combinations of items, this app lets you easily offer mix-and-match bundles. All you need to do is select the items that shoppers can choose from and the app will add to cart and apply the appropriate discounts automatically.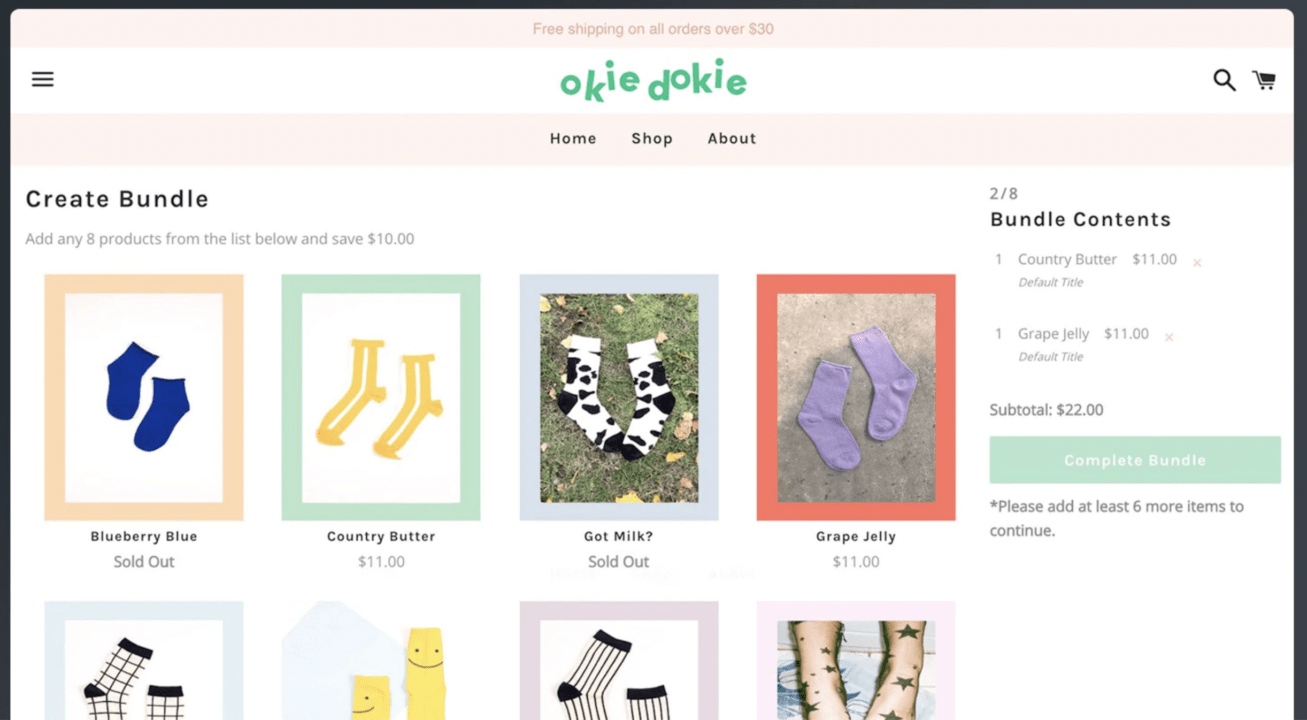 Rating on Shopify: 5/5 (250+ reviews)
Pricing: 14-day free trial. Paid plan starts at $18.50 per month.
The Bundable ‑ Customizable Kits Shopify app by Sovi Apps specializes in mix-and-match bundles. It takes your entire inventory and enables shoppers to create their own bundles composed of products they choose themselves. Fixed-price or percent-based discounts are applied when certain thresholds are met.
The app's note feature can enhance your customer's experience. In the checkout process, shoppers can type in a note which will be included in the bundle when it is shipped out. This is an incredibly simple but thoughtful feature, especially if your products are commonly given away as gifts.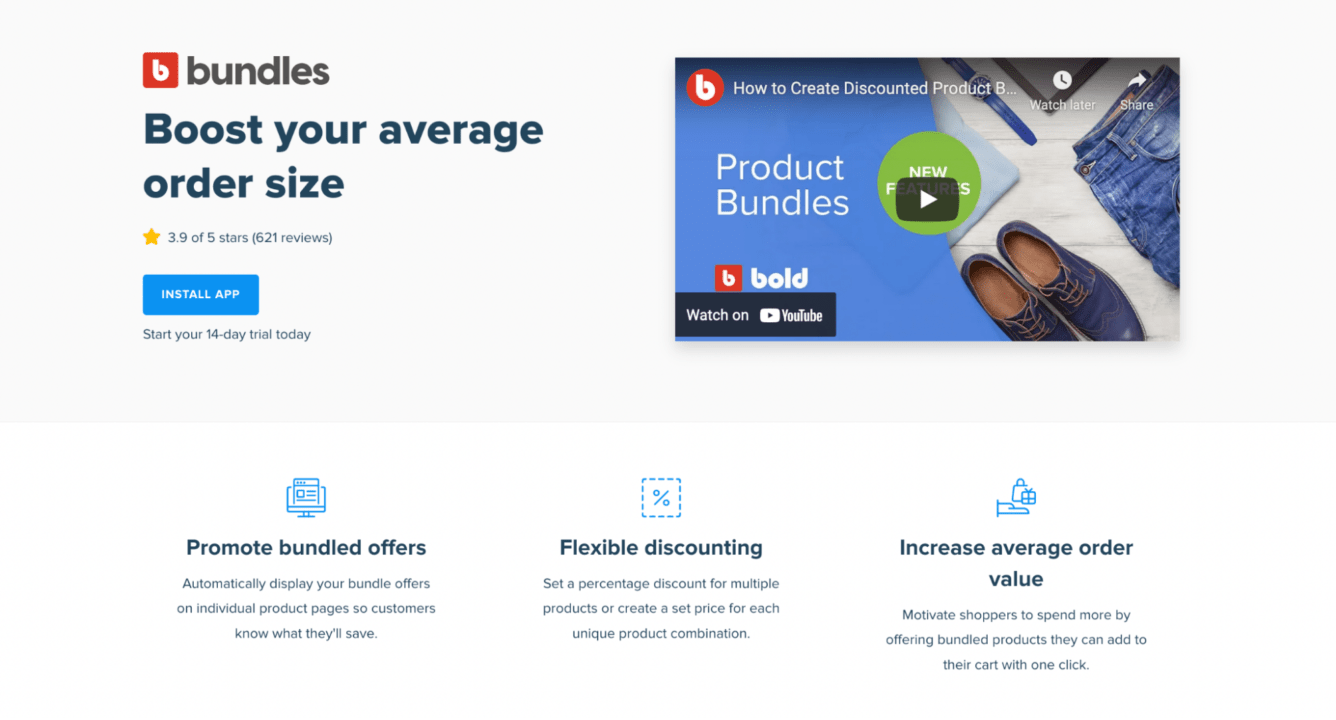 Rating on Shopify: 4.0/5 (600+ reviews)
Pricing: 14-day free trial. Paid plans start at $19.99 per month.
The Product Bundles Shopify app by BOLD specializes in "frequently bought together" bundles. It enables you to recommend similar or complementary products and lets shoppers avail of deals with a single click. Bold Bundles is also enhanced with artificial intelligence so it can decide on recommendations and learn the most effective ones to drive sales.
Using this app to create Shopify bundles, you can also promote buy-one-get-one deals and mix-and-match combinations. Regardless of the type of bundling you use, this tool ensures that you don't have any inventory management issues due to the combinations.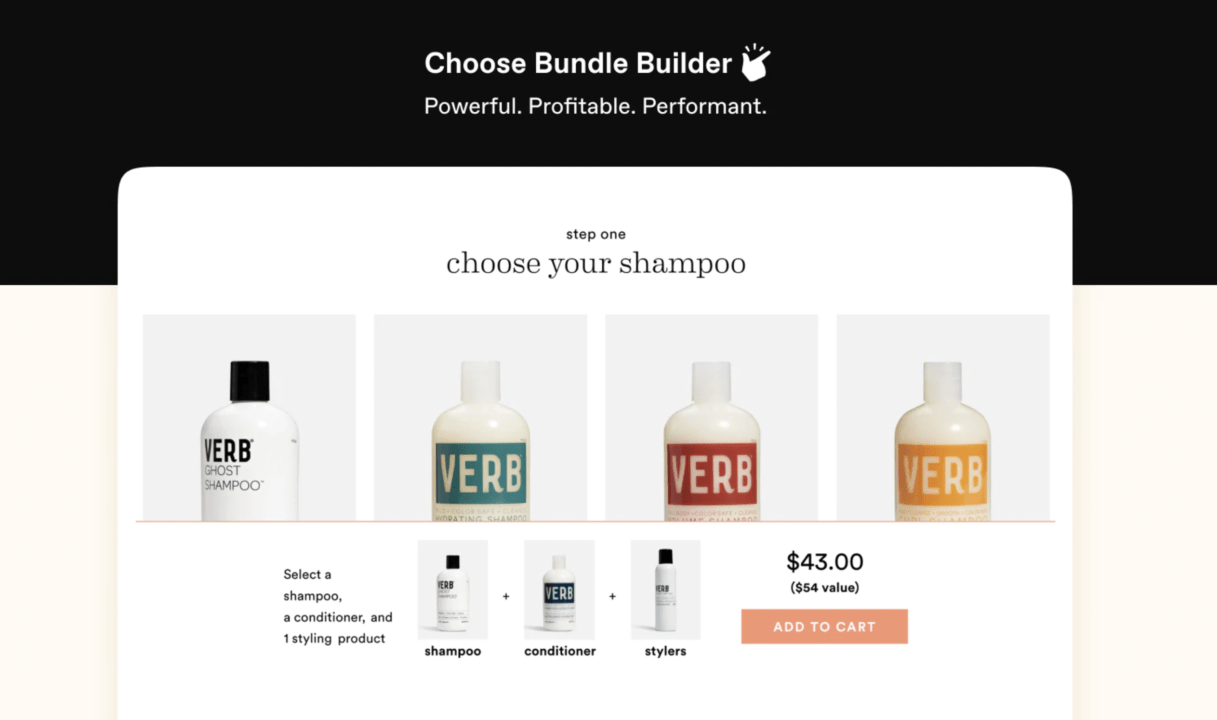 Rating on Shopify: 4.5/5 (200+ reviews)
Pricing: Free during development, Starts at $25 per month once deployed.
The Bundle Builder by Eight is one of the newer tools but has quickly gained a reputation as one of the best Shopify bundle apps because of the intuitive interface it provides to both shoppers and shop owners.
Using this tool, you can let your customers create mix-and-match bundles using the parameters you set. For example, a bundle should be composed of a bottle of shampoo, another of conditioner, and another of a styling product. Or you can design bundles to contain a certain number of products or of a certain value.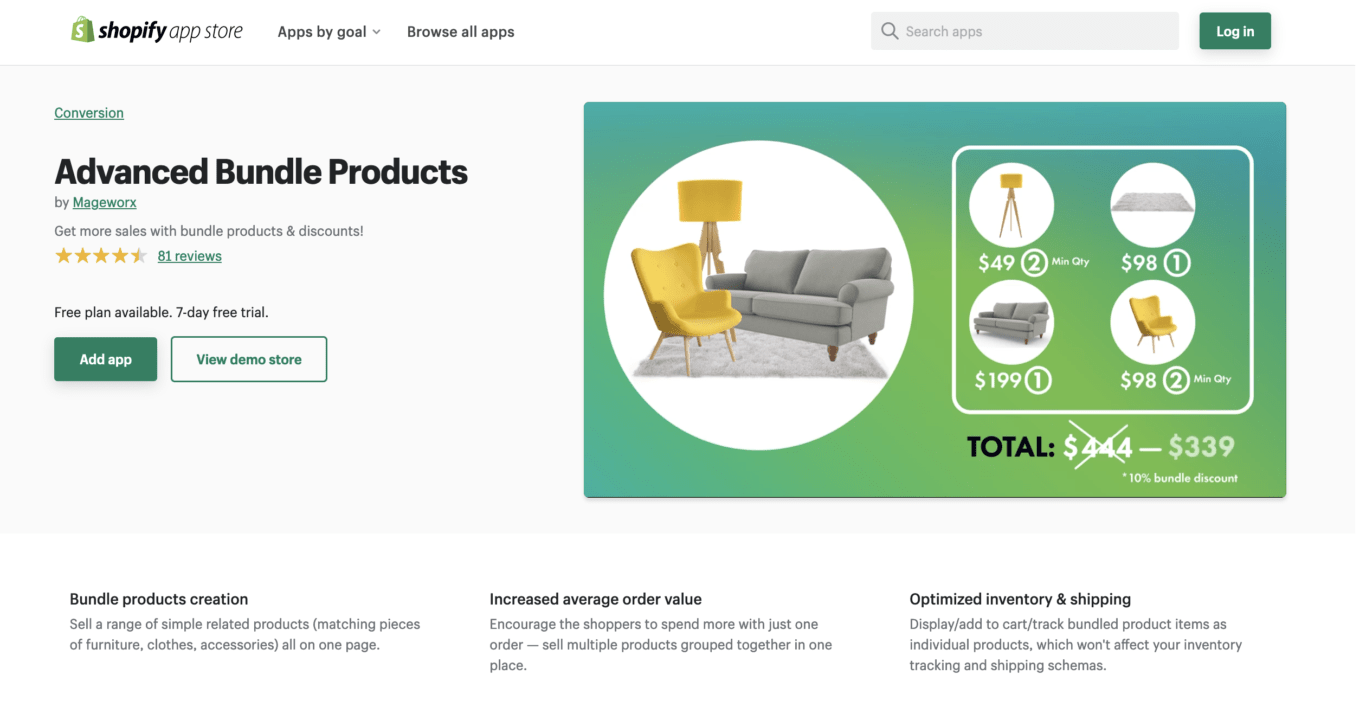 Rating on Shopify: 4.5/5 (80+ reviews)
Pricing: Free during development, Starts at $9.99 per month once deployed.
The Advanced Bundle Products Shopify app by Mageworx lets you promote sets of items and show shoppers how much they can save on each one and in total. But rather than limiting your customers to pre-determined quantities, you can let them add more to what's already there.
For example, if your set is for 1 couch, 1 rug, 1 lamp, and 1 accent chair, you can let your shoppers add one more lamp if they wanted to. You can also set limits as to how many more they can add.
Wrap up
If you're looking to sell more on Shopify, bundle products and package them as irresistible deals. You can do this by combining complementary products. Or, you can use this tactic to push discovery for new or slow-moving goods. You can also curate gifting packages or combine items on clearance.
No matter how you want to implement this tactic and your objectives for doing so, there is a Shopify bundle app to suit your needs. Remember that the best Shopify bundle app isn't the cheapest one that does the job but the one that will offer the best value and maximize your sales potential.
Drive even more sales for your Shopify bundles by promoting them through automated email campaigns. Start free
related features
Want more sales?
Omnisend has everything you need to succeed.
Start free now
No Credit Card needed.