Drive sales on autopilot with ecommerce-focused features
See Features
Reading Time:
6
minutes
Customers love getting information at instant speed—and forward-thinking ecommerce brands are always on the hunt for tools that do just that.
Text messages are one of the best tools for this.
More than 2.2 trillion SMS and MMS messages were sent in 2020, emphasizing the 75% of customers who prefer texts over any other means of communication.
Today, 91% of customers would opt in for business text messages. This has generated revenue for more than 96% of marketers, a number that is only expected to increase.
And the benefits just keep coming. Ecommerce brands that embrace business texts enjoy:
The beautiful thing about text messaging is that each SMS can include important details to create stronger, even more instantaneous flows of information.
This is where links come in.
To assist customers, more and more ecommerce brands send a link in text messages. Not only does this prove to customers that your brand is responsive and valuable, but it lets you direct them to things like:
Pricing info
Contact forms
Landing pages
Business hours
Marketing details
Registration links
Calendar software
Taking this approach, the links you include in your text messages can become powerful drivers to help your business.
Here's how to send a link in a text message, as well as some best practices that will delight your customers and boost your bottom line.
Start sending links in text messages with Omnisend's free SMS plan. Start free
Links vs hyperlinks—which to use?
Sending a link via SMS is as easy as pasting it into the body of your text.
There are two different types of links that customers use on a daily basis: links and hyperlinks.
Links are the straightforward URLs that are copy-pasted into your search bar. These contain the website address and, depending on the site settings, either the specific page title or other characters that determine the specific page you'll visit. Think https://www.omnisend.com/blog/sms-marketing/
Hyperlinks include highlighted words or phrases that link customers to another page or application, instead of seeing the URL written out in full. Clicking the highlighted text will send you to the linked destination. As opposed to links, hyperlinks can also take the form of images, GIFs, videos, or anything that can take a user from one page to another.
In short: hyperlinks provide beautified information, in various forms, while a link simply shows the direct address for a particular webpage.
It's currently not possible to insert a hyperlink in a text message. Although this sounds limiting, it's a reminder that SMS is all about simplicity and quick information, making it a very fast channel—both for you as the creator and the customer as the recipient.
However, it is possible to use link shorteners to make a link smaller and prettier than it otherwise would be. This is particularly useful if your link includes tracking codes, which can be very long and unsightly.
What to know before using links in text messages
By leveraging the power of link shortening, automation, and tracking, you can help your SMS channel become much more profitable in the long run.
Length of a message
Texts are limited by length, which is important to consider before adding any links.
One SMS can hold up to 160 characters, which is about 20 to 40 words. This is nearly cut in half by the number of characters in most links, which ranges between 60 and 70 on average.
It's a good idea to compose texts that are short, sweet, and to the point. Failing to do so might force you to send multiple messages, costing twice what you would have spent for a single text.
Omnisend offers a character counter above each text message you compose, allowing you to catch any overages before sending your campaign.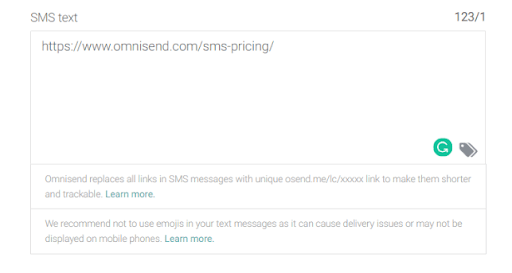 Also, an easy-to-use SMS length & pricing calculator can help to count the characters in your text message, estimate the sending costs, and preview your SMS campaign on various phones.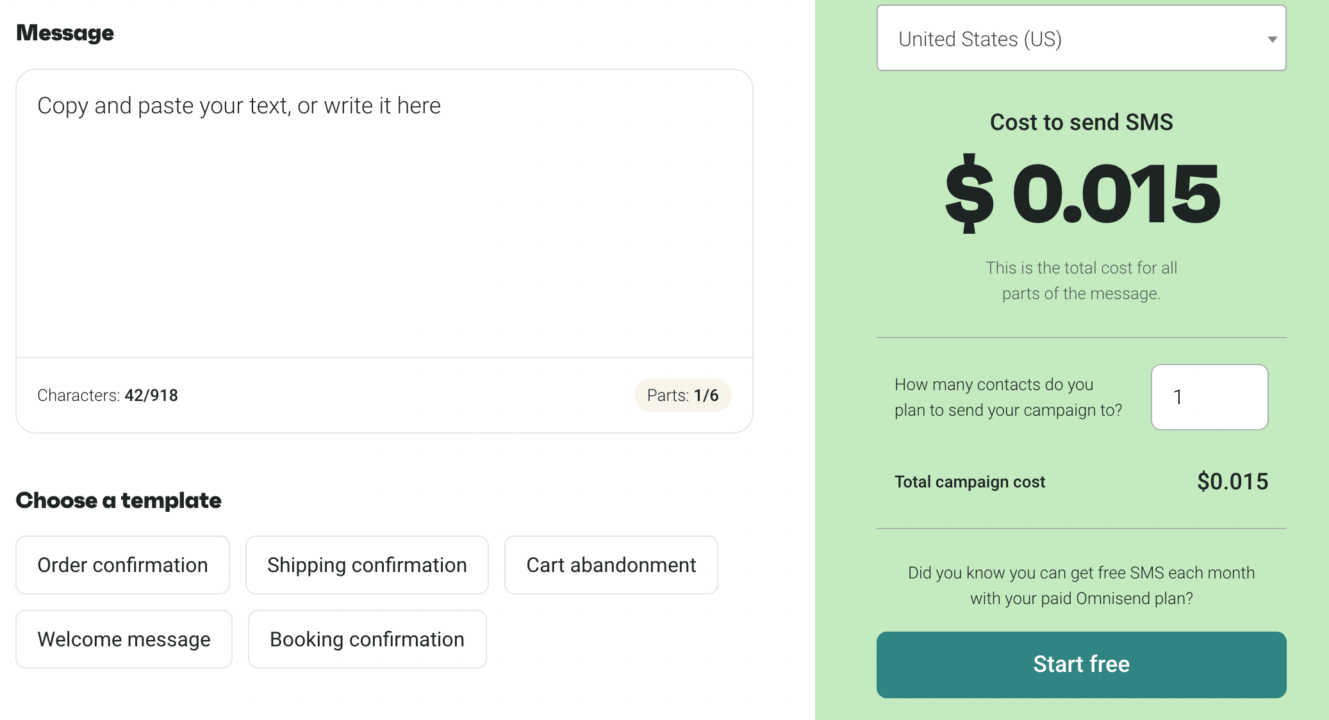 Longer links can be shortened
With each character counting in an SMS, you'll want to consider using a shortening tool to save space.
There are dedicated tools for this, and Omnisend shortens links automatically with a unique address. This is done in three parts:
The shortening domain (otxt1.com)
The link (the letter 'l'), which can also appear as either 'la' for automated SMS, or 'lc' for a campaign (promotional) SMS
XXXXX (unique 5-digit number)
The results in something like otxt1.com/la/XXXXX or otxt1.com/lc/XXXXX.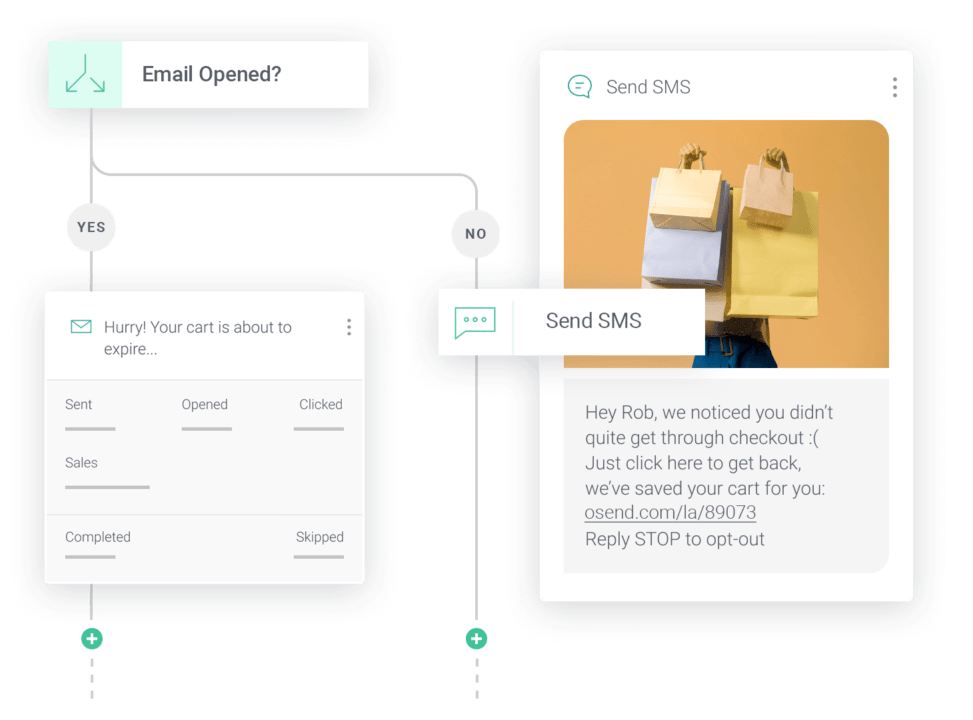 Omnisend performs link replacement almost immediately, giving you time to focus on other elements of your text message.
Link tracking
Shortened links don't just preserve your text message's word count, they also allow you to perform link tracking as well. With this information, you can dig deep into the results of your messages, including UTM parameters for reporting purposes.
You can start tracking links immediately in Omnisend, including:
Tracking source traffic
Delegating marketing channels
Watching user actions and behavior
If you'd prefer not to shorten or track links, you can select this in the compose window: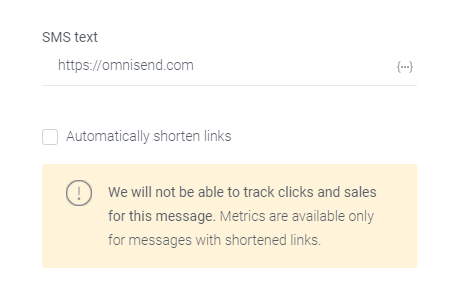 Reasons to send links in text messages
Links aren't always necessary for a successful text campaign, and ultimately it depends on what role SMS will serve in your campaigns.
However, if you want to increase engagement and encourage consumers to spend more time on your site or take specific actions, text links will be useful.
You'll want to learn how to put a link in a text message for:
Welcoming a new customer to your store. Welcome text messages provide links with personalized info that enhance the customer experience.
Abandoned cart messages. These can offer links to whatever item the customer left behind, and is particularly useful for SMS marketing.
Order confirmation details. Customers will have better peace of mind knowing their items are safe and on their way.
Order delivery details. Almost 80% of customers want delivery updates from brands, allowing them to keep an eye on en-route packages.
Sending promotional messages. Whether your brand is starting a Black Friday sale or prepping for a discount run, text messages can help to generate interest quickly.
3 examples of how to send a link in a text
Although text messages are much more basic than an email, that doesn't mean you don't have any options for what they say.
Let's look at a few examples of how your text messages can stand out: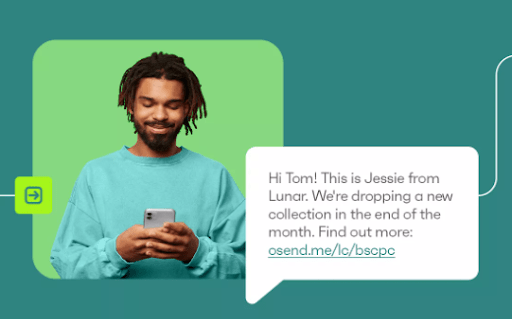 This example from Lunar provides excellent context for the link, telling recipients where it takes them and why it's of interest to them. The message is also personalized with the recipient's name.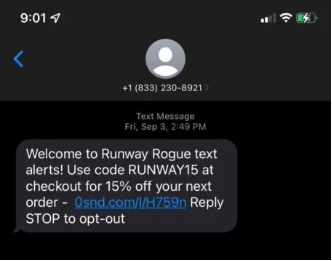 This example from Runway Rouge goes the extra mile by including a long-form call to action. This encourages the reader to move forward with next steps and place an order.
Finally, Baking Steel demonstrates how to include multiple links in a single message, placing them in order of importance.
Recipients are encouraged to check their full order details using the first link in the message, with the ability to unsubscribe from messages if they don't want further texts from Baking Steel.
These examples share some important suggestions for text messages with links:
End the text with your link
Add a CTA to preface the link
Layer links in order of importance
Wrap up: how to send a link in a text with Omnisend
Including links in SMS enables you to send high-impact information at scale, and it's a fast and efficient method of delighting buyers and repeat customers.
Omnisend offers SMS on all plans including the free tier, so you can send as many links as you'd like with automatic shortening that keeps you on target and under the character limit. Even better, all plans come with free SMS credits, so you can start trying them out immediately. Track your results and optimize for the future—all from a single tool.
related features
Want more sales?
Omnisend has everything you need to succeed.
Start free now
No Credit Card needed.