Drive sales on autopilot with ecommerce-focused features
See Features
Reading Time:
7
minutes
Wondering the best way to send links in text messages?
Here's good news: sharing links through SMS is easy. As easy as pasting the URL into your message, in fact. But as SMS is a plain-text channel, it's not possible to incorporate hyperlinks.
In this article, we'll look at the differences between a link and hyperlink, demonstrate how to include a link in a text message, and look at the best strategies for linking in SMS marketing so you can nail your text campaigns.
In this post:
Start sending links in text messages with Omnisend's free SMS plan
Start Free Today
Links vs hyperlinks—which to use?
There are two different types of links to consider: links and hyperlinks.
Links are the straightforward URLs that are copy-pasted into your search bar. These contain the website address and, depending on the site settings, either the specific page title or other characters that determine the specific page you'll visit. Think https://www.omnisend.com/blog/sms-marketing/
Hyperlinks include highlighted words or phrases that link customers to another page or application, instead of seeing the URL written out in full. Clicking the highlighted text will send you to the linked destination. As opposed to links, hyperlinks can also take the form of images, GIFs, videos, or anything that can take a user from one page to another.
In short: hyperlinks provide information, while a link simply shows the direct address for a particular webpage.
It's currently not possible to insert a hyperlink in a text message. Although this sounds limiting, it's a reminder that SMS is all about simplicity and quick information, making it a very fast channel—both for you as the creator and the customer as the recipient.
However, it is possible to use link shorteners to make a link smaller and prettier than it otherwise would be. This is particularly useful if your link includes tracking codes, which can be very long and unsightly.
How to send a link in a text
If you want your SMS marketing to drive customers to take action, you should consider adding links to your text messages. Adding a link is as easy as pasting it into the body of your text.
This approach will enhance your customer engagement strategy by directing recipients to relevant offers and promotions on your website, especially useful during holidays like Valentine's Day and Black Friday.
To do this at scale, you need a marketing platform that supports SMS, such as Omnisend. Used by more than 100,000 brands and with an impressive rating of 4.8/5 on the Shopify app store, Omnisend is a great tool for automating sales with seamless SMS and MMS campaigns.
Here's how to include a website link in a text using Omnisend:
Create a free Omnisend account
Go to Campaigns and click Create SMS
Compose your message and add the link
Omnisend will automatically shorten the link
Add the recipients for the message
Preview the message and send
Track your links to gauge campaign performance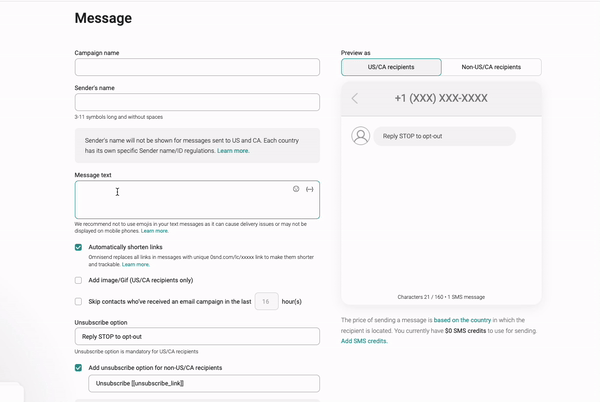 What to know before using links in text messages
By leveraging the power of link shortening, automation, and tracking, you can help your SMS channel become much more profitable in the long run.
Message length
Texts are limited by length, which is important to consider before adding any links.
Each SMS can include up to 160 characters. This is nearly cut in half by the number of characters in most links, which ranges between 60 and 70 on average.
It's a good idea to compose texts that are short, sweet, and to the point. Failing to do so might force you to send multiple messages, costing twice what you would have spent for a single text.
Omnisend offers a character counter above each text message you compose, allowing you to catch any overages before sending your campaign.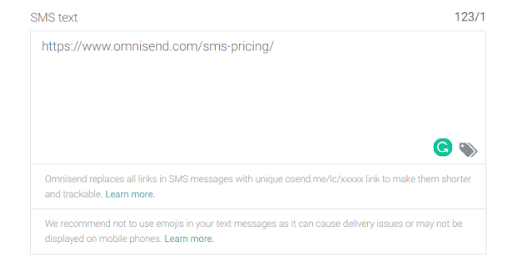 Also, an easy-to-use SMS length & pricing calculator can help to count the characters in your text message, estimate the sending costs, and preview your SMS campaign on various phones.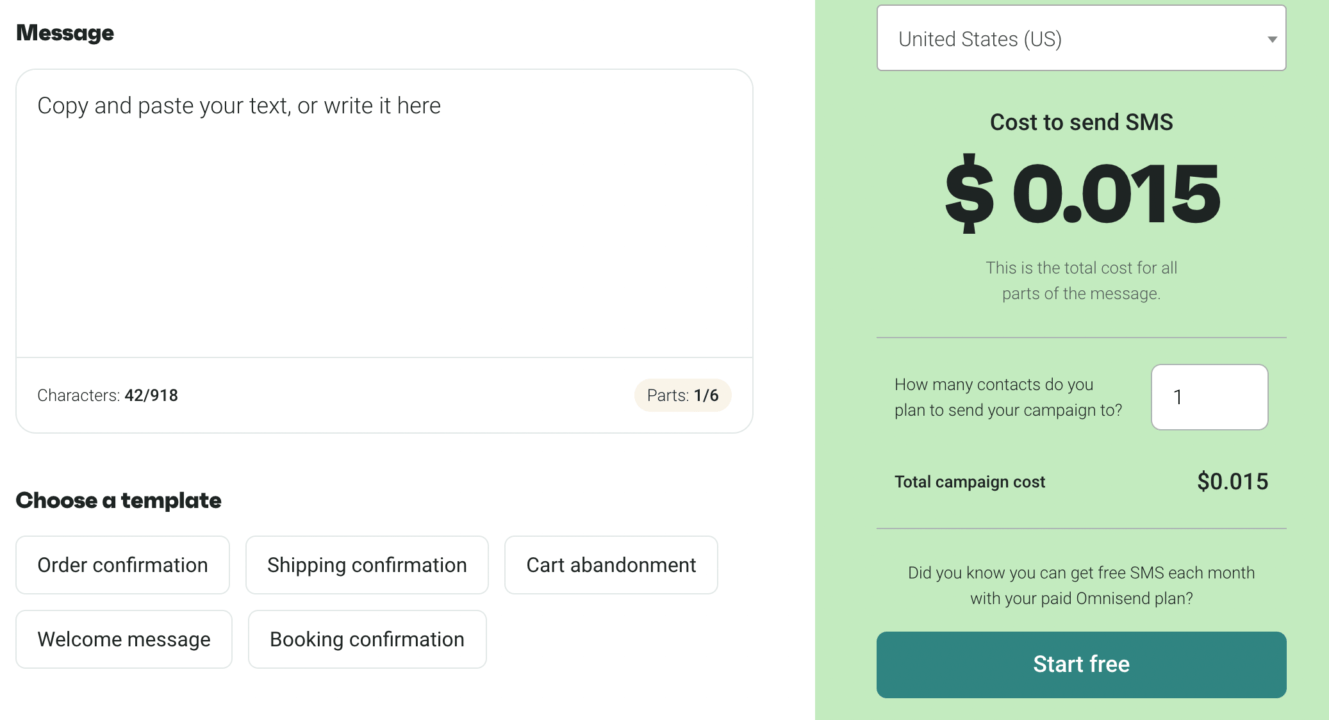 Link shortening
With each character counting in an SMS, you'll want to consider using a shortening tool to save space.
There are dedicated tools for this, and Omnisend shortens links automatically with a unique address. This is done in three parts:
The shortening domain (otxt1.com)
The link (the letter 'l'), which can also appear as either 'la' for automated SMS, or 'lc' for a campaign (promotional) SMS
XXXXX (unique 5-digit number)
The result is something like otxt1.com/la/XXXXX or otxt1.com/lc/XXXXX.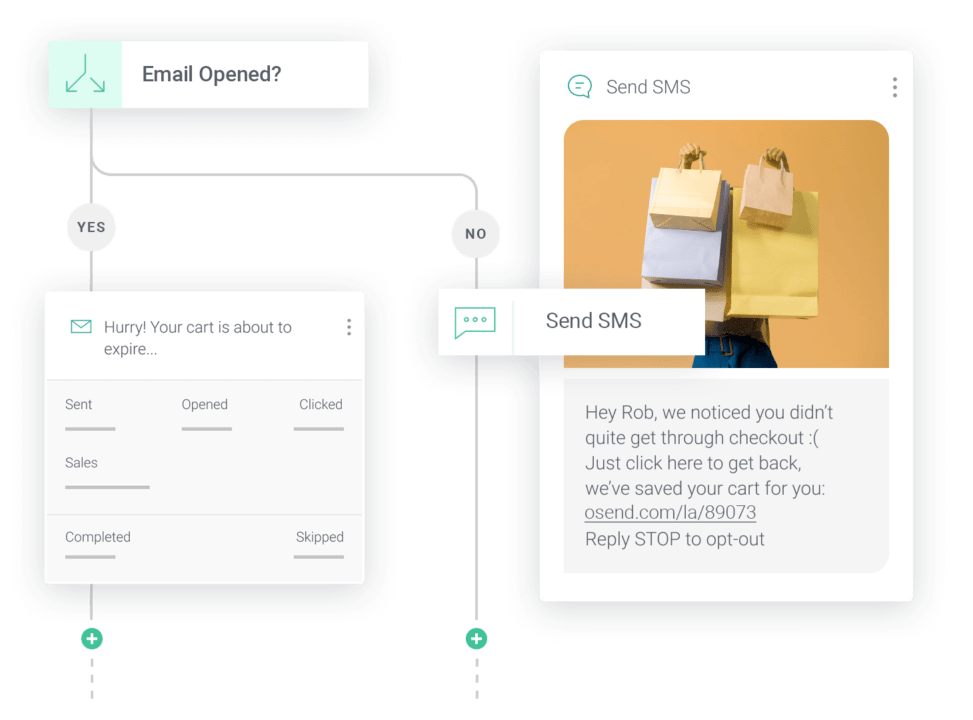 Omnisend performs link replacement almost immediately, giving you time to focus on other elements of your text message.
Link tracking
Shortened links don't just preserve your text message's word count, they also allow you to perform link tracking. With this information, you can dig deep into the results of your messages, including UTM parameters for reporting purposes.
You can start tracking links immediately in Omnisend, including:
Tracking source traffic
Delegating marketing channels
Watching user actions and behavior
If you'd prefer not to shorten or track links, you can select this in the compose window: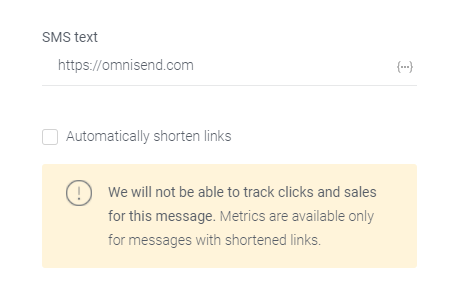 Link placement
When adding links to your text message, ensure to place them strategically within the body of the text. Don't add them at the beginning of the text since this can prevent recipients from reading it.
Instead, place them towards the end to act as a natural progression of your message. This allows recipients to read the message and take action by clicking on the link.
To drive action, add a compelling CTA to preface the link.
When you have several links in your text message, arrange them in order of importance to help users prioritize their actions.
Reasons to send links in text messages
Links aren't always necessary for a successful text campaign, and ultimately it depends on what role SMS will serve in your campaigns.
However, if you want to increase engagement and encourage consumers to spend more time on your site or take specific actions, text links will be useful.
You may want to put a link in a text message for:
Welcoming a new customer to your store. Welcome text messages provide links with personalized info that enhance the customer experience.
Abandoned cart messages. These can offer links to whatever item the customer left behind, and are particularly useful for SMS marketing.
Order confirmation details. Customers will have better peace of mind knowing their items are safe and on their way.
Order delivery details. Almost 80% of customers want delivery updates from brands, allowing them to keep an eye on en-route packages.
Sending promotional messages. Whether your brand is starting a Black Friday sale or prepping for a discount run, text messages can help to generate interest quickly.
3 examples of how to send a link in a text
Although text messages are much more basic than an email, that doesn't mean you don't have any options for what they say.
Let's look at a few examples of how your text messages can stand out:
Lunar – Link to a new collection
This example from Lunar provides excellent context for the link, telling recipients where it takes them and why it's of interest to them. The message is also personalized with the recipient's name.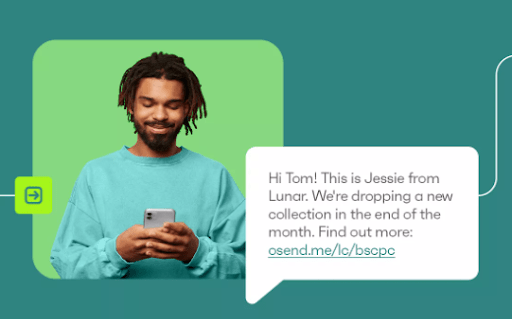 Runway Rogue – Link with a discount code
This example from Runway Rouge goes the extra mile by including a long-form call to action. This encourages the reader to move forward with next steps and place an order.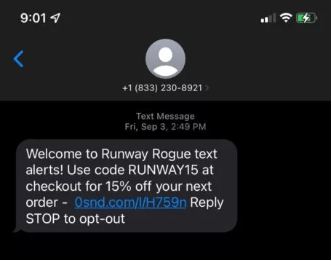 Baking Steel – Multiple links in a text message
Finally, Baking Steel demonstrates how to include multiple links in a single message, placing them in order of importance.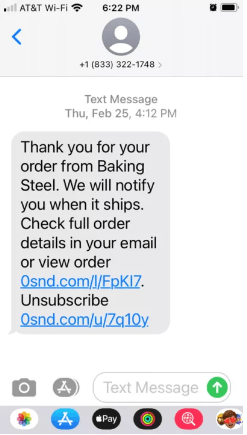 Recipients are encouraged to check their full order details using the first link in the message, with the ability to unsubscribe from messages if they don't want further texts from Baking Steel.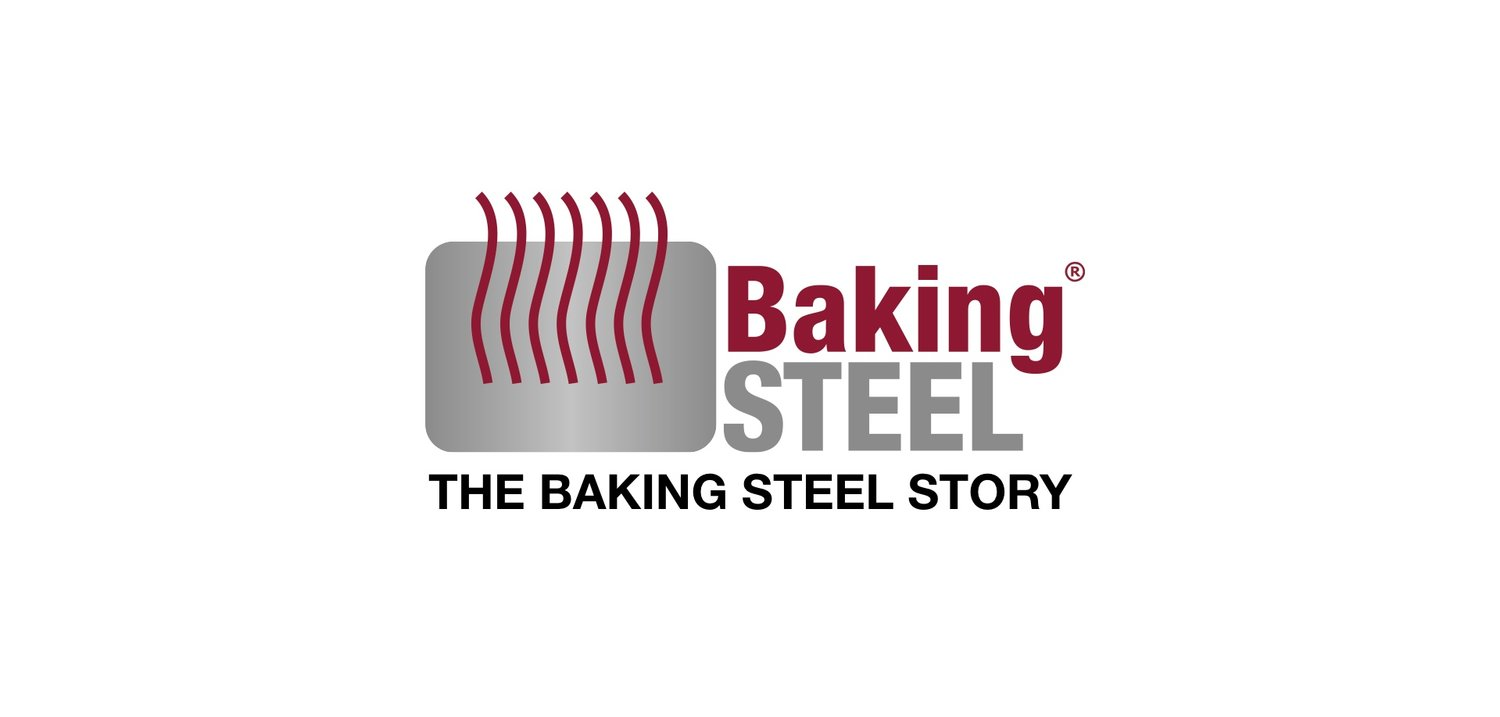 When Baking Steel switched to Omnisend, they launched two successful welcome series that generated a revenue-per-email of over $10 and $15 respectively:
Wondering how Omnisend could pull this off? Here's the entire success story for you.
Wrap up: How to send a link in a text with Omnisend
To make your SMS marketing efforts more successful, you should consider adding links to your text messages. This has the potential to make your campaigns more impactful and direct users to other valuable resources.
This article has shown you how to send a link in a text message to amplify engagement, and how easy it is to both set up and automate. The process is incredibly simple with Omnisend, which also helps you reduce the character count by shortening your links and gathers essential insights through link tracking. Elevate your SMS marketing strategy with Omnisend and embark on a journey of meaningful customer interactions.
related features
Want more sales?
Omnisend has everything you need to succeed.
Start free now
No Credit Card needed.