Drive sales on autopilot with ecommerce-focused features
See Features
did you know
Omnisend customers automate 32% of their email conversions. Are you maximizing sales?
automate my sales
Reading Time:
7
minutes
Marketers often believe that unique discount codes can only be used to attract new customers, but this is not true. These codes can be used at a variety of customer journey stages, with different objectives that range from awareness, conversion, retention, and reactivation.
In this article, we'll learn how unique discount codes can be leveraged for different goals and audiences, and how you can boost your WooCommerce sales with them.
WooCommerce store owners could already integrate with Omnisend and benefit from our powerful, ecommerce-focused automation features. But now you can go even further with the ability to automatically add unique discount codes to an email.
Boost your WooCommerce store's revenue by up to 85% using our email marketing plugin.
Learn the secret now
What are unique discount codes?
Unique discount codes are a string of random numbers and letters which customers can use to gain personalized discounts from your brand. These codes are unique to each customer and can not be used more than once.
Discount codes are very effective for increasing sales and building customer loyalty by offering incentives to your customers. Unlike a sale, where the price is already reduced, the customer inputs the code manually to receive their discount—much like handing over a physical coupon in a store.
There are different types of discount codes, and some stores allow the same code to be used by multiple people. Although they work perfectly well, you do run the risk of the code being shared with others, making them difficult to track in campaign reporting and possibly costing you money by being used more times than intended.
When your discount code is unique to each customer, it is a more secure way of using discount codes and gives you total control over their use.
Let's take a quick look at the different types of discount codes that can be leveraged by e-commerce brands:
Percentage-based discount codes: These generate discounts as a percentage of the total order value (such as 5% off, 10% off, etc.)
Fixed amount discount codes: These provide a fixed amount of discount, no matter what the value of the order is (such as $20 off, $50 off, etc.)
Free shipping discount codes: These coupons provide no discounts on the value of the order but strike off any delivery or shipping fees for the customer.
BOGO (Buy One, Get One Free) discount codes: These provide an additional item for free at the same price as the first (or sometimes, the higher priced) item of two.
Tiered discounts: These discounts increase as the value of the order increases. For example, 10% off on $200 purchases, 20% off on $400 purchases, and so on.
Time-based discounts: These discount coupons are only valid for a specific time period, such as during Black Friday, or Christmas week, New Year's eve, and so on.
These are just a few of the most common discount types used by e-commerce brands in the '20s. For your brand, you must evaluate your unique requirements, the stage at which the customer is, the level of familiarity they have with your brand, and decide which coupon to promote accordingly.
Here's a quick example of an email with a welcome offer for customers: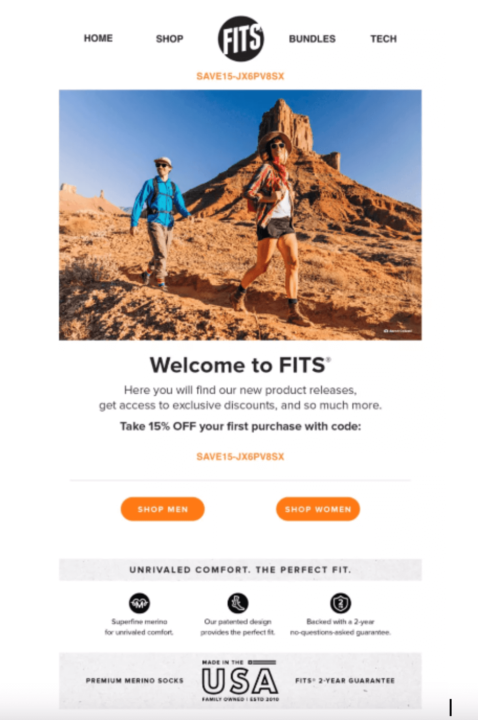 The benefits of unique discount codes
As Heather Wiand, Customer Success Manager at Omnisend, puts it, you may not want to offer discounts all the time because "none of your prices are real … everything that a customer sees on your website is not the real price because you can find a coupon somewhere." Unique codes overcome this as they allow you to offer discount codes exactly when you want, to exactly the number of people you want.
There are many benefits of unique discount codes for both customers and merchants, which have been listed below:
The benefits of unique discount codes for customers
Increased savings: Discount codes are the best way for customers to save a small amount during their purchases. When used cumulatively over time, these discount codes can end up saving a lot of money for customers.
New product/brand discovery: Often, customers discover the benefits and value propositions of a brand because the brand is offering a discounted purchase. This prompts customers to make purchases they might never have made otherwise, and directly benefits new brands who wish to be known.
Personalized shopping experiences: Discount codes let the customer know that you are aware of their needs and requirements, and that you want them to have the best possible experience. Such a personalized experience increases positive sentiments from the customer towards your brand and increases chances of a conversion.
The benefits of unique discount codes for merchants
Improved customer loyalty: Discount codes can remind customers that your brand offers valuable products, and incentivize them to make a purchase if they haven't made one in a long time. At the same time, if repeat customers are provided a unique discount code, they feel more valued and loyal towards the brand.
Insights into customer behavior: Track how customers use their discount codes, how often they use it, and which use cases benefit them the most. Once you have gathered and understood all this data, you'll have an increased understanding of consumer behavior, which you can use to personalize your future campaigns.
B-Wear's discount strategy
Initially, B-Wear used to offer a 10% discount to new subscribers. Upon testing a 15% discount, they experienced a substantial boost, with sales per email surging by 390% and overall orders increasing by 121%.

Check out the B-Wear case study to gain valuable insights into the brand's discount strategy.
How to create unique discount codes with Omnisend
To create unique discount codes with Omnisend, you can follow the steps given below:
1. Enable your unique discount code
To enable unique discount codes via Omnisend, you need to have a WooCommerce store to send WooCommerce unique one time use coupon codes.
WooCommerce can be integrated with Omnisend directly through our App Market with the click of a button. Your contacts, products, collections and orders will all be synced automatically, and you'll have instant access to pre-built automation workflows, email templates, and our intuitive drag-and-drop content editor.
Once that is set up, you can enable unique discount codes, create, and manage your unique codes via the Omnisend dashboard.
2. Creating the unique discount code campaign
To create a unique discount code campaign in Omnisend, you need to create an email campaign and add a unique discount code block to your email. You can then customize the campaign settings and send the email to your subscribers.

You have plenty of options with types of discounts, including fixed amounts, percentage discounts, or free shipping, as well as setting expiration dates—without inputting a single line of code. Simply add the discount code block to your emails and we'll handle the rest.
3. Using unique discount codes in your Omnisend workflows
You can also use unique discount codes in Omnisend automation workflows. For example, you could create a workflow that automatically sends a unique discount code to customers who abandon their carts.
And because Omnisend is always committed to ease of use, you don't even need to manually generate these discount codes. Simply create an email, drag the discount block into it, and the code is automatically generated and synced to your store. There's no manual input or backend tinkering required, and you have full control over expiration dates and discount types.
Omnisend customers automate 32% of their email conversions. Are you maximizing sales?
Automate my sales
Tips for using unique discount codes effectively
Here are some tips for using unique discount codes effectively:
Sending unique discount codes to the right audience
With Omnisend, you can make use of advanced segmentation tactics to group your customers based on their behavior and actions. Once this is done, you can create different unique discount codes for each audience with varying amounts and language and send those out accordingly. For example, for a Gen Z audience, you can send unique discount codes with Black Friday discounts on electronic products. At the same time, for senior citizen customers, you can send a unique discount code for a Christmas Day sale on senior care products.

Personalize your unique discount codes
Once you've segmented your customers, you know what their needs and expectations are. Remember to personalize your unique discount codes accordingly, by tailoring it to their specific preferences, promoting products of their interest, and even matching it to festivals or holidays they enjoy.

Make your unique discount codes exclusive
This is one of the most important aspects of creating a unique discount code. Remember to make sure that it can't be used more than once. If you don't do this, your discount code can be circulated to audiences that are beyond your target, and this can result in heavy discounting that creates more losses than profits.

Set a time limit for your unique discount codes
Setting time limits for unique discount codes creates a sense of urgency which prompts customers to use it at the earliest possible. If you don't set a time limit, customers might postpone acting on the coupon, and ultimately forget about it completely.

Promote your unique discount codes on social media and via your email campaigns
This one is a key aspect of any unique discount code: you need to utilize every available channel to promote your coupon. This includes a plug on your social media channels, asking customers to share their experiences with the coupon, and even adding a shoutout in your regular email campaigns.
Wrapping up
In conclusion, the notion that unique discount codes are solely for attracting new customers is misplaced. This is an effective marketing strategy that can be used to increase conversions, nudge customers to complete their transaction, rekindle customers who haven't used your website in a while, and ensure that customers have a reason to stay loyal to your brand.
If you have a WooCommerce website integrated with Omnisend, you can quickly leverage the drag-and-drop builder to create an email with WooCommerce unique discount codes automatically embedded. These can be promoted via multiple avenues such as other email campaigns and social media. The benefits of such unique discount codes include higher loyalty, better savings for customers, increased product or brand discovery, and personalized shopping experiences.
This blog offers a comprehensive toolkit on the need for unique discount codes, the benefits for customers and brands alike, steps on setting up and sending your discount codes, and tips on maximizing their impact.
If you're looking for a good email marketing platform for your Ecommerce business, look no further than Omnisend!
Generate up to $6.30 per email with our WooCommerce email marketing plugin
LET'S GO!
related features
Want more sales?
Omnisend has everything you need to succeed.
Start free now
No Credit Card needed.