Drive sales on autopilot with ecommerce-focused features
See Features
Reading Time:
6
minutes
If you're not already using Wix SMS marketing, you may be leaving a lot of money on the table.
The benefits of SMS marketing speak for themselves:
Nearly all (95%) of business text messages are read by customers
About 33% of your SMS recipients will engage with your CTA
Almost half (47%) of those who engage with the CTA will make a purchase
The good news? While SMS marketing on Wix may seem complicated, it's not—especially if you use an SMS tool like Omnisend.
Wix connects with more than 300 tools in the App Market, 29 of which are focused on SMS marketing. And since 55% of businesses already use SMS, there's no excuse not to give one a try.
In this article we'll look at some of the best app integrations for your Wix SMS marketing campaigns, including their prices, features, and benefits.
However, not all Wix text marketing tools are easy to use so, to save you a headache, we're only listing Wix SMS marketing tools that have direct integrations with the platform.
Let's dive in.
The 5 best Wix SMS marketing tools
We've chosen five of the best Wix SMS marketing plugins based on prices, features, and ease of integration.
1. Omnisend
Omnisend is a no-code marketing platform that can combine multiple channels, even within a single automated workflow. You can easily connect email, SMS, and web push notifications into the same workflow, and segment your audience to receive targeted campaigns that work even while you sleep.
Omnisend has two separate apps that provide SMS marketing for Wix:
Omnisend Email Marketing & SMS: Built for robust marketing campaigns that can be customized to your brand.
Omnisend: Booking Emails & SMS: Designed to reduce appointment no-shows for service-based businesses.
You can access all of Omnisend's features completely free of charge and upgrade as your business grows.
Key features:
Pricing:
Free: $0 per month for up to 500 emails, 500 web push and 60 SMS to 250 contacts (additional SMS available for purchase)
Standard: starts at $16 per month for 60,000 emails, unlimited web push and 60 SMS to 500 contacts (additional SMS available for purchase)
Pro: starts at $59 per month for unlimited emails and web push, up to 3,933 SMS and free monthly SMS credits worth the price of the plan, to 500 contacts
Omnisend supports SMS globally and you can calculate your exact costs based on your audience size.
2. Santhe SMS

Personalization is the key feature of Santhe SMS. This free-to-download app has one-click integration with Wix Stores, Bookings, Forms, and Restaurants.
Santhe SMS charges by the amount of SMS messages you want to send. The free plan only comes with five automated SMS, and none of the features are upgradable at all—what you see is what you get.
Key features:
Automate coupon codes, abandoned cart reminders, and shipping updates
Update customers to confirm, cancel, or reschedule bookings
Limited support on the basic tier (premium support for paid plans)
Pricing:
Basic Plan: $0 per month for 5 SMS / month
Starter Plan: $13.99 per month for 50 SMS / month
Scaling Plan: $26.99 per month for 125 SMS / month
High Volume Plan: $44.99 per month for 400 SMS / month
3. Privy

Many veteran Wix users are familiar with Privy: an email and SMS plugin designed to automate business text campaigns. The app is available in English, French, Portuguese, and Spanish.
SMS is only available on Privy's highest tier, which starts at $45 per month. However, you can also purchase a separate SMS package on the Free or Starter plans. Prices start at $10 per month for a maximum of 100 contacts.
If you do this, you won't have access to the features on the highest tier—including after-signup, cart abandonment, and broadcast texts.
Key features:
Unique targeting rules
Popups, flyouts, and similar content
Free email and chat support
Pricing:
Free Plan: $0 per month for email (add SMS from $10 per month)
Starter Plan: $30 per month for up to 2,000 email contacts (SMS can be added at additional cost)
Growth Plan: $45 per month for up to 500 SMS contacts and 3,000 text sends per month
4. SMS by MKP
SMS by MKP is an SMS marketing app developed for ecommerce brands. You can reach out to customers via personalized reminders or send bulk messages to large groups of contacts.
Like Santhe, SMS by MKP is priced by the number of SMS you want. But unlike Santhe, there are no free plans available. Even on the cheapest plan ($6.99 per month), you'll only have access to 30 SMS credits per month. If you want more than that, you'll need to upgrade.
Key features:
Submit booking reminders to individual customers
Send mass marketing campaigns via SMS
Get alerts for Site Owner Events
Pricing:
Hobby Plan: $6.99 per month for 30 SMS credits
Pro Plan: $16.99 per month for 100 SMS credits
Expert Plan: $34.99 per month for 300 SMS credits
Mogul Plan: $110.99 per month for 1,000 SMS credits
5. Carti Abandoned Cart Recovery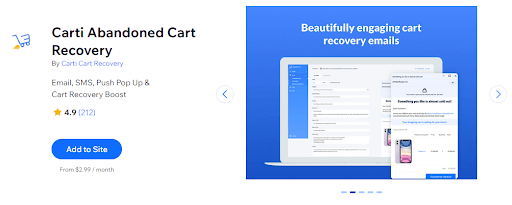 Carti is an abandoned cart recovery plugin that integrates directly with Wix stores. Although not strictly an SMS marketing tool, you can automate abandoned carts recovery and chase potential customers before they move on.
Carti's primary focus is abandoned cart recovery, which may limit your options for creating Wix SMS marketing campaigns. Each plan comes with a set of free SMS credits, although you'll have to pay separately for texts that breach the limit. Keep in mind that upgrading plans won't upgrade any SMS features—just the number of emails you can send per month.
Key features:
Unlimited email & SMS reminders
Unlimited SMS campaigns
Multichannel marketing options
Pricing:
Starter Plan: $0 per month for $0.5 in free SMS credits
Beginner Plan: $4.99 per month for $3 in free SMS credit
Advanced Plan: $9.99 per month for $5 in free SMS credit
Expert Plan: $19.99 per month for $8 in free SMS credit
How to use Omnisend's SMS marketing tools on Wix
We worked hard to make the Omnisend / Wix integration as simple as possible, so you can be up and running in no time.
Once your Wix store is successfully connected to Omnisend, you can immediately access SMS tools like:
SMS automation workflows for different audiences
List segmentation for SMS subscribers
Browser abandonment automations
Full reports of past campaigns
On our free forever tier, you'll only pay for the SMS messages you send each month, and we'll rollover unused SMS credits for one month.
How to integrate Omnisend to Wix
If you want to start SMS marketing on Wix and already have an Omnisend account, the process takes just four steps.
To start:
You need a Wix Premium Plan to use Omnisend on your site
You must connect a valid domain to your Wix site
If you have any questions about these items, we recommend getting in touch with Wix.
Otherwise, you can get started now by following these steps:
Register an Omnisend account under your plan of choice.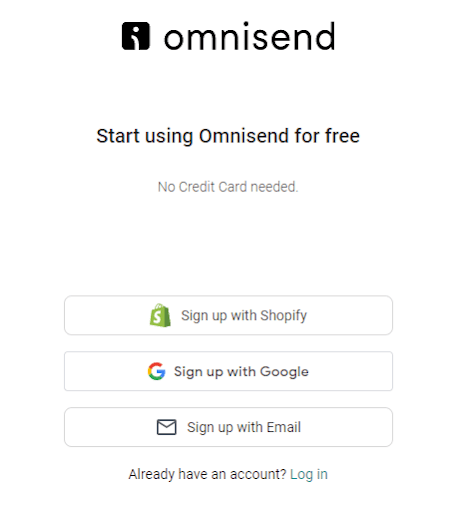 In your Omnisend Dashboard, click 'Connect Store' to open the store connection wizard.

Pick Wix the platform used by your online store.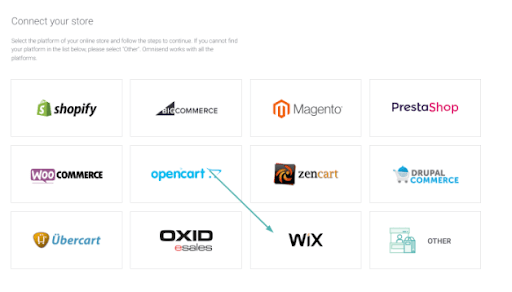 A three-step connection wizard will integrate the rest of your store.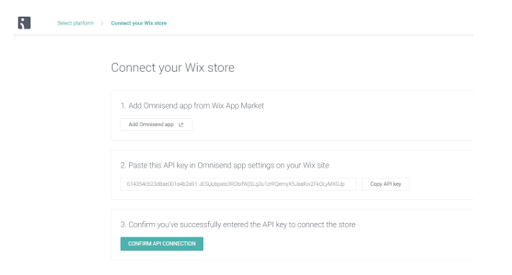 That's it! You're ready to start building SMS campaigns for Wix.
Set up your first Wix SMS marketing campaign with Omnisend
There are dozens of SMS tools on the Wix App Market—but none quite like ours. If you're one of the 80,000 brands trusting Omnisend with their SMS campaigns, you already know that we offer the SMS marketing Wix users need to succeed.
Don't have a plan yet? You can get started in minutes. Sign up online, connect your Wix domain(s), and start building Wix SMS automation workflows that engage and delight your buyers.
Register with Omnisend to build your first Wix SMS campaign.
related features
Want more sales?
Omnisend has everything you need to succeed.
Start free now
No Credit Card needed.