Drive sales on autopilot with ecommerce-focused features
See Features
Reading Time:
7
minutes
Email automations for ecommerce businesses are no longer an optional luxury. Offering a 451% increase in qualified leads and a conversion rate of 33.2%, custom workflows are an undeniable revenue-boosting powerhouse.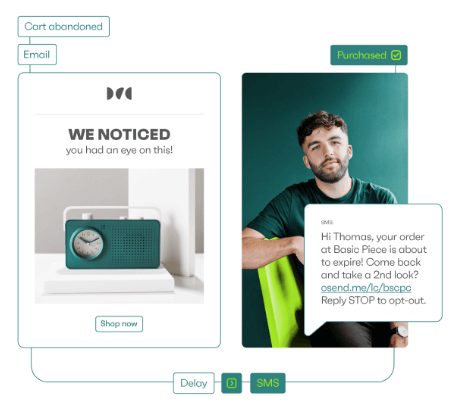 And if you manage a business on Wix.com, you need them more than ever.
Wix offers some basic email automation tools to get your business started. However, they're nowhere near robust enough to sustain your business as it grows.
Thankfully, you can connect with third-party apps to get the job done right. While some of them are required paid plans, tools like Omnisend let you get started for free — it just takes 15 minutes to connect your accounts.
Here's everything you need to know about sending Wix automated emails in 2023, including its native autoresponder, four suggested apps, and a step-by-step guide for integrating with Omnisend.
Let's dive in.
Connect your Wix account to Omnisend's automations platform today
Start Free Today
Does Wix have a native email autoresponder?
Wix does provide a native email autoresponder tool. You can automatically send emails according to certain triggers and personalize the info included (like names, prices, dates, etc.).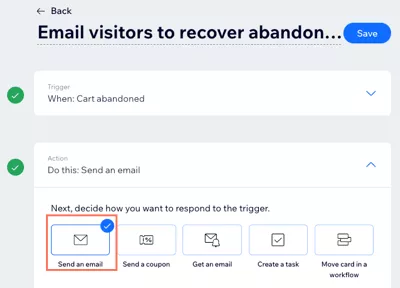 You can find the native email autoresponder tool under the 'Automations' section of your Wix dashboard. Once there, you can edit existing automations, create your own, or customize the body of the email before it goes live. Just keep in mind you're limited to only two automations unless you upgrade to a paid Ascend plan (more on this later).
Unfortunately, native Wix automations won't provide many customization options for your emails. Even if you do upgrade to a paid plan, you can only edit:
Dynamic values (names, order numbers, etc.)
Content type (email or coupon)
Pictures and text
And no matter how much you pay, the Wix autoresponder can't:
Send automated emails from multiple addresses
Create workflows with branching paths
Build automations with segmentation rules
Even some Wix alternatives provide more customization options than this.
Luckily, these bare-bones native features aren't the only way to send automated emails through Wix. There are several third-party Wix apps available to choose from — including the four below.
What email platforms work with Wix?
Omnisend, Wix Ascend, Privy, and Klaviyo are four major email platforms that integrate with Wix. Each provide various features and tools, and come with different costs depending on the tier.
Let's walk through each of these in greater detail, beginning with the highest rated:
1. Omnisend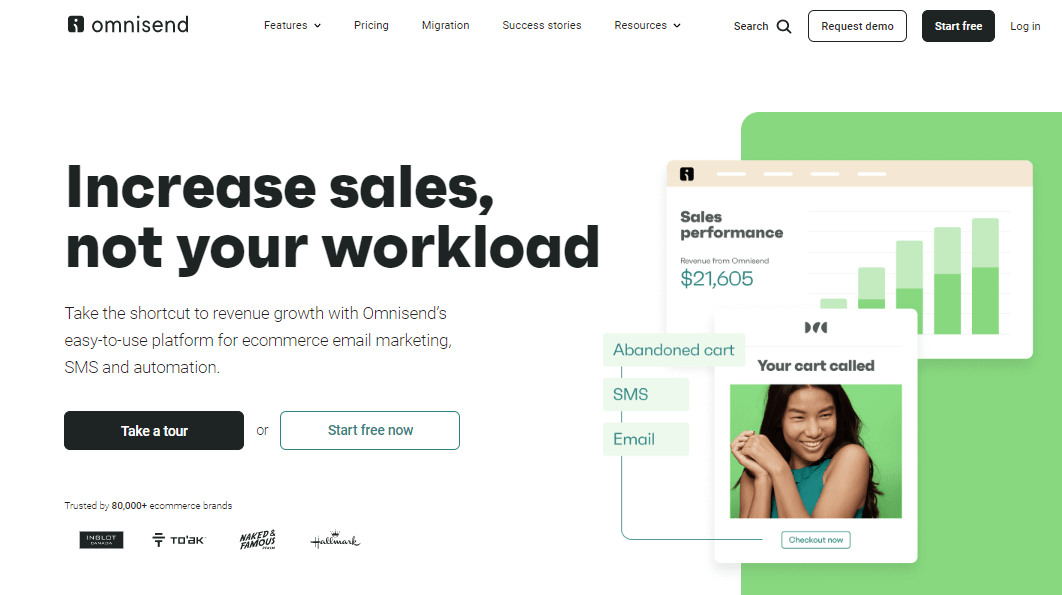 Omnisend is an omnichannel marketing platform that automates email, SMS, and web push notifications. The native integration with Wix allows you to get up and running in minutes, and customize complete workflows with automated checkout reminders, cross-sells, and reactivation emails.
It offers two Wix integrations depending on your needs:
The primary plugin, email marketing and SMS, allows you to automate email campaigns with branching workflows. The secondary plugin (booking emails) was designed to send appointment reminders and save-the-dates for service-based businesses
Omnisend provides robust email automation features on each plan, including workflows for:
Wix order confirmation emails
There are two ways to create automated emails for Wix: pre-built workflows, or customized templates. We offer a comprehensive library with ready-to-go workflows, as well as automated splits and A/B testing so you can see what works and what doesn't.
Plus, Omnisend is connected to 135+ other tools in the App Market. Apart from Wix, you're welcome to connect your store with Facebook, Gorgias, and even Zapier. This lets you automate emails with even more granularity — all without needing to learn a single line of code.
Omnisend's automated emails are just the beginning. With the addition of 60 SMS and up to 500 web push notifications, you can use the free Omnisend plugin to instantly create an omnichannel marketing strategy on Wix.
And yes, we said free — you never have to pay a dime to get started with Omnisend. The free tier is free forever, and unlocks 500 automated emails per month for up to 250 contacts.
Check out the pricing page for more information.
Get started with Omnisend today to send automated emails for free
Start Free Today
2. Wix Ascend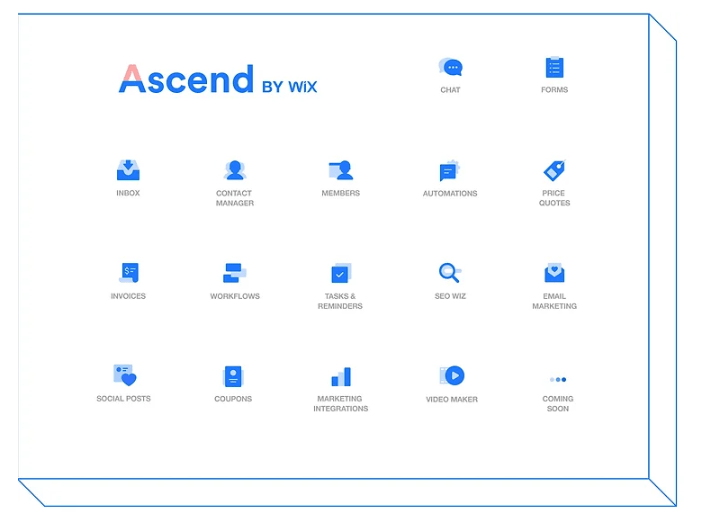 Ascend by Wix is a set of business tools purchased separately from your Wix Website or Business Premium account. While your website comes with the free plan of Ascend, you can only have two active automations (with one trigger action) without upgrading to a paid plan.
Speaking of which, there are three paid plans to choose from:
Ascend Basic: Starts at $10 per month for 9,5000 emails and seven automations (two follow-up actions per automation)
Ascend Professional: Starts at $24 per month for 50,000 emails and 20 automations (10 follow-up actions per automation)
Ascend Unlimited: Starts at $49 per month for unlimited emails and unlimited automations (10 follow-up actions per automation)
Wix also provides a library of suggested automation templates. However, as mentioned earlier, these are far less customizable than other tools on the market.
To summarize: Wix's tools are limited at best, especially when it comes to customization. You may be forced to pay for features you don't need, which will keep you from affording the tools you really want.
3. Privy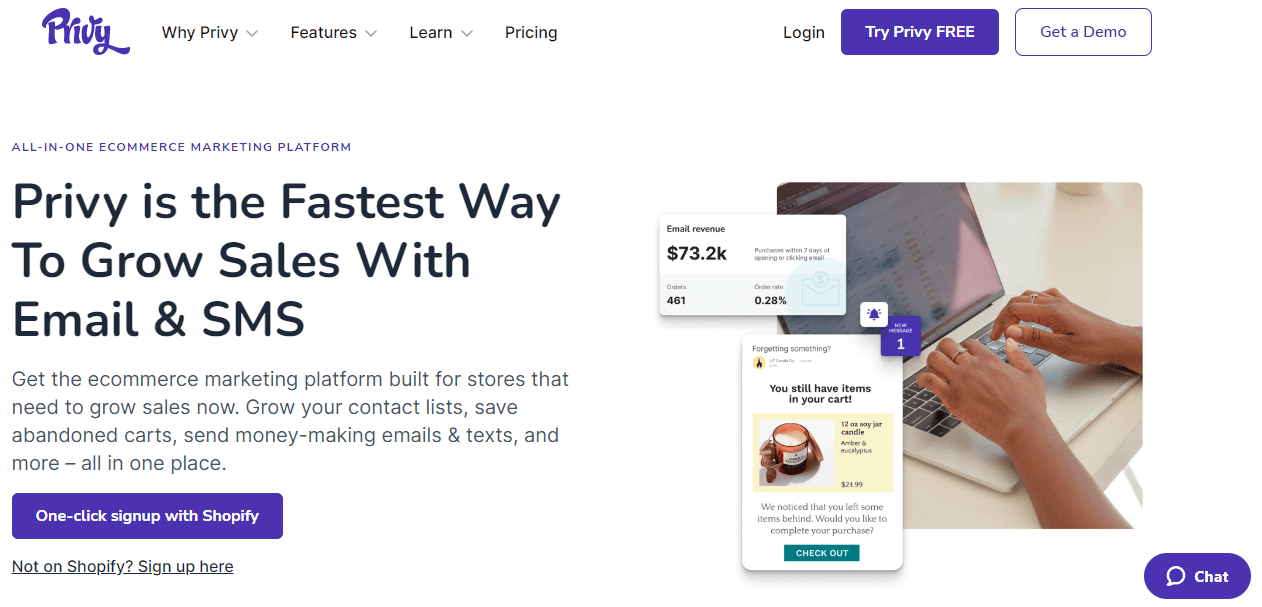 Privy is an email marketing, pop-up, and SMS automation company that focuses primarily on Shopify stores. The third party app is ranked 4.1 stars out of 21 reviews, and is currently available in French, English, Spanish, and Portuguese.
There are four email automations available on the basic plan:
Stand-alone newsletters
Abandoned cart emails
Win-back emails
Purchase follow-up automations
These automations are not available on Privy's free tier. Plus, the free plan only lets you send emails to a max of 100 contacts. If you want to build more emails or reach more customers, you'll have to upgrade to the next tier.
Privy's second plan ($15 per month) unlocks access to email automations. However, you can only have up to three automations active at one time. Since you can't access SMS automations if your business decides to scale, this plan may not be worth your time.
Privy's most expensive plan starts at $45 for 3,000 email contacts and 500 textable contacts. It may be the most cost-effective up-front, but the loss of utility from customization may not be worth the slim savings. For example, you can't access 24/7 support if things go wrong, leaving you and your team in the dark.
Simply put, Privy doesn't provide much more than just email and SMS. If you wanted to extend your automations to other channels, including web push notifications or Google & Facebook custom audiences, you'd have to migrate elsewhere.
If you decide Privy isn't the right fit for your email automations, you can port all your data to Omnisend through the upcoming Privy Data Import Tool.
4. Klaviyo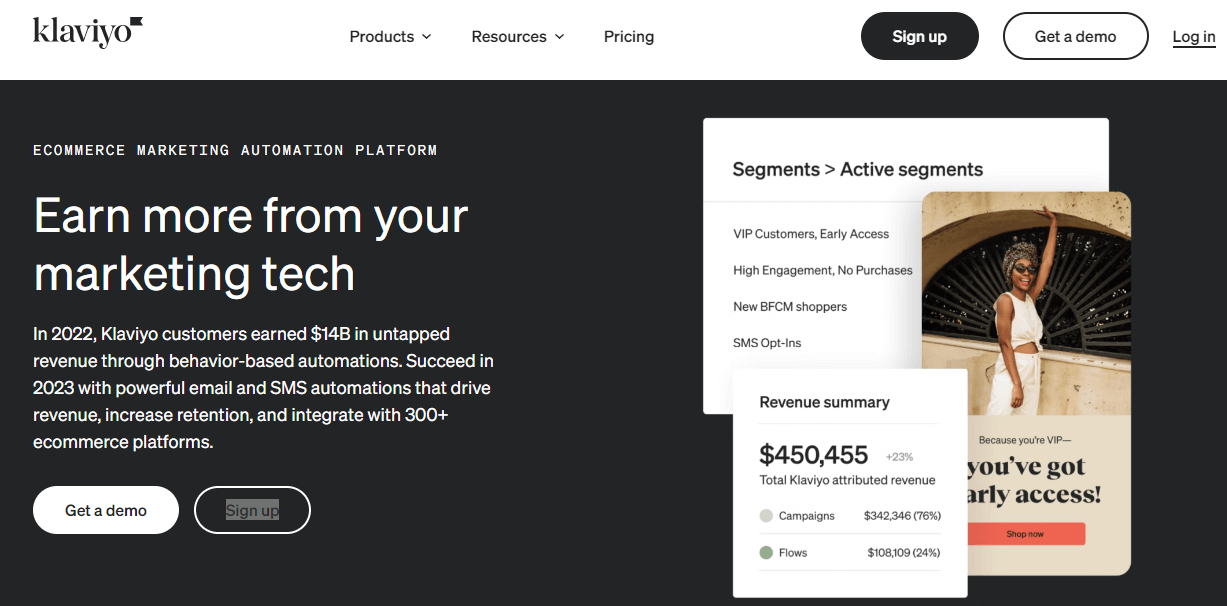 Klaviyo is another email automations platform that offers two separate plans:
Every Klaviyo plan comes with a set number of emails, contacts, and automation workflows. You can create birthday sequences with personalized information, set up abandoned cart campaigns, and trigger emails for new subscribers who join your storefront's newsletter.
The basic Klaviyo plan is free, and supports 0-250 contacts and 500 monthly emails. However, unlike Omnisend, the app doesn't support bookings or appointment reminders for events.
Klaviyo's plans for email automation are also some of the most expensive in the industry. For example, it costs $45 per month to send 15,000 emails through Klaviyo. With Omnisend, the price is just $25 per month for 18,000 emails — 44% less for 120% more.
Don't like what Klaviyo offers? Like Privy, you can use the Klaviyo Data Import Tool to push your contacts to Omnisend.
How to use Omnisend email automation with Wix
Whether you're already using Omnisend or just considering your options, you should know that our platform has one of the quickest and simplest connections to Wix on this list — it takes just four steps to get started.
Just make sure you have everything you need before getting started:
A Wix Premium Plan
A connected domain
Wix Bookings (for Omnisend Booking Emails & SMS)
Now you're ready to connect your Omnisend account to Wix.
How to integrate Omnisend to Wix
You can start sending automated emails to Wix in just 15 minutes:
1. If you haven't already, register for an Omnisend account and pick a plan that works for you.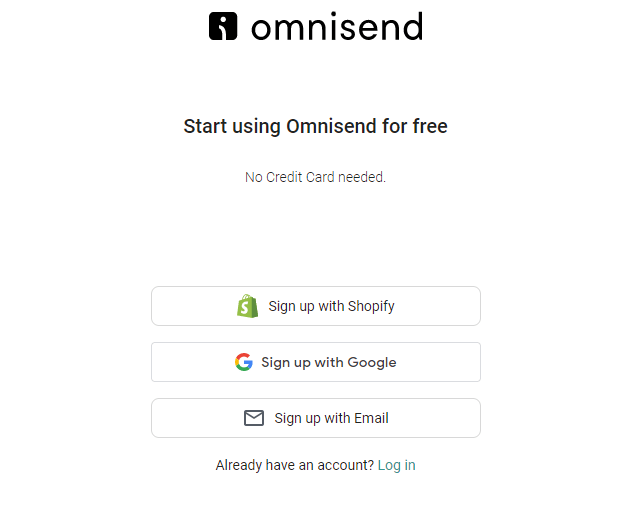 2. Navigate to your Omnisend Dashboard and click 'Connect Store.'

This will open the Wix store connection wizard
3. Pick Wix as a platform for your online store.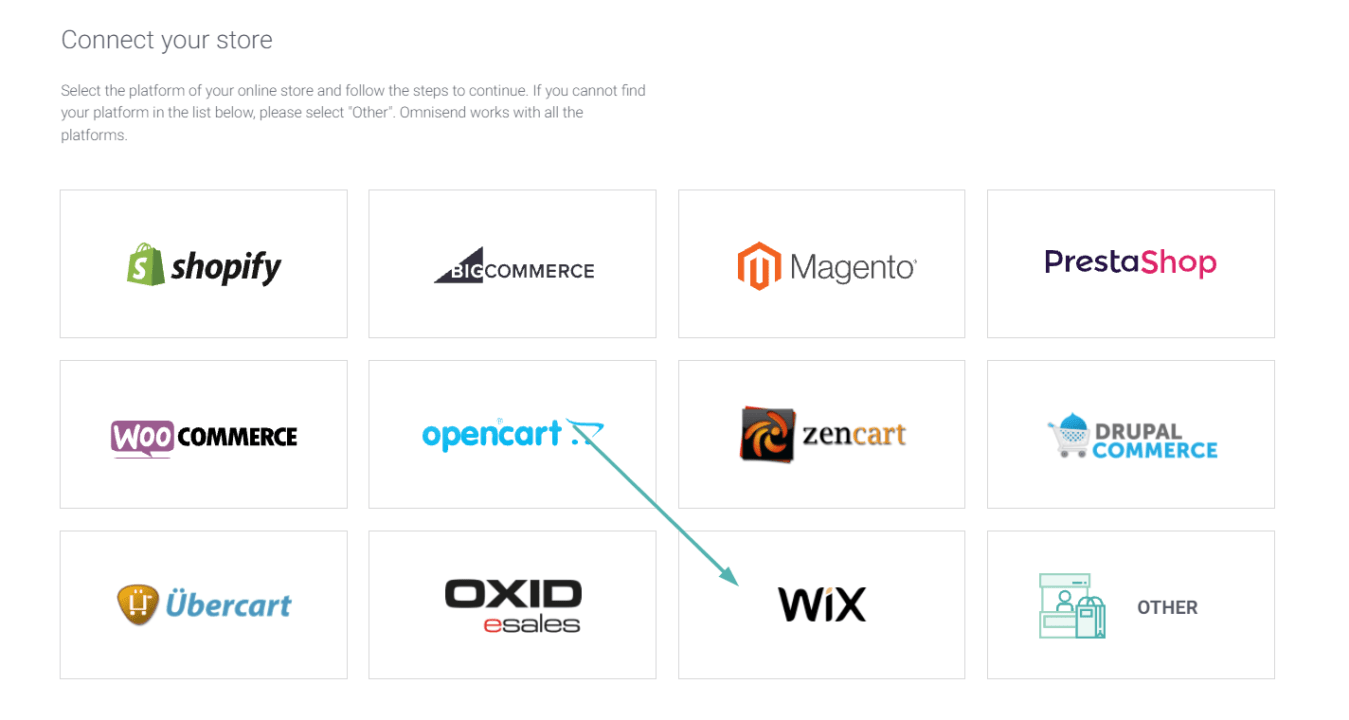 You can always add more stores later on.
4. The Wix Connection Wizard will task you with three final steps: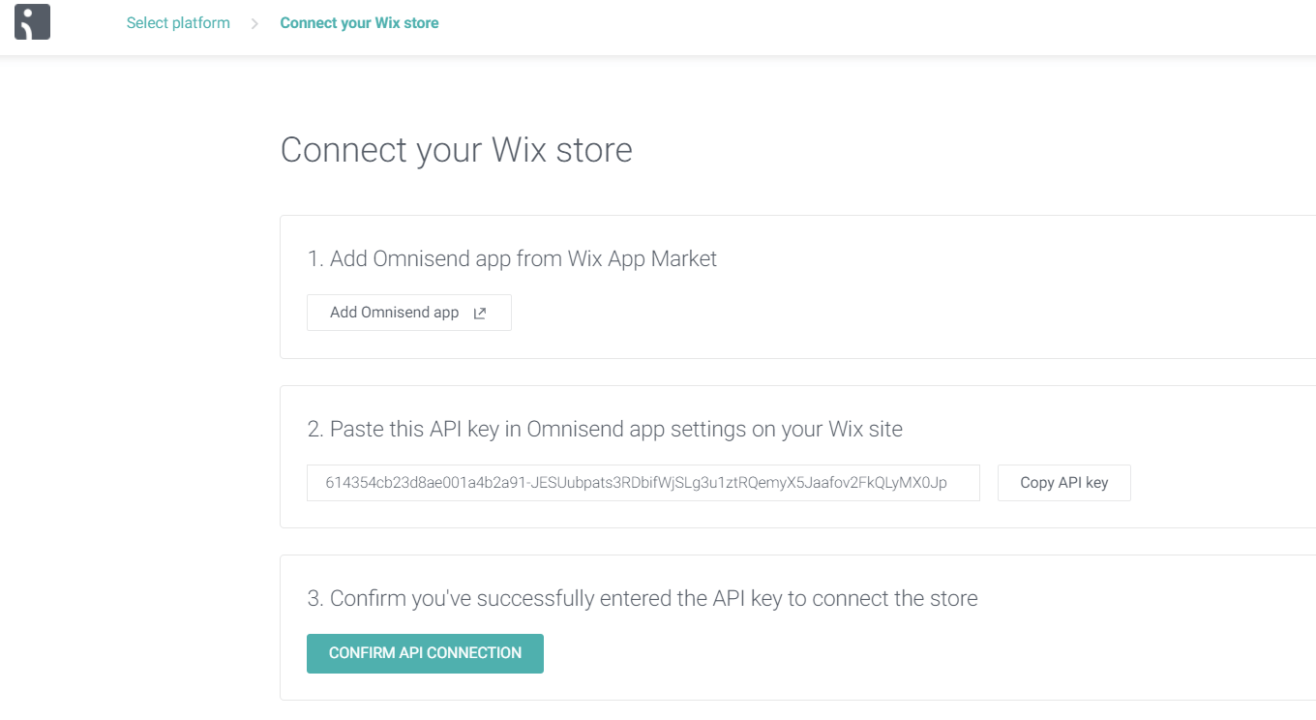 For help navigating any of these steps, don't hesitate to contact us at [email protected].
Send your first Wix automations through Omnisend today
Whether you're a brand-new company or an established enterprise, Omnisend offers all the tools you need to send automated emails through a direct Wix integration. Welcome new customers to your brand, keep them informed with new deals and suggestions, and sprinkle in delight with custom discounts just for them.
Start using email automations Wix stores can't do without. Sign up for a free trial with Omnisend today — no credit card required.
Use Omnisend to build your first automated email campaign for Wix
Start Free Today
related features
Want more sales?
Omnisend has everything you need to succeed.
Start free now
No Credit Card needed.