Drive sales on autopilot with ecommerce-focused features
See Features
Reading Time:
10
minutes
When the time comes to sell your products online, ecommerce players have more options than ever. From specialized ecommerce services to ecommerce website builders, online merchants have many options.
The ecommerce space continues to evolve with the advent of new tech solutions and tools. Consequently, it has made it possible for small and medium-sized businesses to drive more innovation, provide added value, and maintain close competition in the market.
In fact, every time there is a new trend or practice in ecommerce, Wix vs WooCommerce discourse kicks off. It is never too late to dive into a detailed comparison to settle WooCommerce vs Wix discourse.
Keeping that in mind, let's touch on the security standards, customer support, pricing, flexibility, compatibility, marketing features, website builder features, third-party integrations, and themes and templates of Wix and WooCommerce.
Boost your WooCommerce store's revenue by up to 85% using our email marketing plugin.
LEARN THE SECRET NOW
Wix vs WooCommerce
Primarily, Wix functions as a website hosting and builder that you can use to create your ecommerce website. Unlike alternative website building and hosting solutions, installing the Wix App from the store is easy. On the flip side, WooCommerce is arguably the most famous ecommerce plugin that you can use as a foundation to run a wide range of ecommerce sites.
To get back to the WooCommerce vs Wix discussion, WooCommerce has the lead over Wix. It is a more expansive ecommerce plugin than Wix. For instance, WooCommerce has over 55,000 plugins and has had up to 211 million downloads.
WooCommerce has one of the biggest online communities. In addition, over 3.8 million live sites use WooCommerce. To give you the extent of the WooCommerce community, 1 out of 5 sites are built on WP using the WooCommerce plugin.
In terms of content management, Wix has a 3.4% market share and stands as the third most famous site-building platform after Shopify and WordPress. Conversely, WooCommerce has over 23.43% of the market share. In fact, it is close to Squarespace, which holds a market share of 23.51%.
WooCommerce is more advanced and compact than Wix and requires basic coding skills.
In fact, if you're familiar with coding, you can make the most out of WooCommerce and get high flexibility. On the other hand, Wix is a more simplified solution with built-in security, pre-designed templates, and in-platform features.
An in-depth comparison between Wix and WooCommerce
Pricing
WooCommerce
| | | | |
| --- | --- | --- | --- |
| | Essential or Nice-to-Have | Pricing Range (Low) | Pricing Range (High) |
| Hosting | Essential | $6.95/month | $12.95 monthly |
| Domain Name | Essential | $15 annually | $15 annually |
| Theme | Essential | Free WooCommerce theme | $35 to $129 theme |
| Extensions | Essential | Transaction fees based on sales volume | Transaction fees based on sales volume |
| Plugins | Nice-to-have | Free | $100-$150 annually |
| Security | Essential | $10 annually | $150-$450 annually |
| Developer Fees | Nice-to-have | Free | $1,000 to $6,000 |
Wix
Wix offers users a 14-day trial on their ecommerce and business packages. You can also try a free plan with limited features. While both options offer annual and monthly plan packages, Wix offers more flexible pricing than WooCommerce.
When it comes to Wix pricing and WooCommerce pricing, the main takeaway is that Wix is easier and cheaper than WooCommerce. After all, the expenses to hire an experienced and professional developer can spiral out of control.
You can save as much as 25% a year by signing up for the annual subscription plan. Wix is ideal for beginners who want to dive into simple integrated features and can even get a refund. But both Wix plans and WooCommerce plans are layered and innovative in their own right.
Ease of use
WooCommerce
Since WooCommerce involves a self-hosted process, it can be challenging to get started for beginners. In fact, WooCommerce is relatively more complex than most ecommerce platforms.
After installation and activation of the WooCommerce marketing plugin, you'll be directed to a setup guide. At this stage, you have to configure basic settings. This is the part that baffles new users. The good news is that there are comprehensive tutorials for beginners to set up their WooCommerce successfully.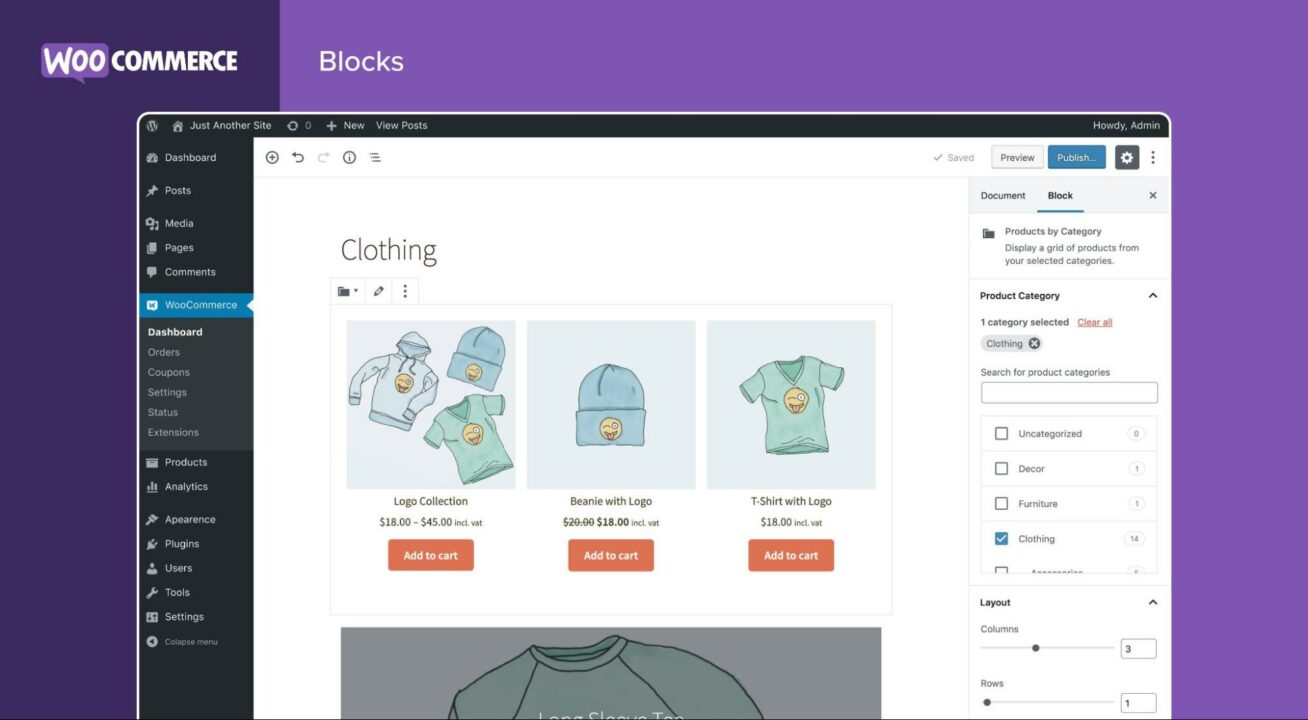 Once you activate the plugin, you'll find the use cases of WooCommerce straightforward. It can integrate with third-party dashboards seamlessly and features a navigation menu.
You can categorize WooCommerce in terms of analytics, products, and marketing. These aspects make navigation possible and allow users to leverage different use cases.
Wix
On Wix, getting started is easier and simpler than WooCommerce. All you need is an active email address to create a new password and sign up for one of the offered plans.
To get started, new users simply need to answer a few questions at signup time. The questions are straightforward and typically revolve around the site name, website type, domain purchase, site goal, listed apps, etc.
You can also set up Wix via the site's front end that utilizes artificial design intelligence or the ADI tool. It also involves a straightforward process where users input their information like business name and address. You choose a suitable theme with specific fonts and colors; select a template logo and pages you want to add to a selected template.
Coming back to Wix vs WooCommerce discourse, you can choose Wix for added convenience. However, WooCommerce fairs better for its in-depth features and functionality. Wix involves a simple drag-and-drop feature that makes designing sites incredibly easier.
Website builder features
Wix
Wix ADI
One of Wix's most intuitive and streamlined website-building features is Wix ADI. Users just need to answer a couple of questions. Next, WIX ADI will do its magic and automatically design a beautiful site for you.
Wix Editor
The main website builder feature of Wix is Wix Editor. It allows users to select from more than 500 templates designed for Wix. Moreover, these attractive templates are designed by professional graphic designers. Wix Editor makes drag-and-drop site building more innovative and allows you to site a site faster and with more care.
Velo by Wix
Wix also features an open-development solution to create advanced site applications. The best part is that it requires basic coding and serverless computing to gain more control over design. With Wix Velo, you can create, manage, and execute your website project efficiently.
What else?
Some of Wix's newest site-building features involve SEO-supported capabilities and tools. The site-building platform allows users to build a robust community-driven site through the Member's Area.
WooCommerce
Many online merchants now use the WooCommerce plugin to personalize their ecommerce stores and get a great customer experience and satisfaction.
After setting up WooCommerce, it is normal to get caught up in the complexity of features. Whether it's homepage design, site structure, shipping options, payment processing, or menus, focus on the key elements you want to build for your site.
Some of the top-tier site-building features of WooCommere allow you to manage orders in real-time and offer heightened security and flexibility on payments.
Marketing features
When it comes to Wix vs WooCommerce, both options offer solid marketing features. For instance, Wix features built-in email automations and newsletter promotions. WooCommerce also offers marketing features that allow users to apply discount codes on specific products. Once you install the Wix app from the store, you can leverage a combination of marketing features like:
Live chat
Create promotional videos
Offer discount coupons
Sell digital and physical products
WooCommerce offers automated marketing and promotional features on the exact same pages as the chosen product. It is one of the most effective ways to influence customers to make a specific product choice. Using WooCommerce, you can roll out coupons and special promotions.
The hallmark aspect of WooCommerce is that it can integrate basic functionality and features into a WP-based site. From then on, you can add more marketing features. On WooCommerce, you can get sales reporting by product, category, date, and guest vs. registered customers. WooCommerce supports subscription sites, membership sites, B2B eCommerce, and B2C eCommerce.
Whether it's SMS marketing, email marketing, confirmation emails, or follow-up emails, users can use WooCommerce to execute personalized campaigns and reduce their cart abandonment rate.
Themes and templates (customizations)
WooCommerce
WooCommerce has a competitive edge over Wix when it comes to customizable themes and templates. You can select from over 1,000 themes straight from the WordPress library. It is the most effective way to expand your WP ecosystem and try thousands of free and premium themes.

On the downside, there is a limitation on WooCommerce as to how many times you can customize a theme. But a lot depends on the developer and how he sees the design fit. Developers with CSS and HTML knowledge can customize themes with utmost precision.
Whether it's menu navigation, fonts, homepage, logo design, or colors, all these elements are customizable via the live editor. You can also preview the custom modifications before publishing.
Wix
Wix has solid site-building tools to make websites look attractive and stylish. It features more than 500 design templates.
The site-building and hosting platform has an exclusive collection of customizable Wix themes and templates that make things more exciting for new online retailers. But WooCommerce templates and WooCommerce themes are more expansive and highly customizable.
On Wix, once you set up your online store, you cannot switch to another theme. If you want to switch to a different theme, you will have to create a new website and transfer the site plan, which is time-consuming. Using Wix Editor, you can, however, optimize a specific theme or template to look more attractive. Wix Editor also gives users control over how the site feels and looks.
Depending on the theme or template, Wix allows users to remove, rearrange, or add sections. You can also customize various types of pages, change font and colors, and make layout changes with the drag-and-drop option.
WooCommerce has a more diverse and extensive collection of themes and templates than Wix. Still, Wix is designed to be a safer and more straightforward option for beginner users. But WooCommerce's configuration and design features are unprecedented.
Payment processing features
In the tech-driven and digital age, ecommerce payment processing has become easier and more secure. Wix allows you to integrate famous payment processors like PayPal, 2CheckOut, Square, Stripe, Braintree, Moolah, WorldPay, etc.

More payment processing options mean more freedom to shop and avoid overpaying. WooCommerce also supports integration with top-tier payment providers like Braintree, PayPal, Elavon, First Data, and Stripe. Additionally, WooCommerce integrates with Authorize.Net, which allows you to integrate many payment processors. It is an excellent option to integrate a specific payment processor and tap into its particular features.
Third-party integrations
The Wix app store allows users to link their site to third-party widgets and applications. Wix doesn't have a broad supporting ecosystem like how WooCommerce pairs with WordPress (find more info on our blog post WordPress vs Wix).
Still, you can integrate over 250 available Wix apps. When developing a site, focus on the most valuable tools and make integrations to help you design and build an optimized and attractive site. Most developers prefer to leverage the WooCommerce app store to get the best WooCommerce plugins.
Wix also features an integrated ecommerce online store where you can create a comprehensive business plan. Contrary to what you may have heard, many elements of a Wix store are open to customization. In hindsight, both WooCommerce and Wix support diverse integration and feature attractive themes and templates.
Whether it's products, cataloging, galleries, photos, or product pages, both Wix and WooCommerce allow users to integrate apps that can bring in more options to change colors, shapes, sizes, and other factors.
Security
One of the highlights of WooCommerce is that it makes security updates to fix bugs and runs maintenance regularly. However, new updates mean users have to upgrade their WooCommerce site. In fact, WooCommerce rolls out new updates a few times a year.
But if you have extensive WooCommerce hosting, you can count on the host to install relevant updates. But most plugin developers prefer to update rather than rely on the hosting option. Failure to make WooCommerce updates exposes you to the risk of conflicting with your tools which can potentially damage your website output. So, regularly test WooCommerce plugins and themes. Besides, the last thing you want is to be left behind.
On the other hand, the Wix platform doesn't force users to install new updates one or more times a year. Instead, users won't even have the idea at the time of updates. And that's because Wix executes updates automatically without users' direct contact.
In the grand scheme of things, Wix involves less security maintenance than WooCommerce. But since WooCommerce features expansive themes and templates, it makes sense why it focuses on direct updates. But if you believe in overshadow updates, Wix is more suitable and runs in-house and automated cybersecurity maintenance updates. However, if you decide to update the WooCommerce site, it may impact the compatibility of a plugin.
Customer support
Wix support has a significant edge over WooCommerce support. Customer support is the main factor that makes ecommerce solutions so popular. With proper customer support, new users can onboard smoothly, set up successfully, and easily try out new features, plugins, and themes.
Since WooCommerce is open-source, customer support is difficult. Ideally, people get an experienced developer to install, build, or make site changes without diving into complex technical details. Sure, there are online guides and community forums for advanced users of the platform. But most user base of WooCommerce is highly broad and expects dedicated support.
Unfortunately, WooCommerce customer support is almost non-existent. Most users ask questions on WordPress community forums to get WooCommerce customer support. However, it takes time before someone leaves a constructive response.
Wix offers problem-solving and efficient customer support. The platform uses intuitive videos, articles, and forums to raise awareness about how to set up and use Wix features and tools. Wix's support system has helped many people save valuable time and energy. Since Wix involves a self-designed site, the site is bound to run into problems. Wix offers customer support via email, phone, and live chat. Between WooCommerce and Wix, the latter offers seamless customer support and assistance.
Wrap up
Since there is a diverse range of ecommerce solutions available, it often overwhelms online retailers to make the right call. But in terms of popularity and practicality, you'll always see changing trends and practices around WooCommerce vs Wix.
So, which option is better? Well, WooCommerce is a much broader adoption and requires basic coding proficiency. Wix is a better choice if you want to build a new site for your online store and speed up the learning curve.
The integrated features on Wix are more simplified and innovative than WooCommerce. But if you don't mind navigating technical aspects and value security, then WooCommerce is a more suitable option. In retrospect, both solutions have their own benefits and limitations.
related features
Want more sales?
Omnisend has everything you need to succeed.
Start free now
No Credit Card needed.