Drive sales on autopilot with ecommerce-focused features
See Features
Reading Time:
5
minutes
If you've ever watched anything on YouTube (seriously, anything), you should know what Wix is. Legend has it that some people even play Wix ads to wake up their siblings in the morning.
But what others may not know is that Wix is more than just a professional website builder—the platform also has an email marketing tool called Ascend by Wix.
In this article, we'll take a closer look at Wix email pricing, so you can choose the plan that best suits your needs.
Why are people interested in the Wix email marketing tool?
Wix Email Marketing is an add-on to any Wix website. If you've used Wix to build your site, you'll be naturally drawn to Ascend because Wix pushes it a lot.
NOTE: Did you use another platform to build your website? Then Ascend by Wix won't work for your email campaigns. Check this list of the top email marketing tools to find an alternative.
Wix email services are appealing for their simplicity. You can start your first newsletter with just a few clicks! You also get pointers on what to write and where to place your call-to-actions for maximum impact.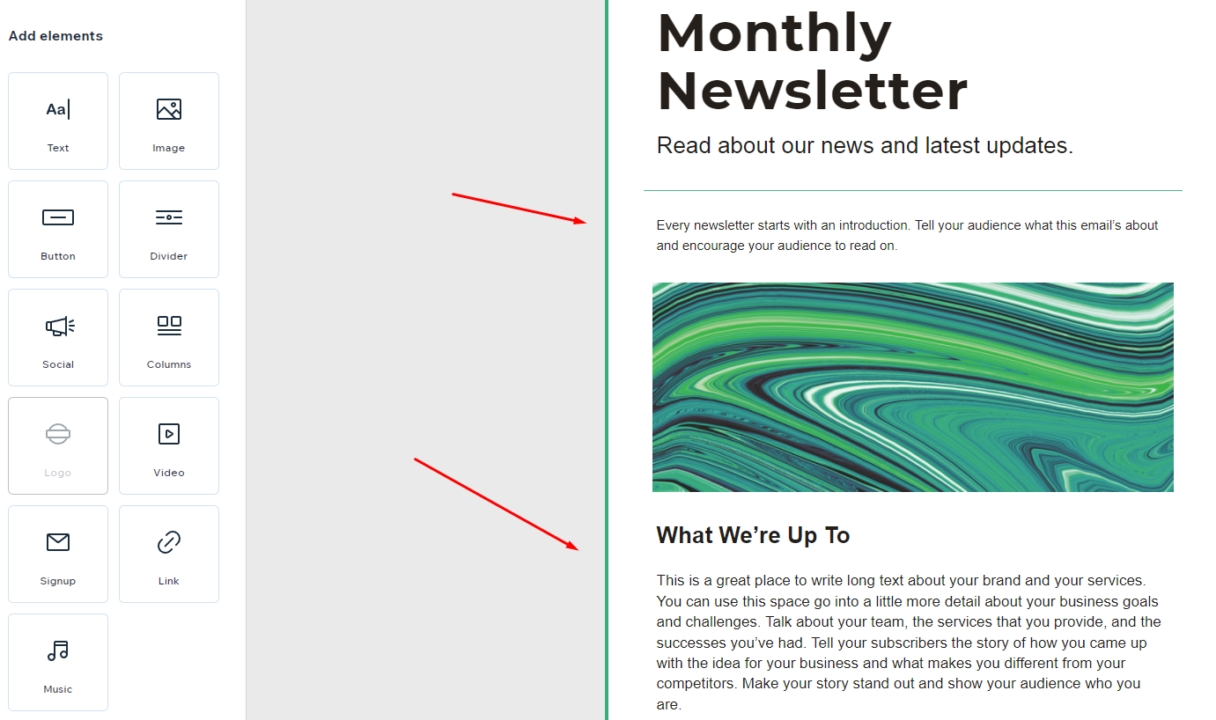 Plus, Ascend by Wix covers more than just email—it's a marketing bundle that includes tools for your Wix store like SEO, social media, and ad campaigns.

This multichannel approach is what makes Ascend by Wix so attractive to small business owners who always have one thing too many on their hands—the last thing they need is to juggle multiple platforms.
Get started with Omnisend today & drive sales on autopilot with pre-built automation workflows
Start free
What's the logic behind Wix email pricing?
Every Wix account comes with a pre-installed Ascend by Wix add-on. It's a free, limited version of the marketing bundle.
Once you're ready to upgrade your account, Wix offers three email pricing plans:
Basic
Professional
Unlimited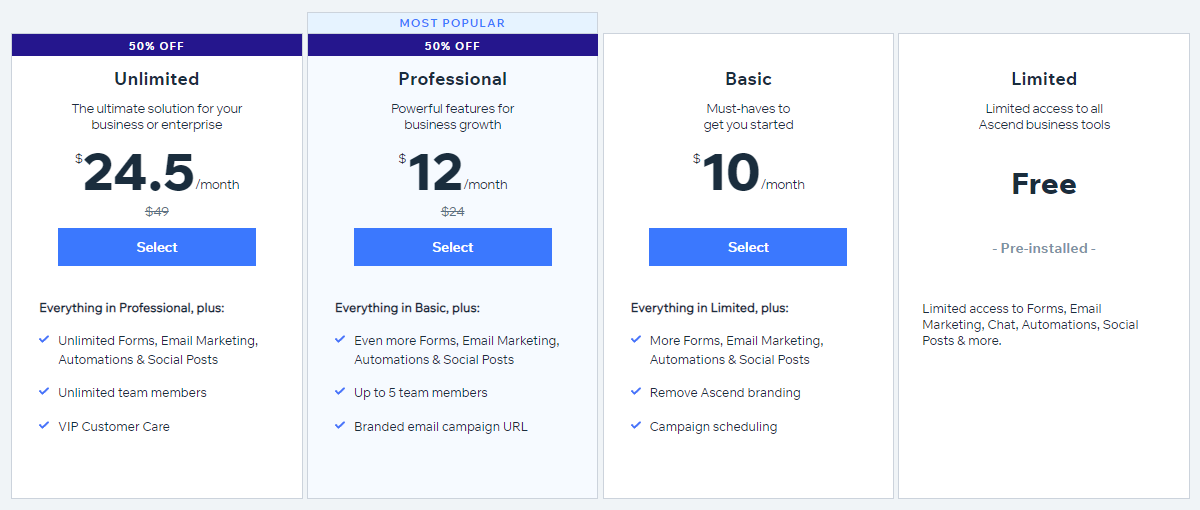 NOTE: Be aware that the prices in bold apply for annual plans. If you want to pay $12/month for the Professional plan, you'll have to pay the total amount upfront ($12×12), which, at the moment of writing, amounts to $144.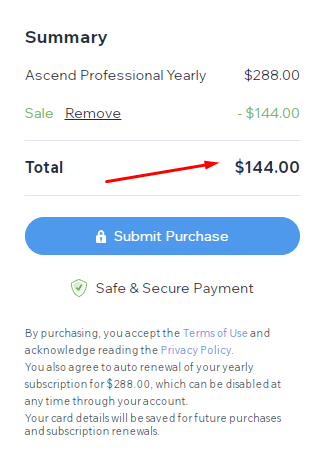 The whole logic of Wix email pricing lies in getting long-term customers: the more you're willing to pay upfront, the cheaper Wix email plans will cost you.
What Ascend by Wix offers for each plan
Let's see what you get from Ascend's email marketing as the price increases.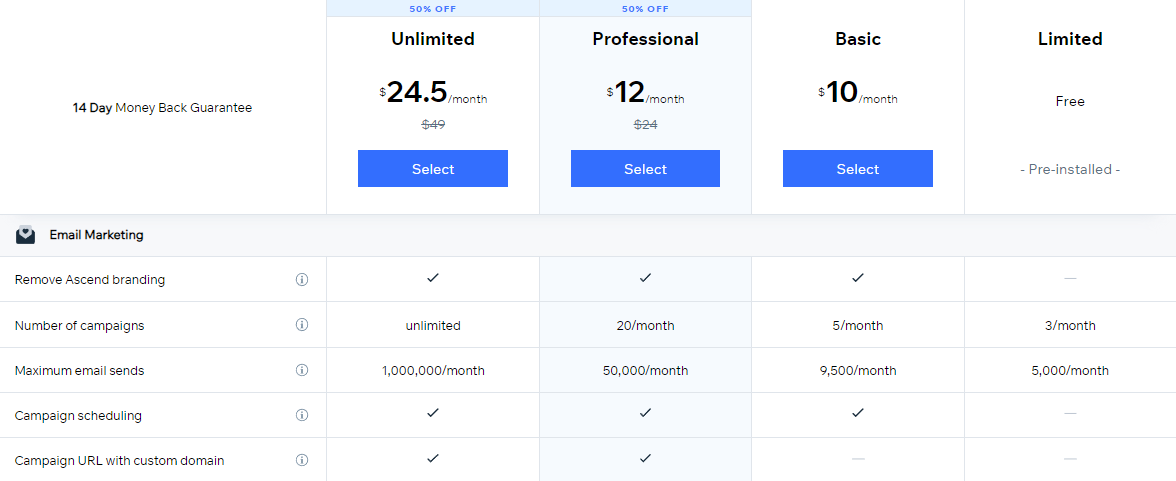 Limited plan (Free)
Create 3 marketing campaigns per month
Send 5,000 emails per month
Basic plan ($10/month)
Create 5 marketing campaigns per month
Send 9,500 emails per month
Remove Ascend's branding from the footer of your email campaigns
Schedule email campaigns
Professional plan ($12/month)*
Create 20 marketing campaigns per month
Send 50,000 emails per month
Remove Ascend's branding from the footer of your email campaigns
Schedule email campaigns
Create campaign URLs that are connected to your custom domain
Unlimited plan ($24.5/month)*
Create as many marketing campaigns per month as you need
Send 1,000,000 emails per month
Remove Ascend's branding from the footer of your email campaigns
Schedule email campaigns
Create campaign URLs that are connected to your custom domain
*For a yearly subscription

A basic Ascend by Wix plan should do if you're just starting out with your side business. Once you need to send more than three mail campaigns per month, upgrade to a professional or unlimited plan.
How is Wix pricing different from other popular email marketing tools?
Just because you used Wix to build your store, it doesn't necessarily mean that you have to use its email marketing services too. Let's see which platform can give you the best value for money.
Ascend by Wix vs. Mailchimp
Ascend's Basic plan costs $10/month if you pay for a whole year in advance (it goes down to $9/month if you pay for two years upfront). Mailchimp's cheapest plan (Essential) starts at $9.99/month too.
But here's the main difference—Ascend charges you a flat rate, while Mailchimp offers contact-based pricing, which means that Mailchimp gets more expensive as your mailing list grows.
Both tools are great for beginners due to their simplicity and ease of use, and they have decent customer support. However, if you're looking for something a little more advanced, Mailchimp might be a better choice since it offers more features. For instance, you can create drip campaigns based on your subscribers' engagement with your emails.
Check out the best Mailchimp alternatives for your ecommerce business Here
Ascend by Wix vs. Omnisend
Just like Mailchimp, Omnisend bases its pricing on your number of subscribers. The free version already lets you reach up to 250 contacts and includes SMS, web push, and literally all of its features without limitations. The standard paid plan starts at $16/month and offers perks like 24/7 Chat and Live Support.
The main reason to consider Omnisend is that it was specifically built for ecommerce. This email marketing platform has neat tools such as a product picker that lets you pull products directly from your store and use them in your email campaigns.
You can also offer smart product recommendations based on your customers' browsing history and automatically integrate discount codes into your campaigns. None of this is possible with Ascend or Mailchimp.
Ascend by Wix vs. Active Campaign
Lastly, if you work for a big enterprise with large budgets, you may consider using Active Campaign. This email marketing tool is heavily feature-packed, but its more complex interface puts some people off.
However, once you learn to filter through the things you don't need, Active Campaign will serve you as a powerful workhorse. If your mailing list is up to 500 contacts, the cheapest Active Campaign plan, Lite, costs $9/month, paid yearly.
Wrapping up
So, which Ascend by Wix email pricing plan should you choose? Should you get one at all?
First, play around with the free version—after all, it's already pre-installed on your Wix account. Once you get used to the interface, a Basic plan should be enough if you've never created an email campaign in your life.
However, as your business grows, it may be a good idea to opt for a more robust email marketing provider. If you want to excel at ecommerce, Omnisend might be the best choice for you—the platform will make your email campaigns extra smart. Plus, it covers all the marketing bases for online business owners.
Best of all, you can get started for free!
related features
Want more sales?
Omnisend has everything you need to succeed.
Start free now
No Credit Card needed.