Drive sales on autopilot with ecommerce-focused features
See Features
Best Wix marketing tools for 2023
Reading Time:
9
minutes
Many online retailers see Wix as one of the best platforms for ecommerce businesses.
In the competitive ecommerce space, if you want to generate more leads and increase sales, you can use solid built-in marketing tools to maintain a growth-driven business site.
Today, Wix marketing is in the spotlight, and part of it has to do with the plethora of Wix marketing tools currently available. Naturally, you want to opt for the best Wix apps. However, this requires some due diligence and carefully reviewing Wix marketing tools that can transform your business.
From social media tools to email marketing tools, you'd be surprised by how many marketing solutions are available to help you push your business to new heights.
If you're ready to step up your digital marketing efforts, let's look at the best Wix marketing tools you can try in 2023.
Email marketing Wix apps
With an attractive Wix site, users can develop and implement intuitive email marketing campaigns to increase engagement level with their target audience and turn their visitors into subscribers and buyers.
#1 Omnisend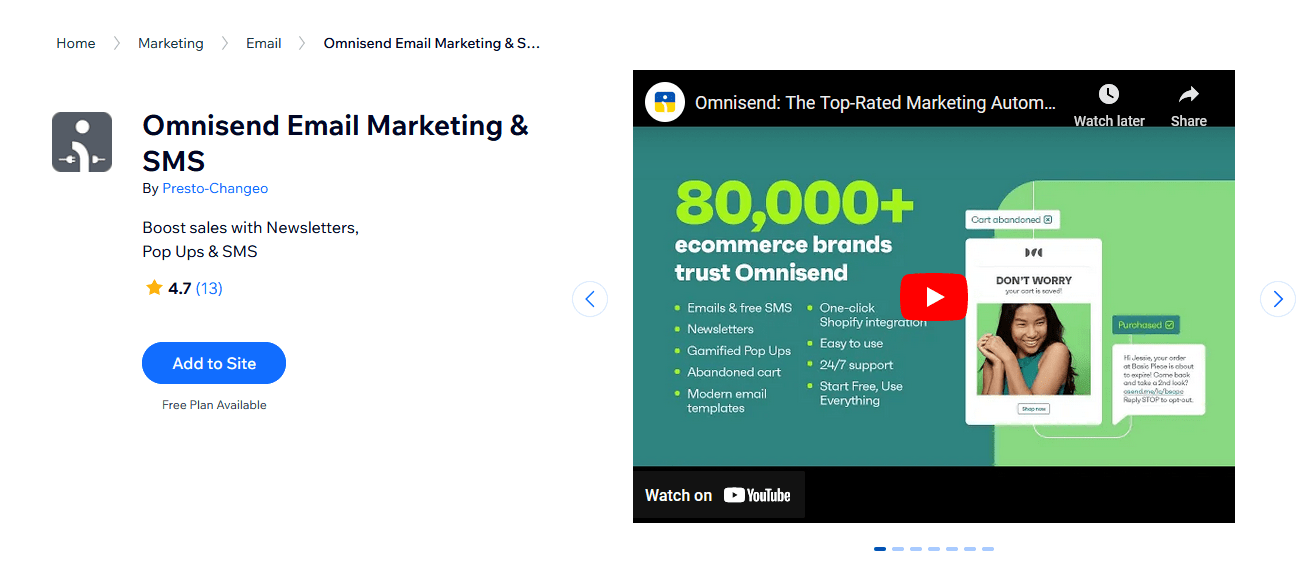 Have you heard the one that email marketing has to be expensive?
Omnisend busts that myth every day—aside from having competitive pricing, its free plan offers all of the features of the paid plans, including 24/7 customer support.
If you want to simplify your workflow and increase sales, you'll find Omnisend useful. Think of it as a shortcut to converting traffic on your site and increasing sales. Omnisend allows users to plan and execute highly effective and efficient email marketing campaigns.
In the Wix app market, Omnisend has a strong 4.7 rating. As the title suggests, Omnisend is an omnichannel and unified automated email marketing tool that helps users improve sales for their online stores. It allows you to grow and gain a competitive edge in ecommerce.
Wix users can tap into Omnisend's integration with Wix. Omnisend makes sending messages to a targeted audience across multiple channels easier. It also supports a variety of online stores in different industries.
You can also try out Omnsiend's Wix Bookings app.
Key features
Collect and expand newsletter subscribers through embedded Wix forms or pop-ups
Sync orders, contacts, and general information within the Omnisend platform and segment subscribers
Pass cart data to Omnisend to send more cart abandonment messages
Get comprehensive reports on automation and email marketing campaigns
Sync all contacts and email builder.
Pricing
Omnisend has a free plan that includes all the features. You can also get Omnisend Basic and Advanced plans at $3.99/month and $5.99/month.
#2 Ascend Email Marketing by Wix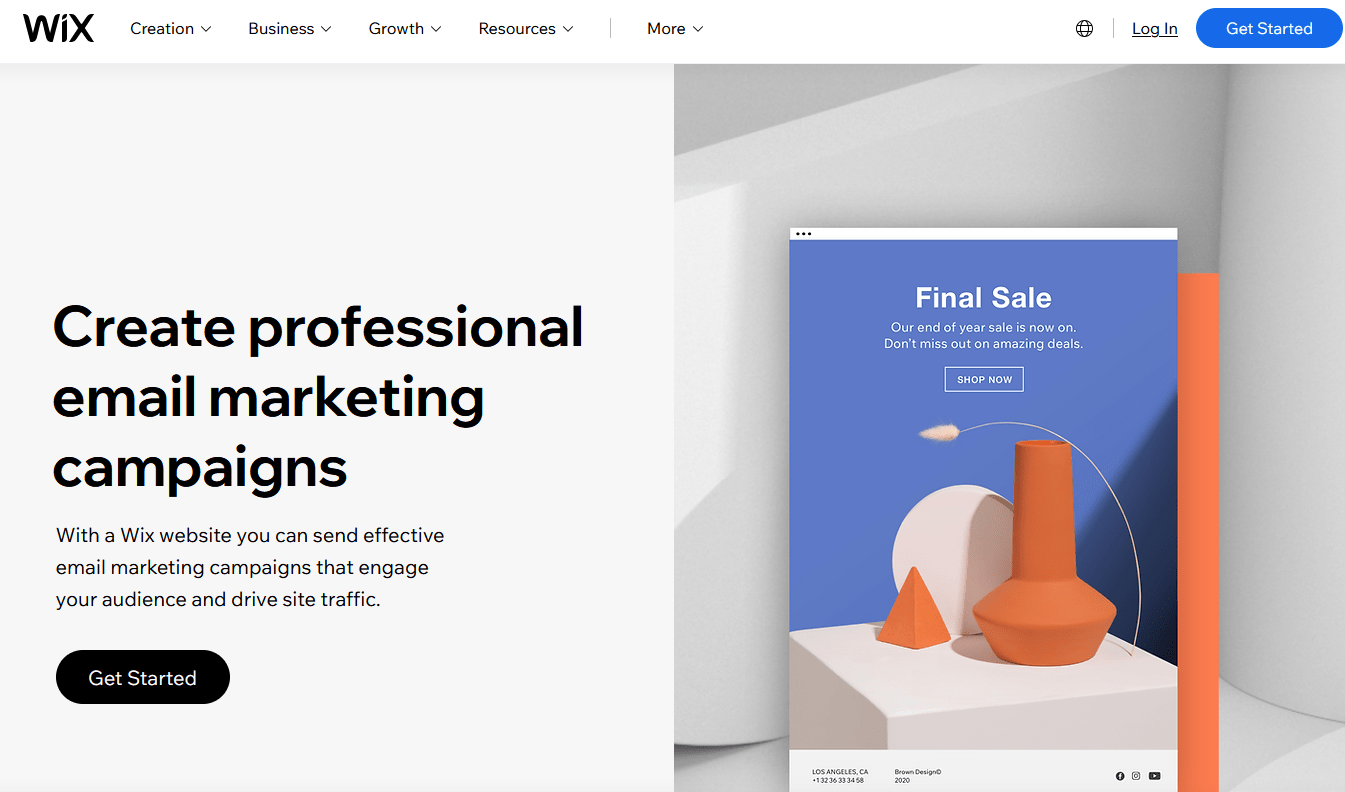 Ascent is an all-in-one tool that helps Wix users promote their site in a cost-effective and efficient manner. The Ascent Email marketing solution features custom and non-customizable templates. You can personalize your site with a specific style and make your core messages look more attractive.
You can also use the Ascend Email Marketing tool to integrate all your contacts into your email list. After sending emails, users can track views, clicks, and opens. It is one of those Wix tools that help users save significant time and resources. It keeps you round-the-clock updated about your business site or ecommerce store and helps you form long-term business relationships.
Key features
Leverage email automation and A/B testing
Personalization and segmentation
Mobile-compatible and highly responsive templates
The Email Designer
Pricing
While you can use the free Wix plan, you will need to upgrade to the paid plan, which costs $10, to use essential features like multi-step automation and email testing.
#3 Klaviyo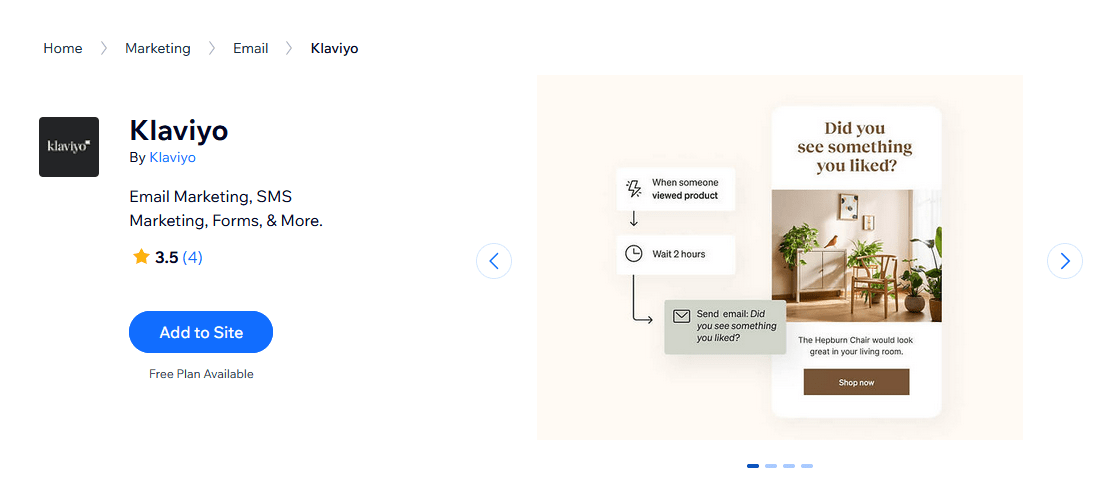 While you'll find a lot of similar Klaviyo alternatives, Klaviyo stands on its own as one of the unique email marketing and automation tools. Plus, migrating to Klaviyo is straightforward. Today, many brands leverage Klaviyo's text and email marketing tool to drive their business growth. After integration with the Wix store, you can collect more data and make sense of consumer data to generate more sales and send more effective messages.
Key features
Custom text and email marketing
Supports automation and segmentation
Review checkout abandonment, order confirmation, and browse abandonment
Features growth list, including embedded forms and pop-up forms.
Features conversion tools like customized reporting and A/B testing
Pricing
Apart from the free version, you can get the Email plan at $45/month and Email & SMS plan at $60/month.
Whether it's one or more stores, a full migration package is the real deal and helps you set up and migrate from Klaviyo to Omnisend in no time.
Social Wix apps
#4 Social Stream by Powr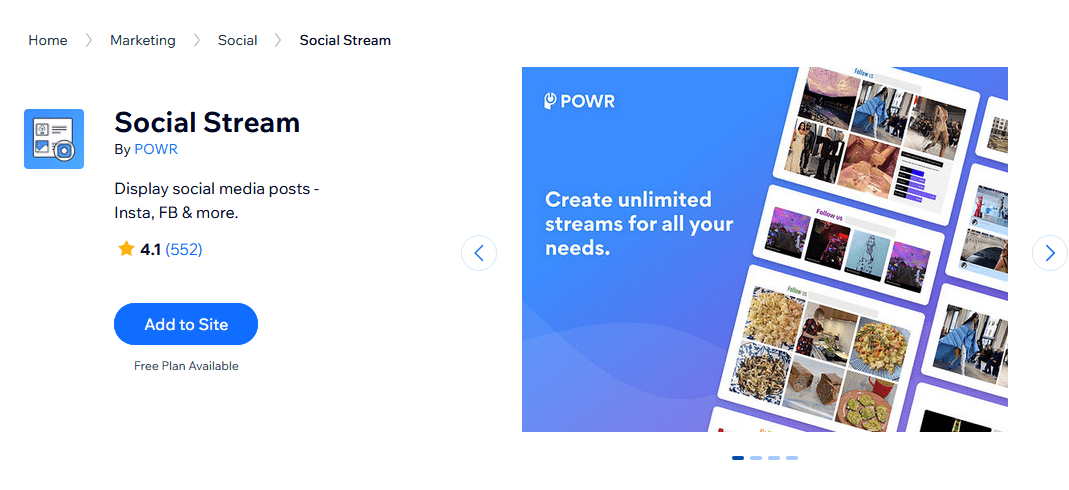 Social Stream by Powr is a great tool to highlight beautiful photo gallery in a preferred social media account. For instance, you can use Instagram images to showcase your products, events, or reviews on your website. You can also use the same feature to create a testimonial or lookbook gallery. With an automated social media feed, you can ensure content remains fresh and increase the overall time users spend on your website.
Key features
Follow hashtags and public accounts through a simple gallery layout.
Get an automated engagement feed through YouTube, Facebook, Instagram, and other accounts.
Automated site content updates or set manual method to approve posts before finally publishing them to the site.
Tap into social sharing buttons for your posts and increase your follower count.
Pricing
You can get a Starter, Pro, or Business plan at $4.94/month, $12.14/month, and $80.99/month.
#5 Simple Social Auto Post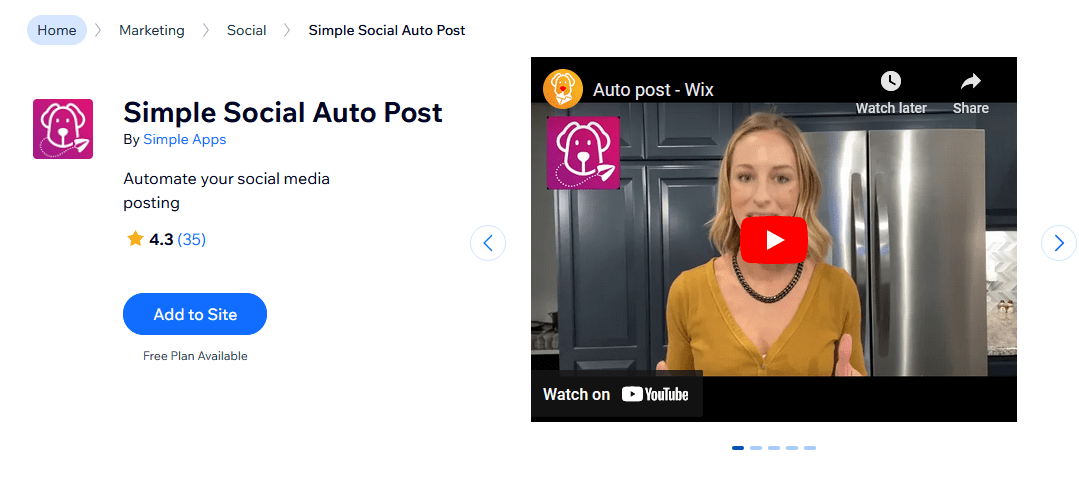 Simple Social Auto Post lives up to its title and helps users simplify social media posting and tap into auto-posting. You can set up automated social media posts within two minutes. Say you want to post your product line or blog on Twitter, Instagram, and Facebook daily – you can count on Simple Social Auto Post for flawless social media management.
You can also easily interconnect social media accounts in the same system. Additionally, you can check real-time previews of the original social media posts and post until you approve. It is an added control that allows you to refine your social media feed.
Key features
Publish scheduled posts for unique event reminders
Publish scheduled social posts for store products
Publish scheduled social posts for blog articles
Create and run automatic weekly campaigns to boost store sales
Pricing
If you want to run more than one free campaign and ten automated posts – get the pro plan at $1.49/month which offers unlimited auto posting, campaigns, and scheduled posts.
Live chat apps
#6 Wix Chat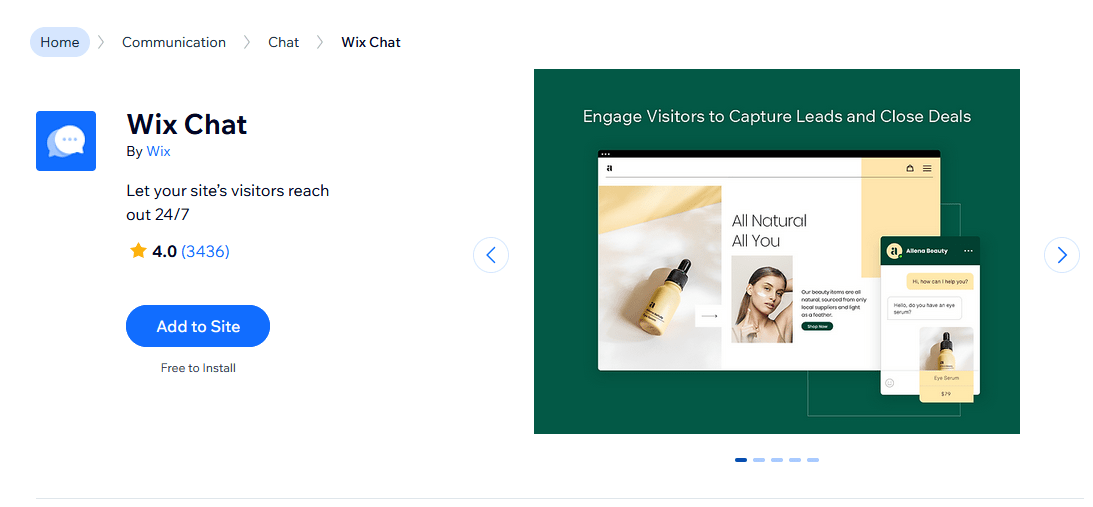 Wix Chat makes it possible for anyone on your site to post a message and initiate an automated chat. You can back up the entire backlog of the visitors' chats. You can use the Wix Chat to improve or build solid relationships with potential customers and visitors. Wix Chat allows you to reach out to your potential customers faster and increase sales.
Key features
Never miss out on leads through capture forms
Get instant visitor notifications on your website and close more sales leads.
Save visitor replies and maximize feedback efficiency
Set up automated greet visitors when potential customers check out your website
Pricing
You can get Wix Chat basic plan at $14/month.
#7 Tidio Live Chat & Chatbots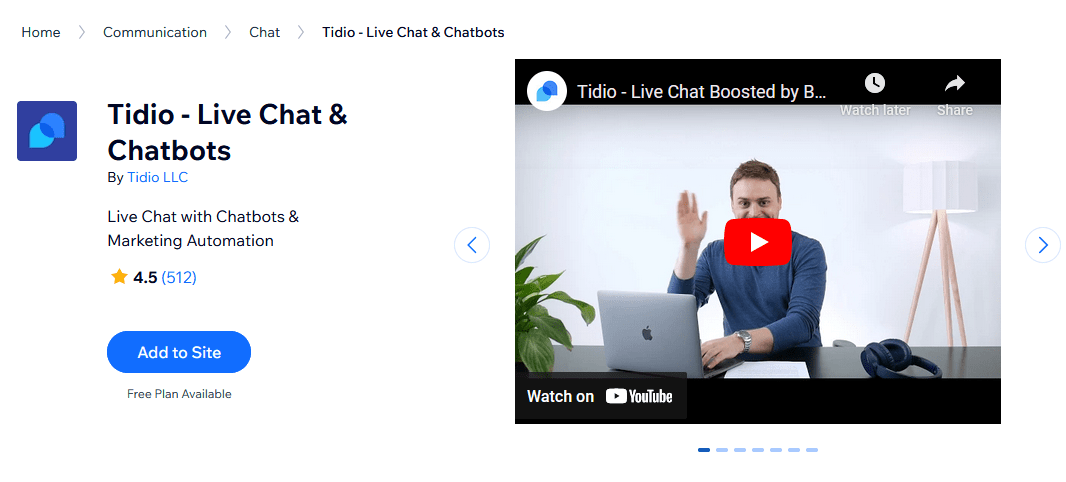 Tidio is one of the best customer service tools that help businesses grow. The platform is designed to make it easier to manage messages and communicate with customers fasters. With Tidio Live Chat and Chatbots, you can address problems, engage with customers, and answer their questions faster. The Live Chat feature allows you to communicate and help customers/visitors in real time.
Features
Check information about visitors and customers to your site and collect a live visitors list to spot customers and their needs.
Initiate instant conversation with customers to increase sales and live typing preview
Ensure 24/7 customer support featuring automated chatbots to help customers at any time.
Pricing
You can get a premium Tidio Chat plan at $15.80/month with unlimited operators, live preview typing, and a visitor list.
Analytics Apps
#8 Web-stat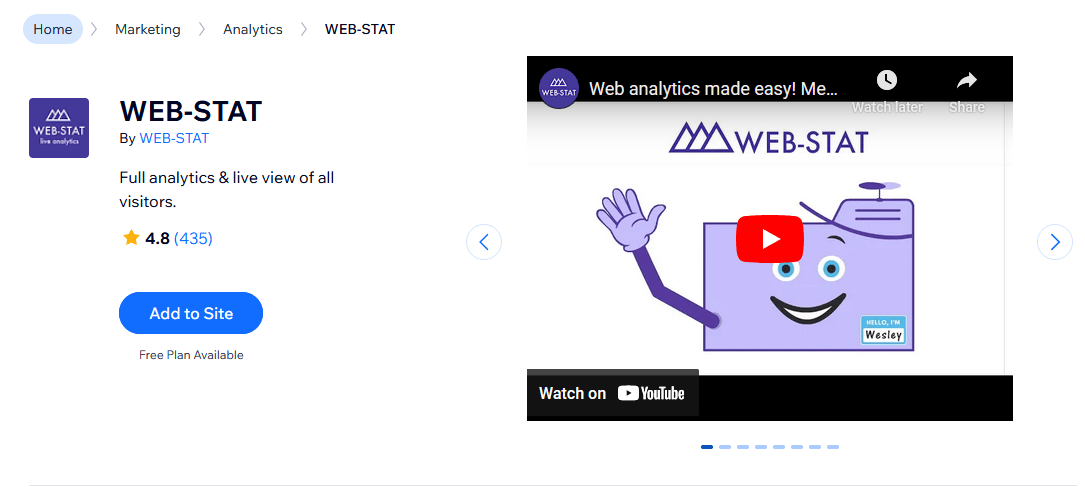 Analytics doesn't always have to be complicated, and Web-stat ensures the average business owner or manager can check analytics. It allows you to understand how people interact with your website, take prompt action, and drive business growth.
Key features
Get detailed stats in the form of visitor conversations, emails, and new visitor alerts.
Get simplified and precise reports that you can export, share, email, print, or embed on your website.
Review how visitors interact with your live site, such as last visit time, geo-location, paths followed, equipment used, stay duration on a specific page, etc.
Pricing
You can get the Web-Stat pro plan at $8.35/month to check more than 150,000 pages.
#9 Visitor Analytics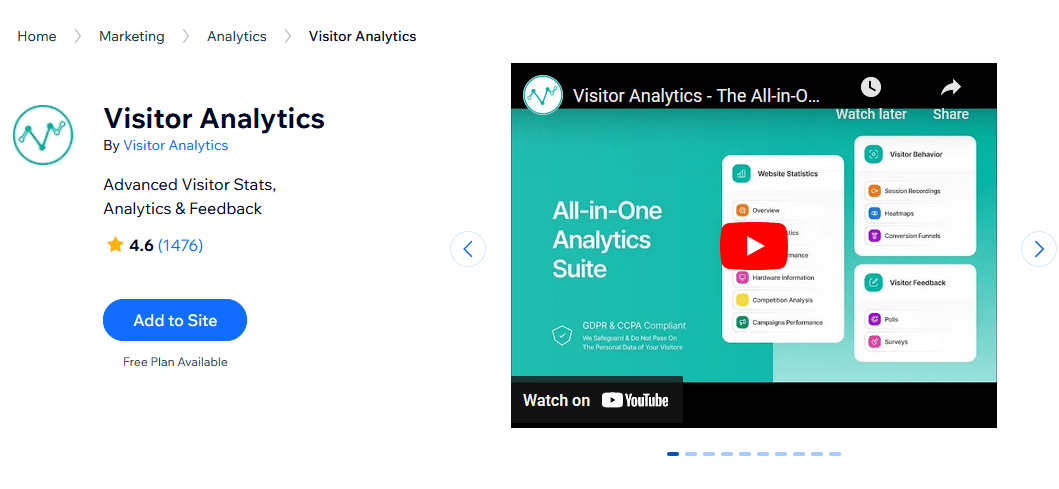 Visitor Analytics is a more accessible and advanced site intelligence solution. It is an excellent tool to dive into comprehensive visitor analytics data. But unlike other tools, Visitor Analytics is incredibly easy to use and focuses on user privacy. You can divide this tool into site stats, visitor communication, and behavior analytics.
Key features
Review site traffic stats like conversions, page visits, session duration, total visitors, referrals, bounce rates, competition analysis, visit timeframes, used devices, click paths, etc.
Check real-time behavior of site visitors through heatmaps, session recordings, event tracking, and conversion funnels,
Get accurate visitor feedback through targeted polls and surveys.
No cookies – CCPA and GDPR-compliant tracking.
Pricing
You can get Visitor Analytics Basic, Advanced, and Pro plan at $8.99/month, $17.99/month, and $29.99/month.
Reviews and testimonials Wix Apps
#10 Editorify – Product Reviews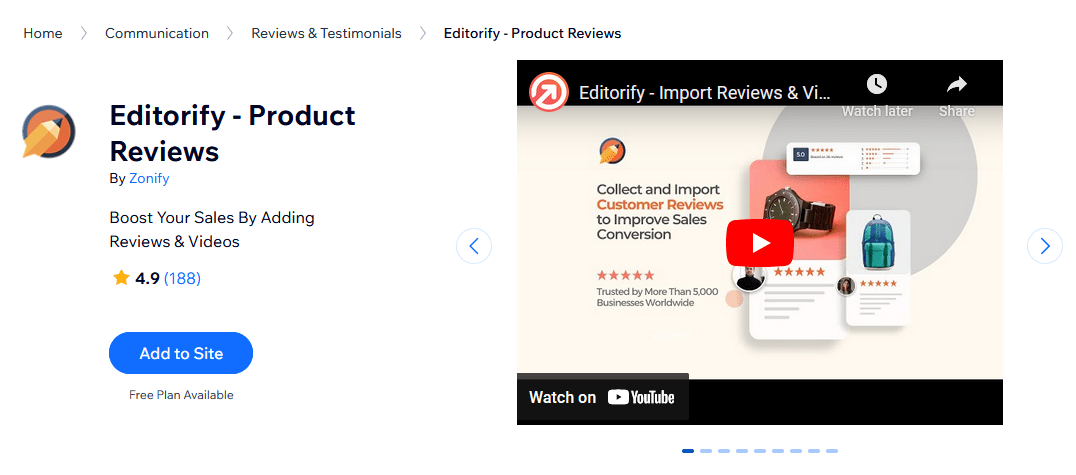 Online reviews can change the course of any business in the right direction. Editorify helps users import relevant and authentic reviews from different wholesalers into the dropshipping store. One of the best aspects of Editorify is that it allows you to draft manual reviews or allow customers to leave positive feedback with pictures.
Key features
Import comprehensive rating of product reviews.
Import videos like explainer, YouTube, and Vimeo to improve social proofing and raise more awareness about your products.
Import feedback and photo reviews and get back to customers to better understand their needs, influence their purchase decision, and increase sales.
Pricing
Avail Editorify Premium, Gold, and Unlimited plans at $7.95/month, $11.95/month, and $19.90/month.
#11 Ferai Reviews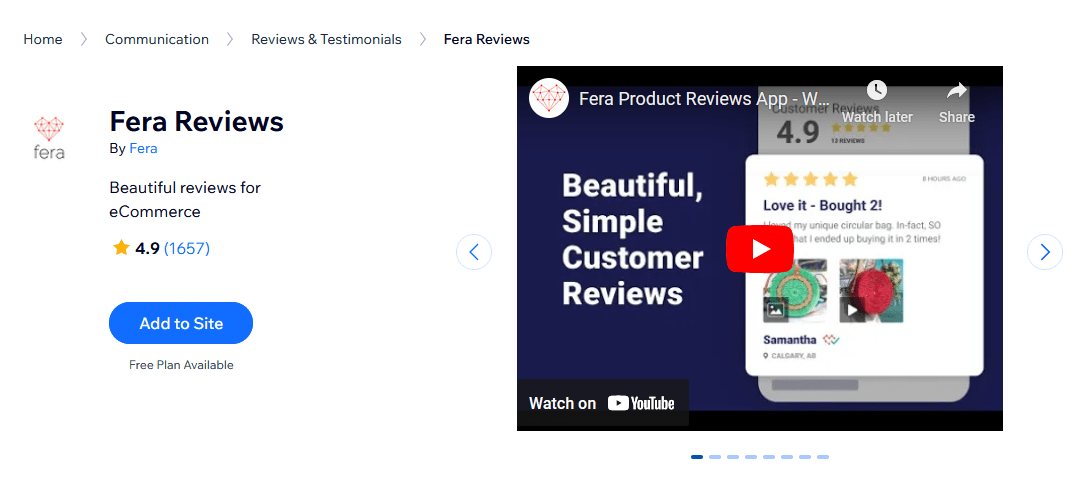 With Ferai Reviews, you can collect and showcase Wix customer reviews with more fun. It is a reviews app that features customizable widgets. In fact, Ferai Reviews allows you to import your Facebook and Google reviews in a matter of minutes. You can also review custom email requests and incentivize submitted reviews with added promotions, loyalty points, and discounts.
Key features
Show ratings and reviews within Google search
Import current reviews from Facebook and Google
Showcase customer reviews, photos, videos, and ratings
Collect reviews from your website
Pricing
You can sign up for startup, small, and medium plans for $5/month, $19/month, and $74/month.
Survey and poll apps
#12 Survey & Poll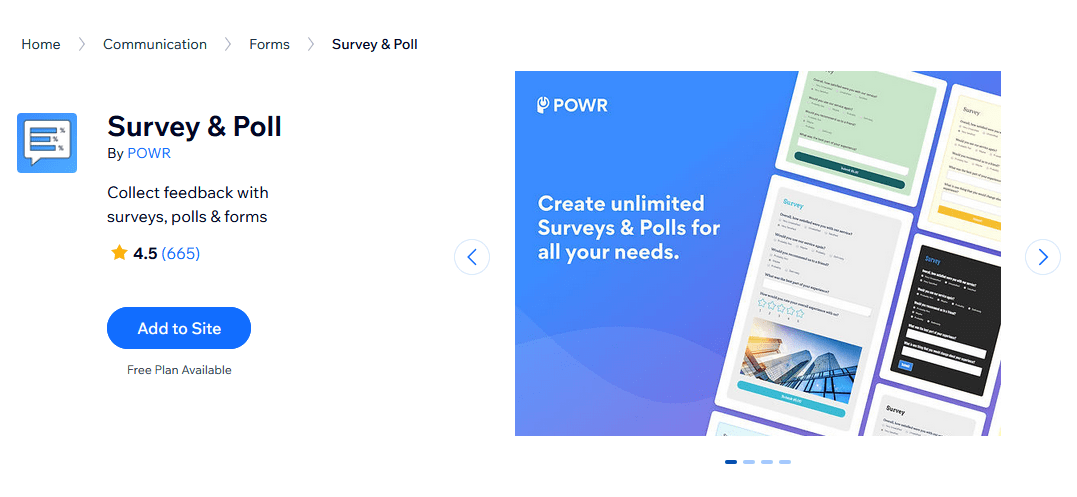 Collect precise visitors' feedback and improve your website, service, and product outlook through customer satisfaction polls, surveys, and product review forms. This Survey and Poll tool allows you to flawlessly maintain visitor feedback and create a swift response. You can also sync email responses and Wix contacts.
Features
Limited user submissions by quantity or date
Curate unlimited free surveys
Sync Wix Contacts and Inbox and avoid traditional manual exports
Pricing
Get a Starter, Pro, or Business plan at $3.19/month, $6.39/month, and $12.69/month.
#13 Quick Polls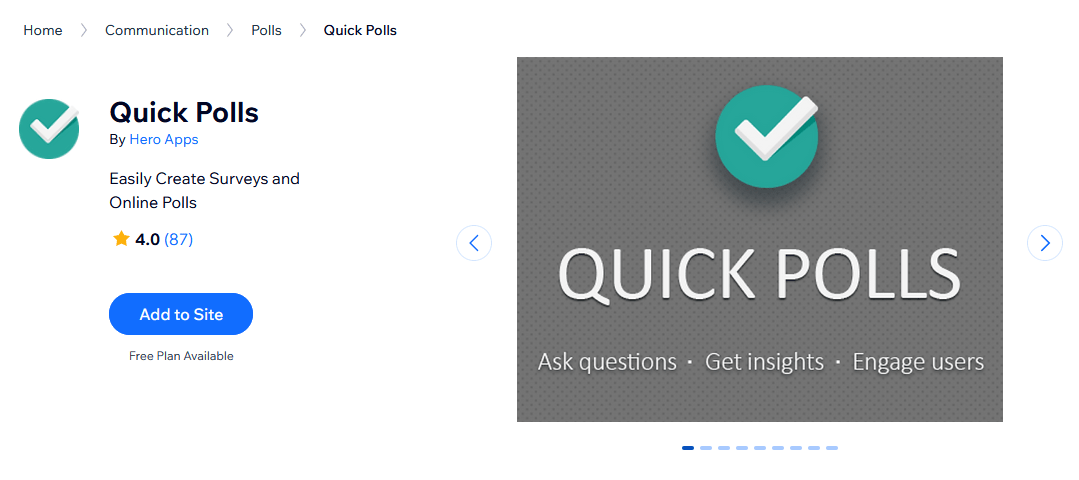 Quick Polls is a straightforward and effective survey tool that allows you to ask direct questions and receive instant answers from visitors. It features a simple layout that makes creating and customizing questions on your website a fun activity.
Key features
Get instant responses
Personalize the app and make it look like your site
Add beautiful images to hook the visitors
Create specific questions in seconds
Pricing
While the free plan is ideal for most startup ecommerce businesses, you can get the premium plan at $3.99/month for unlimited responses.
Wrap up
All these tools allow you to transform your site and are available within Wix. If you're a Wix user, you can opt for all-in-one dedicated business solutions to meet your specific marketing needs. In 2023, you can find highly intuitive and innovative marketing tools to help your business grow.
Wix users can tap into the seamless integration capabilities of Omnisend. It is an all-around solution that allows users to roll out automated and seamless marketing campaigns. It is a solid opportunity to increase your sales and ensure workflow stability.
Get started with Omnisend today & drive sales on autopilot with pre-built automation workflows
Start Free Today
related features
Want more sales?
Omnisend has everything you need to succeed.
Start free now
No Credit Card needed.