Drive sales on autopilot with ecommerce-focused features
See Features
Reading Time:
9
minutes
Traffic is the lifeblood of online businesses. To increase sales by driving more customers to storefronts, we've seen savvy ecommerce entrepreneurs apply a "bolt-on" strategy. This involves acquiring a content site in the same niche or a shoulder niche that sends qualified leads to their online store.
This bolt-on strategy is a smart way to expand your marketing strategy. You increase sales and double dip in earnings due to the affiliate commissions.
But what if you don't have the budget to buy an affiliate site?
You could create an affiliate program that attracts affiliates to promote your products for you.
By the end of this article, you'll have a better understanding of what affiliate marketing is and how you can add it to your arsenal of digital marketing techniques.
Why start my own program?
The truth is that if you're not leveraging affiliate marketing for your own brand, you're in the minority. Over 80% of brands worldwide use affiliate marketing as a digital marketing channel to drive traffic to their sites. It's also one of the highest-converting digital marketing channels, as seen by 15% of digital media earnings coming from affiliate commissions.
Affiliate marketing is like word-of-mouth referral. It involves three parties: the affiliate, the vendor, and the customer.
A vendor partners with an affiliate, who will promote the vendor's products or services on their channels (typically on their social media, blog, or YouTube channel). After someone clicks on the affiliate link to the vendor's product and makes a purchase, the affiliate will receive a small commission on the sale.
The only way ecommerce owners can benefit from these relationships is by becoming a vendor with a The only way ecommerce owners can benefit from these relationships is by becoming a vendor with a competitive affiliate program and proper vendor management.
There are two ways to become a vendor: join an existing affiliate network or create your own affiliate program.
With the right affiliate program, your ecommerce brand will benefit in several ways.
Drives traffic across several channels
When you partner with an affiliate, you tap into a stream of omnichannel traffic that increases your brand reach.
Many bloggers, influencers, and content creators monetize their content through affiliate marketing. While the majority of affiliates' inbound traffic comes from SEO, they will often have multiple marketing channels. Incentivizing affiliates to promote your products is a cost-effective way to expand your reach through different customer acquisition channels without building your own traffic channels on different verticals.
We recommend that you expand your marketing strategy by building up other digital marketing channels outside of your primary approach. However, it takes time for any new endeavor to become successful.
To generate sufficient inbound traffic through SEO, it can take at least six months before search engines rank your content higher in search results. Organic social media marketing also takes time in order to build trust with your target audience, and the iOS15 update means paid social media marketing is difficult to get right.
Affiliates have already built an audience on different platforms. Not only will they drive traffic to your storefront or several storefronts, but they'll also increase your brand reach to audiences you never would have reached through your usual marketing campaigns.
For example, you could have an affiliate in the health and fitness niche who promotes your running shoes on social media, where you might not have a presence. They could share the benefits of exercise along with a balanced diet and good sleep. Customers who didn't previously have running on their mind suddenly have your brand top-of-mind thanks to this partnership.
Increase sales
Building trust with a target audience can be tough for online retailers who have just started selling their products due to a lack of product reviews. That social trust has been proven to win new customers over, as 89% of customers say they turn to reviews before committing to a purchase.
As you can see, people love to give their feedback on how helpful reviews are, with over 2,000 people giving the above review a thumbs up. The biggest ecommerce platforms have this feature available, and it provides an extra layer of social proof on how authentic the reviews are.
There are review marketing strategies you can implement to encourage customers to let people know how satisfied they are with your products, but getting reviews still requires considerable resources to build momentum.
As we mentioned earlier, affiliates already have a relationship with their audience. By providing helpful content and well-balanced reviews, their audience is more likely to trust their product recommendations, rather than cold outreach through paid ads.
The relationships that affiliate partners build with their audiences means potential leads are likely to be qualified leads and fit your target audience.
Easy to scale
It's tempting to think of marketing as a quantity game—the more advertising spend you pour into your marketing efforts, the more likely you'll get a return on investment, right?
Some entrepreneurs don't have the luxury to splash out their marketing budget wantonly. In the pursuit of creating a well-oiled online business, you'll need to trim the fat from your operations. This includes inefficient marketing processes, since not everyone can pay to win.
An affiliate program allows you to work smarter and harder. There's no upfront cost to launch an affiliate program since payouts to affiliates only happen after a sale.
Affiliate marketing is scalable based on the number of relationships you can manage. That's why entrepreneurs often hire affiliate managers to take care of the program and encourage the best affiliates possible to promote their brands.
These are just some of the benefits of creating an affiliate program. Let's explore how you get started.
How to create an affiliate marketing program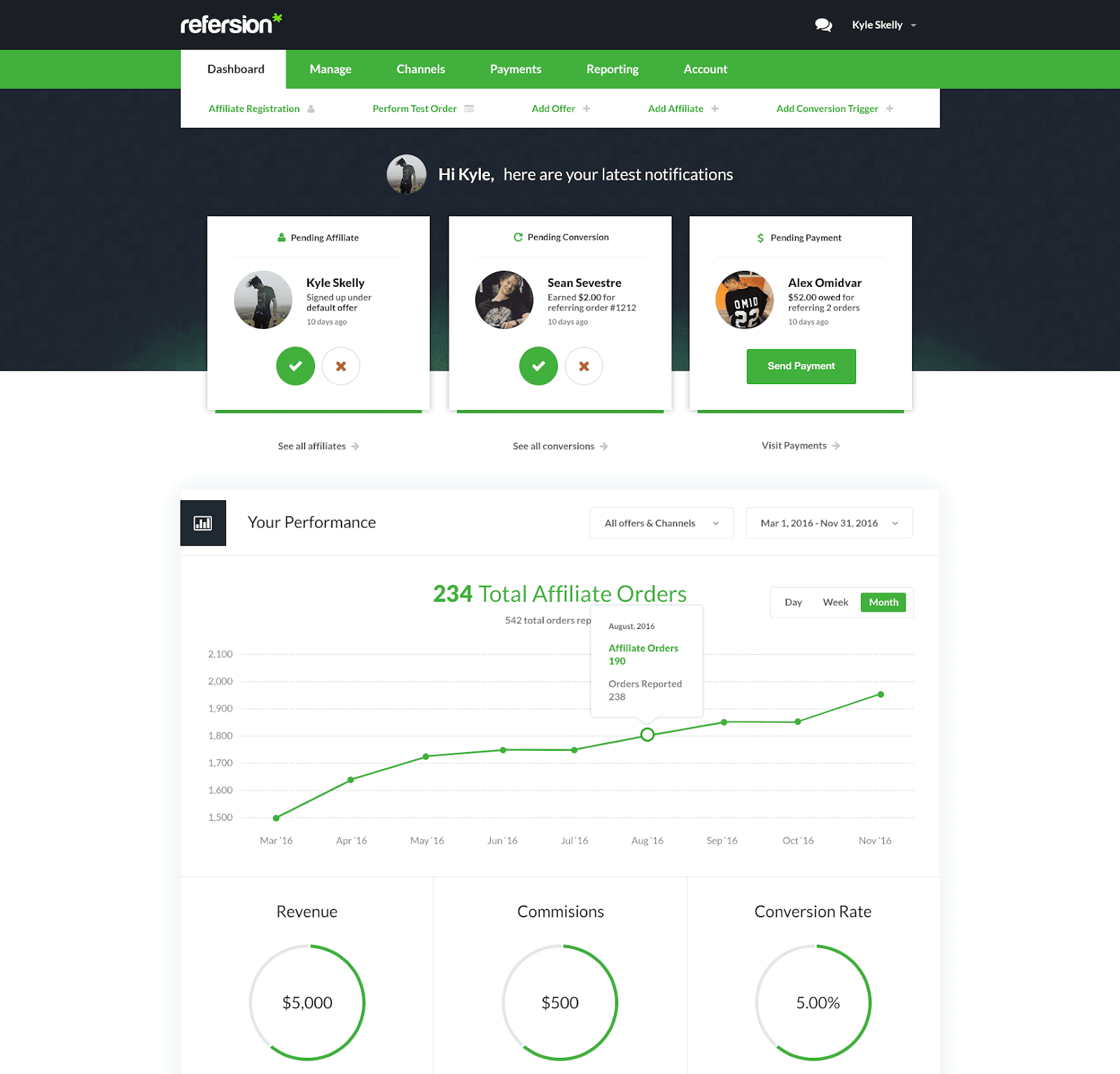 Ecommerce businesses are an attractive asset to investors. On our marketplace, one ecommerce business (including Amazon FBA, DropShipping, and traditional ecommerce) commanded an average $1,017,084.81sales price with a 39x sales multiple. That's usually without an affiliate program.
Traffic diversity is one of the primary factors that affect an online business's valuation. You can read more if you'd like to learn how to sell your ecommerce business.
Otherwise, let's talk about how to create your own affiliate program.
What better place to start than other people in your space?
Competitor analysis
Your competitors likely use affiliate marketing or have their own program.
See how your competitors leverage affiliate marketing. Sign up to their program if they have their own. If they are part of an affiliate network, what terms are they offering in your niche?
Pay attention to which distribution channels the vendor wants them to promote. For example, you may notice that some vendors find greater success on Pinterest than other social media platforms, depending on the niche.
What are their commission rates, and how have they structured the different tiers? Some brands will have some information publicly available, as seen by DTC brand Him & Hers below.
The commission tier breakdown is usually revealed after you've applied to be an affiliate, so we recommend that you sign up first to see what the tiers look like.
Spend time tracking what kinds of commission tiers that your competitors and other ecommerce brands use. After analyzing other commission structures, you'll have a better idea on how to prepare your own.
Save yourself from losing out on attracting good affiliates as a result of setting up extremely high rates or underpaying your affiliates by noting the market value. With competitor analysis, your aim is to create an affiliate program that stands out from the competition, not to produce a carbon copy of what's already out there.
Plan your structure
Based on your competitor analysis, outline a tiered commission structure with exciting incentives for your top affiliates.
State your OKRs (objectives and key results) and KPIs (key performance indicators) so you have an idea of whether your affiliate marketing strategy is working or not.
Your commission structure shouldn't be based on cost per click (or CPM). Not all traffic turns into a sale, and affiliates could spend too much time driving all visitors to your store instead of qualified leads.
Cost per action (CPA) is better for your program since it leads to direct sales.
Finding the "best" commission structure and terms for your program to launch will take time to tweak, but remember that it's an iterative process. Your structure may look wildly different in six months compared to when you first launch.
That's okay.
Just as online businesses pivot and adapt to changing situations, so do affiliate programs. As long as you're attracting quality affiliates and building strong relationships, you can change your program's structure as many times as needed.
Once you have your outline, all that's left is to launch and promote your program.
Prepare to launch
You can choose from several well-known affiliate platforms, such as Refersion, AffiliateWP, and ShareASale. There will be minor differences in the way each program's dashboard works, but the core function will be similar.
Keep in mind that some programs don't automatically pay affiliates, and you will need to set up a system to pay people monthly.
After your program is live, you'll need different ways to passively and actively promote it. Make sure you have a landing page so you can collect emails from interested affiliates.
When designing your landing page, keep your copywriting hat on. With Shopify's affiliate page, it's clean and free of clutter.
The landing page also has testimonials featuring satisfied affiliates.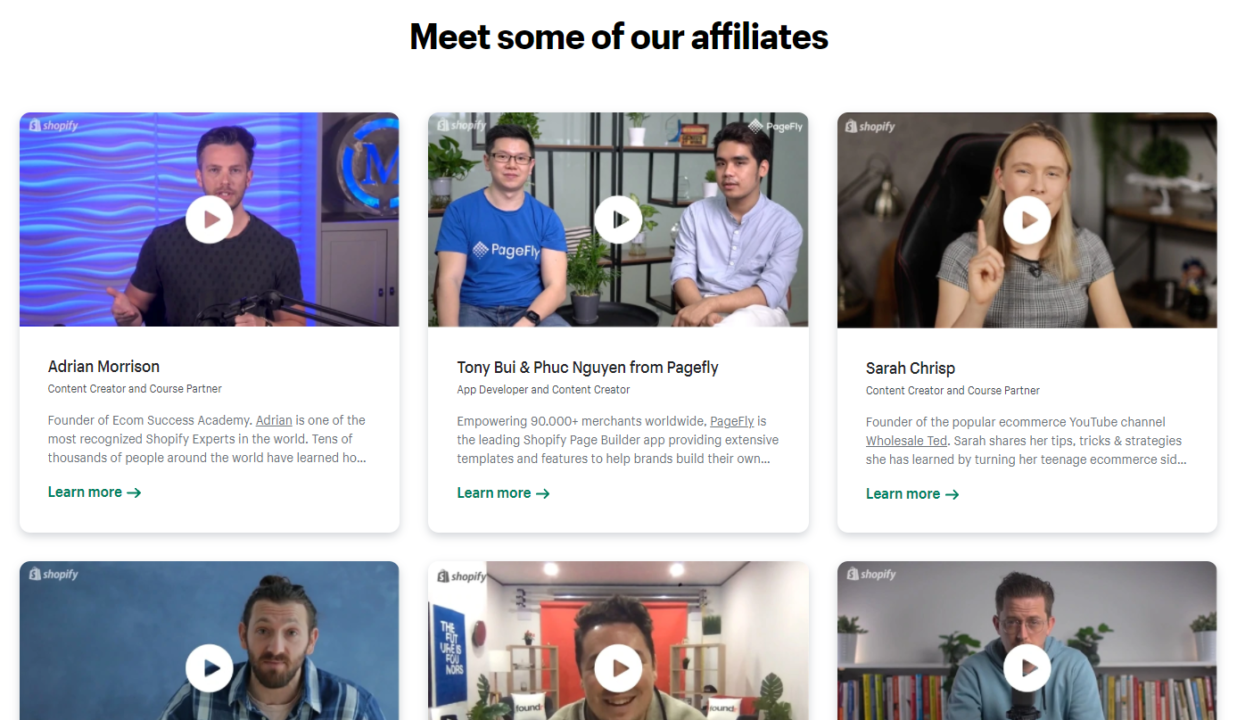 Shopify includes strategic CTAs throughout the page to give affiliates a chance to apply no matter how far they've scrolled. If there are any questions, an FAQ section is at the end.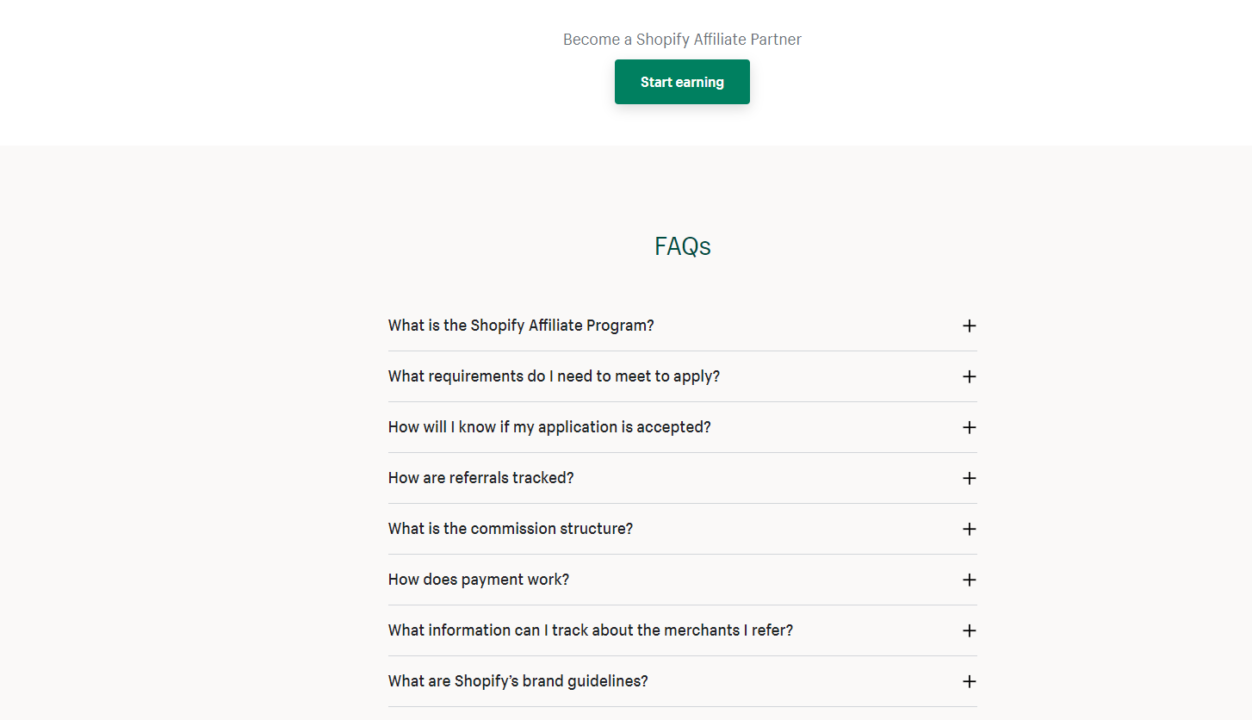 If you treat your affiliate program like a product, you'll realize that you need a big marketing push to increase awareness as soon as possible. That's why you should create a small marketing campaign to promote the program and schedule social media posts, as well as send out a few email newsletters.
You could also host or join webinars as part of your promotion strategy.
If you're not ready to launch your own program, you can sign up to an affiliate network as a vendor first. These networks offer an all-in-one solution and are designed to plug and play. Keep in mind that the fees will be high in exchange for convenience.
Amazon Associates is a good beginner network to start with, although it's better for ecommerce sellers who are already in the Amazon ecosystem (FBA).
As interest in your affiliate program grows, you'll need to know how to attract and keep affiliates who will continue driving sales for you.
How to keep good affiliates
You've done the groundwork already by creating a tiered structure.
Over time, you'll discover who your best-performing affiliates are based on the number of sales they drive for your store. Offer these top affiliates better commissions based on their sales and conversion rates. Exclusivity creates a feeling of appreciation.
With a tiered structure, you can still appeal to affiliates outside of your top 10 or 20. Create tiers that reward people based on the number of sales, so affiliates have something to aim for.
Performance-based rewards means anyone can enter the inner circle of the top tier with exclusive benefits. This creates competition and incentivizes affiliates to promote your products even more.
Give affiliates media kits and creative assets so it's easy for them to promote your products on their channels.
If you're a one-man band, you'll be pressed for time. Focus on maintaining relationships with top-performing affiliates. Develop the relationships, gather feedback on what they don't like, and try to amend the commission structure or create an exclusive agreement for them.
Great affiliates will meet you in the middle, but it has to be worth their time and effort to promote your products. If you're unwilling to budge on commission rates, they'll go to your competitors.
Conclusion
An affiliate program builds trust and sales when done right. It synergizes well with other digital marketing channels, such as email marketing, paid search engine marketing, and inbound traffic.
If you're still not confident about starting a program but want to leverage affiliate marketing, consider buying an affiliate content site that generates good traffic.
Use the content site as your foundation to direct qualified traffic to your online store. Not all content sites are the same, so make sure you do your due diligence.
About the author
Vinnie Wong is a Content Specialist at Empire Flippers. Originally from the UK and now residing in Malaysia, he loves everything related to online businesses. When he's not neck deep with work, he's running after his toddler or trying to relive his glory days by injuring himself while playing soccer.
related features
Want more sales?
Omnisend has everything you need to succeed.
Start free now
No Credit Card needed.