Drive sales on autopilot with ecommerce-focused features
See Features
Reading Time:
12
minutes
Some people believe that email marketing has become less effective post COVID. With 69% of B2B companies still using email as a top content marketing channel, and US-based Omnisend customers returning $72 for every $1 invested into email, it's safe to say this isn't true.
But which email marketing platform best suits your business?
If you're here, you already know about Drip and are likely considering some Drip alternatives.
Drip is a powerful email marketing software solution that aims at helping ecommerce platforms make the most of their contact lists. The tool comes with excellent reporting, automation, and personalization features.
Let's see what else Drip has to offer.
What does Drip have to offer?
Before we get to our list of the top Drip alternatives, here's an overview of Drip's pros and cons.
Pros
Here are some of Drip's outstanding email marketing features:
Email automation:
Drip's robust email marketing automation is one of its popular features. You can set up automated email sequences based on specific customer activities. These are called triggers and include certain actions, such as customer signup, cart abandonment, buying habits, etc.
Segmentation:
Drip makes it simple to segment email lists based on factors like location, buying history, and customer interests. This lets you create more targeted emails and send them to selected audiences.
A/B testing:
You can also test your email campaigns and design on Drip. It lets you test different elements of your email design and workflow, plus you can compare open rates, click rates, conversion rates, etc., and understand what your customers prefer.
Reporting:
Drip collects data related to your customers' interactions with your site, store, emails, and more. The tool then uses this data to provide detailed reports that make it easy for you to track the performance of your campaigns.
Integrations:
Drip integrates with 100+ business applications, making it simple to link email campaigns with other marketing efforts. These integrations include ecommerce platforms, such as Shopify and WooCommerce.
Cons
Despite all the great ecommerce capabilities, Drip is still lacking in these few areas:
Pricing:
Unlike other email marketing solutions, Drip lacks a free plan and has an unscalable pricing plan, which is not suitable for beginners. There's only one pricing plan that supports up to 2,500 contacts and costs $39. This can get significantly costly when the contact list goes up.
Learning curve:
Drip's interface can be complex for beginners, and it can take some time for new users to learn how to use all of its features.
Customer support:
Drip offers chat support to businesses with over 5,000 contacts and only email support to the rest. This is unlike email marketing platforms that offer 24/7 email and chat support with paid plans.
Landing pages:
Drip doesn't offer a landing page builder or templates to help with lead capture.
💥 Create impressive, eye-catching email campaigns today with Omnisend's easy-to-use email builder.
Drip alternatives: Comparison table
| | | | | |
| --- | --- | --- | --- | --- |
| Drip Alternative | Best for | Free plan | Paid plans | Customer support |
| Omnisend | Ecommerce businesses, businesses that need omnichannel marketing (i.e. email, SMS, push) | Yes | From $16/month | 24/7 email & chat support on all plans, priority support on the Pro plan |
| Mailchimp | Email marketing beginners, small businesses, bloggers, solopreneurs | Yes | From $13/month | 24/7 email support for the first 30 days on the free plan |
| Constant Contact | Small businesses, social media marketers, event managers | No | From $12/month | Phone and email, on all plans |
| GetResponse | Unique ecommerce features | Yes | From $15.58/month | 24/7 live chat and email on all plans |
| ActiveCampaign | Solutions for both B2B and B2C users | No | From $49/month | Message and phone support on all plans |
| ConvertKit | Content creators (bloggers, course creators, coaches, musicians, etc.) | Yes | From $9/month | Live chat and email on paid plans |
| Aweber | Big template gallery, small businesses | Yes | From $12.50/month | 24/7 support on paid plans |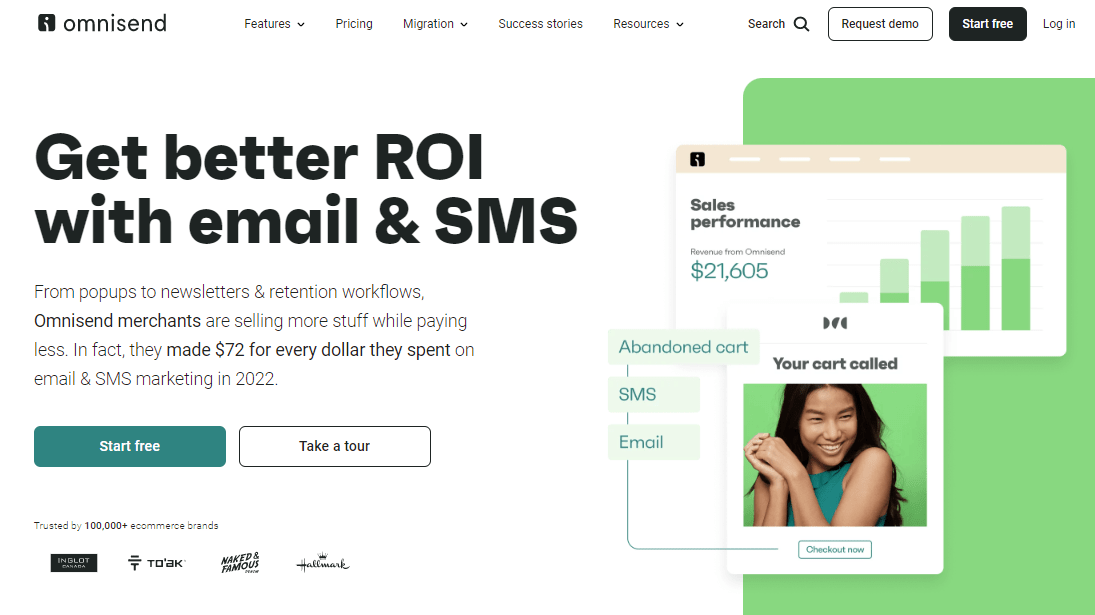 G2 rating: 4.5/5
Shopify rating: 4.8/5
Omnisend is a powerful email automation software solution best suited for ecommerce sites. The platform offers powerful email segmentation, automation, personalization, and omnichannel marketing capabilities.
This makes it an excellent Drip alternative. Here are some of Omnisend's key features.
Main features
Omnisend offers email, marketing automation, and many core features for ecommerce needs. Some of the top features include:
Email, SMS, and push:
Besides email marketing, Omnisend lets you send SMS and push campaigns. You can also sync these two channels into your email automation workflows for maximum impact. This is unlike Drip, which only offers email campaigns.
Email templates:
Just like Drip, Omnisend provides a list of professional email templates you can easily customize. These templates are designed for different themes, like holidays and promotions.
Pre-built workflows and automation:
Just like Drip, Omnisend has powerful automation capabilities and pre-built workflows that you can use out of the box. What sets Omnisend apart is the ability to create omnichannel email workflows with SMS and push notifications.
Landing pages and popups:
The landing page templates and pre-built popup forms offered by Omnisend are engaging and easy to customize. Drip does not offer landing pages.
Clickmaps:
Unlike Drip, Omnisend offers click maps to help you track your links and CTA. You can also track your customers' reading habits to help you determine the perfect email length for your customers.
Campaign booster:
This is an automated re-emailing feature that lets you send follow-up emails to recipients who didn't open the first one. This lets you re-target prospects who missed your emails, or those who didn't find your original subject line engaging. This is a feature Drip does not have.
Discount coupon codes:
Omnisend lets you create unique discount codes for your customers to boost your ecommerce sales. Drip does not let you create unique codes.
Facebook Custom Audiences and Google Customer Match:
This feature lets you sync your email list with Facebook and Google Ads to re-target audiences already familiar with your brand. Drip also has this feature, but Omnisend updates your segments every 15 minutes.
Gamification signup form Wheel of Fortune:
Unlike Drip, Omnisend can gamify your audience's signup process. This helps you optimize your lead-capturing forms. With Wheel of Fortune, you can reward your customers with interesting gifts like discounts if they spin the wheel.
Looking to optimize your ecommerce sales? Omnisend lets you boost your revenue on autopilot
Start for free
Ecommerce features
Though both Drip and Omnisend are marketed as ecommerce marketing solutions, Omnisend offers more ecommerce features. Here's where Drip falls short.
Drip doesn't offer landing pages and popups that could help with collecting email addresses or phone numbers. Omnisend offers attractive landing page templates and an intuitive builder.
Drip doesn't offer SMS or push notifications to help you create an omnichannel experience with customers, like Omnisend does.
Both tools have integrations with the main ecommerce platforms: Shopify, BigCommerce, WooCommerce, Magento, etc. But in addition, Omnisend is a BigCommerce elite partner and has integration with Shopify Plus.
Drip does not offer a free plan for businesses on a budget or those with limited email marketing needs. Omnisend offers a free plan with access to all its ecommerce-focused features.
Pricing
Drip's price starts from $39 for businesses with up to 2,500 contacts on their mailing list. You get to send unlimited emails and can pay more as your list grows. There are no scalable packages and users get access to all features.
This can be expensive for startups looking to scale, or small businesses that may not need advanced features.
Omnisend offers more friendly and scalable pricing plans:
Standard plan: This starts from $16, for up to 500 contacts and 6,000 monthly emails. You'll also get access to all ecommerce features on this plan.
Pro plan: Starts at $59 for up to 500 contacts and you get unlimited monthly email sends.
All Omnisend plans also come with international SMS option.
Most email marketing platforms that offer SMS marketing only have a few regional options like the US, Canada, Australia, and the UK.
Customer support
One of Omnisend's strong points is its award-winning customer support. Omnisend provides 24/7 email and live chat support to customers on all plans, including the free plan.
The highest tier plan also comes with priority support.
Drip, on the other hand, provides email support only for customers with contact lists of 5,000 people or fewer. Businesses with larger lists get both email and chat support.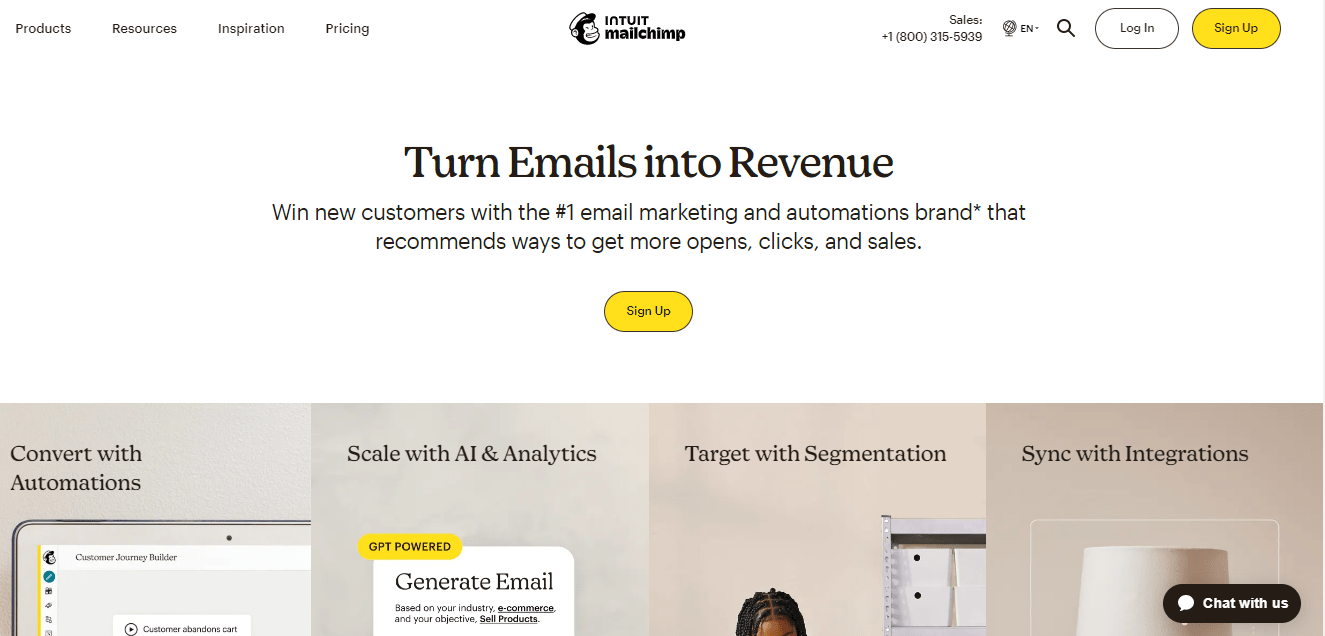 G2 rating: 4.4/5
Shopify rating: 3.5/5
Mailchimp is a popular email marketing solution for businesses of all kinds. The software is known for its excellent reporting feature, a wide range of email marketing features, and ease of use.
Mailchimp comes with features like robust segmentation, excellent newsletter ideas, pre-built automation workflows, and more. It also has a free plan that comes with some essential email marketing features.
These make it a great Drip alternative, especially for small to medium-sized businesses.
Features
Mailchimp's key features include:
Creative Assistant:
Mailchimp's AI-powered Creative Assistant uses your brand's logo, fonts, colors, and images to create custom email designs. All you need to do is import your brand assets into a brand kit.
Subject Line Helper:
This feature uses data from past emails sent via the Mailchimp platform to help you create better subject lines that drive more engagement. You'll also be able to test these subject lines to see which ones your audience prefers.
Insights and analytics:
You can track your email marketing performance on Mailchimp's comprehensive reporting dashboard. You can also use A/B testing to test different versions of your email campaigns.
Integrations:
Mailchimp provides over 300 integrations with third-party business intelligence tools. These include Zapier, Shopify, Google Analytics, and many more.
Pricing comparison
Mailchimp's pricing is affordable for lower-tier plans. There are three paid plans:
Essentials: $13/month for 500 contacts and 5,000 monthly email sends. You get pre-built email templates, integrations, basic reporting, and more.
Standard: $20/month, you get features like predictive segmentation and dynamic content.
Premium: $350/month, comes with multivariate testing, comparative reporting, and advanced segmentation.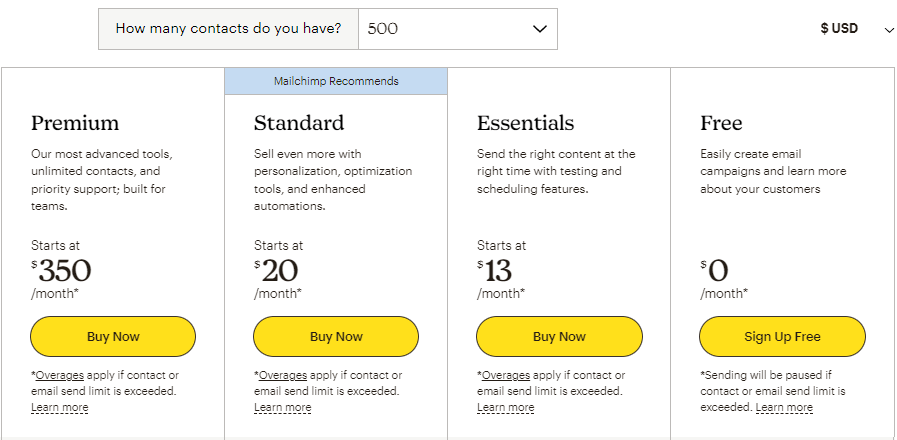 Compared to Drip, Mailchimp's pricing seems to be on the same level.
For instance, Drip's lowest pricing costs $39 for 2,500 contacts and unlimited email sends, while Mailchimp's Essentials plan costs $39.50 for 2,500 contacts and 25,000 monthly email sends.
For large businesses, however, Drip can get expensive. For instance, Drip costs $1,199 for up to 100K contacts while Mailchimp's Premium plan costs $955 for the same.
Customer support
Here's what Mailchimp's customer support options look like:
Email support for the first 30 days for customers on the free plan.
24/7 email and chat support for the Essentials and Standard plans.
Phone and priority support for customers on the Premium plan.
Drip does not offer phone support even for premium customers. And their Live Chat support is only available to customers with more than 5,000 contacts.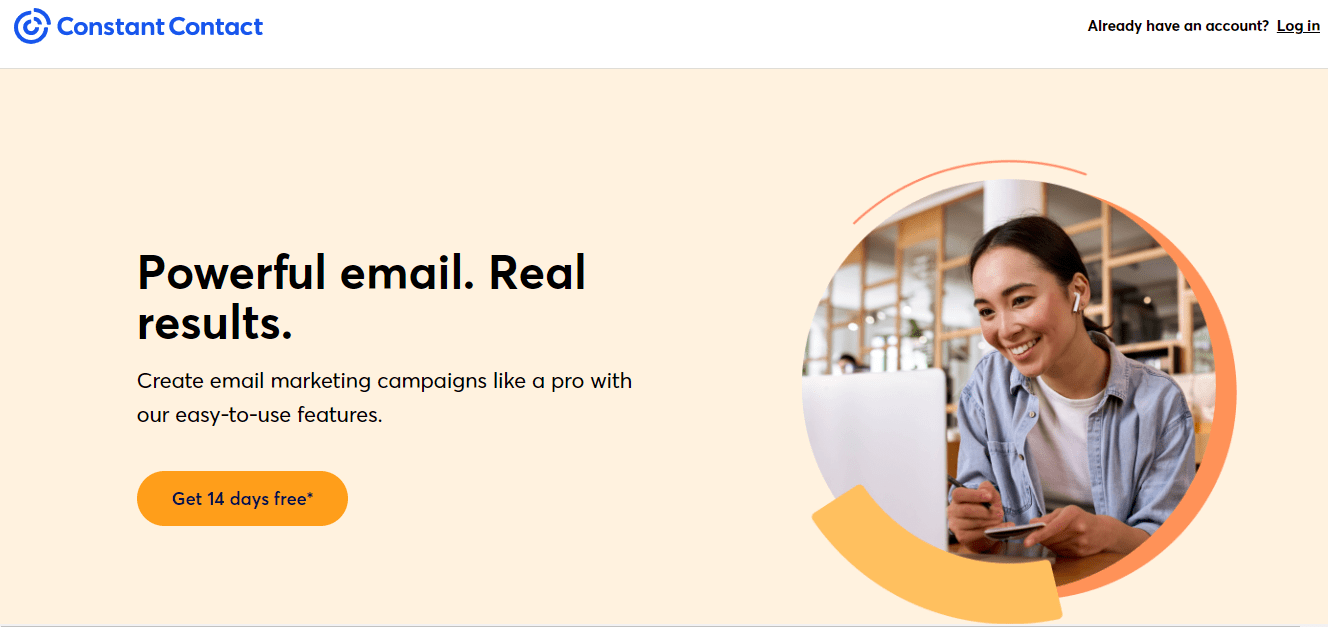 G2 rating: 4/5
Shopify rating: 2.8/5
Constant Contact makes for a good Drip alternative for the following reasons:
Besides email marketing, Constant Contact lets you create social media ads and track your social campaigns.
Constant Contact lets you create landing pages to help grow your audience.
You also get an SMS marketing option that you can integrate with your email campaigns.
The tool offers Android and iOS applications so you can track your email and social media marketing on the go.
The tool's email automation feature is limited, and it's difficult to create segments as well. This makes it unsuitable for larger businesses.
Features
Some of Constant Contact's key features include:
Email marketing:
Constant Contact provides hundreds of pre-built email templates, including layout templates, that you can use to quickly create email campaigns. You can also embed GIFs and images to boost your email engagement.
Landing pages:
For growing your email list, Constant Contact provides pre-built landing page templates that you can customize. You can also use its SMS feature to grow your email list.
Event management:
Constant Contact can be your event management tool if you're planning a workshop, fundraiser, seminar, class, or demo. The platform lets you create signup forms for your event, sell tickets, and promote the event through email, landing pages, and social media. You can also track your RSVPs, items sold, and more in real-time.
Pricing comparison
Constant Contact has three paid plans. Here are the prices for 500 contacts:
Lite: $12/month, you get basic email marketing, event management, and social marketing.
Standard: $35/month. This comes with A/B testing, segmentation, and automation templates.
Premium: $80/month. It comes with dynamic content, advanced ads, and SEO.

Overall, Constant Contact is more expensive than Drip. However, it also offers more diverse digital marketing options, like event management and social media marketing.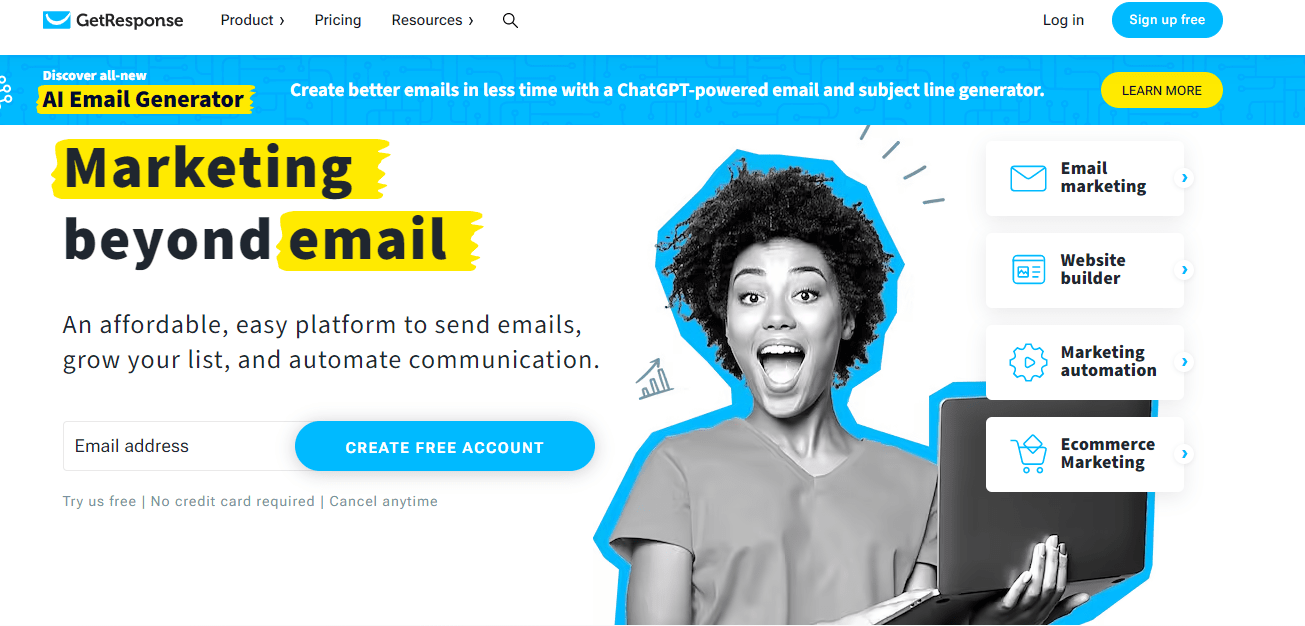 G2 rating: 4.2/5
Here are some reasons why GetResponse made it to the top 7 list of top Drip alternatives:
This email automation software solution lets you build and schedule webinars.
It offers a free plan with essential marketing features for email marketing beginners and small businesses.
You can connect with customers using emails, SMS, live chat, and push notifications, all from a single platform.
It offers robust segmentation features and email autoresponders to help run your business on autopilot.
Features
Here are a few more GetResponse features your business could benefit from:
Landing pages:
A landing page builder that lets you build unlimited landing pages for new subscribers.
Paid Ads:
A paid built-in ad creator to help you reach new audiences on Google, Facebook, and other platforms.
Webinars:
An easy-to-use webinar builder that lets you host unlimited webinars with up to 1000 attendees, and store up to 20 hours of recordings.
Conversion funnel:
Pre-determined sales scenarios with high-quality designs and sales copy to help lead your prospects down the sales funnel.
Pricing comparison
Unlike Drip, GetResponse offers a lot more than email marketing. This makes it more expensive than Drip. Here are the prices for 1,000 contacts:
Email Marketing: $15.58/month, you get access to basic email marketing features.
Marketing Automation: $48.38, this comes with advanced automation and segmentation features.
Ecommerce Marketing: $97.58, this comes with transactional emails, abandoned cart recovery, product recommendations, and other ecommerce-focused features.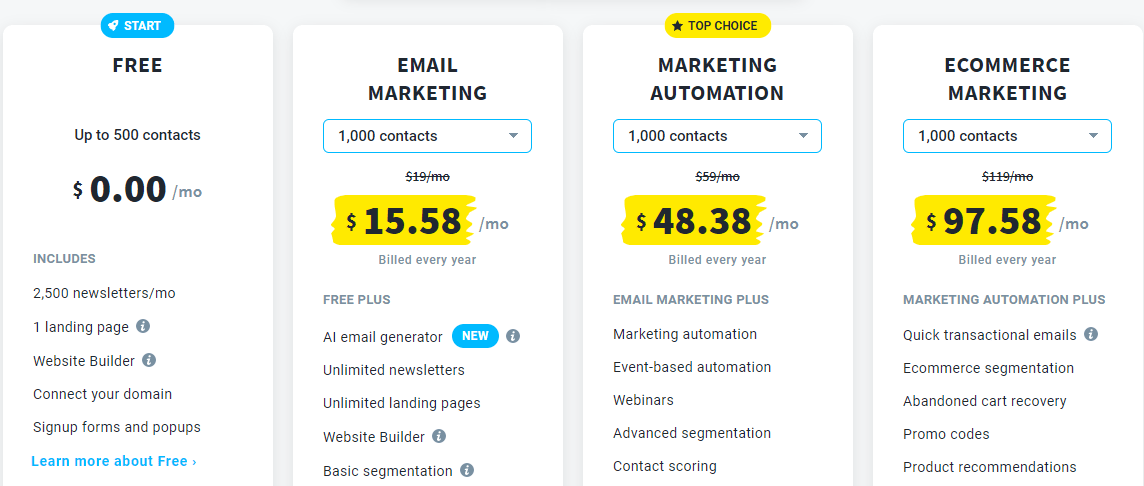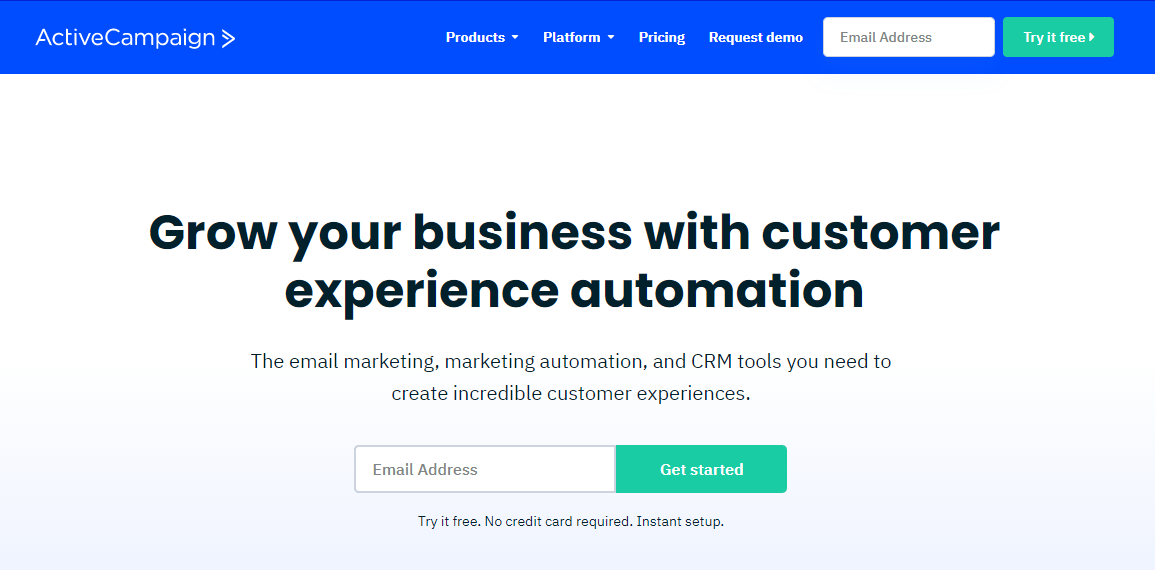 G2 rating: 4.5/5
Shopify rating: 4.5/5
ActiveCampaign has robust email automation and marketing features for businesses of all kinds, including those operating ecommerce stores. This makes it a worthy Drip alternative to consider.
Features
Here are some features that ActiveCampaign offers.
CRM software:
This tool keeps your customer data organized on a single platform, letting you keep track of all your leads.
Marketing automation:
You can create customizable automation workflows using its drag-and-drop interface.
Lead scoring:
This feature shows you how your leads interact with your brand, and how likely they are to convert.
Marketing channels:
You get email and SMS, and in-site messaging integrations to help reach customers via different platforms.
Pricing comparison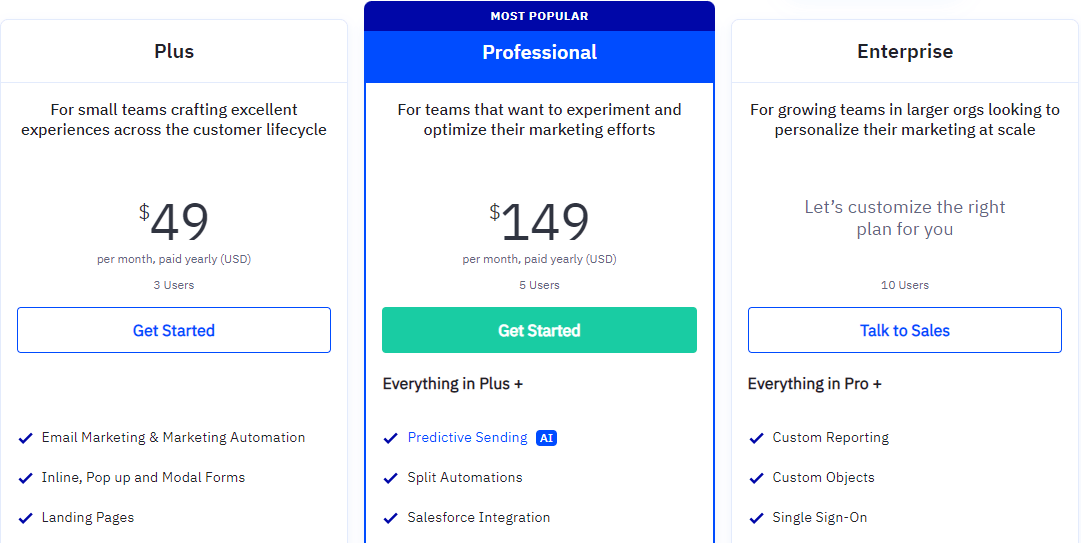 Here's what ActiveCampaign's prices look like
Plus: $49, you get basic marketing automation, popups and modal forms, landing pages, ecommerce integrations, and more.
Professional: $149, here you get predictive AI email sending, split automation, CRM integrations, and reporting.
Enterprise: Custom pricing. It comes with custom reporting, a Mailserver domain, unlimited email testing, and more.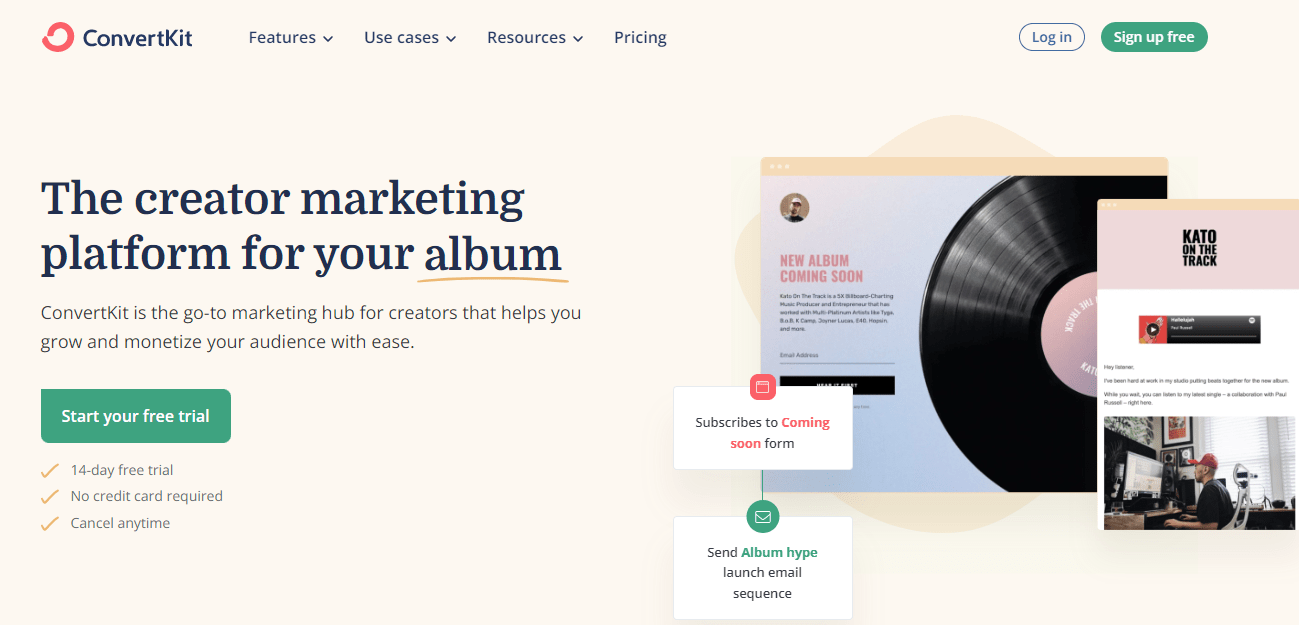 G2 rating: 4.48/5
ConvertKit is a marketing automation software built with content creators, bloggers, coaches, musicians, and authors in mind. It's aimed at growing audiences through automation and personalization.
So if you're in any creative field, then ConvertKit makes for a great Drip alternative.
ConvertKit has a free plan that supports 300 subscribers. You'll get unlimited landing pages, audience tagging, list segmentation, forms and broadcasts, and digital subscriptions.
However, the free plan only offers community support.
Features
Some key ConvertKit features include:
Email designer:
This tool has a mobile-responsive email designer that helps you create visually appealing and engaging email campaigns.
Landing pages and forms:
You get to create unlimited landing pages and forms to grow your subscriber list.
Creator Network:
This lets you join forces with other creators to build your audience.
Pricing comparison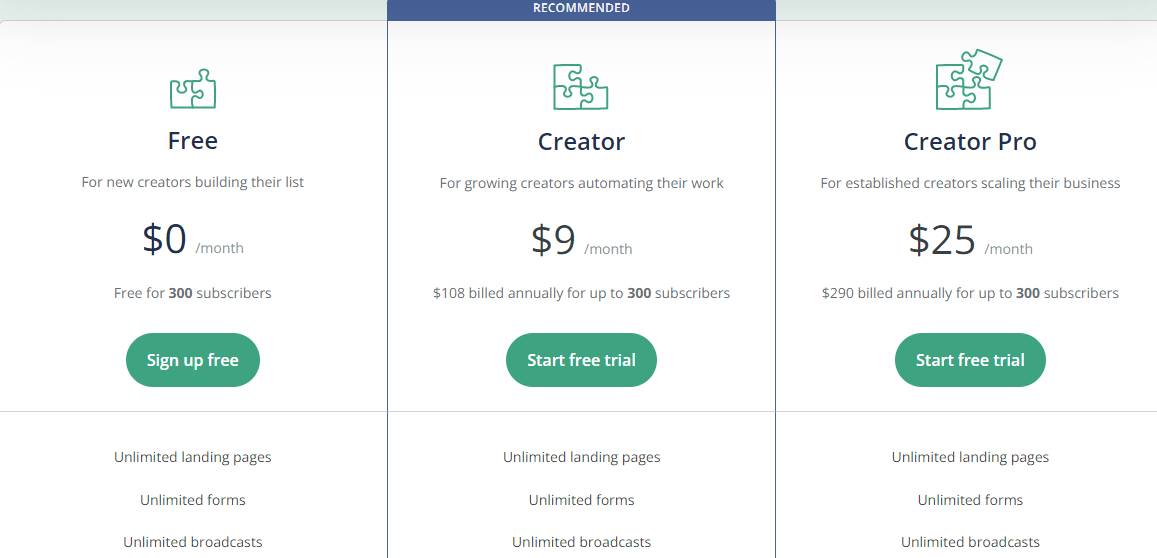 Creator: $9, this comes with features like automated emails, integrations, free migration from another tool, and live chat and email support.
Creator Pro: For $25, you get unlimited team members, advanced reporting, and subscriber scoring.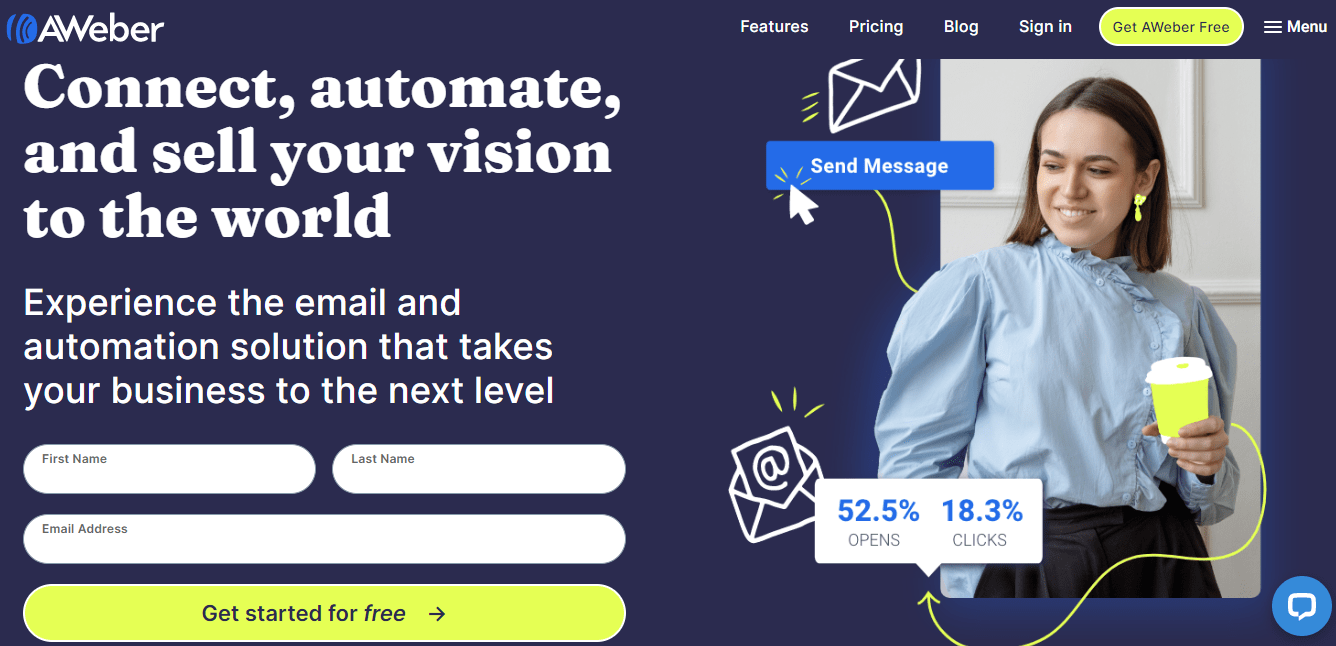 G2 rating: 4.2/5
Shopify rating: 4.9/5
AWeber is another affordable mass email service that you should consider when looking for Drip Alternatives. The tool provides unique, visually-appealing templates to help you build powerful email campaigns.
You'll also get a free plan for 500 subscribers. The plan comes with basic email templates, email support, and one landing page.
Features
Some of AWeber's best features include:
Canva integration:
AWeber lets you design attractive ads on Canva without leaving the platform.
Dynamic content:
This feature lets you tailor each email to specific people on your email list.
A/B testing:
This lets you test out your emails to see which concepts, headers, images, etc. work best for your audience.
AWeber offers 24/7 customer support on the Lite plan and priority support on the Plus and Unlimited plans.
Pricing comparison
AWeber has three paid plans: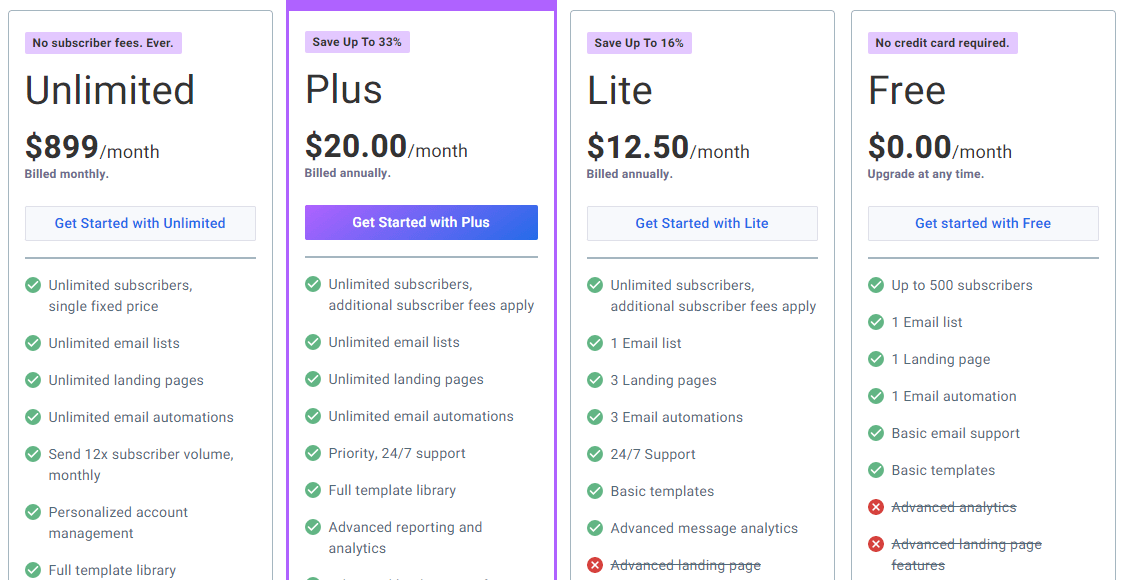 Lite: Starts at $12.50. This plan comes with everything on the free plan plus advanced message analytics.
Plus: $20, you get advanced landing page features, sales tracking, and the ability to remove the AWeber brand.
Unlimited: $899, comes with advanced features like personalized account management and advanced reporting analytics.
Drip alternatives: Wrap up
While Drip is an outstanding email marketing software solution, it may not be ideal for your business and you may consider some Drip alternatives.
For instance, bloggers and content creators can consider ConvertKit or Mailchimp while event managers and social media marketers can opt for Constant Contact.
If you're an ecommerce owner looking for omnichannel marketing, robust automation, and powerful ecommerce integrations, Omnisend is one of the best Drip alternatives for you.
Besides being more affordable and easy to use, Omnisend lets you access all its advanced features for free.
related features
Want more sales?
Omnisend has everything you need to succeed.
Start free now
No Credit Card needed.