Drive sales on autopilot with ecommerce-focused features
See Features
Reading Time:
8
minutes
Facebook's ad platform is still the number one way for most ecommerce merchants to get new and old visitors to their stores during the Black Friday period. And this year won't be any different.
That's why today we'll look at 7 highly successful tips for creating your own Black Friday Facebook ads.
This article is geared for the following ecommerce merchants:
Those that don't have much experience with advertising on Facebook and are looking to get started
Those that have tried Facebook before, but did so unsuccessfully
Those that have a good handle on it, but wanted tips on how to improve their Facebook ads game.
Let's dive right in.
#1 Start early
It's important that you don't make the same mistake that so many other merchants are doing: starting way too late.
You should start early by building your traffic and creating your audiences long before the Black Friday weekend. And that's because people are already primed to start looking for these amazing deals earlier each year.
So how long before Black Friday should you start your Black Friday sales? Three to four weeks should give a good enough space for your Black Friday Facebook ads. You'll want to take this time to "warm up" your audiences, since cold traffic will cost you much more during the Black Friday weekend.
So that should give you a start date of the end of October or roughly 1st of November. During this time, you should get in front of your audience, build a remarketing list (more on that later) and give the final push during Black Friday.
An equally important point in tandem with starting early is to come up with an irresistible Black Friday offer and BFCM ads that your ideal audience will have a hard time ignoring.
#2 Check tracking
You'll need to have Facebook Pixel installed on your site in order to track your visitors' activity. Make sure that before Black Friday the event codes are in their correct place, and that your priority events (such as Page Views, Add-to-Cart, Purchase, Scroll Depth, Time on Page, etc.) fire correctly after users perform a particular action.
You can always check the diagnostic tab in Facebook's Event Manager or Test events if they are being received correctly.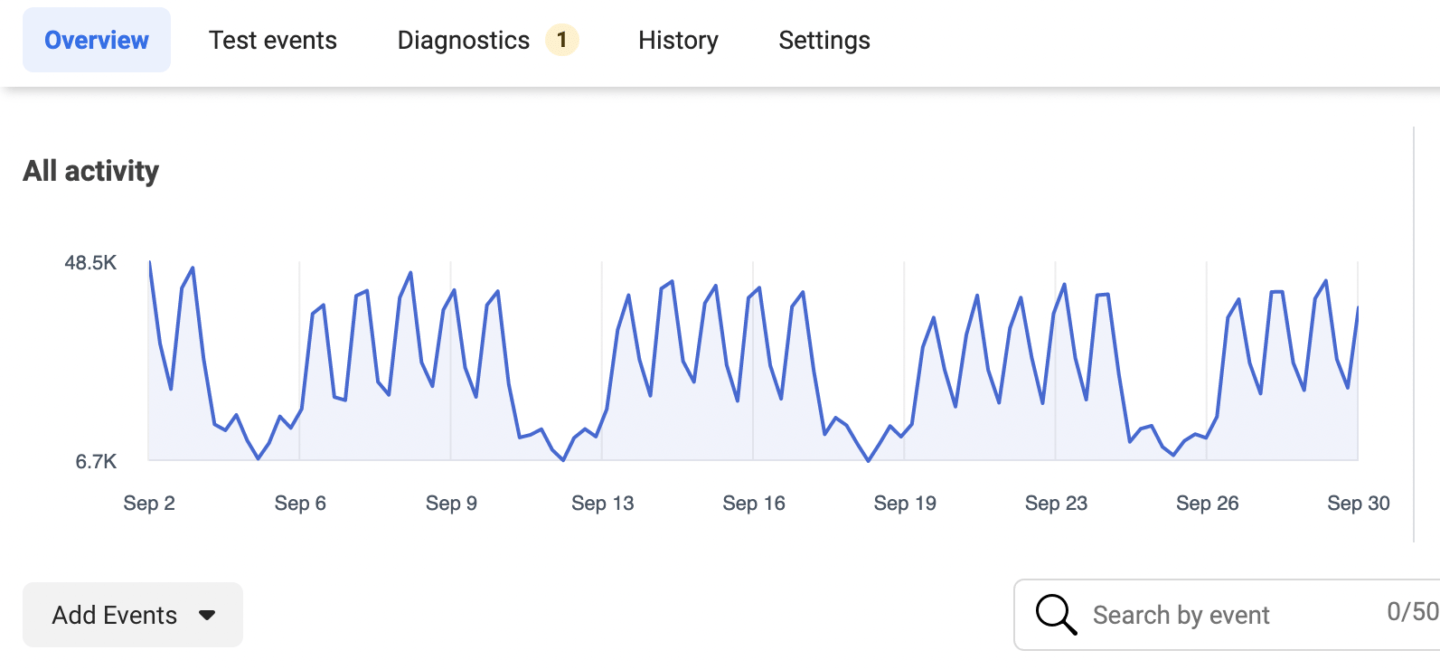 This is one of the most important tools for increasing the effectiveness of your advertising campaigns, so you shouldn't be shooting in the dark here.
You'll also need to make sure that your data feed is up-to-date and uploaded correctly in the Commerce Manager Data source section. If you're planning on getting new products just before the Black Friday period, change the schedule of your feed update accordingly.
Tip: Check if your key products are approved in the Catalogue Items section, or else you won't be able to run remarketing dynamic ads showing those particular products.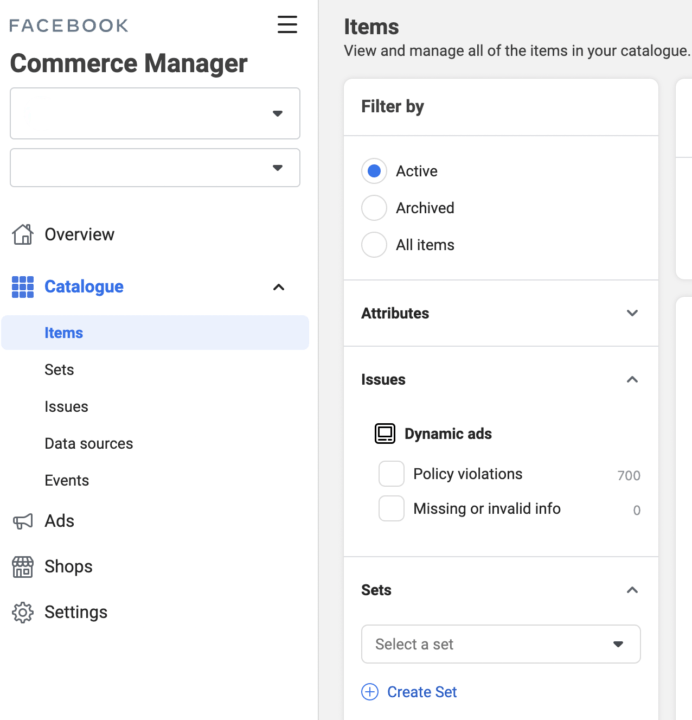 #3 Cover the full funnel
Get the most from your promotions by reaching every stage of the funnel.
Top of the funnel
At this point, you'll need to generate traffic by targeting cold interest-based audiences and warming them up. Remember, you're doing this 3-4 weeks before the Black Friday weekend. During this time, you'll need to re-engage with your audiences that have seen your posts, videos or ads, but haven't visited your site yet.
Tip: A good way to start is with dynamic product ads (DPA), which allow you to promote your product catalogue without needing to create individual ads for each item.
If you run an ecommerce business and haven't yet tried DPA for broad audiences, it's time to do so.
This is important since you may reach people who've expressed interest in your products (or products similar to yours), even if they haven't visited your website yet. Further, people in this audience automatically see products from your catalogue that are probably relevant to them.
You may already be familiar with regular DPA for remarketing, so test and compare it with your current prospecting efforts.
Middle of the funnel
During your Black Friday preparation period, you can also use a lookalike audience of your purchasers, or even your highest spenders. Lookalike audiences, as you may remember, are created when you upload a list of your current customers, and Facebook will try to find other people that resemble your sample.
You can usually export your audience to Facebook for these purposes from your email marketing platform.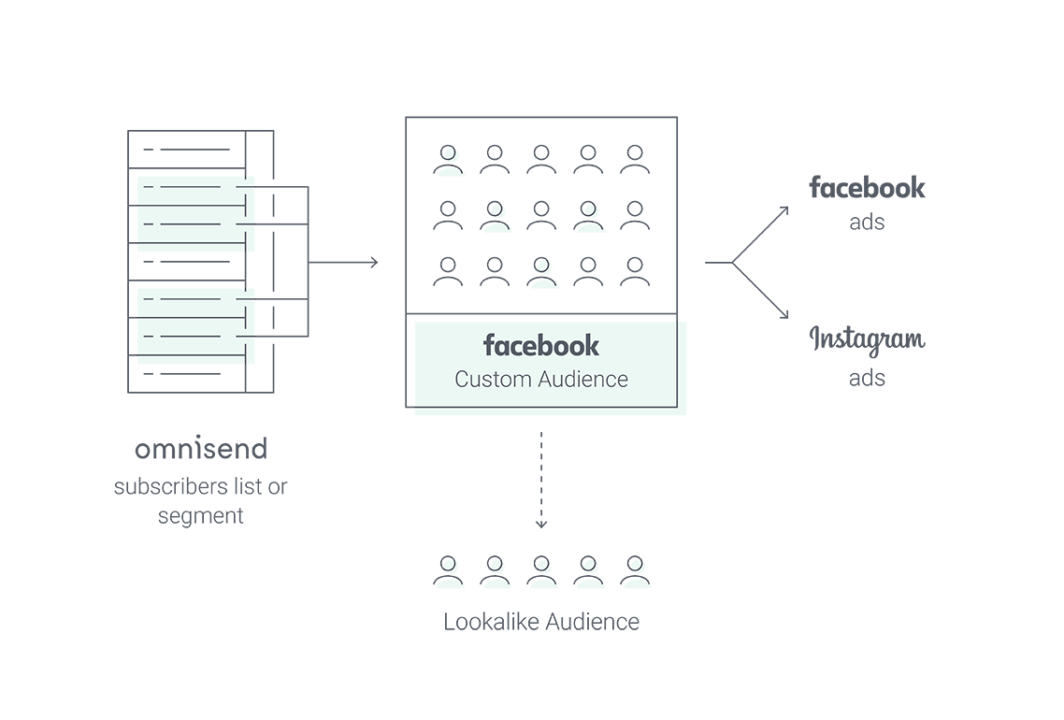 On Omnisend, for example, you can connect the Facebook Custom Audiences app to the platform and then push any segment you want to Facebook to create these lookalike audiences. Some ideas for these segments include recent buyers, those who have spent more than $X, or even the most engaged contacts.
Read here to find out more about how to create lookalike audiences of your subscribers with Omnisend.
In this part of the funnel, you can also create sponsored messages for users that have already established connections with your brand.
Tip:
You can try retargeting website visitors using lead gen campaigns, using something such things as Facebook Lead Ads or
Omnisend Landing Pages
, to collect users' email addresses for early Black Friday discount reveals, etc.
Bottom of the funnel
For the Black Friday period, you can use different audiences, such as an add to cart audience and view content audience, and retarget them with a final push using dynamic ads—again, showing off your most irresistible Black Friday offers.

Don't forget the leads you gathered earlier from your Lead Ads and remarket them with your Black Friday discounts.
Another important thing to remember—don't end it all with Black Friday. Retarget your recent purchasers with cross-sell and upsell campaigns after Black Friday has ended. Give them that something extra they might need to supplement their recent purchase. Alternatively, you can target your past purchasers for Black Friday promotions, since returning users tend to have greater average order values (AOV) because they already trust you. So be sure to remind them about your brand.
Tip: Once you get your ads approved, don't make major changes during the actual Black Friday period. Keep in mind that your CPM (cost per thousand impressions) during the holiday season is nearly 50% higher, so keep in mind that you will need a bigger budget than usual.
#4 Use automation to your advantage
A lot of your Facebook campaigns can be automated.
Firstly, you'll want to start with a campaign budget optimization so that the budget you set for your Black Friday Facebook ads can match the demand across the Black Friday period.
You can also use automatic placements, which can optimize where your ads are placed in order to generate the greatest returns. I would strongly suggest matching your creatives (images, video, text) to placement-specific sizes if you are planning to use this feature.
Shopify data shows that 69.57% of online shoppers abandon their carts. This is where you can step in with dynamic ads and return them to their journey to complete their purchase.
Show the right product ads to the people who have shown an interest in them earlier on. Don't forget to adapt the message according to your segment (recent buyers, abandoned carts, highly-engaged, etc.). For the Black Friday period, you should also allow a higher frequency for your BFCM ads than you normally do.
#5 Build engaging creative and ad copy
To stand out of the crowd during the Black Friday weekend and its month-long buildup, make sure to use visually appealing, catchy creatives.
Also, don't forget that video content is still the king and the most engaging ad format. Maintain the visual and textual appeal in both your BFCM ads and the video to ensure that your audience is highly engaged.
At this point, you should not introduce new color palettes or drastically new designs that can stop your customers from quickly recognizing your brand amongst lots of other ads. Including numbers in your ad headlines makes it more likely that users will click on it. In general, when users see numbers it makes it easier to understand offers.
That being said, it's important to remember that you'll need to provide real value (not clickbait) with your ad offers in order for people to take action. Make sure your ad copy emphasizes how your product will help your audience (and ensure that your product can deliver on these promises). If this seems too complicated, you can use tools to generate your ad copy.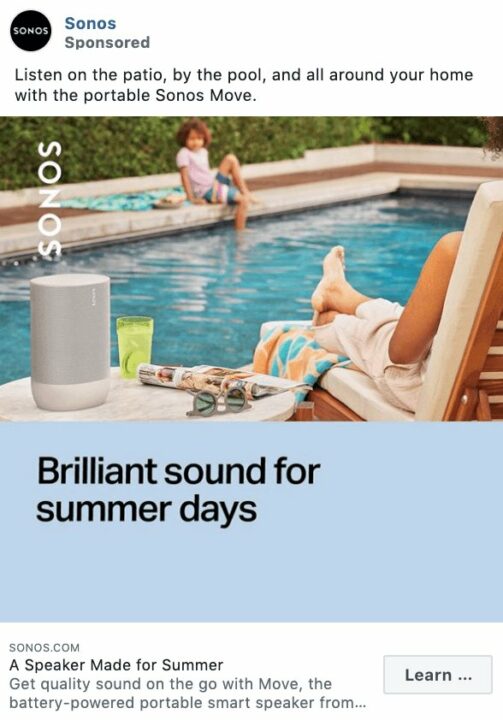 Add social proof to your Black Friday Facebook ads to help create trust and contribute to higher engagement rates.
You should also make sure to split test your Facebook ad elements before you assign a large budget to a single ad variation.
And lastly, don't forget about personalization, holiday carousel frames, and using different overlays.
#6 Increase your AOV
It's important for businesses to not only increase their sales in general by getting more customers to buy, but to increase their AOV (average order value) as well. Your AOV is the monetary value of one customer order on average.
You can create lookalikes for prospecting in order to drive more precise targeting (by, for example, using Omnisend's Facebook sync). Your current high spenders or new audiences that are similar to high spenders can be targeted in this way with Black Friday offers.
You should also rethink your product offerings to make them more appealing. For example, you can create high AOV gift or product bundles, offer a "buy 2, get the 3rd with a 15% discount," offer free shipping after $50, etc.
Make sure that these offers are suitable for both new and returning customers. Consider what bundles make sense, what your highest gross profit margins are, and whether you get any additional profit margin from your bundles.
In case your ecommerce platform cannot make discounts, give consumers value at no cost. For example, you can give your customers a gift with a purchase, and make that offer available sitewide.
#7 Focus on mobile
98.5% of users consume content on their mobiles, so take advantage of using as much screen space as possible.
To do so, you can adapt your videos to a vertical screen space and use the 9:16 format. Ads manager has an automatic cropping tool so it makes this even easier.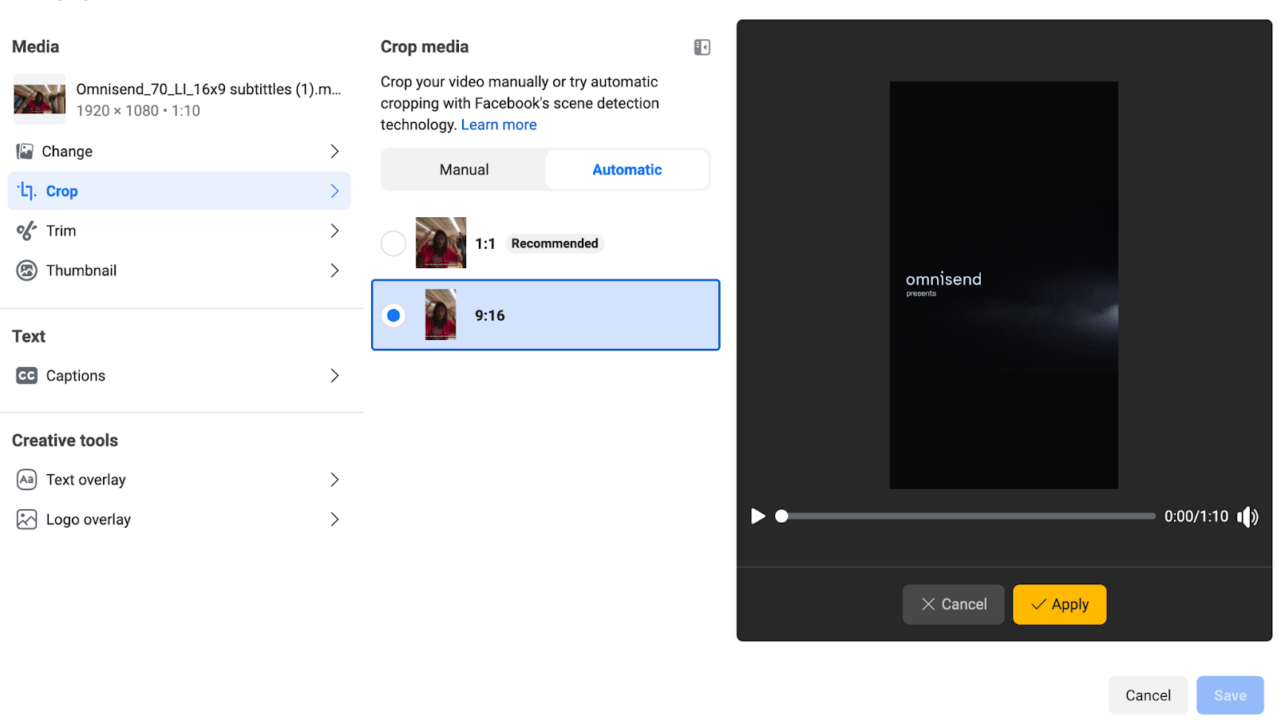 You shouldn't forget the consumption behavior, so don't focus on long videos. Users tend to flip through these quickly, so having your videos around 10-15 seconds is best.
Wrap up
It's essential that, if you're going to be using Black Friday Facebook ads for your sales, that you do it right—or else you could stand to spend a lot of money and not get a lot of sales.
Starting earlier is pretty key here: if you start earlier, you'll most likely get lower CPMs, higher AOVs and conversion rates, and in general a more profitable Black Friday season.
Beyond that, it's important to not only plan absolutely everything for Black Friday only. Find your brand voice and style that works for you, be consistent about it, and plan your content and try to post during the entire holiday season—including the winter holiday shopping season.
And lastly: remember that the buyer's journey doesn't end when they make a purchase. That's your opportunity to convert them into a loyal, repeat customer. Find out more about how to do so by reading our article on perfecting the post-purchase message (for first-time customers).
Get started with Omnisend today & drive sales on autopilot with pre-built automation workflows
Start Free Today
related features
Want more sales?
Omnisend has everything you need to succeed.
Start free now
No Credit Card needed.