How To Integrate Your Email Marketing And Social Media Efforts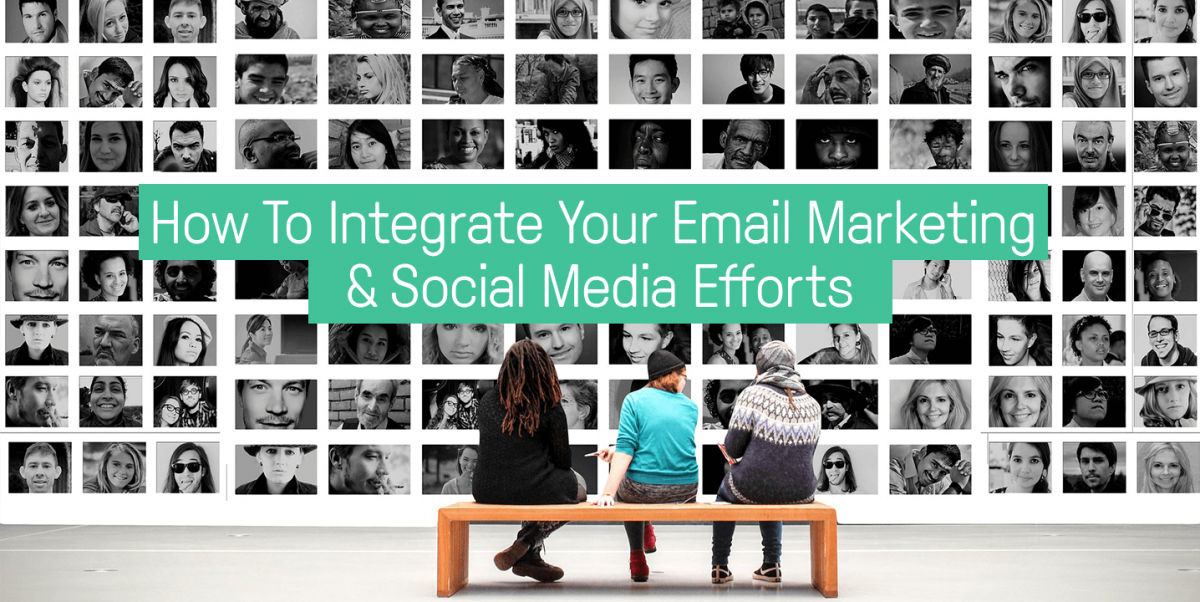 Reading Time:
9
minutes
Social media offers your business access to the largest collection of prospective customers ever collected – about 2.7 billion, at last count.
Email offers your business a level of access to those prospective customers which is incomparable with other platforms.
Together, they're like Batman and Robin. Peanut butter and jelly. Steph Curry and Klay Thompson.
Sure, one is great. But together? Together you can generate an AOV (average order value) of $66.31 – 13% higher than with a single channel.
This article will give you a step-by-step guide to how you can integrate ecommerce email marketing and social media to drive monumental business growth.
Why to Use Both Email Marketing and Social Media
If we look at the numbers based just on total number of users, engagement rates and conversion rates, email stands head and shoulders above social media: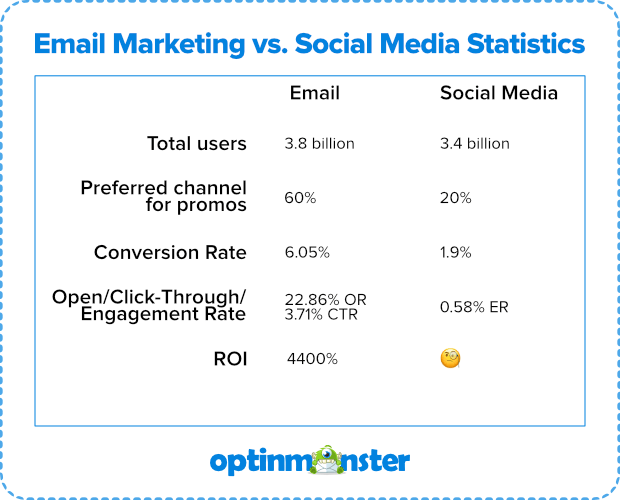 But this doesn't show the full picture.
It neglects to mention that your email contacts have to first provide you with their email address, or that the average cost of a lead for retail businesses is $35, and $105 for consumer products.
It also neglects to mention the full sales funnel – social media fans may see your content and blog promotions without engaging with them, and tracking the effect this has on buyer behavior is impossible.
Anyway, we're not arguing for one or the other. We're arguing for both.
And that argument is an easy one to make:
Marketers who created a more omnichannel experience (including social media and messenger interactions) earned a 90% higher customer retention rate over single-channel marketers.
Omnichannel experiences generate an AOV (average order value) of $66.31, 13% higher than the AOV for customers who did not.
Marketers using three or more channels were able to report an 8.96% purchase rate (3.5x that of single-channel campaigns).
"If this data tells us anything at all, it's that adding more ways to engage with your customer has a positive effect on nearly every aspect of a marketing campaign. By limiting yourself to just one channel, you're walking away from a 250% higher conversion rate."
Sold?
Let's integrate your email marketing and social media tools efforts to provide an omnichannel experience so you're not missing out on some serious sales.
Use Social Media to Grow Your Email List
This section will cover the two primary strategies you can use to use social media to drive email subscribers.
Strategy #1: Promote your lead magnets with social media
The primary way to integrate social media into your email marketing strategy is to target fans with content which turns them into email subscribers.
You can do that either organically (with your normal posts), or with social media ads.
Don't run away scared from that, by the way. Facebook and Instagram offer a serious opportunity to turn fans into subscribers cheaply.
If you can keep your cost-per-click below a dollar, then your lead magnet's landing page just needs to convert 20% of visitors to get a $5 lead.
Which is significantly below the $105 we cited above for B2C brands.
And that's not impossible, promoting your content with Facebook or Instagram Ads can easily be kept below a dollar per click.
Here's an example where content was promoted on Facebook for less than 13 cents/click:
Appealing lead magnet examples:
Ebooks: Compile 5 of your blog articles into a single comprehensive guide. Email-gate it and send your social media followers to the landing page. If you haven't started a blog yet, I highly recommend WordPress for ease of use.
Podcasts: Podcasts aren't typically email-gated, but it's best practice to hold back some exclusive element of each episode and make it public only to your subscribers. Promote this exclusive content to your social media followers with an audiogram (a static image from your podcast made into a gif). Audiograms have been shown to drive 5x the traffic of a static image.
Subscriber-exclusive incentives: Every ecommerce platform has a way to send your email list a discount code. Promote this discount to your social media followers with a link to subscribe.
Once you've created a great lead magnet, embed it on a landing page and email-gate it.
That way, anybody who comes from social media will be required to provide their contact information to access your valuable lead magnet.
Here's an example of an optimized landing page from Lendio that nails simplicity and conversion optimization:
Here are a few landing page best practices that Lendio does well, and that you should implement too
Write a simple headline which communicates the value of your lead magnet
Add a short benefit list (or multiple columns with icons) below your headline which further breaks down the value of your lead magnet
Ask for only a couple pieces of information. This will improve conversion rates.
Attract your visitor's eye to your call-to-action using high-contrast color.
Strategy #2: Use social media chats to build your email list
Create Facebook posts and Tweets which prompt fans to ask any questions they might have about your business (or a recent sale) via the on-platform messenger.
This keeps them on the social media platform which feels less invasive than an email.
Many helpdesk, live chat tools and social inbox tools allow your support team to respond to messages from Facebook and Twitter directly within the tool, right alongside normal website chats and email tickets:
Once your support team has started chatting, prompt your social media Fan to provide an email address so further information can be sent. If your goal is to increase Instagram followers, newsletter campaigns with different promo campaigns can be a good option.
Strategy 1: Add social sharing buttons in your emails
This strategy should really go without saying, but it's still under-utilized.
We're not just talking about the standard social media button graphics in the footer of your newsletter templates.
We're talking about sending newsletters dedicated to turning your subscribers into fans.
Here's an email example we received from home maintenance middle-man Handy:
We said above that offering an omnichannel buyer experience can improve the rate at which prospective customers complete a purchase by more than 300%.
Being where your customers are means being on both email and social media. One isn't more valuable than the other. So promote both, with both.
Step 2: Invite your email subscribers to share your content on social media
There is no more valuable source of customers than your existing ones.
Firstly, you're not a particularly trustworthy source of information when it comes to the awesomeness of your own brand.
Your existing customers (or subscribers) are. So tap that resource!
Whenever you send a newsletter promoting your content (especially email-gated content), emphasize the need for your subscribers to share it on social media with their own networks.
Here's an email template:
Hi [First name]!
We're super excited to (at last) have finished our annual [industry report/ebook/white paper], and we'd love you to check it out:
[Linked name of email-gated content].
This guide took us [long time] to compile and includes the insights from over [large number] of [industry-specific experts].
Hope you enjoy it!
[Your Name]
P.S. Think this might be something your friends or colleagues would get value from? Click [here] to share it on Twitter, and [here] to share it on Facebook!
So that's where you want to put your social share prompts.
Use Email and Social Media Together to Grow Your Business
The marketing strategy which combines email and social media most effectively to drive sales is the online contest.
This section will give you a walkthrough to creating a successful online contest, and break down exactly how it can drive sales.
Step 1: Create a contest or promotion page.
Once you've decided on what to give as your contest prize, you'll need a place to send people.
That would be the contest landing page.
Here's an example from Doc Miller, giving away $250 worth of their compression socks to entrants:
Contest Landing Page Best Practices:
1. Add a video.
If given the option, most people would much rather click "Play" than read a block of text. Humans are, evolutionarily-speaking, lazy. We'd rather be fed than feed ourselves.
Film a video which explains how to enter, how to get bonus entries, how you'll announce the winner, and anything else you think would be helpful.
Then embed it in your contest page.
Don't let video scare you – there are many easy to use and free video editing software tools for beginners.
2. Communicate the value of your prize.
Your Fans and email subscriber aren't entering your contest because they love your brand or want to support you.
They're entering because they want to win the prize.
And if that prize isn't worth winning (or you haven't communicated its value well enough), they won't enter.
So put a picture of the prize, and its dollar value, front and center.
3. Hide the form.
Our recommendation is to use a click popup, which only shows the entry form when someone clicks on your CTA button.
To give you an idea of what we're talking about, here's an example of a click popup from a plumbing software provider:
When the CTA button is clicked, the form appears:
Step 2: Promote your contest with social media and email marketing
This should be pretty straightforward:
Create a series of social media posts which drive your fans to your contest page. Most contests are time-sensitive, so you can't afford to miss a publication date for another promotional social media post if you want to increase reach and get many participants.
For example, if you run a contest on Instagram or you want to promote it within your Instagram followers, there's no need to set an alarm clock to publish your post on time; you can just turn to this helpful site and schedule social media posts in advance.
Use design consistency from the post to the landing page (you can just re-use the image and headline). Consistency improves conversion rates (by up to 23%) as people move between platforms.
Create a series of emails which drive your email subscribers to your contest page.
Start by choosing the best email marketing service based on your personalized needs whether it's a text-based auto responder when someone new subscribes to your blog or promotional emails for your eCommerce store
Send a first promotional email to everyone on your list.
Use email automation to send a follow-up email to subscribers who didn't open
Send another follow-up email to people who did open which reminds them to share with their network.
Send a final email to everyone 24 hours before the contest ends which prompts recipients to take advantage of the chance to win before it expires.
Step 3: Give bonus entries for social media sharing and email referrals
To increase the reach of your promotion or contest, prompt entrants to share with their network via social media and email.
You can do that by incentivizing the share (within Facebook's rules and regulations).
Here's an example from a spa, giving away six massage sessions and incentivizing entrants to share and engage on social media with bonus chances to win:
Note: This feature is provided by several contesting tools, but make sure the incentives you're using aren't going to get you banned from social media.
Step 4: Create an email series sent to all entrants to turn them into customers
This is the most crucial part of this whole guide:
There's no point in getting a single fan or email subscriber if you don't have a strategy to turn them into customers.
Brand awareness is all well and good. But ultimately it's a vanity metric. A dollar in the bank is worth a million Instagram followers who aren't buying from you.
And that's where email campaigns come in.
As soon as your contest is over, send an email saying something like, "Commiserations on your loss. Here's a discount exclusive to contest entrants!"
Here's an example from women's gym Lucille Roberts:
It's essential that you don't just send one email and then mark your new lead as "lost" if they don't buy immediately.
Instead, send a series of emails (3-5) which communicate the value of your products and reiterate the discounts they're eligible for as contest entrants.
Helpful Tools to Integrate your Email Marketing or Social Media
Conclusion
Put together, social media and email marketing offer a powerful one-two punch in the buyer journey.
And even after your customer has bought, using email and social media together can help you retain those customers.
Have any questions about integrating email marketing and social media? Don't hesitate to reach out in the comment section below!
About the Author
Levi Olmstead | Levi is the manager of SEO and Community at G2. In his spare time, Levi enjoys spending time with his dog Frodo, finding the best Chicago dance party, and getting lost in YouTube deep dives. You can follow him on Twitter @levi_olmstead