Drive sales on autopilot with ecommerce-focused features
See Features
Reading Time:
7
minutes
Online retailers are always looking for new ways to build trust and connect with their customers. While email does a great job of providing the intimacy retailers want, crowded inboxes can sometimes make the most genuine of emails seem commonplace.
This is where social media comes in. Where email has more of a one-on-one feel, social media is a very public space. The interactions between ecommerce brands and customers offer a feel of transparency for onlookers.
While it may seem these two platforms are too different to work together, this couldn't be further from the truth. The transparency of social media combined with the intimacy of email can help you create a profound sense of trust with your customers.
In this piece, we'll explore how you can combine social media into your email marketing campaigns to provide a unique, personalized experience for your customers, and encourage them to purchase from your store.
How Social Media and Email Marketing Are a Perfect Match
Social media is great at providing ecommerce companies with social proof. When a customer is discovering a brand, seeing the experiences and reviews of other customers starts to build trust in shopping with them. Not only that, product reviews are helpful in them making an informed decision, as 67% of customers check product reviews before purchasing.
By including the social proof you get on your various social networks into your email campaigns, you can show subscribers that there are happy customers who are just like them. You can do this with different kinds of social proof:
Reviews from other happy customers: Customer reviews are a powerful tool for conversion. Include different snippets from your customers, like a quote, the rating they gave, and any photos they might have included of the product. Seeing first-hand testimonials from others can help answer questions they were probably already asking themselves.
Showcase of top-rated products: Especially for customers who are just discovering your brand, showcasing your most popular (and well-reviewed) products can help them build trust in your brand. Having one top-rated product helps, but it works even better when you have a lot of products with glowing reviews.
User-Generated Content: UGC shows prospective customers that other people love your products so much they're willing to promote them on their personal social accounts. Some brands capitalize on this social proof by using it to build a community around their products, which then helps encourage other customers to create more UGC, etc.
Shopping online can be scary for your customer—how can they be sure they're going to get the product they want? They don't have the brick-and-mortar advantage of being able to touch or try a product.
Build your customers' confidence in your ecommerce store by showing them the real reviews, testimonials, and photos your customers post about your products. You can assure them that you deliver what you promise. Also, by checking your ecommerce store using a VPN, can help to identify speed problems.
Start Omnisend 14-day trial and test social media and email marketing integration today!
Start Free Today
Building Both Email and Social Media in Tandem
Integrating social media and email marketing means that you can leverage each channel to build the other, increasing the amount of personal touch points you have along your customers' purchase journeys.
Ideas for combining the two:
Incorporate social proof from Facebook, Twitter, Instagram, Pinterest, etc. in your emails to build trust with new customers.
Encourage your subscribers to follow you on social media for exclusive offers and promotions—and vice versa, encourage your followers to "keep in touch" by signing up for your newsletter.
Use your promotional emails to cross-promote giveaways, contests, and other events happening on social media to your subscribers.
If you hold giveaways/contests on social media, make signing up for your newsletter an additional entry (or liking/following on social media if you're promoting via email).
Include social links in each of your newsletters so that the option is always available for passive follows.
Using these tactics, you can easily integrate social media and email marketing seamlessly and grow engagement on both channels.
Maintain Exclusivity on Each Platform
While you can use the content from one channel to play off of the other, it's important to keep the content that's shared to each channel unique. After all, what's the point of using both channels if the content is exactly the same?
Instead, pull the best of your community-shared social posts and put them into your newsletters, and mention exclusive offers and promotions from your newsletter campaigns on social media. Use teasers to give your audience a taste of what you share on the other channel, but don't give it away for free.
How to Integrate Social Media Into Email Campaigns Throughout the Customer Journey
Email and social media don't have to exist in silos. Using a few of the tips I've outlined above, you can integrate both of these channels throughout each step of the customer journey.
Here are a few practical use-cases of integrating both social media and email marketing to create a cohesive experience for your customers.
Welcome Series
Incorporating social media into your email campaigns is critical in the beginning of the customer journey. Social proof boosts trust, showing your customers that others just like them had a great experience with your store.
Your welcome series should incorporate social posts in the second or third message to show your potential customer that there's a real community build around your products.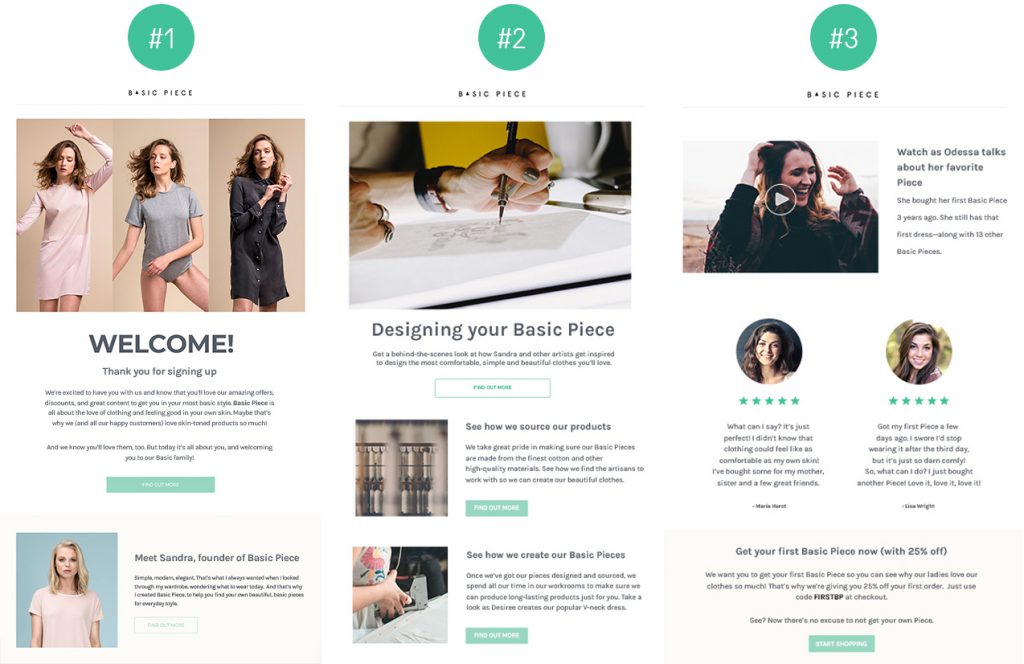 A welcome series is also a great opportunity to invite customers to engage with you on social media. Encourage them to follow your different social channels for new product launches, contests, giveaways, or special promotions.
Your customer is just getting to know your brand, and it's more important than ever to show them the different ways they can connect and learn more about your products. By integrating social media into your email campaigns, you'll be starting off showing your customers exactly where they can find you.
Build that perfect Welcome Series using Omnisend! Try it out free for 14 days!
Start Free Today
Cart Abandonment Series
With cart abandonment, much like your welcome series, adding social proof helps nudge your customer towards the purchase.
Using a similar 3-message series, you can show reviews from social, or any posts that customers have made with your products. It's especially effective if you happen to have customers using the product that was abandoned.
Putting that kind of social proof in a series prior to offering a discount on the forgotten cart might encourage customers to purchase before you have to offer a heavier incentive. You can save your incentives for the customers that are more difficult to convert, as opposed to those who just needed a simple reminder.
Another way to incorporate social into your email campaigns is to use subscribers' email addresses to create retargeting ads for the customers that resisted even the most tempting incentives.
Set up your cart abandonment workflow to trigger retargeting ads for the abandoned products on different social platforms if your customers have still not purchased. This way, you keep your product in front of your customers' eyes, even when they're scrolling through their favorite content.
Post-Purchase Series
The customer journey is far from over once the customer has purchased and received their products—in fact, there's never been a better time to reach out to your customers!
While there are several kinds of emails that fall into a great post-purchase series (and frankly, your social integration has its place in each of them), we're going to focus on the way to drive your subscribers to your social channels: feedback gathering.
This is the moment when you can call your customers to your social networks and ask them what they thought of your product. Here are a few tips you can try out:
Incentivize a social post with your products by asking your customers to leave a review on social media. This will help create user-generated content (UGC), especially when incentivized with a discount, rewards points, or a small gift of thanks.
Using a dedicated hashtag for your products creates a sense of community, with the added bonus of making it easy to find all the posts your customers have made about you.
Invite your customers to join you on social by showing what others have posted about your products and store.
Ask your customers to share a review on social. If your customer has already left a review on your site, ask them to share it on their own social pages, or refer a friend to your shop via social.
Create a contest or giveaway and invite your subscribers to earn free entries by posting on your social pages or under a specific hashtag.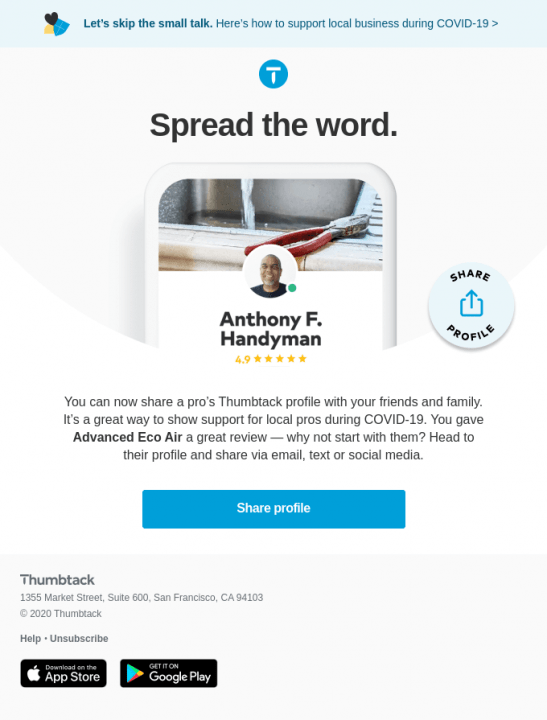 Contests and giveaways work particularly well on social media. Long before I was working with Omnisend, I was a marketing intern at a franchise-based brick-and-mortar/ ecommerce hybrid shop and was tasked with launching a product in our region. To drive more engagement on social media, I held a user-voted contest on the best picture of our flagship product in their picturesque vacation spots.
Not only did it generate more activity on social media, but it helped reenergize the slower summer months with subscribers that weren't following us on social, and gave us engaging content to include in our email campaigns.
Not only will driving your subscribers to your social accounts help you create more great UGC for your brand, but they'll be referring your brand to their friends and family with their activity.
---
Though they're two very different channels with their own best practices and rules, social media and email marketing go hand-in-hand towards building a real community around your ecommerce brand.
By incorporating social media into the steps of the customer journey you can directly observe and respond to via email marketing, you can grow both channels together, and use both to create a multi-touchpoint journey that encourages your customers to purchase.
What are your best tips for leveraging social media and email marketing together? Tell us below or Tweet us!
Want to test out what you learned? Start Omnisend 14-day trial and try it for yourself!
Start Free Today
related features
Want more sales?
Omnisend has everything you need to succeed.
Start free now
No Credit Card needed.