Drive sales on autopilot with ecommerce-focused features
See Features
5 ways to use email marketing with Google, Facebook, & Instagram ads for Black Friday
Reading Time:
9
minutes
The costs of digital advertising have been on a constant rise as a result of the pandemic-induced move to online shopping:
Meta (formerly Facebook) has increased its CPM prices by 39% year-over-year (YoY)
CPC at Google has gone up 12% YoY
Amazon's CPC has gone up 11% YoY
TikTok has increased its CPM prices 70% YoY
Combined with a difficult global macro landscape, which takes into account a bleaker economic outlook and rapidly increasing energy costs (making products and services more expensive to produce and transport), ecommerce merchants may find this year's Black Friday particularly challenging.
However, there's hope:
A winning Black Friday strategy will lean not only on digital ads to collect subscribers and sales, but also email & SMS marketing from your email service provider (ESP). This will help to widen the top of the funnel, while ensuring shoppers are moving effectively from visitor to subscriber to customer.
This article will look at the five key ways you can combine email & SMS marketing with Google, Facebook, and Instagram ads through each step of the customer journey funnel in your Black Friday strategy.
1. Use first party data for prospecting
Advertising platforms such as Google or Facebook store massive user databases. However, there are a lot of questions surrounding the optimal way to use these platforms during BFCM:
How will you know which users to choose for that perfect targeting?
Should you focus on demographics, interests or something else?
How can you avoid wasting substantial time and money searching for the right audience?
Ad costs during the BFCM period are much higher than usual. However, reaching new customers with paid ads may not be as expensive if you do it right.
The secret here is using first-party data—the data you've collected directly from existing customers, and which you own, to acquire new customers.
According to Google, brands using first-party data for key marketing functions achieved up to a 2.9x lift in revenue and a 1.5x increase in cost savings.
The question then is how do you use the first-party data you own to create ads with better targeting, lower costs, and higher revenue?
This is where email marketing comes into play. If you have an established email marketing program, with collected user behavior data, you can export your customer list from your ESP to the advertising platform.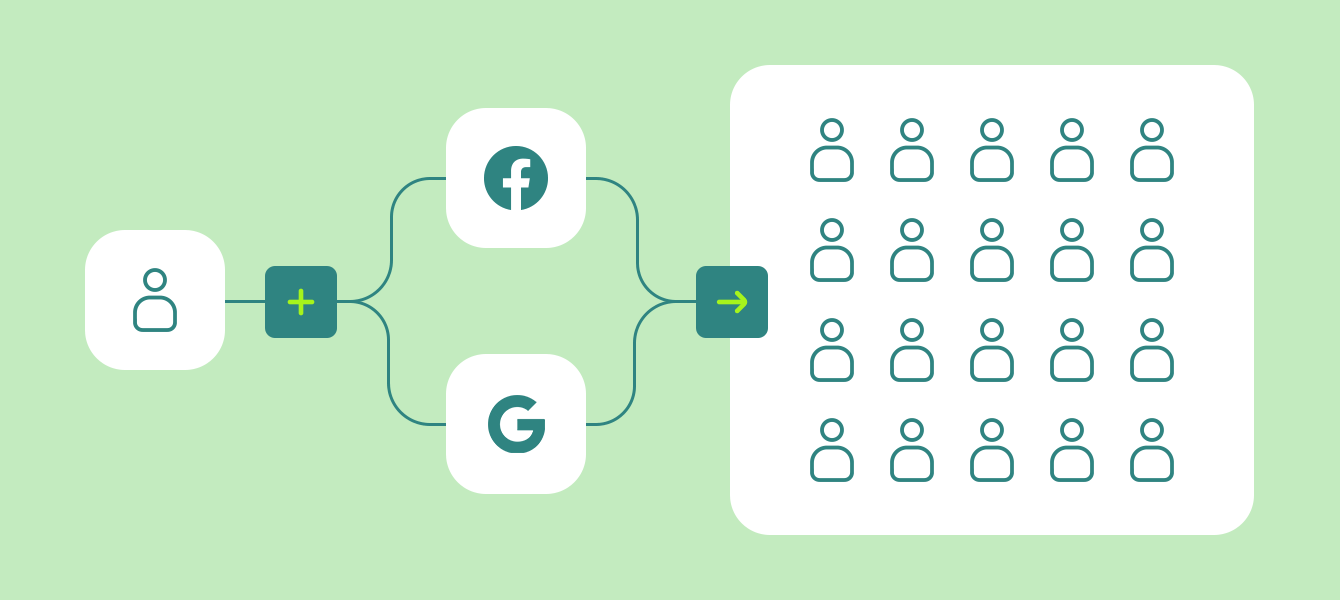 Omnisend has integrations for both Facebook and Google Ads, so you can sync your customer list directly to the platform—and update it in real time.
You can easily create a lookalike audience on Facebook or a similar audience on Google Ads based on the same features and interests as your customers. Even better, you don't need to target those features explicitly, as the ad platforms' algorithms will do the heavy lifting for you.
When using a customer list, you can go broad with your entire customer base or use a specific segment. Some examples:
highest spenders
last year's holiday shoppers
your most engaged customers
Because you're advertising to people that are similar to your current customers, lookalikes and similar audiences are a great way to find new customers and boost conversions during the BFCM period.
If you choose the right targeting from the first step, it will lead to a more qualified funnel and save your marketing budget.
Let's look at a few middle- and bottom-funnel strategies you can use.
2. Lead prospects down the funnel (and retrieve abandoned carts)
Once you've brought visitors to your online store, we can move on to the next part of your funnel. Now that they're aware of you, you need to interest them with enticing products or offers, or further down to get them to act by buying.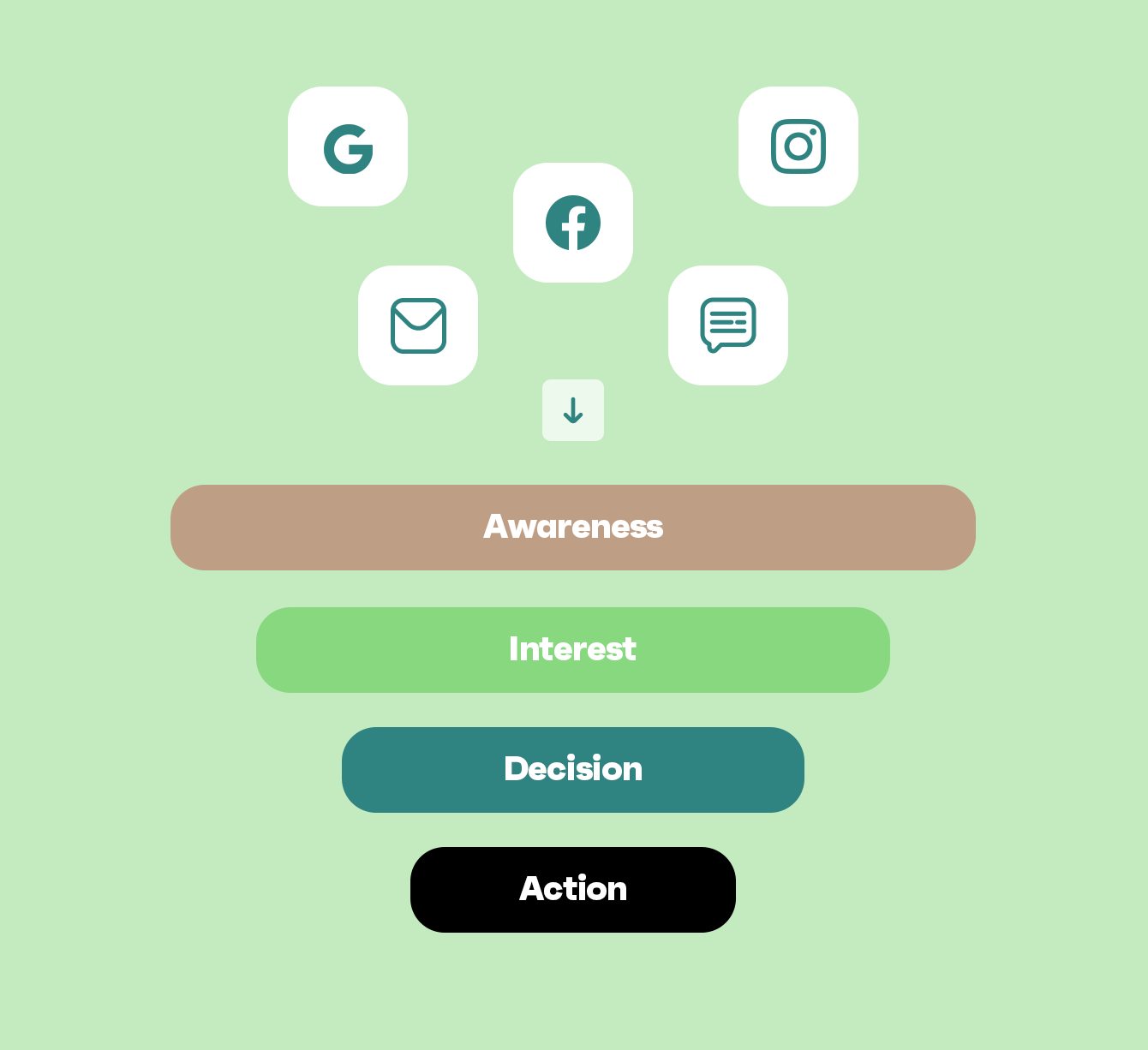 A rule of thumb in marketing is that it takes roughly seven touches for the final conversion.
A customer's journey to purchase usually takes more than just one click, especially during the BFCM period when there are a high amount of competing offers in a short amount of time.
The first thing you need to do before starting your holiday campaigns is to create segments based on the actions the user takes in your store to understand in which stage they are.
The most important engagement stages are:
Viewed the product, but not added to the cart
Added product to cart, but did not purchase
Initiated checkout, but did not purchase
It's important to take shopping behavior into account. For example, this past holiday season, 54% of shoppers used five or more channels, like video and social media, to shop over two days.
Omnisend's own research showed that brands using three or more channels saw a 287% higher conversion rate than those using only one channel.
When creating strategies to move customers further down the funnel, use as many channels as are at your disposal. For example, Omnisend allows you to use email, SMS and push notifications. It also allows you to sync your segments to Google and Facebook Ads. That brings your channel count to five.
Add in your social media reach, you can have up to seven or more channels that you can use as various touchpoints to make shoppers aware of your product, get them to visit your store, get them to subscribe to your newsletter, and then retarget and convert them into shoppers.
The best omnichannel strategy is the one that works for your store, so it's important that you constantly test different channels to discover the ones that bring the best sales, the best quality of customers (fewer customers but higher AOV or LTV, for example), or whatever metric you're optimizing for.
Retrieve lost customers
Lost customers are costly. Research shows that a high number of visitors add products to their carts but leave without purchase. This is different for various verticals, with fashion and luxury stores facing an 88% cart abandonment rate.
These are visitors that have already interacted with your store, which means that they've already established interest in the ads or other content that brought them to your store. Your next tasks are to bring them back and convert. If you are able to do so, you will be able to later on build on loyalty and LTV.

There are numerous options to retrieve a lost customer, including Facebook/Instagram retargeting, email retargeting or Google retargeting.
However, to create the best experience for the user, you should use a combination of platforms.
Let's look at a few middle- and bottom-funnel strategies you can use.
Middle-funnel paid ads and bottom-funnel email & SMS marketing
Black Friday is a short sales period, so it's better to optimize your ads for events that happen before purchase conversion, such as add to cart or initiate checkout. In this case, you're still reaching for a valuable goal, and it will help you exit the ad's learning phase and optimize your ad performance more quickly.
Remember that for paid ads you'll need to get a certain number of conversions for optimized performance—for Facebook it's 50 events, while Google requires 30 events.
If the visitor that's abandoned their cart is already in your contact list (the first-party data you own), you can reach them with abandoned cart or initiate checkout automations by combining email & SMS.
For example, if a customer didn't engage with your cart abandonment email, send them an SMS with a link to their cart.
In fact, according to Omnisend's 2022 Black Friday data, cart abandonment sends increased by 52% and orders increased by 66% in the first days of November.
With your ads focused on upper funnel, softer conversion events where users are adding items to their cart or initiating checkout, you can then use your email & SMS marketing to focus on the bottom-funnel goal of getting them to complete the purchase.
Bottom-funnel paid ads
You can segment your users who visited your store by the actions mentioned earlier (viewed product, added to cart, initiated checkout) and sync their list directly to Facebook Ads or Google Ads platform. Optimize these paid ads straight to sales/conversions events and try to get those customers back to finalize their purchase.
You can target each segment with a different ad. For example, you can show a banner with a unique 10% discount code for those who abandoned checkout, or show more signs of your brand credibility to those who viewed the product but did not add it to the cart.
Audiences who already have engaged with your brand are usually cheaper to convert than a cold user, so this tactic is also something you can test before your BFCM period to see which one works best for you.
3. Increase AOV with cross-sell and upsell
Upselling encourages customers to buy a similar, yet higher-end, product than the one under consideration. Cross-selling inspires them to purchase products that complement items they have bought or are about to buy.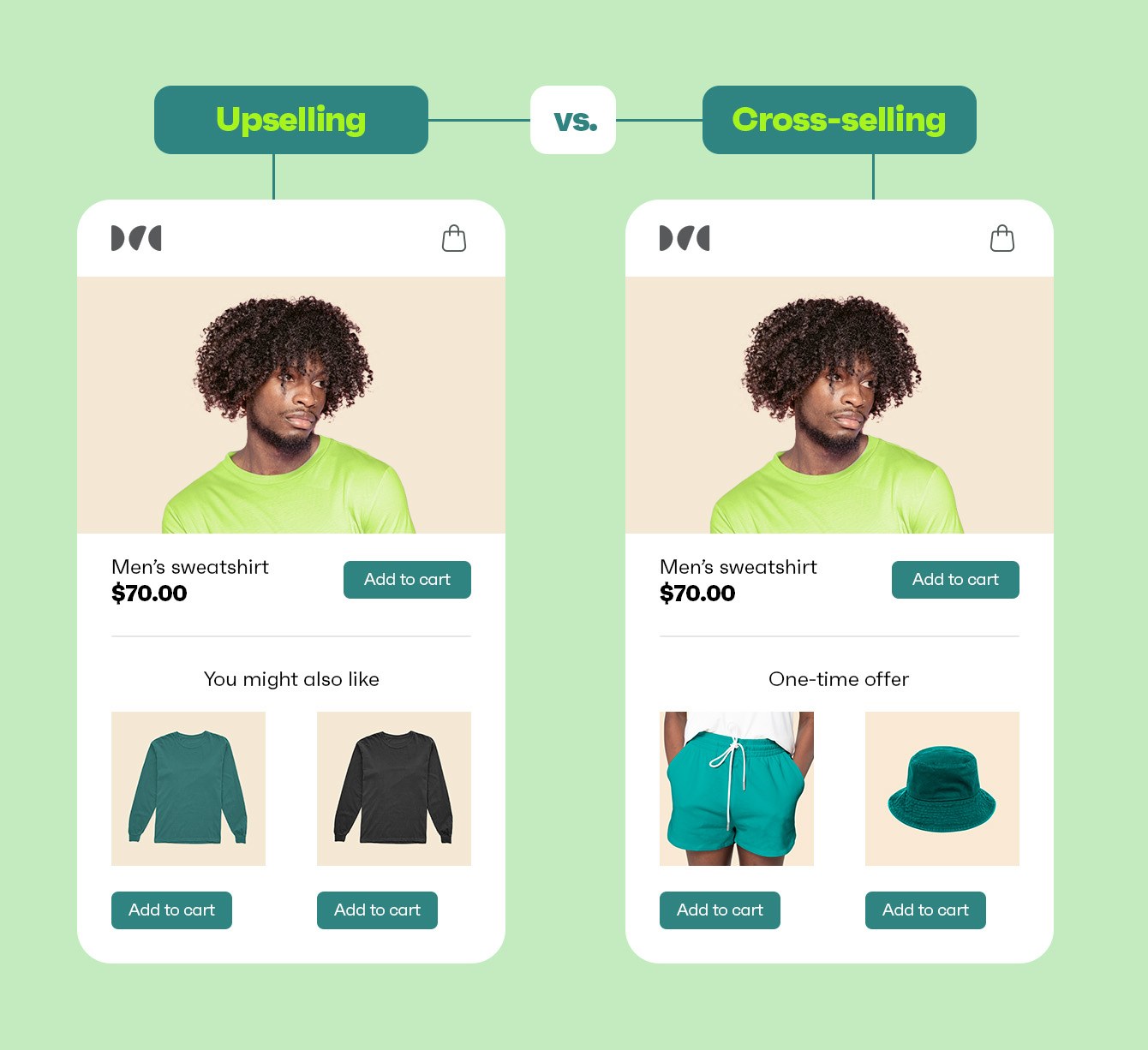 Both forms of persuasion have the same goal of adding value, by introducing options, and ultimately influencing a buyer to spend more money.
Two of the most common ways of cross-selling for ecommerce are:
directly into the on-site shopping experience: add cross-selling messages while the shopper is browsing your store. You can add these promotions on product pages, in the shopping cart, during checkout, as part of a discounted bundle, etc.
via post-purchase communications: add recommended products to order confirmation, shipping confirmation, and other automated emails
Let's focus on post-purchase communication options. In order to encourage past buyers to order again, merchants have to create targeted lists of their customers.
Reconverting past buyers can be done via email, or Facebook/Instagram or Google advertising so that the offers appear in front of their customers again.
The first step for any of these platforms is to organize your buyer personas into segment lists.
The second step is to create relevant remarketing campaigns. If, for example, I bought a sleeping mattress, I wouldn't want to see other options for the same product. Instead, I'd be more interested in bed sheets, duvets or bedroom accessories.
If I bought a phone case, screen protection would be a good thing to cross sell as you already know what kind of phone I have, then showing a particular model would even make the purchase journey easier and faster.
Since you have all the customer information already, don't forget to use these upsell opportunities. Get personal, be creative, and use incentives.
4. Renew the customer journey with post-purchase messages
While most merchants are focused on acquisition and offer discounts on first purchases, it's important to not forget your current customers and to incentivize them as well.
Above, we covered the key aspects of cross-selling and upselling, but there are also numerous techniques you can use to get repeat purchases.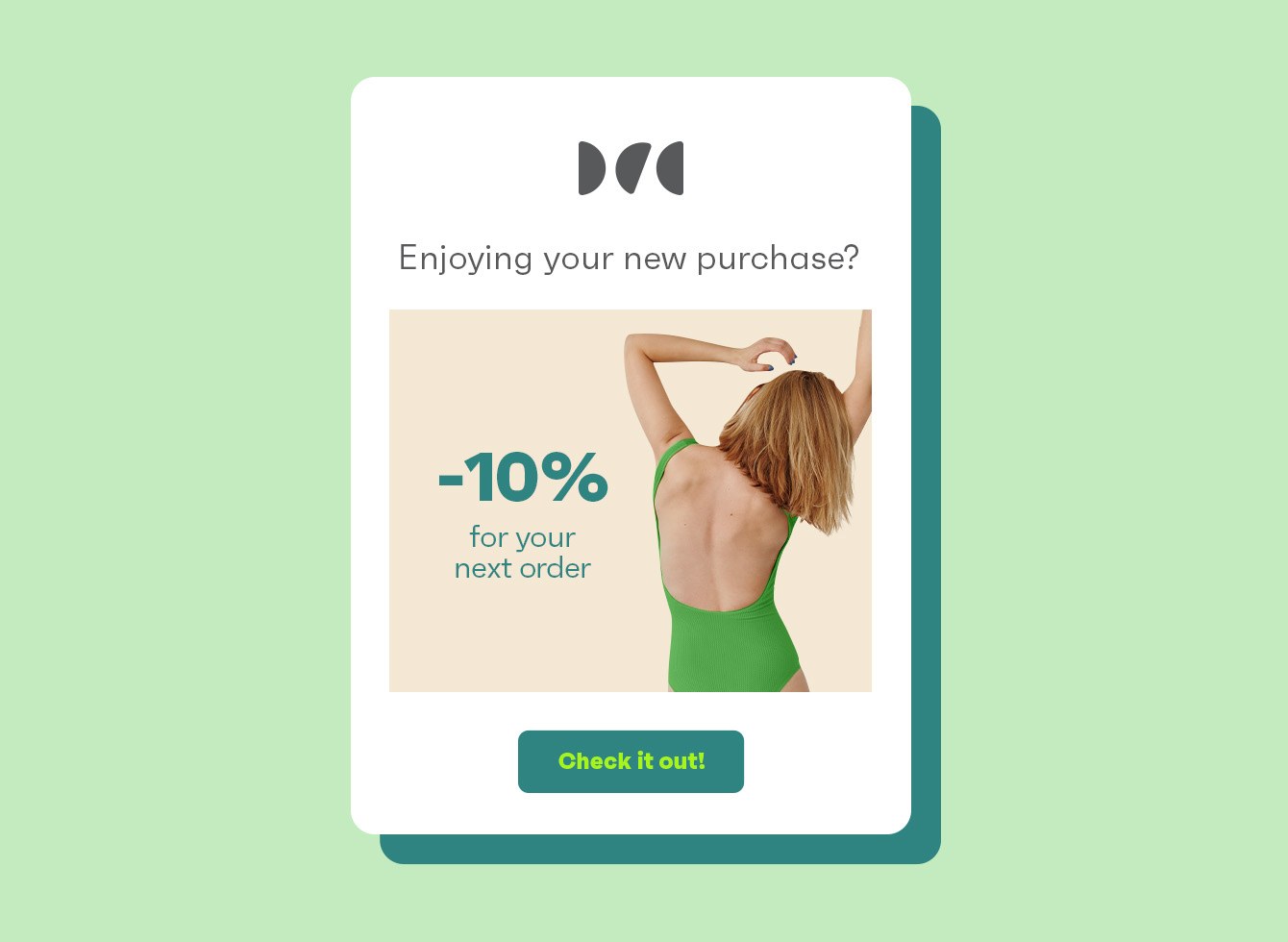 Segment and target audiences on social media
Re-engage with your existing customers via your social media channels. You can do it in different ways:
upload a customer list from your ESP to Facebook Ads manager or, depending on your ESP, sync directly to Google ads and use it as a custom audience
use your Facebook pixel information to retarget customers that have already purchased items from your store
A customer list from your ESP gives you many more options to explore. You can use different segments for customers who:
have purchased only one time
are repeat buyers
are big spenders
tend to have lower AOV
By creating different custom audiences, you can show different special offers and promotions with dynamic catalog ads and advertise more of your products, or create custom ads with offers and promotions dedicated specifically to loyal customers.
Use post-purchase emails
Email marketing is probably the most common post-purchase communication medium. The most popular are order confirmation and shipping confirmation emails—but merchants shouldn't focus only on these must-haves.
In order to generate more sales you have to go a step further and think about review requests, product recommendations and restocking emails.
Read here to find out more about the six most effective post-purchase emails.
5. Send special presale offers to your subscribers
We cannot emphasize enough how important BFCM presale offers are to your current subscribers or buyers. Early access allows you to avoid out of stock situations during this intense period.
Below are three examples of special BFCM presale offers sent via email: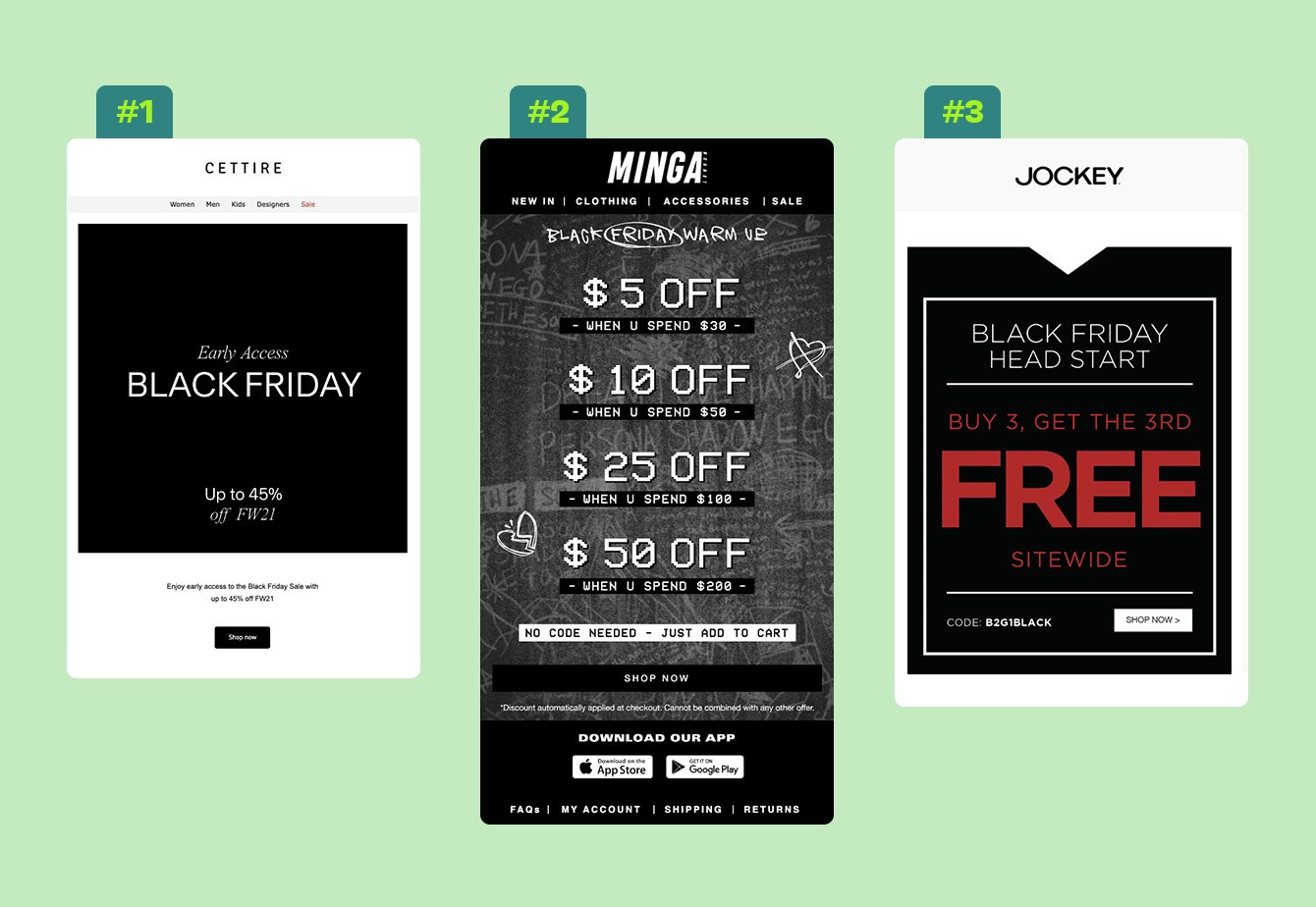 Create a segment of your loyal customers in your ESP like Omnisend. Using this segment, combine your email marketing campaigns & SMS offers in order to provide early access to your loyal customers or current subscribers. You can use such popular offers as BOGO, 2 for 1 deals, free shipping, and more.
And don't forget SMS. In fact, SMS marketing is being increasingly used by ecommerce stores worldwide. Through the first half of 2022, brands sent 47% more promotional SMS than in the first half of 2021.
Even better, the conversion rate for automated SMS increased by 43%, meaning merchants this year had more orders from automated SMS than they did for the same period last year.
At this stage, however, we don't recommend ads, because the BFCM period is quite competitive and CPC prices are at the highest. The best way to reach your loyal customers is through SMS and email campaigns.
Learn more about offering limited-time offers here.
Wrap up
The rising costs of ads on various digital platforms should not deter you from planning and implementing your BFCM strategy.
Black Friday is a highly competitive, but still highly lucrative sales holiday, and every online store should take advantage of it in one way or another. With better audience targeting, ad costs can drop significantly, helping you get better ROAS on your BFCM campaigns.
Fully utilizing your email & SMS marketing lists can help you create better, more targeted audiences for your Google, Facebook and Instagram ads. With Omnisend's advanced segmentation, you can filter your audiences in various ways so that you can create better ads that deliver real results.
Use Omnisend to create better segments that you can sync with Facebook, Instagram and Google ads for better ROAS.
Start Free Today
related features
Want more sales?
Omnisend has everything you need to succeed.
Start free now
No Credit Card needed.