Drive sales on autopilot with ecommerce-focused features
See Features
5 Questions to Ask When Choosing an Ecommerce Email Service Provider [ESP]
Reading Time:
7
minutes
Email marketing is at the core of any great ecommerce marketing strategy. No other channel allows for such proximity and 1-to-1 conversation with your customers. Furthermore, no other channel is quite as profitable as email: for every $1 spent on email marketing, ecommerce merchants can expect to earn $42.
But it's not as simple as just sending an email to your customers. Crafting an effective message that is visually appealing takes effort. You need to properly collect, store and segment email addresses. And automated workflows are critical for making the job of sending pertinent messages—like a "Hey, where did you go?"—easier.
You'll need an email service provider, better known as ESP, to get the most from your email marketing strategy.
For online merchants looking to find or change to a new ESP, cutting through the jargon and buzzwords can impede you from identifying the right solutions.
Below we outline the most important considerations and questions to ask in selecting the best ESP for your online store.
Want to try an email service provider that has it all? Try Omnisend for free and start generating more revenue now.
1. How Steep is the Learning Curve?
Many email service providers are coined as user-friendly. Even if they are easier to navigate than a platform loaded with more intricate processes, they still require time to learn.
Remember that the quicker your marketing team adapts, the sooner you can generate more revenue. Quickly integrating (or even creating) the most important elements of your strategy is critical for maintaining a strong relationship with your customers.
Does the platform offer templates, and are they easily customizable? Changing email providers should not equate to spending twice as long creating emails. Are email templates, if offered, easy to use? Is there a drag-and-drop email builder? Is it a struggle to customize messages, such as inserting unique coupon codes and product recommendations?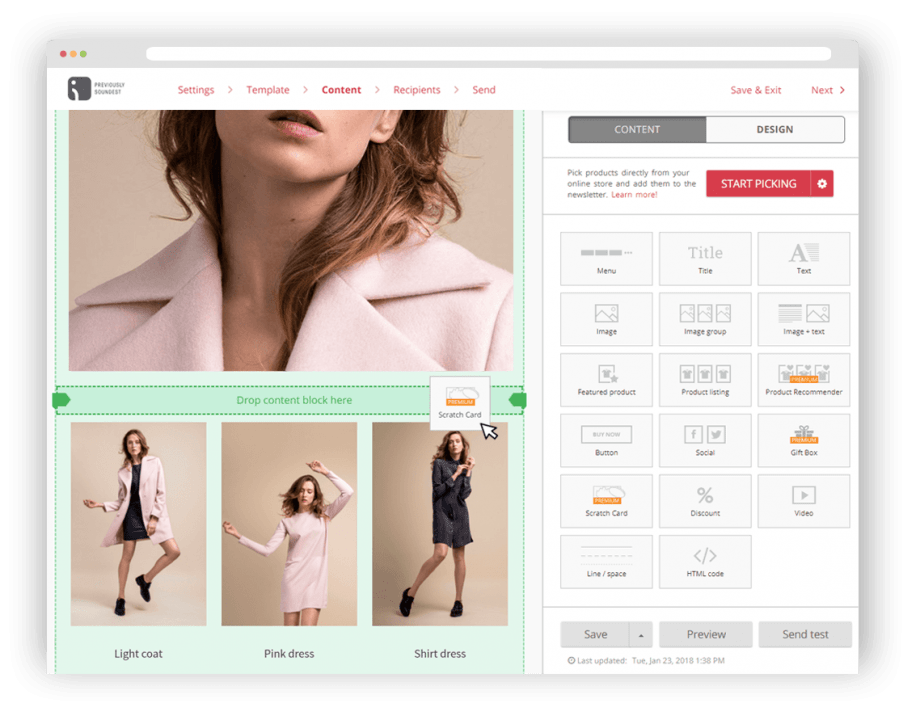 What's the ease and depth of segmentation? Segmenting your list into different groups is essential for constructing relevant messages, but not all segmentation is created equal. Look at the segment options, and how effortless or difficult they are to create.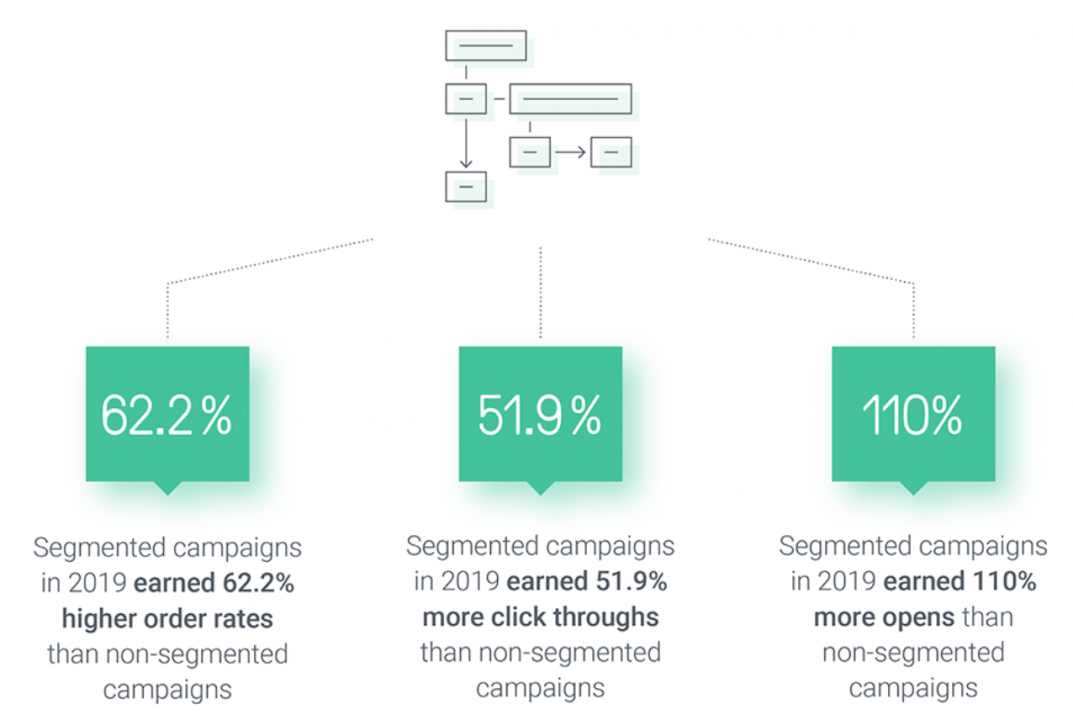 We recommend evaluating the following segmentation criteria:
Purchase data: Recency, frequency, monetary (RFM) related, customer lifetime value (CLV), categories, products
Email behavior data: openers, non-openers
Demographic-related field criteria: gender, birthday, country of residence
SMS activity: sent, clicked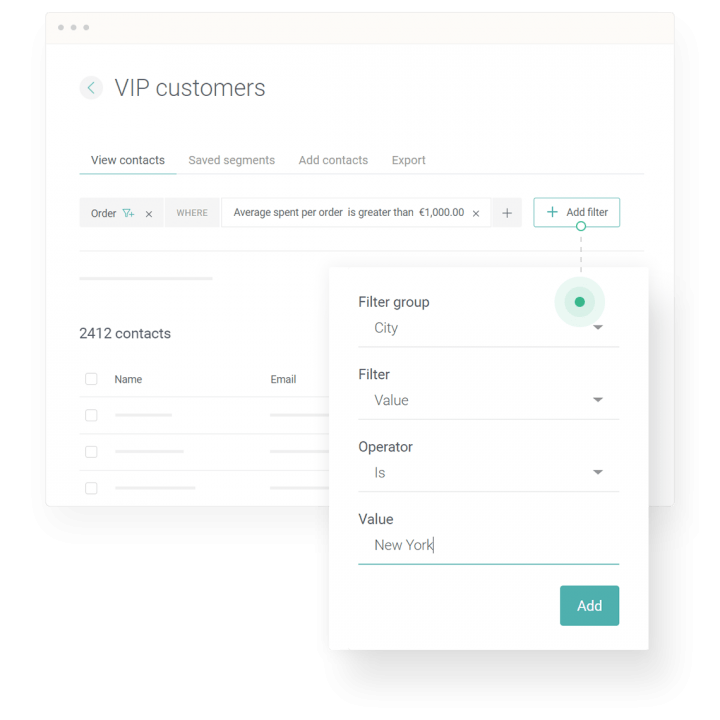 Is it simple to set up automation workflows? Lifecycle marketing automation is the lifeblood of many email marketing programs. Check the effort required to create and customize welcome, cart abandonment, order confirmation and any other number of workflows. If the setup is difficult and the marketer cannot manipulate or adjust it independently, you'll forever rely on someone else to manage your business.
2. Will it Be Easy to Migrate/Integrate My Store?
Ecommerce merchants have needs that generic email marketing platforms can't necessarily meet. An ESP that integrates well with your ecommerce platform is crucial for smoothly operating your online store. Not to mention, your ESP has to play nice with any other third-party integrations connected to your store.
Moving from one provider to another merits knowing the time commitment (and headache potential) of migration.
When contemplating an ESP switch, consider the following:
What is your store's ecommerce platform? Does your storefront have built-in integration with the potential email provider? While it is not necessary, it expedites the migration process by knowing what data is passed between your platform and the ESP. These built-in integrations also demonstrate the level of commitment between the email provider and ecommerce platform. Built-in integrations between the two are ideal, but not a dealbreaker, especially if your team is tech-savvy.
Is there deliverability support and IP warming? When switching email service providers, expect deliverability issues if you send everything at your normal volume, especially with larger lists. Email deliverability is too important to ignore, and great email providers incorporate an IP warming plan customized for your store. This helps ensure your emails are delivered reliably.
Do they offer migration services? Some businesses lack technical expertise and require migration assistance. Ask about available migration services, what's included, expected completion time, and the cost. Aspects to consider are list imports, segment creation, automated workflows, contact forms, and email templates.
Do they offer customer support? Does the company offer support such as live chat, or can you only submit help tickets? What hours are available for support, do you have to pay extra, and do they offer a detailed self-service knowledge base? Some mass email service providers won't offer support during certain times, including holidays when it's needed most.
Want customer support that never quits? Try Omnisend's Marketing Automation platform for free!
Try it free
3. Does the ESP Provide More than Email?
Many great email service providers offer more than just basic email marketing. This is where thinking about the future comes in. Sure, you need the basics now, but will the minimum realistically allow you to scale your ecommerce business?
There's a third-party application for everything you can imagine. Many online merchants are trying to coordinate their marketing strategies around several apps for exit intent pop-ups, landing pages, SMS marketing, product recommendations, and so on.
Whether you're using those things now, they are part of future plans, or they're not on your radar, it matters to know that they're available. Knowing the extent of your new ESP's tools means you can potentially discard third-party apps and, second, experiment with channels and features. You won't want to partner with an email service provider that's already obsolete (or quickly getting there).
Do they offer SMS, and what's the cost? If an email provider does not offer SMS, research the cost of adding it through another provider. The better bet is to explore forward-thinking providers that offer SMS, since this channel is a remarkable way to boost the ROI of your email marketing. Inspect the cost as well as how it can be used.

Can the provider use SMS as both a stand-alone messaging tool and in conjunction with email automation? Does a contact need to have an email address, or can they reside as exclusive SMS contacts? To what countries can messages be sent?
Calculate SMS message costs, and think longer-term. Double or triple your SMS database and estimate how the cost scales with the list size. Ask whether the ESP offers built-in monthly/yearly SMS credits.
What other channels do they offer? Does the platform offer other channels such as push notifications? What about built-in retargeting options through Google Ads or the ability to create Facebook custom audiences? The more channels you bring under one platform, the more the data works together and the less you'll have to manage.
Can the provider replace other tools I'm using? Switching ESPs opens the possibility of eliminating some of your smaller third-party technology and consolidating customer data—saving you time and money.
Inquire whether you have to pay extra for any of the tools. While paying for some services is expected, is the cost justified?
4. Does the ESP Offer Customizable Automation Workflows?
Marketing automation is la crème de la crème of email marketing. Today's customers expect relevant, personalized messages regardless of channel. Flexibility permits automation workflows that are as unique as your customers. Lifecycle automation messages consistently outperform stand-alone promotional email campaigns, driving nearly 30% of all revenue generated by email marketing last year, though accounting for less than 2% of all sends.
Marketing automation is too important to neglect in the scope of email service providers.
Can I add multiple channels to the same workflow? Does the platform allow for seamlessly combining other channels, like SMS or push notifications, into a single automated sequence? Utilizing multiple channels to complement one another helps you scale your marketing strategy and meet customer demands.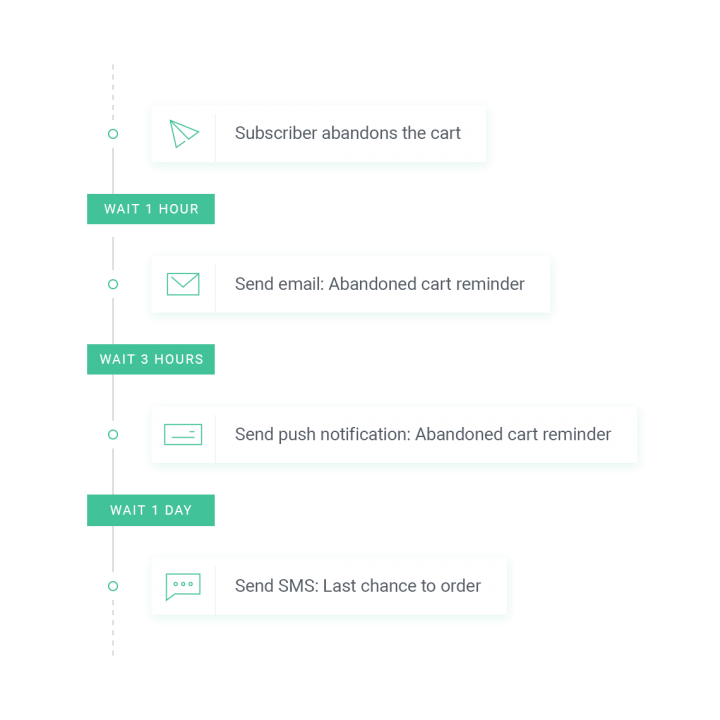 Can I perform conditional splits within workflows? Automation exists to drive customers to the next step, but what happens when they don't follow? An ESP should allow for creation of multiple scenarios based on your customers' behavior, such as triggering a last-minute reminder email and SMS if the user doesn't open an automated message.
Can you automate important lifecycle messages? Don't assume all email service providers can trigger the same messages. Ask about the ability to create your own lifecycle messages, such as cart, product and browse abandonment, welcome, post-purchase, lapsed-purchase, unengaged opener, birthday, and other date-based messages.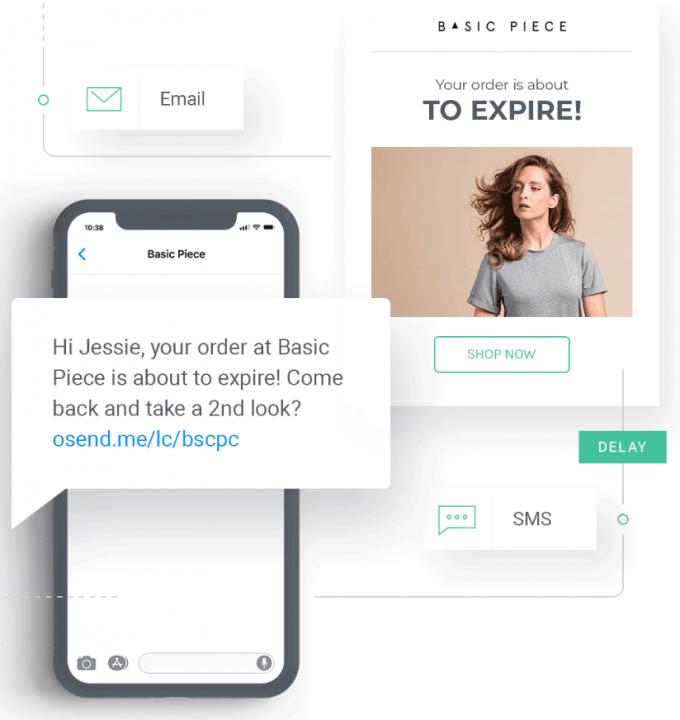 5. What's the Cost—Both Now and Later?
Cost is one of the most important criteria for judging a possible email service provider Think about what you require now, and also account for what you will need later to scale your ecommerce business.
How will pricing change as I grow? Of utmost importance is determining whether pricing will proportionately grow with your business. Some platforms' pricing initially appears enticing, but as you expand and your needs change, it can quickly become over-inflated. Regard future growth plans to avoid searching for a new provider later or, worse, dealing with the burdens of an expensive yet limiting system.
Do I have to pay for it all? Some ESPs require you to pay for every feature, even if you don't use them all. It's important to recognize this distinction. Are you paying a premium for attributes you will never use? Or, the provider may offer a pay-as-you-go model for particular features. Read the fine print to determine whether an ESP's costs are manageable as your business scales. Also, ask about whether there is a cost to make changes to things like automated workflows, templates, landing pages, or other assets.
What are my subscription options? Does the provider offer month-to-month subscriptions, yearly contracts, or both? If both, discounts for yearly contracts are common. If you choose the annual route, be sure you fully understand what is included. You may otherwise incur surprise fees during times of high growth.
---
There are so many questions to ask when selecting an email service provider, especially for ecommerce. Choosing the right one involves a lot of choices. Do your homework to find the ESP partner that will support you in scaling and growing your ecommerce business.
Try Omnisend's Marketing Automation platform for free
Try it free
related features
Want more sales?
Omnisend has everything you need to succeed.
Start free now
No Credit Card needed.