4 Ways to Integrate Facebook Messenger Marketing to Your Omnichannel Ecommerce Strategy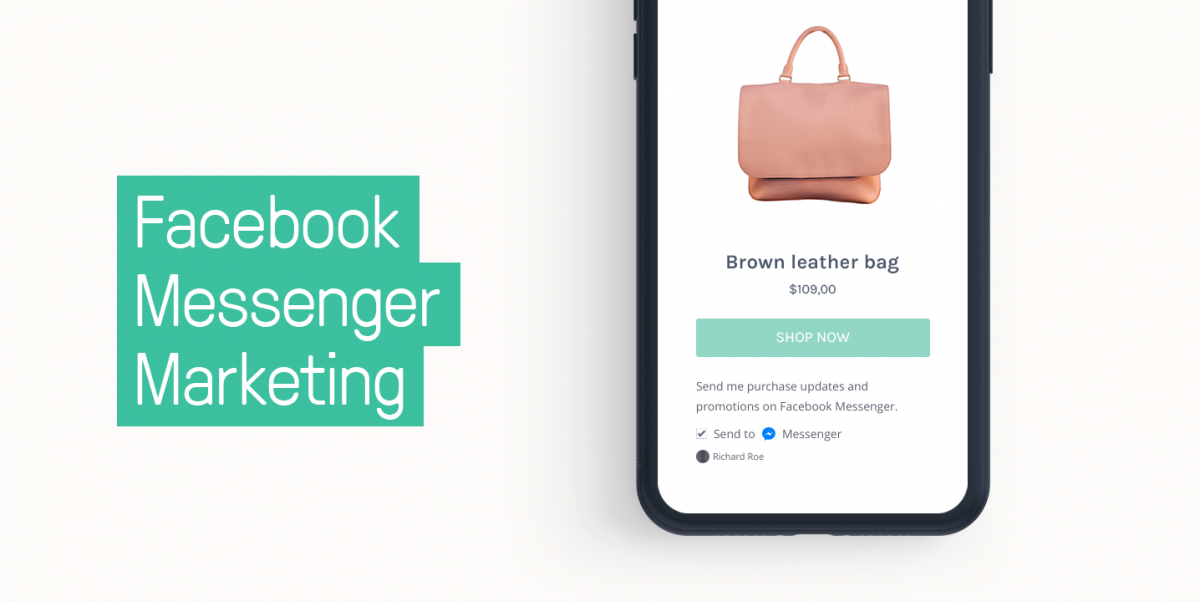 Reading Time:
6
minutes
When it comes to connecting with your customers on new channels, it doesn't get much better than Facebook Messenger marketing.
For most users, the app is already open, with notifications turned on, and a channel they already love to use. By connecting with them via Messenger, you're just reaching customers in their very natural habitats.
Facebook Messenger marketing is now available through Omnisend's Pro Plan, and we want to make sure you've got all the info you need to use it effectively.
So I've written an article on how to use Facebook Messenger marketing for your online store, with 4 ideas to give you inspiration for that next killer campaign.
What is Facebook Messenger Marketing?
Facebook Messenger marketing uses the leading social giant's messenger feature to send targeted messages to customers in lieu of emails.
It's no secret that Facebook Messenger has replaced text messages for many of the social media giant's users. Now brands are looking for a way to make their marketing on the network go further by leveraging the communication potential with Facebook Messenger.
While classically used as an extra channel for support, Facebook Messenger marketing brings an entirely new facet to what we previously thought the channel could be used for. Now, we can use
Facebook Messenger in a variety of ways, much like we can email.
And the ways we can use Facebook Messenger marketing are evolving by the minute.
What Can Facebook Messenger Marketing Do for My Online Store?
1.3 billion people use Facebook Messenger.
Take a moment and digest that number. I'll wait.
Because a number like that is the entire reason we use Facebook as users and as marketers. We can use it to reach an incredibly large number of potential customers. The entire point is making sure your message is where your customers are, and chances are, they're on Messenger.
In fact, over 60% of US and UK users surveyed by Facebook say they have used Messenger to interact with a brand over the last three months. What's more, Facebook counts over 2 billion messages sent each month between users and brands.
In early 2018, I interviewed 18 digital marketing experts, and a third of them said that if there was any ecommerce trend to jump on, it was Facebook Messenger marketing:
Richard Lazazzera of A Better Lemonade Stand said "Facebook Messenger chatbots are starting to become interesting and will likely become much bigger in 2018. With close to 80% open rates, they blow email away."
Andrew Youderian backed him up, stating that "Marketing through Facebook Messenger seems to offer a really compelling opportunity to store owners…It's a relatively uncrowded space at the moment and the open rates and CTRs people are seeing are often 3x to 4x that of traditional email."
These ecommerce experts were definitely on the cutting edge: Turns out brands using Facebook Messenger marketing boasted four times better open and click through rates over email marketing.
Does this mean you should kick email to the curb and focus only on Facebook Messenger?
Absolutely not.
It means that integrating Facebook Messenger marketing is an opportunity to boost your omnichannel marketing strategy. Used in conjunction with email and other channels, it can be just what your conversion rate desperately needs- if you know how to use it that is.
#1. Order Confirmation Messages
You know who loves knowing their order is confirmed? Your customers.
Chances are, you already have something in place to give customers that peace of mind when they're shopping online. Shopping online requires a lot of trust, so every little thing you do to put the customer at ease will definitely help.
Facebook has developed a "Send to Messenger" plugin that integrates with your online store. So for example, when you customer gets to the confirmation page, they can click a button to send their confirmation message directly to the app they've probably already got open. Of course, you won't have to use the plugin if you already use Omnisend, as it integrates directly between your store and your Facebook account.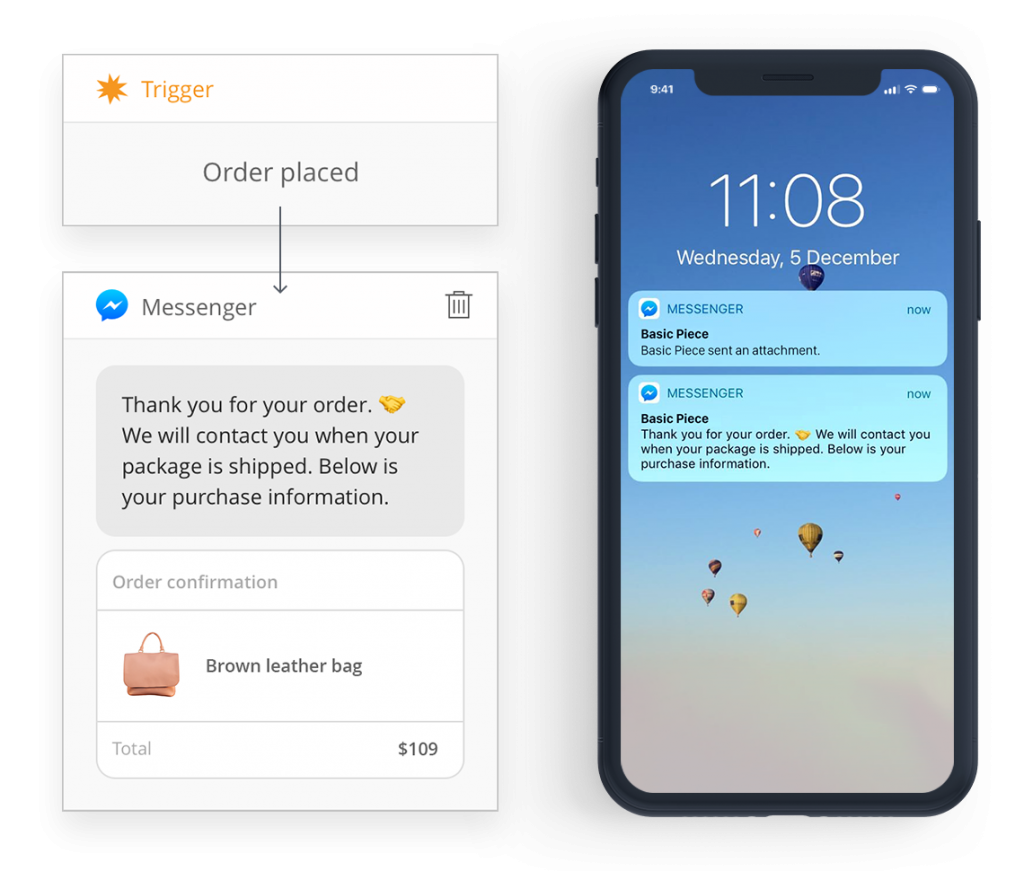 Giving customers their choice of channel is powerful. We all expect order confirmation emails, but if someone gives me the opportunity to send it to messenger, I know I can then reply to that message to get in contact with customer service in case something goes wrong.
Omnisend Pro tip: Add a link so they can open up their order status from Facebook messenger too. Most people are using messenger on mobile, so making that all the easier will make your customer love shopping with you.

#2. Shipping Notifications
Order confirmation isn't the only thing you can do with Facebook Messenger marketing. Shipping confirmation and notifications can be a powerful way to get your customer the information they need in a quicker way.
Because who doesn't want to track their package in real time.
Now the key here with shipping notifications is to not go ham with it.
Don't send them a notification that the package has left a random carrier's distribution center as it travels across the country.

Use shipping notifications to send a maximum of three messages in your total workflow:
Your package has shipped! You should receive it in 3-5 business days! Click here to see full tracking!
Your package is being delivered tomorrow! Check here to see full tracking!
Today's the day! Expect your package between X hour and X hour!
Use two messages for Facebook Messenger, and one via email. Anything more than that is overboard.
#3. Abandoned Cart Recovery Messages
You know what's more powerful than an abandoned cart email?
An abandoned cart message with an 80% open rate.
If a customer has shown a particular interest in using Facebook Messenger as a means to communicate with you, hit them with some abandoned cart recovery to remind them exactly why they fell in love with your products in the first place.
Setting up an auto-message that sends to Facebook Messenger means that you can approach the purchase from both a sales and support angle, asking the customer if they have any questions you can respond to.
Building that trust can be so much simpler when using Facebook Messenger marketing- as a customer already feels comfortable responding to a Facebook message. It feels natural.
#4. Connect with Facebook Retargeting Ads
Maybe messenger and email and all of your fabulous promotions just still haven't converted some of your customers. Maybe they're just especially stubborn- they've added things to their carts but they're just not following through.
Combining your email and Facebook Messenger marketing strategy with a few well-timed retargeted Facebook ads may just do the trick.
Because of the way retargeting works in and of itself, these ads are high quality. After all, they only pop up for those who have recently purchased from you, visited your Facebook page, visited your online store, etc.
They're already interested. They just need to come to that realization themselves.
Let's take an example of how this might work:
Step 1: a customer that hasn't purchased in a while starts browsing your store perhaps once a week. You pop an email their way showing some of your newest must-haves, or products recommended based on their browsing history. They might click through- they might not.
Step 2: You create a segment of the customers who have browsed a certain product and then sync that segment with Facebook that will retarget those customers for you. You can do this by creating segment based on any customer that has clicked a link for a specific product, and then add in those who have not yet purchased that product. This will target those who have looked at a popular product, but haven't yet purchased.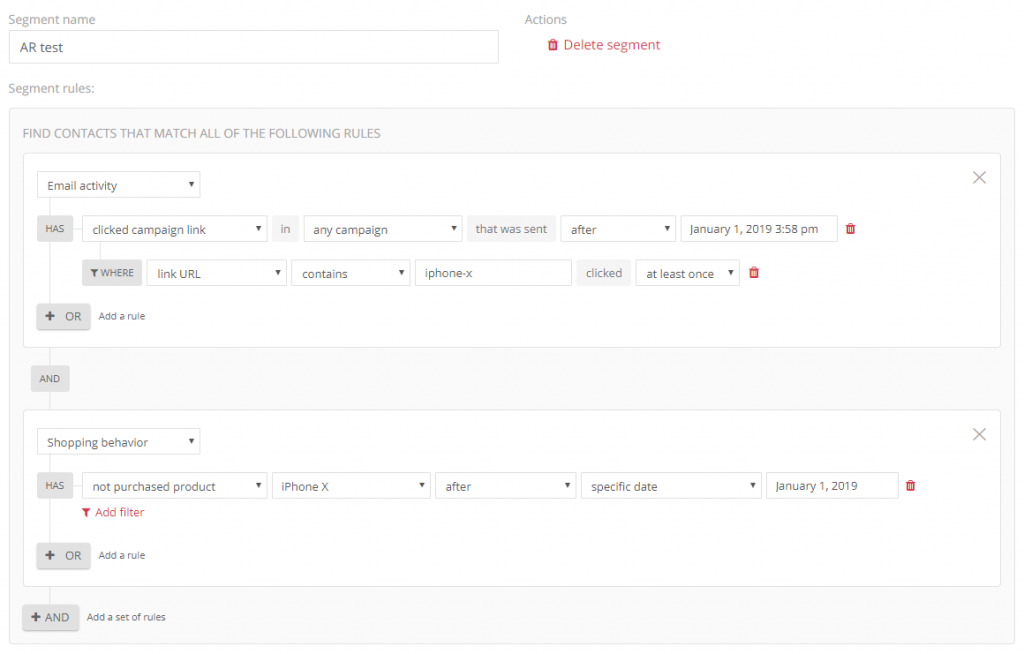 These ads will display the product they looked at the longest or even added to their carts whenever they're on Facebook. This goes on for about a week or so. Maybe they click through that ad, maybe they don't.
Step 3: The customer is sent another email containing the product plus a few other smart recommendations and clicks through to purchase. The customer chooses to opt-in for notifications via Facebook messenger about their order. They receive their order confirmation and shipping updates via the channel they prefer.
Rinse and repeat. By tailoring your messages so they're coherent across several channels and using the channels your customers prefer, you'll have a higher chance of making the customer more interested and bringing them in.
How to Set Up Facebook Messenger Marketing
There are a few different ways to integrate Facebook with your online store. You can build the integration for Facebook Messenger marketing yourself using Facebook's developer documentation to help. The DIY version is likely to require a bit of technical prowess, so make sure you've got a dev handy.
Otherwise, you can use a powerful omnichannel marketing automation tool to do the heavy lifting for you, and Omnisend does just that.
With Omnisend Pro, you can add Facebook Messenger to any of your existing order/shipping confirmation or cart abandonment automation workflows in a click once your Facebook manager account is connected in.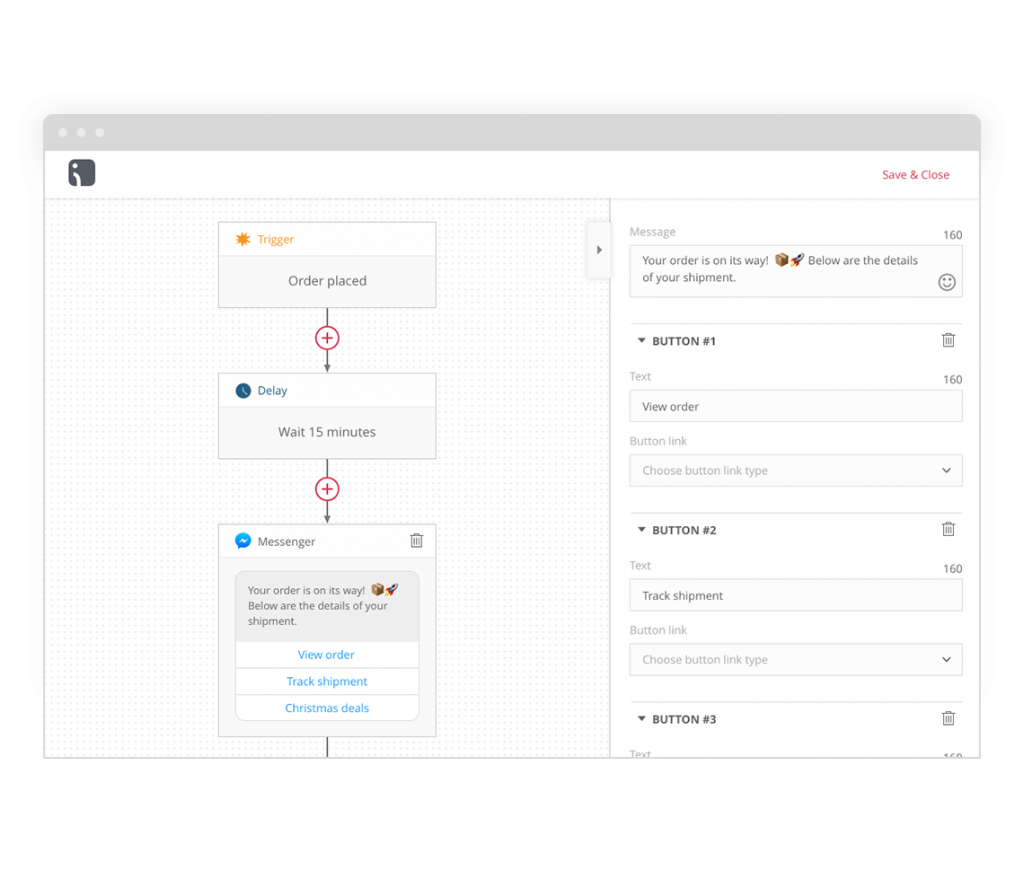 From there- it's only the fun part left: creating your awesome messages and harnessing the power of Facebook Messenger marketing.
—
Facebook Messenger marketing is only going to grow in popularity from here on out, and it's up to you whether you'll join the rest of the leaders in this booming channel.
But with these tips, you'll be brimming with ideas on how to integrate Facebook Messenger into your next automation or campaign.
Have you worked with Facebook Messenger marketing? What was your experience like? Tell us below!

Get a personal 1-on-1 demo (that will superpower your next campaign)!
Get a Demo