Drive sales on autopilot with ecommerce-focused features
See Features
Reading Time:
9
minutes
As an ecommerce vendor, there's nothing you can do to avoid shipping delays. While you can take some steps to make your order fulfillment practices more reliable, the reality is that some percentage of your shipments will inevitably be delayed—if not lost, stolen, or damaged.
In this article, we'll take a look at some of the most effective ways to approach order delays and minimize their impact on your business. We'll also give you a basic shipping delay email template to help you communicate delays to customers.
Keep in mind that the way you respond to delays will often determine whether a buyer gives you another chance or decides to take their business elsewhere.
Get started with Omnisend today & drive sales on autopilot with pre-built automation workflows
Start Free Today
Managing customer expectations
Effectively approaching order fulfillment is all about managing the customer's expectations. That should be your top priority throughout the order process.
You'll need to set clear, realistic expectations before the sale, proactively communicate with buyers if anything changes, and follow up after the delivery to confirm that they're satisfied with the experience you offered.
Setting clear expectations
One of the most common mistakes ecommerce vendors make is failing to let customers know what to expect before they spend any money. Modern consumers are accustomed to buying from ecommerce giants like Amazon and Walmart, and they bring those expectations with them when they shop with smaller vendors.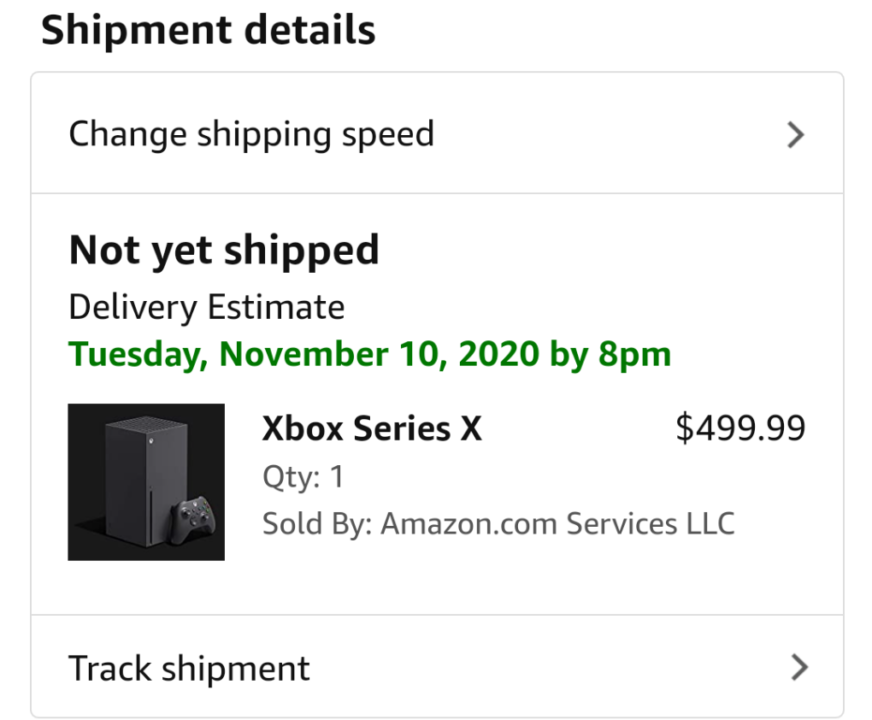 In general, it's a good idea to offer as much information as you have as early as possible in the customer journey. Don't limit these notices to checkout and product pages. If you're experiencing regular delays, that should be clearly visible on the home page, category pages, and throughout your site.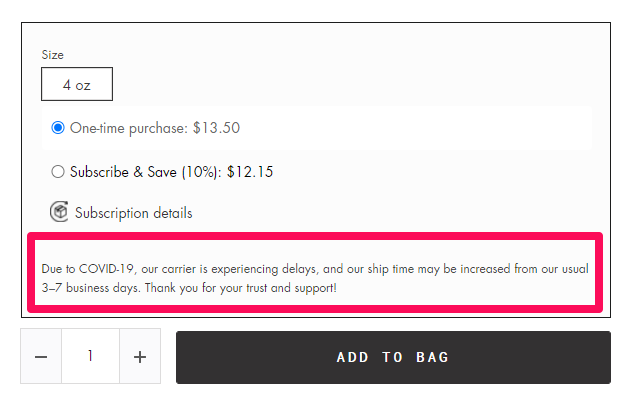 Communicating delays to customers will enable them to make a more informed purchasing decision. Leads who aren't willing to put up with potential delays will simply look somewhere else. That might sound like a loss, but it's a better outcome than letting them make a purchase without complete information and end up dissatisfied with your brand.
If you don't give them a heads-up, you'll end up paying for it later when they drain your support resources or even leave a negative review. Even though you'll miss out on some revenue upfront, you'll come out with more satisfaction and a greater percentage of returning customers.
Offering proactive communication
Once a lead makes a purchase, it's crucial to stay in touch in order to alleviate any concerns and keep them updated if anything changes. Customers know that shipping is out of your control, and they'll be much more understanding if they feel that you're making a good-faith effort to monitor the problem and fulfill their order as soon as possible.
Proactive communication starts with basic transactional emails such as order confirmation, shipping notifications, and re-engagement messages after delivery. These automated communications will let customers know that you haven't forgotten about their order. Most buyers will be satisfied with these simple reminders plus access to their shipment's tracking number.
If a shipment is no longer expected to arrive during the original delivery period, the customer should be the first to know. Make sure to explain the cause of the delay and give them an updated timeframe for the delivery. Giving customers the chance to select their preferred channel for these notifications will increase engagement and ensure that more of your messages reach their intended recipient.
Approaching the holiday season
The last six weeks of the calendar year are the busiest ecommerce season, and vendors often have trouble managing the increased scale and competition that come during the holiday.
Automated messages will go a long way toward reducing support requests, but some customers are still going to have lingering questions about their orders. Ecommerce vendors need to offer responsive, helpful customer service in order to keep buyers satisfied. You should expect a significantly larger volume of support requests during the holiday retail season.
Following up
After a customer receives an order, it's a good idea to follow up with them and make sure they were satisfied with the experience. We recommend sending this message two or three days after the delivery. It is long enough to avoid bombarding them with emails, but soon enough for the purchase to be fresh in their mind.
If a customer still has any concerns about their order, this will give them a chance to resolve the issue. You can also give them space to leave a product review and let other visitors know about the item.
Shipping delay communication examples
Now that we've covered some of the most effective strategies for shipping delays, let's take a look at how different brands have implemented those ideas in practice. Here are a few of our favorite examples of shipping delay messaging including communications sent via email, SMS, and other channels.
Email examples
While email should only be one element of a larger digital marketing strategy, it's still the default channel that most consumers expect to use when communicating with brands. It's a good choice for shipping delay messages since it gives you more space to provide detailed information about a customer's order.
Order confirmation (REI)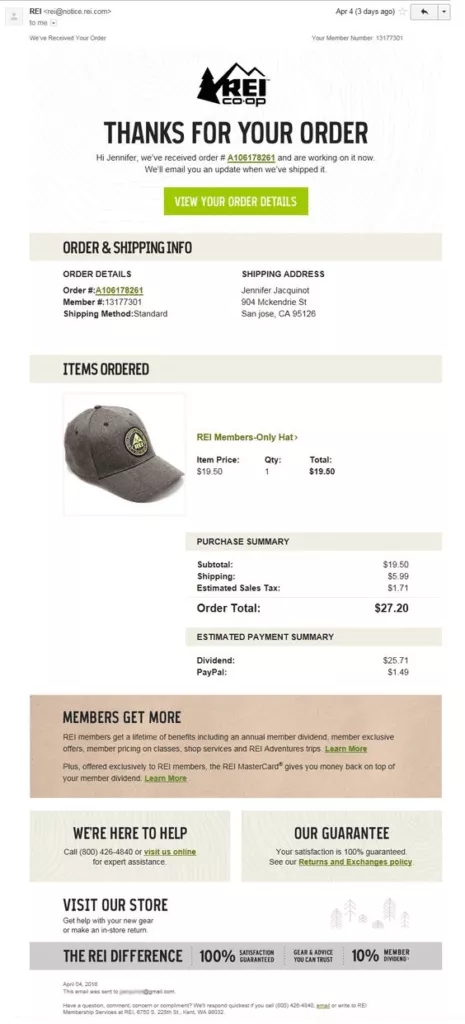 This straightforward, professional order confirmation message is a great example of giving customers the information they need to feel confident in their purchase. At a glance, buyers can see the price, shipping fee, and taxes as well as their order number, and delivery address.
Users who want more information can click through to read about the return and exchange policy, the membership benefits, and the REI MasterCard. There's also a clear space with information about customer service, including their phone number and a link to their support page.
Shipping delays (Away)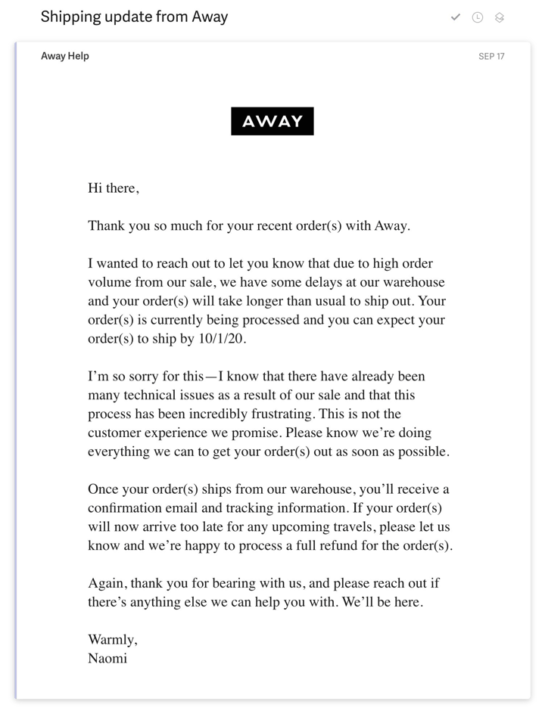 On the other hand, this email is a great starting point for shipping delay notifications. While we usually caution against text-heavy messages, this type of letter format is perfect for emails that require a more personal style.
Away's message strikes the perfect tone. It quickly explains the source of the delay, lets the reader know when to expect their order, and gives them a chance to get a refund or contact customer support if they need more assistance. Note that the email closes with a personal greeting, making customers feel like they're communicating with a real person instead of a faceless brand.
SMS examples
In contrast to email, SMS marketing is more ideally suited for quick messages—think tracking updates or delivery notifications. These ideas will help you leverage SMS more effectively in your shipping delay workflow.
Order confirmation (Baking Steel)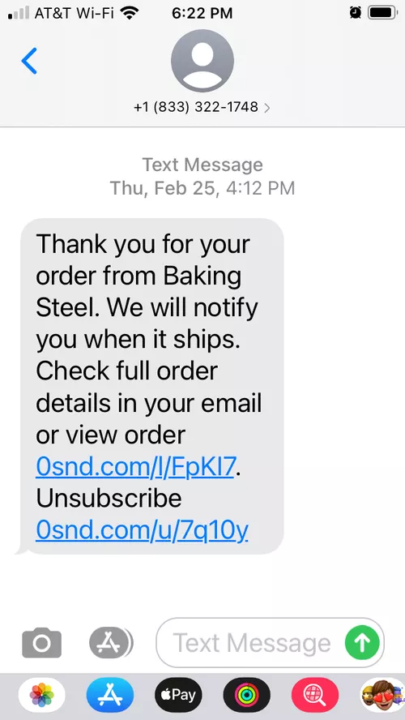 While SMS doesn't work as well for longer content, it's more likely to lead to an immediate response compared to email and other competing channels. With a reliable URL shortener, you can also include a link to more information without adding too much length to the message.
The SMS format also requires marketers to condense messages to the most important details while leaving out everything else. This text is a perfect example of a quick, concise order confirmation notification for users who prefer to communicate via SMS.
Shipping updates (Local Eclectic)
A single order might receive several shipping updates before the delivery. Customers will quickly feel overwhelmed if you send them more than one or two emails about a particular order. But they're more likely to be comfortable with repeated SMS messages—especially if they've already opted into delivery updates.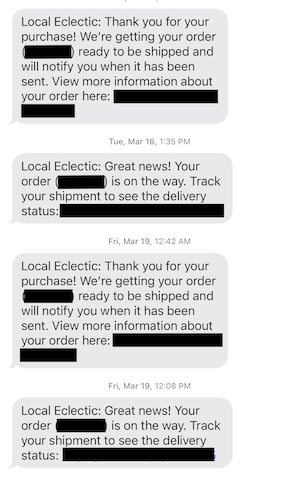 One thing that stood out to us in these messages is that they included the name of their brand in every single SMS. Customers won't have your information stored, and most of them won't add it to their phone after the first message. With that in mind, it's important to remind them who you are with each subsequent text.
Other examples
Email and SMS are great on their own, but more and more consumers are interacting with their favorite brands on social media and other channels. Growing your digital presence to include additional platforms will expand your potential audience and make you more competitive in the current market.
Delay warning (Clif Bar)
As mentioned above, we don't think your customers should have to go to your shipping page in order to learn about potential delays. At the very least, you should give them a heads-up through a header or banner on your homepage, plus a link to learn more on a dedicated page.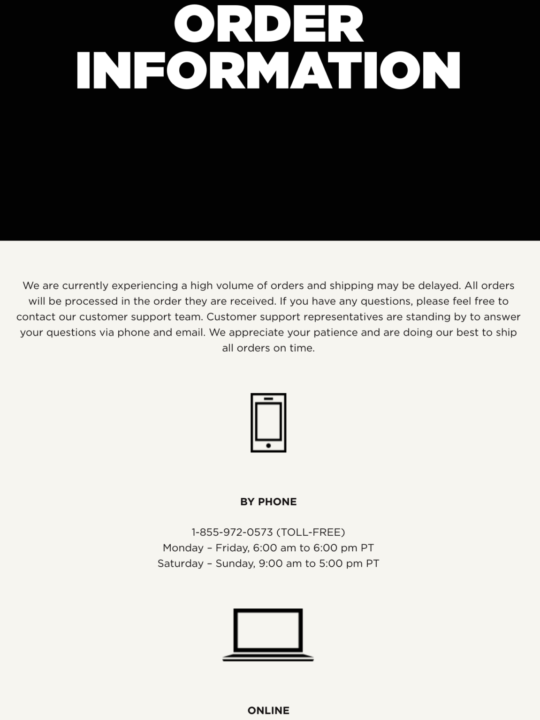 This order information page lets visitors know that their shipments may be delayed and reiterates that their team is doing everything they can to process each order as quickly as possible. Like the earlier delay notice email from REI, this example also includes contact information for visitors who have any further questions or concerns.
Early offers (Adagio Teas)
With shipping volumes expected to rise dramatically during the holiday season, early promotions are an easy way to give your customers great deals while distributing your orders more evenly throughout November and December. Running sales before Thanksgiving also gives you the chance to bring more leads to your site without facing as much competition from Black Friday, Cyber Monday, and other major ecommerce holidays.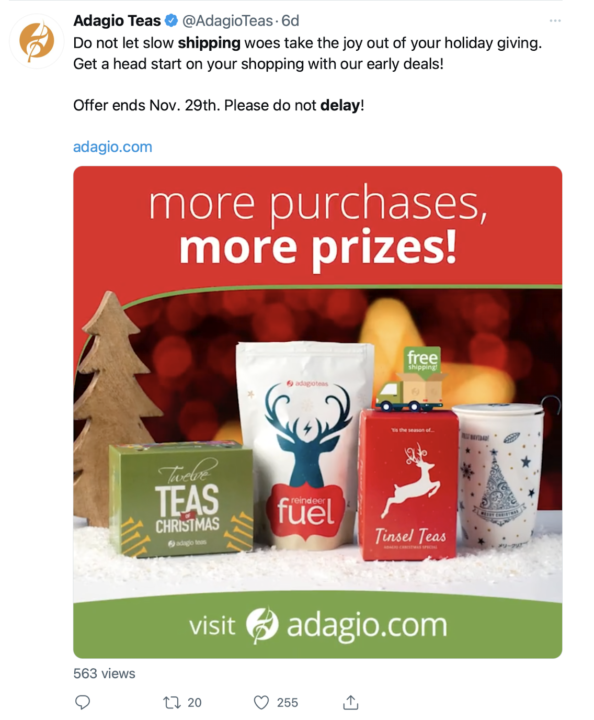 Social media is the perfect channel for warning leads about holiday order delays as well as deadlines for delivery before specific dates. Customers who are passively interested in your products but may not have been ready to make a purchase will have the information they need plus the added sense of urgency that comes from limited-time availability.
Shipping delay email template
While every brand and audience is unique, most delivery delay emails and other communications should include a few basic elements. This simple shipping delay email template will help you put together balanced messages that express your regret for the delay. Also, you will be providing the information customers need to feel confident in their purchase.
1. Apologize and show empathy
The most important thing in a shipping delay email is to let the customer know that you're concerned about their order. You don't want to send your buyers a generic, boilerplate order update that will make them feel like you see them as just another number in your system.
It's impossible to completely personalize every single shipping delay message, but small touches like using the customer's name and offering a direct apology will go a long way toward making them feel like you're invested in their experience. We also recommend using your own first name (or the name of someone on your marketing team) in the sender name as well as in the body of the message.
2. Offer information
Your buyers want to know that you take their experience seriously, but they also want the latest information about their order. While you've probably sent a tracking number already, make sure to include it again in every email that relates to a customer's shipment.
If you forget to offer that information multiple times, your customer service team will end up responding to unnecessary requests from buyers who didn't see it in your first email. Reminding customers about their tracking number is a simple way to take some pressure off of your support staff.
This is also the right time to explain the source of any delay. You might not be able to do anything on your end, but customers will still appreciate having more information about the issue.
On the other hand, it's critical to avoid using a negative or accusatory tone. Even if a delay is the fault of your supplier, shipping carrier, or someone else in your supply chain, emphasizing that will only come off as making excuses for your own shortcomings. Make sure to stress that all parties involved are doing everything they can to deliver their shipment as soon as possible.
3. Make it right
Regardless of what you write in your email, there's no way to avoid the fact that every shipping delay is a disappointment to the customer. Offering a small gift at the same time will increase the chance that they overlook that disappointment and place more orders in the future.
The offer you make will have a significant effect on customer retention, so it's worth A/B testing a few different ideas and comparing the results from each. Something like free shipping or a 10% discount on their next order is a small price to pay to avoid losing a customer.
4. Ask them to follow up
The main goal of your shipping delay email is to smooth over the disappointment and make an effort to improve the situation. Most customers will likely be satisfied with that, but some will inevitably have lingering questions and concerns.
With that in mind, it's a good idea to close your message with an invitation for the buyer to follow up. Let them know how to get in touch with your support team and re-emphasize your commitment to their satisfaction.
Each customer service interaction takes valuable time away from the rest of your business, so make sure to set up an FAQ section for common questions. More and more ecommerce brands are also implementing AI-powered chatbots in order to handle low-level support requests more efficiently.
With the holiday shopping season rapidly approaching, ecommerce vendors need to start thinking ahead and considering how they'll manage shipments during the busy retail season. Preemptive communication is the best way to set clear expectations in advance and make sure that your customers are satisfied with the buying experience.
Overall, these tips should help you reduce the impact of shipping delays and other unexpected issues on your business processes. Omnisend offers the automation, cross-channel integration, and analytics you need to develop a comprehensive approach to communicating shipping delays.
Get started with Omnisend today & drive sales on autopilot with pre-built automation workflows
Start Free Today
related features
Want more sales?
Omnisend has everything you need to succeed.
Start free now
No Credit Card needed.