5 Email Drip Campaigns Examples and Best Practices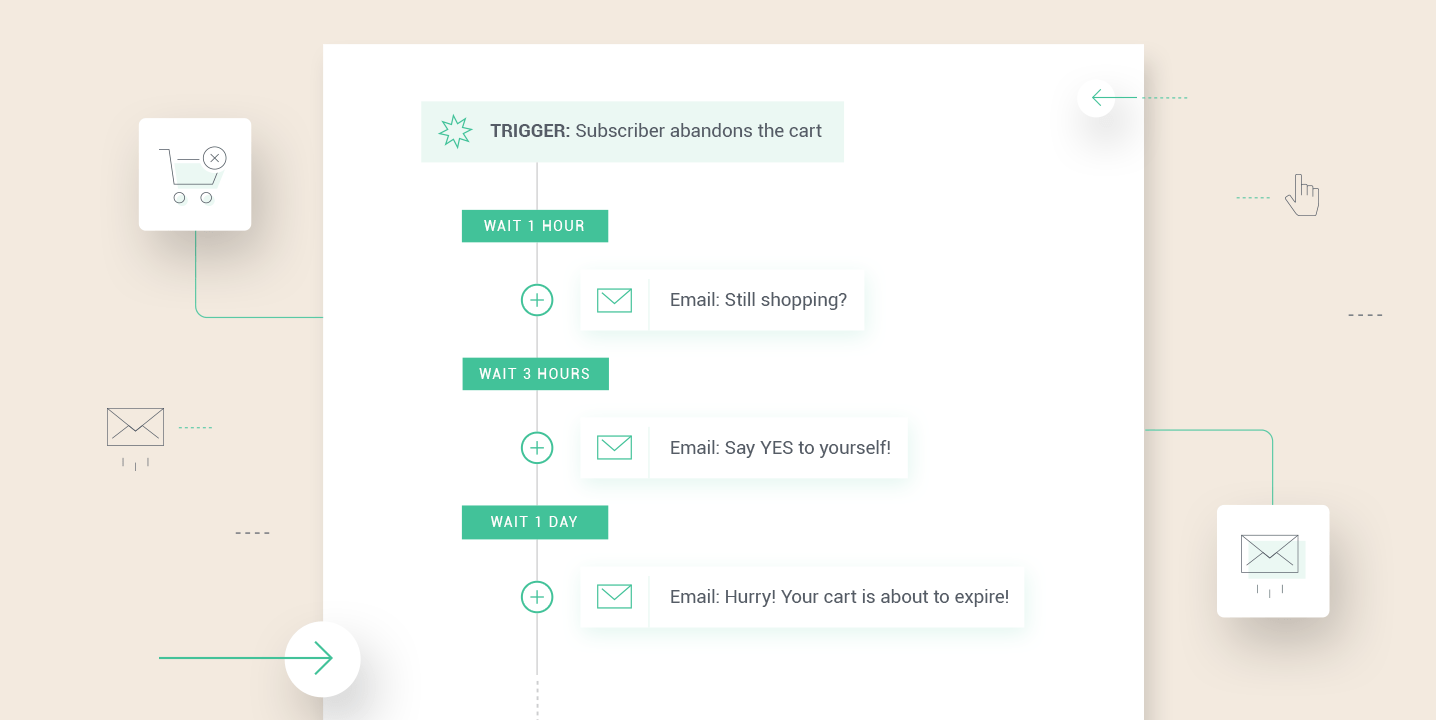 Reading Time:
7
minutes
With open rates at around 80% higher than single send emails, drip campaigns' knack for delivering the right message at the right time to the right person really pays off!
Rather than crudely blasting people with random and irrelevant sales pitches, marketers are using subtle, sophisticated drip campaigns to nurture leads, re-engage lost customers, upsell, promote regular communication with their communities, and more.
This article digs deeper into what drip campaigns actually are, as well as presenting some email drip campaign ideas so you can conduct them yourself. It also includes some great examples of other businesses effectively using drip campaigns – because companies that excel at drip campaigns have been shown to generate 80% more sales at 33% lower costs.
Will you be joining them?
What Is A Drip Campaign?
Simply put, a drip campaign is a series of relevant, perfectly-timed messages that are sent to customers automatically, triggered by their behavior.
The idea is to nudge, remind, engage, and send interesting content in a friendly, non-committal manner while keeping the messages as personal and relevant as possible.
By keeping track of your customers' behavior and preferences over time, you will be able to sell exactly when they are ready to buy, without the in-your-face, 'pushy' kind of marketing that can quickly lead to people unsubscribing.
Drip campaigns are effective for more than simply closing sales, however. Depending on your overall goals, you can use drip campaigns for things like:
Increasing awareness of your brand
Gathering customer data and feedback
Promoting new products
Building engagement and community
Onboarding for upcoming events
The way you run your drip campaign will depend on the drip marketing software that you are using, more on that later. However, the stages of an email drip campaign all operate on the same basic principles:
1. Triggers
Triggers lead the customer into the pre-determined workflow and can be set off by anything from a new sign-up to cart abandonment or even a subscriber's birthday.
The example below shows exactly how a welcome drip campaign is triggered and sent to the customer.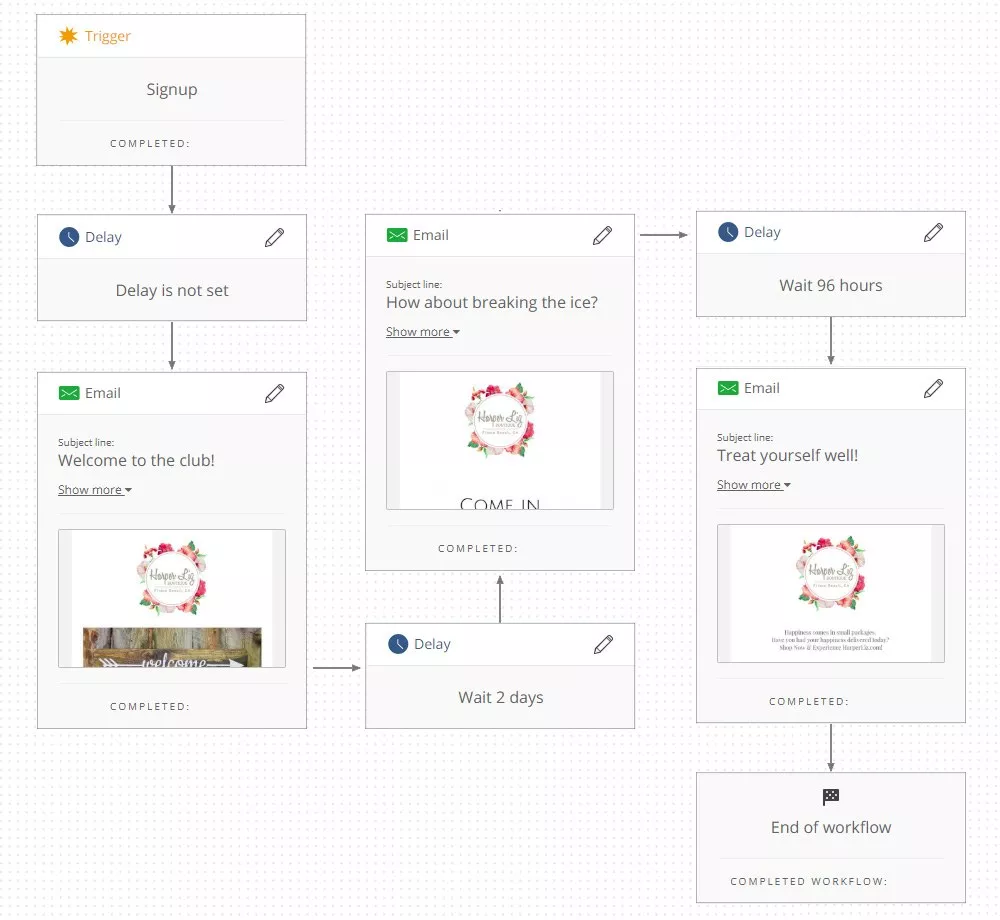 2. Conditions
Certain conditions, which you chose when setting up your workflow, need to be met for further actions to commence.
These could include things like: waiting a certain number of days after the first email has been opened before the second email is sent, or waiting until a particular item has been clicked on before sending customer reviews.
3. Actions
Actions are the actual emails – whether they be welcome series, cart abandonment reminders, birthday messages, and so on. These are already created and written, to be sent on a precise schedule according to the triggers and conditions above.
Email drip campaign frequency depends on your ultimate goals, but most campaigns consist of 4 to 11 emails sent out at evenly-spaced intervals.
Software For Email Drip Campaigns
Effective drip campaigns need a good marketing automation platform. There are many excellent options in the market to choose from, each offering a variety of unique features and pricing structures. When choosing the one that's right for you, it's most important to pay attention to the following features:
Automation options and flexibility
Ease of workflow setup
Segmentation options – advanced segmentation enables better personalization for your campaigns
A variety of channels – email is great, but campaigns are even better when supplemented with things like SMS and push notifications.
Omnisend offers all of the above plus more.
Email Drip Campaign Best Practices
1. Define Your Drip Campaign Audience
Drip campaign recipients can be easily defined when a simple trigger like a new sign-up or birthday occurs.
However, the more conditions you create, the more complex things become. Custom drip campaigns require a careful review of the rules that you set to ensure that there are no conflicts that can lead to confusion.
For example, if a customer has registered in your store but hasn't filled in their profile, you'll have to make sure that the automated reminder to do so won't be sent at the same time as your welcome series. Sending too many emails at once can overwhelm and irritate a new customer, and potentially lessen their engagement.
2. Target Your Message
Pay attention to your content. Don't send random, impersonal emails to customers that you are familiar with.
Think it over: what is relevant at this particular moment for them? Your copywriting should address your customers' current needs.
If it's a cart abandonment email, try to convince your prospect to seal the deal right away. Think of what issues they may have encountered: Perhaps the shipping was too expensive? Your returns policy wasn't clearly laid out?
Pay attention to two very important notes in the following ModCloth email – free delivery and free returns. This "sweet couple" usually encourages people to make a purchase. If you can afford it, use it.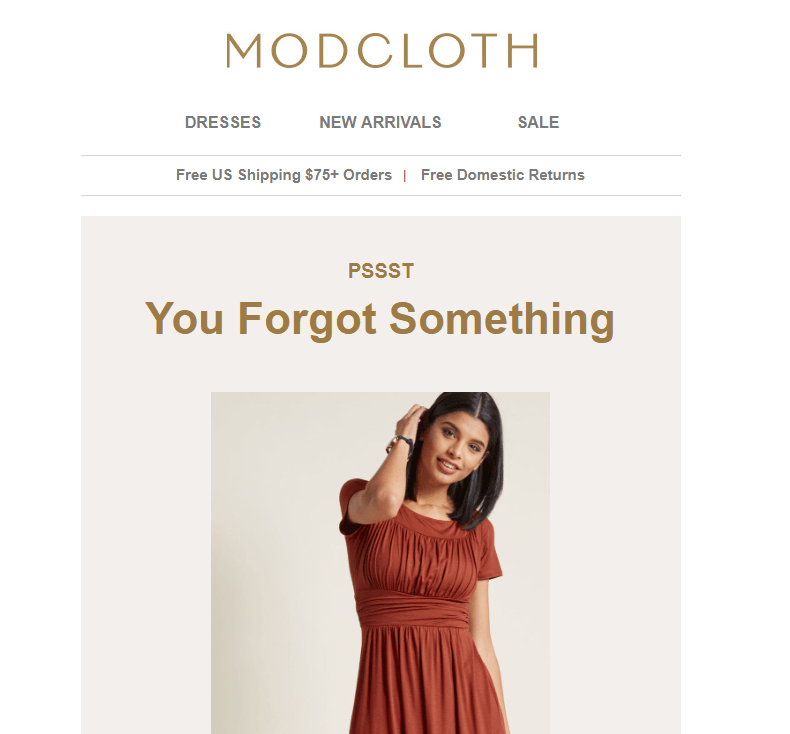 The same applies to your onboarding email series. Be mindful of the main reasons that people signed up to your newsletter in the first place – highlight your killer perks to help confirm that they've definitely made the right decision.
3. Map Out Your Campaign
Before launching your drip campaign, consider the following points:
Identify your overall goal
Determine your 'triggers'
Decide how many emails you will send throughout the campaign
Decide how you will personalize your content
Know when to remove customers from a drip series
Include all emails, SMS, and other messages in your plan to avoid overlapping. Nothing is worse than getting a discount coupon for the product you bought last week!
4. Evaluate And Adjust
Drip campaigns are very convenient and time-saving – you set up them once and they work for you 24/7.
However, don't forget to follow their results and adjust if needed.
Usually, marketers follow the conversion performance of their campaigns in Google Analytics. UTM parameters help to do that.
At Omnisend, marketers can follow the orders and revenue generated from each campaign separately. This is convenient, especially when comparing overall performance with separate campaigns.

Improving your drip campaign emails is a never-ending task if you're looking to achieve consistently great results. Only by testing different texts, imagery, and additional information will you find what best works for your customers.
4. Consider These 'Must-Have' Campaigns
Three out of four subscribers expect to receive a welcome email immediately after they sign up. By launching a welcome drip campaign and sending cheerful and informative welcome emails at the right times, your brand will meet your customers' expectations. That's a great start for your relationship!
Another important campaign to consider is one for abandoned carts. With 7 out of 10 visits to ecommerce websites leading to this issue, some gentle reminders sent out at opportune times can go a long way to resolving it. And with only 1 out of 4 businesses doing anything to reduce their abandonment rate, you're also able to get an advantage over your competition with an effective cart recovery drip campaign.
Other effective drip campaigns include customer reactivation, order confirmation, and custom automation that includes personalization features such as birthdays etc.
The chart below shows how various drip campaigns perform in terms of customer engagement.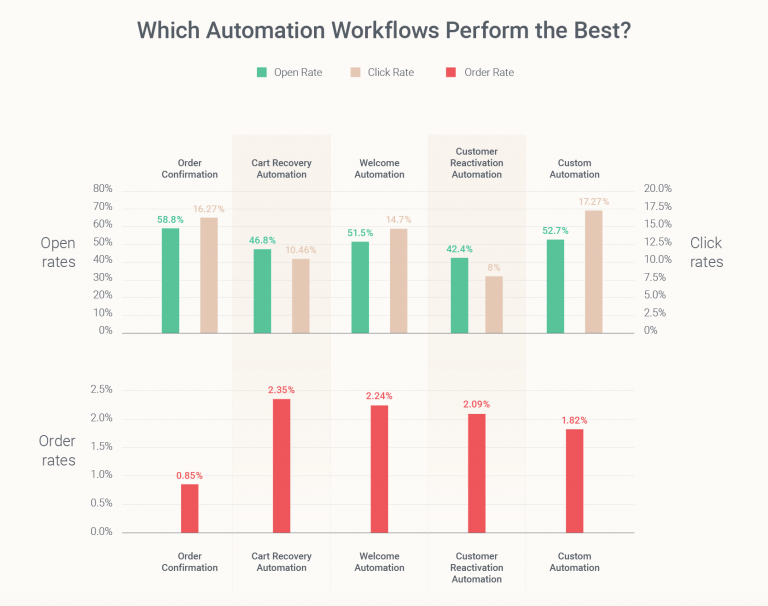 4. Great Examples Of Drip Campaigns
Example #1. Welcome Series
This example shows what you can include in your onboarding emails and how to prepare your new prospect for the purchase.
The 1st email welcomes the subscriber and introduces the benefits of joining the community. Also, there is a photo of the founder and her short quote which makes the email more personal.
The 2nd email tells the story of the brand and how the products are being produced.
The 3rd email is for social proof and the discount for the first purchase.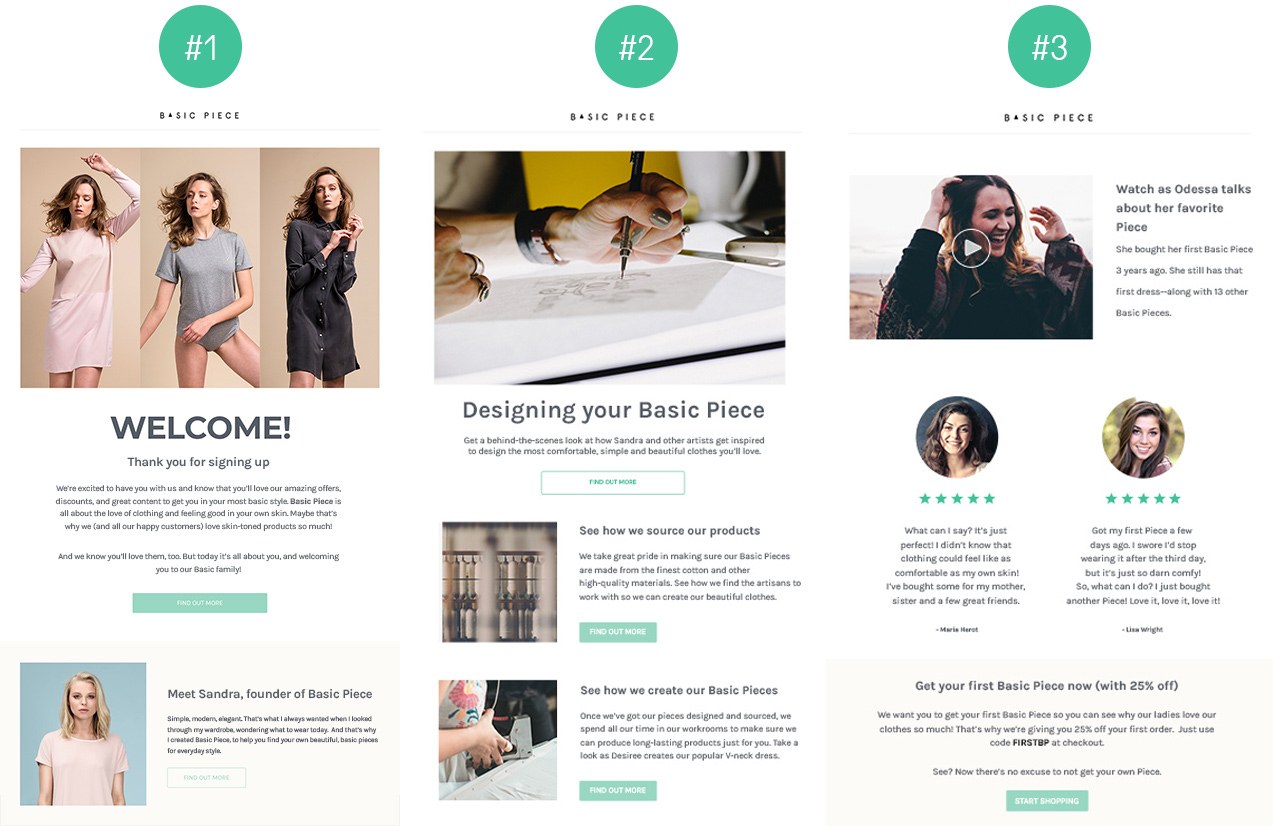 Example #2. Order Confirmation
This is a great drip campaign – effective and easy to implement. The main benefits of this email are the following:
It helps build your business' credibility and your relationship with the customer.
Even an order confirmation email generates new sales!
See how the workflow looks below.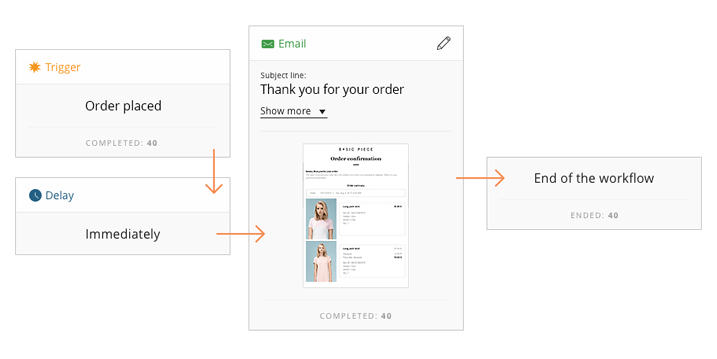 Example #3. Abandoned Cart
When creating a drip campaign for cart recovery, think about which channels you can use to get the best results.
The easiest way is to launch a series of three emails: a reminder about the abandoned cart first; an offer of a deal in the second; and a reminder about both the cart and the deal in the third email.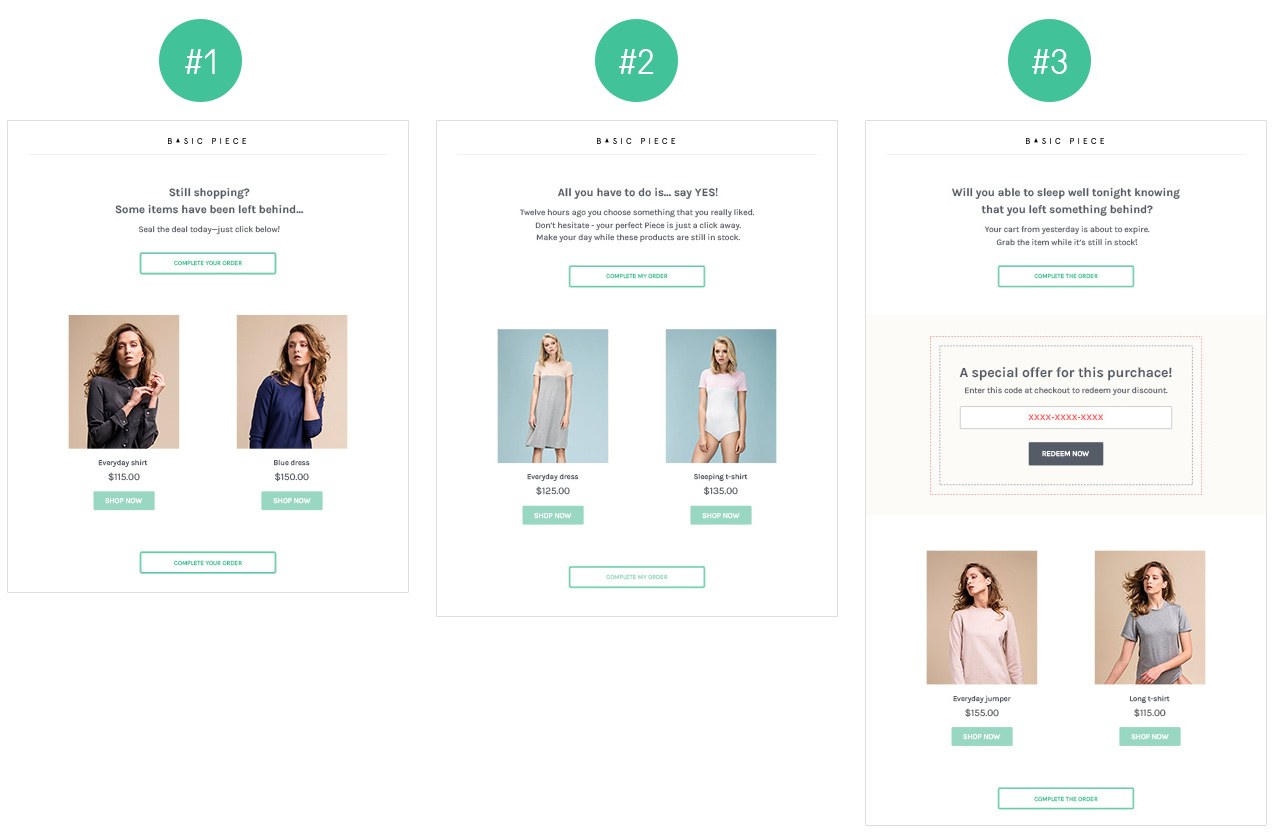 Example #4. Re-activation Emails
This email or series of emails should be sent when your subscriber hasn't been active for some time. It mostly depends on the buying cycle.
For ecommerce sites that sell apparel, books or small electronic devices, we suggest sending the first re-activation email within 90 days of inactivity. If it's a series of emails, repeat them every week after.
See the example of Glotrition's re-activation email.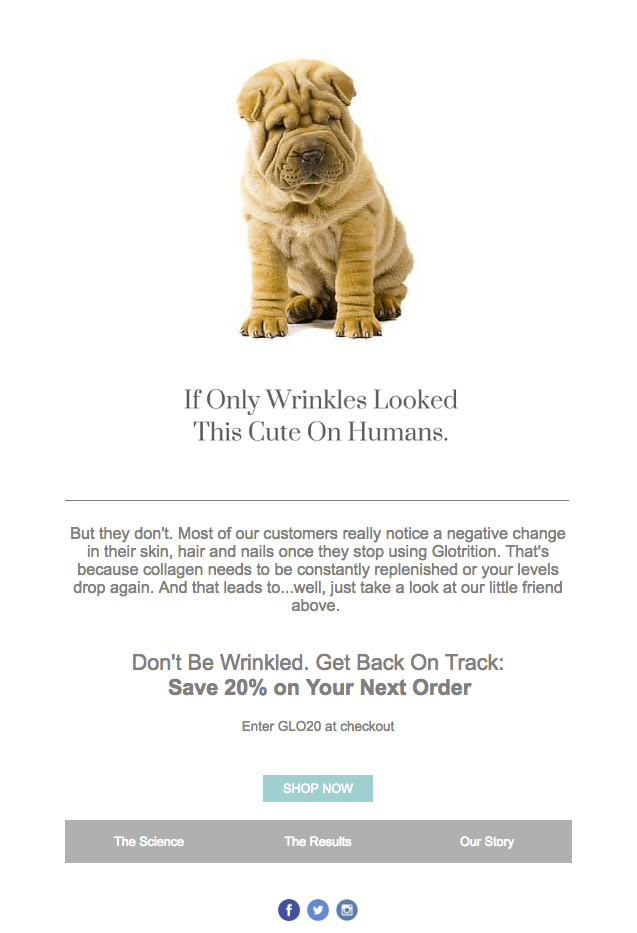 Example #5. Birthday Email
If you want to send birthday emails, don't forget to include an extra field on your sign-up forms. Without this data, you won't be able to send birthday emails.
Our best practice shows that these emails are effective when containing an appealing text plus a small discount for the next purchase.
See examples below: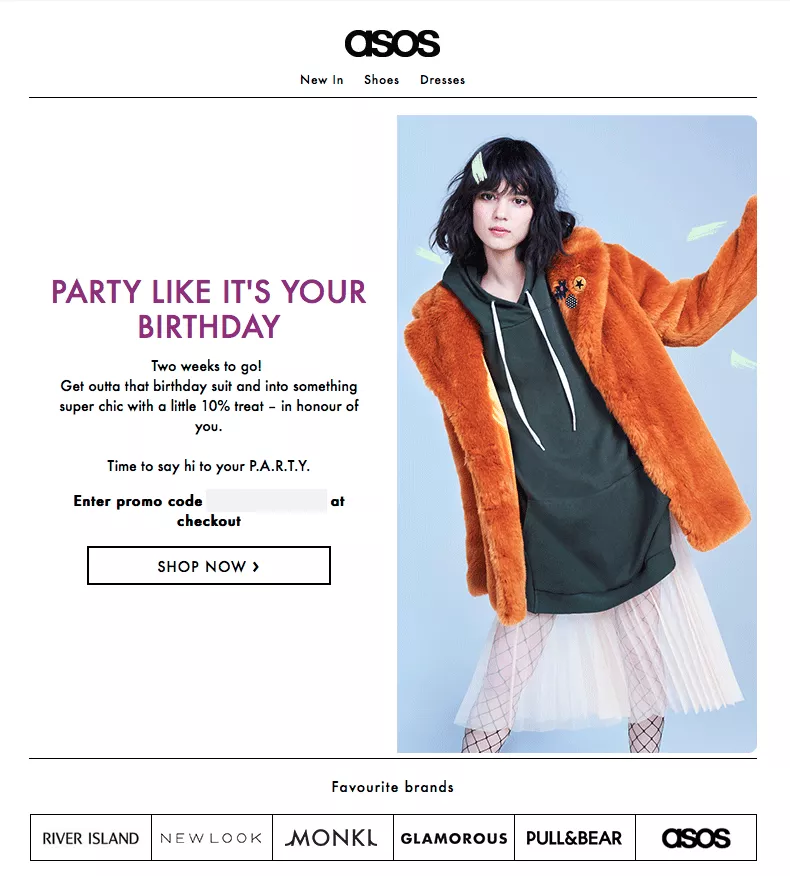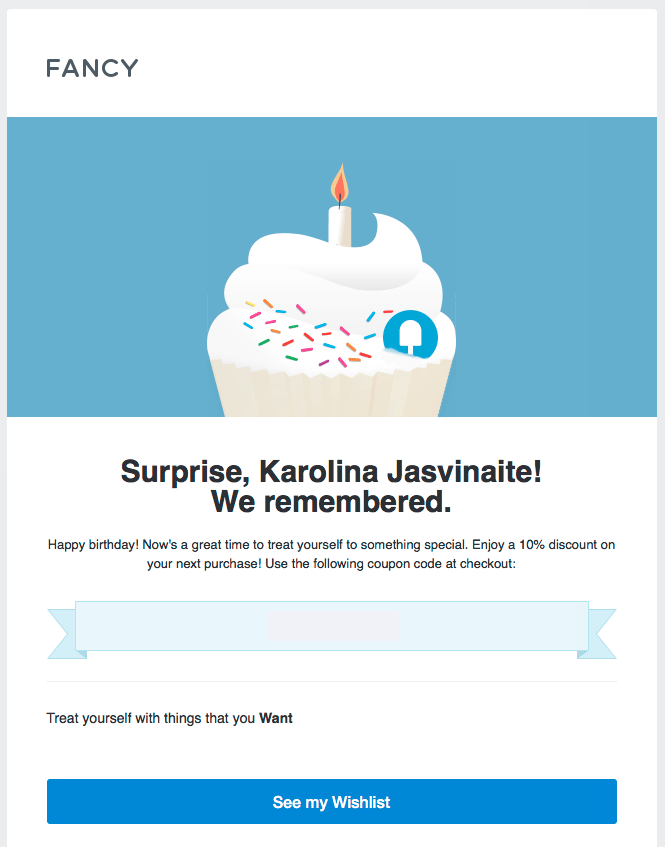 5. Key Takeaways
Drip campaigns generate 2-3 times higher performance than bulk emails. If combining three and more marketing channels, this number jumps even higher to a 250% purchase rate on average.
Welcome, cart abandonment, customer reactivation drip campaigns are those that should be launched first. They are easy to implement and are highly effective.
Small details matter. A simple notification about free shipping might help seal the deal.
Always double-check if your copywriting is in line with an email trigger and overall brand communication.
When considering a tool for drip campaigns, pay attention to the number of channels offered. The transition from email channel to omnichannel marketing will be easier that way.
Start a free 14-day trial & drive sales on autopilot with pre-built automation workflows at Omnisend!
Start My Free Trial