Drip campaigns, a.k.a. email autoresponders, lifecycle emails, and automated campaigns are highly valued in all kinds of businesses. Mostly for delivering the right message at the right time to the right person.
They help you reach your goals according to your business model. Drip campaigns can help you onboard, nurture leads, educate, upsell, promote and so on.
Data shows that drip campaigns generate 2-3 times higher open rates than bulk emails. And a 17% click rate isn't even a limit.
So let's look at how you could employ this type of communication to your advantage while building an ecommerce website.
What Is A Drip Campaign?
Simply put, a drip campaign is a set of marketing emails that will be sent to the customer automatically when triggered by his or her behavior.
The triggers can be the following actions:
A visitor signed up to your newsletter
New member registration
The first (the second, the third… the 23rd) purchase completed
A customer put items into the shopping cart and left the website (statistically, 7 out of 10 cases end up like this)
Your subscriber doesn't open your emails anymore (for some time)
Recommendation emails (up-selling, cross-selling)
It's your subscriber's birthday today, etc.
See the example below, how welcome drip campaign is being triggered and sent to the customer.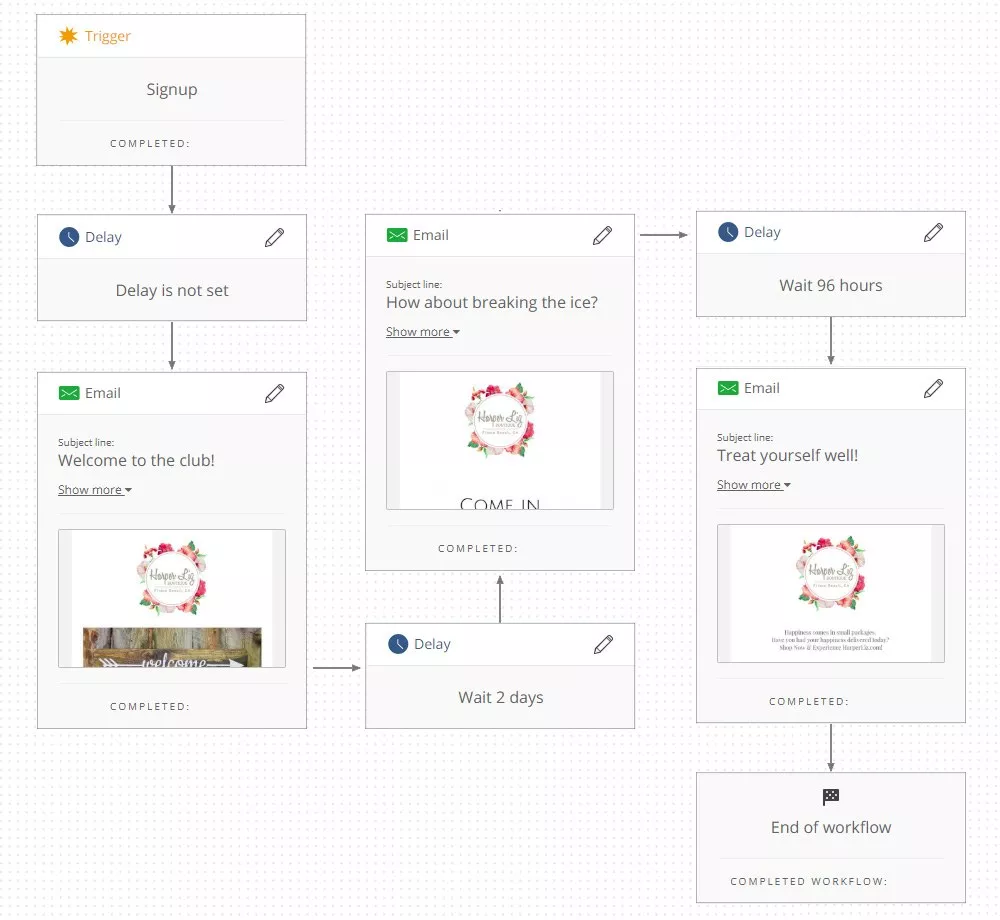 In a drip campaign workflow, you can also include text messages, Facebook messages, phone calls, and other customer approaches. In fact, three or more channels leads to better overall performance.
According to Omnisend, marketers using three or more channels in their marketing campaigns earned a 90% higher customer retention rate, and 250% higher engagement and purchase rates. In the following chapters, you will find an example of combining those channels.
However, email is the easiest and most common way for drip campaigns so far. That's why I will focus mostly on them.
2. When Should You Start Sending Drip Campaigns?
There is no specific milestone that has to be reached before launching drip campaigns. You can adopt different workflows gradually and start whenever you feel ready.
One of the "must-have" drip campaigns is a "welcome" campaign. I would recommend launch this campaign as soon as the first signup form goes live on your website. It's because three out of four subscribers expect to receive a welcome email immediately after they sign up. So by launching an automated workflow and sending a welcome email on time, your brand will meet the prospect's expectations. And that's a great start for your relationship.
One more drip campaign on the "must-have" list is an abandoned cart campaign. As I have already mentioned, the abandonment rate is huge. That's why you should have methods on how to address this common ecommerce issue in your business. And an abandonment cart campaign could definitely be the one. Especially, when only 1 out of 4 businesses does something to reduce this abandonment rate. So I would also launch this campaign immediately and gain an advantage over my competition.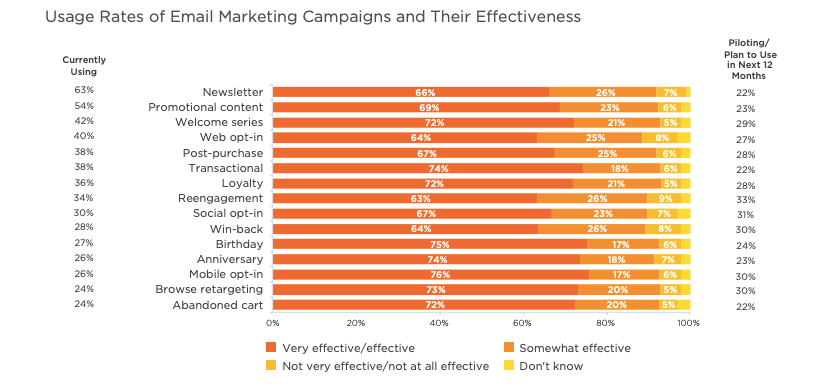 Image source: State of Marketing Report 2015
Some drip campaigns, especially custom ones, are possible only if you have the right data for them.
For example, birthday emails. You have to find a way to collect birthdates from your subscribers first and then launch that campaign. This campaign generates great results, so you can have it in mind when designing your signup forms.
See the chart below, how drip campaigns perform in terms of customer engagement.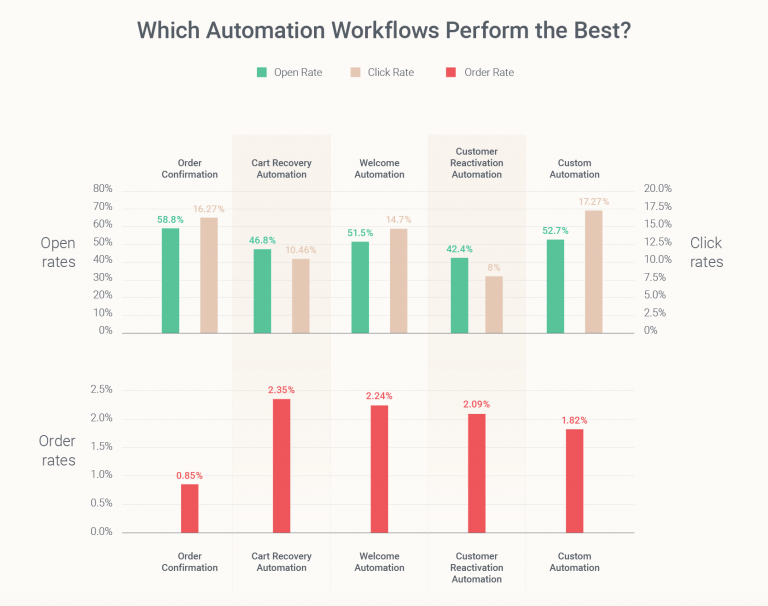 In general, the sooner you launch your automated workflows, the faster they start making you money 24/7. But for some of them, you might need the data. Keep it in mind when planning your signup forms, landing pages, site registration forms, etc.
3. Key Elements of Drip Campaign
First of all, you should pick the tool. There are many service providers in the market to choose from. When considering the tool, pay attention to the feature set:
What automation features the tool provides
Workflow setup flexibility
Segmentation flexibility (the more advanced is segmentation, the more flexible can be your custom drip campaigns)
Usability of the tool
A list of channels you can use for your drip campaigns
Obviously, I would recommend starting your tool research from Omnisend. This comprehensive tool is ready to fully address ecommerce business needs in terms of marketing automation. It is user-friendly and provides advanced segmentation possibility.
You may also want to check some other alternative tools to Omnisend.
Once the tool is ready, let's look at what we have to prepare for the upcoming drip campaign.
#1. Define Your Drip Campaign Audience
Drip campaign recipients can be defined easily if the trigger is simple like a new sign up or a birthday.
But to define the audience might be a complex task if you want to launch a custom drip campaign with more rules and exceptions. In this case, you have to review the set of rules and double-check if they don't conflict with each other as well as other emails.
For example, a customer has registered in your store but hasn't filled the customer profile page yet. What you have to check, if the automated reminder to fill the profile data won't be sent at the same time as welcome campaign emails. Sending too many emails at the time will lessen customer engagement.
#2. Target Your Message
Pay attention to the copywriting. Don't send emails with a bulk promotional text to the customers if you know things about them.
Think it over: what is relevant at the moment for them? Your copywriting has to address current customer's needs.
If it's a cart abandonment email, try to convince your prospect to seal the deal right away. Think of what objectives he might have in mind. Maybe expensive shipping stopped them from buying the product, or they felt insecure about the return policy, etc.
Pay attention to two very important notes in the ModCloth email – free delivery and free returns. This "sweet couple" usually encourages people to make a purchase. If you can afford it, use it.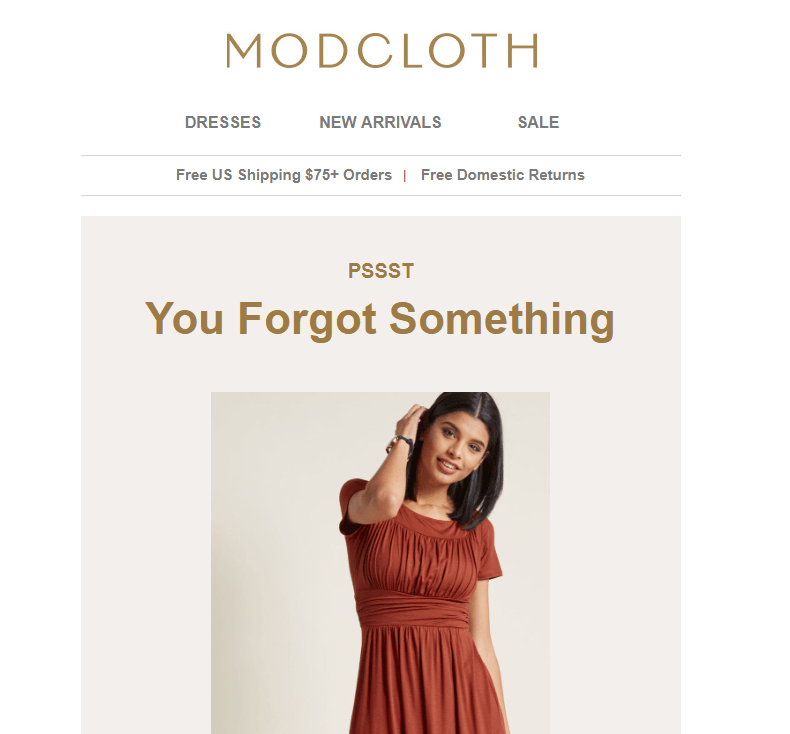 The same with onboarding email series. Don't forget the main reasons that people sign up to your newsletter, don't forget to highlight the main perks and to confirm they've made the right decision.
In automated loyalty emails, your appreciation should go first.
One more thing that you have to consider when writing copy for your emails is how many of them you need to send to reach your goal.
Usually, drip campaigns contain from 1 to 5 emails in a row.
Our research showed that a series of three emails performed best for abandoned cart, welcome, and reactivation workflows.

#3. Map Your Emails Out
This is a very practical tip. Together with a drip campaign launch, start composing a scheme for when your customers get emails and what you communicate to them.
Include all emails, text messages, and whatever messages you send to your customers into that scheme to avoid overlapping. Nothing is worse than getting a discount coupon for the product you bought last week.
The second reason why it's good, it's because seeing the content of the messages and the overall scheme helps you to see the overall view and to make adjustments that could help you to head forward your marketing goals.
#4. Evaluate And Adjust
Drip campaigns seem convenient – you set up them once and they work for you 24/7.
However, don't forget to follow their results and adjust if needed.
Usually, marketers follow the conversion performance of such campaigns in Google Analytics. UTM parameters help to do that.
At Omnisend, marketers can follow orders and $ generated of each campaign separately. It's convenient especially when comparing overall performance with separate campaigns.

And for the record, improving your drip campaign emails is a never-ending task if you seek for achieving great results. Only by testing different copywriting, imagery, additional information you will find what works for your customers best.
#4. Great Examples Of Drip Campaigns
Example #1. Welcome Series
This example shows what you can include in your onboarding emails and how to prepare your new prospect for the purchase.
The 1st email welcomes the subscriber and introduces the benefits of joining the community. Also, there is a photo of the founder and her short quote which makes the email more personal.
The 2nd email tells the story of the brand and how the products are being produced.
The 3rd email is for social proof and the discount for the first purchase.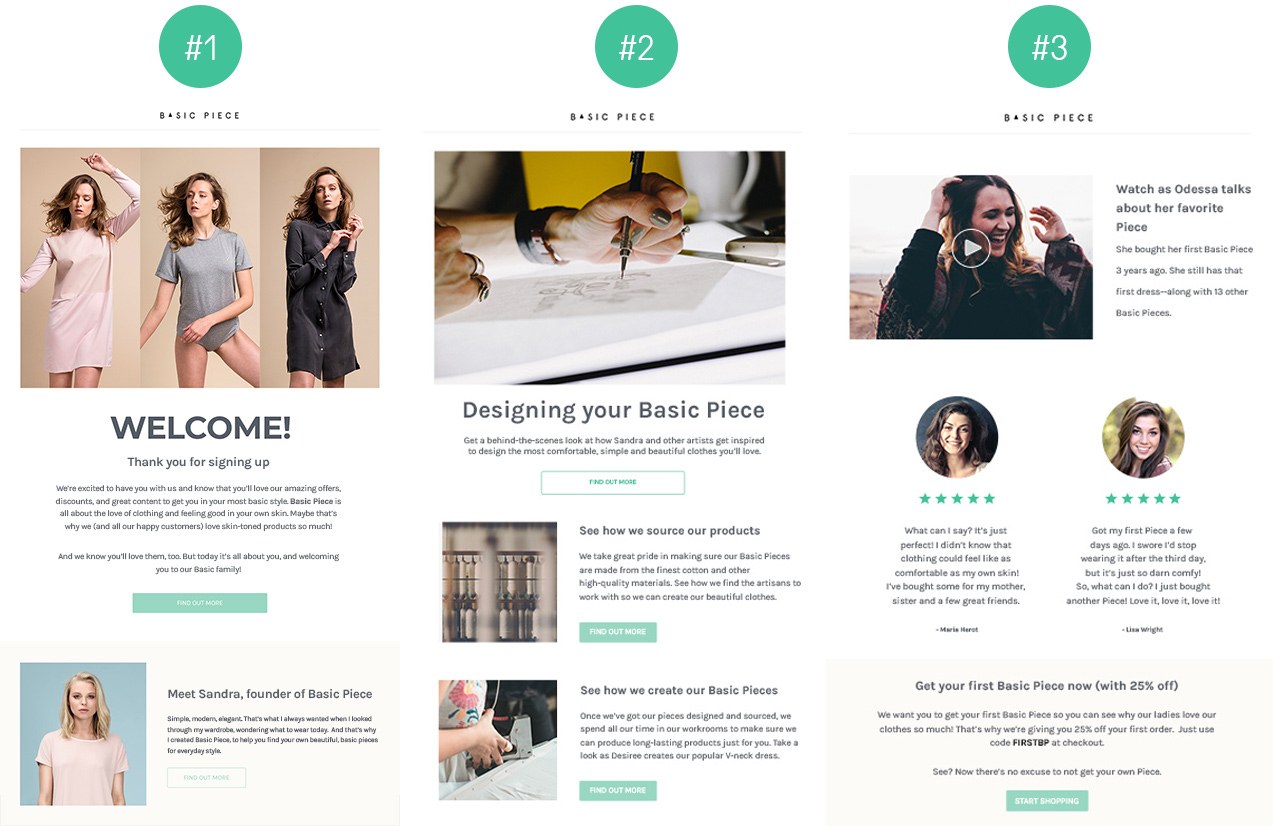 Example #2. Order Confirmation
This is a great drip campaign – effective and easy to implement. The main benefits of this email are the following:
It helps build your business' credibility and your relationship with the customer.
Even an order confirmation email generates new sales!
See how the workflow looks below.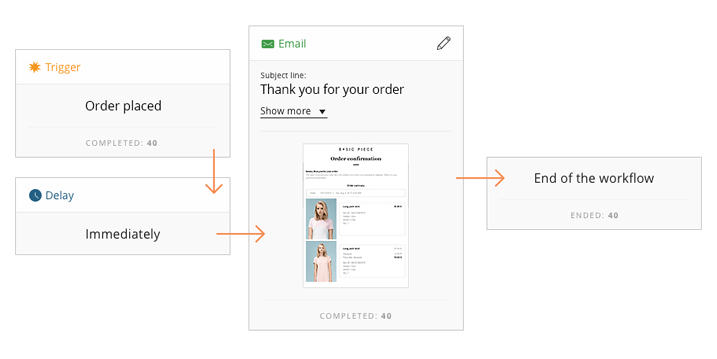 Example #3. Drip Campaign of Abandoned Cart
When creating a drip campaign for cart recovery, think what channels you can use to get the best results.
The easiest way is to launch a series of three emails: to remind about the abandoned cart with the first, to offer a deal in the second and to remind about the cart and the deal in the third email.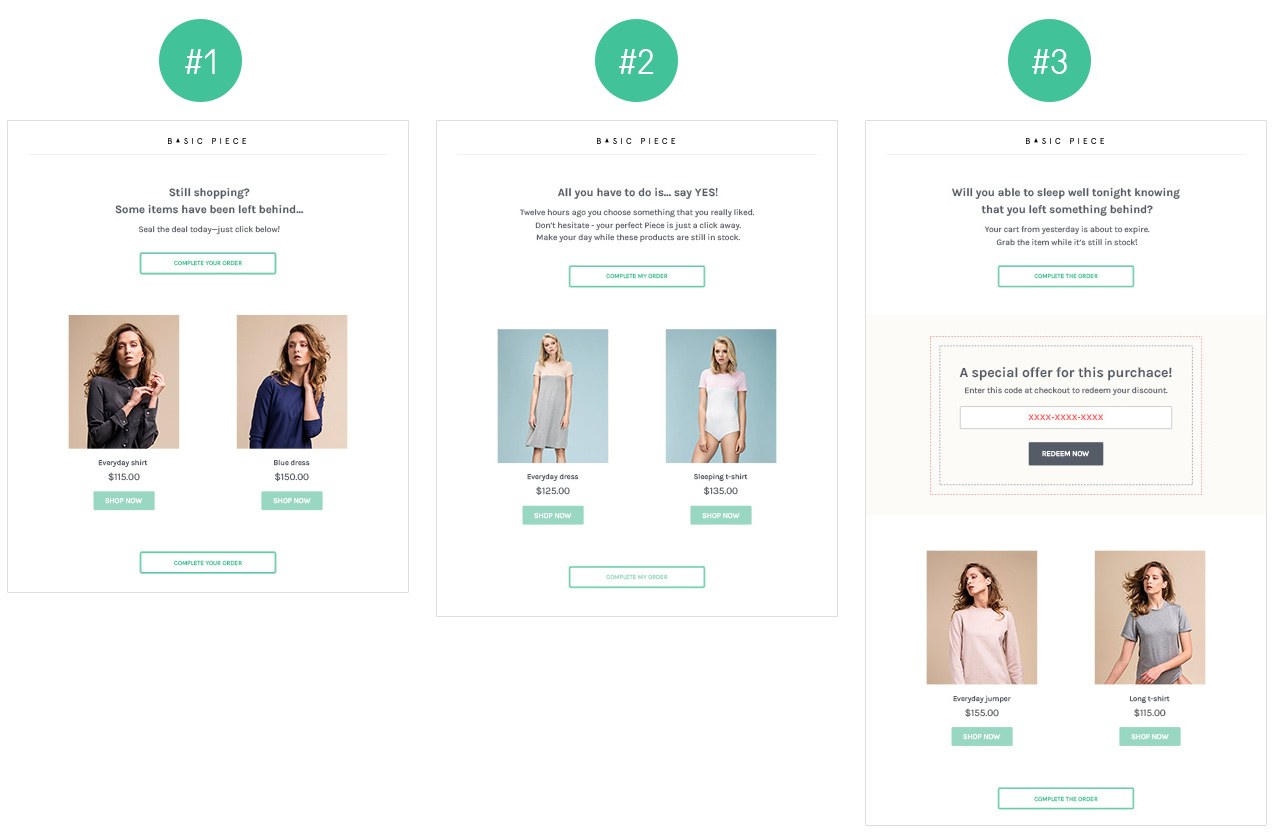 If you are ready to employ more channels into your marketing strategy, you can approach your customers differently.
I'm sharing the example of text messages below. Also, you can use Facebook Messenger and other tools to remind your customers about abandoned carts. Also, you can use a combination of a few channels. Let's say, first, send a text message and the email a few hours later.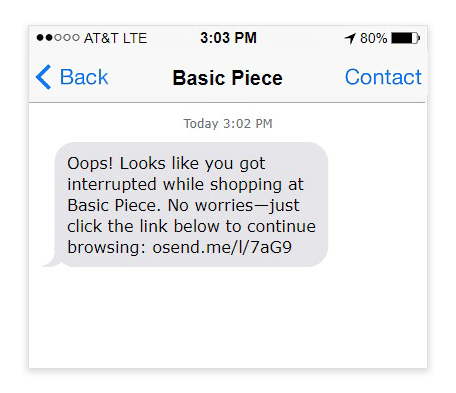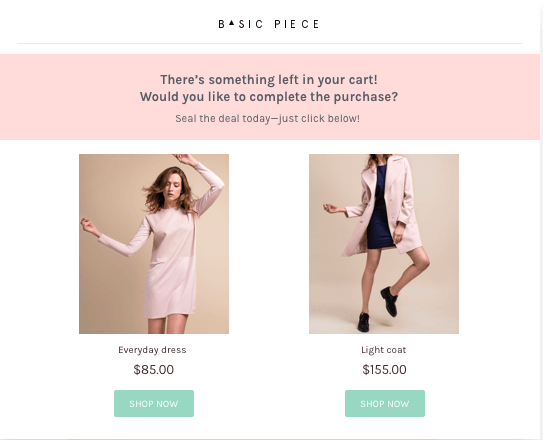 Example #4. Re-activation Emails
This email or series of emails should be sent when your subscriber hasn't been active for some time. It mostly depends on the buying cycle.
For ecommerce sites that sell apparel, books or small electronic devices, we suggest sending the first re-activation email within 90 days of inactivity. If it is a series of emails, repeat them every week after.
See the example of Glotrition's re-activation email.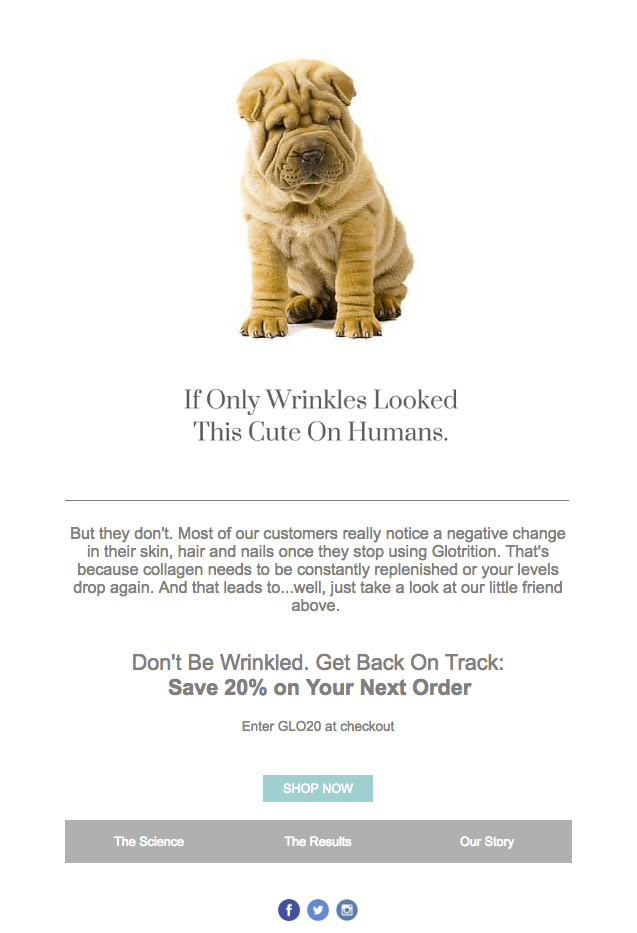 Example #5. Birthday Email
If you want to send birthday emails, don't forget to include an extra field into your sign up forms. Without this data, you won't be able to send birthday emails.
The best practice shows that these emails are effective when containing an appealing copywriting plus a small discount for the next purchase.
See examples below:
Alternative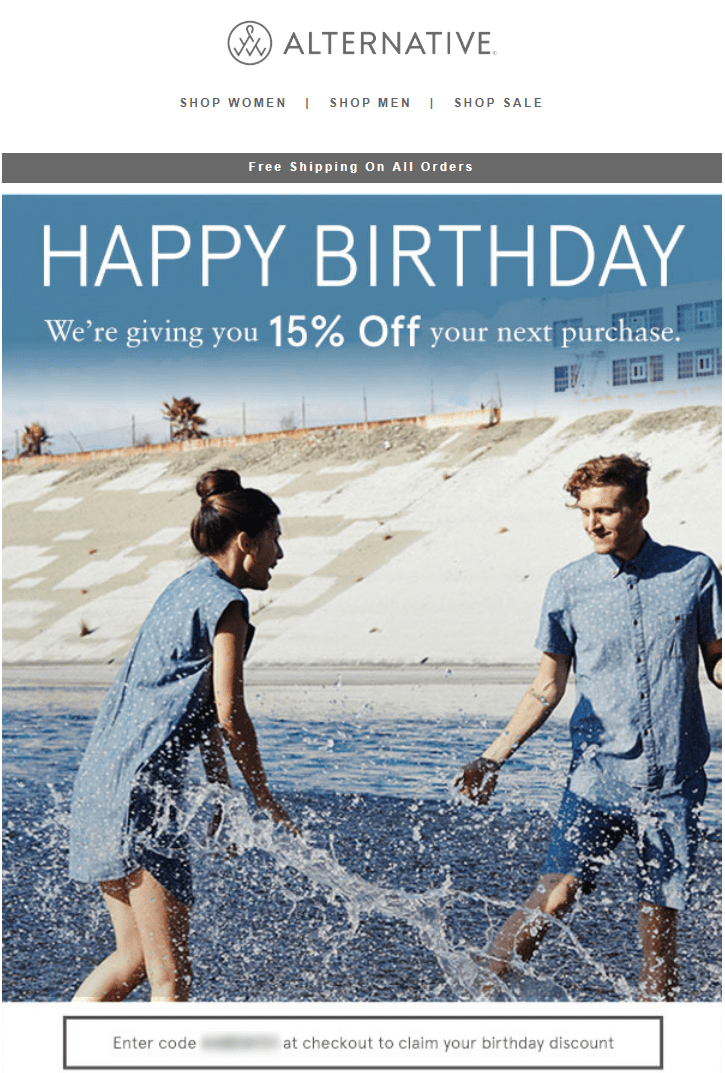 Asos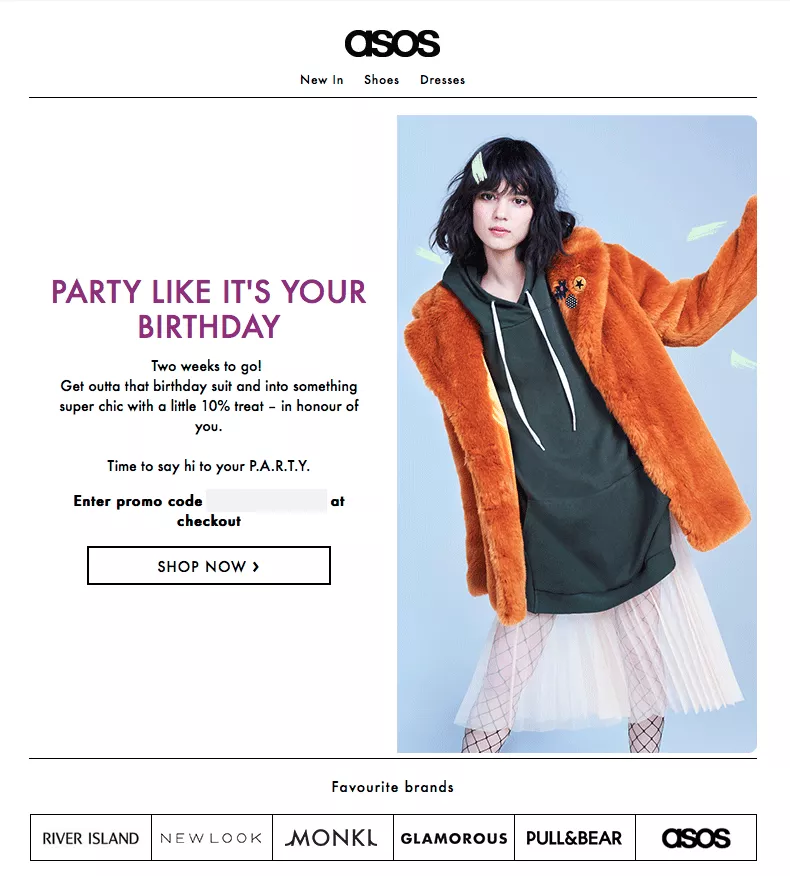 Fancy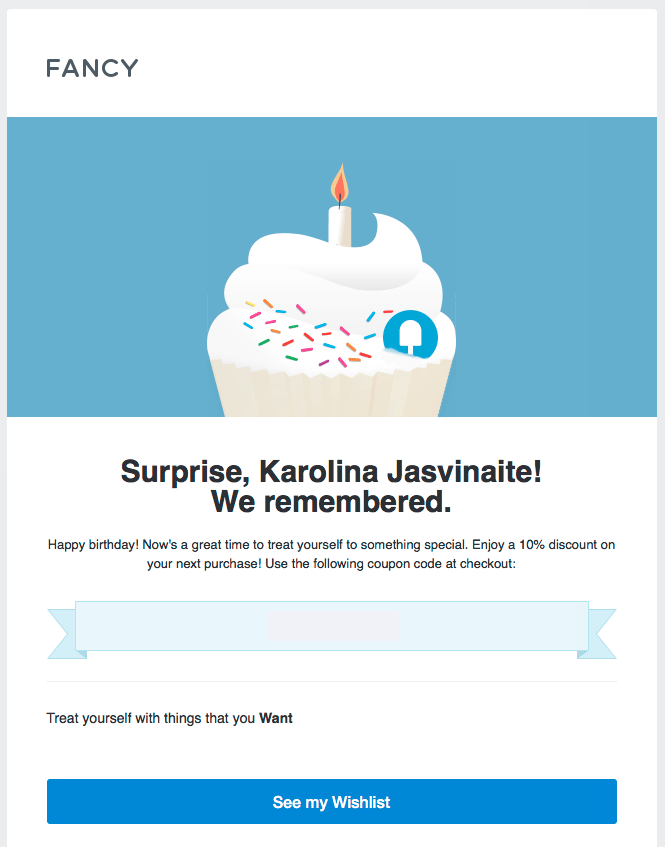 #5. Key Takeaways
Drip campaigns generate 2-3 times higher performance than bulk emails. If combining three and more marketing channels, this number jumps even higher to a 250% purchase rate on average.
Welcome, cart abandonment, customer reactivation drip campaigns are those that should be launched first. They are easy to implement and are highly effective.
Small details matter. A simple notification about free shipping might help seal the deal.
Always double check if your copywriting is in line with an email trigger and overall brand communication.
When considering a tool for drip campaigns, pay attention to the number of channels offered. The transition from email channel to omnichannel marketing will be easier that way.