Drive sales on autopilot with ecommerce-focused features
See Features
Reading Time:
8
minutes
So you've set up your Shopify store, stocked your inventory with products, and kicked off your first email marketing campaigns. Time to sit back and watch the sales pour in, right?
If only it were so easy. Shopify sales don't happen on their own, which is why we're providing valuable insights on how to get more sales on Shopify. We'll discuss ways to build a thriving contact list, reach out with personalized email marketing, create traffic with optimized SEO, and much more.
But first, let's look at a few things that you might be doing wrong.
Why don't you get sales in your Shopify store?
It's tough to see visitors stop by your store and then leave again without making a purchase. One of the big reasons why could be:
Poorly-designed website: Slow loading times, hard-to-find menus, typos, and a generally unprofessional appearance are all red flags from a customer perspective. The easiest way to fix this is to find a theme from your ecommerce platform that is intuitive, attractive, and has good user reviews.
Unattractive and low-quality images: High-quality images make your store look professional and give a great first impression. Provide high-definition product photos with a variety of angles and real-life examples so shoppers can make informed decisions.
Lack of social proof: Shoppers feel more secure when they see social proof. Reviews, social media posts, product unboxings, and other public interactions with your brand prove that others are happily buying from you and enjoying your products.
Lack of detail in product descriptions: Avoid dull, generic descriptions of your products. Instead, use storytelling techniques that appeal to emotions. Conjure images of how the product might feel, sound, and smell in the customers' hands.
Unattentive customer service: A physical store always has an attendant on hand to answer questions and help customers make their choices. Adding a live chat feature is the best option for small ecommerce businesses, allowing you to respond quickly and efficiently to any issues customers might have.
If you've checked your store for these common problems and are still not getting the volume of Shopify sales that you'd like, it's time to step it up a notch.
Let's go through some easy-to-implement tips on how to increase sales on Shopify.
Collect visitor opt-ins to nurture future sales
Email marketing consistently delivers the highest ROI of any marketing channel. Email is comfortable and familiar for consumers and allows you to include images, videos, discount codes, personalized recommendations, and much more in your newsletters.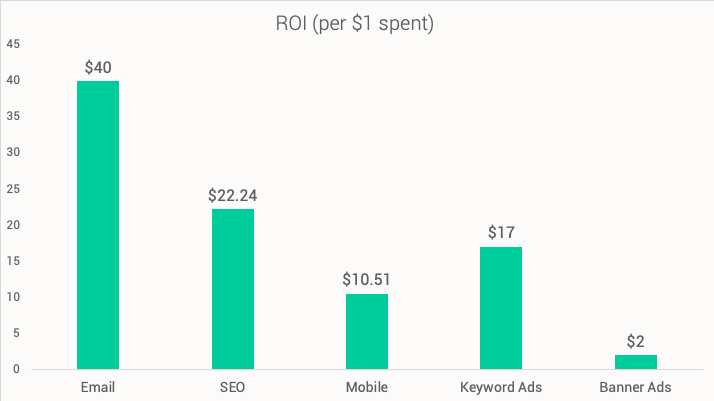 To be successful in email marketing you need to build a busy, engaged contact list first. Dedicated marketing automation platforms like Omnisend make this easy by providing you with highly-converting Shopify newsletter sign-up forms, including:
Traditional static forms: These are your standard sign-up forms which can be placed anywhere on your website or blog. They are essential but somewhat less effective, passively relying on the site visitor to sign up on their own initiative
Exit-intent pop-ups: Carefully-timed pop-ups, maybe containing an incentive such as free shipping or discount, offer more dynamism and urgency. Research proves that engagement and sign-up success increases with more dynamic sign-up forms
Interactive forms: Gamified forms such as a Wheel of Fortune add another layer of intrigue. Visitors have the chance to spin the wheel for an attractive incentive in return for a sign-up. This method offers incredibly high conversion rates, signing up more than 1 in every 10 visitors to your Shopify store.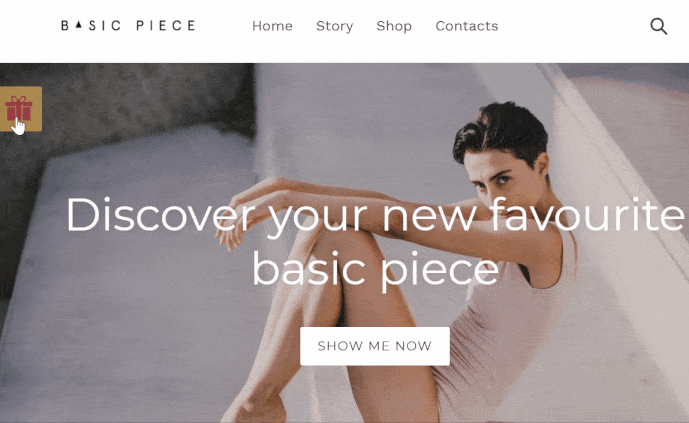 Adding fields for gender, age, interests, and others can provide you with valuable information for your personalized campaigns.
You should consider adding a phone number option. SMS marketing works well with email marketing, with adoption and conversions rapidly growing year over year.
Wondering how to get sales on Shopify? Start free with Omnisend today for full access to advanced email and SMS marketing automation!
Communicate with your new subscribers
Frequent communication is key with new subscribers, providing them with all the information and inspiration they need to eventually commit to a purchase.
Let's look at a few common and effective ways to reach out.
Send email newsletters
83% of businesses use email newsletters to regularly communicate with their customers. These are a great way to share the latest news about your brand, introduce new products, and give exclusive incentives to subscribers.
Newsletters should be delivered on a regular schedule—weekly or monthly is a good place to start. Remember to always include a prominent CTA that directs subscribers toward the goal of your newsletter.
Don't forget to segment your contact list before sending out your newsletter. This is essential for more relevant and personalized messaging.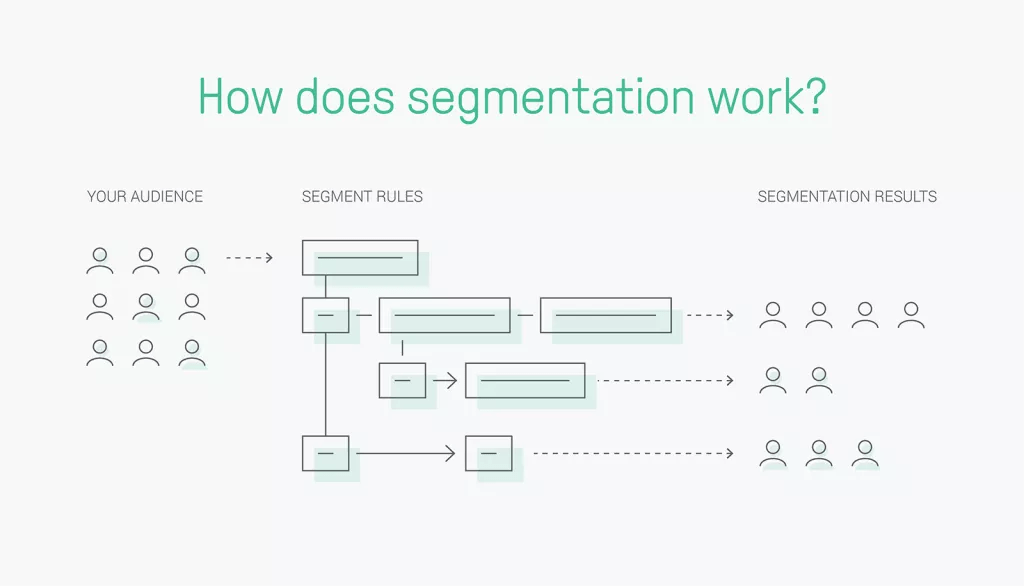 Send automated emails
Automated emails are sent to your subscribers when certain events are triggered, such as a new sign-up or abandoned cart. Include the following essential automations in your marketing:
Send text messages
SMS marketing is booming right now, with promotional campaign sends increasing by 75% year-over-year and automated sends 258%. Text messaging allows you to send time-sensitive special offers and add a valuable sense of urgency to your marketing.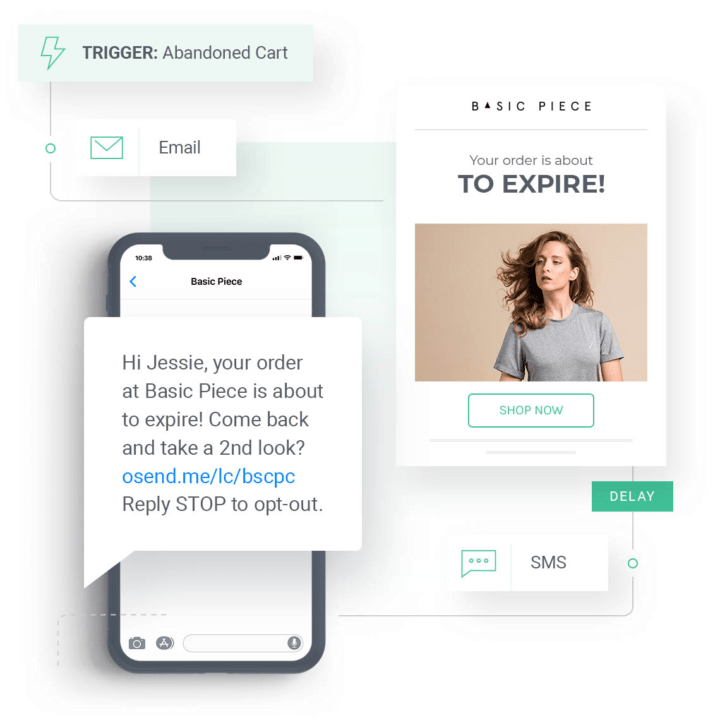 SMS works well with email to create an omnichannel marketing campaign. You can add SMS to your welcome, Shopify abandoned cart, and post-purchase workflows to ensure that your messages are getting read. To do so, you'll need to add a phone number field in your sign-up forms.
Start working with influencers
Influencers are a great way to increase awareness of your brand among your target audience. They have built a strong social media following and can review, endorse, or promote your brand through their posts.
Think carefully about your target audience and brand image when searching for the right influencer. If you have a younger audience, TikTok and Instagram might be the best platforms for you. If you have a very specific niche, such as selling fishing gear, then look to YouTube channels or popular magazines in the fishing world.
Influencers are so valuable because they've already built trust with an audience that's naturally interested in what you have to offer. Once you've found the right influencer you can use the content they generate outside of social media too, adding it to your newsletter, automated emails, and more.
Use retargeting or other paid media channels
Advanced marketing automation platforms like Omnisend allow you to include Facebook and Google retargeting in your automated workflows, making it easy to keep your products at the forefront of customers' minds.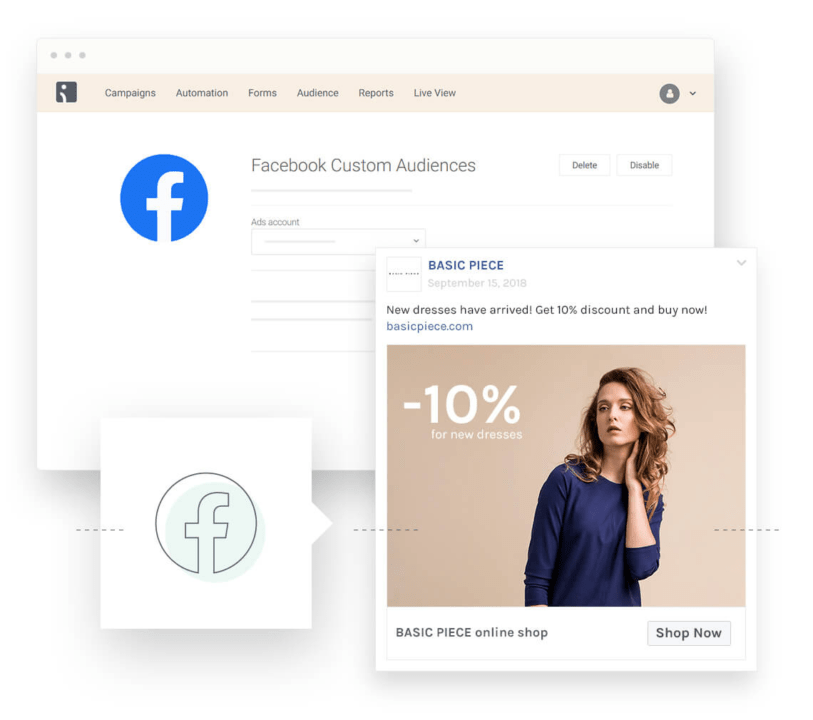 Another great channel for ecommerce merchants is Instagram. With over 1 billion users worldwide, this visually-focused platform is the ideal way to showcase your products in vivid multimedia posts and stories.
If you can successfully build your Instagram sales funnel, you'll be able to directly interact with your audience and sell to a dedicated community full of engaged and active followers.
Have a good presence online
To increase your Shopify sales, make sure that you establish your presence in online forums that are relevant to your product and brand. A few good examples include:
Facebook: Create a business page and make regular posts. You can also solicit reviews on Facebook, which are essential for social proof
Twitter: Post short but relevant content and use hashtags to interact with people and spread your message
LinkedIn: Connect with professionals. Perfect for B2B sales
Instagram: Visually-focused and ideal for showcasing your products. Also the best place for influencer marketing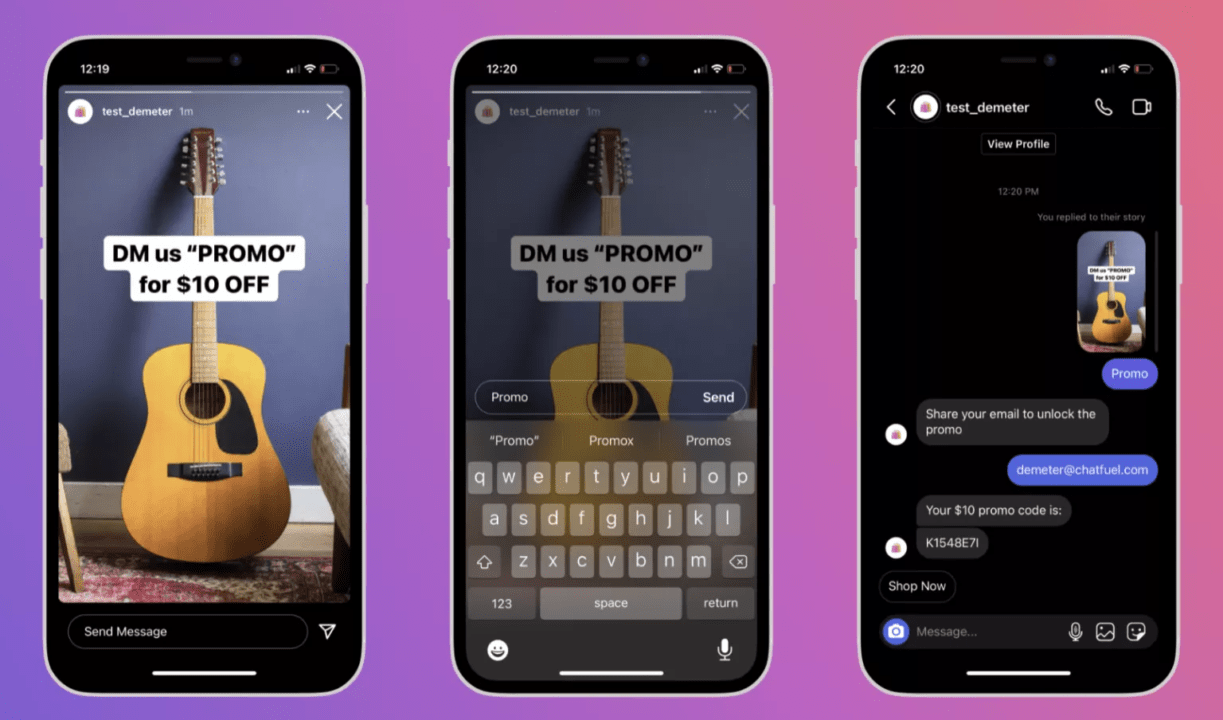 Pinterest: Find your niche and create highly-shareable content with a focus on lifestyle and food-related products
Quora: Find and address customer pain points with this popular question-based site. Answer questions to build your reputation as an expert in your field
Build organic traffic with great SEO
Spending time optimizing your SEO can deliver a huge boost to your traffic and Shopify sales. When consumers have a particular pain point, they Google it.
High-quality content is essential to Shopify success. Consider hiring a professional copywriter if you don't have the time to do it yourself. They'll help you to produce content that's interesting, educational, and relatable to your target audience.
Integrate Shopify with Amazon
Connecting your Shopify store with Amazon gives you the best of both worlds—the most popular and advanced platform to build your store, and access to the world's biggest marketplace.
Connecting your Shopify store with Amazon used to be easy. However, Shopify decided to discontinue its "Amazon as a sales channel" feature, so you now have to do it via 3rd party apps.
Check out this complete guide to the Shopify Amazon integration and learn how to easily add Amazon as a sales channel. With just a few easy steps, you'll be able to feature your brand on Amazon and boost your Shopify sales.
Build trust with great social proof
Social proof is user-generated content. It includes things like reviews, social media posts, unboxing videos, and more. This kind of content is essential for generating trust in your brand and boosting your Shopify sales because it shows that real people are buying from you and enjoying your products.
By actively asking your customers for reviews, you're engaging in review marketing. You can use the best reviews that you've generated in certain areas of your store to reassure customers while they're thinking about making a purchase.
How to use social proof to increase sales on Shopify? Make it easy for customers to leave reviews by being active on common review channels such as Facebook, Google, Amazon, Yelp, and more.
Personalize the shopping experience
Customers now demand personalized marketing that's relevant to their interests and needs. Besides audience segmentation, which we touched on above, you can reach out with omnichannel marketing.
Omnichannel marketing creates unified communication with the customer across multiple channels. Each channel works together to deliver exactly the right message, in the right place, and at the right time. Let's say a customer hasn't opened an abandoned cart email for a specified period of time. You can automatically send them a friendly reminder via SMS and personalized product retargeting via Facebook, for example.
This has a positive effect on Shopify sales. According to Omnisend research, omnichannel campaigns earn an impressive 287% higher purchase rate than those depending on just one channel.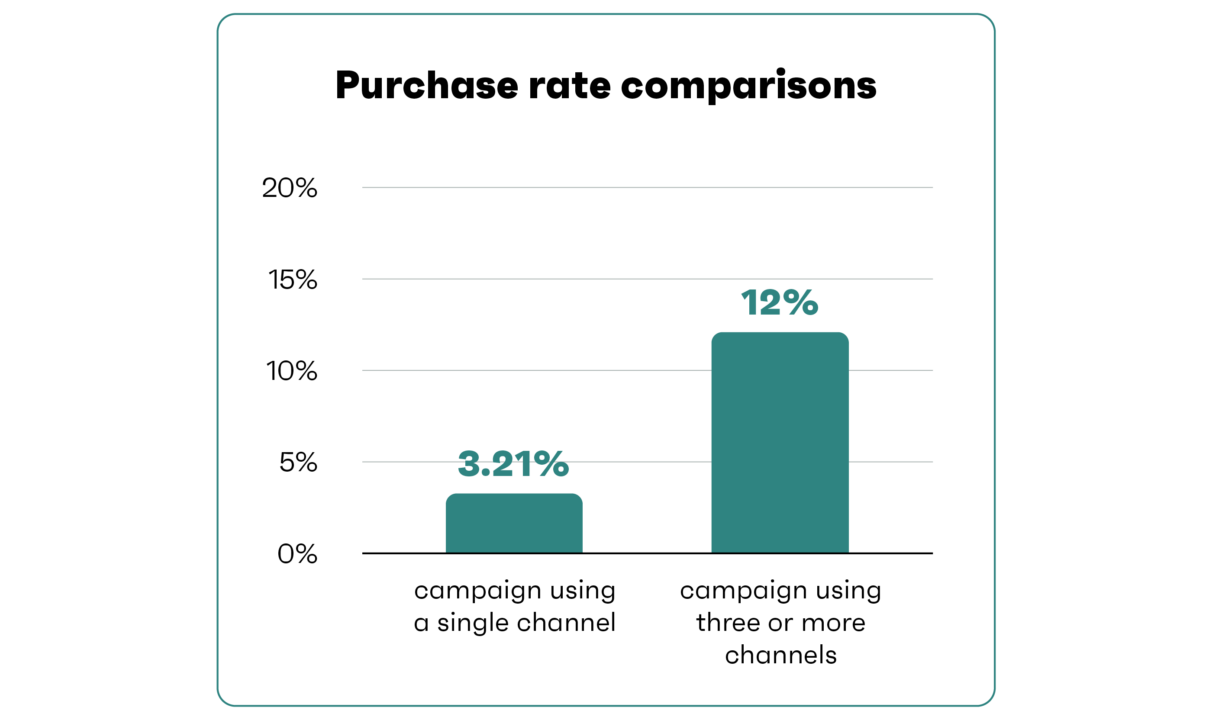 Although omnichannel marketing sounds complex, it can be quite easily achieved with the right marketing automation platform like Omnisend. Your customer profiles and data will be constantly updated, allowing you to seamlessly connect to customers with relevant messages on the channels where they're most comfortable.
Check out top Shopify stores for inspiration
The best people to learn from are those who've done it all before. Go and look at some top Shopify stores and find out what they're doing that makes them so successful.
Take note of the images they use, their themes menu interfaces, checkout processes, and more to see what can be implemented on your own store. Not only will you learn some valuable Shopify best practices, but you'll be inspired to design and create a Shopify store that's as beautiful and user-friendly as you can possibly make it.
Wrap up
Whether you're new to the game or a seasoned pro, every ecommerce retailer wants to know how to get more sales on Shopify. Luckily, there are many tips and techniques that you can implement right now to increase your Shopify sales. All it takes are the right ecommerce automation tools and a little work.
Start free with Omnisend today and get full access to the omnichannel marketing, advanced automation, and personalization tools you need to make sales on Shopify!
Get started with Omnisend today & drive sales on autopilot with pre-built automation workflows
Start Free Today
related features
Want more sales?
Omnisend has everything you need to succeed.
Start free now
No Credit Card needed.