Drive sales on autopilot with ecommerce-focused features
See Features
Reading Time:
6
minutes
Technology changes every industry every year, but digital marketing often finds itself on the cutting edge of the latest trends. With organizations leveraging the most advanced tools, it's crucial to find the right digital marketing software for your needs.
In this article, we'll take a look at some of the pros and cons of Omnisend and Remarkety, two of the most popular ecommerce marketing automation platforms in 2021. While Remarkety offers some unique features including AI-driven product recommendations, Omnisend provides comprehensive marketing services for even the most complex omnichannel workflows.
Features
| | | |
| --- | --- | --- |
| Features | Omnisend | Remarkety |
| Integrations with third-party ecommerce platforms | Shopify, Shopify Plus, BigCommerce, WooCommerce, Magento | Shopify, Shopify Plus, BigCommerce, WooCommerce, Magento |
| Pop-ups | Yes | Yes |
| Landing pages | Yes | No |
| Visual email builder | Yes | Yes |
| Gamification | Yes | No |
| Resend messages to non-openers | Yes | No |
| Automated workflows | Yes | Yes |
| Conditional splits in automation | Yes | No |
| Audience segmentation | Yes | Yes |
| Analytics and reporting | Yes | Yes |
| SMS/MMS | Yes | Yes |
| Web push notifications | Yes | No |
| Google retargeting sync | Yes | No |
| Facebook retargeting sync | Yes | No |
| 24/7 customer support | Yes | No |
Omnisend vs. Remarkety: Who is each tool built for?
While Omnisend and Remarkety have some common ground, they're ultimately designed for two different purposes. Remarkety features focus on email and SMS marketing, while Omnisend offers more tools for other channels including push notifications, Facebook, and Google ads.
With that in mind, Omnisend is more of a comprehensive solution in contrast to Remarkety's more generalist approach. Omnisend is hyper ecommerce-focused, with features built to help anyone that sells online earn more revenue, like a product picker that allows you to pull items directly from your store and drop them into your campaigns and automations.
Marketing Automation
Automation has been a crucial element of digital marketing campaigns for years, but it became even more important during the COVID-19 pandemic. In fact, automated messages generate nearly 30 percent of all email orders despite accounting for less than two percent of all email sends.
Remarkety supports a number of automation workflows including browse abandonment, cart abandonment, welcome emails, and reactivation for inactive subscribers. The platform is also compatible with various transaction messages such as sign-up confirmation, order confirmation, and shipping updates. However, Remarkety's workflows feel rudimentary, without a visual component which can make some users confused about which message is going out when, and to whom.
Omnisend's workflows, in contrast, use the clear, drag-and-drop builder to make automation creation quick and easily understandable at a glance.
Omnisend's automation sequences go even further by allowing marketers to incorporate several channels into their workflow. Sequences can even be split to trigger particular messages or channels in response to specific triggers, meaning your customer can trigger a split and receive a specific message adjusted to their behavior.
Omnisend offers all critical lifecycle workflows plus templates that help you get started quickly: welcome, browse, product, and cart abandonment, lapsed-purchaser, order confirmation, and many more. Kerrits, for example, leveraged Omnisend's marketing automation tools to increase revenue per email by an incredible 50 percent.
Email Campaigns
Both Remarkety and Omnisend are built to streamline email campaigns and help marketers build personalized messages that will resonate with their readers. Each platform also uses a drag and drop interface to facilitate email creation.
Remarkety's email builder is drag-and-drop with the basic features you'd expect from an email marketing tool. There are a few different templates you can choose from, but overall this is a very basic builder.
Remarkety supports audience segmentation based on a wide range of criteria from past engagement and purchases to location and on-site behavior. Furthermore, it gives marketers the chance to quickly configure personalized coupons and product recommendations that will automatically be tailored to each customer's unique preferences.
Along with coupons and product recommendations, Omnisend also offers other forms of content like conditional content, and thorough A/B testing capabilities make it easier than ever to identify your best ideas and pull any unsuccessful messages out of your campaigns.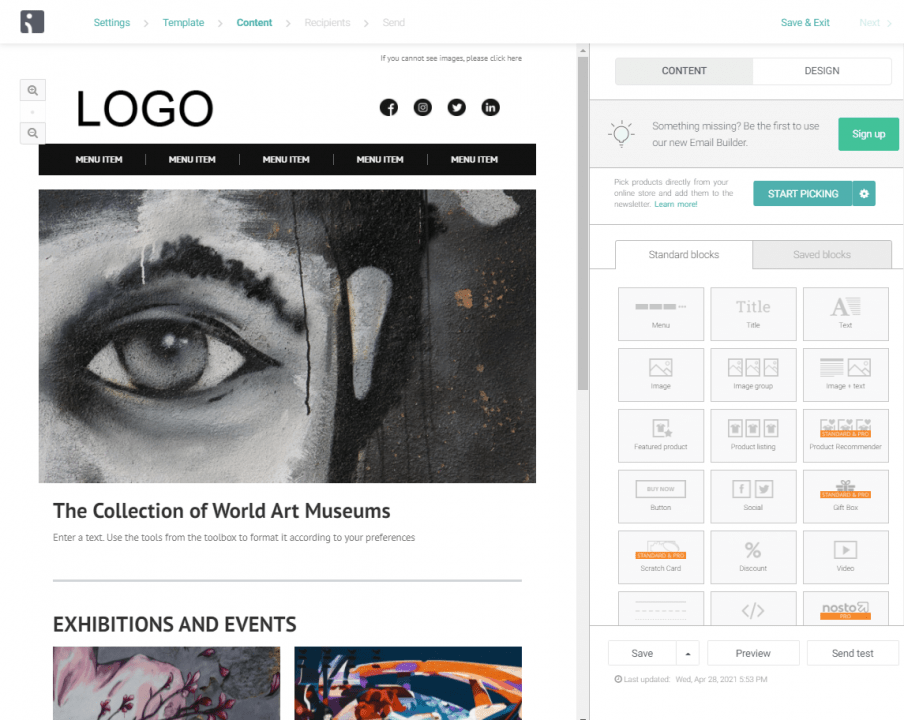 Omnisend also makes email creation simple with a drag-and-drop builder plus a ton of customizable templates. Looking at Omnisend's email builder, which, like Remarkety, is a drag-and-drop visual editor, there are already a lot more advanced options that you can incorporate right away.
You can pull featured products directly from your online store, and recommending products is a simple drag-and-drop away. You can also incorporate different kinds of media and include a gamified scratch card to offer your customers a discount.
List Building
Remarkety's list building tools enable marketers to quickly set up email capture pop-ups on their website. With that being said, Remarkety is missing some powerful list building features including gamification and support for landing pages.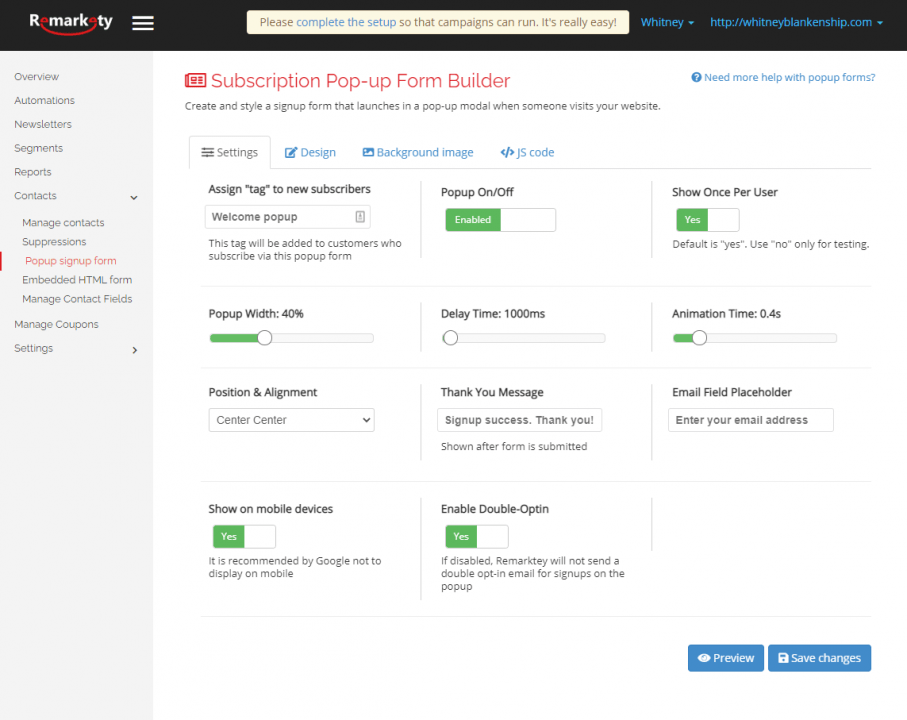 Remarkety's list building only allows you one of each form, which doesn't allow much in terms of targeting your pop-ups and forms. This would be good for very basic list building, but if you need more features, it's not likely to live up to expectations.
Omnisend, however, allows for several versions of each form, which is useful for when you want to target different pop-ups for different pages or products browsed. Like everything you create in Omnisend, pop-ups also use the drag-and-drop visual editor for easy creation.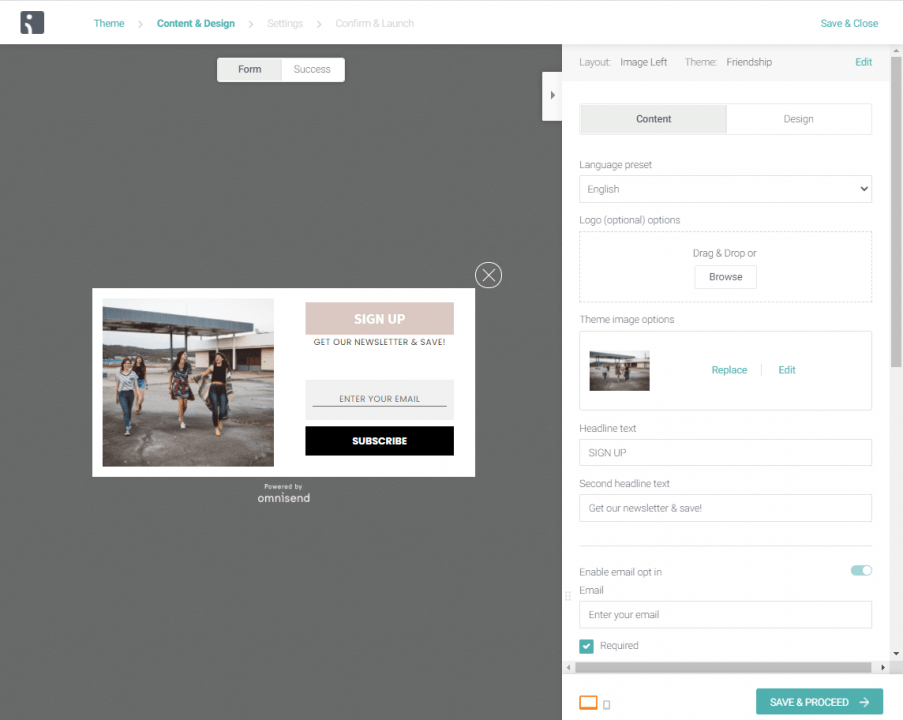 Omnisend supports a wider range of lead capture tactics including sign-up boxes, customizable pop-ups, landing pages, and gamification through a "spin the wheel" interface. Of course, marketers can also leverage A/B testing in order to compare the results of different content types and attract as many leads as possible.
Customer Support
Remarkety offers basic online support through a Help Center on their website as well as a chat interface and email customer service. Phone support is also provided for Advanced and Professional users, although there's no information about the available hours. These subscribers also gain access to a dedicated account manager.
Omnisend, on the other hand, offers 24/7 email and chat customer service to all paid subscribers. Free users can check the Help Center or submit a request via email. Customer Success Managers are provided to Pro and Standard users who pay more than $400/month.
Omnisend vs. Remarkety: Price Comparison
Remarkety pricing depends on the features you need as well as the size of your contact list. The Basic plan, for example, costs $25 per month for up to 500 subscribers, $50 for 501-1000, $75 for 1001-1500, and $100 for 1501-3000. This tier comes with most Remarkety tools, but it's missing some advanced features such as point of sale integration, custom API access, custom branding, and real-time phone support.
Unfortunately, Remarkety's pricing doesn't account for the cost of SMS marketing. The platform uses a pay-as-you-go model for SMS, with each message costing one cent within the US.
With Remarkety, you can start by signing up for a 14-day free trial rather than committing to a paid subscription. You don't need to provide payment information to open a free trial, so there's no risk involved.
Similarly, Omnisend's pricing tiers are based on list size along with features. Unlike Remarkety, Omnisend provides an ongoing free option that comes with all the features unlocked, including automation, segmentation and even SMS.
Starting at $16 per month, the Standard plan comes with everything that's available for free plus 24/7 customer support via email and live chat. The monthly email cap is set at 12 times the size of your contact list.
Finally, the Pro subscription starts at $59 per month and expands the toolkit to include advanced reporting features and a dedicated account manager for organizations paying at least $400/month. Pro users can send unlimited emails.
Omnisend also charges separately for SMS marketing, and US messages cost a cent and a half rather than the one cent charged by Remarkety. That said, Omnisend Pro subscription also come with free SMS credits equivalent to the cost of the plan.
Omnisend vs. Remarkety: Wrap up
Omnisend and Remarkety are two of the leading marketing automation platforms in 2021, but Omnisend is an industry leader due to its omnichannel workflows, powerful automation tools, and responsive customer support.
You can't go wrong with Omnisend if you're looking to develop sophisticated, personalized campaigns that incorporate multiple channels in order to maximize audience engagement.
Get started with Omnisend today & drive sales on autopilot with pre-built automation workflows
Start Free Today
related features
Want more sales?
Omnisend has everything you need to succeed.
Start free now
No Credit Card needed.