Drive sales on autopilot with ecommerce-focused features
See Features
Best marketing automation software: 6 tested tools for 2022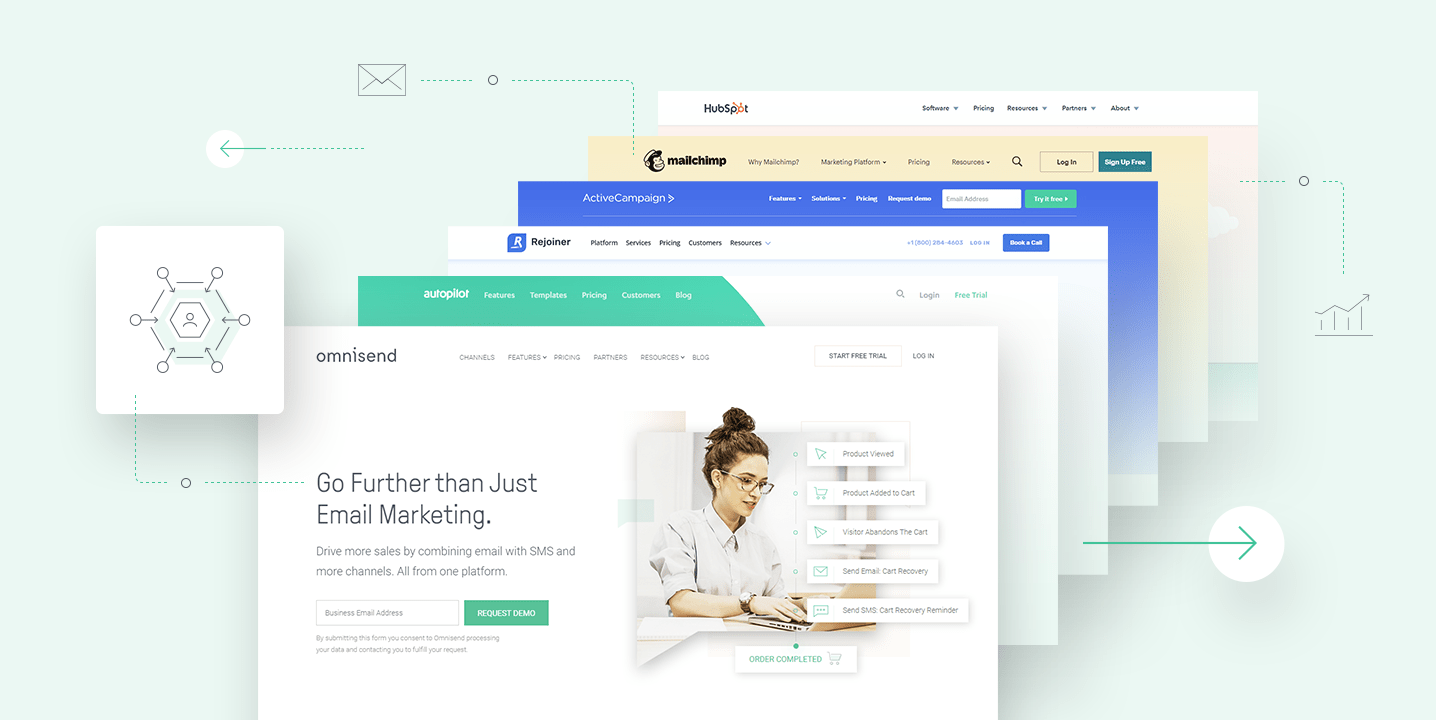 Reading Time:
11
minutes
As the Covid-19 pandemic lead to social distancing, lockdowns, and other preventative measures, more and more consumers have moved online to make purchases.
The increased traffic, noted by the WTO, is ultimately good news for ecommerce businesses, who can only be encouraged by the further normalization of online shopping.
This new era of online business demands new and better tools for ecommerce—and as such, the automation of repetitive marketing functions is no longer optional. Businesses that fail to effectively reach their customers, generate sales, and ship their products quickly will struggle in an increasingly competitive market, whereas those that can deliver the right message to the right customer at the right time will flourish.
According to Social Media Today's "State of Marketing Automation Survey Report" (2019), 75% of marketers now say they're currently using at least one type of marketing automation software.
This begs the question: what are the best marketing automation tools out there?
This post will look at some well-known marketing automation software platforms, and assess their various pros and cons. This way, you can judge for yourself which might be the best marketing automation software for you. But first, let's have a deeper look at the different benefits of email automation software, and what kind of features you can expect to find.
Benefits of marketing automation software
Save time
Freedom from time-consuming, repetitive tasks that are traditionally done manually, such as collecting data and building reports, enables the focus to shift to more productive areas. Most email automation tools will also have form builders and email designers, which frees up even more time for business owners to focus on other critical aspects of their operations.
Reduce costs
Letting marketing automation do all those mundane tasks saves you money too. A monthly, yearly, or one-off subscription payment might seem a bit of a luxury at first, but it's an awful lot cheaper than hiring somebody to do them!
Customized content
One of the biggest worries for many brands when transitioning to marketing automation platforms was the loss of a 'personal touch'—automation was clunky and reeked of cold indifference. Things have changed though, thankfully. Marketing automation plays an increasingly more valuable role in CRM and customer engagement, as workflows are now able to segment audiences based on a complex and impressive array of factors, leading to increased personalization and a better experience for each individual customer.
Flexibility
Gone are the days when you would send a thousand emails out and hope that a few hit the target. According to Omnisend data, automated marketing messages can generate up to ten times more revenue than bulk emails or SMS campaigns! And with improved oversight, you can now tweak and experiment with your campaign in real-time to scale it up or down as needed to achieve your desired results.
Reliability
Barring extreme misfortune like a power outage or internet crash, marketing automation will not let you down. Once you've set everything up according to your preferences, you can just let it run and wait for the reports to inform your next move. It really is as simple as that!
Basic features of marketing automation software
Every platform will have its own unique range of features or areas of specialization, but there are a few essentials that any tool worth its salt will offer. The following basic characteristics are the starting point for any ecommerce business looking to automate.
Gathering customer data
Without data, marketing automation is simply not possible. All platforms will offer legal and effective ways to track comprehensive customer data from a variety of sources while organizing it into an actionable database that will enhance your CRM efforts.
Workflows
Workflows decide how you engage with customers and respond to their behavior. They begin by identifying customers and directing their attention to your product. The customer is then guided through various stages of a journey of your choosing, finally leading to purchase and continued loyalty to your brand. Workflows are what make marketing automation tools so special, and are fully customizable to your particular goals.
Reports
Timely and comprehensive reporting is vital when working with marketing automation software—you need to see exactly what is working and what could be improved in order to streamline your strategy. Platforms can deliver reports specific to a number of KPIs, allowing you to see the big picture and set goals accordingly.
So, now you know what to look for in the ideal marketing automation tools for your business. The next step is choosing one! To help, we've selected 7 of the best on the market—these platforms are popular with marketers all over the world, fairly priced (some are even free marketing automation tools, depending on your list size), easy to use, and packed with interesting and innovative features.
Marketing automation software comparison—6 best marketing automation platforms
In this top marketing automation software platforms comparison, you will find six tools that are ideal for different businesses. Please find a comparison table below:
| | |
| --- | --- |
| Tool | Best for |
| Omnisend | Solopreneurs, scaling ecommerce businesses, agencies |
| HubSpot | SaaS, SMBs, scaling businesses |
| Active Campaign | Solopreneurs, small businesses, SaaS |
| Mailchimp | Solopreneurs, small businesses |
| Rejoiner | Solopreneurs, small businesses |
| Autopilot | Solopreneurs, small businesses |
| Klaviyo | Ecommerce businesses with larger budgets |
Omnisend
The beauty of Omnisend is its specificity—it has been created with the precise needs of ecommerce businesses in mind.
Beyond interactive forms and landing pages, this powerful ecommerce marketing automation software is comfortable in a range of environments. It boasts seamless integrations with the most popular ecommerce markets such as Shopify and BigCommerce and, as the name suggests, allows you to run your workflows through automated emails and multiple channels at the same time.
This is what really sets Omnisend apart–the power to reach people on their preferred channels. Because let's face it, email has been great! But it has had its day as the one-and-only channel for ecommerce business.
Today's customers expect a more immersive experience, which the flexibility of omnichannel campaigns allows for. Omnisend covers both email and SMS, but also integrates things like web push notifications, Facebook Custom Audiences, and Google Customer Match, too.
Because it's made specifically for ecommerce, Omnisend seeks to address the issues that all online marketers run into. For example:
Interactive forms and engaging landing pages to attract subscribers.
A relevant Welcome Series to draw attention
Robust Cart Abandonment strategies for lapsed customers
Post-Purchase Messaging for building loyalty and encouraging reviews
Simple and detailed segmentation for creating personalized messaging – leading to better sales and more effective customer retention
Advanced reporting on customer behavior and sales from campaigns allow you to better foresee your next moves. By the way, this feature is available for free trial users. So you can try it out for free.
Omnisend offers a basic free plan, but its more innovative and interesting features are accessible through paid plans only—starting at $16/mo. The best and most popular plan costs $80/mo (paid annually), which gives complete access to all features – allowing you to send out 15,000 emails a month and including $80 in free monthly SMS credits. At 10,000 subscribers, pricing for this plan is at $168 per month when paid annually, which comes with the same dollar value in SMS credits.
HubSpot marketing automation software
HubSpot is perhaps the leader among the best email marketing automation tools that offer a full platform of marketing, sales, customer service, and CRM software. HubSpot Marketing allows organizations to bring all the tools they use to support their marketing under one umbrella and includes features that help to increase website traffic, convert website visitors into leads, and more.
The vast range of features that HubSpot offers can be quite intimidating to those new to ecommerce – this can be addressed by spending a little time familiarizing yourself with the free resources in the HubSpot Academy. However, it is more than possible to quickly set up simple email list autoresponders and build segmented workflows designed to target specific users with email, live chat, and website messaging.
The biggest advantage of Hubspot's marketing automation software is its one-size-fits-all nature – it really is a complete automated marketing solution of which automation makes up just one aspect. You can easily integrate your whole marketing world onto HubSpot and have complete context over all of your activities in one place.
HubSpot pricing plans include the Starter, Professional, and Enterprise packages starting at $40/mo, $800/mo, and $3,200/mo respectively. Although the Starter plan enables access to the form builder and other tools to attract leads, it doesn't include any of the automations that make this software exciting.
The marketing automation tools are available on the Professional and Enterprise packages only. The Enterprise package, which is applicable to businesses with at least 10,000 email marketing contacts, is billed at $38,400 per year.
ActiveCampaign
ActiveCampaign is ideal for customer-focused ecommerce activities. Beyond its customizable subscription forms and drag-and-drop email builder, its signature features help you to identify your target audience through innovative contact and lead-scoring algorithms – customers are giving a rating based on their levels of interaction with your business, which is then used to inform specific workflows based on their requirements.
As well as identifying potential leads and engaged customers, ActiveCampaign also knows how to target those who might need a nudge in the right direction. This emailing system can automatically send messages based on when the recipient is most likely to read it, using powerful machine learning.
The more you use ActiveCampaign's marketing automation software, the more accurate and effective it gets! As well as smart customer behavior predictions backed by data, its comprehensive data analysis allows you to accurately track the performance of your campaigns and provides analyses that will help you make more informed business decisions.
You can reach customers through email, SMS, Facebook, and on-site messaging–a flexible although not truly omnichannel experience. However, ActiveCampaign is fully compatible with all of the most popular ecommerce apps, including Shopify, Magento, and WooCommerce.
A basic version is available for $9/mo, which includes subscription forms, over a hundred email templates, and a few simple marketing automation tools. If you want the fully-stocked version (Professional plan), pricing starts at $129/mo (paid yearly) and increases depending on how many subscribers you have. At 10,000 subscribers, that plan will cost $279 per month when paid annually.
MailChimp
An oldie but a goodie, Mailchimp is probably the first thing that comes to mind when considering email or newsletter-based marketing automation platforms. And for good reason too, these email giants have built a reputation based on a user-friendly interface, generous free features (such as their in-built CRM), and an excellent reporting system. Additionally, it boasts numerous professionally designed templates you can use to create your emails, forms, and landing pages.
Having been around for longer than most, Mailchimp offers integrations with just about every interface you could think of. Automation features include personalized, targeted emails that are triggered by specific dates, events, or activities; effective abandoned cart series; powerful retargeting tools; and specific product follow-up and category follow-up automations.
If you're looking to run email-only campaigns, Mailchimp's marketing automation tools offer everything an ecommerce business needs in an easy-to-use format. And while it is limited in terms of channel choices, what it does, it does well – making a great entry point for small businesses looking to get started with email automation software.
Mailchimp offers a free plan, allowing you to send up to 10,000 emails each month to 2,000 different subscribers. Added to this is an Essentials plan, which starts at $9.99/mo for 500 contacts and 500k emails. The standard plan comes with advanced email automation tools starting at $14.99/mo. At 10,000 subscribers, pricing for this plan would total $105 per month. On the other hand, Premium enables full access to all features for $299/mo for up to 10,000 contacts. Beyond that, you can expect to pay upwards of $370 per month.
Rejoiner
Another email marketing automation tool created specifically with ecommerce in mind, Rejoiner ticks a lot of boxes when it comes to effective and easy-to-use automation.
As a comprehensive automation software that's primarily email-based, Rejoiner offers highly personalized cart abandonment & browse abandonment, post-purchase, welcome series, win-back, and replenishment email campaigns.
Rejoiner's true strength lies in its range of services, however. They can customize the perfect package for your business, giving you access to experts in email and opt-in form design and execution, copywriting, campaign management, and strategy development. With these critical aspects of your marketing efforts covered, in addition to effective automation running 24/7 in the background, you really are able to focus your efforts on your overall vision.
With basic pricing packages that start at $95/mo, Rejoiner is not a cheap option. Scaling up gets expensive quite quickly with 10,000 contacts costing as much as $320 per month for just your email marketing campaigns. To take advantage of the full management service that they have become known for, you'll be looking in the region of $4000-6000/mo. However, with the expertise on offer, a vastly improved ROI could see the product pay for itself in the long run.
Autopilot
Autopilot is a visually attractive drag-and-drop marketing automation tool with multi-channel marketing capabilities including email, in-app, SMS, Facebook Retargeting, and Google Ads Retargeting. Additionally, it has a robust form builder and widget creator that enables you to easily create engaging tools to help you grow your email marketing list.
Autopilot's key selling point is its emphasis on the customer journey, which is clearly mapped out and easily customizable, based on audience behavior. You can build comprehensive workflows to automatically send messages through multiple channels – at precisely the right time in the customer journey–with reports available at every step of the way, so you can check on which journeys are the most engaging.
You can choose any of the ecommerce-specific templates when creating your own customer journey, or alternatively build from scratch using the intuitive drag-and-drop system that makes it a cinch to map out your triggers wherever you please.
Autopilot's pricing is based on the numbers on your subscriber list – starting at $49/mo, you can send an unlimited number of emails to a maximum of 2,000 contacts. Access to all key features and the ability to send to up to 10,000 contacts will cost $159 per month. You can also customize your plan with optional add-ons like Salesforce integration and expert setup and training are available for additional fees.
Klaviyo
Klaviyo is generally considered to be one of the most expensive, but best marketing automation tools for ecommerce. Although pre-made workflows are limited, their automation features are powerful, allowing for branch email flows that guarantee precise targeting and personalization. Despite its complex features, it boasts an easy-to-use interface that allows you to build forms and landing pages, design emails, and even develop workflows through a drag-and-drop interface that's surprisingly intuitive.
Additionally, Klaviyo boasts detailed analytics to equip you with all the information you need to track and improve campaign performance. It enables you to customize reports so that you can measure what matters to your business quickly and accurately. It also has useful A/B testing features to help you optimize your email marketing campaigns.
However, its pricing structure is quite complex and isn't very favorable to SMEs looking to scale their businesses. It offers a free email marketing plan, but it limits you to 250 contacts. It also offers a free SMS marketing plan, which entitles you to a meager 50 contacts per month.
If you have more than 250 email subscribers, you can expect to pay $20 per month for up to 500 contacts. Plus, pricing increases by approximately $10 per month for every additional 500 subscribers. By the time your list size hits 10,000, you can expect to pay $190 per month for just the email marketing features.
If you want access to the text messaging platform as well, and you have more than 50 SMS subscribers, you can expect to pay $5 for every 100 additional contacts. So, if you scale up to hit 10,000 email subscribers and 5,000 SMS contacts, you can expect to pay a total of $375 per month. While that pricing might be acceptable for some already established businesses, it might not be reasonable for the typical SME.
What is the best marketing automation software?
Choosing the best marketing automation tools for ecommerce isn't easy – there are many platforms out there offering a range of useful specializations and unique features. Most of them will offer a free trial or comprehensive personal walkthrough – which you should definitely take advantage of when you have narrowed down your list to just a handful of options. Nothing beats real-world testing when it comes to measuring a platforms' strengths and weaknesses.
Ultimately, it depends on the overall goals of your business. Are you happy with email only, or do you want to see how other channels can contribute to the growth of your business? Do you need peripheral tools like form builders and advanced reporting? Can you benefit from a full suite of marketing services? Do you require that extra 'personal touch' with your customers, or are you just looking to save time on your daily tasks?
Whatever your needs are, you can be sure that the right tool is out there, waiting for you. We hope that this marketing automation platform comparison goes some way towards helping you find it.
Can't decide? Learn more about Omnisend and get started for free!
Start Free Today