Drive sales on autopilot with ecommerce-focused features
See Features
How Performance Marketing for Customer Acquisition Works within Your Marketing Strategy
Reading Time:
5
minutes
Long gone are the days where the customer experience exists solely on your website. The complex customer journey continues to evolve rapidly from its linear beginnings. From discovery to purchase (and beyond), merchants have countless ecommerce marketing channels to track and nurture.
Generally speaking, advertisers utilize various marketing channels to focus on either customer acquisition or retention.
Finding new customers has always been hard (and expensive, especially during peak times) — but having a solid customer acquisition strategy is key.
In this article, we'll explore why if you're not utilizing performance marketing within that strategy, you should be. We'll hammer home three main, key factors: cost, risk, and transparency.
What is Performance Marketing and Why Should You Use It
If we want to get technical, the Performance Marketing Association defines performance marketing as "online marketing and advertising programs in which advertisers pay marketing companies when a specific action is completed, such as a sale, lead, or click."
Simply put, this means, as a brand or retailer, you're not paying unless a specific action is taken. This is very beneficial as a brand for a few reasons.
It's trackable and measurable. We'll use a successful sale as our metric — we all know that's usually the ultimate goal. In the case of performance marketing, you're only paying when that sale is made. Instead of putting money upfront and not knowing if those ad dollars resulted in a sale, you can easily link that sale to the platform.
It's low risk. There isn't nearly as much risk with performance marketing as traditional advertising has. You see the results in real-time, modify your budget, or even put stops in place to avoid overpaying.
It allows you to extend your reach. With performance marketing, you reach a more substantial and diversified audience than with traditional advertising. It may seem obvious, but performance marketers don't get paid unless you get paid. That means they're going to work extra hard to make sure the campaigns are successful.
These benefits and more come together to form a viable risk-averse option, generally at a lower cost for customer acquisition.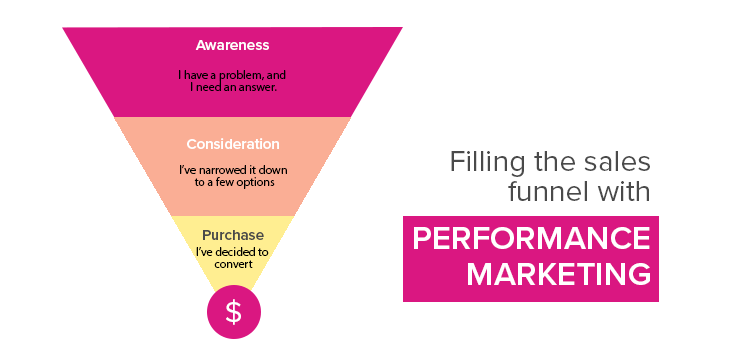 Lower Your Cost for Customer Acquisition
The cost of customer acquisition is rising.
The goal of any digital advertiser is to maximize revenues and protect the ROI. They're tasked with acquiring new customers and retaining existing ones — but you don't need me to tell you that. We'll focus on the former: acquiring new customers.
While the customer acquisition cost (CAC) will vary by brand, platform, and even product, the price has risen over 50%. As a result, brands are constantly looking for ways to improve their CAC.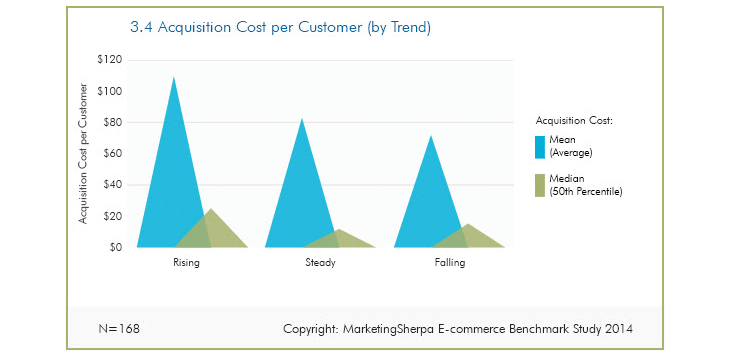 Performance marketing is often much cheaper.
Traditional digital advertising works, there is no doubt. You'd be hard-pressed to find someone who isn't using a combination of display, social, email, content, search, etc. According to eMarketer, marketers spent $129.34 billion dollars on digital advertising in 2018 alone. But there is one glaring issue: the majority of those channels don't have a way to guarantee performance.
Brands and advertisers are spending a lot of money on advertising in the form of an upfront budget. This upfront spend is used to advertise products, which hopefully leads to clicks and — even better — sales. However, that isn't guaranteed.
With performance marketing, the risk falls onto the advertising company itself. They assume the liability because you (this part might ring a bell) only pay when there is a successful outcome. This is fantastic news for brands that can reallocate the extra money they would have spent on an upfront budget to other channels. This added flexibility allows you to grow and compete.
It's easier to plan your budget.
As marketers, we're looking to maximize our ROI — which can be difficult when you're looking across the sea of channels you're likely using. While the majority of marketing platforms allow you to set a budget, performance marketing platforms have an added edge.
Performance marketing campaigns are easy to budget for. Marketers typically have to identify their goals and provide an ideal CPA (cost-per-acquisition) when planning.
From there, the clear tracking allows brands to make adjustments on the fly. If one strategy doesn't work, it's relatively easy to try a different angle. Eventually, the results will either support your approach or convince you to pivot.
Another perk is that outcomes are a priority throughout performance marketing campaigns, meaning ads will be optimized for goals — whether it's impressions, clicks, leads, sales or whatever else your goal may be.
Performance Marketing Strategies Feed into Retention Strategies
The majority of revenue comes from existing customers
So, you're using a mix of traditional digital and performance-based marketing to acquire new customers. Great! Now, you want to make sure you're giving an equal amount of attention to your retention efforts.
Retention comes in many forms: email, social media, display, video, loyalty programs, and more — the list goes on and on. Whether you're using email automation or SMS campaigns, you want to make sure you're nurturing your existing customers — especially when existing customers are nearly 65% more likely to purchase products, and spend nearly 31% more so than first time purchasers.
With nearly 6-8 touchpoints needed across several channels before a conversion happens, you want to make sure that you're using the right platforms and tools to make your marketing budget go further.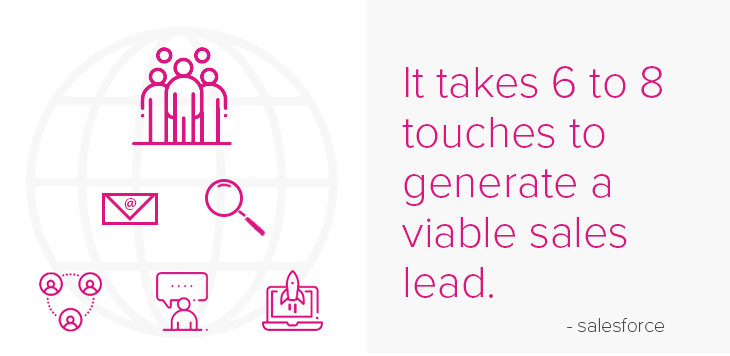 New customers help fuel your retention strategies
Without new customers, there is no retention. Hopefully, by now, you understand why performance marketing strategies are a good option when it comes to customer acquisition. Typically, it costs five times as much to attract a new customer than it does to keep an existing one, but performance marketing can help alleviate some of that burden on your ROI.
Opting to add performance marketing to your marketing stack can help drive additional customers at a lower cost — and if you have a great life-time value (LTV), can have a significant impact on your revenue AND returns.
Final Thoughts When Looking to Add Performance Marketing
If you're ready to take the dive and see if your business is ready for performance marketing, I have some parting thoughts and tips when thinking about your strategy.
Add performance marketing; don't replace. There's a reason traditional digital advertising is still growing: it works. Diversify your channels and reach, but do so in a cost-effective way with performance marketing.
A performance marketing platform should span the entire sales funnel. A good performance marketing platform helps acquire new customers. A great one also helps keep them.
Consider your LTV when deciding your CAC. A successful business model requires that your customer spends more than the cost it took to acquire them. Utilize what you know about your customers to help inform you in the planning stages.
Find a partner that aligns with your brand. This can have a few different meanings, whether that means affiliates with a similar audience, a platform that specializes in your particular goal (conversions/clicks/etc.), or one that gives you complete control over how you pay.
Get started with Omnisend today & drive sales on autopilot with pre-built automation workflows
Start Free Today
related features
Want more sales?
Omnisend has everything you need to succeed.
Start free now
No Credit Card needed.