Drive sales on autopilot with ecommerce-focused features
See Features
Reading Time:
9
minutes
Omnisend and Privy are two well-known email and SMS marketing tools. They are designed to help ecommerce businesses optimize their marketing efforts.
"Omnisend or Privy, which one is right for my business?"—if that's the big question for you, then read on.
In this post, we take an in-depth look at the key features of the two tools. We cover automation, email builders, analytics, and more to help you make the right choice.
Omnisend offers all the advanced email marketing tools you need.
Start Free Today
Omnisend vs Privy: Who are they built for?
Omnisend and Privy are both email marketing platforms built for ecommerce businesses.
Privy integrates with ecommerce platforms such as Shopify, BigCommerce, Weebly, Shopify, Magento, and ShopifyPlus.
Omnisend also integrates with all the popular ecommerce platforms, such as Shopify, Wix, WooCommerce, and BigCommerce.
Before getting into the detailed comparison, let's take a quick look at the features and pricing of this email marketing software:
Omnisend
Privy
Email builder
Drag-and-drop editor
Responsive email templates
Dynamic content blocks
Product picker
A/B testing
Campaign booster
Drag-and-drop editor
Email templates
Email preview and testing
Merge tags
Product picker only for Shopify accounts
Email list building
Customizable pre-built templates
Landing pages
Signup forms and popups
Wheel of fortune
Teasers
Integrated GDPR compliance
Popup forms
Banner and flyout
Embedded forms
Landing pages
Spin-to-win
Segmentation and targeting features
Segmentation based on past purchases, customer lifecycle, website behavior, etc.
Segments update automatically
Segmentation suggestions
Purchase follow-up and abandoned carts only for accounts integrated with Shopify
Custom segments
Smart Segments
Marketing automation
Yes, pre-built flows, advanced conditions and triggers
Yes, automation for 6 types of messages
Analytics and reporting
Central dashboard, advanced reporting
Basic reports
Customer support
24/7 chat & email support, Customer success manager from $400/month
Chat and email support, priority support only after reaching 9000 contacts in the Growth plan
Multistore features
Yes, seamless toggling and replication between accounts
Yes, with limitations
Pricing
Free plan available; paid plans start at $16/month
Free plan available; paid plans start at $30/month
Now for the detailed comparison of features.
Email builders
Privy offers these email builder features:
Pre-designed templates: There are a handful of pre-built templates that you can customize. You can also create a new template from an existing email.
Drag and Drop interface: You can use the drag-and-drop feature to edit the layout or change the style, color, link styling, and font in your email.
Text elements can be edited in line with the rich text toolbar, while other elements can be edited using the options available in the sidebar.
Personalized content: Privy allows you to insert merge tags, such as contact first name, full name, email ID, and coupon code. You can insert them into the email subject line, CTA, and body.
Preview and testing: Privy offers a Preview button in the editor that allows you to see how the email looks on different devices. You can also send a test email to yourself to view your email's personalization and other elements.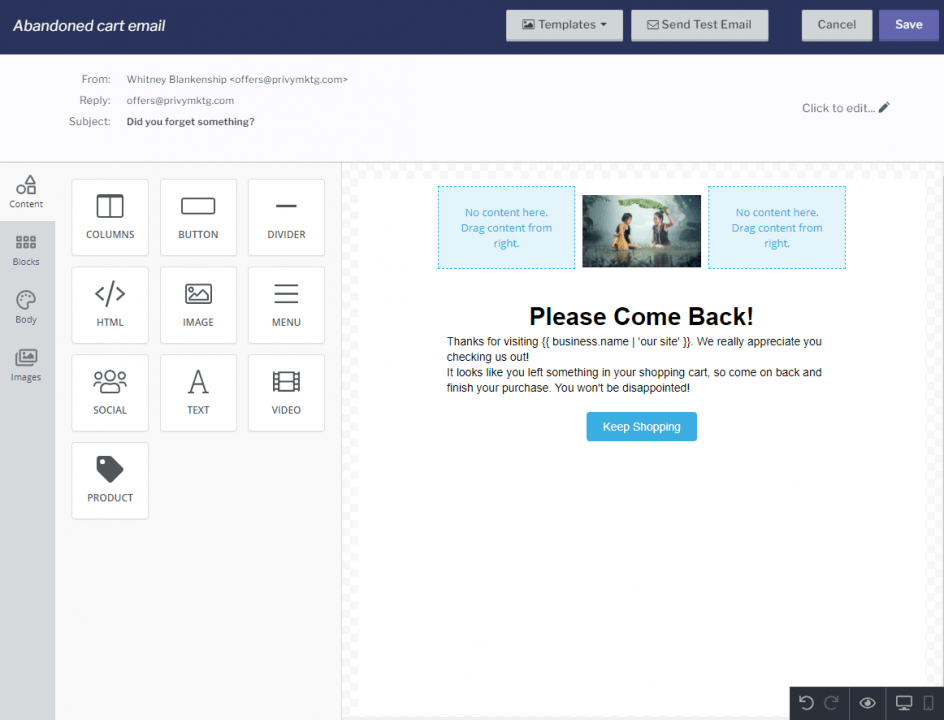 While these are expected email builder features, Privy sometimes lags behind Omnisend. There are a limited number of templates and a lack of professional-looking templates for newsletters.
It's important to note that you will lose the original content and design once you customize a template and then decide to change it.
Also, while you can add products to your email, Privy allows you to do so only from your Shopify stores.
Let's see how Omnisend overcomes all these drawbacks.
Omnisend's email builder has these features:
Professional-looking templates: Apart from a library of responsive templates, Omnisend offers goal-based templates. These are designed to streamline your email marketing efforts. Each template is tailored to a particular objective, such as sale, promotion, welcome, discount, etc. Templates come with pre-filled content to save you time.
Flexible drag-and-drop email editor: Using multi-column layouts, you can easily create visually appealing emails. The builder also integrates with Google Fonts, inline editing features, and device-specific content-hiding features. Omnisend's autosave feature automatically saves your progress as you work on your email campaigns. This ensures that you never lose your changes or content.
Syncing of branding elements: The advanced email editor pulls branding elements automatically from your ecommerce store and adds them to your emails.
Dynamic content blocks: You can add content blocks to your email to achieve your goals, such as discount codes, menus, product listings, and more.
Smart product recommendation: Omnisend provides the Product Picker feature. This feature lets you select and add products from your store directly to your email campaigns.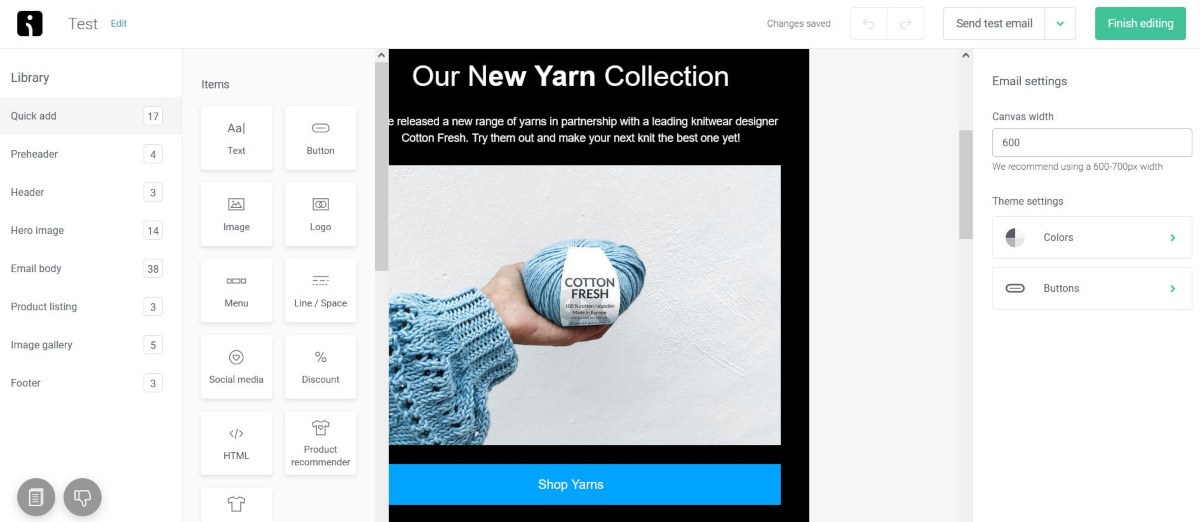 Fast-track email campaigns with Omnisend's email builder. Explore the email builder for free
List building features
Privy provides the following list-building features:
Popup forms: You can deploy timed, scroll-based, and exit intent popups.
Banner and flyout: Flyouts appear as a slide-in panel from the edge of the screen, while banners are displayed at the top or bottom of your website.
Embedded forms: You can use the drag-and-drop builder to create embedded forms.
Landing pages and spin-to-win: Privy offers landing page templates, a designer, and spin-to-win, an interactive wheel that gamifies lead collection.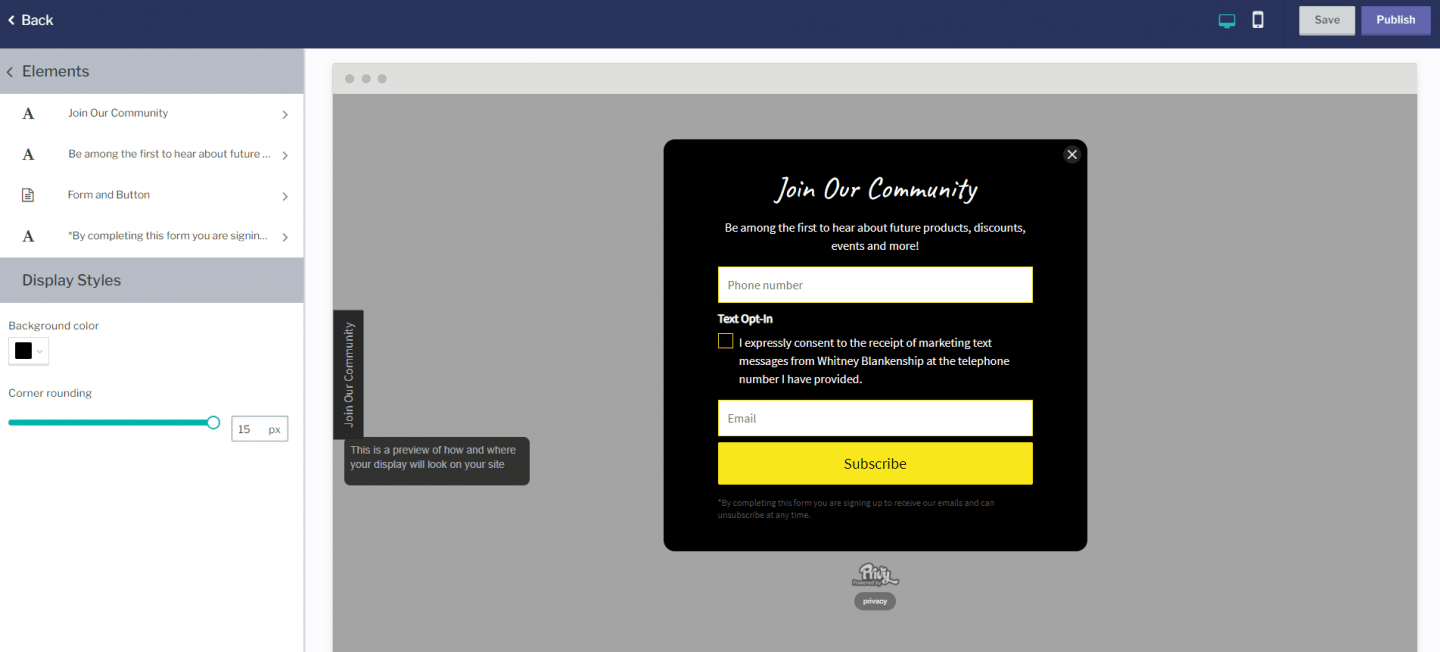 However, Privy's list-growing tools are not as advanced as you would expect from top email marketing tools.
For instance, you can only add the standard fields in your popups and forms, such as email, phone number, and name. The templates are limited in number and design, while creating your popup can take time and effort.
If you're looking for comprehensive list collection tools, Omnisend is the right choice.
Here's why:
Ready to launch forms and landing pages: Omnisend offers 80+ signup forms and high-converting landing page designs ready for use. The branding elements automatically adjust to forms, saving significant time and effort.
Drag-and-drop form builder: The new form builder simplifies the process with drag-and-drop functionality, allowing you to add content elements to your design effortlessly.
Custom fields: You can add custom fields and properties to your popups and embedded forms to collect specific information beyond the standard email address.
Double opt-in: Once you enable double opt-in, the platform sends a follow-up email to confirm the subscription.
Legal block: You can add legal blocks for GDPR or TCPA compliance directly to your form.
Automatic syncing: If you have a footer form on your website, the contacts that come through it are automatically synced to your lists in the platform.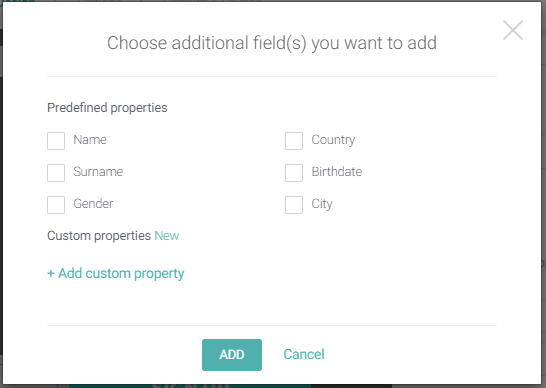 Related:
7 best Privy alternatives for 2023
Segmentation and targeting
Privy offers basic segmentation features, such as specifying whether the contacts are subscribed or unsubscribed and adding 'tags' to contacts.
You can filter and segment contacts based on these criteria:
Purchase behavior: You can segment your audience based on collections or products they have or haven't purchased in the last 180 days. This segmentation is only available for accounts integrated with Shopify.
Engagement: Privy offers a pre-built "Engaged Contacts" segment that has a list of subscribers who've clicked or opened your emails in the past 90 days.
Demographics: You can segment contacts based on customer attributes, such as name, email, country, language, and postal code (in some regions).
Customer lifetime value (CLV): You can segregate your audience based on your contacts' total spending in your Shopify store.
Abandoned carts: This segmentation option is also available, but only for accounts integrated with Shopify.
Custom segments: You can use the segment builder to create custom segments by defining the conditions, such as:

Cart value
First or last order
Lifetime spend
Order count
Purchase history
Email opens and clicks
Website activity
Customer attributes

Smart Segments: This is a feature that allows you to quickly target a group of contacts based on their current orders and engagement with email campaigns in the past 90 days.
However, there are no pre-built segments that you can use to start sending personalized messages quickly.
Here are Omnisend's stand-out segmentation features:
23 pre-built segments that can be used out of the box.
Unlimited segmentation on all plans, including the Free plan.
Granular segmentation using multiple filters, tags, and conditional splits.
You can use over 500 data points to segment, including:

Profile data and tags
Subscription status
Channels
Campaign activity
Shopping behavior
Website activity
Engagement with your emails and your products
Customer lifecycle stages
Custom events
Marketing automation
Privy allows you to automate 6 types of emails, including:
Welcome series
Abandoned cart recovery
Post-purchase follow up
Thank you
Cross-sell and upsell
Win back
There is a drag-and-drop automation editor that you can use to customize any of these messages.
However, the automation triggers have to be set up manually for each type of email. You will need to set the triggers when designing the email, making it a laborious process.
Omnisend is a robust email automation software that allows you to create advanced workflows for your marketing campaigns.
Here are the automation features that stand out:
A wide range of workflows: Here are some of the automation workflows Omnisend offers:

Welcome email
Abandoned cart and abandoned checkout
Order confirmation
Browse abandonment
Cross-sell
Birthday email
Customer reactivation

Omnichannel workflows: Workflows are enabled across email and SMS as well as push notifications. This helps you effortlessly create an omnichannel experience for your customers.
Conditional and trigger splits: Besides pre-built visual workflows that help you fast-track your campaigns, Omnisend offers the flexibility to use conditional splits and trigger splits in workflows.
Split testing: With split testing, you can test different subject lines, message content, or the overall structure of your automation sequence.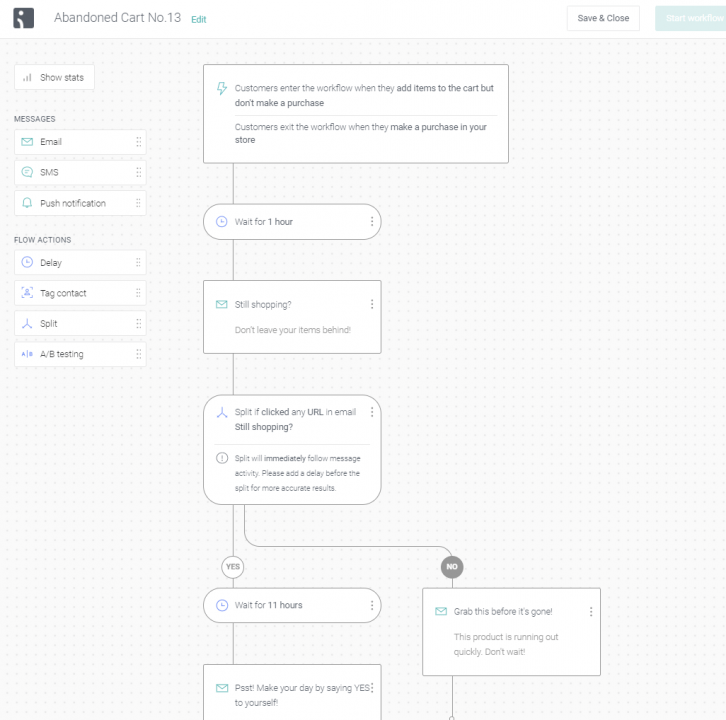 Analytics and reporting
Privy offers email and display (forms and popups) analytics, including:
Performance metrics: You can get insights on emails delivered, opened, carts saved, and views.
Conversion tracking: Privy lets you track signups, clicks, orders, emails sent, and order rates. But, conversion tracking is available only for stores on Weebly, Shopify, Magento, and Shopify Plus.
Revenue tracking: Privy offers metrics on the revenue generated since account creation. You can get metrics on each type of email, including welcome, newsletter, win back, etc.
Privy will only count the most recent email interaction in a 7-day window, even if a customer has clicked or opened multiple emails in this time frame.
While there is a reports dashboard, you must select each email type to view the respective metrics.
In comparison, Omnisend's analytics and reporting features are far more advanced and include:
Centralized dashboard: You can access all KPIs in a centralized place, by single view or by the channel-level view.
Comparison of performance: Quickly compare revenue generation across different periods, campaigns, and workflows.
Advanced reporting: You can easily see lists of your best-performing campaigns and workflows.
Clickmap analysis: Use Clickmap to identify the most clicked areas in your emails.
Hourly campaign reports: Track campaign performance in real-time with hourly reports for the first 24 hours.
Automation reports: Gain detailed revenue and engagement reports for each campaign and automation.
Audience growth trend: You can track audience growth and compare changes in your email and SMS lists from your dashboard.
Customer support
Here are the features of Privy's customer support:
Email and chat support in its free, Starter, and Growth plans.
Dedicated support is only available for Growth plan users with 9,000+ email contacts.
There are helpful blogs and masterclass videos.
You can also book a call with one of their ecommerce experts for a platform walkthrough.
Some users find it inconvenient that the company does not offer support beyond regular business hours. This leaves customers without assistance on weekends and after hours.
In contrast, round-the-clock, responsive customer support is one of Omnisend's strong points. Here are the aspects that set Omnisend apart:
The company has won the prestigious Stevie Award for its exceptional customer support.
The app has 4,700 five-star reviews on Shopify.
Users appreciate the fast, super helpful, and empathetic customer support their team offers.
24/7 email and live chat support are available across all plans.
Pro plan members also get priority support in addition to the optional services of a customer success manager.
Their team promptly addresses all queries with an average waiting time of under three minutes.
Omnisend offers a wide range of useful tips and resources. These include reports, podcasts, ebooks, and helpful blogs to help its users make the most of the platform.
Multi-store features
Omnisend's multi-store features are superior to Privy's in many ways. First, Omnisend makes managing multiple stores within the same Omnisend account easy. Users have complete control over managing and utilizing their workflows and templates between accounts.
Switching between accounts is made easy with a toggle, eliminating the need for repeated logins. It allows you to share email templates and replicate automation workflows across stores.
Privy allows switching between stores by selecting the desired business from a dropdown menu.
While there are sharing features, Privy text cannot be shared with subaccounts. There are also traffic limits between subaccounts and the parent account.
Pricing
Here is a comparison of the free and paid plans offered by the two tools:
Omnisend plans
Pricing and inclusions
Privy plans
Pricing and inclusions
Free
250 contacts
500 emails
60 SMS
Professional looking email templates
SMS and push marketing
Pre-built automations & workflows
Popups & signup forms
Unlimited segmentation
Sales & performance reports
A/B testing
24/7 email & live chat support
Free
Limited to 100 mailable contacts
Access to all popup types
Advanced popup targeting
Sync with Shopify coupons




Standard
Starts at $16 for 500 contacts, 6000 emails per month, 60 SMS, pre-built workflows, SMS and push marketing, unlimited segmentation, analytics, A/B testing, 24/7 email and live chat support
Starter
Starts at $30 for 1500 mailable contacts, unlimited emails, advanced email targeting & automation, email & chat support
Pro
Starts at $59 for 500 contacts, unlimited emails, 3933 SMS, advanced reporting, 24/7 priority support + all the features in the Standard plan.
Growth
Starts at $45 for 2000 mailable contacts, 75 textable contacts, unlimited emails, advanced SMS targeting, priority support after crossing 9000 contacts
Omnisend's free plan offers the best value. It includes all the advanced features typically hidden behind a paywall in other platforms.
These features include unlimited segmentation, automation, analytics, templates, SMS, and push marketing.
Privy's free plan has limited features, such as 100 mailable contacts, conversions, and popup targeting.
Of note is that Privy does not offer SMS marketing in its free and Starter plans.
Omnisend vs Privy: Summary
Both Omnisend and Privy offer valuable solutions to enhance your email and SMS marketing efforts, but their feature sets and capabilities differ.
If you're a small business or ecommerce beginner looking for basic email marketing features, you may want to explore Privy.
Remember that it is an expensive option that lacks advanced features. Some of these include omnichannel marketing support, advanced automation, and segmentation.
For ecommerce businesses needing of advanced and scalable email, SMS, and push marketing solutions, Omnisend is the best choice.
related features
Want more sales?
Omnisend has everything you need to succeed.
Start free now
No Credit Card needed.