Email Tools Comparison: Campaign Monitor vs. Mailchimp vs. Omnisend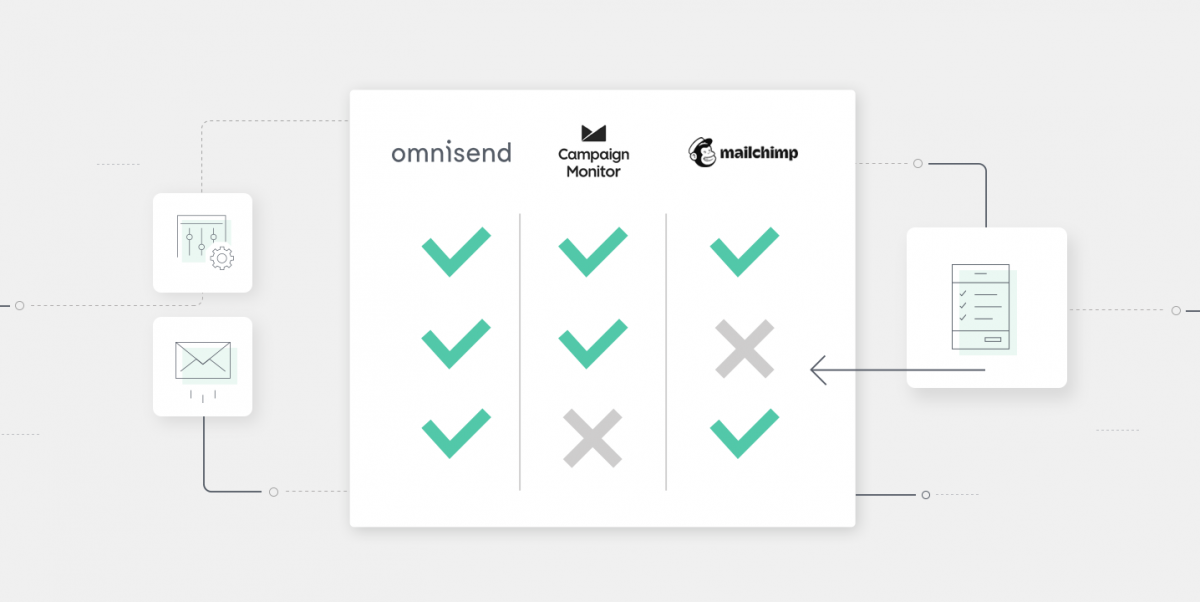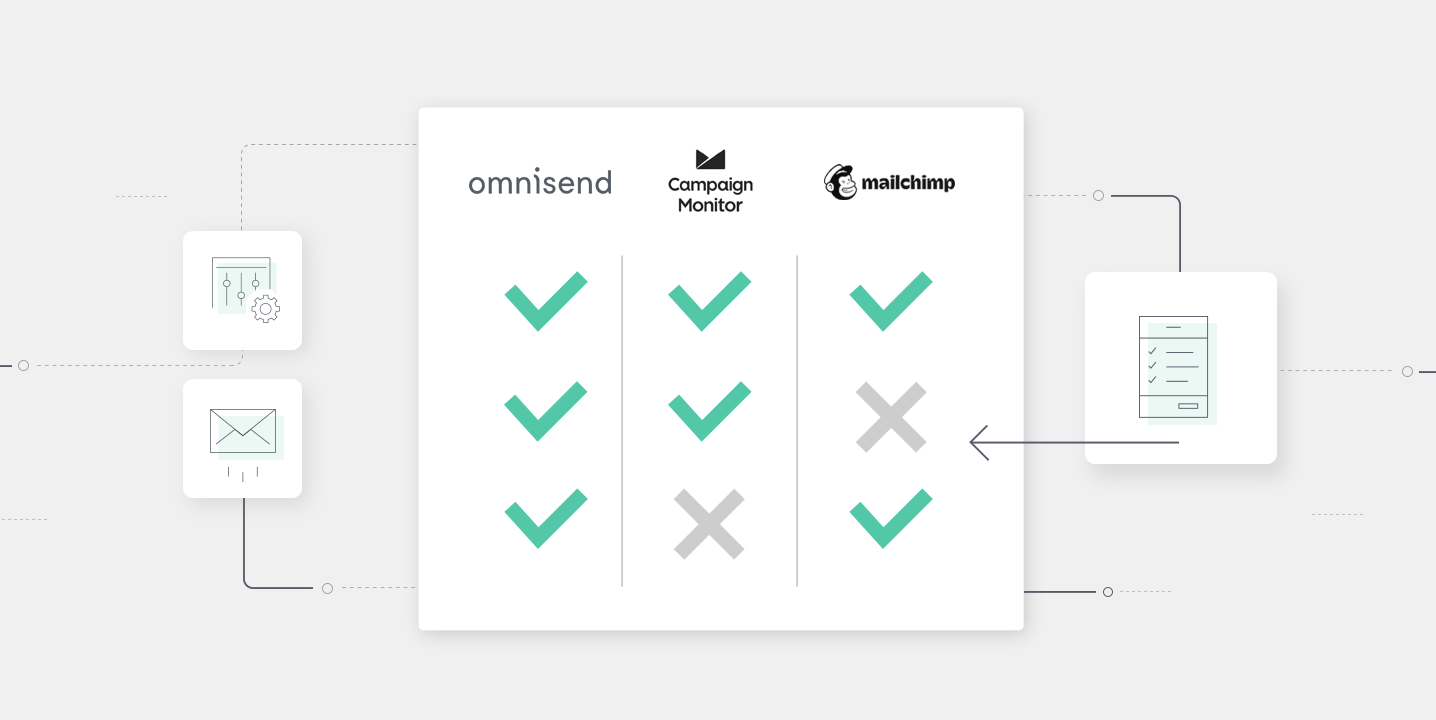 Reading Time:
4
minutes
Are you looking to get started with email marketing?
Or maybe you're looking for an alternative to Mailchimp?
Finding the best email marketing service can be hard. There are many options to choose from and finding the right one is not as easy as saying: "This one is the best for all."
Depending on the kind of business you run, there are better and worse options. We want to make sure you find the right one for you.
In this article, we will compare Mailchimp to two common alternatives: Campaign Monitor and Omnisend.
1. Campaign Monitor vs. Mailchimp vs. Omnisend comparison chart
Now, there's a lot to unpack here.
Let's go line by line:
Email Marketing Service
Omnisend
Mailchimp
Campaign Monitor
Pricing
Free up to 15,000 email / mo
Paid plans from 5000 subscribers
Standard: $60
Pro: $120
Enterprise: custom10,000 subscribers
Standard: $102
Pro: $210
Enterprise: custom
Free up to 10,000 emails / mo
Paid plans from 5000 subscribers
Essentials: $49,99
Standard: $74,99
No premium10,000 subscribers
Essentials: $74,99
Standard: $99
Premium: $299,99
No free option
Paid plans from 5000 subscribers
Basic: $49
Unlimited: $99
Premier: $14910,000 subscribers
Basic: $99
Unlimited: $149
Premier: $249
Features
Mobile responsive
A/B Testing
Saveable content blocks
Signup Forms & Landing Pages
Product recommendations
Discount codes
Gamification
Advanced Segmentation
Omnichannel marketing automation
(Email, Push notifications,
SMS marketing, Sync for Facebook & Google Ads)
Mobile responsive
A/B Testing
Saveable content blocks
Product recommendations
S
ignup Forms & Landing Pages
Social posts and ads
Advanced Segmentation
Marketing automation
Mobile responsive
A/B Testing
Saveable content blocks
Product recommendations
Signup Forms & Landing Pages
Discount codes
Advanced Segmentation
Signup Forms & Landing Pages
Email marketing automation
Customer Service
24/7 Email and Chat Support with all paid plans
24/7 Email and Chat Support with some paid plans
Customer support via email; phone on premier plan
2. Campaign Monitor pricing vs. Mailchimp and Omnisend pricing
Pricing is an important consideration when choosing your ESP.
While you don't want to skimp on the price and end up with the worst of the bunch, you also don't want to overpay for features you don't need or are offered at a better price at a competitor.
Among the three email autoresponders compared, Campaign Monitor is more expensive across the most payment plans. Mailchimp, despite often criticism about pricing increases, offers a better price at all service levels.
Campaign Monitor offers the most affordable standard plan, followed closely by Mailchimp.
For higher level plans, Mailchimp offers a better price at a low subscriber level while at a higher ones (>10,000) Omnisend offers additional services (like SMS marketing) for only a slight increase in price.
Omnisend free version vs. Mailchimp and Campaign Monitor free version
A free or "freemium" plan is great for people just getting into email marketing.
It gives you the opportunity to get a feel for the ESP and try it out without risk.
Among the three ESPs we compared, Omnisend offers the best free plan at 15,000 emails sent per month, while Mailchimp limits their free plan to 10,000. Campaign Monitor doesn't offer a free plan.
3. Feature Comparison
Email marketing apps have come a long way since their hayday.
The list of expected features is quite long and includes automation, campaigns, drag-and-drop email editors, forms, audience segmentation, reporting and others.
Omnisend, Mailchimp and Campaign Monitor all offer the basic and quite a few advanced features. Here, we will look at some unique features that might affect your choice.
Customer feedback (Omnisend only)
Omnisend has the option of getting valuable feedback from your customers right inside the email. With other, you would need to send a customer survey – and we all know how much we like those.
Omni-channel integration
Email marketing has been around for a long time – and it's here to stay.
However, there has been an increase in direct-to-consumer channels one can reach their customers on: SMS/MMS, push notifications and others give marketers the option to create a more well-rounded targeting plan for their business.
While email marketing is the core of all three, they additionally offer other services.
SMS marketing
Research shows that SMS open rates are as high as 98%. Yes, you read that correctly.
All three compared ESPs offer SMS marketing: Omnisend does is by default, while Mailchimp uses a plug-in integration and Campaign Monitor uses a third-party app.
Omnisend also offers the most SMS marketing options, including worldwide reach as well as a full suite for automated text messages & campaigns (pre-built automation workflows, campaigns and list building tools). For Omnisend marketers on Pro and Enterprise plans, text messages are for free.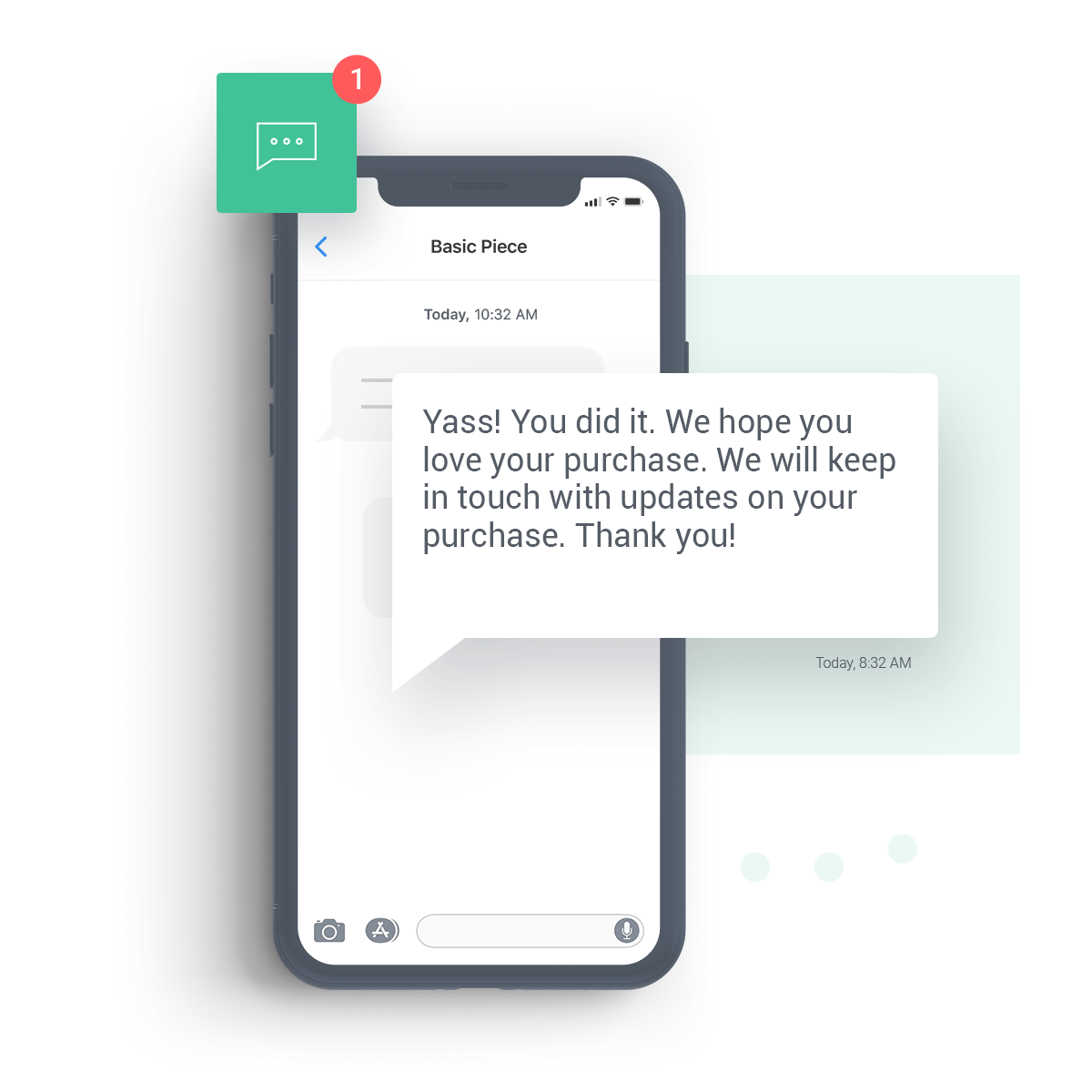 Push notifications (Omnisend only)
The value of push notifications is clear: you can interact with your customers right as they are busy browsing – in other words, when they are in a prime buying mood.
It is also a great complement to email marketing: for example, recovering abandoned carts can be done instantaneously while they are browsing. Combined with an abandoned cart recovery email (also standard in Omnisend), you can get even more customers to complete their purchase.
Omnisend offers push notifications integrated with all other channels.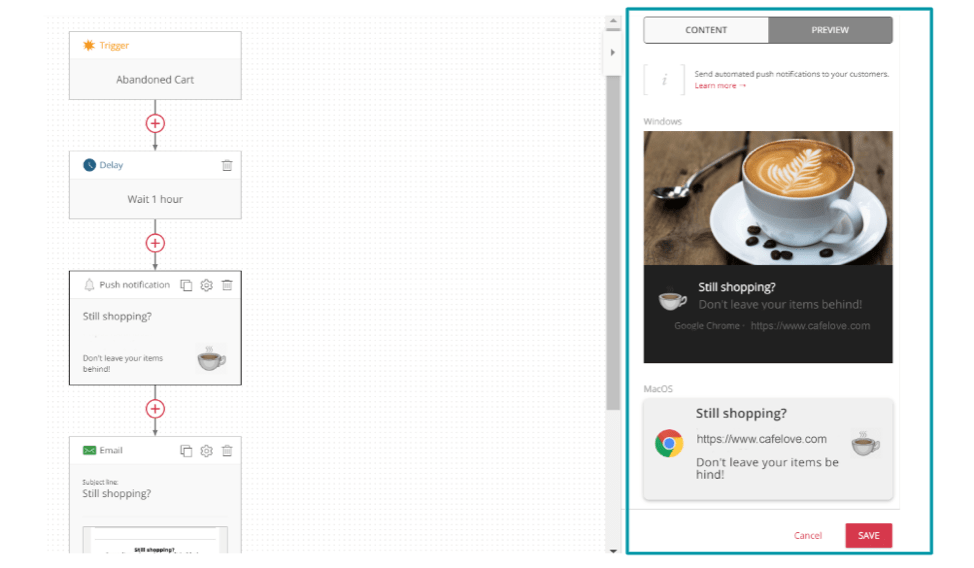 4. Customer Service Comparison
Navigating the complex world of email and omnichannel marketing can be difficult.
Problems do arise, and when they do, it is crucial that you get answers as fast as possible – your business may depend on it. That is why customer service is an important part of choosing your ESP.
All compared services offer email support on all plans. Mailchimp offers chat support on some of their paid plans and phone support for the subscribers of their $299,99+ per month premium service. Campaign Monitor offers different support for different packages with more options for the higher priced ones.
Omnisend is the only provider of the three to offer 24/7 email and chat support in their standard plan (starting at $13 per month).
Final verdict – which is the best?
When compared on the basis of pricing, features and customer support, Omnisend emerges as the clear better option.
Not only does it offer competitive pricing and best customer support, it also gives you the most features to build your business with and create a true omnichannel experience for your customers.

Get a personal 1-on-1 Omnisend demo that will supercharge your next campaign!
Get My Demo