Drive sales on autopilot with ecommerce-focused features
See Features
Reading Time:
7
minutes
One of the biggest mistakes you can make as a Shopify store owner is forcing your customers to click through countless pages to find what they need. Each additional search that leads to the wrong type of sneakers can cost you a potential sale.
That's where Shopify collections come in.
With Shopify collections, you can group your products into different themes and help your customers find what they need, much faster.
Here are some examples of collections that top Shopify stores create:
Seasonal products (e.g., ugly Christmas sweaters, Valentine's Day gifts)
Clothes for women, men, or children
Products on sale
Summer essentials
Items in a particular color
You get the idea—Shopify collections work like category pages that help turn your online store's visitors into buyers quickly.
Now, let's look at how you can create your first Shopify collection.
How to create a collection on Shopify?
There are two ways to add collections on Shopify: automated and manual.
Automated collections
With automated collections, you need to create selection conditions that will automatically pick the right products for your collections. You can decide whether your products should match all the specified requirements or just some of them to be included in a particular group.
With automated collections, you can:
add up to 60 selection conditions
create up to 5,000 automated collections

Automation is great—it helps you make money while you sleep. Check out our guide on the best Shopify apps that will help you automate even more processes on your online store.

Manual collections
Manual Shopify collections are made of the specific items that you choose. The products in these collections will always stay the same unless you add or remove them. Also, you need to build these groupings from scratch—you can't just convert an automated collection into a manual one.
Which type should you use?
Automated Shopify collections are easier to create. Plus, they work great when items are easily sorted according to their types, so we recommend using this method over the manual one.
You also don't need to worry about your future products—they will automatically be added to the relevant collections. However, if you want to choose specific items for a collection, go for manual Shopify collections.
How to automatically add products to Shopify collections
Here's a quick guide on how to create an automated Shopify collection using a desktop device:
In your dashboard, go to Products > Collections.
Click Create collection.
Name and describe your collection.
In the Collection type section, click Automated:

Choose whether items need to match all conditions or any condition to be added to your collection.
Use the drop-down lists to set the collection conditions.

Click Save.
Set how you want the products to be sorted in your store (e.g., by price, title, popularity, etc.).
In the Sales channels section, choose where you want your collection to be available.
In the Collection image section, click Upload image to add a visual for the collection.
Optional: Check the Search engine listing preview section to see how your collection will be displayed in search results. You can edit your listing preview under Edit website SEO.
Click Save.
Finally, link to your collection in your Shopify store navigation so that customers can find it.
That's it! If you want to change what appears in your automated Shopify collections, you can either 1) edit the conditions or 2) edit a particular product so that it doesn't meet the requirements for a specific collection.
How to group Shopify collections for the biggest impact
Before setting up your collections, it's essential to think carefully about how you want to group your products together. Below are some ideas that can help you increase sales.
You can organize your Shopify collections according to:
Important occasions: Christmas, Easter, Mother's Day, etc. See our holiday calendar for more special events

Seasonality: Spring essentials, back to school/autumn, etc. See our guide for the biggest sales for each month.

Demographic segmentation: Special products for men, women, children, etc. See our guide for more information on how to segment your customers.

Items on sale: Make your discounted products more visible. Learn more about discount pricing.

Products in a certain color or size: E.g., "everything pink," "clothing for petite women," etc.

​​Items serving the same function: E.g., running shoes, camping dishes & utensils, etc.
For example, here's how you could group sneakers on your online store: for running, everyday, and lounging:
And here are three women's clothing collections grouped according to three different looks: cozy outfits, jeans for different body types, and athleisure.
Items made from the same material: If you're selling clothing, you could create collections, such as "linen lovers," "all things cotton," "silky touch," etc.
New product launches: Put your new items in the spotlight to encourage your customers to be the first ones to try the hottest products!
How to increase sales using Shopify collections
Here are the 11 best practices to boost your sales with Shopify collections:
#1 Add reviews
With 93% of consumers saying that online reviews influence their purchase decisions, you'd be losing a lot of potential sales if you chose to ignore them. Display trustworthy reviews for specific items in your collection to boost confidence in your brand. Here are some ideas on how to encourage your customers to leave reviews of your products.
#2 Promote collections in your newsletter
Newsletters can work wonders! For example, you can create seasonal newsletters for the biggest holidays to provide valuable gift ideas and smoothly incorporate your themed collections.
#3 Promote collections in your automated workflows
Ever heard of email drip campaigns? They're a series of relevant messages that are automatically sent to your customers according to their behavior on your online store.
One of the ways you can use automated workflows is to promote your collections. For example, you can target people who abandoned their carts or create an automated welcome message for your new subscribers.
And the best thing? These campaigns can drive sales on autopilot with pre-built automation workflows. Start for free here.
#4 Make your collections easy to find
Your collections should be easily accessible right from your homepage. Make sure to double-check if your most important collections have the biggest visibility.
#5 Work on your store's navigation
Your online store's structure should have a logical flow so that your potential customers can find what they need quickly. This is especially relevant if you have a lot of collections. One way to ensure easy navigation is to create dropdown menus that are further divided into more narrow categories.
#6 Add filters inside your collections
Imagine yourself having to scroll through five pages of sneakers only to find that the only pair you like is not in your size! It'd be a huge disappointment. So, to help your customers find what they're looking for more quickly, enable product filtering for every collection on your online store. You can filter your products according to their type, price, size, color, material, etc.
#7 Offer special deals (product bundles, etc.)
Product bundling can help you boost sales by promoting related items. For example, you can match an iPhone case with an earphone case. You can also offer a bundle at a discounted price to encourage your customers even more. They will feel like they're getting a good deal even after spending more than they intended.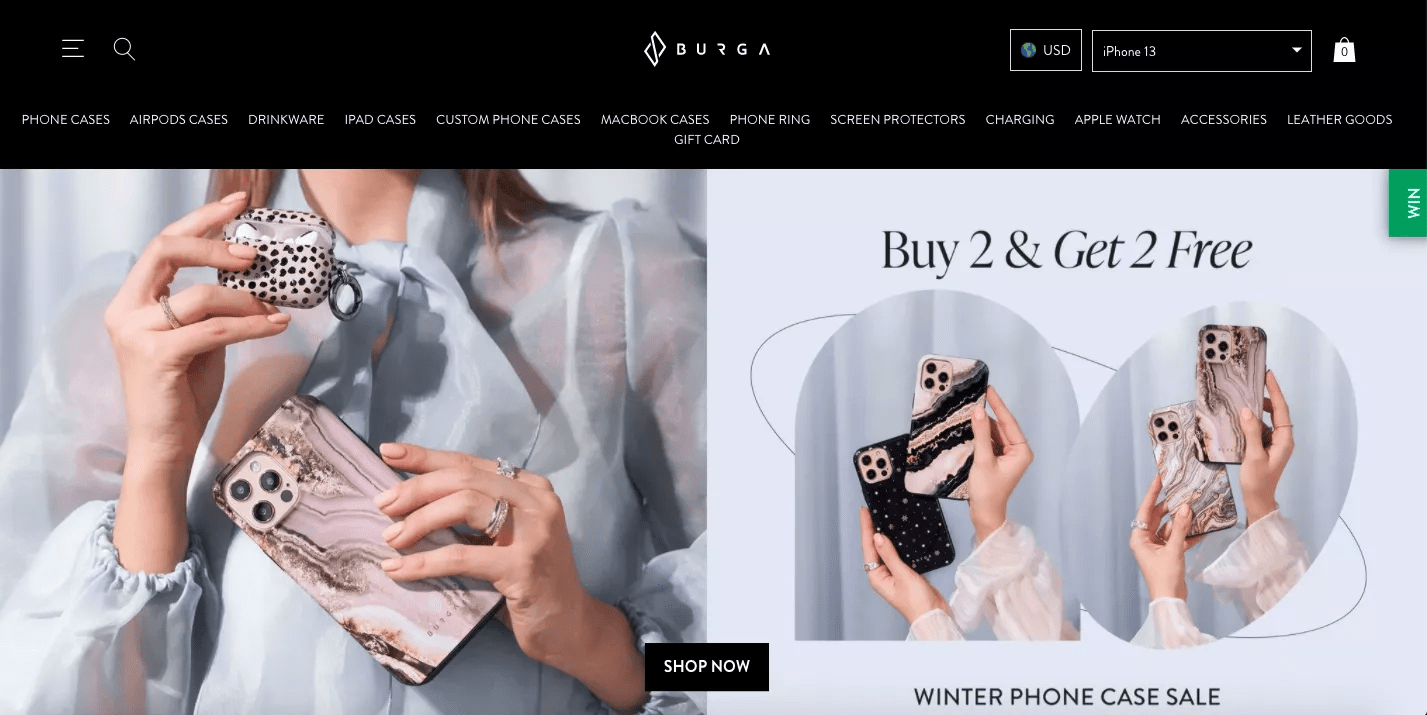 #8 Optimize your collections for search engines
Shopify collections can be highly useful outside your store, too. Optimizing your collections for SEO can bring potential customers actively looking for your products.

Make sure you check out all of these items off your SEO list:
Do keyword research. The first thing to do is to get a list of your target keywords and group them according to your user intent into four categories: informational, navigational, commercial, and transactional.
Include your main keywords in your collections:

Choose whether items need to match all conditions or any condition to be added to your collection.
Use the drop-down lists to set the collection conditions.

Link your collections to other pages. For example, if you have a collection of Christmas-themed gifts, link them to your blog post about the best Christmas ideas.
#9 Pay extra attention to your images
High-quality images are everything for an ecommerce site. If you haven't yet, invest in a professional photoshoot of your products. Display them from multiple angles and let your customers zoom in on your visuals. Most importantly, have a consistent theme for items in your collection.
#10 Update your collections according to the seasons
This is especially important if you're selling clothing and accessories. Keep your Shopify collections relevant by updating them with items for the current season. For example, you can create a collection named "Winter essentials" or "Autumn evening."
#11 Promote your collections with a unique promotional message
You can offer unique coupon codes to fulfill them on your built collections.
A Shopify app such as Adoric can help you create these personalized coupon codes in various ways and from one place. Email registrations, Promotional Bars, Sliders, and Popups can also create the coupon code from the Adoric without any additional work on your store account.
Wrapping it up
Shopify collections showcase your best products and help customers navigate your store and find what they're looking for quickly.
Here's a quick summary of our tips to increase sales with collections on Shopify:

Get started with automated Shopify collections—they're easy to create
Decide on how to best group your collections for your store (demographics, important occasions, function, etc.)
Add reviews to build trust
Include collections in your newsletters
Create email drip campaigns
Link to your collections from your homepage
Organize your collections into smaller subcategories
Add filters to your collections
Use product bundling and special discounts
Optimize your collection for SEO
Use only high-quality images consistent with your brand
Take seasons into account
Once you've tweaked your Shopify collections, it's time to put them out there! Omnisend's full Shopify integration with pre-built automation workflows will target the right customers interested in your products. Start for free today!
related features
Want more sales?
Omnisend has everything you need to succeed.
Start free now
No Credit Card needed.