Drive sales on autopilot with ecommerce-focused features
See Features
Reading Time:
8
minutes
Last year, we found that trigger emails were responsible for nearly 30% of all revenue generated, despite accounting for less than 2% of total email sends. It's one of the best email marketing examples, but sadly underutilized.
With regular email automation campaigns, you're always left with questions:
Do your customers want to hear from you?
What do they want you to send them?
When should you email them?
There is a ton of data on what time of day you should send emails, how long your subject lines should be, so you will not end up in spam, how often you should send emails, and much more.
The reality is, no matter what data you use to justify your automated email campaigns, they're never going to be personalized at an individual level. Sure, you might get reasonable open rates and high click-through rates, but there are always subscribers who miss your messages.
The best way to connect with every single subscriber, with the most relevant message, is by using trigger emails that respond to user behavior.
In this guide, I'm going to walk you through what trigger emails are, why you should be using them, and the situations where they're most effective.
If you're looking for ways to optimize your email marketing campaigns, this is for you.
Let's jump right in.
What Is Trigger Emailing?
Trigger emails are sent automatically based on user behavior. For example, when someone signs up for your newsletter, visits a specific page, or adds an item to their shopping cart, you can send them a predefined email.
Sounds simple, right?
That's because it is. In fact, triggered email marketing is one of the easiest ways to add personalization to your email campaigns. Despite that, triggered email marketing accounts for only 2% of the overall email volume that most companies are sending to their email list.
Why Use Trigger Email Marketing in Your Strategy?
Trigger emails are powerful tools that can help you increase your open rate, conversion rate, reactivation rate, and more. When you use trigger emails, it's easy to ensure that you're interacting with customers and leads at the right time. They have many benefits for all types of businesses.
According to our Ecommerce Statistics Report 2020, trigger emails earn higher click-through rates and more conversions than stand-alone blast campaigns.
Triggered emails consistently beat industry average benchmarks for email marketing metrics. They offer two key competitive advantages for ecommerce vendors.
They perform so well for two main reasons.
First, most companies aren't taking full advantage.
Second, trigger emails rely on user behavior to target the customer's inbox at the best possible moment.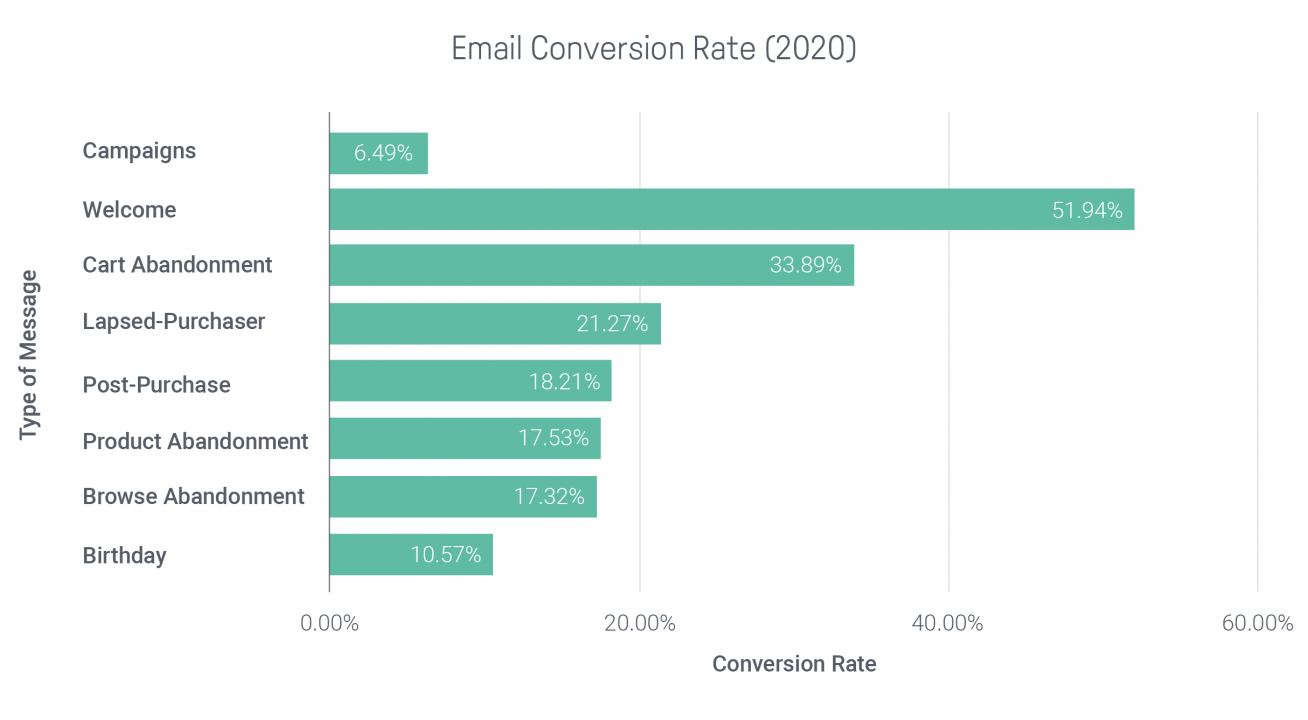 You'll see huge increases in clicks, and sales after implementing triggered emails.
Trigger Email Examples
At this point, you might be wondering how to implement trigger emails into your broader marketing campaigns. In this section, we'll walk through some crucial best practices for triggered email workflows.
1. The Welcome Email
The welcome email is the first chance you have to interact with your new subscribers.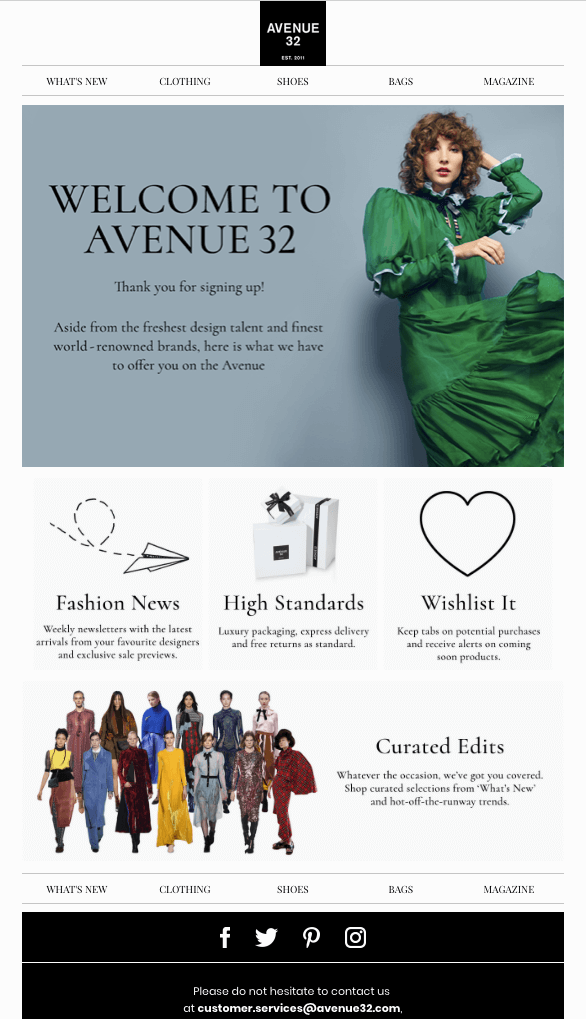 Amazingly, only 57% of companies send a welcome email.
A triggered welcome email is the perfect way to introduce your brand to new subscribers. Don't miss this opportunity to sell them on the benefits of your brand and encourage them to take the next step.
Welcome messages see three times the transactions and revenue per email than other emails in a typical automation flow.
2. Cart Abandonment Emails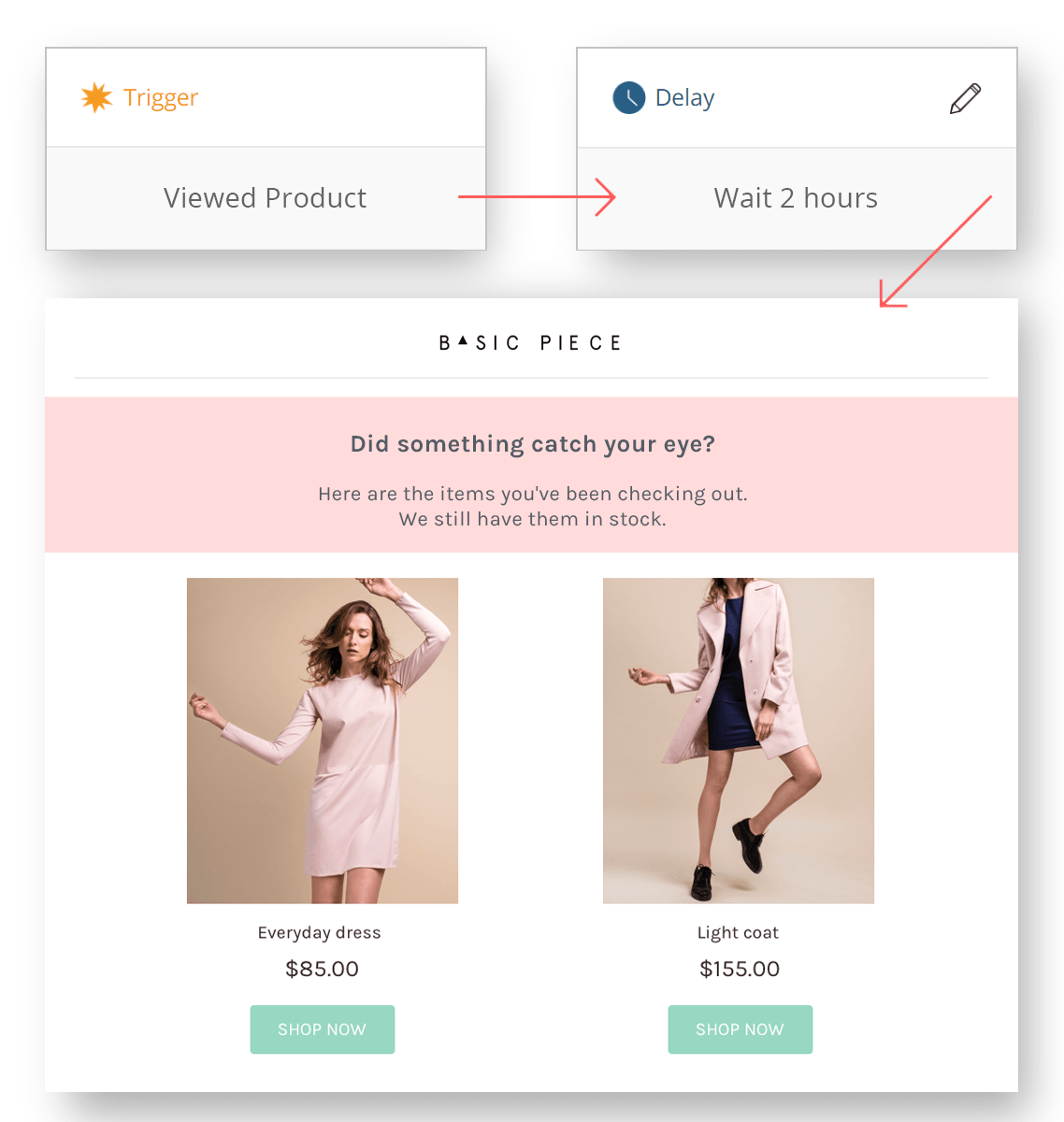 If you have an ecommerce store, then you know how much revenue cart abandonment costs every year.
The average cart abandonment rate is 69.57%. Most people add items to their shopping cart for a reason, but it's easy to get caught up in other tasks and forget to complete the purchase. Reactivating even a small percentage of abandoned carts will have a significant effect on sales.
Cart abandonment emails are a vital element of any triggered email workflow. Set up two or three follow-up messages to remind your customers that they added an item to their shopping cart. That might be enough to motivate them to go back and finish the order, especially if you offer a small discount or gift. This workflow is the most effective one among all automated email campaigns.
You'll be surprised by how much revenue you're able to tie back to that simple cart abandonment workflow.
3. Discount Code Emails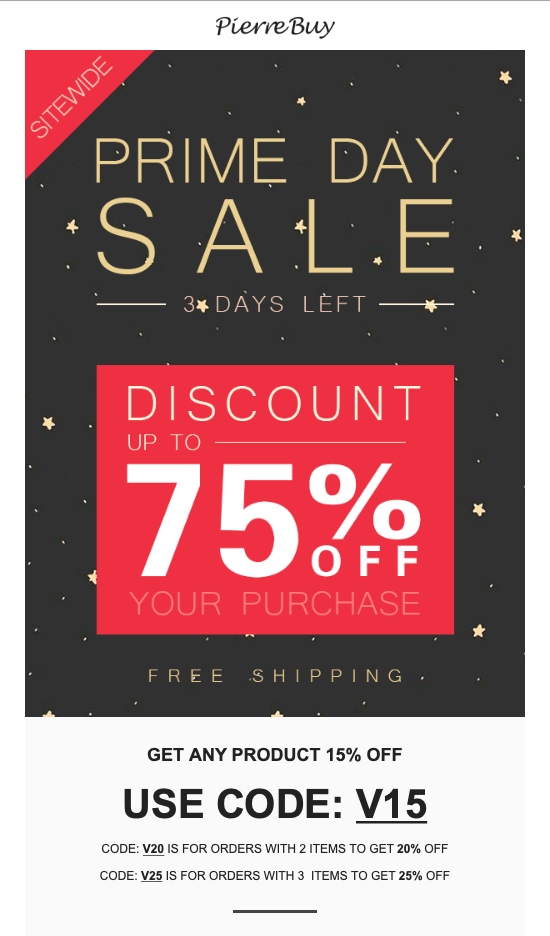 Discount codes can be a powerful driver of new sales, but it's important to use them at the perfect moment. Sending a discount code at the right time will push customers toward a purchase they were on the fence about.
Visitors who abandon their cart are clearly interested in your products, so discount codes are ideal for cart abandonment sequences. Alternatively, they could be tied to other triggers such as customer birthdays.
A trigger email containing a discount code can be a powerful motivator—especially if you're an industry where customers tend to shop around before making a purchase.
Of course, not every business will have a use case for discount emails. Those that do should be careful not to overdo them.
In general, discounts should only be sent on special occasions, or when you're sure that a customer is close to purchasing. This way, you'll get the benefits of providing a discount without lowering your brand value.
4. Onboarding Emails
Customer onboarding is another common use case for triggered email workflows.
Onboarding emails are typically sent to customers right after they've begun the sign-up process. A strong onboarding email will encourage customers to stay engaged with your brand and take the next steps toward making their first purchase.
It's worth noting that these are different from the welcome emails we mentioned above. Onboarding emails usually relate more closely to product features or use cases. See the email example below:
You can also use them if someone signs up for your newsletter but doesn't end up using it.
If a user is inactive after signing up, it's usually because they're simply too busy to start using your product. An automated trigger email is a perfect way to remind them of the benefits of using your product or service.
You can set your rules, such as when a user is inactive for 7 days after sign-up, an automated email goes out that re-sells them on the benefits of your product.
5. Special Event and Relationship Nurturing Emails
Trigger emails are the perfect way to ensure you're communicating with leads and customers and keeping them engaged at the right time.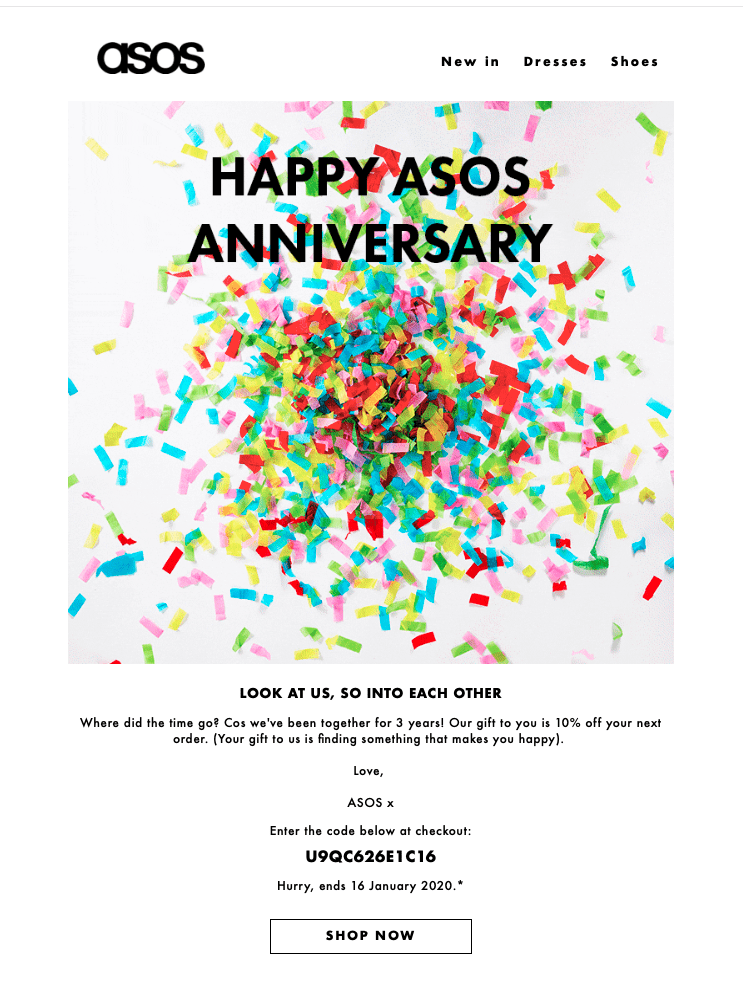 Sending messages for birthdays, anniversaries, and other important events will help you keep your leads engaged over time.
These automated email campaigns are the perfect way to show you care about your subscribers.
6. Billing Related Emails
Your customers expect to hear from you after they make a purchase. This is the perfect time to increase customer loyalty and improve your relationship. These transactional emails can vary greatly depending on the product or service.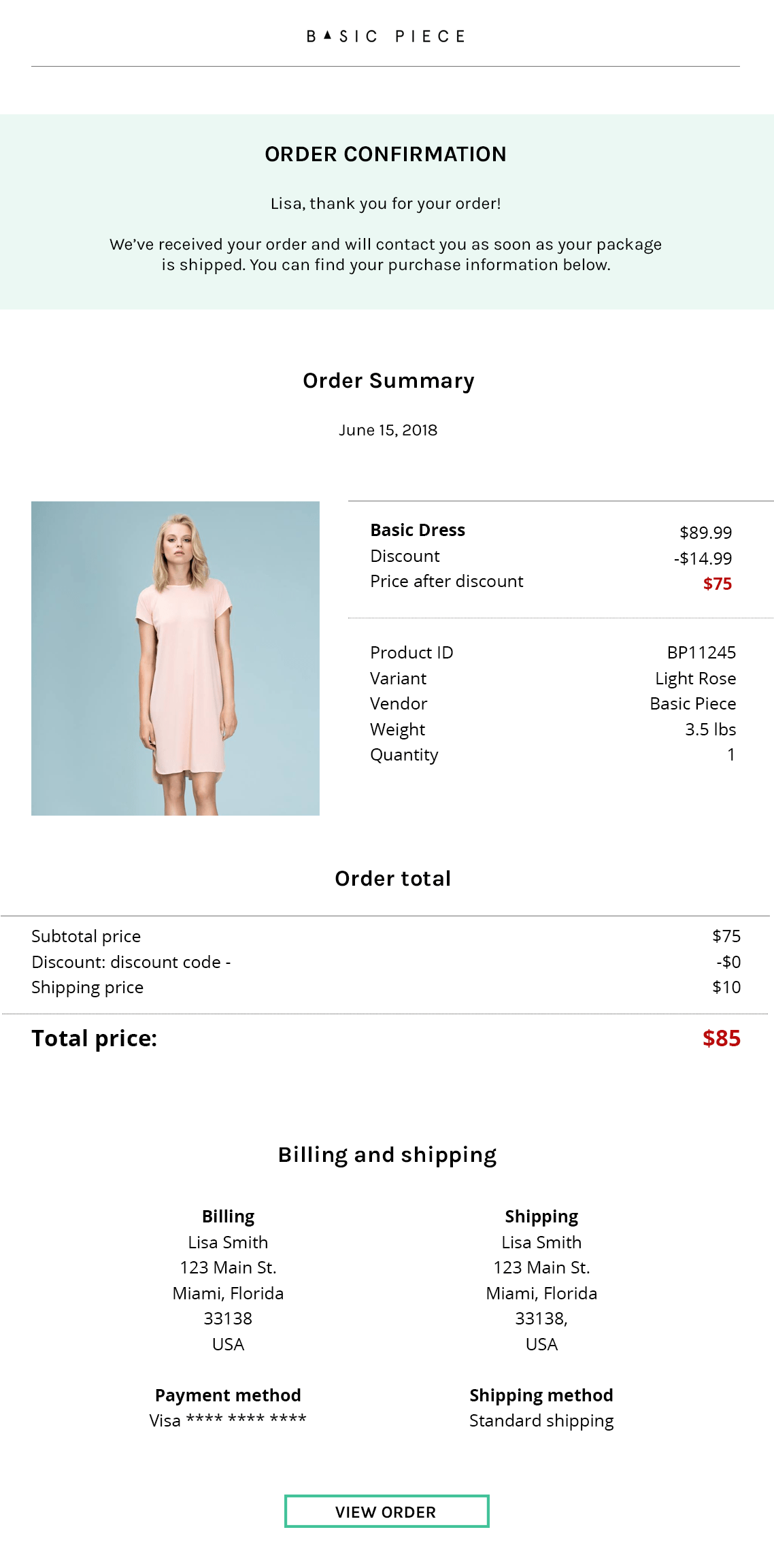 It's particularly important to communicate proactively about missed or failed payments.
Omnisend makes it easy to create a workflow to notify users when a payment is declined or missed. Don't forget to provide an easy way to update their details so they can make the payment. Existing customers are far more likely than new customers to make a purchase, so reactivating this group should be one of your top priorities.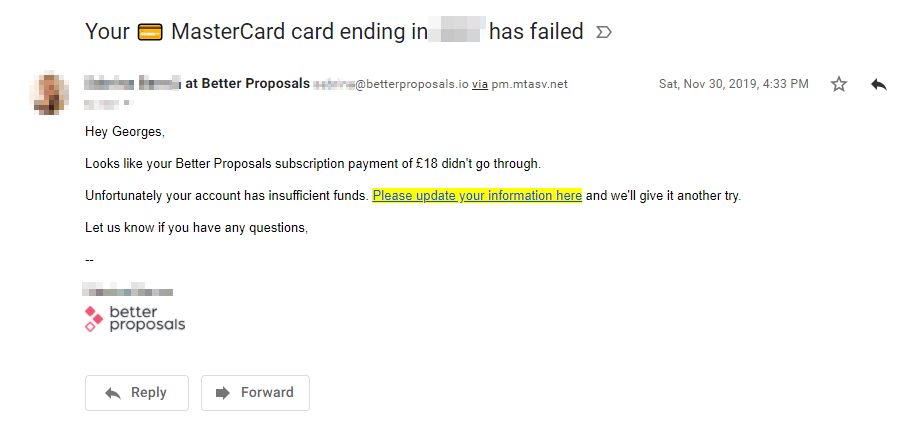 While some customers may end up canceling their subscriptions, the majority will quickly update their payment information.
7. Reactivation Emails
Keeping customers engaged should be a focus of every campaign, but inactive subscribers are an unavoidable reality in email marketing.
Reactivation emails give these customers a chance to re-engage and get back in the sales cycle.
With that being said, some former customers may be gone for good—in that case, a reactivation email will allow you to confirm that they're inactive and remove them from your contact list.
How long to wait before triggering a reactivation workflow depends on your typical sales cycle.
If the average customer buys your product once a month, you might want to send a reactivation email after 90 days of inactivity. On the other hand, businesses with a longer customer journey should give leads more time to come back on their own.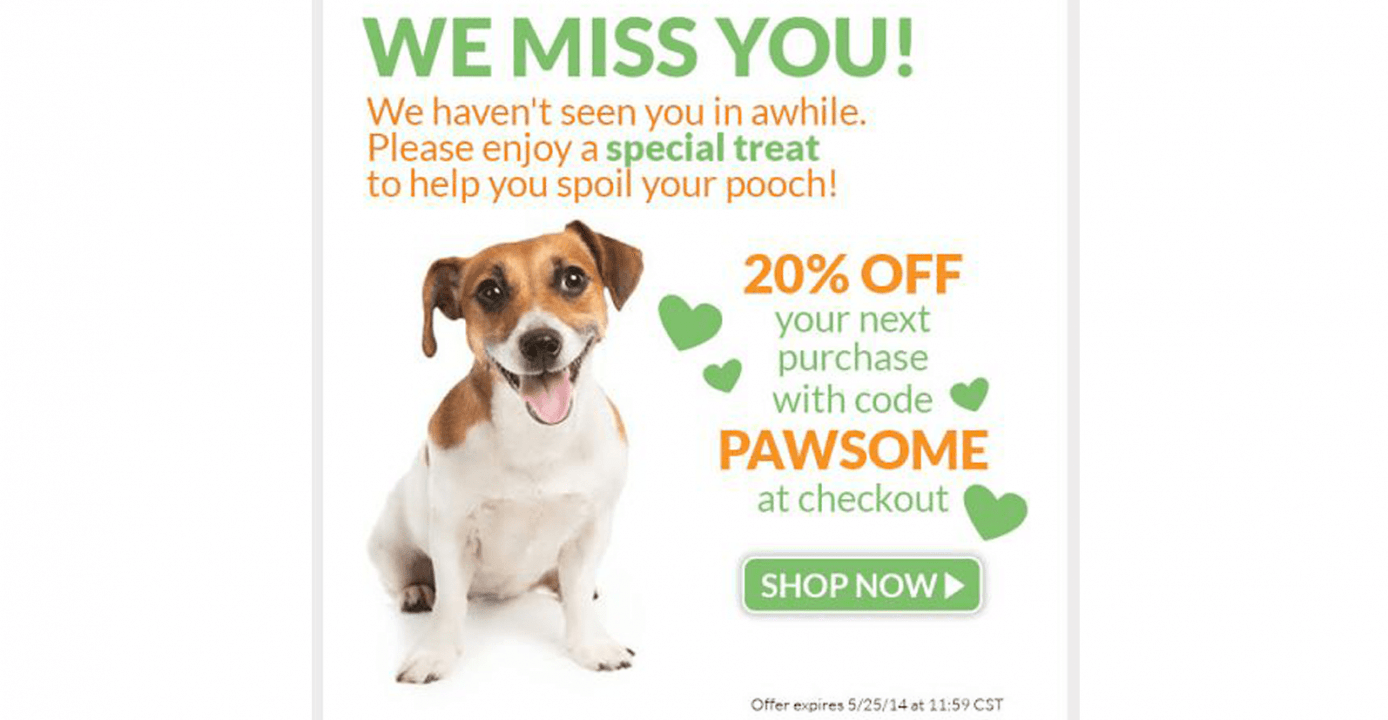 The email example above shows how to recapture inactive leads with a quick message. A gift or small discount will give them some extra motivation and help you maximize your reactivation rate.
Customers might miss your first email, so it's important to give them multiple chances to re-engage. We recommend using a three email sequence for your reactivation workflow.
After three unopened emails, it's time to end their subscription. Inactive subscribers will have a negative impact on your performance as well as your email deliverability, so it's important to clean up your list and focus on subscribers who are actively engaged with your brand.
8. Feedback Emails
Audience feedback is a vital resource for businesses of all kinds, and asking for feedback will also give you the opportunity to keep your customers engaged. We recommend sending a feedback email after a customer's order has been fulfilled, and they've had at least a few days to use the product or service. You can quickly set up a feedback trigger email using the default Omnisend workflow.
It can be tough to get customers to open these messages and go on to provide feedback, so consider offering a discount or gift to customers who take a minute to answer your questions. This will also show that you appreciate their time.
9. Cancellation Emails
You should obviously do everything you can to maximize order follow-throughs, but it's impossible to avoid cancellations when it comes to ecommerce. Customers cancel for a number of different reasons, and it's critical to follow-up shortly after to understand why they canceled and start warming them up for the next sale.
By default, Omnisend cancellation emails are triggered at the moment when customers cancel an existing order. This message should include information about the canceled order, along with a field for customer feedback and information about other products they might be interested in.
How to Send Triggered Emails
You don't need to be a technical wizard to set up well-timed trigger emails through Omnisend.
In fact, anyone can easily set up automated trigger emails to engage with their email subscribers at the most relevant times.
We offer preset templates for key workflows including welcome emails, cart abandonment emails, birthday or special occasion emails, and many more. You can also create completely custom triggered emails for other situations.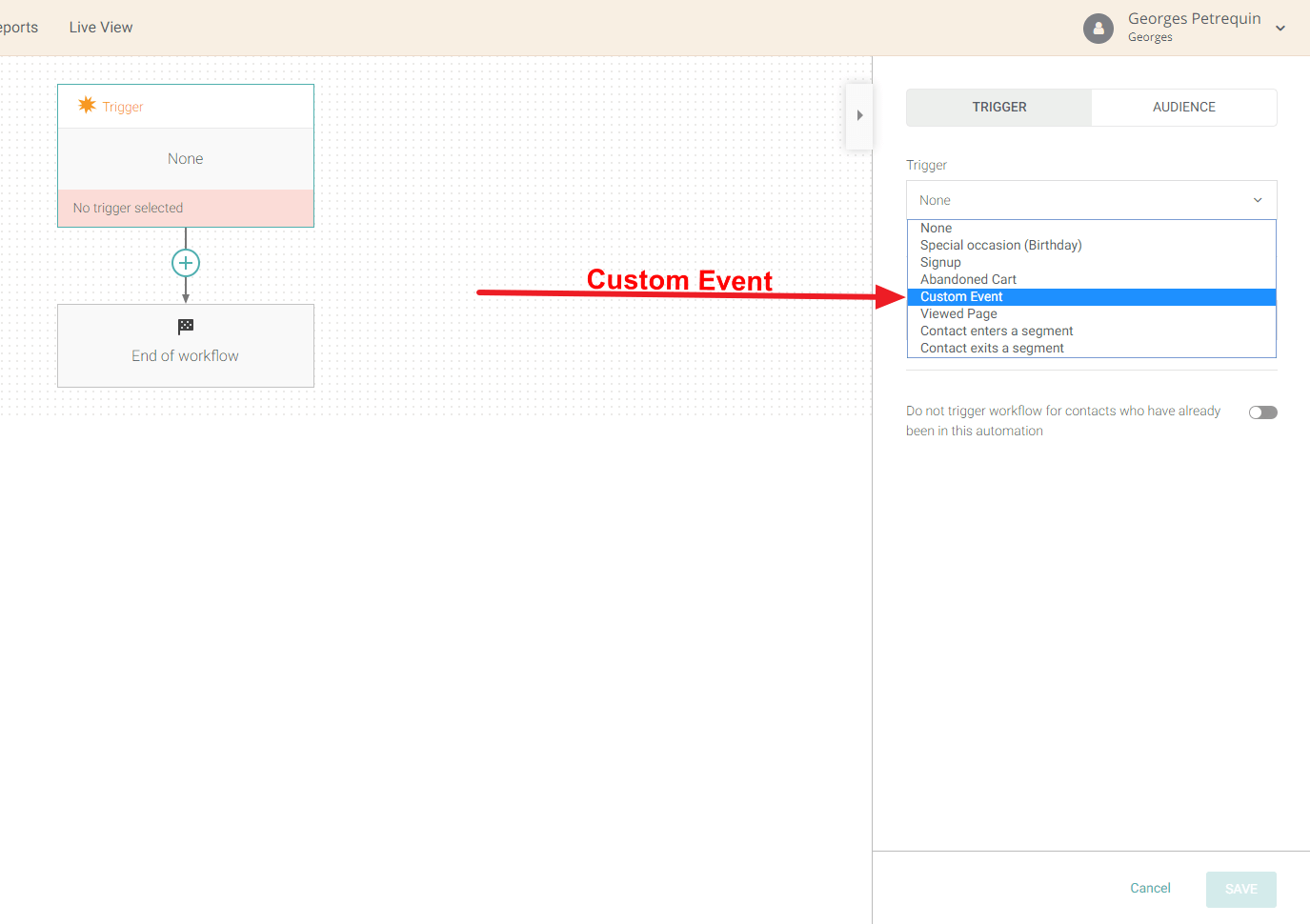 Wrapping Up
Triggered email marketing is the most effective way to engage with your email subscribers.
It's a bold claim, but no other pre-created email will ever be as relevant as those sent in response to particular actions.
From saving lost revenue to nurturing customer relationships, trigger email campaigns offer crucial benefits at every stage of the sales cycle.
Get started with Omnisend today & drive sales on autopilot with pre-built automation workflows
Start Free Today
related features
Want more sales?
Omnisend has everything you need to succeed.
Start free now
No Credit Card needed.