Drive sales on autopilot with ecommerce-focused features
See Features
Reading Time:
7
minutes
Trigger emails generate over 31% of all emails orders, despite making up only 1.8% of all email sends.
With that level of performance, you're leaving money on the table if you're not using triggered emails in your marketing strategy.
In this article, we'll look at:
Let's jump in.
What is a trigger email?
Trigger emails are automated emails that get sent based on user behavior.
For example, a welcome email will be sent when someone signs up for your newsletter, or a cart abandonment email will be sent if someone adds an item to their cart but leaves your store without completing the checkout.
Incorporating trigger email marketing is one of the easiest ways to add personalization to your email campaigns.
Why use trigger emails in your marketing strategy?
Trigger emails are powerful tools that can help you increase your open rate, conversion rate, reactivation rate, and more.
Triggered emails also make it easy to ensure that you're interacting with customers at the right time.
They also perform better than email campaigns in every metric:
83.4% improvement in open rates
341.1% increase in click rates
2,270% lift in conversion rates
Trigger emails can be used to welcome new subscribers, build loyalty, increase conversions, re-engage contacts, update the status of an order, and even send birthday emails.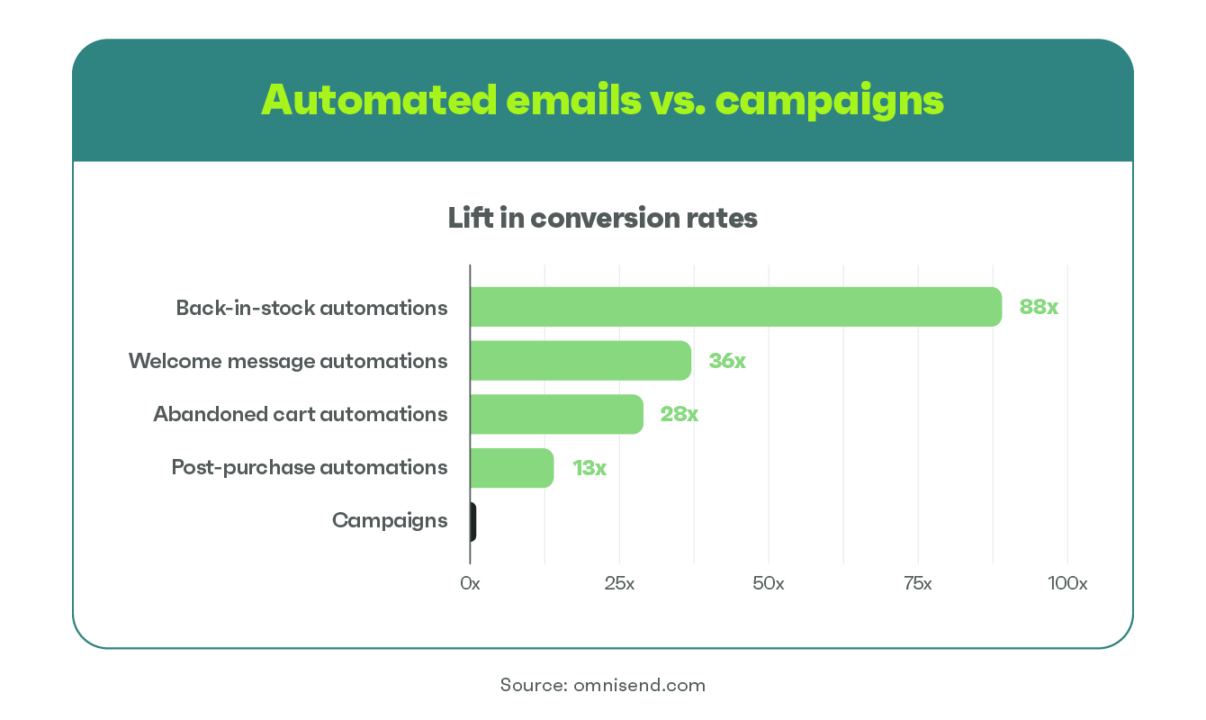 The benefits of triggered emails include:
Increased personalization: allow for highly targeted and personalized communications.
Improved customer relationships: provide the right information at the right time.
Higher engagement: automated messages out-perform campaigns in every metric.
Better ROI: they're set-and-forget with increased performance, increasing ROI.
Better customer retention: reduce the likelihood of churn by keeping customers engaged
Trigger email examples
At this point, you might be wondering how to implement trigger emails into your broader marketing campaigns. In this section, we'll walk through some crucial best practices for triggered email workflows.
1. The welcome email
The welcome email is the first chance you have to interact with your new subscribers, and they have an average open rate of 30.45%.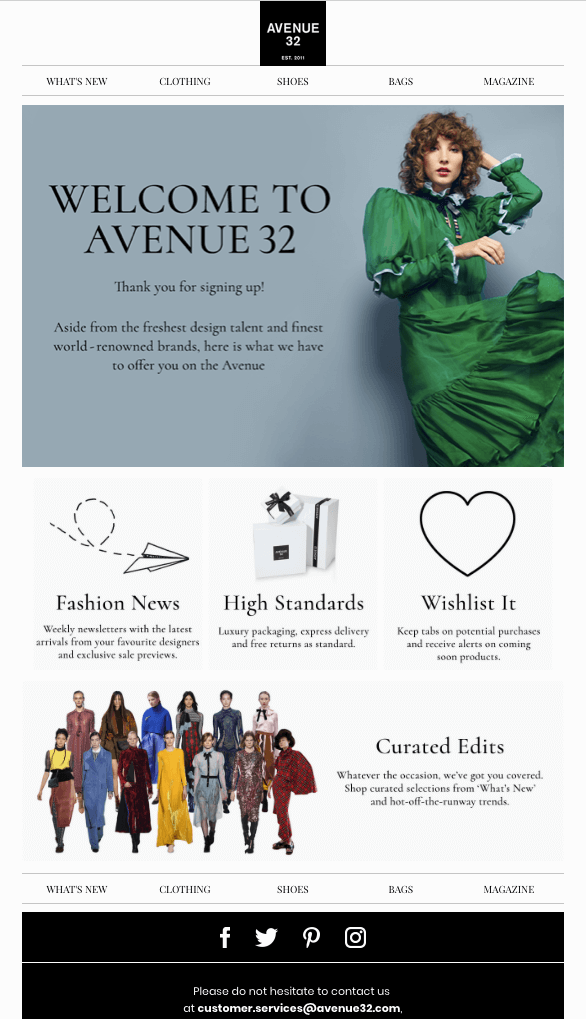 One advantage of a welcome email is it ensures every newcomer to your brand has the same experience, guaranteeing consistency. And because the welcome email is automated, they always get it as soon as they sign-up.
2. Cart abandonment emails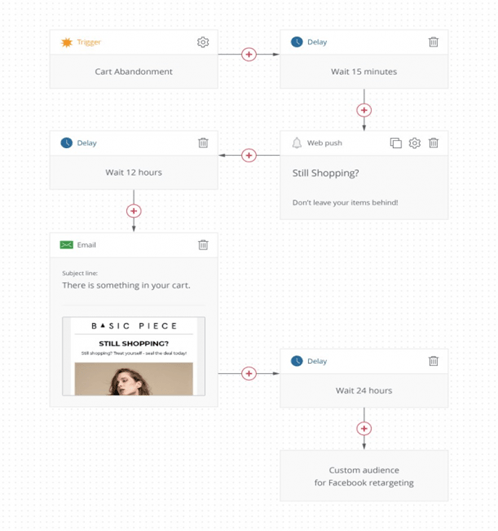 If you have an ecommerce store, then you know how much revenue cart abandonment costs every year.
The average cart abandonment rate is 69.57%. Most people add items to their shopping cart for a reason, but it's easy to get caught up in other tasks and forget to complete the purchase. Reactivating even a small percentage of abandoned carts will have a significant effect on sales.
Cart abandonment emails are a vital element of any triggered email workflow. Set up two or three follow-up messages to remind your customers that they added an item to their shopping cart. That might be enough to motivate them to go back and finish the order, especially if you offer a small discount or gift. This workflow is the most effective one among all automated email campaigns.
You'll be surprised by how much revenue you're able to tie back to that simple cart abandonment workflow.
3. Discount code and special offer emails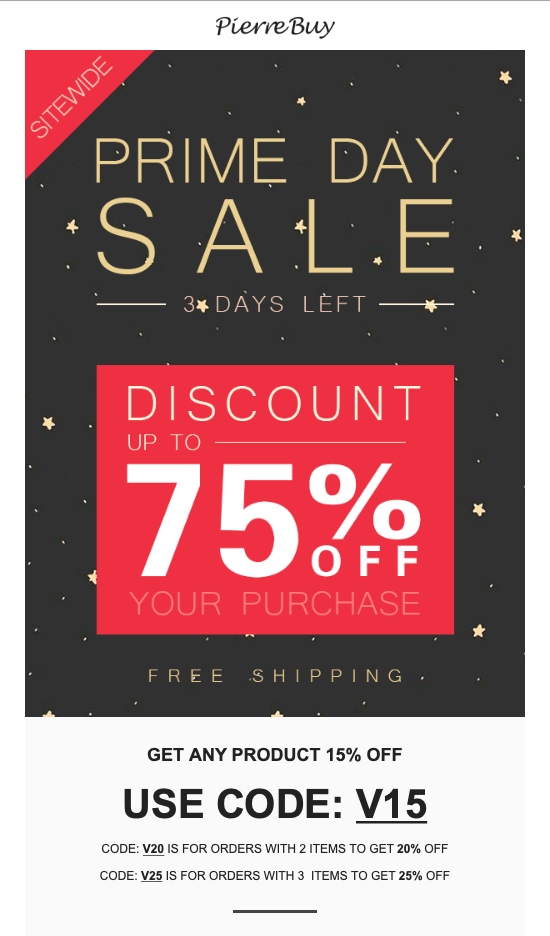 Discount codes can be a powerful driver of new sales, but it's important to use them at the perfect moment. Sending a discount code at the right time can push customers toward a purchase they were on the fence about.
Visitors who abandon their cart are clearly interested in your products, so discount codes are ideal for cart abandonment sequences. Alternatively, they could be tied to other triggers such as birthday emails.
Trigger emails containing a discount code can be a strong motivator—especially if you're an industry where customers tend to shop around before making a purchase.
Of course, not every business will have a use case for discount emails. Those that do should be careful not to overdo them.
In general, discounts should only be sent on special occasions, or when you're sure that a customer is close to purchasing. This way, you'll get the benefits of providing a discount without lowering your brand value.
4. Onboarding emails
Customer onboarding is another popular use for triggered emails.
Onboarding emails are typically sent to customers right after they've begun the sign-up process. A strong onboarding email help customers get started, and encourage them to stay engaged with your brand and take the next steps toward making their first purchase.
It's worth noting that these are different from the welcome emails we mentioned above. Onboarding emails usually relate more closely to product features or use cases. See the email example below:
You can also use them if someone signs up for your newsletter but doesn't end up using it.
If a user is inactive after signing up, it's usually because they're simply too busy to start using your product. An automated trigger email is a perfect way to remind them of the benefits of using your product or service.
You can set your rules, such as when a user is inactive for seven days after sign-up, an automated email goes out that re-sells them on the benefits of your product.
5. Birthday and anniversary emails
Trigger emails are the perfect way to ensure you're communicating with customers at the right time.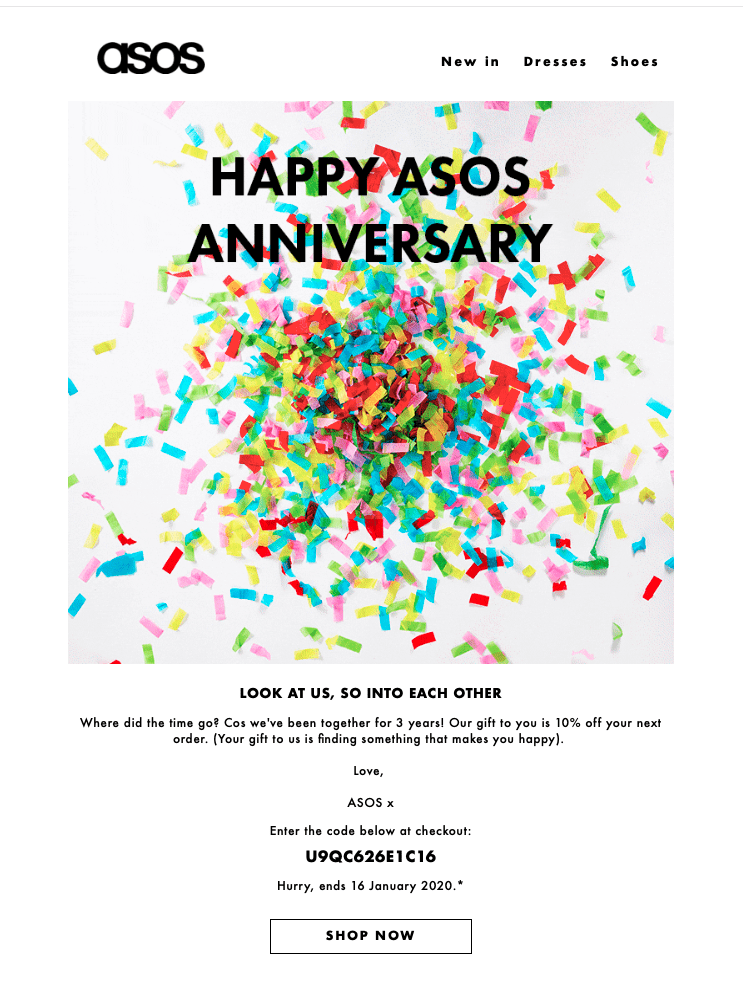 Using triggered emails to acknowledge your audience's birthdays and anniversaries—and related events—keep you top of mind, remind your customers of you at key moments, and can help your customer retention.
6. Transactional emails
Your customers expect to hear from you after they make a purchase. This is the perfect time to increase customer loyalty and improve your relationship.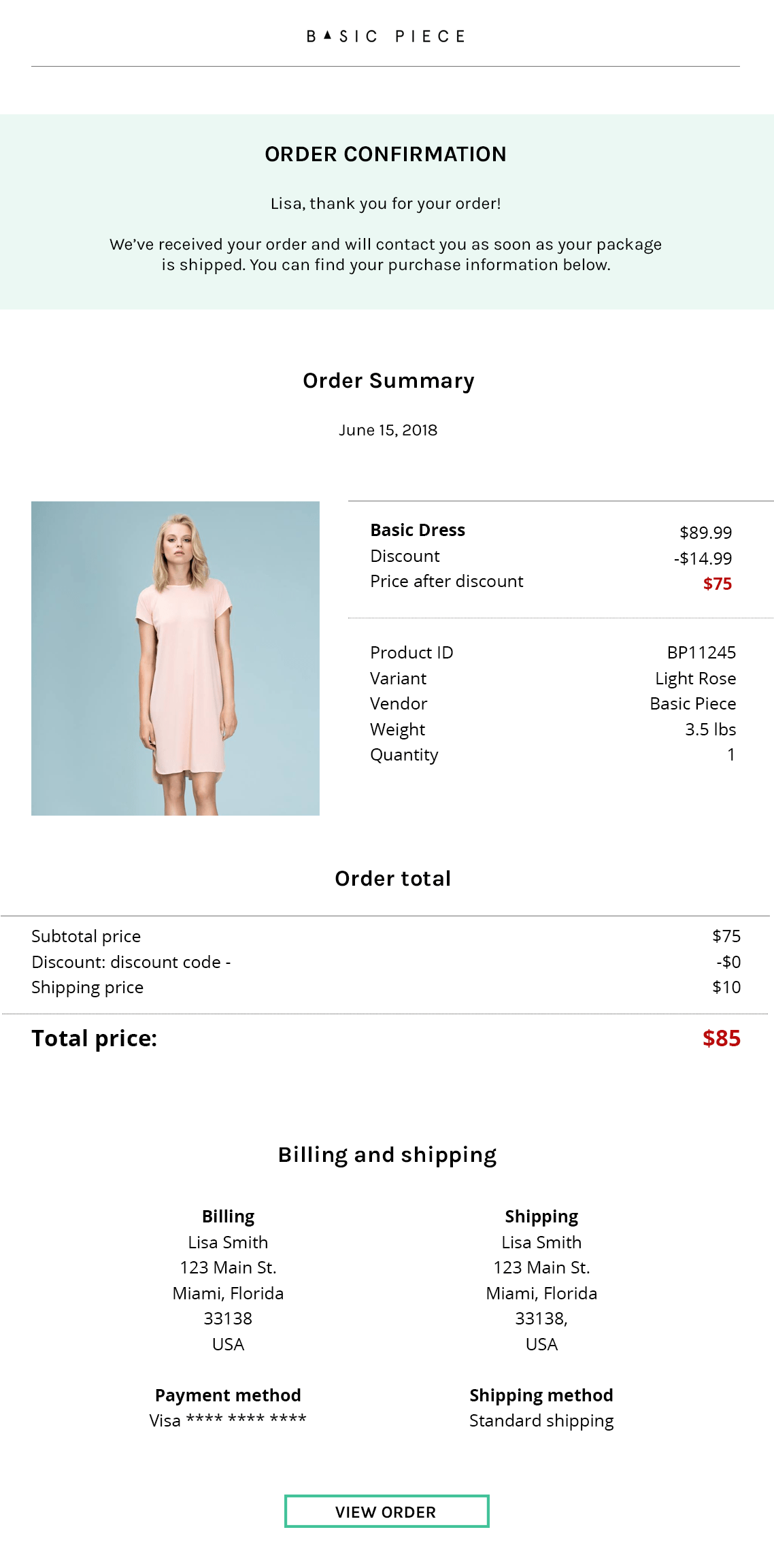 There are different types of transactional emails, but in general they include any update to an order. This can include:
Order and shipping confirmation
Payment confirmation
Missed or failed payments
7. Reactivation emails
Keeping customers engaged should be a focus of every campaign, but inactive subscribers are an unavoidable reality in email marketing.
Reactivation emails give these customers a chance to re-engage and get back in the sales cycle.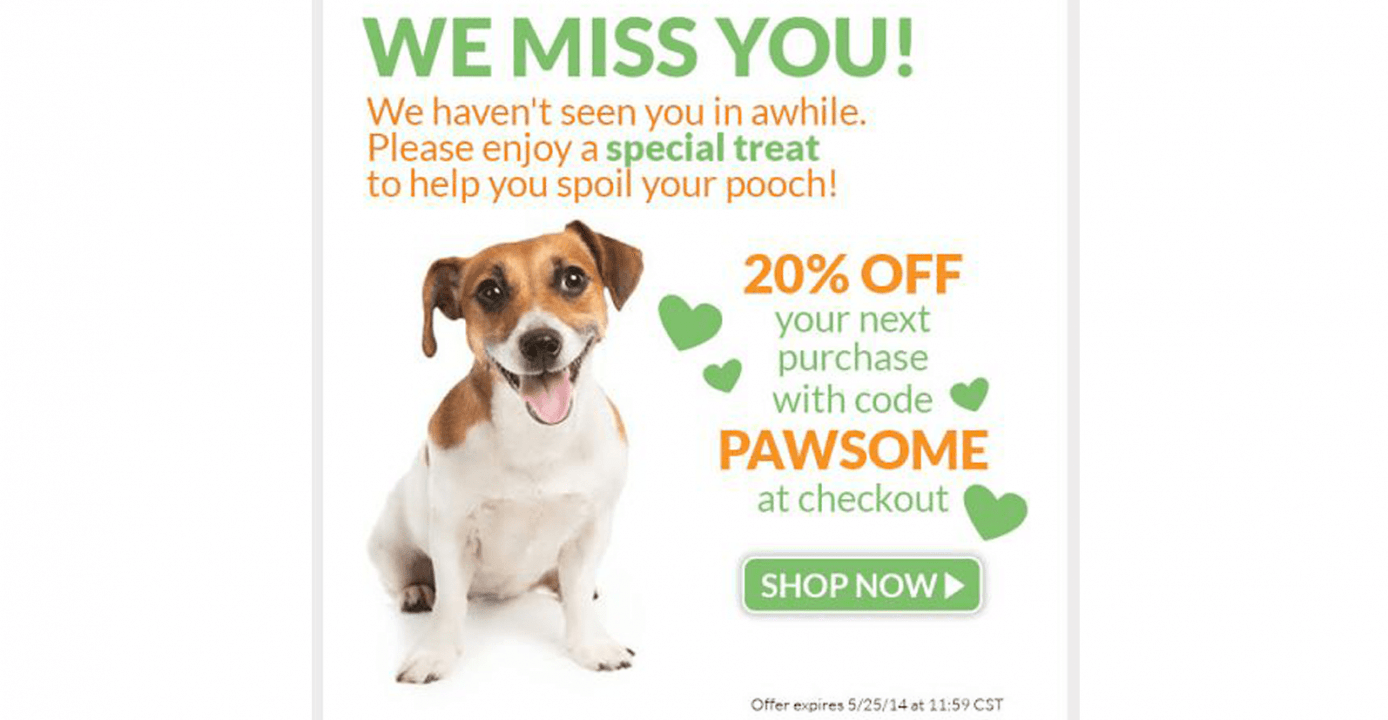 The trigger email example above shows how to recapture inactive leads with a quick message. A gift or small discount will give them some extra motivation and help you maximize your reactivation rate.
8. Feedback emails
Asking for feedback, such as customer reviews, is a great way to keep your recent buyers engaged and also generate social proof—which is key to help potential new customers trust you.
There are a lot of different ways you can request feedback. Some brands will request a review in the shipping confirmation email, while others will send a dedicated trigger email such as the Book of the Month example above. This one also increases the likelihood of the customers providing feedback because all they need to do is click one of the three emojis.
9. Cancellation emails
Cancellations unfortunately happen for a number of reasons, and you can send trigger emails to help manage customer expectations and minimize the risk of them never shopping with you again.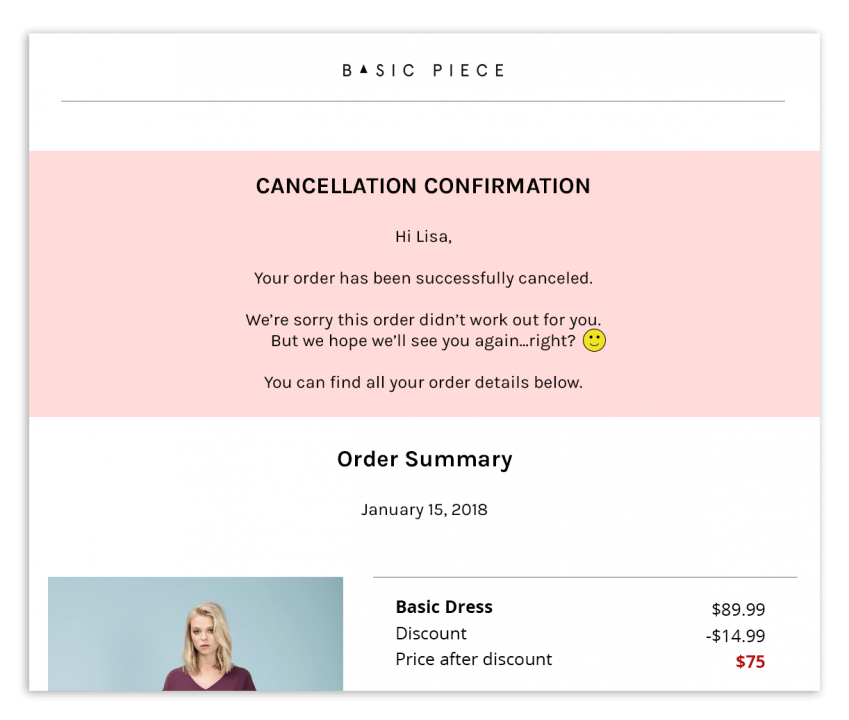 The example above confirms that the order has been cancelled and includes the order details, and apologizes for it not working out—followed by a smiley-face emoji to encourage the customer to return in the future.
How to send triggered emails
Omnisend makes automation easy, including triggered emails.
Trigger emails are automatically sent when a specified event happens—such as welcoming a new subscriber, reminding a visitor they didn't complete the checkout process, or wishing a subscriber happy birthday.
When creating an automated workflow, you have a number of trigger rules (which define when a customer should enter the workflow), an audience filter to specify their eligibility, and a frequency limit which determines how many events a single customer can trigger.
The following image demonstrates some of the triggers you can select when building a workflow: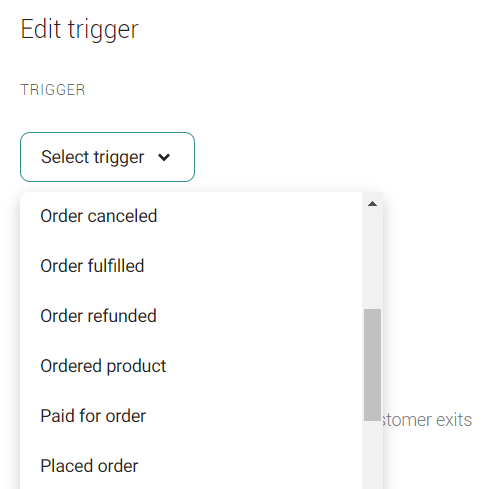 You also have control over the email content, from subject line to sender's email address, as shown below: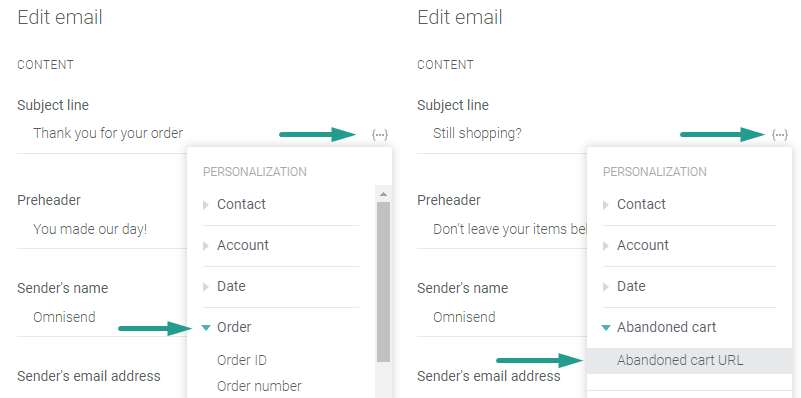 Pre-built workflows are available for all Omnisend customers, and you have the option to create your own triggered emails from scratch.
Wrap up
Trigger emails are the most effective way to engage with your email subscribers.
It's a bold claim, but no other pre-created email will ever be as relevant as those sent in response to particular actions.
From saving lost revenue to nurturing customer relationships, trigger email campaigns offer crucial benefits at every stage of the sales cycle.
Get started with Omnisend today & drive sales on autopilot with pre-built automation workflows
Start Free Today
related features
Want more sales?
Omnisend has everything you need to succeed.
Start free now
No Credit Card needed.