Drive sales on autopilot with ecommerce-focused features
See Features
did you know
Omnisend customers automate 32% of their email conversions. Are you maximizing sales?
automate my sales
Reading Time:
5
minutes
In order to have everything ready for launching an online store (on one of the top ecommerce platforms), you will need a professional email address for communication with clients and email marketing purposes.
This is important for shaping your company's brand and strengthening its credibility.
There are a lot of posts about how to choose a good professional email address. I personally recommend Andréa Coutu's article 7 terrible secrets revealed by your email address. The author of this post says:
If you want to be professional, you have to think about how your email address represents you.
In addition, it is important to avoid misunderstandings when choosing a domain that can become a marketing failure that the world may laugh at.
There is one more very important thing about a branded email address – the email deliverability. It is a mark of success of your emails reaching subscribers' inboxes without bouncing, or being marked as spam.
The main deliverability problems that may have a bad influence on the rate are a high bounce rate and anti-spam measures. The issues with bounces have already been discussed earlier, so now let's take a look at anti-spam measures and how the right email address can influence these.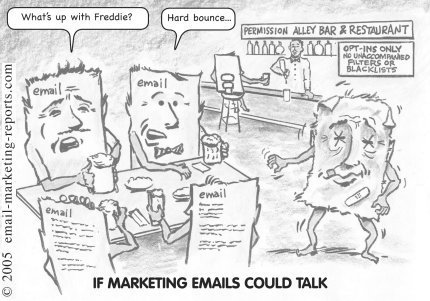 Fighting spam filters
If you are new to email marketing, you may not know that after you send an email campaign to your subscribers, not all of the emails land in their inboxes. General email marketing practice shows that approximately 5%-10% of your subscribers are not getting your emails.
To improve the deliverability of your emails, you should use email providers' services.
This is because they have a greater deliverability rate. For example, Omnisend delivers 98.25% of all emails.
For good email deliverability, you need a good email sender's reputation, in order that the Internet service providers will let your emails through their spam filters.
Below there are listed the main factors that can influence your reputation as well as deliverability.
Handling the bounces. You should not repeatedly send to the addresses that have been hard bounced once. Using email service providers for your email marketing actions mean that you will avoid it. ESPs help you to take care of your reputation.
Setting up the necessary sender policy framework (SPF), Sender ID, and Domain Keys. They confirm your email origin and credibility. The same, if you use email service providers, you don't have to take care of it.
The level of your subscribers' engagement. If your subscribers are consistently not interested in your emails and are not opening them to click on your links, then that can make a bad influence on your deliverability.
Creating your professional email address
Using a free domain email address such as Gmail, Hotmail, Yahoo, etc. is bad practice. Those email addresses are for personal use and not for commercial purposes. Yahoo and other ISPs will automatically mark your emails as spam if you send bulk emails to an addresses at their domain, from the same domain, under revised DMARC policies.
Instead of this, create an official company email address that clearly communicates who you are. This helps communicate to both your subscribers and spam filters that may otherwise block you – and helps to build a good sending reputation for your domain.
Creating a professional email and adding to your Shopify store
Note: If you do not have an IT background, you have to arm yourself with patience. At first sight it might seem difficult but, trust me, it is possible.
First of all, you cannot have a professional email address if your store does not have a domain.
If a link to your store looks like this: www.mystore.shopify.com, you need to buy a domain first. A domain is your unique name that is used in URL addresses in order to identify particular Web pages.
For example,
https://www.amazon.com/ is the URL
amazon.com is the domain
To get these things done you have two options. All of them are good. Of course, it is up to you. So let's take a look.
Shopify email. Option #1
You can buy a website domain in Shopify and use a 3rd party to host your email. The thing is that Shopify platform does not provide email hosting and the users have to look for services specialized in hosting. For this you may use ZohoMail or Google Business Apps.
Price:
ZohoMail – $13/ year for domain + $0/ year (up to 10 users)
Google Business Apps – $13/ year for domain + $5/month/user
Which one to choose depends on several factors. These include your ambitions to grow in team and website size and the adaptivity to new interfaces. Google products tend to be expensive, but everyone knows how to use them. On the other hand, you can set up ZohoMail in your existing Outlook or Apple Mail account.
Here is where your patience is needed:
Option #2
You could use one of the most popular domain providers, GoDaddy.com, and get your email hosting for free.
When you use this website, you can use the search bar for checking if your desired domain is taken and, if so, get a lot of alternatives. Also, you can choose the ending for the domain: whether that is .com, .net, .me and even more exclusive ones, like .cheap, .deals, .club, etc. The price starts at $2.99/year to $2500/year.
Price:
Economy plan for $3.49/month includes free domain and up to 100 email addresses.
To set up GoDaddy looks a little bit easier to me. Shopify has provided a perfect tutorial on how to link your store with a domain. After your domain is set up, it is time to set up the email.
The configuration of the email happens automatically. The only thing that you have to do is to verify your email address by adding Shopify's SPF record to your domain host. How to do that?
1. Log in to your domain hosting account.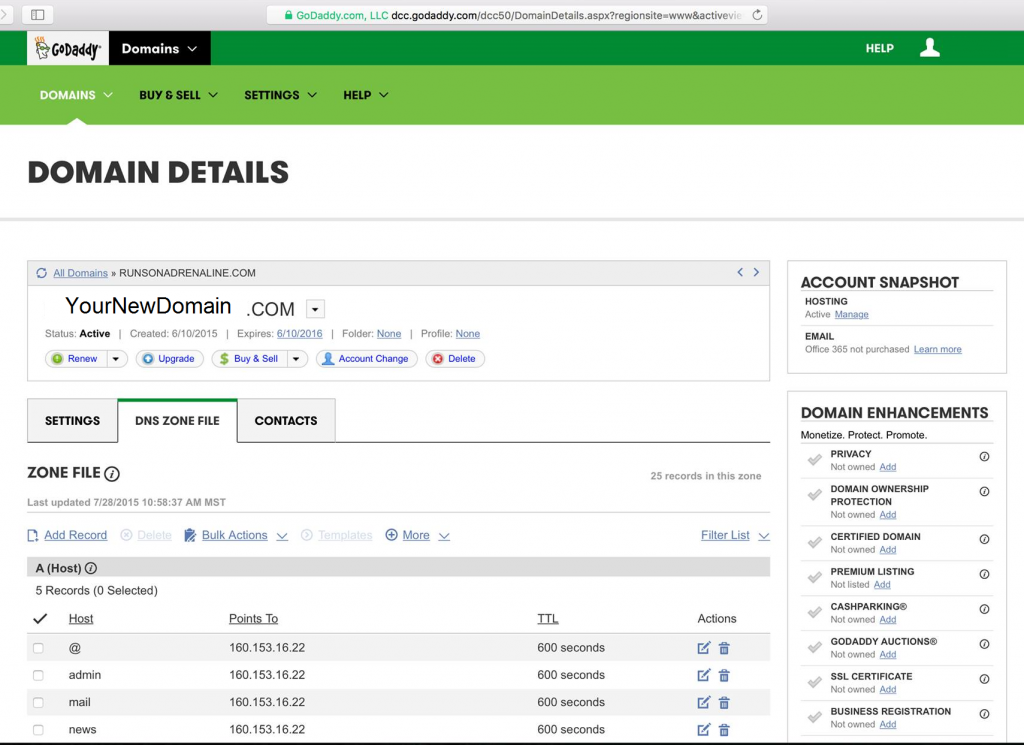 2. Add new your domain's TXT record. Add Shopify's SPF record — v=spf1 include:shops.shopify.com ~all

3. Copy v=spf1 include:shops.shopify.com ~all and paste it into the TXT value field.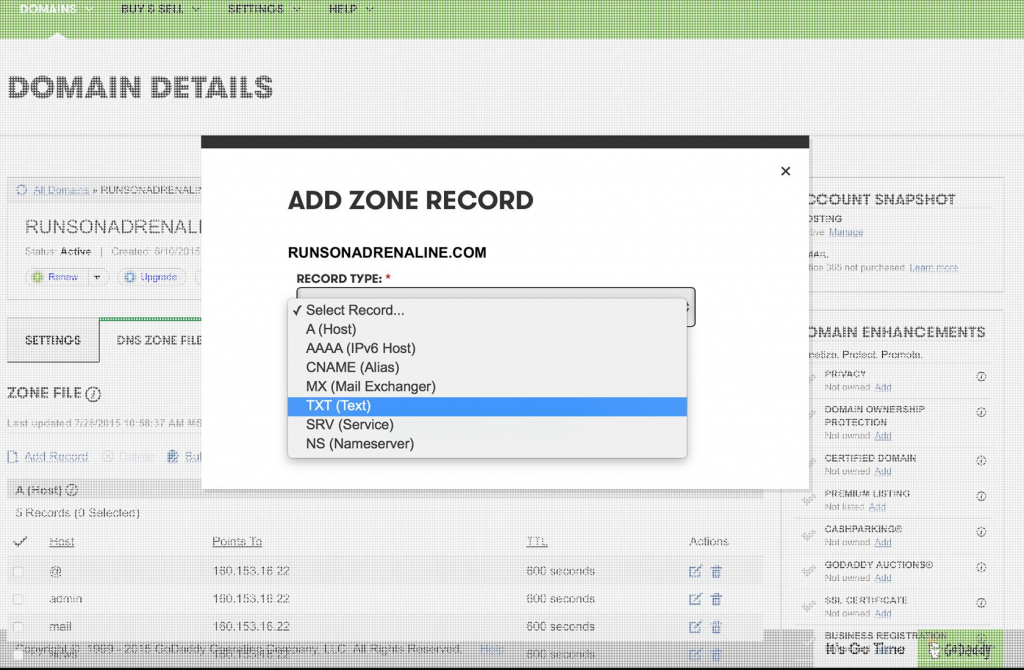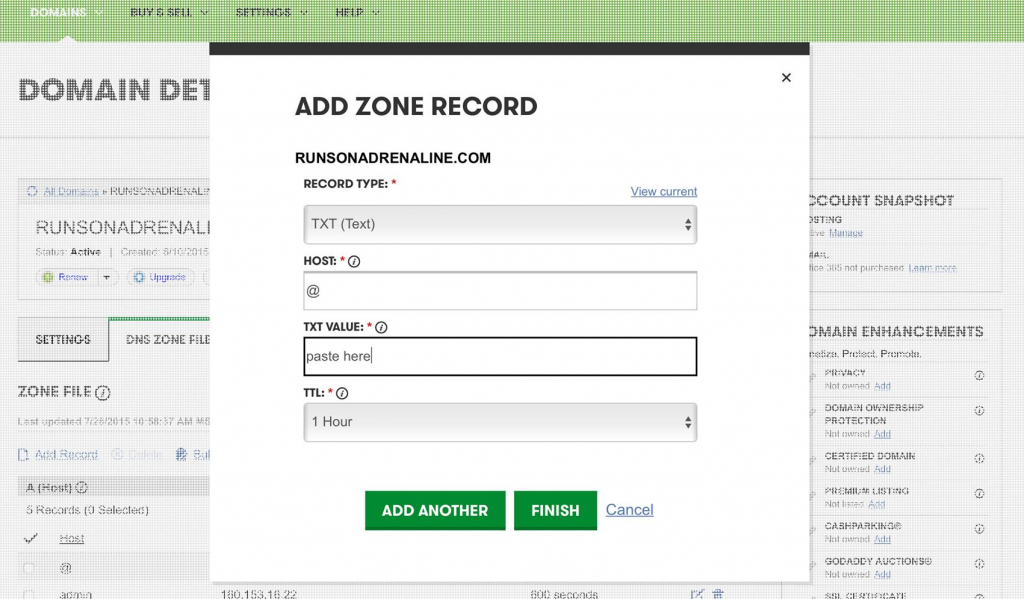 Save your changes.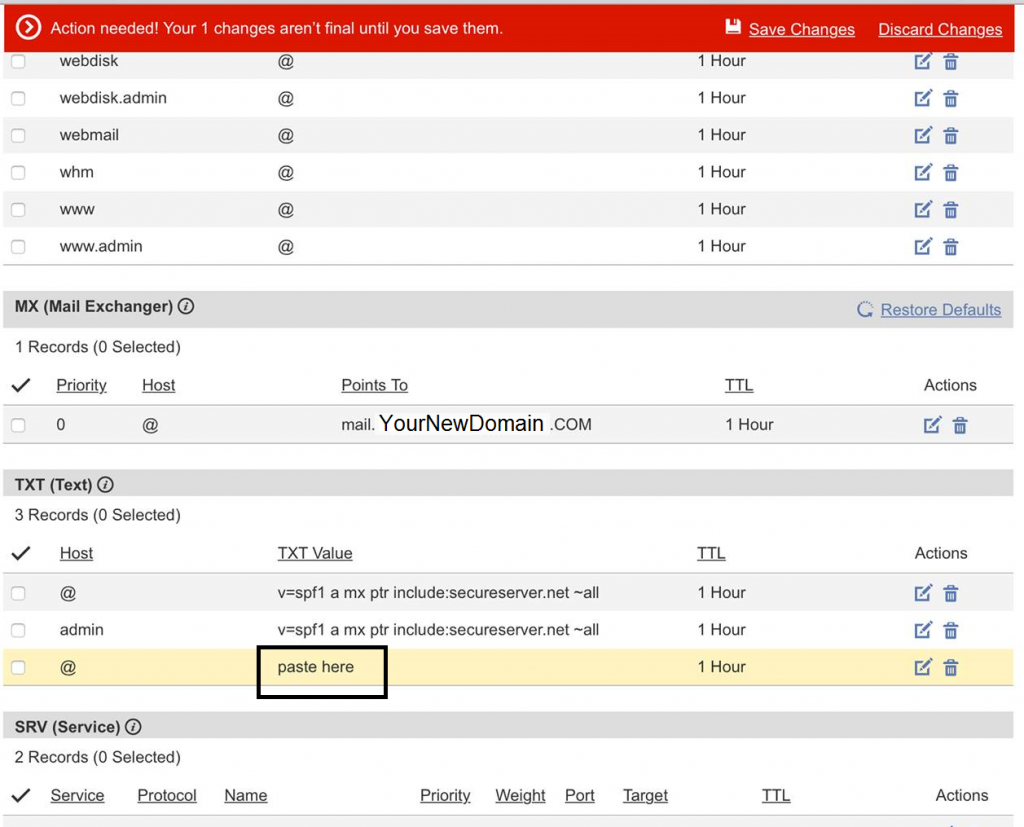 For your convenience, you can set up your business email inbox in your existing Outlook or Apple Mail.
Congratulations. Now you have a professional email address that you can use for building your business and sending successfully delivered email campaigns.
Read more about deliverability here.
I also accidentally found more good tips about the domain, that could add value to my post. Thanks to Chris Wagner.
Get started with Omnisend today & drive sales on autopilot with pre-built automation workflows
Start Free Today