Drive sales on autopilot with ecommerce-focused features
See Features
Reading Time:
14
minutes
Email marketing automation helps you send automated promotional messages to your subscribers.
Because the process is automated, marketers save time they'd normally take to create and send new promotional emails every time.
Even better, email marketing automation goes out at the right time, which is soon after a subscriber does something, like abandon a shopping cart, or sign up to your newsletter.
In this post we'll look at:
Get started with Omnisend today & drive sales on autopilot with pre-built automation workflows
Start Free Today
What is email marketing automation
Email marketing automation is a digital marketing strategy that allows marketers to send automated (or triggered) emails to contacts on their subscriber list. This allows marketers to send timely, personalized messages to contacts or customers based on a specific action (trigger), or if the contact meets a certain condition.
For example, if a contact adds products to their carts then abandon their cart, this action will trigger an abandoned cart email automation. One or a series of emails will go out to that contact automatically, hoping to get the contact to finish making their purchase.
Creating an email marketing automation workflow in Omnisend is easy.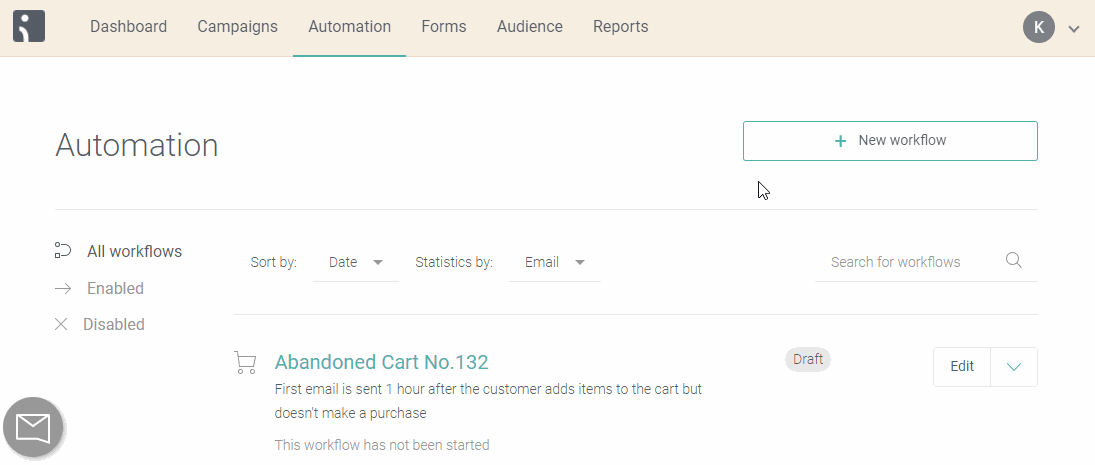 Simply click on "New workflow," then use either a ready-made email marketing automation workflow like Abandoned cart, Welcome, or Browse abandonment. Or you can create your own workflow from scratch by clicking on "Create custom workflow."
How does email marketing automation work?
In its basic form, email marketing automation is based on triggers (an action/behavior or a condition that's met) and messages. With Omnisend, you can also include a delay.
The three essential parts of an email marketing automation workflow include:
trigger: this can be a behavior or action, as the abandoned cart mentioned above
delay: this sits between the trigger and the message, allowing the message to go out a certain time after the trigger
message: you can send one or multiple messages via email, SMS or push notification (on Omnisend)
When you're setting up your own email marketing automation, here's a standard action plan:
You create an automated campaign
You set up a trigger
Customer triggers an event, e.g. leaves the shopping cart
Your email app sends the email
With all that said and done, how can you ensure that you create relevant campaigns for your recipients?
Advanced email marketing automation strategies
Here, we're looking at the best practices you should be using to have amazing results with your email marketing automation.
These aren't just based on the features that your marketing automation software provider has.
It's not even about the email marketing software you use, even if this serves as a good first point for your automated email marketing.
It's also about having a strategy to use those tools to their fullest.
1. Plan every campaign
You should make a list of what you want to achieve from this particular email automation. The more specific you are with what you want from your automation campaign, the better your chances of success are.
It's also crucial to figure out who your audience is. This can be based on demographics or behavior. If you know your customers well, you'll be able to send more personalized messages to them, and you'll also have a good idea of what timing to use in your delays.
2. Segment your subscribers
You already know that all of your customers or subscribers are not the same. So why are you sending them all down the same customer journey?
Instead, you'll need to make sure that you can identify and separate your subscribers and existing customers into different segments.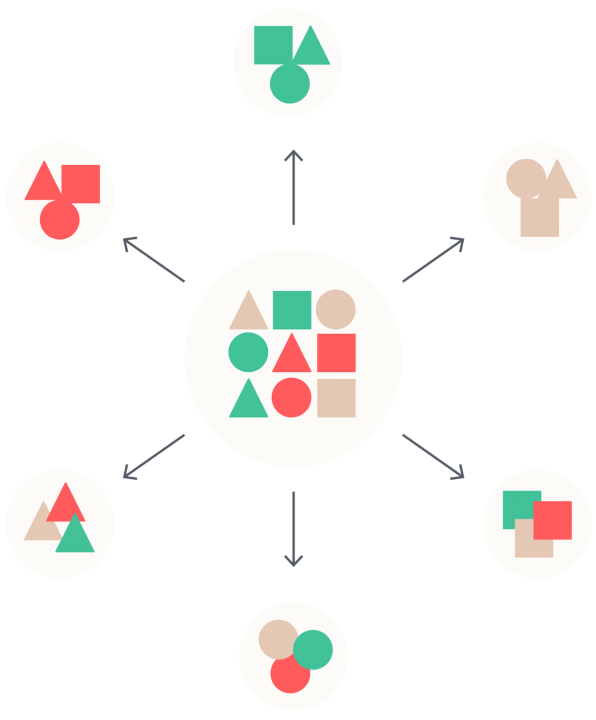 After that, you'll be able to send them on different journeys, with relevant offerings, educational information and more.
For example, let's say you want to get in touch with inactive customers. You can simply create a segment of customers who haven't bought from you in the last 60 days.
So, using Omnisend's segmentation, here I'm making a segment of anyone that made an initial purchase within the last 90 days worth at least $20.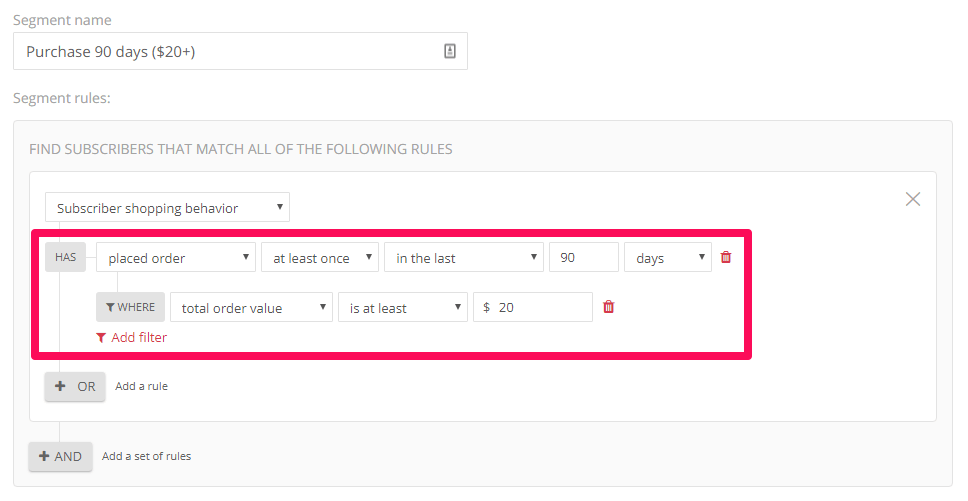 For marketing automation in ecommerce, however, you can go a bit more advanced than that to give your customers truly unique experiences.
According to Jordie van Rijn, there's another important thing to remember:
Strike when the marketing automation iron is hot.

Using behavior and preferences is a very strong marketing automation tactic and allows you to strike when the iron is hot. But make sure you figure in what I call "interest lifespan".

Take, say, DIY home improving for example. Believe it or not, people aren't interested in toilet seats all year 'round. They typically don't collect them. A bit longer interest lifespan would be kitchen remodeling; even longer is rented house or house owner or family composition.

If you tag someone for an interest, make sure you register the date. At the end of the typical interest lifespan, you can return to your normal programming or re-calibrate/confirm that they are still interested.

Jordie van Rijn, Email Marketing and Automation Consultant
3. Use Web tracking and customer profiles
Understanding your existing customers and responding to them is an important part of catering to them.
You can do some amazing things with Google Analytics to help see your customers' journeys—even before they've bought anything from you.
You can also use features like our Live View web tracking, which lets you see the actions your users are taking in real-time.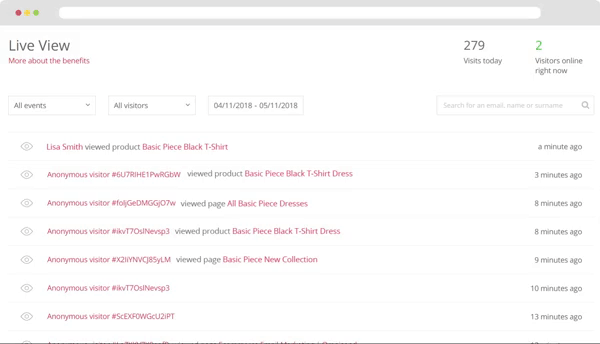 This is broken down into known and unknown (anonymous) visitors. You can see what they're doing, what pages they're visiting, when and how often.
So what can you do with this information?
#1 Highlight your winners
You can see in varying degrees of detail, if you're using Google Analytics or web tracking, what the actual steps are that your visitors are taking.
For the most popular pages, you'll be able to highlight them more often to the relevant audiences. You can put your most popular products on your popups and highlight them in your email campaigns.
#2 Understand your visitor's buying intentions
If you see that your visitor has come back to a certain product or category page multiple times, you can see that they have a high interest and strong buying intention.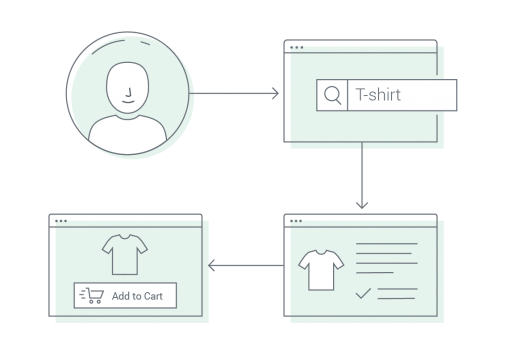 With that information, you can send your known visitor an email to get them to purchase from you.
4. Conduct A/B testing
A/B testing is very important for your email marketing automation strategy. Instead of trying out one idea at a time, you can set up your communications so that two versions of the same message go out, each with different things you want to test.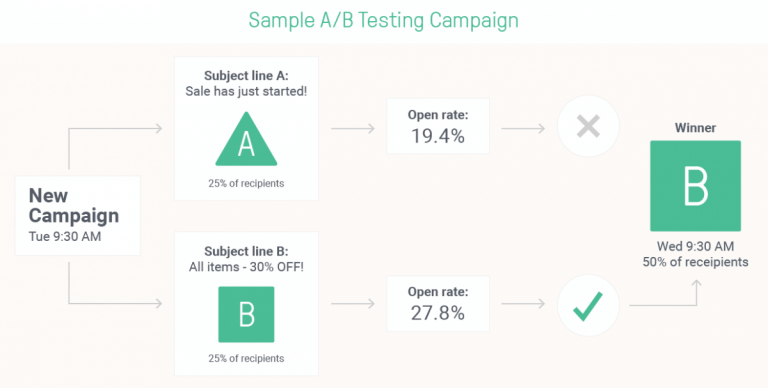 Here are some great ideas for A/B testing you can start doing today:
Test the subject lines with a different discount to see if % or $ signs work better for your subscribers.
Test the same subject line with and without emojis
Test subject lines with the subscriber's name included and removed. See if using their name works better
Try different versions of subject lines, ones indicating limited-time offer and ones without it.
Test different email content, such as different offers, different products, etc., to see which one leads to better clicks and orders
5. Use targeted signup forms
A great way to build a strong email list is to have subscribers sign up through any of the signup forms on your website.
But if you want to compete with the serious players, you need to play more seriously. That means you'll have to use advanced signup tactics in your ecommerce marketing automation strategy.
#1 Don't show popups to newsletter subscribers
Disable popups specifically for those users that are already signed up to your campaigns, such as your newsletters.
This is pretty easy to do. All you'll need to do is make sure that you have the specific URL from your UTM parameters.
All the links that lead to your store will have similar kinds of UTM parameters, which you can use to disable popups to visitors coming in from your newsletters.
To not show your popups to visitors coming in from your newsletters, target them by URL.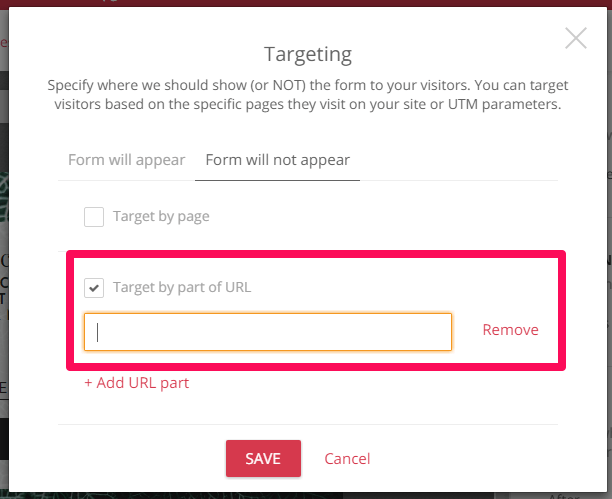 #2 Show your popups to specific visitors
With the same idea of making sure your popups don't show to specific people, you can make sure they do appear for specific people.
For example, in Omnisend we can do this in a few ways: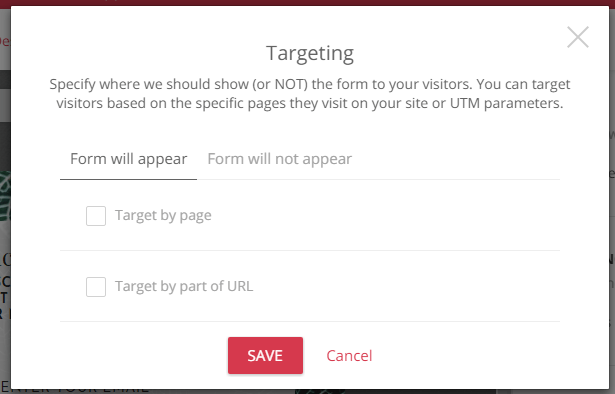 Show your popups only to people who visit specific pages, like your product page or other informational pages.
That way, you can provide those users with specific offerings.
Another way to use this is with the special UTMs I mentioned above.
For example, you can add a UTM to your Facebook ads or other ads. That way, I can get a URL like this, with the UTM at the end:
https://www.mystorename.com/?utm_source=Facebook&utm_medium=video-ad&utm_campaign=Christmas-sales
#3 Get more info for greater segmentation and automation
In order to get greater data for segmentation, you'll need to ask the right questions in your popups.
The standard popup normally only asks for visitors' email addresses and that's it. But you can go further with smart popups.
You can get all kinds of information, and even add whatever data you want to collect with Custom properties (in Omnisend):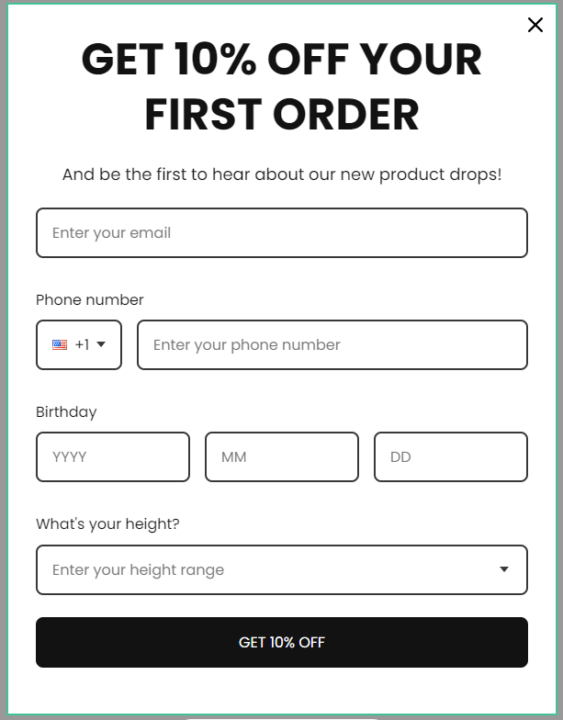 6. Re-engage passive subscribers
As you probably know, it's more profitable to keep your existing customers than to keep getting new ones.
That's why re-engagement is one type of email marketing automation strategy you shouldn't forget.
If you have subscribers that haven't bought from you in more than three months, or they haven't opened your emails in many weeks, then you should try to get them active again. This is easy to do with Omnisend's ready-made automation templates: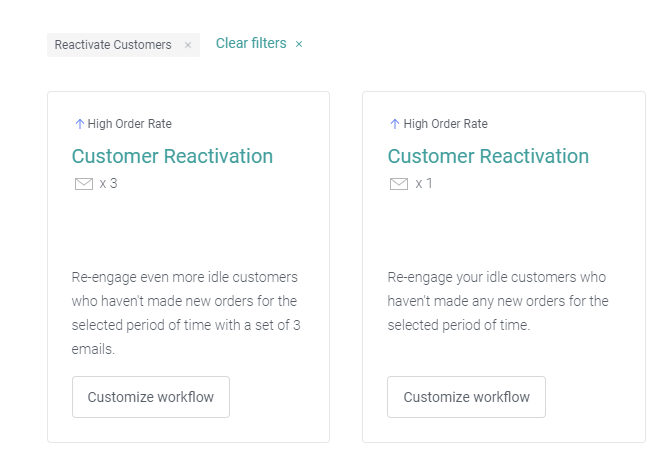 Set up special promo offers that you can send to passive subscribers. You can set up different offers for passive subscribers (that have never bought from you) and passive customers (that bought from you in the past).
Email automation workflow examples
In this part of our comprehensive guide to email marketing automation, we'll show you the most profitable email marketing automation combinations you need to be using in order to see some great results.
These email marketing workflow combinations are:
the welcome series
the birthday series
the cart recovery series
re-engagement series
You'll notice that all of these are series of emails, not just a single email. That's because based on our data, a series of emails can bring in 69% more sales.
And that's why you need to be using them in your workflows if you really want to improve your sales.
1. Welcome series
Welcome new emails generate high open and conversion rates, with our reports seeing rates reach up to 30.69% and 51.94% respectively.
An automated welcome series of three emails in a row helps to introduce your new customers to your brand, and encourage them to buy within a targeted period of time.
Here's a quick layout of the welcome email series, using Omnisend's automation workflow.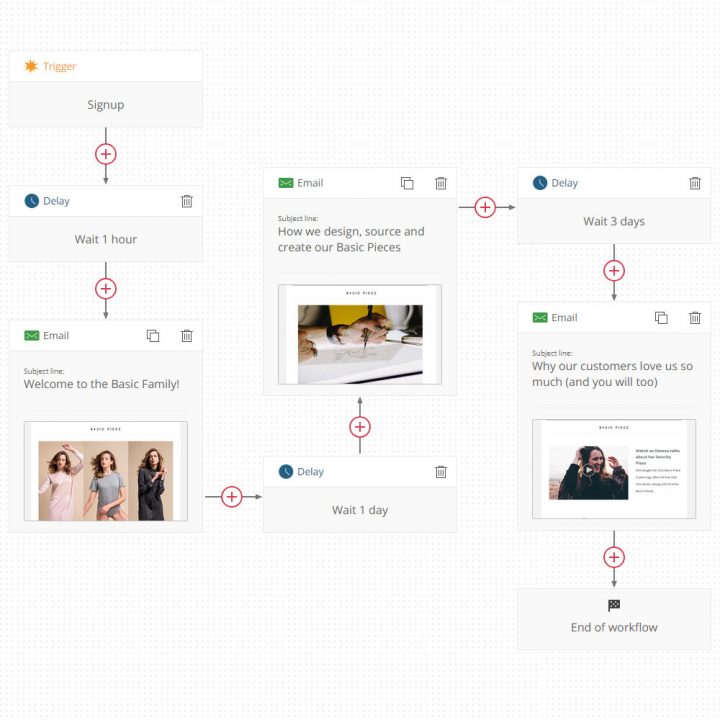 Welcome email automation example I
In the first email, you want to make sure the recipient understands who you are and what you do. It's important here to make a great first impression.
Our example email marketing strategy is based on building our brand in the recipient's mind, reflecting quality, luxury and simplicity, which will pay off in the long run.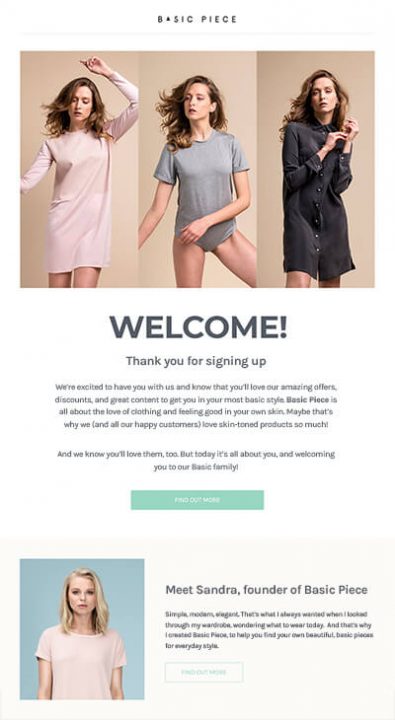 Email 2
In the second brand-building welcome email, we're going to be showing our subscribers a behind-the-scenes look at how we design, source, and create our products.
This will help us to hit the same notes of quality, luxury and simplicity when it comes to our clothing.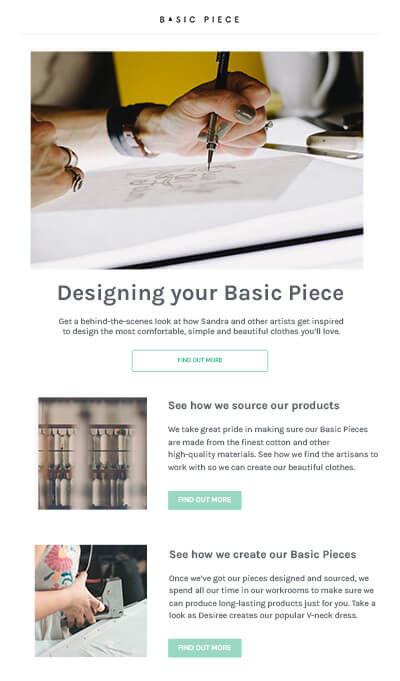 Is this a good time to hit them with a discount offer?
That's possible, but you don't want to take money out of your own hands. If we're going for quality and luxury, we're not aiming at the logical (price) part of the brain.
We're going for an emotional connection, which leads to better customer relationships, higher repeat purchases and a longer CLV.
Email 3
The last email in the brand-building series will accomplish two things:
Show happy customers
Offer a discount
After all, the whole point of these workflows is to improve sales, whether on a shorter- or longer-term basis.
Here, we'll show off how happy our existing customers, or former customers, are with their Basic Piece products. These can be video/Instagram reviews, or simply text/5-star reviews.
Then, the offer comes at the end.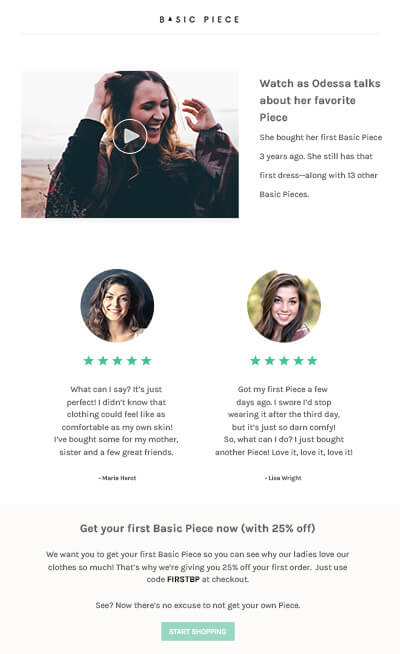 Here we're adding a discount code plus the CTA that says "Start shopping".
Want to get more in-depth with welcome new emails? Check out our articles on:


2. Birthday series
A birthday email is an automatically sent notification to a subscriber/customer on his/her birthday (or several days before that).
Showing personal attention, as well as offering a discount for any order (+ some extra days), yields great results.
Omnisend client data shows that those ecommerce businesses which implement this email automation tactic can see healthy results. For example, our data reveals birthday emails result in a 31.24% open rate, 23.90% click rate, and 10.58% conversion rate.
For our workflow today, you'll also need to grab their phone numbers. In Omnisend, you can just add those fields when designing your popups: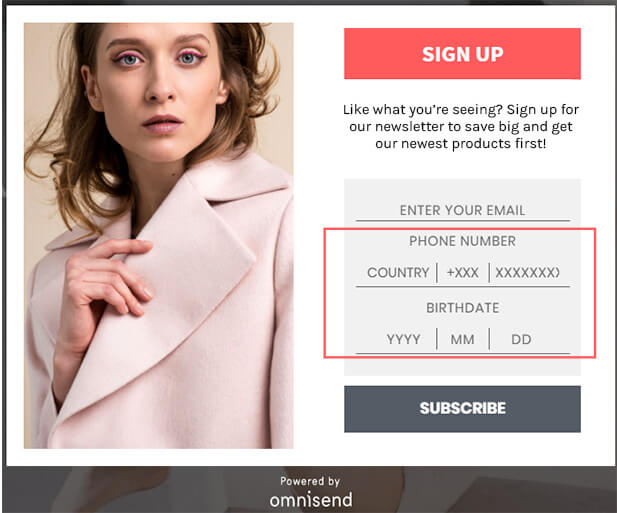 A great birthday series involves sending a text message on the subscriber's birthday (in the morning) wishing them a happy birthday and letting them know that a gift is waiting in their inbox.
Then, set the email to go out as the second item, which will include the gift—a discount, free shipping, or whatever else you think would be appropriate.
This is how Basic Piece will be doing it using Omnisend's automation workflow: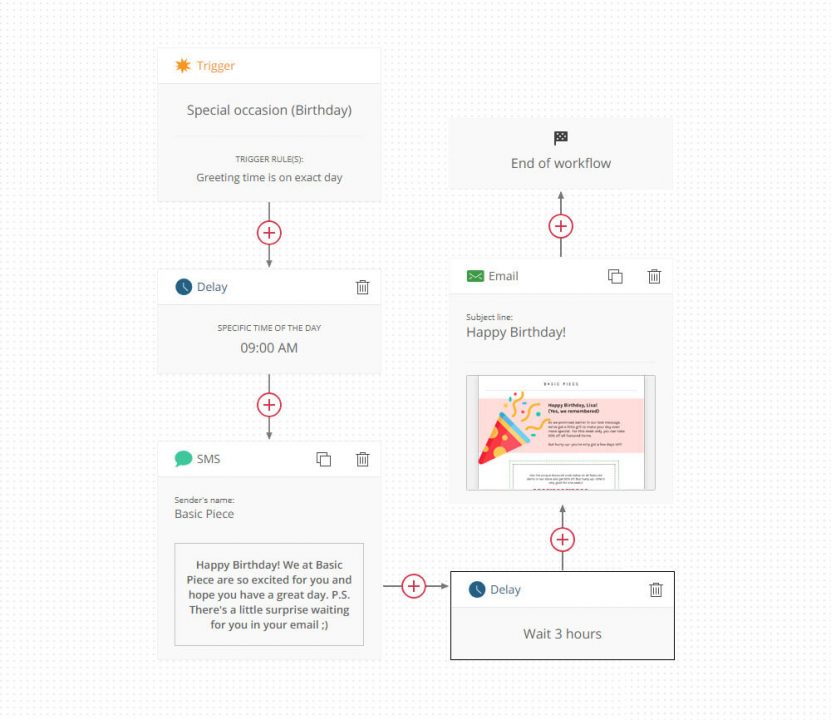 Birthday email automation workflow example 1
We'll set the SMS message to go out at 10 am on the recipient's birthday. That way, they'll get the message early in the morning, but not too early so as to annoy them. SMS marketing should be a part of your automation workflows.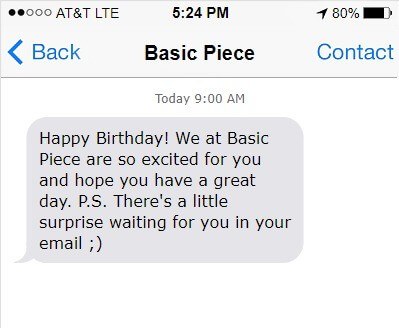 Message 2
The second message will be an email.
Here, we'll go for color, visuals, and of course the great gift. There are 3 key components you should keep in mind when it comes to birthday emails:
A discount and/or free shipping. Don't be too cheap with a small discount. it's a birthday, therefore a gift should be more impressive.
A clear Call-to-action (CTA).
Extra time to redeem the discount. Make it valid for at least one more week after the birthday.
Our birthday email then would look something like this: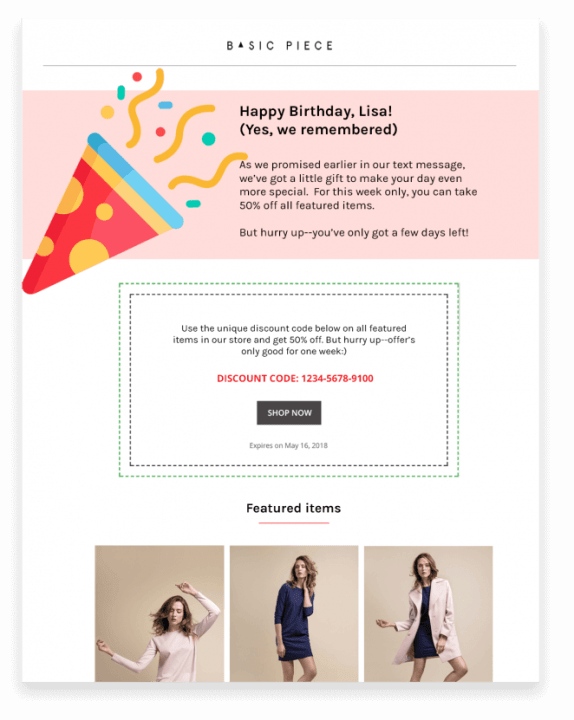 Using this kind of workflow will lead to proven increases in your sales.
Important: remember that in order to start using birthday email series, you'll need the birthday email data. You should gather birthdates in your signup forms.
For more ideas on birthday emails, we've got you covered. Read our article on birthday emails tips and best practices.
3. Abandoned cart series
The cart recovery or abandoned cart series is an automated email marketing series of 3 emails sent to a customer who has recently added items to their cart but didn't buy it.
These kinds of automated emails are highly effective. This is just one of the examples: the average conversion rate of the promotional newsletter is 0.17%. Meanwhile, abandoned cart emails enjoy an order rate of 4.64%.
Cart recovery series of emails can bring in 69% more orders than a single cart recovery email.
Abandoned cart recovery email workflow example 1
Recommended subject line: Still shopping? (sent 1 hour after a shopper abandons their cart)
This email is sent 1 hour after a shopper abandons their cart. It is pretty straightforward and non-intrustive, letting shoppers see what they left behind and giving them a quick chance to get it back.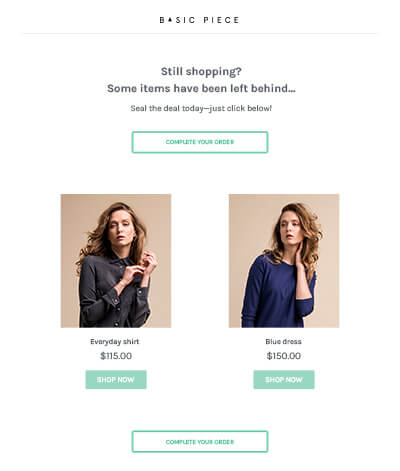 Abandoned cart recovery email workflow example email 2
Recommended subject line: Psst! Make your day by saying YES to yourself! (sent 12 hours after a shopper abandons their cart)
This email goes a bit further in convincing recipients to complete the purchase by introducing the benefits of buying now, which is that the shopper will increase their happiness.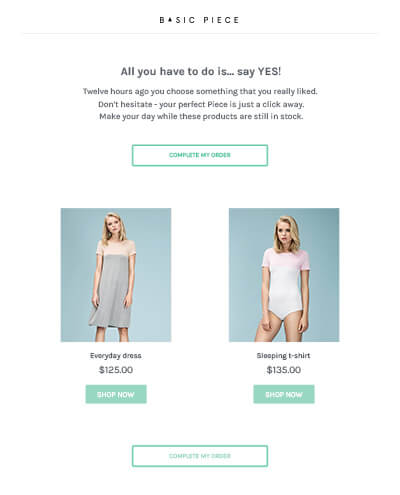 Abandoned cart recovery email workflow example email 3
Recommended subject line: Hurry! Your cart is about to expire (sent 24 hours after a shopper abandons their cart)
Here the urgency is introduced in the last email in the series to apply some gentle pressure to the shopper in order to get them to buy.
In order to sweeten the deal, we'll also add in a discount code, similar to what is included in the second birthday message.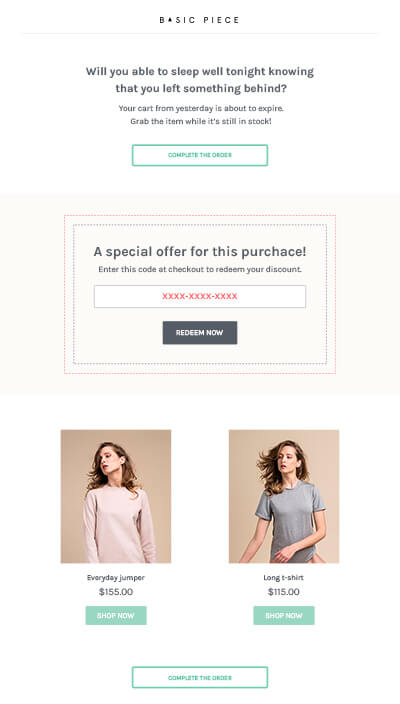 Find out more about abandoned cart email automation:

4. Re-engagement automated email
The re-engagement automated email, or customer reactivation email, is important for getting older customers to buy again.
This is great, because it's cheaper to keep customers than to acquire new ones.
In this workflow, you're essentially trying to win back your customers. For this, we'll set the trigger for customers that haven't bought in 30 days. We'll use one SMS and three emails.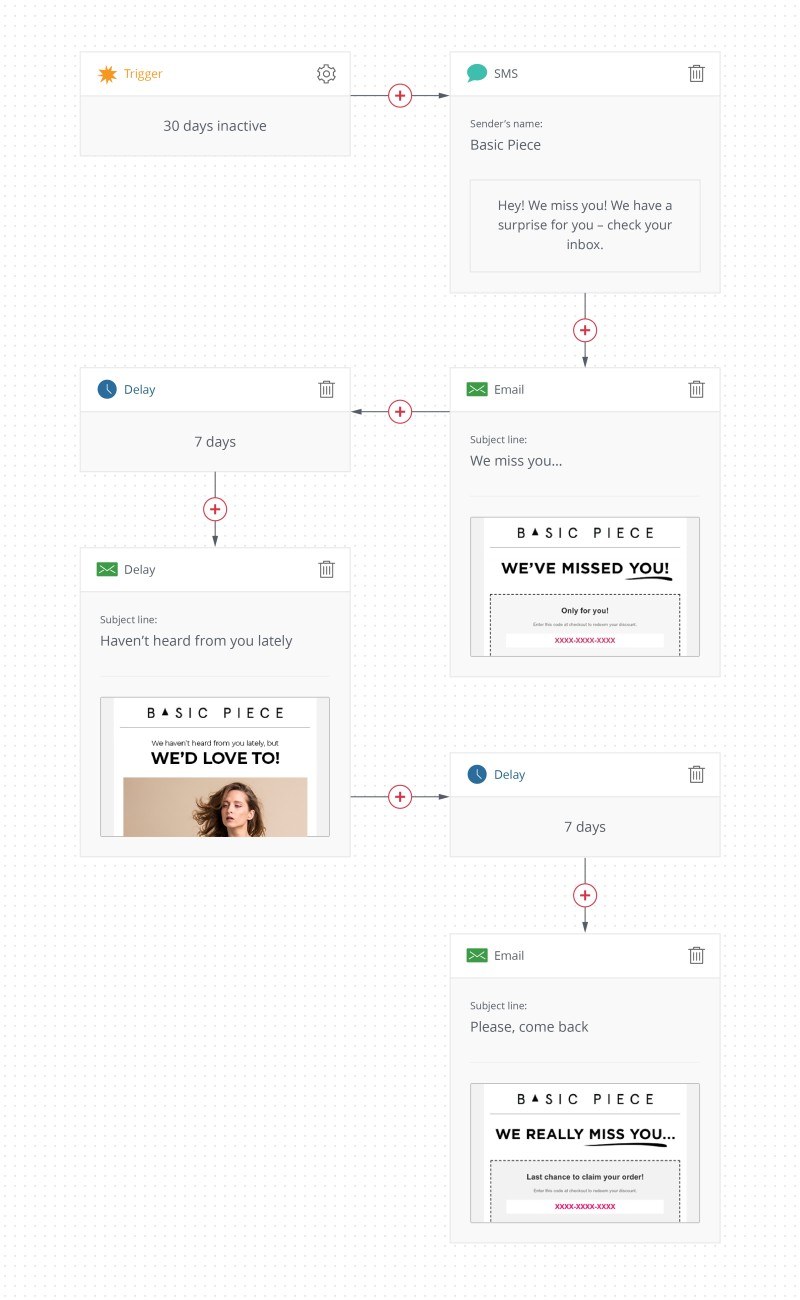 Re-engagement email workflow example message 1
The first message is not even an email—it's an SMS so that you can be sure you're reaching your customer.
You're going straightforward here. Just state that you miss your customer and have a nice surprise waiting for them in their inbox.
Re-engagement email workflow example message 2
At the same time that your SMS goes out, your email is sent. This is the first "We miss you" email and it contains more information about your offer. Essentially, you're giving a discount to get your customer to buy from you again.
Here's an example from Red Bubble which displays the essence of this win-back/reactivation/re-engagement email.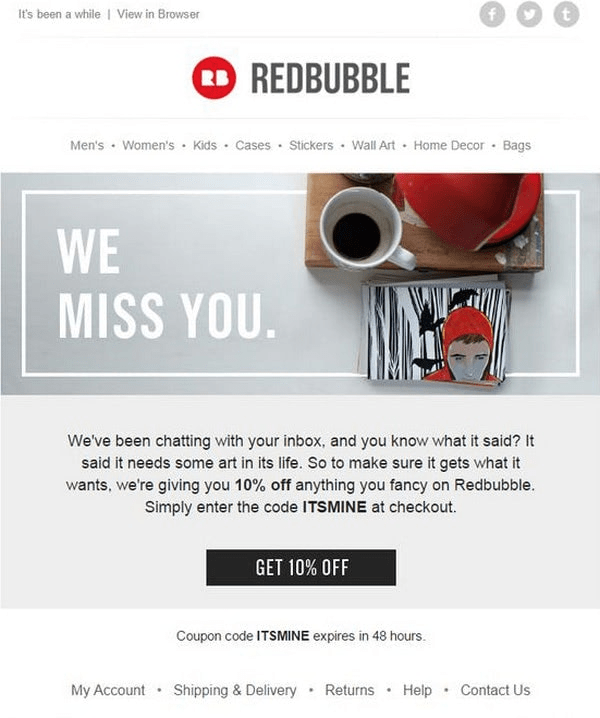 Re-engagement email workflow example message 3
You're shooting straight here, sending a message 7 days after the first email. Note: if the recipient opens any one of these emails, they won't get the later emails.
Re-engagement email workflow example message 4
In this last email, you're pretty much wearing your heart on your sleeve, with the subject line stating "Please, come back."
This is the last time to make your most compelling offer, so use it fully and don't be ashamed.
Email marketing automation tools
In order to get the most out of your email marketing automation strategy, you're going to need a great email marketing automation tool.
The best of the best will allow you to easily create these email automations, and with ready-built templates so that you won't have to start from scratch.
Omnisend. This is an email & SMS marketing that has a strong focus on email marketing automation. It has loads of ready-made templates, including abandoned cart, welcome, birthday, and much more. You can start Omnisend free today.
ConvertKit. This email marketing platform is specifically created for online content creators with a strong suite of email marketing automation features.
Mailchimp. This tool is the most popular, and has good features. However, it's more for newbie or smaller online stores.
Campaign Monitor. An easy-to-use interface with good email marketing automation, although its pricing is relatively high and integrations are limited.
SendX. This easy-to-use and affordable email automation software helps you send the right message to the right audience at the right time. Automate all your emails, like welcome and thank you, abandoned cart, birthday wishes and anniversary offers, and more.
Hubspot Email Marketing. This is a Swiss army knife of sales and marketing, but its email marketing tool is pretty good.
Email marketing automation: Summary
We had a lot of information in this article, so let's quickly summarize the most important things you should take with you.
Email marketing automation is a powerful machine with lots of complex moving parts. It allows ecommerce merchants to send out automated emails (and other types of messages) based on certain triggers that are set up.
The triggers can be as standard as abandoned cart, welcome, birthday or others, or you can get more specific with re-engagement campaigns for various periods (like 30, 90, or even 120 days). The standard email marketing automation are usually easier to set up, seeing as the email marketing tool will have those already ready in its pre-built templates library.
What this means it that you're able to send out the perfect message at the perfect time, without needing to get involved in any manual way. You just "set it and forget it" and it works and brings in sales.
Omnisend has industry-leading email marketing automation with loads of ready-made templates so you can start quickly
Start Free Today
related features
Want more sales?
Omnisend has everything you need to succeed.
Start free now
No Credit Card needed.