The holiday season is just around the corner. The magic time for kids and retailers is about to start. Some ecommerce ideas to make the most of it have been already shared earlier. But there is no doubt that a special email campaign should be an inherent part of every holiday marketing plan.
However, when it's time to build our campaigns, we freeze and panic without knowing where to start.
I would like to dispel fears and encourage you to build beautifully themed campaigns this season. These are my holiday newsletter ideas.
Quick tip: Before starting, stop for a moment and think about the core idea of your campaign. What is the purpose of your email? When you have decided on the purpose, focus on it.
Holiday Newsletter Content Ideas:
First of all, let's concentrate on the content of the email.
1. Focus on gifts
a.) Create a holiday-themed product collection on your store. Build your holiday newsletter with the main call-to-action linking to your holiday collection. Along with your Christmas collection, you may also highlight the products that were best sellers last Christmas or those that are trending right now.
b.) Highlight the different categories of recipients of your gifts: moms, dads, teenage girls, young hipsters, etc. Link them directly to these categories on your store. Look how Gifts.com has done it on their store.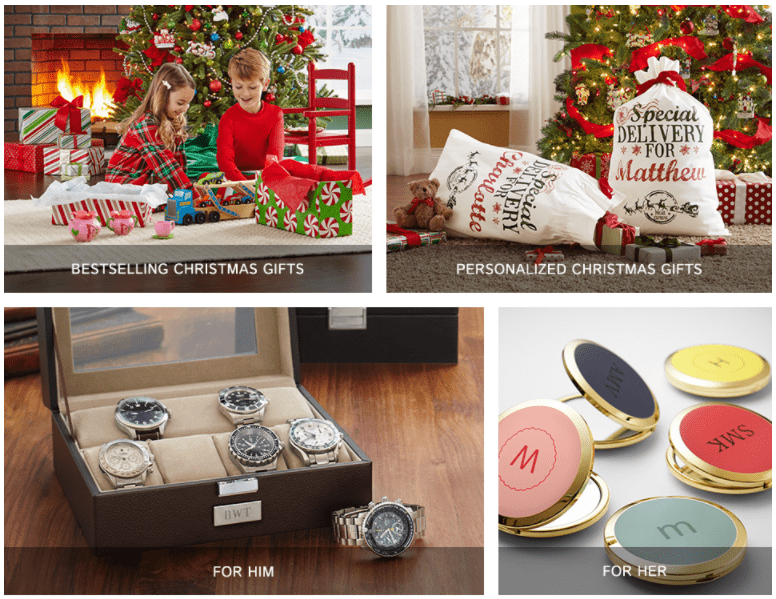 2. Focus on discounts
Holiday competition among retailers is huge, so discounts and special offers are strong incentives for customers to complete a purchase. Consider free and fast shipping (before Christmas), noticeable discounts – percent or $. A very good financial offer will compete effectively against even better gift ideas offered by a competitor during this rush.
3. Focus on experience
The core of your campaign could be a scratch card. You could award a few lucky customers while everybody will have an entertaining lottery experience. You may also give away discounts or free shipping to all customers – it depends on you. That will be a real holiday surprise and will increase your click rate significantly! Read more about it here
As an alternative to Scratch Card, try new Gift Box.
4. Provide value
Collect a "holiday guide" for your customers based on your items, e.g. "Gift ideas for her", "Gifts under $20", etc. Promote it via email and social media – it will add value to your newsletter campaign and boost the click rate.
5. Collect followers.
Send a "Celebrate the season" email – pick a nice photo/ post card and invite your customers to celebrate together on social media. In this case, there is only a small chance that you will sell something that day, but you will re-engage with your customers and expand the number of followers. This is a great investment for future campaigns.
Holiday Newsletter Design Ideas:
Since you already have an idea what the holiday email could be, let's start building the design.
6. Create a festive mood using holiday themes
If most of the time you use a white background, consider using colorful backgrounds on this occasion. It will help to stand out of the rest communication of yours and convey the special holiday mood.
Holidays are about colors, gifts, presents, coziness. Don't be afraid of using more details, bright colors, or moving gifs. However, the image and text ratio, as well as some balance with empty spaces, should be maintained.
Omnisend (previously Soundest) "London" email template contains ready-made holiday themes and allows our clients to use custom image backgrounds for headlines and separate content blocks. This means that you may easily pick your own image as a background and write your offer on top of it. See my quick example below.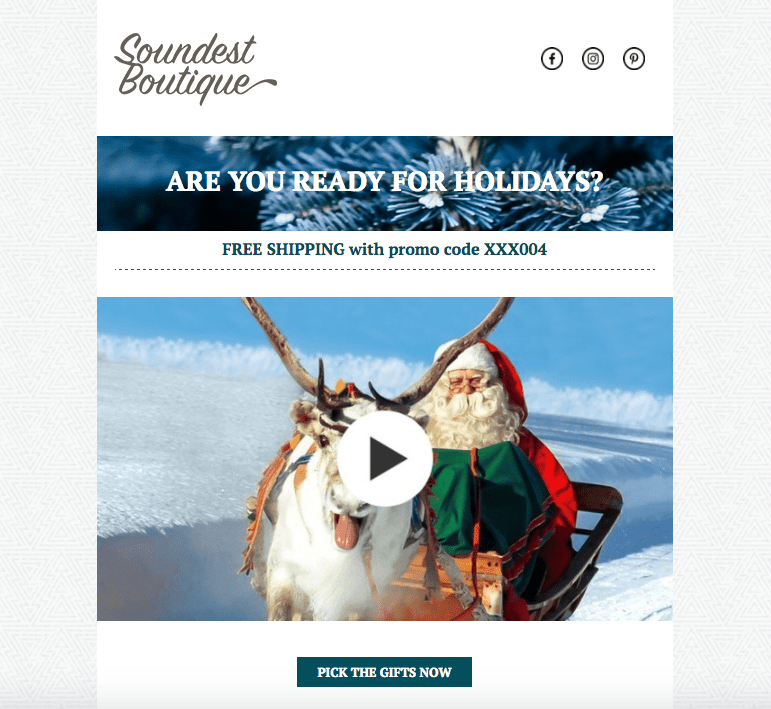 I simply uploaded an image of a Christmas tree as a background for the heading and wrote the text on top. I also added a nice, humble background pattern containing Christmas trees. This adds some dynamism and looks more interesting compared to just a simple solid color background. Don't you think so?
For this holiday season, Omnisend has prepared 26 different Christmas themes and background patterns: snowflakes, colorful bubbles, Christmas trees, gift boxes, gold and silver themes and many more. You may find them all in the new "London" email template and can try it totally for free.
The only thing that you should take into account while building your newsletter is that some of the email clients (I mean Outlook versions of 2007, 2010 and 2013) still do not support background images (although we are looking for best solutions to make it happen).
Instead of a background image, they will see a background of a solid color which is the main in the image. In the case of my example above, the title background would be grey/blue, the color of tree needles, while the overall background of the email would be light grey.
7. Create image puzzles for your products
People love images. They convert better when they see good quality, nice images of products.
Design puzzles of your product images; include a key message inside and use it as a center figure of your email. According to current trends, you may even skip the prices of the products – just play with visuals.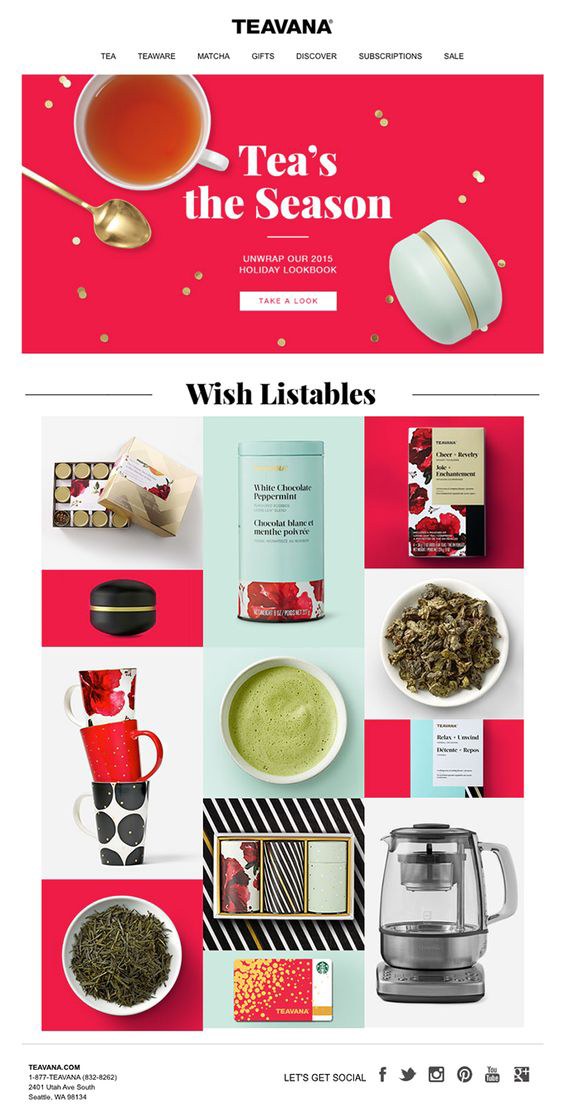 The latest version of Omnisend Campaign Editor allows you to assemble the images into wonderful compositions and link them to different product pages straight away in Editor. Learn more about new Editor.
8. Don't forget gifs and videos
Animated images will make your campaign more dynamic and show more at the same time. For example, in the product content block, instead of one product image, include the animated .gif with changing products, as we did for one of our clients. Now instead of one product, customers see two of them.
9. Take advantage of Preheader
Your email performance starts from the view in the list of new emails in the subscriber's inbox. Subject line is undoubtedly important . But what about the preheader? Do you always add this?
Without saying any more, take a look at these examples.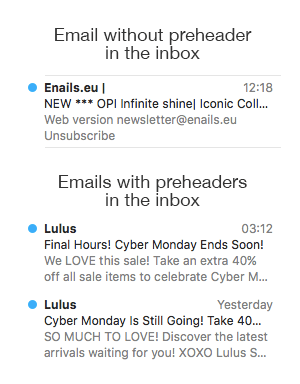 I would also say that emojis in the subject lines and preheaders help your email stand out from the crowd. Consider using them as well.
Some final tips:
Even if it's Christmas time, don't betray your solid brand design. Fonts, button design or some other details should go in line with your brand and website design. Don't do too much so your subscribers wouldn't be able to recognize your email because of too festive its' modifications.

Make sure your email is mobile-friendly.

Test before sending. You really do not want to screw up by sending a newsletter with wrong links or forget to add them at all.
Email OCCASIONS for December:
6 – St. Nicholas Day
12 – Green Monday
18 – Free Shipping Day
21 – First Day of Winter
24 – Panic Saturday
24-1 – (Jan) Hannukah
25-26 – Christmas
26-1 – (Jan) Kwanzaa
31 – New Year's Eve
Get a personal 1-on-1 demo (that will superpower your next campaign)!